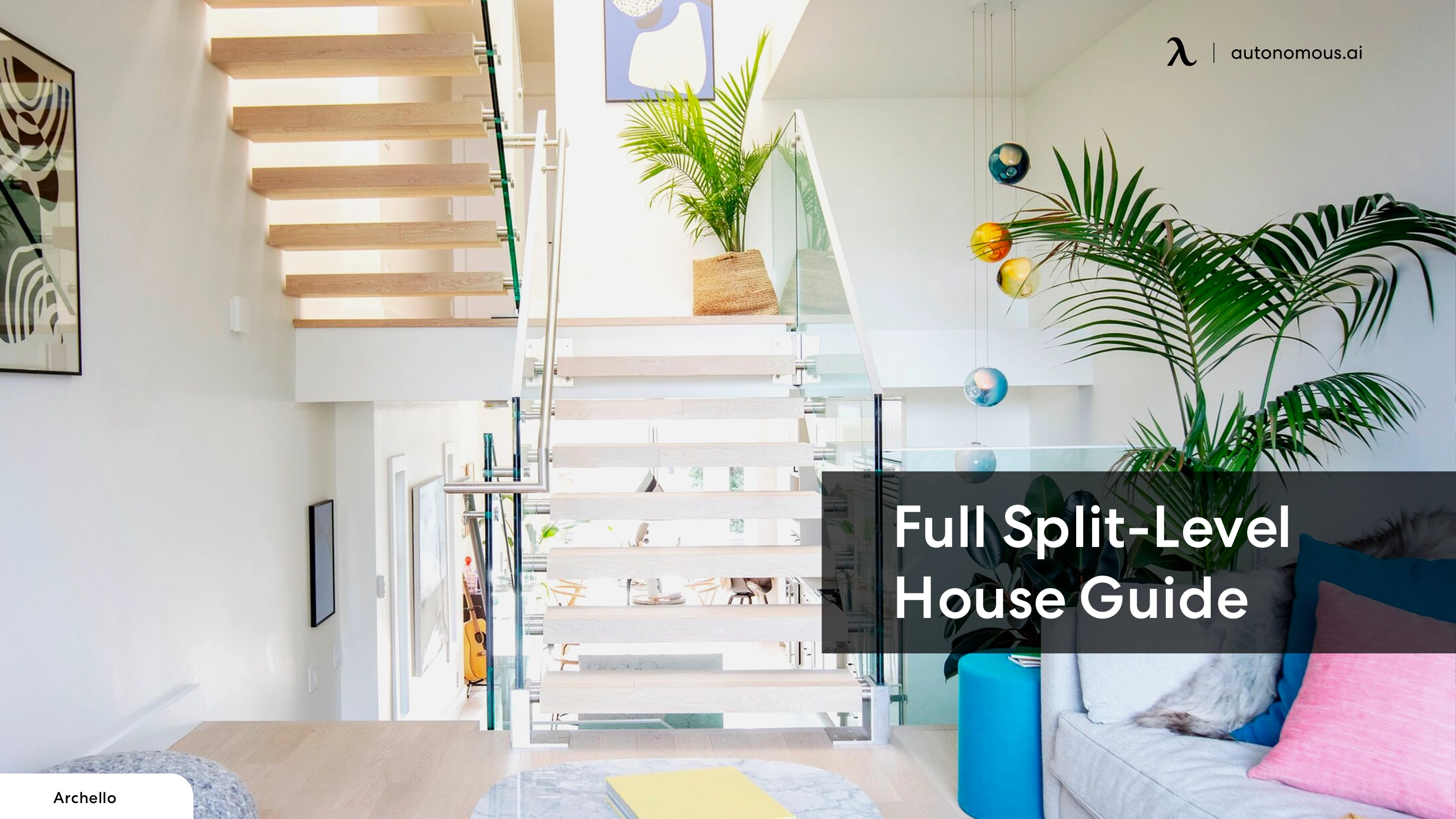 Workplace Inspiration
Split-Level House Guide: Common Types and Their Characteristics

Autonomous
|
Jun 11, 2023
752 Views
Although not as popular as they were during the postwar era, a split-level home offered a one-of-a-kind living experience that was modern and practical at the time. 
It focused on privacy, which was perfect for growing families while remaining affordable, which was important during the period. However, today, a multi-level house is often looked at as outdated. 
In this guide, we'll explore the four different types of split-level homes, their unique characteristics, and the advantages and disadvantages of split-level living. 
Additionally, we'll provide a solution to avoid expensive remodeling by introducing the top three accessory dwelling units (ADUs) that can add more space to your property. 
What Is a Split-level House?
In the early 1950s, growing families moved to the suburbs in search of affordable homes. The need for a modern and appealing design to appease the post-war generation gave rise to split-level houses in the country. 
A split-level house is designed with staggered floors that divide the living space into different levels. Typically, a multi-family home consists of three to four levels, with the living room on the main floor, bedrooms and a kitchen on the top floor, and a garage or den in the basement. 
The design maximizes available space and provides privacy by separating sections of the house. 
The Four Types of Split-level Homes
There are four different types of split-level homes, and these include the following: 
Standard Split
Considered to be the most common type of split-level home, the standard split-level home consists of two to three levels, with the living room, dining room, and family room on the main floor. 
The bedrooms and bathrooms in a standard split home are on the upper levels, while the basement may have a family room or a garage.
In most standard split-level homes, the entryway is typically located on the middle level, with stairs going up and down to provide access to different parts of the house. 
Side Split
A side split-level home is designed in such a way that you can see the multiple levels of the house or the staggered floors from the outside. 
The garage is often located on the lowest floor, with the kitchen, living, and dining room designed one level above and on the opposite side of the garage. 
In a side split-level home, the bedrooms and bathrooms are on the top floor, typically over the garage. 
Back Split
A back split-level home looks like a one-level ranch house from the front, but you can see the staggered floors if you view the property from the back. 
The front shows a single story, while from the back, you'll be able to view the two different levels. 
Stacked Split
A stacked split-level home can have around four floors. There are short stairs that connect the main stairway to the different levels of the house.
Common Characteristics of Split-level Homes
There are several characteristics of a split-level home, and these include the following: 
Short Stairs
The most notable feature of a multi-family home is the short stairs that lead from one floor to the other. Typically, these types of stairs only consist of three to four steps. It not only acts as a means to access different floors but also provides a sense of separation. 
Bay Windows
To ensure that the natural light flows in a multi-family home, a split-level house comes with large bay windows. It brightens up the space and provides views of the surrounding neighborhood. 
Finished Basement Level
A basement in a split-level home is typically only halfway in the ground, and homeowners can use them as additional rooms since they're already finished. 
In some split-level houses, the basement may have a separate entrance, providing additional privacy and separation from the rest of the home. 
Low-pitched Roofs
To maximize space in split-level houses, they have low-pitched roofs. These types of roofs are not only great for sliding off rain or snow but also provide a modern look to the home. 
There are other features that are common among split-level houses, and these include sliding glass doors and outdoor living spaces, such as patios or decks.
The Advantages of Split-level Homes
Like any other type of house, split-level homes come with their own set of advantages and disadvantages. The following are some advantages of this type of housing property: 
It Is Affordable
When buying residential property, you'll notice that multi-level houses are more affordable than similar-sized single-family homes. It is excellent for young families as they can get more value for their money. 
It Provides a Lot of Privacy
Since there are different levels in a multi-level house, it provides a lot of privacy, which may be something growing families might want. The staggered floors may make it difficult for noise to travel from one place to another, providing a sense of peace and tranquility. 
It Has Plenty of Outdoor Space
Since split-level homes maximize the use of vertical space, these types of houses come with plenty of outdoor space for family activities. This makes it perfect for growing families.
The Disadvantages of a Split-level Home
Here are some disadvantages of split-level homes: 
Stairs Can Make It Challenging for People with Restricted Mobility
A multi-level house can have several stairs across the entire layout of the house to provide access to other levels. Although it is great as it creates a sense of separation among spaces, it can create challenges for people with restricted mobility. Even families with younger children
may find it difficult to move around the house. 
Remodeling the Home Can Be Challenging
A growing family may need to consider remodeling their home by adding additional, giving the children their own space when they grow up.
Adding additional units to a split-level home can be challenging due to the home's staggered levels. It may require extra planning and materials, which can drive up remodeling costs. 
These Types of Homes Are Difficult to Sell
The multi-level houses have an outdated design, which can make it difficult to sell. Compared to modern architecture, these houses don't have a lot of natural light, and renovations can get complicated.
Avoid Expensive Remodeling by Purchasing an ADU
Accessory Dwelling Units, commonly referred to as ADUs, are a great way to add additional space to your home without remodeling or construction work. These are self-contained units that can act as a second home or small rooms to cater to growing families. 
If you're looking for additional workspace or want to add another room to your house, you may want to consider a prefabricated ADU.
The following are some of the benefits of adding an ADU to your backyard: 
It Adds More Space
Instead of buying a multi-level house or spending money on remodeling, a prefab ADU is an affordable way to add more living space to your existing residential property. You can convert it into a guesthouse, a gaming den, or a home office at a fraction of the cost. 
It Is Comfortable
A prefab ADU has the right level of insulation to protect you, your family members, or guests from the rough weather while providing privacy. You can customize it according to your liking by adding furniture, mood lighting, and decor items, making it as comfortable as possible. 
Lease or Rent It Out
If you're living in a tourist city or town or are residing in a state with a high demand for rental property, a prefab unit can help you earn passive income. You can rent it out on Airbnb or lease it to a long-term or short-term tenant. 
Add More Space to Your Home with These Top ADUs
Since a split-level home is challenging to sell, it can make it hard for a growing family to move out and shift into a larger house. It's also challenging and expensive to carry out remodeling work due to its split-level home landscaping ideas. 
Fortunately, ADUs are great split-level home additions to add more space without spending money to shift into a larger house or pay for construction work. 
Whether you want to add a backyard guest house with a bathroom or an office shed, the following prefab house additions are fantastic options to consider: 
Autonomous WorkPod
Spanning over 98 square feet, the Autonomous WorkPod is a fantastic prefabricated ADU that provides optimal insulation (ranging between 45 °F to 100 °F) and has a weight capacity of 2.9 tons. It's made from many sturdy materials, including plywood, wooden frame, honeycomb paper, roof shingles, and more. 
These work pods are fantastic split-level home additions to a home's backyard. They provide you with enough space to set up your office outdoors and come with sound insulation allowing you to focus on your tasks. 
If you're looking for inspiration, the work pod has large windows that offer a glimpse of nature, which is a perfect way to refresh your mind and brainstorm ideas. 
It has handy outlets and warm lighting that makes the space more inviting. Unlike its name, it's more than an office shed. You can convert the pod into a gaming room, a yoga studio, or simply a space where you can chill - the possibilities are endless. 
The Autonomous WorkPod comes with or without furniture, depending on the option you choose during checkout. If you're getting a furnished unit, it comes with an ErgoChair Plus, SmartDesk Connect, a cabinet, cable tray, dual monitor arm, electrical cabinet, bookshelf, and an anti-fatigue mat. 
Although this backyard office pod requires assembly, which can take two days, you can pay a bit extra and request to get an already assembled unit delivered. 
The fuss-free foundation uniformly distributes weight and adjusts to uneven terrain (up to 4.5 inches). What's perfect about this prefab unit is that, in most localities, you don't need a permit! 
Dimension
8'6''W x  11'9''L x 11'H
Ceiling height
6'10'' to 9'4''
Window material
Wooden frame, 5/16" tempered glass
Door material
Anodized aluminum frame,  5/16" tempered glass
Material
Siding: bitumen, housewrap, vinyl silding
Roof: bitumen, housewrap, shingles roof
Floor: plywood
Balcony: composite wood
Include
Optional: SmartDesk Connect, ErgoChair Pro+, Dual Monitor Arm, Cable Tray, Steel Cabinet, Anti-Fatigue Mat. Always included: Electrical Cabinet & Bookshelf
Floorspace
98 square feet
Capacity
2.9 tons
Autonomous WorkPod Lite
If you're looking for tiny houses for sale under $15,000, you may want to consider the Autonomous WorkPod Lite. It is an affordable backyard office shed solution that you can also use as an additional room or a tiny home, making it a perfect addition to your split-level home! 
With 80 square feet of floor space, you get a stylish prefab unit with a high-quality build. The insulation in this pod is perfect, allowing you to cut off all the noise by simply closing the door. 
Whether you're looking for a space to do yoga, accommodate a guest or two, or a private room for remote meetings, this is a great way to add an additional room to your existing house. 
It is the perfect way to embrace your inner minimalism while having everything you need (multiple outlets and lighting) at arm's length. If you're living in a split-level home, the WorkPod Lite is one of the best split-level home additions you can spend money on!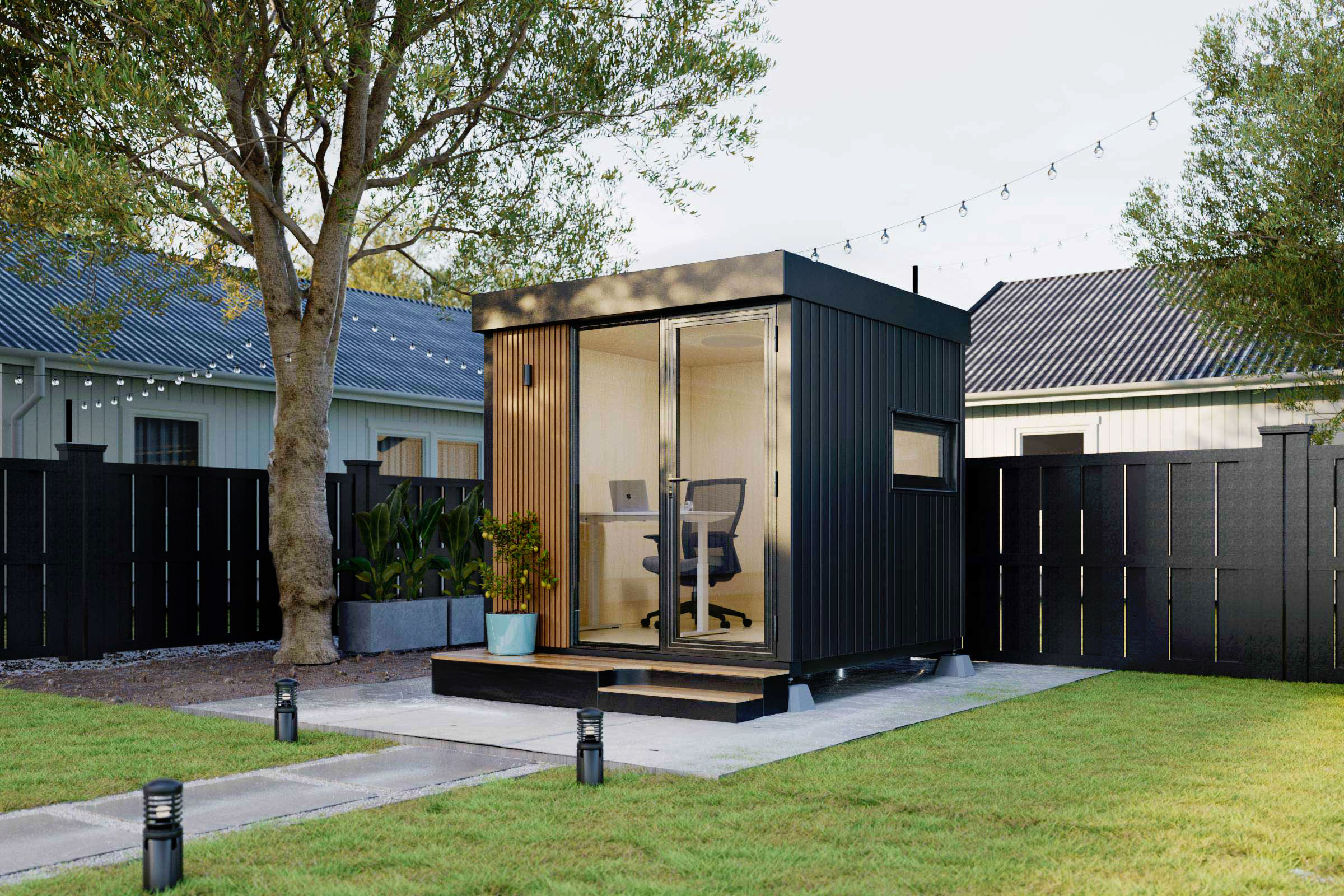 Dimension
8.7"W x 8.12"L x 9.3"H
Material
Window and door: powder-coated aluminum, 5/16-inch tempered glass
Siding: plywood 1/2-inch, steel frame, honeycomb paper, plywood 3/8-inch, bitume, housewrap, vinyl siding
Roof: metal roofing
Floor: plywood
Balcony and Pedestal: steel frame and wood plastic composite
Pedestal
24"W x 103"L x 9"H
Electrical devices
RCB, Wall outlet, Ceiling light switch, Ceiling light, Wall light, Ethernet wall port, 66ft power cable with 2 connectors
Weight capacity
2.3 tons (including Pod body)
Floorspace
80 square feet
Ceiling height
7.3-inch
Autonomous StudioPod
Much larger than the WorkPod, the Autonomous StudioPod spans across 105 square feet, making it a fantastic modular guest house, home office, or extra living space. Like the other pods, this also has optimal insulation, ranging between 45 °F to 100 °F. 
This prefab studio can act as a multi-family home and fit right in your backyard without the headaches associated with home renovations. 
If you're looking for a furnished model, it comes with all the necessary furniture, such as a closet, foldable coffee table, convertible sofa bed, and more, making it a convenient setup for living, working, or playing. 
The walls are made from durable materials that can last for years to come. Whether you need climate control or electricity in this StudioPod, it comes with all the sockets plus mood lighting. Simply plug it in and start using the pod!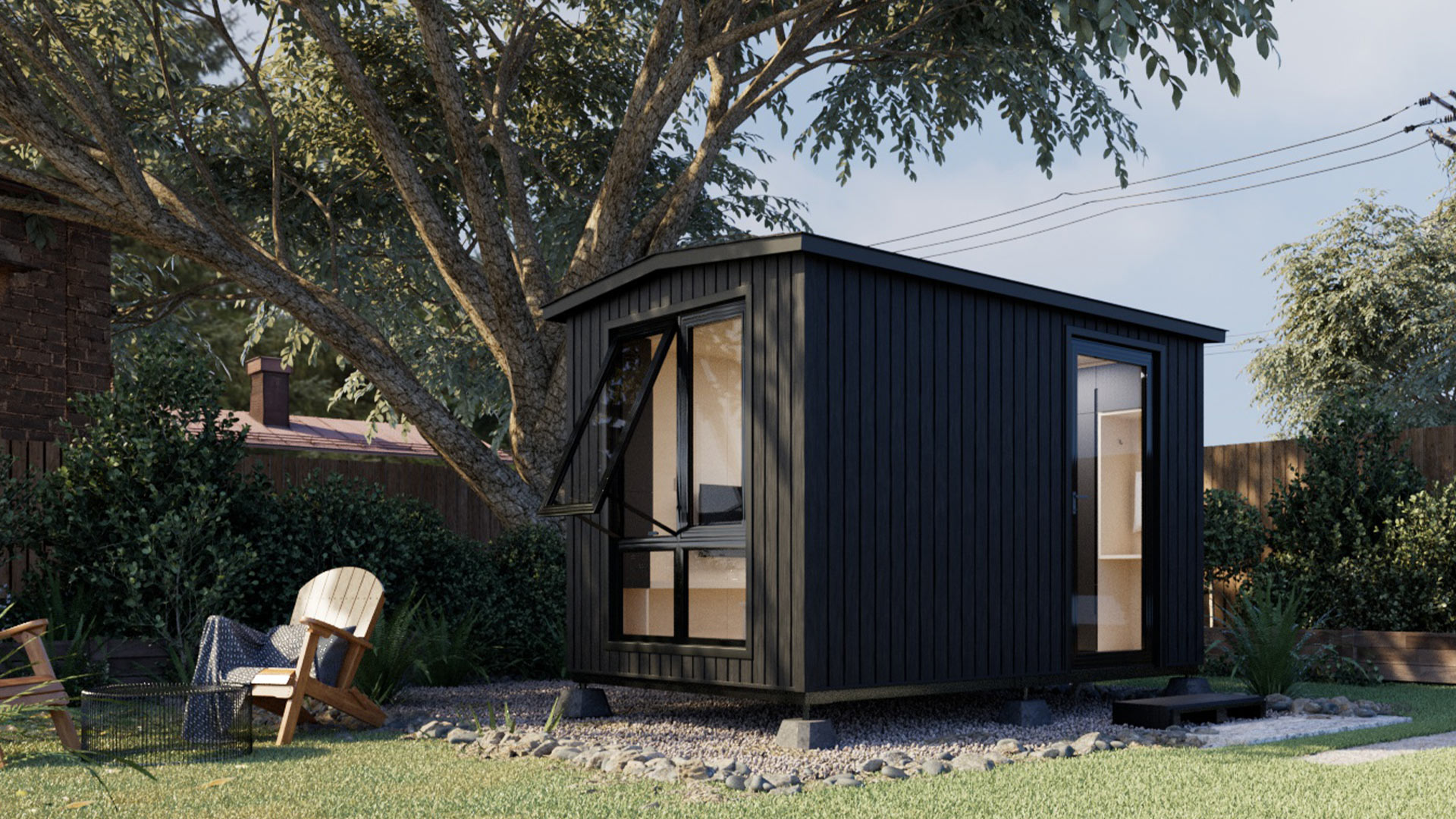 Dimension
8'4"W x 12'6"L x 9'10"H
Floorspace
105 square feet
Ceiling height
7'3"
Weight capacity
2.9 tons
Pedestal
18"W x 43"L x 7"
Window & door material
Powder-coated aluminum,  5/16" tempered glass
Material
Siding: plywood 1/2", steel frame, honeycomb paper, plywood 3/8", bitume, housewrap, vinyl siding
Roof: roof shingles
Floor: plywood
Pedestal: steel frame & wood plastic composite
Electrical devices
RCB, Wall outlet, Ceiling light switch, Ceiling light, Ventilator switch, Ventilator, Ethernet wall port, 66ft power cable with 2 connectors
Include
Optional: Cabinet, Desk, Small & Big Bookshelf, TV Shelf, Foldable Sofa Table, Convertible Sofa Bed. Always included: Electrical Cabinet
Power input
Maximum voltage : 110V AC (US standard)
Maximum current : 25A
Maximum power dissipation : 2750W
Final Thoughts
A prefabricated ADU is one of the best split-level home additions that can accommodate a growing family or guests without the need to move into a larger home or spend money on remodeling. You can design it according to your liking and convert it into a space for office work, yoga, gaming, a shed, or a guest bedroom. 
An ADU does not require remodeling your home or expensive construction work and can easily fit in your backyard without ruining the outdoor space.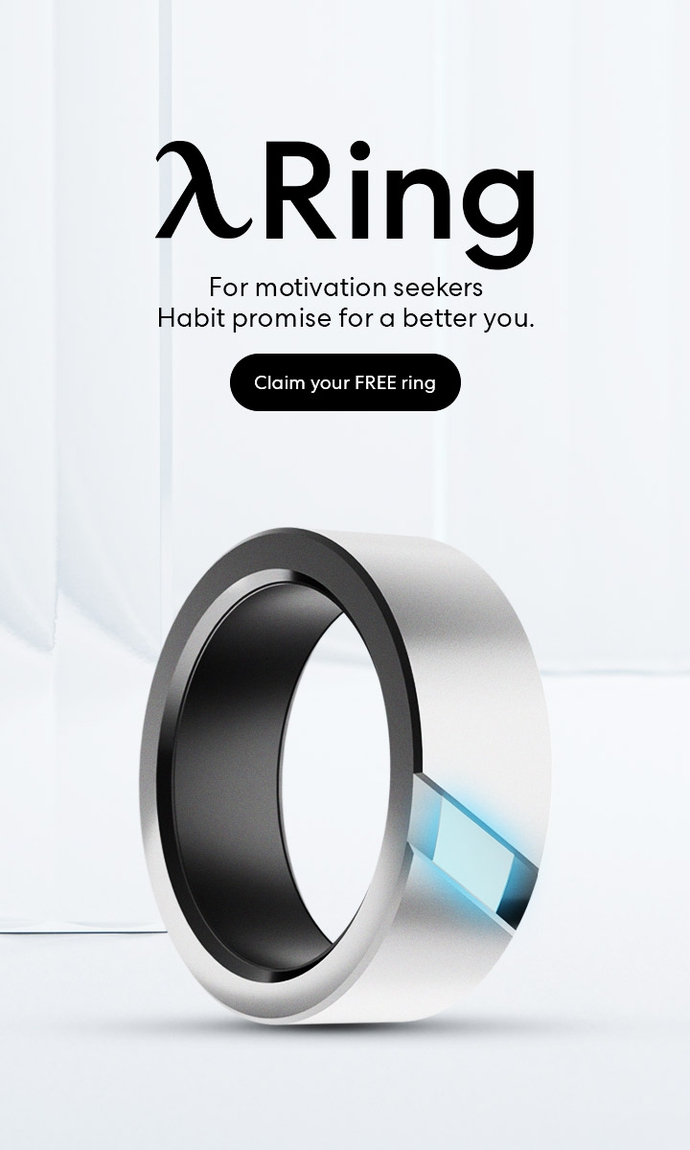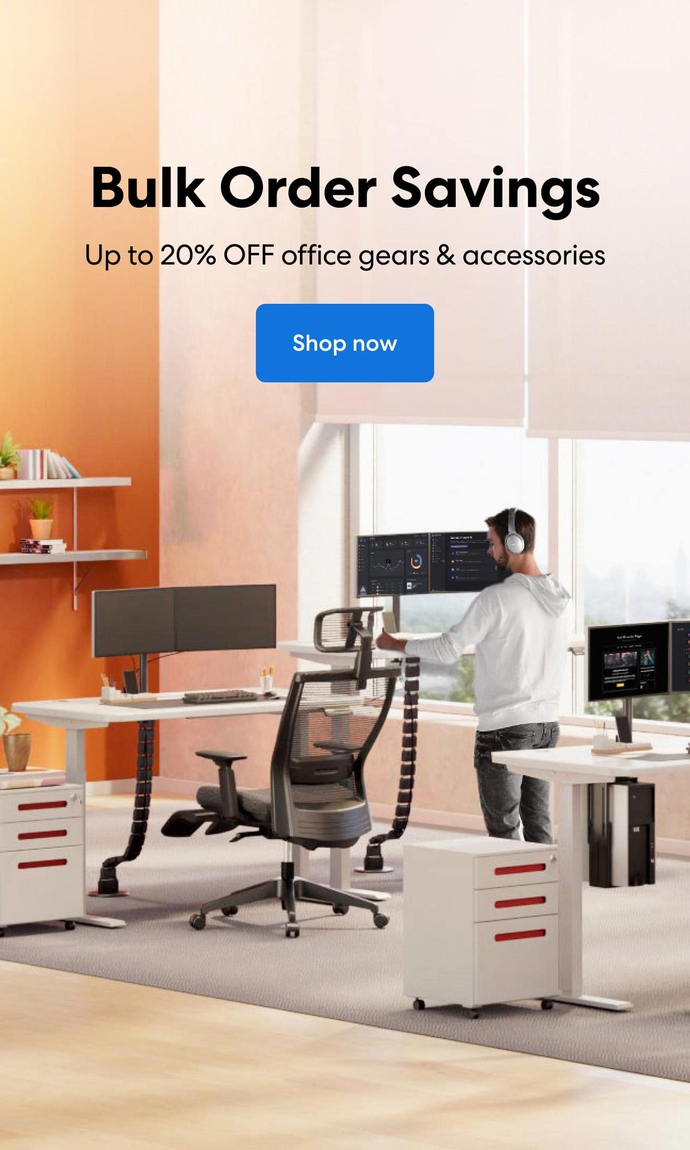 Subcribe newsletter and get $100 OFF.
Receive product updates, special offers, ergo tips, and inspiration form our team.