Smart Products
The Best Office Chairs of 2023 You'll Love | Say Hello to Comfortable Seating!

Ryan Tanaka
|
Nov 7, 2023
1,077 Views
Imagine sitting in an office chair that feels like a throne, offering you the ultimate comfort, support, and style.  
If you want to buy the best office chair 2023 has to offer, online and offline marketplaces have a wave of options that are more than just ergonomic. They are convenient, versatile, and modern. A comfortable chair is undoubtedly a game-changer.  
It ensures you can sit for long hours without feeling discomfort or back pain. An ergonomic office chair is more than just cozy. It helps you maintain your posture and focus throughout the day.
Why You Need the Best Home Office Chair in 2023? 
The answer is simple: comfort and productivity. It's not just about sitting. Everyone deserves to feel good while they work.  
In short, the right chair will support your back, prevent fatigue, and allow you to focus on the task at hand. Whether you're battling back pain, correcting your posture, or simply improving your daily work routine, the best executive office chair in 2023 can make all the difference. 
Our Top 10 Picks | Many Features, One Goal: Your Comfort 
The best ergonomic office chair of 2023 will have an array of features. From lumbar support and adjustable chair armrests to reclining capabilities, there's a lot to look out for.  
A good chair shouldn't just provide a place to sit. It should improve your quality of life while you work. As we dive into our detailed review of office chairs, we'll explore the ideal options that have made it to our list. 
We hope you'll find something to consider, test, and potentially fall in love with. Our team appreciates the thought and innovation that went into creating these chairs. Now, it's your turn to experience the difference. 
1. Autonomous ErgoChair Pro
When it comes to choosing the perfect office chair, the Autonomous ErgoChair Pro is a standout option. It combines innovation, ergonomic design, and comfort. This multifunctional powerhouse offers an array of features. 
You can fine-tune every aspect of this chair, from the height to the armrests, backrest, headrest, and tilt. 
It even provides five lockable positions to cater to your needs. The woven mesh backrest provides excellent lumbar support while ensuring air circulation, so you won't break a sweat during long work hours.  
On top of that, the ergonomic design of this chair prevents the all-too-common hunching and neck strain. It ensures you maintain a comfortable and healthy posture. 
The waterfall seat design and molded foam seat guarantee dynamic pressure distribution. Such a design is essential for staying comfortable and productive.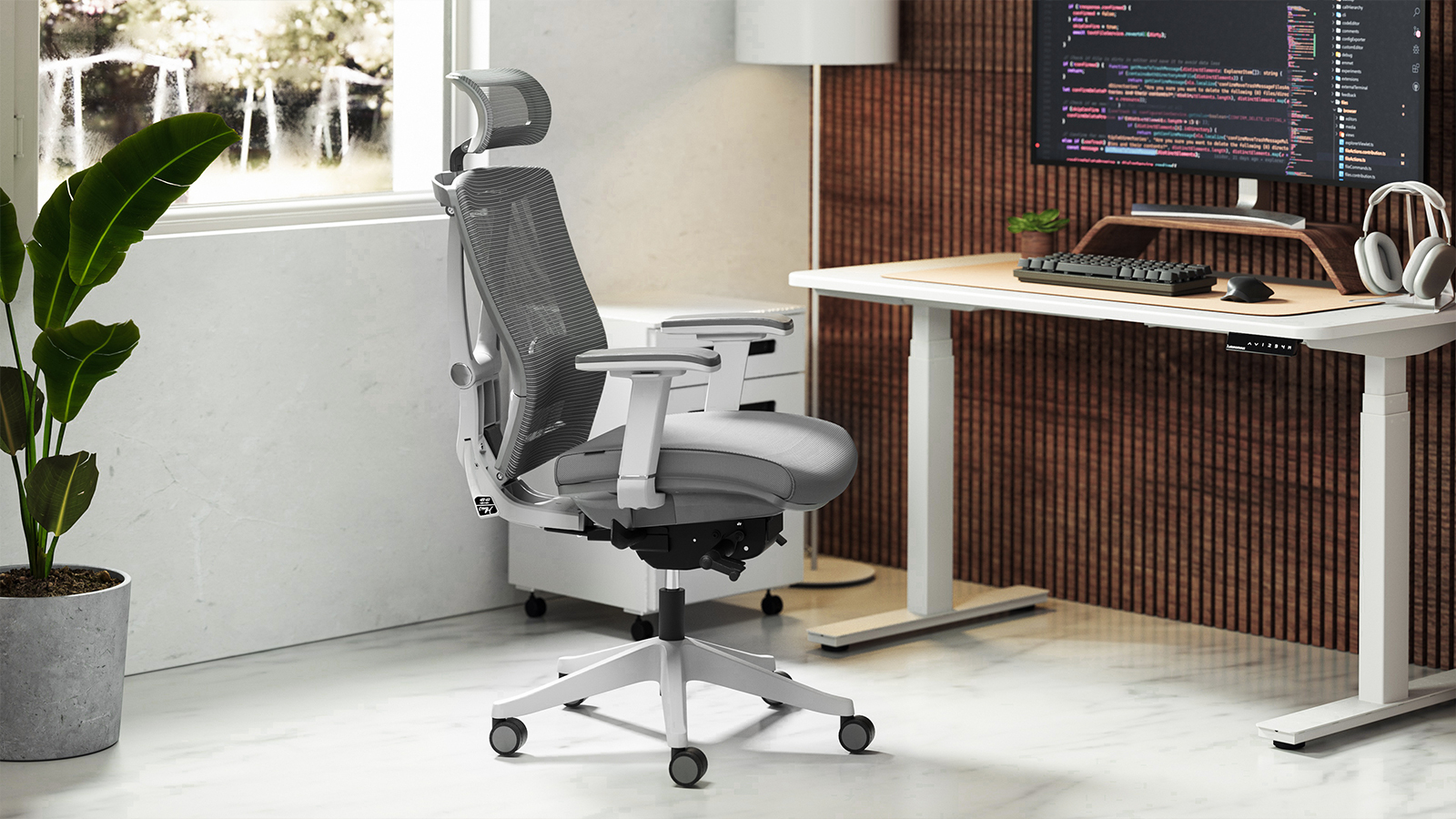 Pros

Cons

Instant tailbone pain relief
Slightly pricey
Back pain prevention
Convenient assembly
Fully adjustable
2. Autonomous ErgoChair Plus
In the quest for the best office chair in 2023, the Autonomous ErgoChair Plus emerges as a strong contender. With six distinct color options, the chair lets you express your personal style while enjoying its exceptional features. 
It boasts top-notch ergonomics and provides exceptional spinal support and comfort through its frameless construction. The ErgoChair Plus allows for smooth and natural mobility, ensuring you can glide effortlessly while working. 
On top of that, the chair's adaptive web design ensures maximum breathability. You won't feel confined during extended work sessions. 
With 11 lockable positions, you can fine-tune this office chair for tailbone pain to find the perfect posture for any task. You'll find it equally accommodating when it's time to lean back and relax. However, it doesn't come with a headrest.
Autonomous ErgoChair Plus
Pros

Cons

Six unique shades
No headrest
Adjustable tension
Breathable mesh backrest
Ergonomic excellence
3. Autonomous ErgoChair Core
If you want to buy the best home office chair in 2023, consider the Autonomous ErgoChair Core. It bridges the gap between classic and contemporary designs. While this model offers a more traditional look, it still provides a range of features that make it stand out. 
This chair is available in two shades, offering a more straightforward choice in comparison to previous alternatives.  
You can customize the lumbar support, height, and seat pan to suit your preferences. The seat's design and contoured foam offer an excellent sitting experience, ensuring comfort during long work hours. You can also recline in this chair with ease.  
The backrest's S-curve design supports your spine while maintaining airflow for added comfort. Also, its smooth-gliding casters won't scratch your floor when you move around.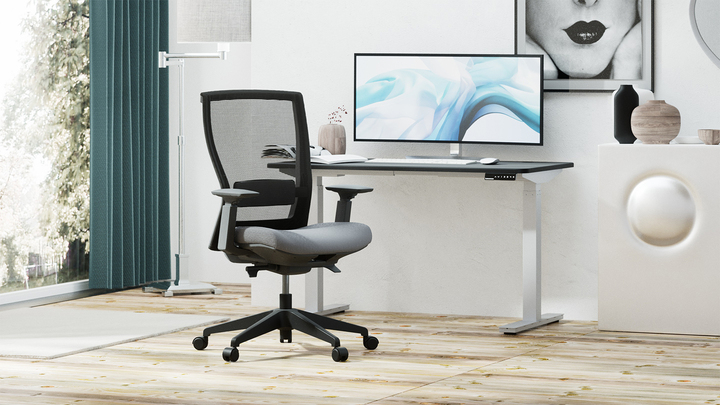 Autonomous ErgoChair Core
Pros

Cons

Contoured foam seat
Limited colorways
Effortless mobility
Mesh backrest
S-curve design
4. Herman Miller Aeron
The Herman Miller Aeron is an iconic and timeless choice. It boasts an aluminum frame that improves durability and gives it a sleek and modern look. The Aeron comes in three neutral shades, allowing you to choose a color that seamlessly fits into any office or home setting. 
With a tilt lock system and a forward tilt feature, this model allows you to easily adjust your seating position. 
While it may have a basic appearance, the Aeron offers advanced ergonomic features. It lets you adjust it to your ideal comfort level. However, the high-density foam seat might feel a bit too firm if you prefer softer padding.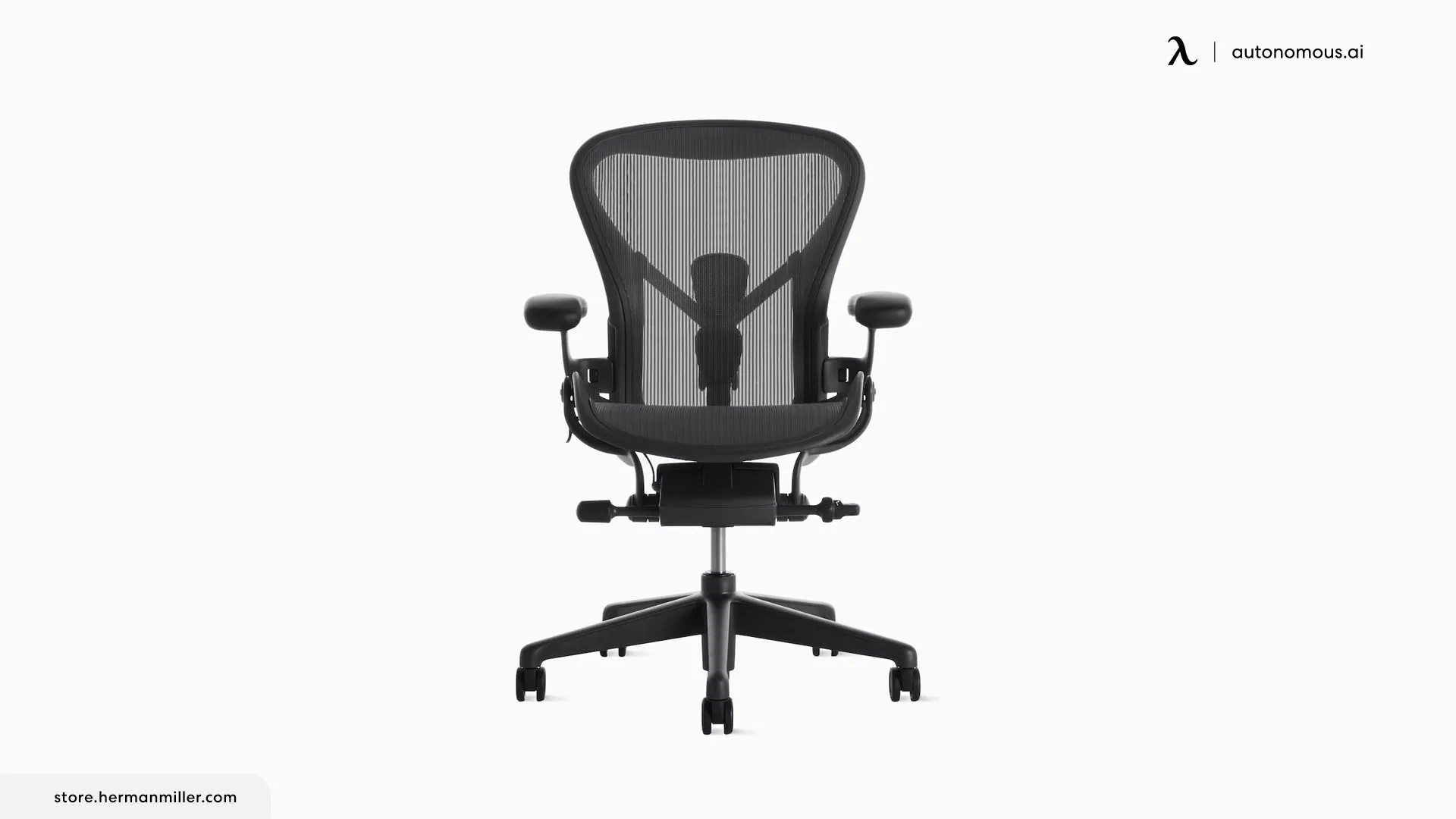 Pros

Cons

Durable build
Limited colors
Rust-resistant aluminum frame
Tilt-lock system
Lightweight
5. Steelcase Leap Office Chair
The next product on our list of the best-rated office chairs in 2023 is the Steelcase Leap office chair. If you value optimal comfort and productivity, this model is for you.  
With more than 10 shades to choose from, this chair with lumbar support lets you express your style without breaking the bank.  
Unlike waterfall seats, the Steelcase Leap features flexible edges on the seat, preventing pressure points on your legs and promoting comfort. The S-curve design of the backrest supports your spine and provides the ideal posture for long office hours.
You can effortlessly recline and adjust the tension to find the most comfortable angle for your work.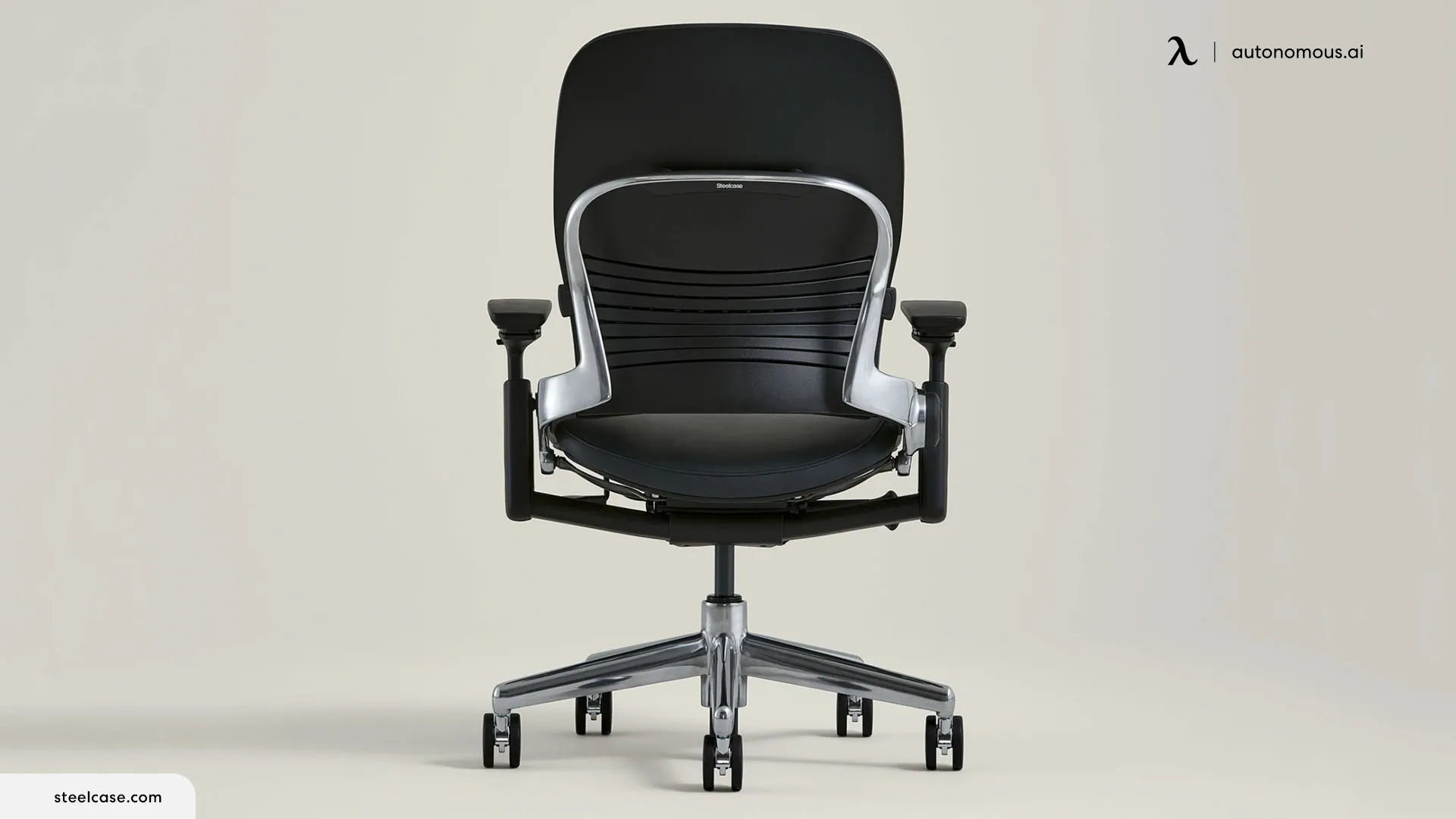 Steelcase Leap Office Chair
Pros

Cons

Variety of colors
Basic appearance
Dull adjustable armrests
Easy recline settings
Flexible seat edges
6. Flexispot C8 Ergonomic Chair
The Flexispot C8 Ergonomic Chair is the hidden gem in the world of the best-rated office chairs in 2023. It's perfect for those who appreciate modern luxury and comfort in their workspace. 
Whether you're an executive, an artist, or simply someone who values aesthetics and ergonomics, this chair delivers on all fronts. 
The soft PU backrest is stylish and incredibly strong, offering excellent lumbar support. Both the backrest and seat are made of breathable mesh material, which ensures proper airflow and comfort.  
You can adjust the seat to your liking, ensuring that it perfectly accommodates your body shape and size. The headrest also comes with side barriers for extra support and can be adjusted to suit your preferences. 
This chair promotes proper posture, keeping you comfortable and pain-free during extended work sessions.
On top of that, the PU wheels are smooth and quiet, letting you glide across the room without damaging the floor.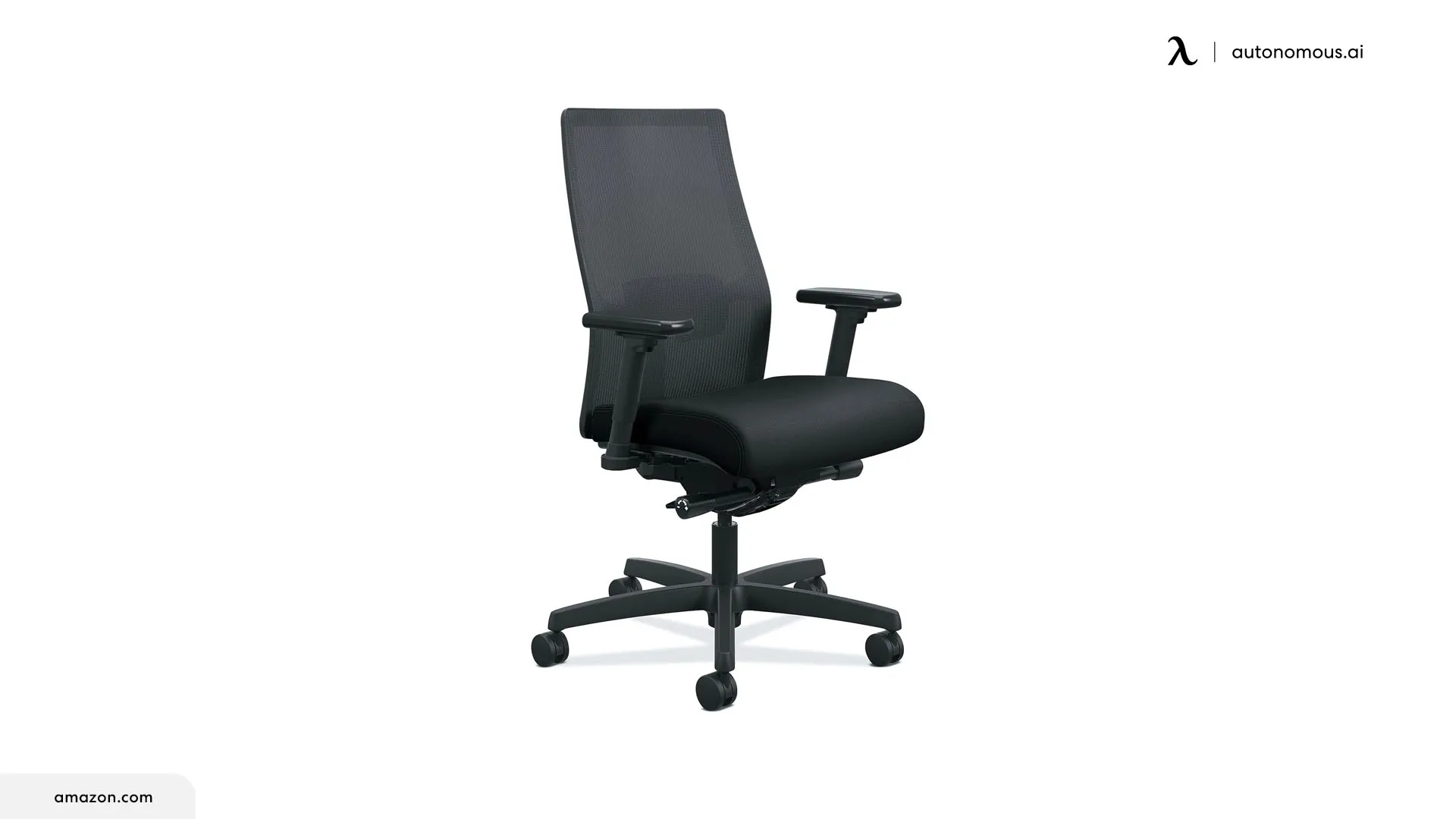 Flexispot C8 Ergonomic Chair
Pros

Cons

Aluminum alloy chassis
Slightly expensive
Strong backrest
Breathable mesh backrest and seat
Modern appearance
7. SIHOO C300 Office Chair
The SIHOO C300 office chair is all about comfort. With constant back support and a flexible seat, it ensures you can work without distractions for hours. The headrest is a true standout.  
It provides neck support and can be adjusted in multiple dimensions to cater to your specific needs. The chair also features a weight-sensing chassis that adjusts the tension of the backrest to match your body, ensuring perfect support.  
You can position the adjustable armrests to suit your preference. The chair's body movement tracking system follows your movements, making sure you're always in the right position.  
Its memory lumbar pad conforms to the shape of your back, eliminating the need for constant manual adjustments.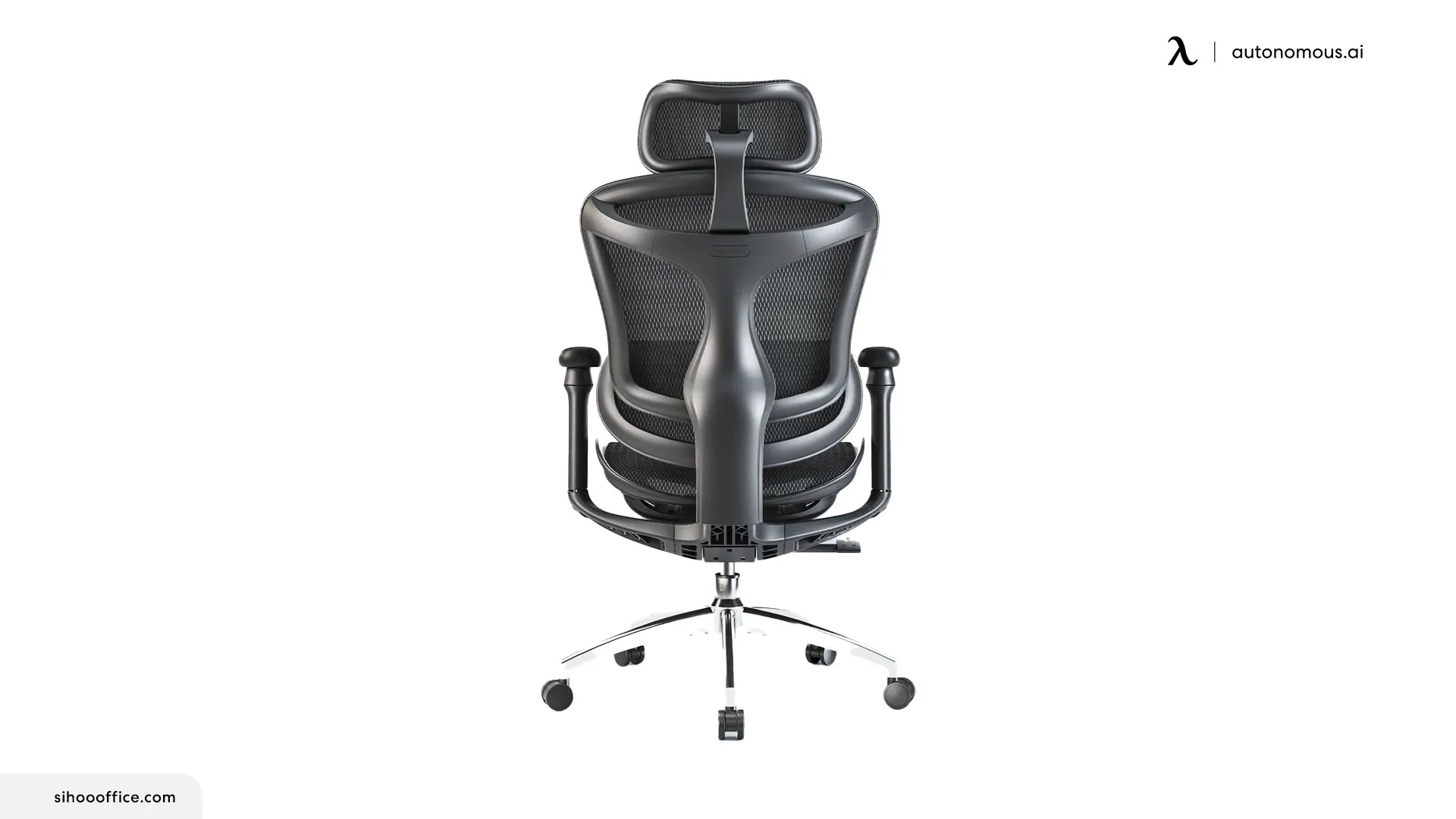 SIHOO Doro C300 Ergonomic Office Chair
Pros

Cons

Multi-adjustable headrest
Limited shades
Waterfall seat
Dynamic design
Memory lumbar support
8. Elliana Task Chair
Further down the list, we have the Elliana Task Chair by Wayfair. This is the most sophisticated model on our list. The best thing about the chair is its budget-friendly price tag! 
With two chic color options, it compliments your workspace's decor effortlessly. It also comes with all the necessary assembly tools, making setting up your new chair a breeze. 
The adjustable swivel feature ensures you can easily reach different areas of your desk without any hassle. This chair is compatible with both hardwood floors and carpets, ensuring it suits a variety of office setups. 
While it doesn't have all the ergonomic features, it does offer a comfortable foam seat covered in premium faux leather upholstery. It has a heavy base that provides stability and support for your daily tasks.  
The backrest features a unique hollow-out design, adding a touch of charm to your workspace. You can also easily adjust the height to suit your desk and body's needs.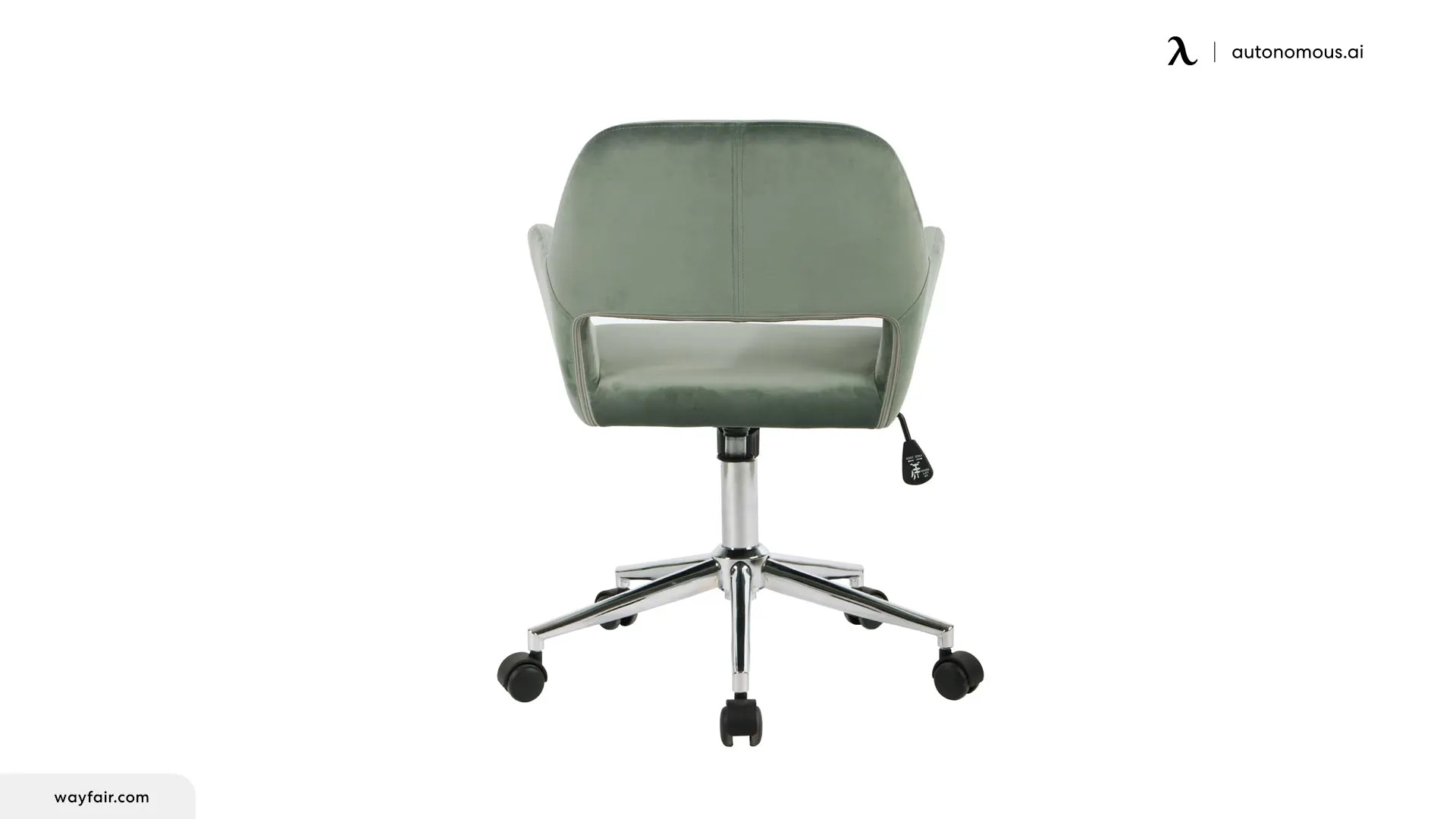 Pros

Cons

Chic design
Not ergonomic
Fashionable and practical
Hollow-out backrest
Nylon casters
9. Hon Ignition Task Chair
Our penultimate pick is the premium Hon Ignition task chair. It's available in five attractive colors to match your personal style.  
The chair comes with adjustable lumbar support, ensuring your lower back gets the personalized attention it needs. It is all about relaxation. The tilt-recline feature allows you to lean back and take a load off whenever you need a break. 
Easily adjust the seat height to ensure your feet rest flat on the ground, promoting good posture. The seat's waterfall-edge design reduces pressure on your legs, improving overall comfort. It's also a breeze to assemble, so you can enjoy its benefits immediately. 
With the ability to swivel 360 degrees, you'll have no trouble reaching different areas of your desk with ease. The Hon Ignition chair is perfect for those who need a little extra space, ensuring a comfortable fit for everyone.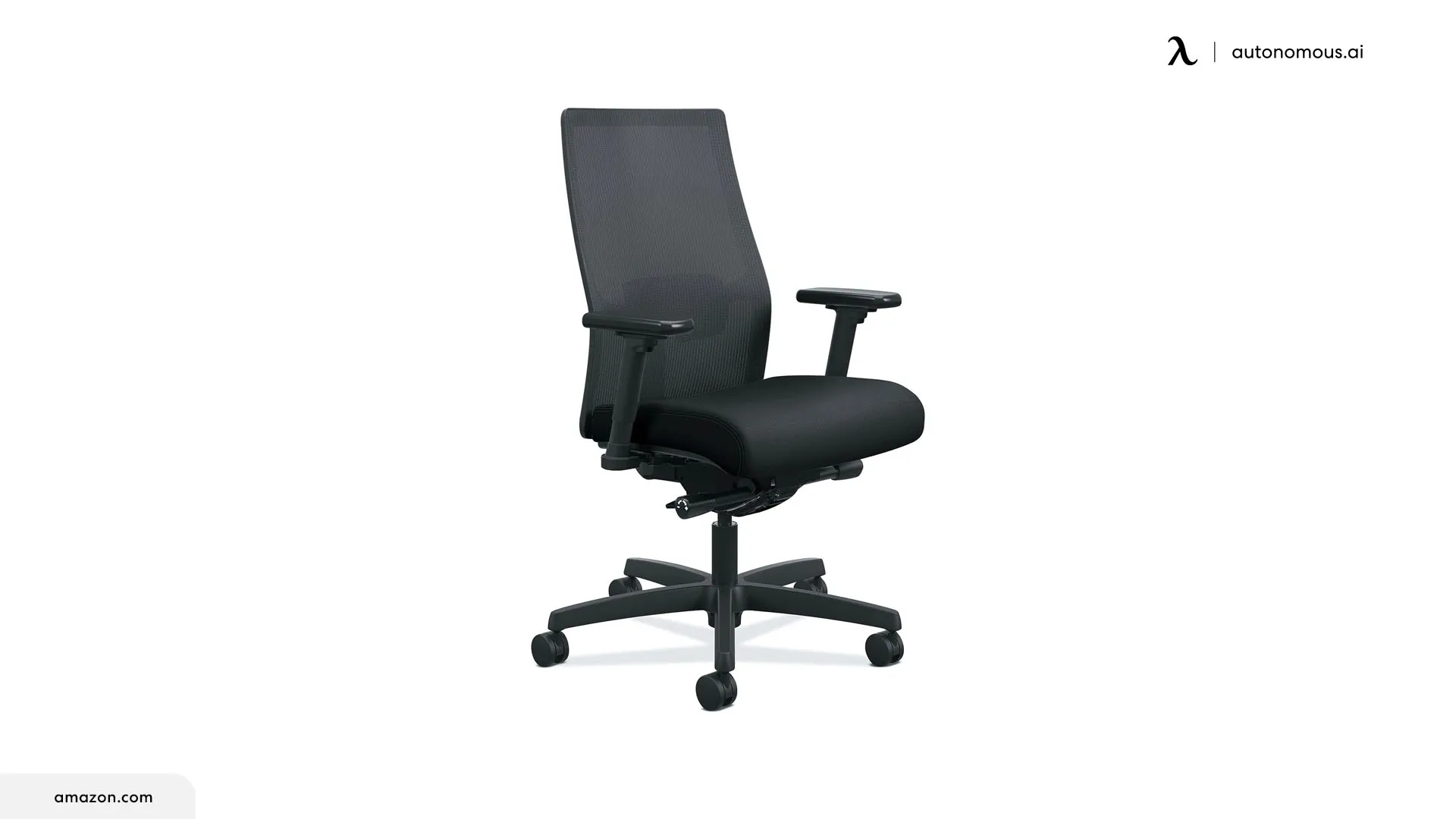 Pros

Cons

Pneumatic height adjustments
Pretty expensive
Contoured waterfall seat
Easy assembly
Adjustable spinal support
10. Haworth Office Chair
This final product on our search for the best executive office chair in 2023 is on the pricier side, but it's certainly worth every penny. The Haworth office chair is a top-of-the-line product crafted with the utmost care and precision. 
Customize the armrests to ensure your arms are perfectly positioned for comfortable typing and task completion. 
With a mid-back profile design, this chair offers fantastic lumbar support and freedom of movement. The molded seat conforms to your body shape, ensuring a personalized and snug fit. You can sit on the chair all day without experiencing prolonged lower back or hip pain.  
On the other hand, the back-lock system lets you lock the chair in your preferred position, providing stability and relaxation. 
Also, the weight-activated tension mechanism adjusts to your body weight. It offers a perfect recline experience.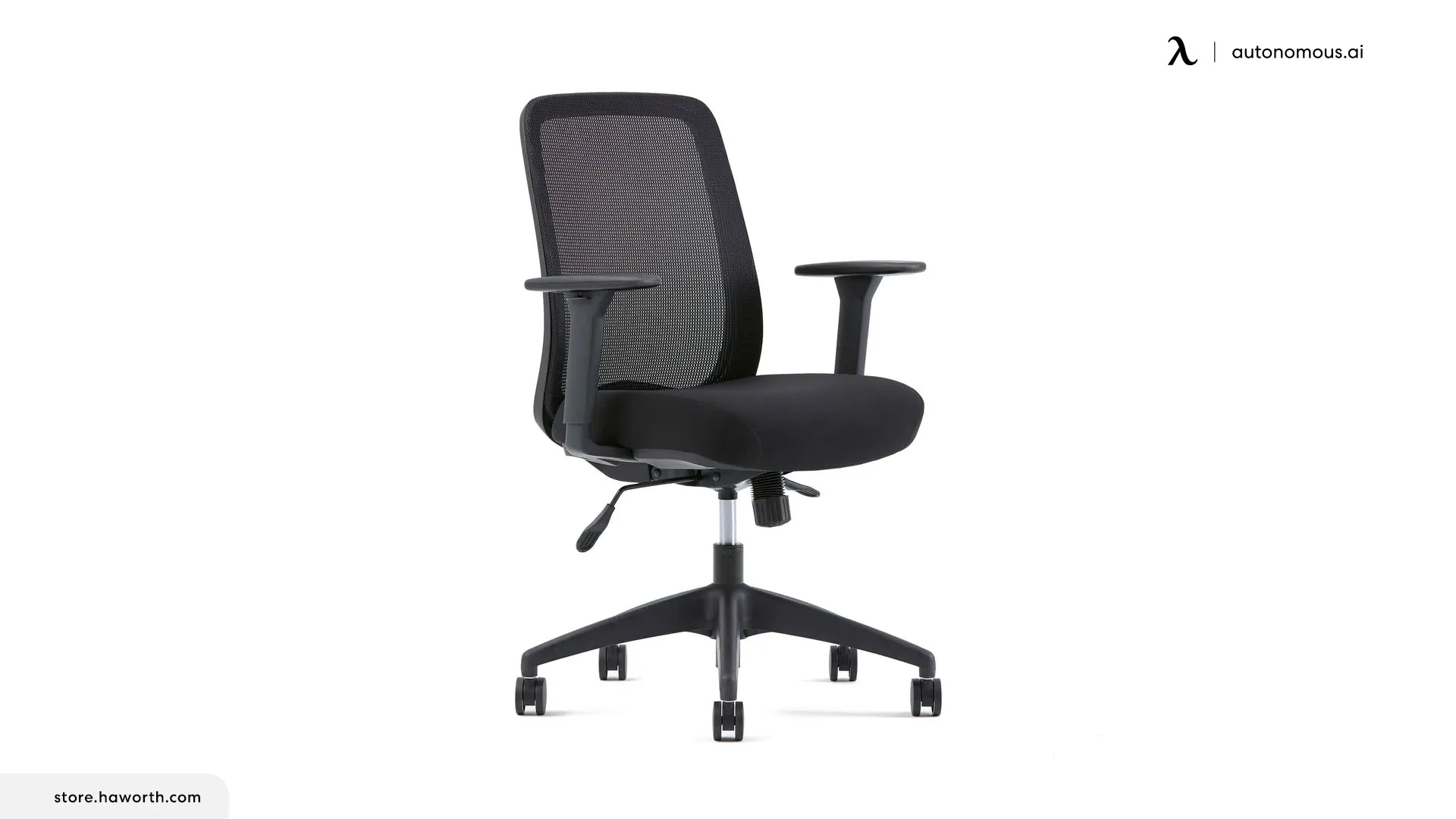 Haworth Assure Office Chair
Pros

Cons

Mid-back appearance
Premium price tag
Back-lock system
Molded seat design
Contoured backrest
Who Needs the Best Ergonomic Office Chair in 2023? 
While office chairs are traditionally associated with corporate settings, they've evolved to suit a variety of users.  
Gamers benefit from ergonomic designs that enhance their experience, and artists find comfort in supportive chairs during long creative sessions. Even streamers can enjoy the versatility and convenience of these chairs. 
It doesn't matter who you are or what you do in front of a desk. In our opinion, everyone deserves the best big and tall office chair in the market!
How We Picked and Tested the Best-rated Office Chairs in 2023?
We wouldn't want our readers to buy just any product. To ensure you get the best deal, our R&D involves rigorous testing of various factors:
Ergonomics 
We assessed each chair's ergonomic features, ensuring they offer the right lumbar support and armrests to promote healthy posture and prevent discomfort during long working hours. 
Materials 
Whether it's a leather office chair or a fabric one, we evaluated the quality of the materials used to ensure both durability and style. 
Specialized Chairs 
We considered options like the best ergonomic chair for those who need more room and spinal support. Our team also tested the best reclining office chair for ultimate relaxation. 
On top of that, we prioritized chairs that alleviate tailbone pain for those who need that extra bit of care and comfort.
Final Words
There you have it, our detailed review of the best office chair models 2023 has to offer! We've explored a fantastic array of chairs, each with its unique blend of features and flair. 
Thanks to rising WFH opportunities, work and play often merge. As a result, your seating shouldn't just be functional. It should be a place where you can relax without compromising productivity. 
Your chair is not just a piece of furniture. It's your personal comfort zone. Why settle for anything less than what you love? 
In the end, the best executive office chair in 2023 for you is the one that makes you excited to sit down and get to work.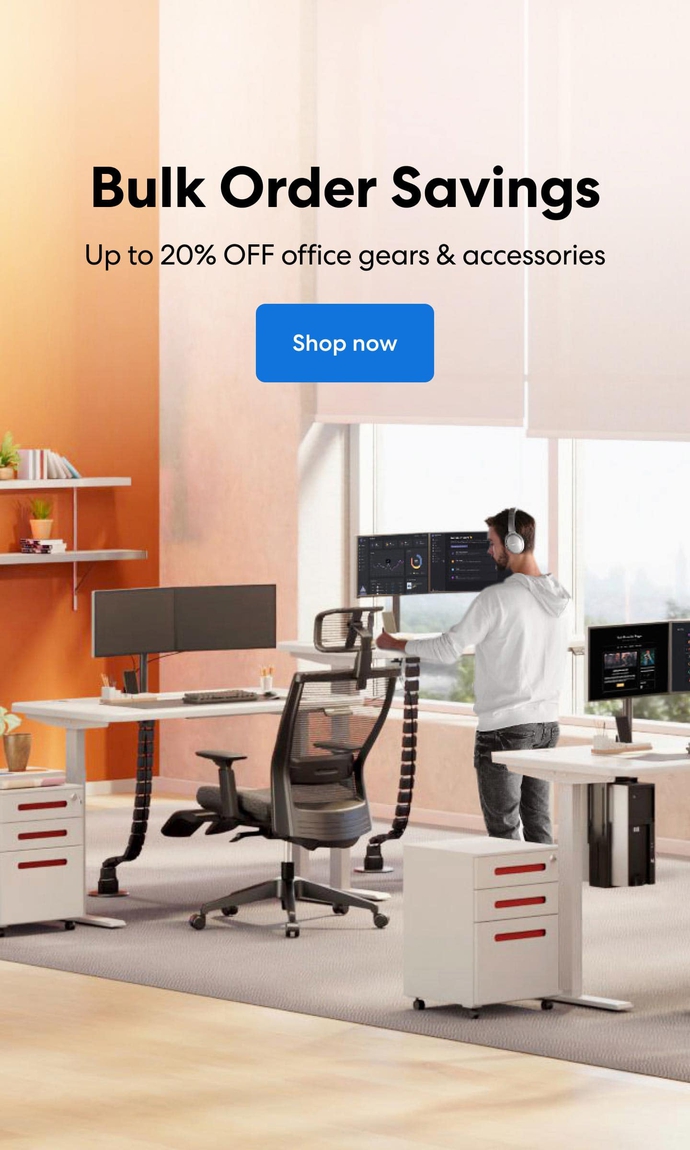 Subcribe newsletter and get $100 OFF.
Receive product updates, special offers, ergo tips, and inspiration form our team.