Smart Products
Choosing Lumbar Support for Different Chair Types: Find The Right Fit

Autonomous
|
Jul 31, 2023
394 Views
Do you spend long hours sitting in an office chair, hunched over a desk, or working from home? The natural curve of our spine is vital for maintaining good posture and preventing chronic back pain.  
However, many chairs lack proper lumbar support, leading to slouching and strain on the lower back. In this blog post, we will guide you through choosing the right chair lumbar support so that you can enjoy the benefits of a pain-free and ergonomic seating experience. 
The Ergonomic Benefits of Chair Lumbar Support 
Our spine possesses a natural curvature designed to maintain balance and proper alignment. Unfortunately, prolonged slouching or a forward-leaning posture can adversely affect this shape, causing the spine to push outwards toward the chair.  
This unnatural form can cause lower back pain and long-term joint discomfort. Fortunately, lumbar support products can tackle this problem, promoting a healthier and more productive work environment.  
Proper Posture 
Investing in an office chair with lumbar support offers numerous benefits beyond mere comfort.  
By supporting the natural curvature of your spine, an ergonomic office chair with lumbar support helps you maintain proper posture. This alignment not only alleviates existing pain but also prevents the development of long-term back problems. 
Blood Circulation 
Furthermore, an office chair with lumbar support promotes improved blood circulation in the lower back region.  
Instead of hindering the flow of blood, which can lead to numbness and discomfort, the supportive contour of the product allows for better circulation and oxygenation of the muscles. 
Essential Reasons Why Lumbar Support Varies Across Chair Types
Proper chair lumbar support can make a world of difference when alleviating pain and promoting a healthy spine curvature.  
By understanding the varying levels and types of lumbar support available, you can make an informed decision when you have to buy an ergonomic chair for your specific needs. 
Office Chairs: A Haven for Lumbar Support
These chairs are designed with ergonomics in mind. They prioritize comfort and promote a healthy sitting posture. The best ergonomic chair with lumbar support will allow you to customize the level of support to fit your unique needs.  
Office chairs with mesh backrests and padded spine support are often highly recommended by professionals as they help maintain the natural curvature of your spine, aligning it in the correct position.
Floor Chairs: A Convenient Alternative 
On the other hand, a floor chair with back support can be a great option for those seeking a more casual seating option.  
While floor chairs may offer a different level of lumbar support than an office or desk chair, they are an excellent choice for short-duration activities such as gaming, reading, or watching TV. 
Gaming Chairs: A Unique Approach to Productivity  
Thanks to their ergonomic features, gaming chairs are a great alternative to other seating options. High-quality gaming chairs also have headrests and extendable footrests, offering unparalleled comfort and convenience to users.  
Task Chairs: A Budget-friendlier Alternative 
Consider investing in a task chair if you don't want to break the bank. Most task chairs have convenient features such as a built-in back support pillow, padded armrests, mesh backrests, etc. 
The best part about such products is that they cost a fraction of what you'd spend on gaming chairs, making them affordable for those on a tight budget.
The Four Different Types of Lumbar Support in the Market
Whether you're suffering from chronic lower back pain or simply looking to maintain proper posture during long hours of sitting, finding the right ergonomic office chair with lumbar support can make all the difference. 
1. Fixed Lumbar Support in Low-quality Office Chairs
If you're on a budget or want a basic solution, low-quality office chairs with fixed lumbar support might be an option.  
These chairs usually have a built-in lumbar pad or cushion that cannot be adjusted. While inexpensive, such products may not provide the support necessary for proper alignment and long-term comfort. However, they can be a temporary solution until you can invest in a higher-quality chair.
2. Adjustable Support in Expensive, High-quality Ergonomic Office Chairs
On the other hand, investing in an expensive, high-quality ergonomic office chair with adjustable lumbar support is the way to go for those seeking the ultimate comfort and support.  
These chairs can cater to individual preferences and body types. With multiple adjustment options, you can easily customize the lumbar support according to your needs, ensuring proper alignment and reducing the strain on your lower back.  
While these chairs may come at a higher price point, they are worth the investment for those spending long hours sitting.
3. Dynamic Lumbar Support with Memory Foam Pillow or Cushion
Gaming and high-end ergonomic office chairs now come with dynamic lumbar support, usually as a memory foam pillow or cushion. This support automatically adjusts to your body's movement and maintains optimal alignment as you shift positions throughout the day. 
4. External Lumbar Support Such as a Pillow, Cushion, or Memory Foam
If you're not ready to invest in a new chair or prefer the flexibility of external support, several affordable options are available. 
You can purchase a lumbar support cushion or memory foam lumbar pillow that you can easily attach to your existing chair. These options provide targeted support to your lower back, alleviating pain and helping you maintain proper posture.  
They are portable and can be used on any chair or seat, making them ideal for long-term comfort and convenience.
Remember, everyone has unique comfort preferences and requirements. Take the time to assess your needs, try different options if possible, and seek expert recommendations to find the best chair lumbar support solution that works for you.  
Prioritizing ergonomic practices will benefit your physical health and contribute to enhanced productivity and overall job satisfaction.
Top 10 Chair Lumbar Support Products 
Lumbar support plays a significant role in maintaining a healthy spine and preventing the discomfort and pain associated with poor posture. The key is finding a solution that best suits your needs and promotes proper alignment.  
Say goodbye to chronic back pain by incorporating the following lumbar support products into your seating arrangement! 
1. Mount-It! ErgoActive Lumbar Support Pillow
Made to provide exceptional comfort and support, this office chair lumbar support pillow is your solution to transforming any chair into a haven of relaxation. 
First and foremost, it boasts a memory foam construction. This exceptional material molds to the natural curvature of your spine, providing optimal support and alleviating any strain on your lower back.  
There's no need to worry about discomfort caused by heat buildup, either. The breathable cover of this office chair lumbar support ensures maximum airflow, keeping your back cool throughout the day.  
It's completely washable, allowing you to keep your lumbar support pillow looking and smelling as good as new.
2. ErgoFoam Lumbar Support Pillow
Designed with your natural spinal curve in mind, the ErgoFoam Lumbar Support Pillow effortlessly adapts to the shape of your back, providing targeted support exactly where you need it. 
On top of that, this product is undoubtedly the best office chair cushion, thanks to its impressive breathability. The mesh cover allows maximum airflow, keeping you cool and comfortable even during the hottest summer days.  
While it is ideal for most tasks and gaming chairs, it may be too large for smaller office chairs. However, this minor drawback is easily overlooked when you consider the immense benefits it brings to your overall well-being.
3. Mount-It! Memory Foam Lumbar Pillow
This Mount-It! lumbar support for your office chair is made with high-density memory foam, ensuring optimal comfort and support. Its breathable and lightweight nature allows air circulation, preventing heat and moisture buildup.  
Equipped with a washable cover, maintaining cleanliness and freshness is quick and effortless. The cover can withstand regular washing, ensuring the longevity of your lumbar pillow. 
Its durable construction guarantees it will withstand regular use without losing its shape or support over time.
4. Logicfox Lumbar Support Pillow
Designed with your comfort in mind, the Logicfox Lumbar Support Pillow comes in four shades, allowing you to choose the perfect one to match your car or office chair.  
Its rectangular shape and memory foam provide exceptional support for your spine, ensuring proper alignment and waist support.  
One of the standout features of this lumbar support for your desk chair is its removable cover with a convenient zipper. This means you can easily wash and clean it whenever necessary, ensuring a hygienic sitting experience.
5. DMI Lumbar Support Pillow
This lumbar support for your car boasts various features that set it apart from the competition. 
With its removable cotton cover, you can easily keep the pillow fresh and clean. Available in five attractive colors, the product effortlessly complements any environment while providing the ergonomic support you need. 
Unlike memory foam pillows, this cushion is specially designed with composite board support and molded foam. 
6. Amazon Basics Memory Foam Cushion
This memory foam chair lumbar support from Amazon Basics is here to revolutionize your sitting experience. Available in a sleek black shade, this high-density foam cushion is a game changer when providing optimal back support. 
The mesh design also allows for proper air circulation, keeping you cool and comfortable during warmer days.
7. Tempur-Pedic Lumbar Pillow
Made with the highest quality memory foam, the Tempur-Pedic Lumbar Pillow offers unparalleled comfort and support. This peanut-shaped cushion is ideal as neck support too. Its compact size makes it easy to carry and store, allowing you to take it anywhere. 
The Tempur-Pedic pillow also boasts a removable and machine-washable latex cover. This lumbar cushion is great for office chairs and can also be used in cars or any other seating situation where you need that extra support. It's like having a chiropractor on the go!
8. Pillow Perfect Lumbar Support
Crafted with care, this Pillow Perfect product boasts a durable polyester material that adds a touch of elegance and ensures long-lasting use.  
Available in three beautiful colors, you can choose the one that effortlessly enhances your space's aesthetic. Its throw pillow design makes it a versatile accessory, allowing you to use it on sofas and patio benches. 
Worried about accidental spills or dirt? No problem! This lumbar support for your desk chair is conveniently machine-washable, making it easy to clean and maintain its pristine appearance.
9. DAINTIER Memory Foam Lumbar Support
With its zero-pressure memory foam and ergonomic design, this lumbar support provides optimal comfort and relief for your upper and lower back.  
Not only is this DAINTIER lumbar support for your office chair practical, but it is also incredibly convenient. Its zipper design makes the cover easily removable and machine-washable, allowing you to keep it clean and fresh.
10. Klear Vu Lumbar Support Pillow
The final chair lumbar support is this Klear Vu pillow in navy blue. It is made of high-quality polyester that feels soft and comfortable and is durable and long-lasting. Whether you're using it in your bed, wheelchair, or your car, this pillow will provide the support you need.
Final Words
Investing in proper chair lumbar support is a wise choice for anyone who spends extended hours sitting at a desk. Not only does it help maintain a healthy sitting posture, but it also provides relief from chronic back pain. 
Whether you opt for an ergonomic office chair with built-in pad, an external cushion, or a portable lumbar support, finding the best fit for your needs is essential.
Video ads for product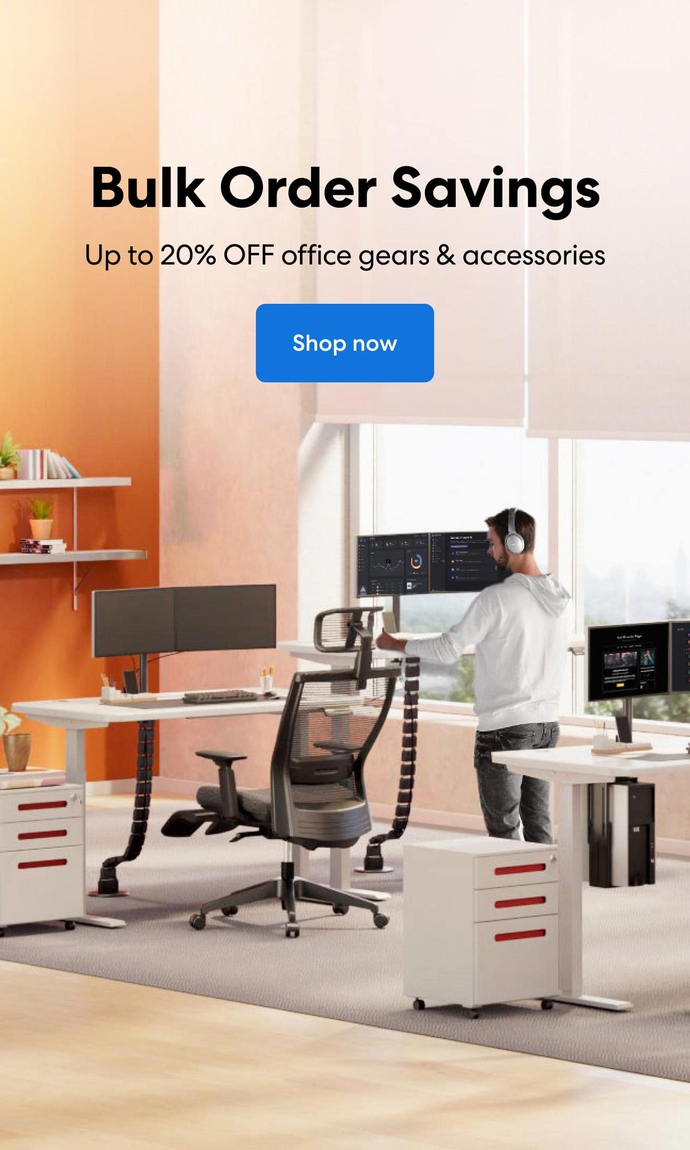 Subcribe newsletter and get $100 OFF.
Receive product updates, special offers, ergo tips, and inspiration form our team.