Table of Contents
Black Friday is fast approaching, and with it comes a whirlwind of enticing deals, including highly anticipated offers such as Black Friday desk deals, recliner Black Friday deals, and security camera Black Friday deals. As millennials gear up to make the most of this shopping extravaganza, it's essential to have a comprehensive guide to the best stores and the hottest products on offer.
So, whether you're seeking the perfect ergonomic office furniture or eyeing the latest tech gadgets, read on to unravel the ultimate shopping roadmap for Black Friday 2023. Let's explore the best stores to shop for Black Friday!
Top 5 Good Places To Go Black Friday Shopping
If the question you are asking is "Where to find the best Black Friday deals," then you have come to the right place; following are the best place to shop for Black Friday:
1. Autonomous.ai
Ideal for individuals in search of comfortable and efficient ergonomic office furniture and add-ons, Autonomous.ai has cemented its position as a frontrunner, dedicated to providing products that improve posture, reduce fatigue, and enhance overall productivity. In the previous Black Friday sale, Autonomous.ai presented remarkable offers, presenting discounts of up to 60% on specific office chairs, up to 50% on standing desks, and up to 40% on various accompanying accessories. Anticipate this year's Autonomous.ai Black Friday deals to include enticing discounts of up to 60% on select chairs, monitor arms, standing desks and more, promising an exciting opportunity to elevate your workspace at budget-friendly prices.
2. Target
Target attracts consumers because it is able to meet a wide variety of demands and simply trigger spontaneous purchases because of its wide assortment of products and inviting shopping experience that stimulates discovery. Target's 71-page Black Friday ad for 2022 had irresistible deals, and the store's free loyalty program, Target Circle, and its flexible payment methods further added to the allure.
On Black Friday, Target will offer a bevy of discounts, some as high as 50% on game accessories and 40% on LEGO block sets, 30% off women's knitwear, 50% off some home decorations, and significant markdowns of 40% on clothing, cold-weather accessories, and boots for the whole family. Be on the lookout for a "buy 2, get the 3rd free" sale that applies to some of the pieces, making for a really unique shopping experience.
3. Walmart
You can get anything you need at Walmart on Black Friday. Walmart is a one-stop shop for all your shopping needs because of its extensive inventory and low costs. TVs, computers, cellphones, appliances, and household products will all be available at deeply discounted prices on Black Friday.
Because of its low prices and wide selection, Walmart is a favorite among consumers. On Black Friday, Walmart provides even further discounts, with price reductions of up to 70% on certain televisions, 50% on some laptops, 40% on some smartphones, and 30% on other home appliances.
In addition to low prices, Walmart also has a lot going for it in terms of customer service, accessibility, and variety of products and services. This is why Walmart is a great choice for anyone who wants to have a fun and productive shopping trip.
4. Best Buy
Visit Best Buy on Black Friday whether you're a gadget lover or just in the market for some high-quality appliances and devices. If you're in the market for high-quality electronics, Best Buy is your best bet. It has remained at the forefront of the tech industry by stocking a wide variety of products linked to electronics and computing.
Best Buy, known for its excellent customer service and low prices, offered steep discounts of up to 50% on certain television models, 40% on some laptop brands, and 30% on some smartphone models during their 2022 Black Friday sale. If rumors are to be believed, this year's Best Buy Black Friday specials will feature savings of up to 60% on carefully chosen television sets, up to 50% on some laptop models, up to 40% on specific smartphones, and up to 30% on the much needed home appliances.
5. Costco
Costco is the place to go if you like buying things in large quantities and want to save money on brand-name items by taking advantage of special membership prices. A warehouse club offering a wide selection of merchandise at affordable costs, Costco is accessible solely to its members. The warehouse club Costco has everything from food and supplies to gadgets and home items. As a member of Costco, you are entitled to a number of benefits, including free merchandise, cash incentives, and discounts on vacation packages.
On Black Friday of the previous year, Costco offered unbelievable discounts of up to 50% on a number of different kinds of electronics, appliances, and home items. Big discounts are available on a wide variety of home appliances. Up to seventy percent off is expected on several electronics, furniture and home appliances on Black Friday. Do not pass up the chance to get the necessities at unimaginably low rates by not visiting Costco.
FAQ
1. What makes Autonomous.ai the best place for Black Friday deals on office furniture and accessories?
Autonomous.ai stands out as a leading provider of ergonomic office solutions, offering unmatched quality and functionality, especially during the Black Friday shopping season.
2. Are there any specific features to consider when choosing the ideal office chair during the Black Friday sale?
Look for adjustable heights, lumbar support, and breathable materials, ensuring maximum comfort and support for prolonged work hours. These are the features that will make you happy and comfortable.
3. How do standing desks from Autonomous.ai contribute to a healthier work lifestyle, and why are they worth considering on Black Friday?
Autonomous.ai's standing desks are designed to promote better posture and increased energy levels, making them an excellent investment for those aiming to improve their overall well-being.
Conclusion
Prepare to makeover your home with Black Friday discounts from the best shops! Whether it's securing the perfect air purifier Black Friday deal or snagging the ultimate office chair Black Friday deal, this year's shopping extravaganza promises great opportunities for enhancing your living and work environment.
This shopping bonanza is your pass to a better home and workplace. Check out Autonomous.ai, Target, Walmart, Best Buy, and Costco's sales to discover unrivaled chances to spruce up your space at competitive prices. This Black Friday might be the key to finally getting the home of your dreams if you go about it the right way. Enjoy the excitement of this Black Friday by making your home an accurate representation of your goals and dreams.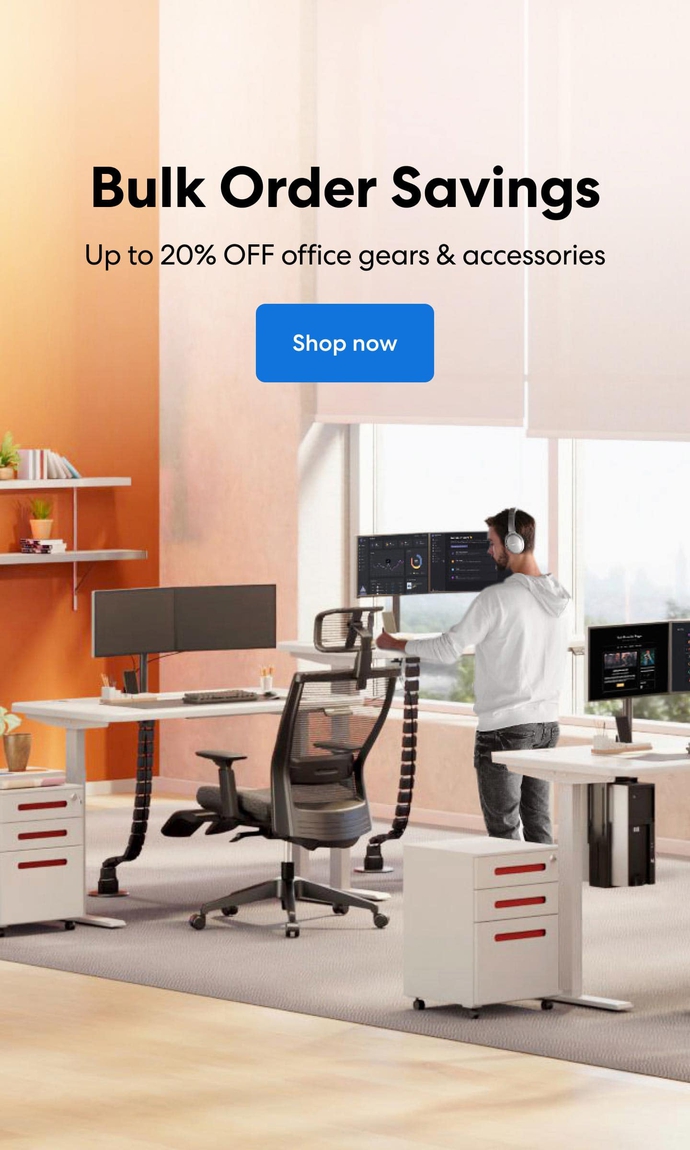 Subcribe newsletter and get $100 OFF.
Receive product updates, special offers, ergo tips, and inspiration form our team.