Smart Products
Furniture Shopping Tips for Small Businesses in Ottawa, Canada

Autonomous
|
Oct 23, 2023
457 Views
It's a big undertaking for a small business to furnish their commercial space. When redoing any workspace, it's vital to design this area with the right balance between functionality, aesthetics, and budget. 
While finding the right furniture in Ottawa can be tricky, the right tips and tricks can set your space apart and ensure you create a space that promotes productivity. This guide will take you through what you should consider before buying any modern furniture in Ottawa. Additionally, you'll be presented with valuable tips to make the most out of your purchases. 
What to Consider When Furnishing Your Commercial Space?
We need to look at the fundamentals before we get into the specifics of furniture shopping. Whether you're furnishing a retail store or a startup office, there are several factors you need to consider before making any purchases. These include: 
Functionality and Purpose 
You want to start your Ottawa furniture journey by considering the specific needs of your small business. Here are some questions to consider: 
What is the purpose of this space?
Is it individual offices, a reception area, or an open workspace?
Would your staff require ergonomic chairs and standing desks for long working hours, or is it more important to have a stylish reception area? 
Once you have an idea of exactly what you will use the furniture for, it's time to decide on a suitable budget. 
Budget Constraints
Define your furniture purchase budget. You want to account for any additional expenses like maintenance and installation. Once you've outlined a realistic budget, you want to explore cost-effective furnishing options that don't compromise on comfort and quality. 
Aesthetics and Design
When you're furnishing your commercial space, you want to make sure that the aesthetics align with your target audience and brand identity. Consider if you want a more traditional style or a modern and minimalist look. You can then pick furniture that reflects your brand's image.
What to Consider When Buying New Ottawa Furniture for Your Office?
Now that you have a clear understanding of your commercial space's limitations and needs, we can dive into the specifics of purchasing Ottawa furniture for your small business: 
Durability and Quality
Your utmost responsibility is to invest in high-quality furniture that can withstand commercial use's daily wear and tear. Make sure you're considering furniture that is made from durable materials to guarantee it stands the test of time. 
Brand Reputation
Look at furniture options from brands that are known for their customer satisfaction and quality standards. You can find out who are trustworthy furniture brands by reading reviews and gathering recommendations from other Ottawa-based small businesses. 
Space Optimization
You can easily maximize your available space by investing in furniture that is space-efficient. These multifunctional furniture options are great if you have limited space and want to make the most out of it. Storage solutions and modular desks are good options to consider. 
Ergonomics
Ergonomics in any workspace are invaluable, which is why you should prioritize ergonomic office furniture in your office. 
This will help improve your employee productivity and well-being. When improving the ergonomics of your workspace, you want to consider features like standing desk chairs and adjustable height desks to reduce strain and promote comfort.
Why Should Small Businesses Invest in Modern Furniture in Ottawa?
Investing in modern furniture is a strategic decision that provides small businesses in Ottawa with an array of benefits. These include: 
Enhanced Well-Being and Productivity
When investing in modern furniture in Ottawa, comfort and ergonomics are prioritized in the furniture's design. These investments in adjustable-height desks and ergonomic chairs can promote employee well-being and productivity. 
These improved ergonomics help make employees more comfortable during their workday, which keeps them focused and motivated. Moreover, ergonomic furniture also helps reduce the risk of workplace discomfort and injuries. This aids in overall well-being and contributes to higher job satisfaction. 
Better Brand Image and Aesthetics
Modern furniture is well-liked for its contemporary and sleek design. You can easily elevate your office or retail area's aesthetics when you include modern furniture in your commercial space. 
Not only does this visually appealing workspace impress clients, but it also makes a positive impression on your employees. Resulting in an enhanced brand image; small businesses foster a sense of professionalism and build a stronger identity when they invest in modern furniture.
Improved Environmental Responsibility and Sustainability
When you purchase anything from modern office furniture manufacturers, you're guaranteed sustainability. That's because these manufacturers are becoming increasingly committed to sustainable materials and practices. 
Small businesses in Ottawa can easily align themselves with sustainable and environmentally responsible values when they invest in eco-friendly modern furniture. 
Not only are sustainable furniture options better for the planet, but these items also appeal to environmentally conscious consumers. You can enhance your business's reputation by choosing sustainable furniture, which will help you attract a wide customer base. 
Greater Technological Integration
Businesses have become heavily reliant on technology. Traditional furniture doesn't cater to the technological needs of companies, but modern furniture does. Many modern desks are designed with built-in power outlets and cable management solutions. 
These designs help improve overall workspace functionality while reducing clutter. These technological integrations work to streamline technology use while creating an organized and efficient work environment.
Employee Retention and Recruitment
It's crucial for small business success to be able to attract and retain top talent. That's where modern furniture can help contribute to a more attractive and visually appealing workplace. However, this modern furniture goes a step forward and can also foster an ergonomic office space that promotes comfort and productivity. 
Having a workspace like this makes it easier for small businesses in Ottawa to recruit and retain skilled employees. That's because skilled professionals are more likely to choose companies that prioritize employee well-being and comfort, which is why you do when investing in modern Ottawa furniture. 
Adaptable and Flexible Spaces
Modern furniture is typically designed to be adaptable and flexible, which is what makes it great for any workspace. Small businesses can easily reconfigure their office spaces whenever their needs change. 
That's because most modern furniture and office accessories, like versatile seating arrangements and modular desks, can be rearranged and repurposed. This increased adaptability and flexibility empower small businesses in Ottawa to optimize their space utilization and work with any changing business needs. 
The Best Place to Cater to Small Businesses in Ottawa
You've got a solid understanding of what considerations you should make when furnishing your commercial space and how modern furniture can benefit your small business. 
Now it's time to look at what brand you should be using to furnish your workspace. This is where Autonomous comes in as your trusted source for modern office furniture in Ottawa. 
Why Purchase from Autonomous?
Autonomous is a well-liked furniture brand that's renowned for its commitment to design, affordability, and quality. Customers especially like that all Autonomous products are designed with small business needs in mind. This provides an exceptional blend of functionality and style.
What Is the Autonomous Bulk Order Program?
Tailored specifically for small businesses, the Autonomous Bulk Order Program offers exclusive discounts and benefits on bulk furniture purchases. This allows business owners to seamlessly customize any office furniture to match their brand's unique style and brand image. 
Rather than just purchasing a few pieces of furniture, the Autonomous Bulk Order Program empowers small business owners to purchase all the modern furniture they need without breaking the bank. If you want office chairs wholesale or wholesale office desks, the Autonomous Bulk Program has got you covered. 
Some of the Autonomous Best-Seller Products to Use for Your Ottawa Office
Here are some of the top-selling products at Autonomous that would be exceptional investments for small businesses in Ottawa:
SmartDesk Corner
The SmartDesk Corner is the perfect option for offices with limited space. When you invest in a SmartDesk Corner standing desk, you can easily improve the ergonomics of your working space while maximizing the use of all available room corners. This design ensures employees get ample workspace without compromising on quality.
SmartDesk Pro
Offering adjustable height settings, the SmartDesk Pro is equipped to promote productivity and comfort in any working area. Additionally, this standing desk's sleek and modern design enhances your office's aesthetics and fosters a greater sense of professionalism.
ErgoChair Plus
If you're searching for an executive office chair with a luxurious design, the ErgoChair Plus is the right choice for you. The ErgoChair Plus is specifically designed to enhance an office's appearance without compromising on comfort. That's why it's a great addition to meeting rooms and executive offices.
ErgoChair Pro
Designed to improve the ergonomics of a workspace, the ErgoChair Pro is equipped with exceptional features that keep employees comfortable and supported during long hours in front of their desks. This ergonomic office chair is also made with a stylish design, which adds some sophistication to your working area and fosters a higher level of professionalism.
ErgoChair Recline
Offering ultimate comfort and relaxation, the ErgoChair Recline is an invaluable ergonomic office chair for employees who spend most of their day seated in front of a computer. This chair is ideal for creative spaces or break areas because it can help employees unwind before getting back into focused work in front of their desks.
Tips for Including Modern Furniture in Small Businesses
Incorporating modern furniture is an exceptional idea when designing an office space for small businesses. It can be a way to make your working environment more stylish and functional. 
Known for its minimalist and sleek designs, modern furniture helps small business owners create a clean and organized work area while maximizing space. Here are some tips you can include to ensure you're getting the most out of your modern furniture. 
Focus on Ergonomics
Even though modern furniture is often equipped with a minimalistic and sleek design, it's crucial that you prioritize ergonomics. This will ensure your employees are comfortable and supported throughout their working day. You want to do this by looking for: 
Supportive furniture designed to promote good posture
Height-adjustable desks
Ergonomic office chairs with adjustable features
Pick Minimalist and Sleek Furniture
Characterized by its minimalistic designs and clean lines, modern furniture is an excellent addition to any workspace. To achieve this look, you want to invest in furniture pieces that are space-saving and compact. 
This could include slim chairs, modular desks, and multifunctional storage solutions. When you include these furniture pieces in your workspace, you create an uncluttered and open look in your office.
Plan Your Space
Before you start adding modern furniture to your workspace, you want to carefully plan out your office. This layout should be something you should consider to ensure this space flows. You want to determine how different areas will be used. When you do this, you can easily find the right modern furniture pieces that will fit well into your space. 
Make Use of an Vertical Space
If you find that you're working with limited floor space, you want to see how you can use your vertical space. Consider adding floating shelves, wall-mounted storage solutions, and overhead storage ideas to maximize your vertical space. This will help you get the most out of your storage capacity while freeing up floor space.
Wrapping It Up
It's a significant investment to furnish your commercial space in Ottawa, which is why it's crucial to make informed decisions. When you consider factors like your budget, aesthetics, and functionality, you're empowered to create a workspace that promotes productivity and reflects your brand's identity. 
Autonomous is a leading choice when it comes to buying modern office furniture in Ottawa. That's because the brand is known for offering affordability, quality, and customization options through its Bulk Order Program. 
If you want to buy an ergonomic chair or standing desk, this brand has got you covered with the best. You can easily make your small business space a haven of style and comfort with Autonomous furniture.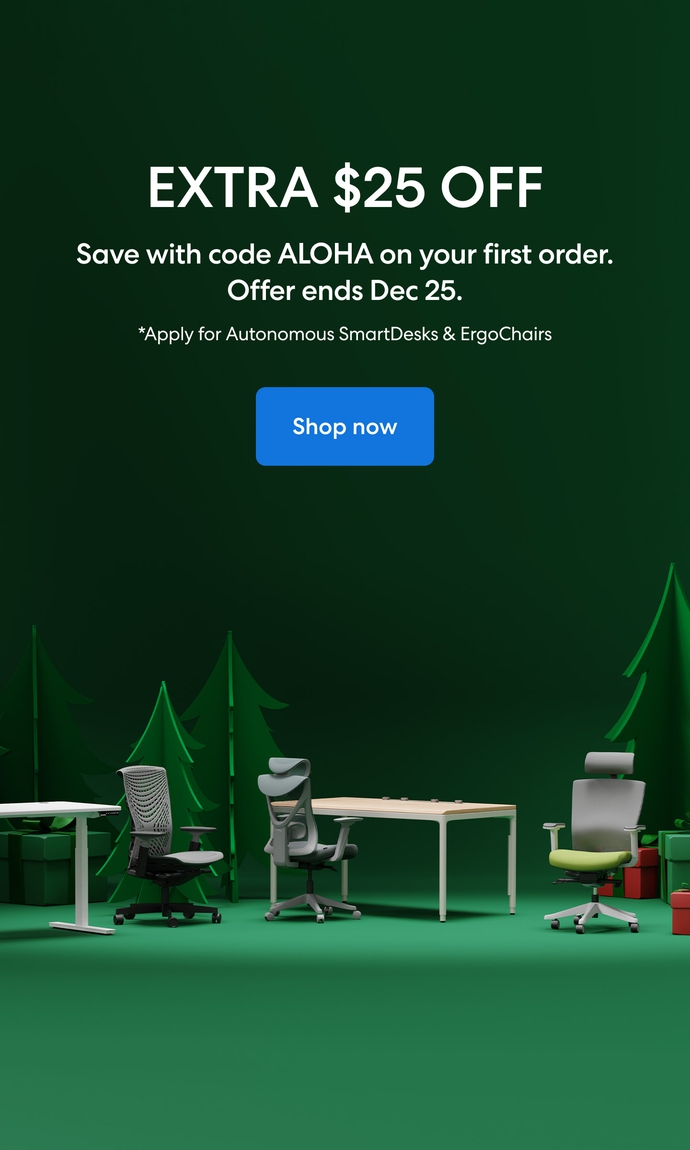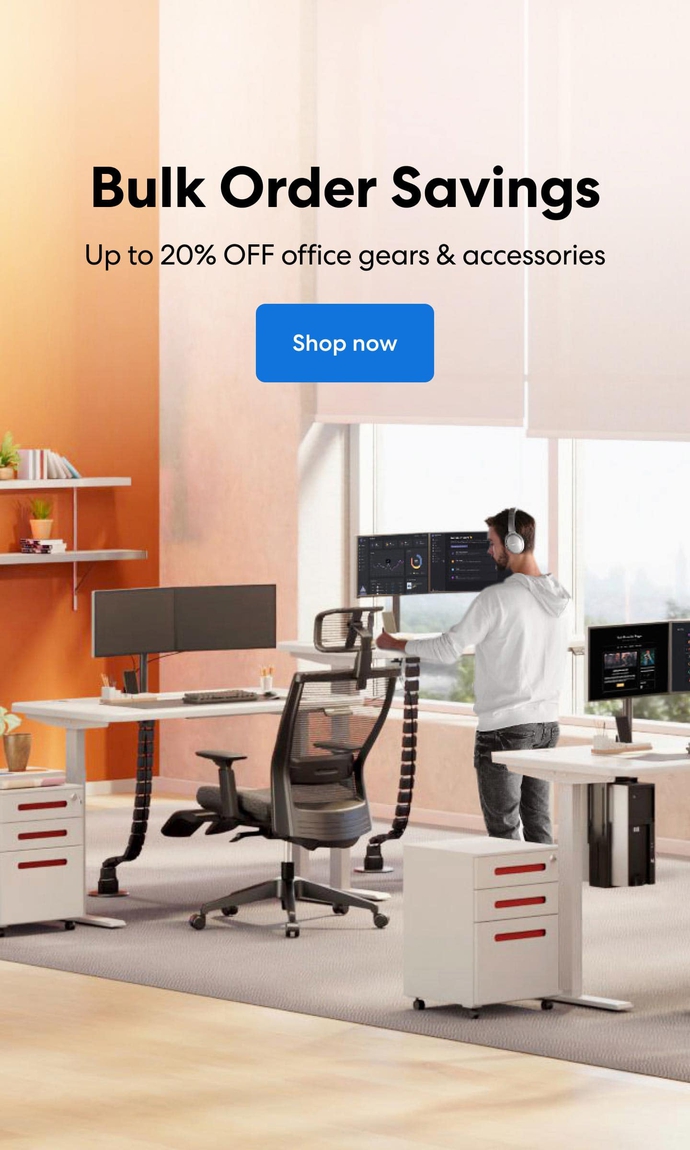 Subcribe newsletter and get $100 OFF.
Receive product updates, special offers, ergo tips, and inspiration form our team.