With the advancement in technology all over the globe and the Internet of Things gradually taken over the world like a storm, a lot of smart office devices has been created to help employees get their work done on time, improve productivity level, create a safe and serene working environment, and also streamline tasks.
With this smart office devices, employees no longer have to spend so much time carrying out a job to get the right result, while organizations can save so much money while improving its productivity level.
Most senior office executives and manager are already adopting these smart devices to drive growth, improve operational efficiency and create a stable, mobile and secure workplace. Although, there have been mixed feelings by some business owners on the use of the smart office devices and skepticism amongst the target consumers. However, the use of smart office devices translates to higher investment on return with safer and more efficient operation.
WHY USE THESE SMART OFFICE DEVICES AT THE WORKPLACE?
There are so many benefits attached to using smart office devices, and they include
Increased safety at the workplace: Like connected sensors, security cameras, and access control systems, a number of smart office devices make the office a better environment for cohabitation. Furthermore, it decreases the possibility of hacking or phishing in the work environment while increasing transparency as well.
Help employees manage their schedule: With smart office devices employees can manage and keep tab of all their schedule, book meetings, send out invites, get reminders about workshop and conferences, record meeting notes and share with other co-workers who may be at remote locations. It also helps employee working at remote locations to stay abreast with the latest trends taken place in the office environment even when they are not physically present.

The efficiency of business operations: With Smart Office devices, employees can focus on tasks according to priority. This is because most smart office devices help to automate or streamline a long list of tasks at hand.

Convenient working environment: Smart Office devices also helps to create a convenient work environment for an employee. Employees within the workplace can easily tailor the conditions of the office to their specifications using their smartphone which regulates the humidity and temperature of the surroundings.

Energy savings: Most Smart office device can be used as energy savers in the workplace. Some of them can be used to automatically adjust heating and lighting in the office in order to reduce waste and save energy.

Improved connectivity at the workplace: Smart office devices also helps to create better connectivity amongst employees. With this devices, employees can have access to official information's and files while working from different locations just with their mobile devices.

Increased productivity: Also smart office devices helps to improve efficiency and productivity in the workplace. By providing employees with the right work tools regardless of their locations, this smart devices streamline processes and reduces time spent on carrying out different jobs by employees.

Provides new ways of working: Smart office devices also provides a new way of working for employees. Each day, new technologies are being created to personalize user experience and make work easy for an employee.
WHAT ARE THE TOP 14 SMART OFFICE DEVICES IN 2018?
Some of the Top 14 smart office devices that can be used to drive growth, improve operational efficiency and create a stable, mobile and secure workplace include the following:
1) Smart Lock 2.0
Photo Credit: ComEDmarketplace
The best way to keep your modern office secure while at work and even out of work is through the use of a smart lock. Smart lock helps to ensure that the security of the workplace is intact while assets of the management are untouched when no one is at work. With Smart Lock, business managers and employees can go home stress-free and have great confidence that all office files and information's are safe while spending time with their loved one. The smart lock turns a door with a standard deadbolt to smart doors, and you can have the physical keys kept in your home. With this great device, you can have your doors unlocked with your smartphone and had the virtual keys distributed to other employees who may want to access the office space.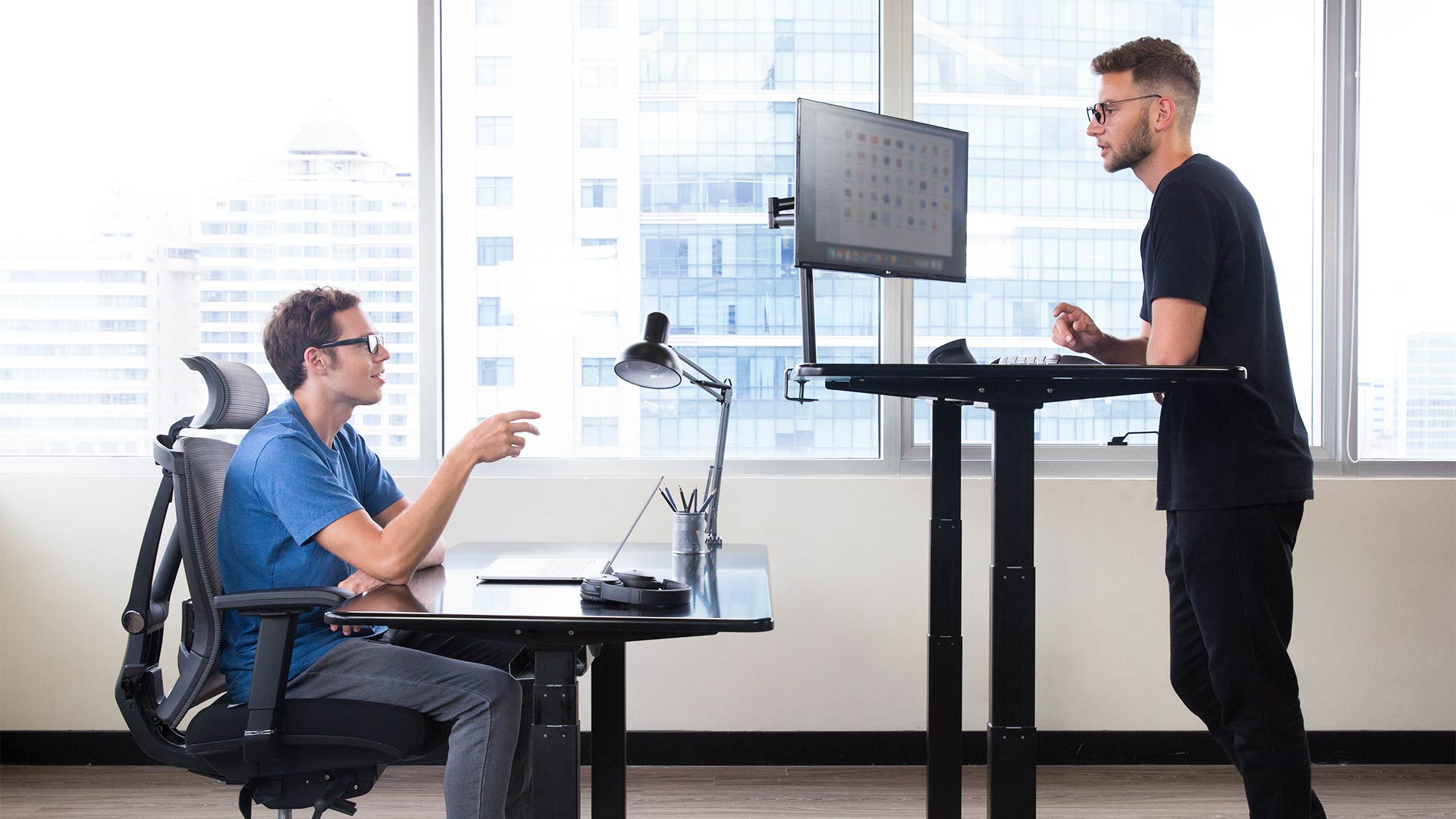 The Smart Desk 2.0 Business Edition is an electric standing desk, which is fully adjustable and designed for people who value efficiency at the workplace. At present, the demand for this desk is at an alarming rate due to the advantages it offers. The desk which comes with a five years warranty ensures that you can depend on it for a long time. It has a 300 lb lifting capacity, dual motors, and supports the option of an XL 71 inch top, for people who need more space to relax and meditate. One beautiful feature of the smart desk is that it operates smoothly so a user can quickly transit from standing to sitting which is key to maintaining healthy circulation and focus.
3) Multi-device keyboard
Multiple device Keyboards is a vital smart office device that makes work easy for an employee. From replying emails to answering text messages, the keyboard allows almost anything. The presence of a dial helps to choose the box into which the keyboard types and the cradle help to doc mobile devices at the same time. It has high compatibility with IoS, Chrome, Android, Mac, and Windows. An example of this device is the RGB Mechanical Keyboard K199A which is a normal size keyboard that can fit into a smartphone, tablets, desktops, and more.
4) WiFi Scanner
Photos hardly do much where bulky scanners seem to be out of place for the modern office. The WiFi scanner is sufficiently portable to aid the duplication of several copies of documents in downtime. Afterward, the scanned document is sent to the tablet or WiFi enabled computer for further instructions. At 900dpi, it saves images in both pdf and jpeg formats. In a case where there is a client who needs to sign a document electronically, this comes in handy.
5) E-Reception
Photo Credit: Zytronic
This is a visitor tracking system which increased technicality and advancement in sound tools for safekeeping of records of visitors in the premise. There is less need to worry about unauthorized access into the premise because of the presence of a fingerprint aces control system. Nowadays, manual systems are synonymous with a lackluster mechanism and inefficient timing. The advanced type of tracing system fetches the visitor's file for the database and matches it accordingly before letting the visitor on the building. Some companies have created pieces that will help the small and business enterprise owner to stay ahead of the competition with the latest technology. While keeping the premises comfortable and secure, you are rest-assured the security is of high quality. With the E-Reception installed in your workplace, you do not have to worry about unauthorized access because it works with a fully automated fingerprint access control system.
6) Thermostat
Thermostat is very important for people who work in areas that are not climate controlled. They keep the rooms comfortable by using remote sensors. The thermostat was also great for work on several home automation platforms.
7) Outdoor CCTV camera
CCTV camera is a great device to install in the office. There were times when cameras required protection from climate but those days are over now. Modern-day CCTV cameras are with protection features such as dust and water-resistant parts. Also, infrared LEDs and smart technologies such as WiFi give CCTVs their trendy and fashionable look. Interestingly, the infrared LEDs aid vision in the darkness and up to 50 feet away from the lens.
8) Ring video doorbell
Small businesses due to budget constraint, are rarely located in luxurious office buildings with personal security. However, with the ring video doorbell businesses of this nature can monitor its security and view anyone at the door right from the office. With the aid of a phone app, the business owner may deny access to whoever is at the door. Perks include the ability to take records of intruders, a 1080p camera with a motion sensor that improves recognition and night vision.
9) Portable laptop monitor
Photo Credit: Geek.com
The productivity level of an employee while seating could be said to be as a result of an additional screen. After all, more screens, more tasks. In the early days, office tech was limited to desktops. However, the constant growth of the office space has resulted in the high increase in the usage of portable laptop monitors within and outside the office. Luckily, there are several resolutions and sizes available for different people. Also, the monitors are designed in such a way to foster compatibility with several operating systems and laptop brands.
10) Air quality monitor
Inhaling polluted air in the workplace can lead to poor job performance and even ill health, and that is why every smart office needs the Air Quality Monitor. It helps to monitor the quality of air at the workplace and displays the current air quality using a LED light so that employees could know the right time to make changes.
11) White & color starter kit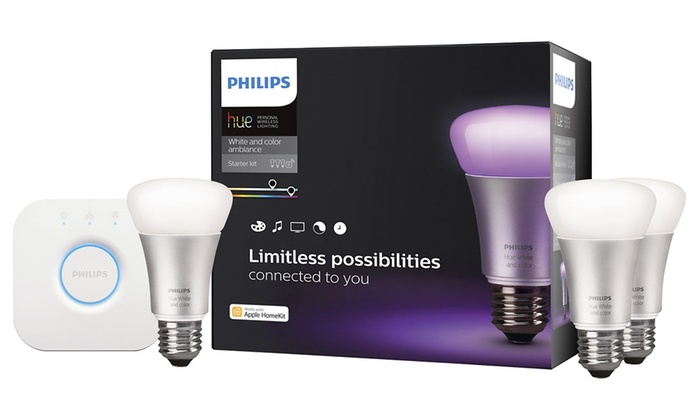 Photo Credit: GroupOn
The smart office environment is said to be incomplete without the use of the white and color starter kit that is controlled using a smart mobile app. With this device, which comes with a bridge appliance that can be used to control up to 50 bulbs, an employee can manage the color and brightness of their LED bulb using their smartphones.
12) Pinnacle Series Smartphone Stand
Photo Credit: Gadget Flow
Handcrafted with the best quality materials, the Pinnacle Series Smartphone Stand is a perfect companion for your mobile device. It elevates the phone to an angle of 360 degrees for perfect viewing while busy at the workplace. This smart office device which comes with a solid metal base and non-slip pads also allow you to interact seamlessly with your mobile device. The device is not only beautiful but also functional and makes a statement even without your mobile device.
13) Equil Smart pen 2
Photo Credit: Techaeris
The Equil Smart pen can be referred to as a lifesaver for employees in the creative industry. While taken down notes using this pen, you automatically get the notes also saved on your system or smartphone. The Smart pen which has a 10, 000-page memory can be used without a Wi-Fi connection when fully charged the pen last for at least eight hours.
14) The Smart sticky note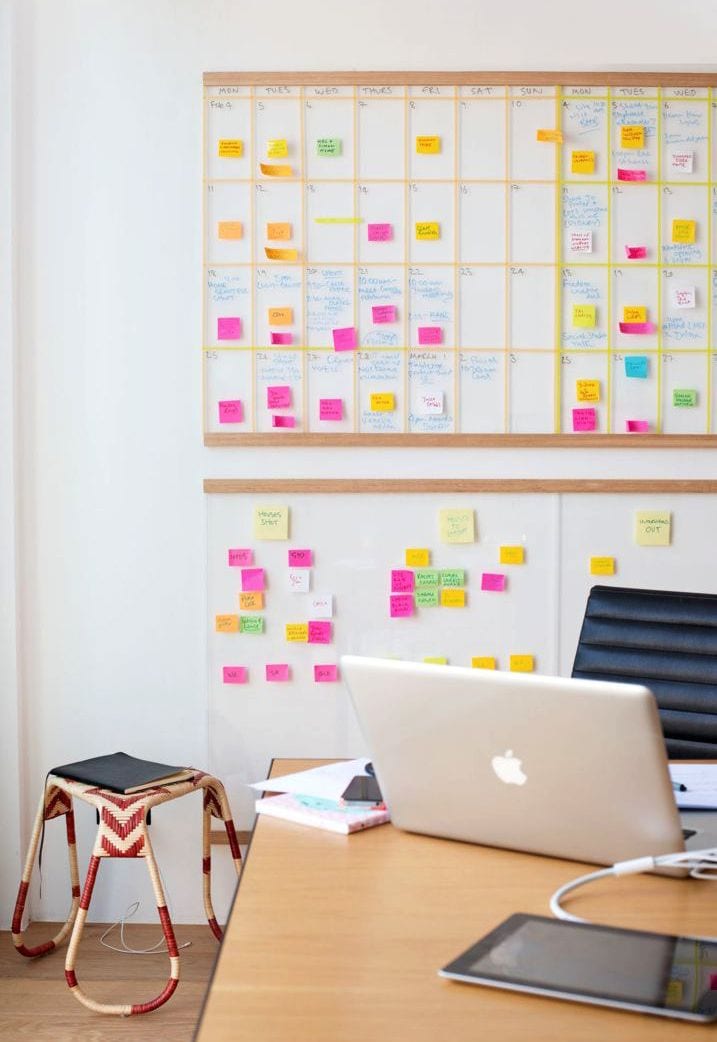 Photo Credit: BeesApp
The smart sticky note is just like a 21st-century bulletin. It is an interactive note with a compact front-lit e-paper that helps co-workers get an update on traffic, weather condition, important holidays, office meetings, the date for workshop and conferences. It helps an employee stay abreast with the latest trends and all happenings taken place in the work environment even when they are not physically present.
In conclusion
The importance of the smart office devices in the workplace cannot be overemphasized. It improves efficiency and productivity at the workplace by providing employees with the right work tools regardless of their locations, streamlines processes, reduces time spent on carrying out different jobs, help employees to solve difficult tasks, and simplifies their lives.
However, if a business must invest in smart office devices, it must first of all plan to invest in the training of its employees on how to make use of these devices. This is because research has shown that more than half of the workforce in various parts of the world do not know how to make use of some of the smart office devices. Therefore, by having a workforce that has been properly trained on how to make use of the smart office device, business executives can increase productivity and efficiency at the workplace.
Sort by

Top comments

This week

This month
Top 14 smart office devices in 2018