Smart Products
Top 18 Black Gaming Desk for PC & Console Gaming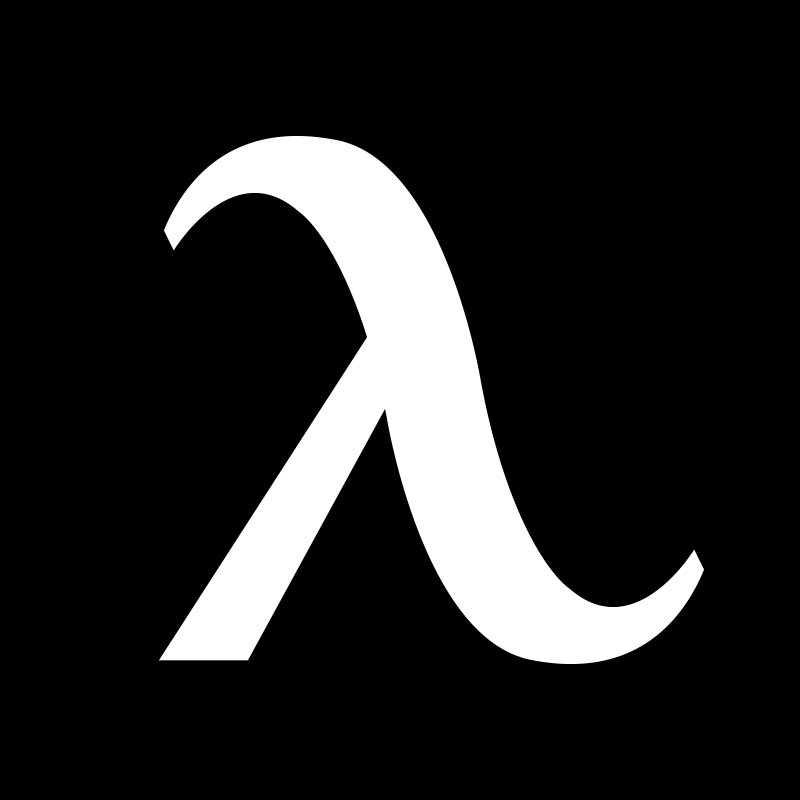 Autonomous
 | 
Aug 6, 2021
For people who spend a considerable amount of time playing games, getting a suitable desk is vital, especially if you also use your desk for work.
However, getting a suitable desk can be more complicated than one might expect. Although it's essential to buy one with the correct size and the features you are looking for, you might choose one that isn't too reliable in the end.
If you don't have a durable desk to support your PC and gaming consoles properly, then your overall setup might feel lackluster. Fortunately, there are plenty of fitting choices.
Here, we've rounded up the top 18 best black gaming desk options as they can easily fit in any aesthetic. Moreover, we explain what you should look for in a gaming desk to help your search in the future.
What Should You Look for in a Gaming Desk?
An ideal gaming desk offers you enough space to house all of your gaming equipment. It could be one or multiple monitors, your computer case, gaming consoles, input devices, gaming desk accessories, and more.
For that reason, it's essential to ensure it can withstand the weight while remaining stable enough. If it's too much equipment, then you might want to look for an L-shaped gaming desk as these have significantly more weight capacity.
Cable management options are also more than helpful as it significantly helps keep things tidy. Aesthetics are important, but opting for a black gaming table solves that issue, considering it's the color that goes best with RGB lighting.
Finally, you might want to consider whether you opt for an electric standing desk, as it can let you set the desk at the proper ergonomic height with ease, albeit at a higher cost.
What Are the Top 18 Black Gaming Desks for PC & Console Gaming?
1. Autonomous SmartDesk Core
The SmartDesk Core can serve as a splendid black gaming computer desk, even if it was mainly designed for a home office. Its vast 70.5-inch height-adjustable surface provides you with more than enough space for you to accommodate your battlestation and consoles while keeping things neat, allowing you to enjoy gaming sessions comfortably.
This black gaming table lets you quickly change positions with the push of a button due to its programmable settings. Moreover, it has an industrial-grade frame and a quiet motor system that can lift 300 pounds without a squeak. If you're looking for one of the best affordable options, consider getting this desk for $499.
2. Autonomous SmartDesk Corner
If you have multiple monitors, consoles, peripherals, and other things that wouldn't usually fit in your standard desk, the SmartDesk Corner might interest you. This L-shaped standing desk has almost double the space compared to the SmartDesk Core and an upped lifting capacity.
It also has four programmable presets and a first-rate, modular frame. In addition, the desk has a triple motor to make up for the higher load capacity. Overall, it can work splendidly as a black gaming computer desk for multiple monitors, and you can get it for $999.
3. FlexiSpot Height Adjustable Gaming Desk
If you want a desk that doesn't hold you back while gaming, you might be interested in the FlexiSpot height-adjustable gaming desk. This 55-inch desk has enough space for your gaming accessories, peripherals, PC or gaming consoles, and a single monitor. Moreover, the desk rises quickly and smoothly in less than 10 seconds thanks to its quiet motors.
This environmentally friendly tabletop significantly improves mouse tracking, forgoing the necessity of using a mousepad. You can get the FlexiSpot black gaming desk for $369.99.
4. Eureka Gaming L60L-B Corner Desk
This black corner gaming desk has plenty of space for your desktop, keyboard, multiple monitors, gaming consoles, and any other gear or peripherals you may have. The tabletop features a black, eco-friendly, smooth carbon fiber finish that meets EPA certifications. Furthermore, its frame provides more than enough strength and consistency thanks to its splendid structural design.
The best part of the L60L-B desk is its cable management options. You can significantly tidy up the desk and hide most cables with its armor system, grommets, and socket holder. Finally, Eureka offers some separate accessories that could optimize space, such as hanging case holders, keyboard trays, and monitor arms. Overall, it's an excellent L-shaped desk that's quite affordable at $224.99.
5. Vitesse Gaming Desk
The Vitesse black gaming table is an incredibly affordable desk at $119.99 with a significant number of features and accessories. It has a 55-inch surface that offers enough room to hold a gaming monitor comfortably alongside a PC or console and a mouse pad that covers the entirety of it. The desk has additional features such as a headset hook and a controller rack that features four USB ports, allowing you to charge your devices in one easily accessible place.
6. UPLIFT V2 Standing Desk
UPLIFT V2 models aren't gaming desks, but their range of features makes them an excellent option to consider. It has two available models with a significant vertical travel range and a vast, configurable surface area that can easily hold your gaming consoles, PC, and peripherals, thanks to its 355-pound weight capacity.
This black gaming desk offers numerous accessories such as case holders, monitor arms, and wire-management options that let you keep your desk clean, but they're optional. Overall, the UPLIFT V2 standing desks are splendid choices, and you can get them at a starting price of $599.
7. ApexDesk Elite 71"x 33" Standing Desk with Black Frame
The ApexDesk is an excellent height-adjustable black desk. Its 235-pound lifting capacity and 60-inch surface ensure you have enough space for your gaming gear. The desk has a helpful wire management tray that can cover most, if not all, of the cables from your setup and also has space for a power strip. For $679.99, it's a splendid black desk for gaming.
8. Eureka Ergonomic Z1-S Gaming Desk
Eureka has many excellent desks for gaming, so you can't go wrong with any you choose. However, the Z1-S adjustable black computer gaming desk stands out among their options. If you're looking for a sturdy, stable, Z-shaped desk for your PC or console, this one is great. Although its length is lower than other gaming desks, it's more than ideal for those with a single-monitor setup.
This black gaming desk comes with some additional features such as RGB lighting, a removable mouse pad, cable management options, a headphone hook, and a handy controller stand. You can get this black desk for gaming for $189.99.
9. NewHeights Elegante XT
This height-adjustable black gaming table is incredibly stable and has one of the largest adjustability ranges out of every standing desk. Moreover, every component and material it uses is of the best quality possible.
The desk has a vast 27-inch height range and four programmable button switches that allow you to adjust the height through Bluetooth or manually via touch. Its standard two-leg frame has a 300-pound capacity, while the L-shaped one has 450. As you can change this desk's surface shape and size, the price varies greatly.
10. Thermaltake ToughDesk 500L RGB Battlestation Gaming Desk
This height-adjustable L-shaped desk comes with full surfaced mouse pads with RGB lighting and a six-button intelligent panel that shows accurate height adjustments.It is totally a perfect desk for RGB gaming desk setup. It can save up to four heights and change them by simply pressing a button. Moreover, it has an anti-collision sensor to prevent the desk from colliding with obstacles while rising or lowering.
This black corner gaming desk is incredibly sturdy with a three-centimeter thick tabletop and has a helpful cable management tray to keep it tidy. Its price is significantly high at $1.499.99, but it's worth it. Nevertheless, if you don't need that much space, the ToughDesk 300 has similar features at almost half the cost.
11. Arozzi Arena Gaming Desk
The Arozzi Arena black gaming desk has been a popular choice for gamers for a long time. It has a height-adjustable 63-inch surface with a depth of 32 inches that can house an ultrawide monitor or multiple smaller ones alongside your computer case, gaming consoles, and other accessories.
This black desk for gaming comes with a mouse pad that matches the size of the surface, essentially converting the entire tabletop into one. Due to its size, it's also quite hefty, so you don't have to worry about it sliding around. In addition, the desk has an excellent cable management system with three cutouts that allow you to hide your cords underneath it. You can get the Arozzi Arena for $259.99.
12. Cougar Mars Gaming Desk
The Mars gaming desk has an ergonomic design that provides a generous 60-inch surface that can house a monitor, gaming consoles, peripherals, and your usual input devices. Its shape makes it hard to place a computer case on it, so you either have to invest in an under-desk mount or put it somewhere else.
This desk has convenient control stands that allow you to connect USB and audio devices with ease without interrupting your session. Also, its steel frame can withstand 330 pounds and offers minimal adjustability. Overall, this reliable black gaming desk can cover all the essentials and a bit more for a price of $389.50.
13. RESPAWN 3010 Gaming Desk
RESPAWN 3010 is a height-adjustable desk that offers splendid features. The black gaming desk comes with two levels: a standard 52.6-inch tabletop and a 23.6-inch raised monitor shelf. This shelf can help you set up your monitor at eye level, and the table has a slight cutout that lets you sit a little closer to it. Additionally, it has accessory solutions for headphones, speakers, and cups. This black gaming computer desk isn't particularly high-end, but it's well-made. You can get it for $359.99.
14. Walker Edison Gamer Command Center
Walker Edison has an excellent black desk for gaming for those seeking a corner option. Although it doesn't provide a significantly large area with just a couple of 51-inch tables, it might be the ideal choice if your PC and console equipment comfortably fits in a smaller space.
This desk has two remarkable characteristics: it's incredibly stable and super affordable. If you want a splendid corner desk that only costs $134.44, you should consider getting it.
15. Secretlab Magnus Metal Desk
Apart from extraordinary ergonomic gaming chairs, Secretlab has also manufactured a gaming desk. However, compared to other options, this one sticks to the essentials. It features a metal frame that holds up to 220 pounds, allowing it to support most gaming setups.
This black gaming computer desk lets you manage and store your cables easily with its proprietary magnetic ecosystem and trays. Finally, it has a diffused RGB LED strip that allows you to put the finishing touch on your setup. If you value simplicity, the Secretlab Magnus is a superb option with a starting price of $499.
16. Herman Miller X Logitech G Motia Gaming Desk
This adjustable sit-to-stand black gaming desk is quite agile. It lets you change between positions quickly and silently with a simple touch switch, and it can hold up to 250 pounds of gaming gear. Furthermore, the smudge-proof, anti-glare laminate table top allows you to clean it easily and play without any distraction.
Although its 60-inch surface can house most of your PC and console gaming equipment, it comes at a prohibitive price of $1295.00. Nonetheless, if you want a reliable gaming desk that can last you a significantly long time, the Motia is for you.
17. Mr. Ironstone Gaming Desk
The Mr. Ironstone black gaming computer desk is a significantly sturdy and stable option for people looking to set up multiple monitors or an ultrawide one, thanks to its 63-inch surface length. Its R-shaped leg steel frame prevents wobbling and can support 110 pounds.
Part of the stability is due to the crossbar, so if you like to stretch while sitting, you might bump into it frequently. This desk has regular quality-of-life features such as a headphone hook, cable management holes, and a cup holder. You can get this reliably sturdy desk for $239.99.
18. 2021 OFM ESS 1020 L-shaped Gaming Desk
The OFM ESS is a significantly large and stable black gaming desk with a durable laminate surface and a matching edge band. The frame finish is smooth, with consistent black paint throughout. It is suitable for a black and white gaming setup.
There's hardly anything to dislike about this black corner gaming desk considering its price, except for the lack of storage and long assembly time. Nonetheless, its large surface should be able to accommodate any PC or console you have, along with your peripherals. The 2021 OFM ESS 1020 has a price of $204.37, but it's known to change as it has done so repeatedly.
The Bottom Line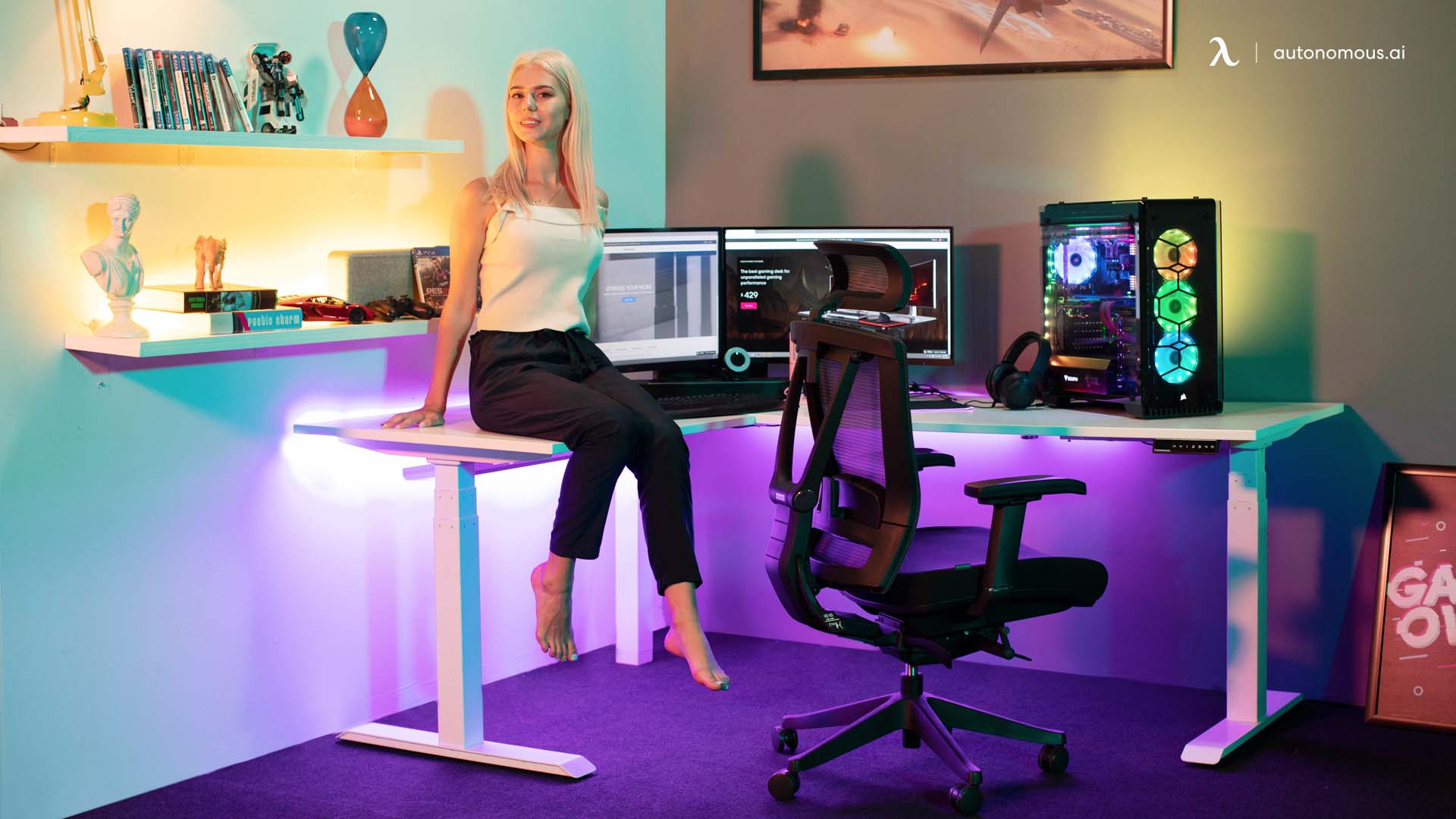 Every black gaming desk listed here can be an excellent addition to your setup. All you have to do is consider how much gaming gear you have and which features you would like the best when browsing your options.
Hey, you have special pricing through your company.
Get exclusive rewards
for your first Autonomous blog subscription.
WRITTEN BYAutonomous
We build office products to help you work smarter.
Coming at You Live from Autonomous' Social Media!