Workplace Inspiration
20 Easy DIY Gaming Desk Ideas for Streamers & Gamers
21,261 Views
If you enjoy gaming and streaming and do it often, it might be time to make some space in your room or home to dedicate to these activities. You don't have to struggle with finding gaming desk ideas. In this article, you can find 20 great ideas to give you inspiration about your own DIY gaming desk. We have covered many different options, requiring different levels of time and money investment.
Why Do You Need a Good Gaming Desk?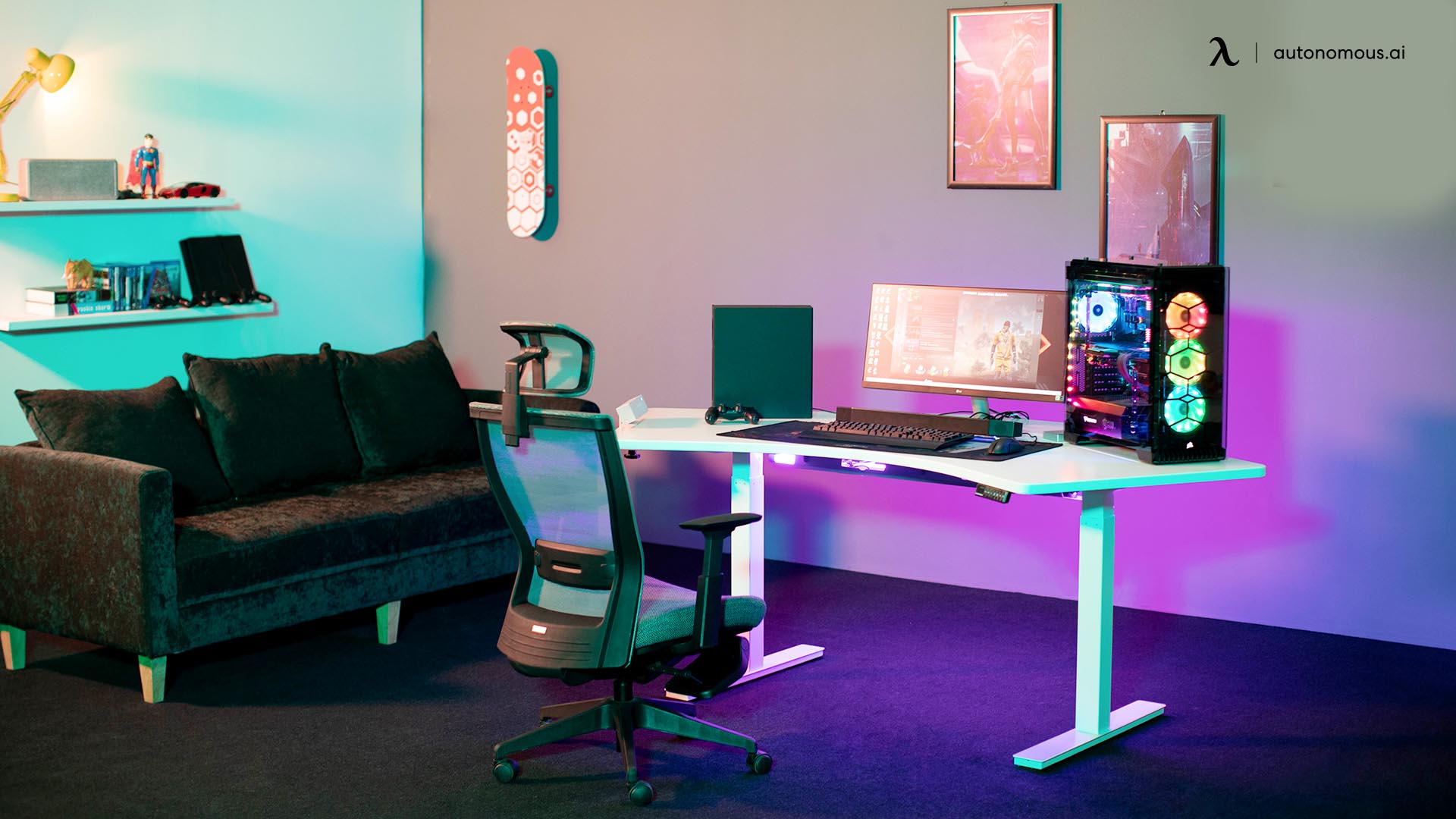 If you are into gaming, you know how much it can take out of you. Consider all the hours that you spend in front of your computer. The ergonomics of your gaming desk are essential. If you are uncomfortable while you are playing one of your games, this can lead to several challenges in the long-term. These include back and neck-aches and poor posture. If you don't fit in enough exercise and activity in your schedule, other adverse effects of a sedentary lifestyle can also develop.
You need good gaming and streaming desks, and you might want to consider a homemade gaming desk. The gaming table design matters, so make sure you explore some of the ideas given here to get started. You should also make sure you have all the right gaming desk accessories to make your gaming time even more enjoyable.
Pros of DIY Gaming Desk
It can save you money by reusing or repurposing old materials instead of buying new stuff.
May help you find a new hobby along the way.
Cons of DIY Gaming Desk
Can be time consuming for someone with a busy schedule.
May be hard to get started if you have never done anything like this before.
Why Should You Make Your Own DIY Gaming Desk?
There are lots of great gaming desk options available, but there are also many advantages of making your own. When you make it a DIY project, you get to personalize the desk. It can work out quicker and cheaper to use what you already have on hand. If you are a hands-on person, you might have fun crafting your very own DIY gaming computer desk. Here are some pros and cons when it comes to making your own desk for gaming.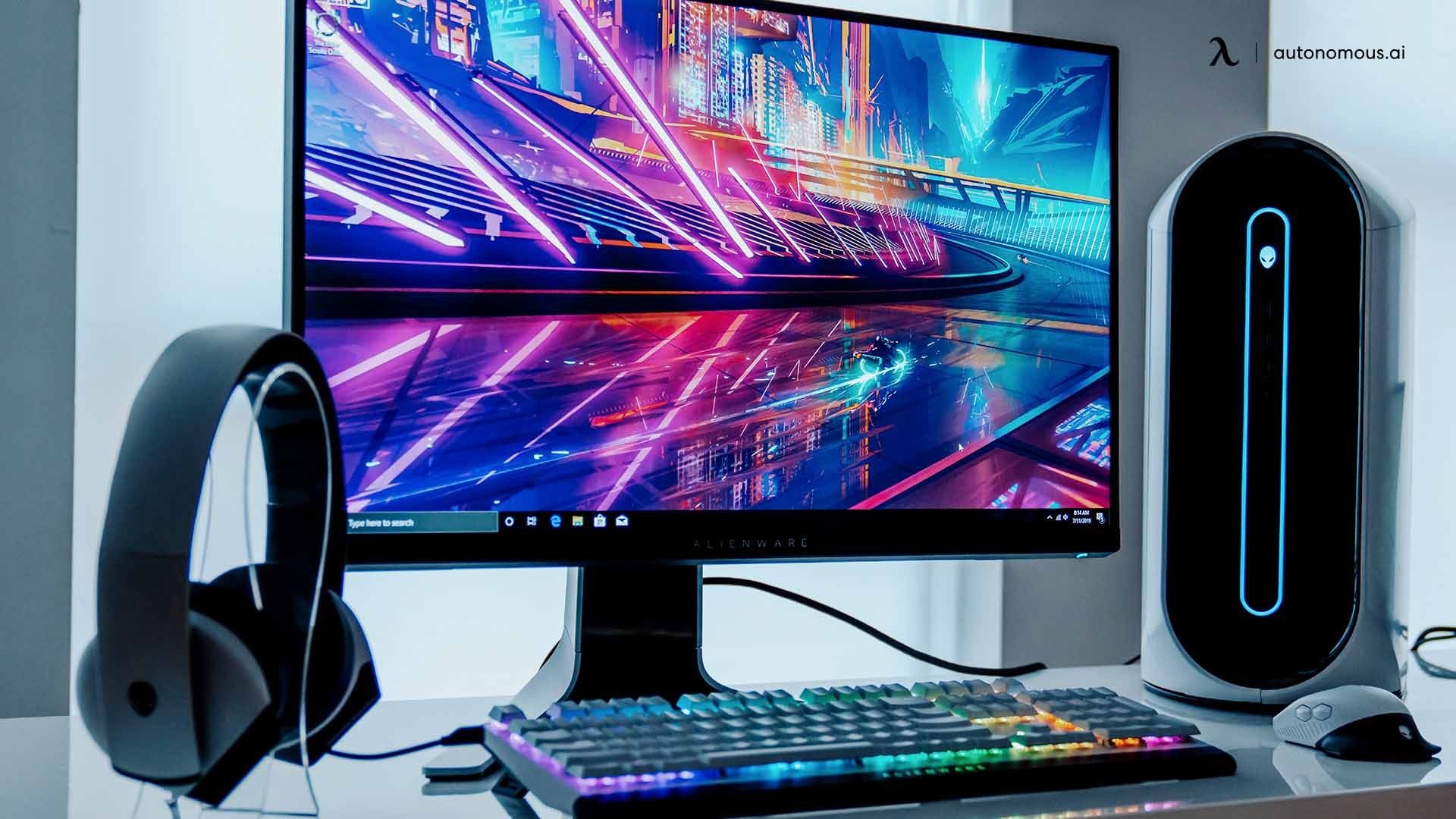 It's important to remember that creating your own gaming desk is going to take a bit of time and effort. There may or may not be some associated costs. Another advantage is that you get a customized product. If you have space limitations, going the DIY route is perfect because it allows you to use the space you have on hand.
Many of the DIY ideas use repurposed materials, and this is great for conservation and recycling purposes. If you can do it with a repurposed desk, then that is an excellent option. Making your own gaming desk can be a lot of fun, and once you are done, you are going to have something to be very proud of for a long time. It's also an opportunity to work on your design and carpentry tools because you might have to make use of a few tools while you are at it.
Characteristics and Criterias of an Ideal DIY Computer Desk
If you wish to craft an ideal DIY gaming desk, you should design it while keeping a keen check on certain aspects of the gaming desk. If your homemade gaming desk ticks out all these features, you are all set to have a phenomenal gaming experience. Are you interested in knowing them? Well, then let's have a look at them. 
Large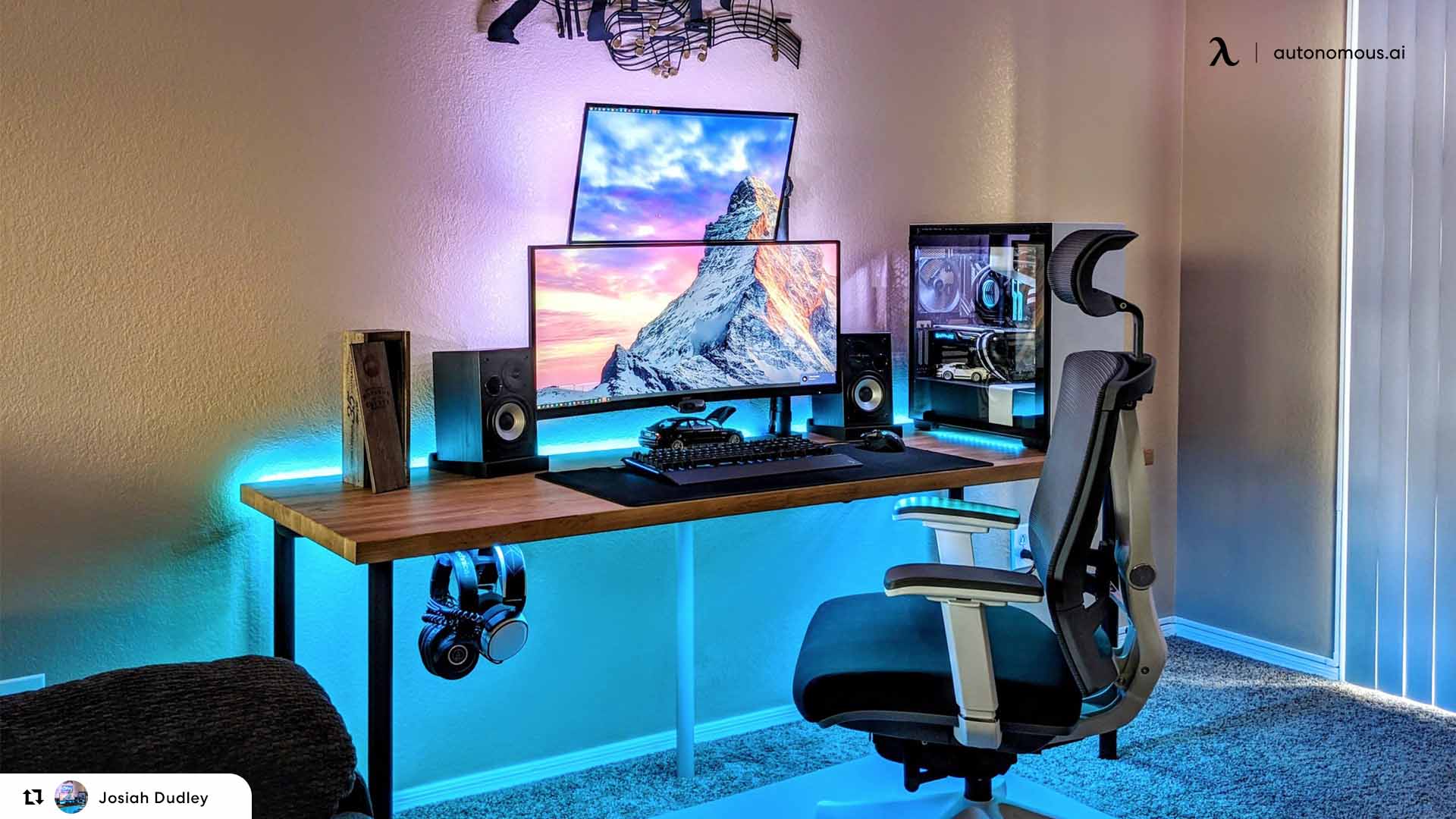 Your gaming desk should be large. This means, when you are building a gaming desk, you should cut a larger frame and craft a desk with a larger tabletop. A larger tabletop is a necessity for a gaming desk because here, you have to place more accessories than you do at any office desk.
Even if you are one of those people who are inspired by the minimalism trend, you will need enough space for placing your CPU, monitor, keyboard, mouse, etc. So, a desk with a larger surface area is always a plus. 
Affordable
Affordability is the major barrier that limits you to certain choices while you craft your DIY computer desk. So, it is always better to evaluate your budget beforehand and judge which gaming desk designs would be affordable in that range. Once you have done that, the only thing that you'd be left to do would be executing your master plan. 
Easy to Assemble and Maintain
The easier it is to assemble your DIY gaming desk, the more it will save your time. So, it is better to get a reliable desk frame. In addition, you should ensure that the desk does not require a lot of maintenance to become a long-term partner. In short, if an aesthetics desk setup has any aspect that makes it look like the desk will take a lot of time for maintenance, you should reevaluate and rethink your gaming desk idea. 
Ergonomic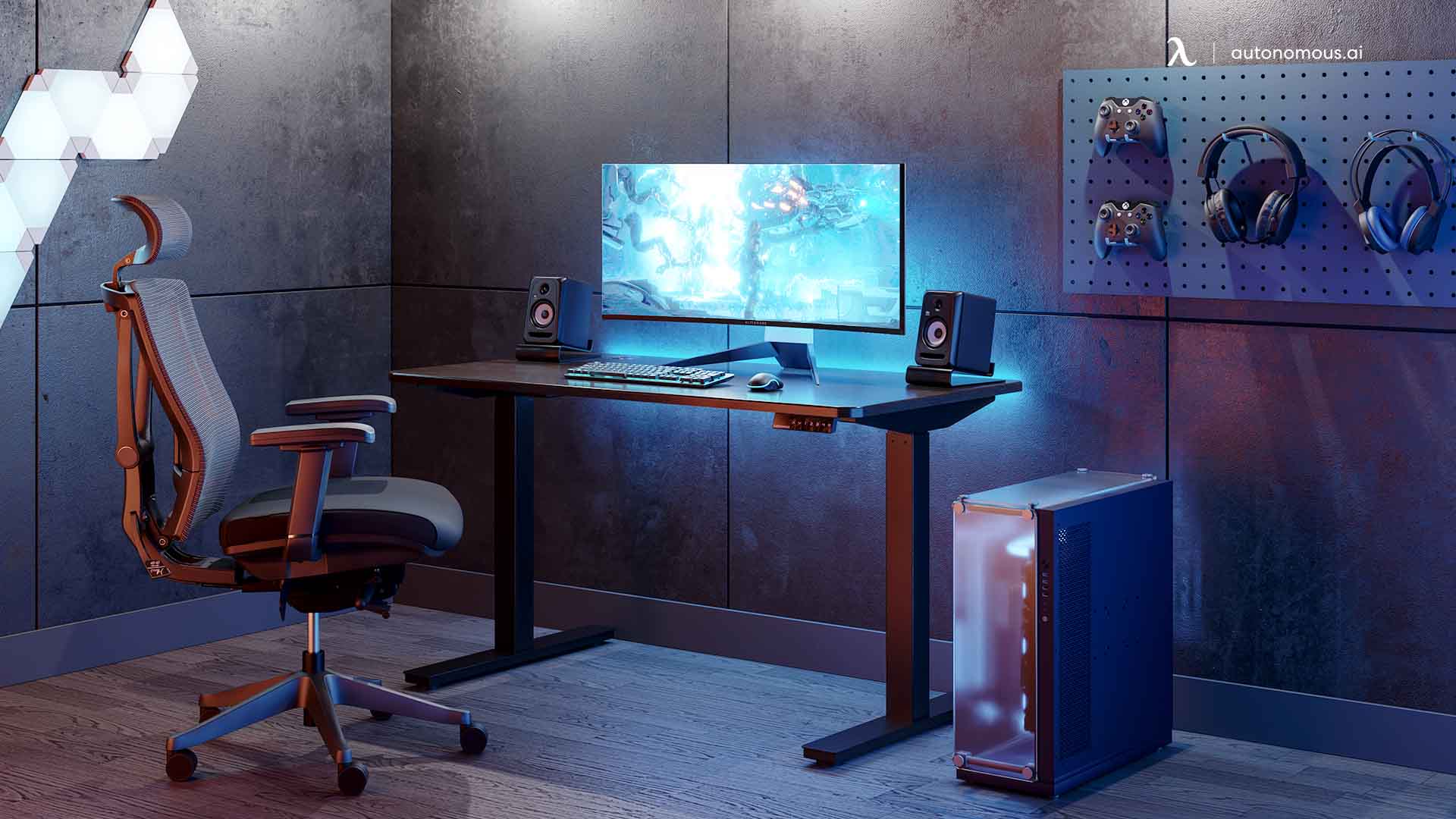 The final yet most important aspect to consider is the ergonomics of your gaming desk. You know that you'll be spending quite a lot of time at your gaming station, so you can't neglect your comfort here.
A desk with an adjustable height and a typically larger surface area is generally a better choice, as these desks are ergonomic. Things become even better if you have an electrically adjustable desk frame, as that requires lesser time and effort in adjusting the height. 
Common Styles of DIY Gaming Desks
Once you know what features of a homemade gaming desk make it an ideal option, all you're left with is selecting the right style. You might think that this is a tough job, but let us assure you, it would be an easy-peasy task if you stay with us. We have collected some of the most exciting gaming desk designs here for you. Let's have a look at them. 
Modern Industrial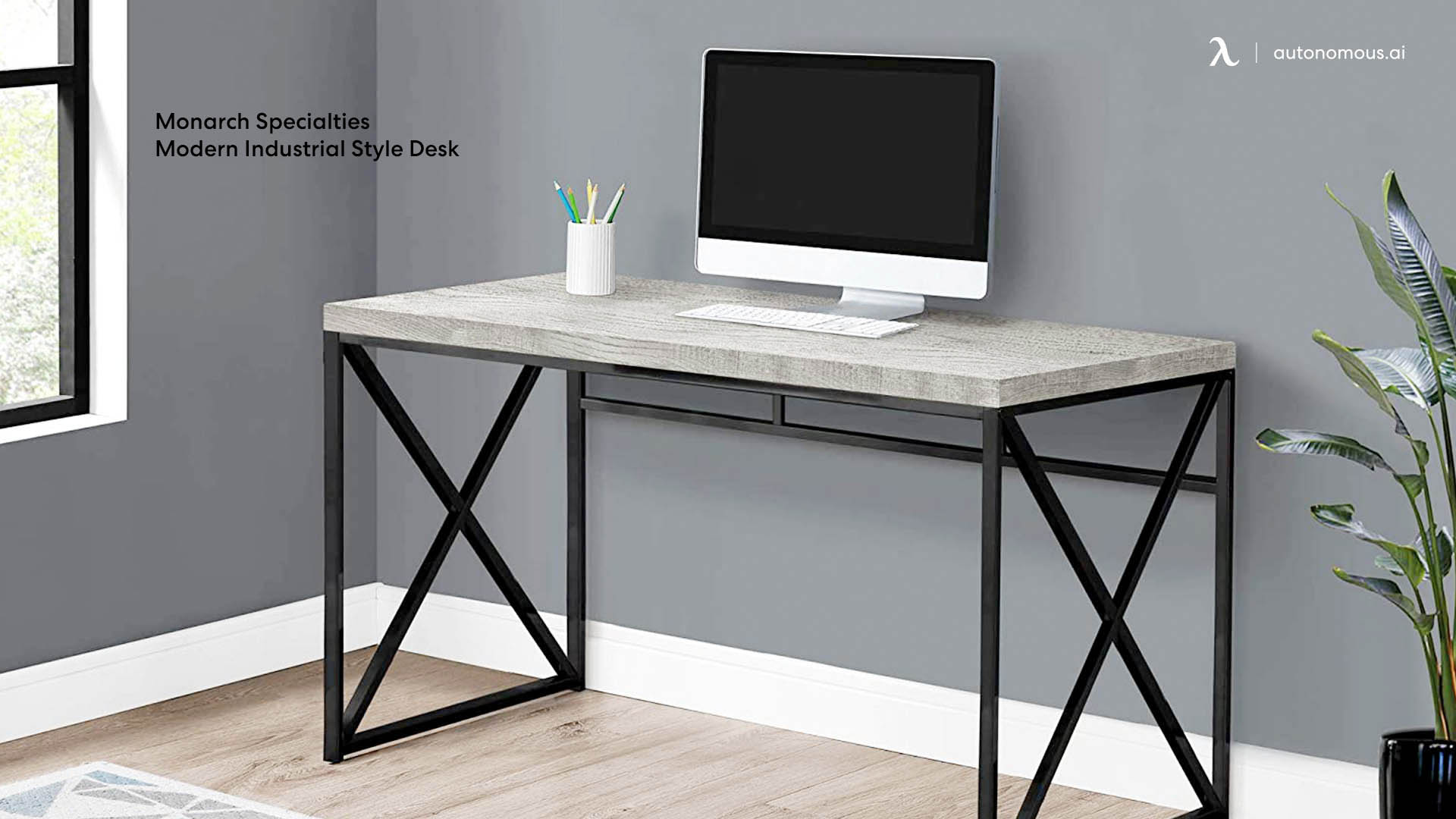 Here is one of the interesting gaming desk ideas. Modern industrial is a very famous desk style these days because it looks unique and lets you recycle things. You may think of cutting some cast iron pipes to engineer your desk's frame. You can also think of taking help from a plumber to design its crossover support and base. Once you have the frame ready, you can couple it with any firm wooden tabletop to give your gaming desk a stylish look. 
Parson Tower
If you don't like a lot of accessories lingering over your desk, you may think of going for a Parson Tower-styled desk. These desks are the simplest ones on our list. Here, you may think of adding a few shelves or drawers on each side underneath your tabletop. These shelves come in handy in placing your CPU and other desk accessories. 
Modern Beam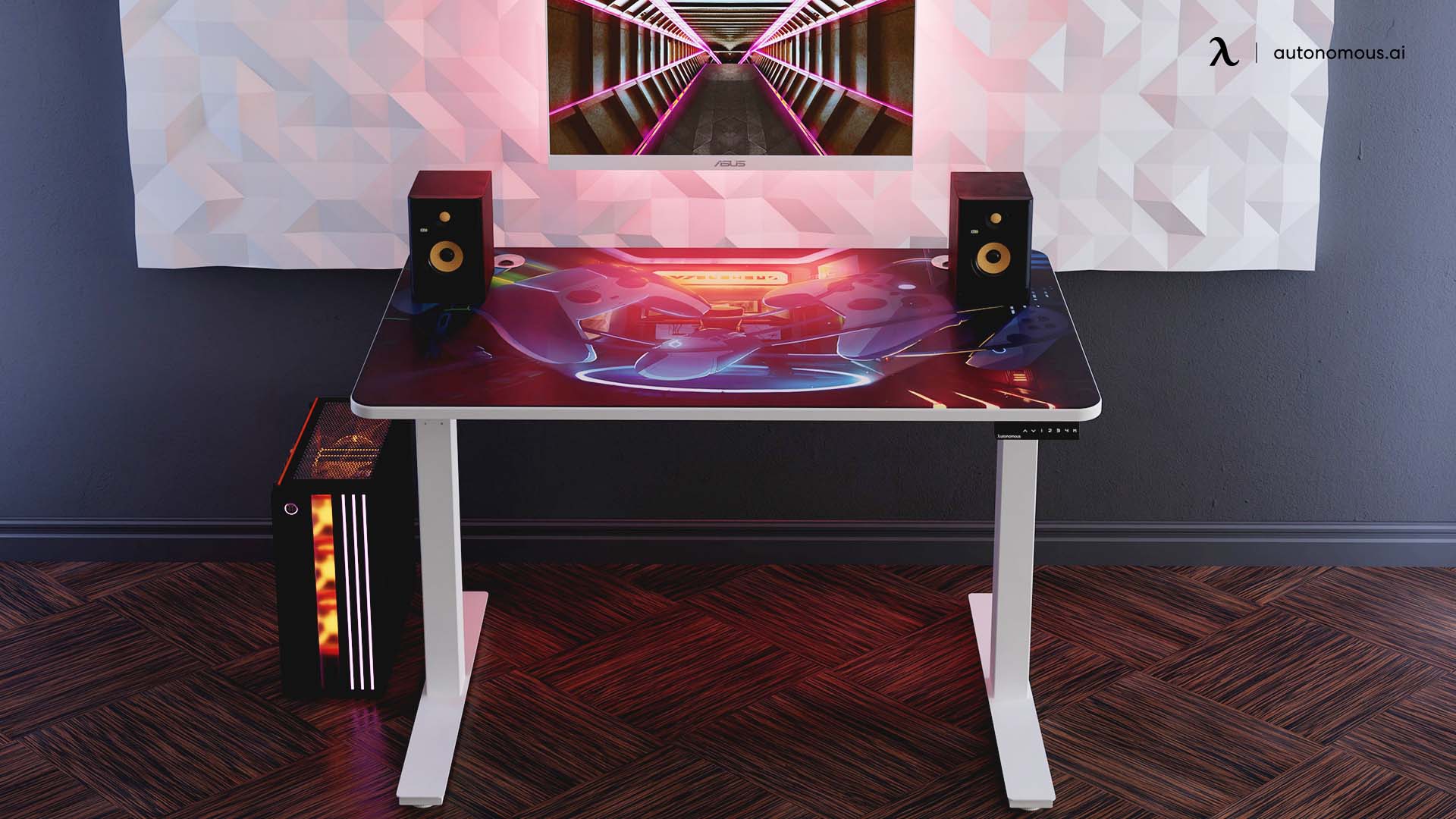 If you're a fan of the minimalism trend, the modern beam design would be ideal for your DIY gaming desk. Here, all you need to do is get a beam frame that has minimal woodwork and get your tabletop installed on it. 
Floating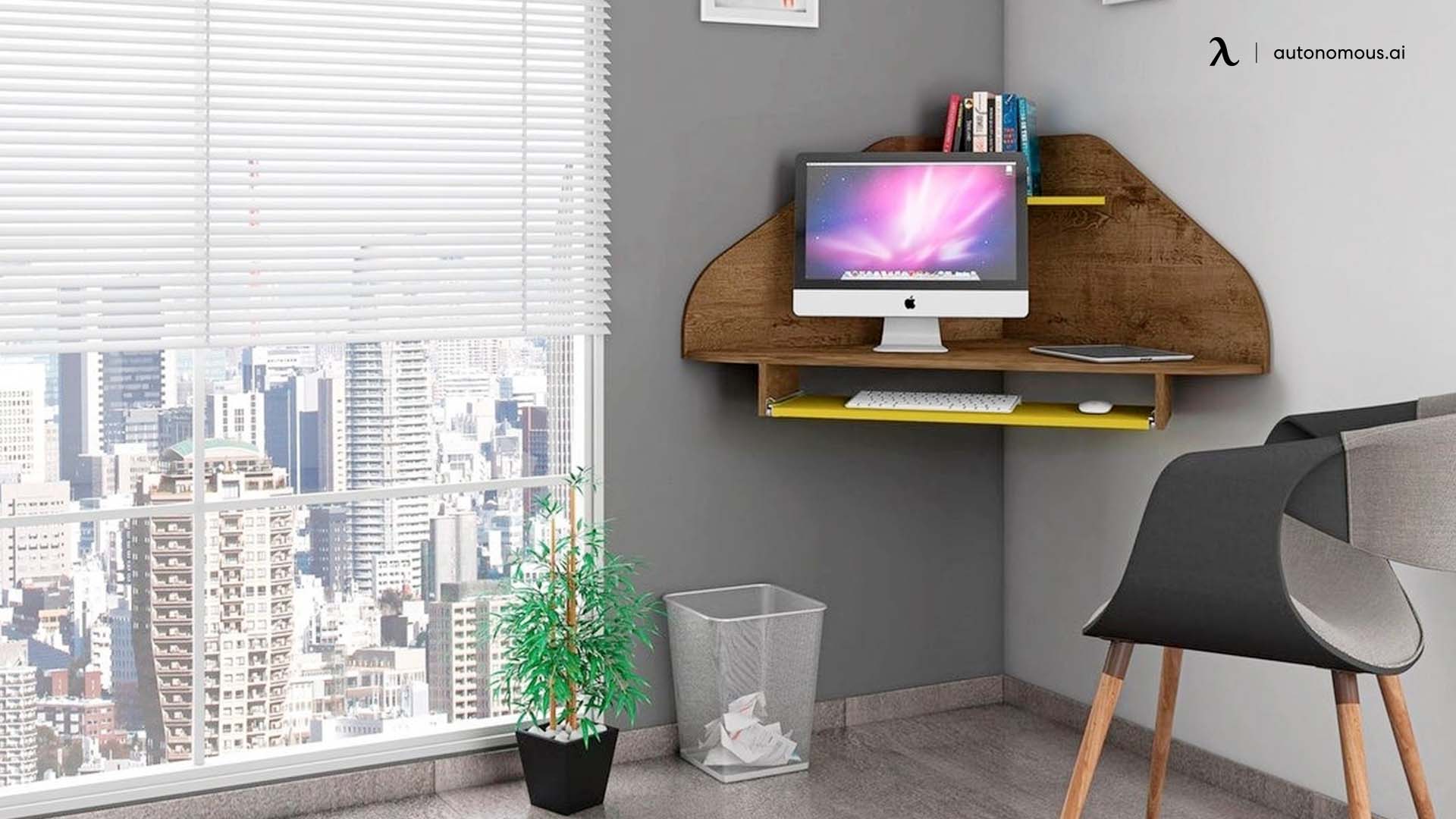 You might be short on space and could not add a desk with a large frame. In such a situation, a floating gaming desk has your back. You can think of drilling these shelves in your wall or in your room's corner. 
Girly
If pink is your favorite color, or let's say you like a girly desk setup. You can easily have that by customizing your desk using your favorite-colored desk frame. Adding pink LEDs would give a more powerful and attractive look to your gaming station. 
Minimalist
Everyone likes a minimalist desk setup, as it avoids clutter and gives you a relieving atmosphere to play. In this style, you may think of using a white desk frame and tabletop and adding cable trays to avoid any cords lingering over your desk and creating clutter. 
Office
Suppose you're an office worker who likes playing games in his free time. You can think of adding all your gaming accessories to your office workstation and use it as your gaming station when needed.
20 Great Gaming Desk ideas
It's time to just right into some exciting ideas for a homemade diy gaming desk. Not all the ideas are going to appeal to every gamer, but we have included a broad set of options for everyone.
1. SmartDesk Core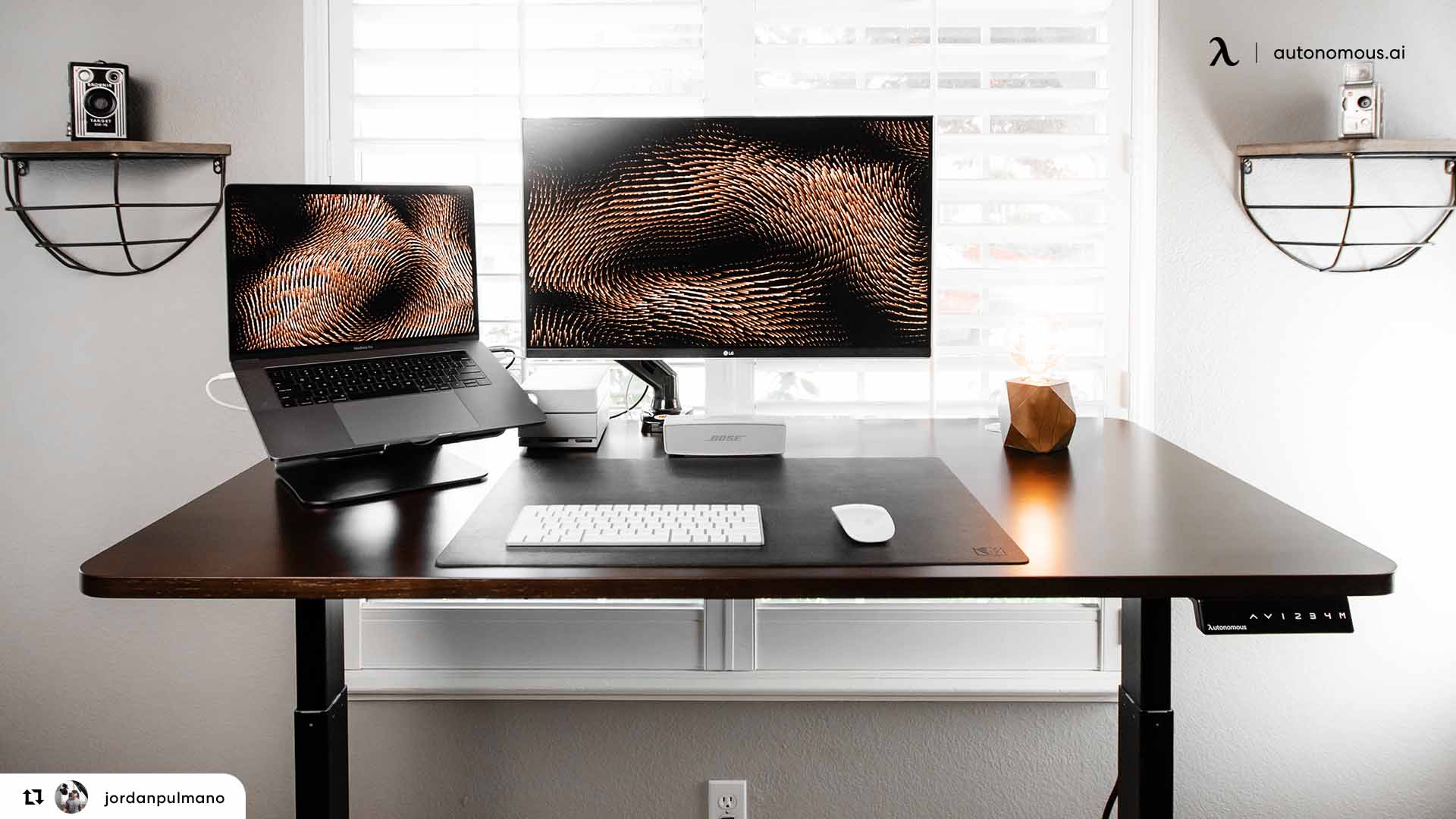 If you are interested in a standing desk, there are so many excellent standing desk options to consider. One of these is the SmartDesk Core - Home Office. This desk is available in different frame and desktop colors and desk sizes. One of the best things about a standing desk is that it has the most ergonomic design. As a gamer, you may want to spend some time in standing position and sometimes in a sitting place. This standing desk has four programmable height levels, and you can switch between these seamlessly and quietly by merely pushing a button.
2. Autonomous Standing Gaming Desk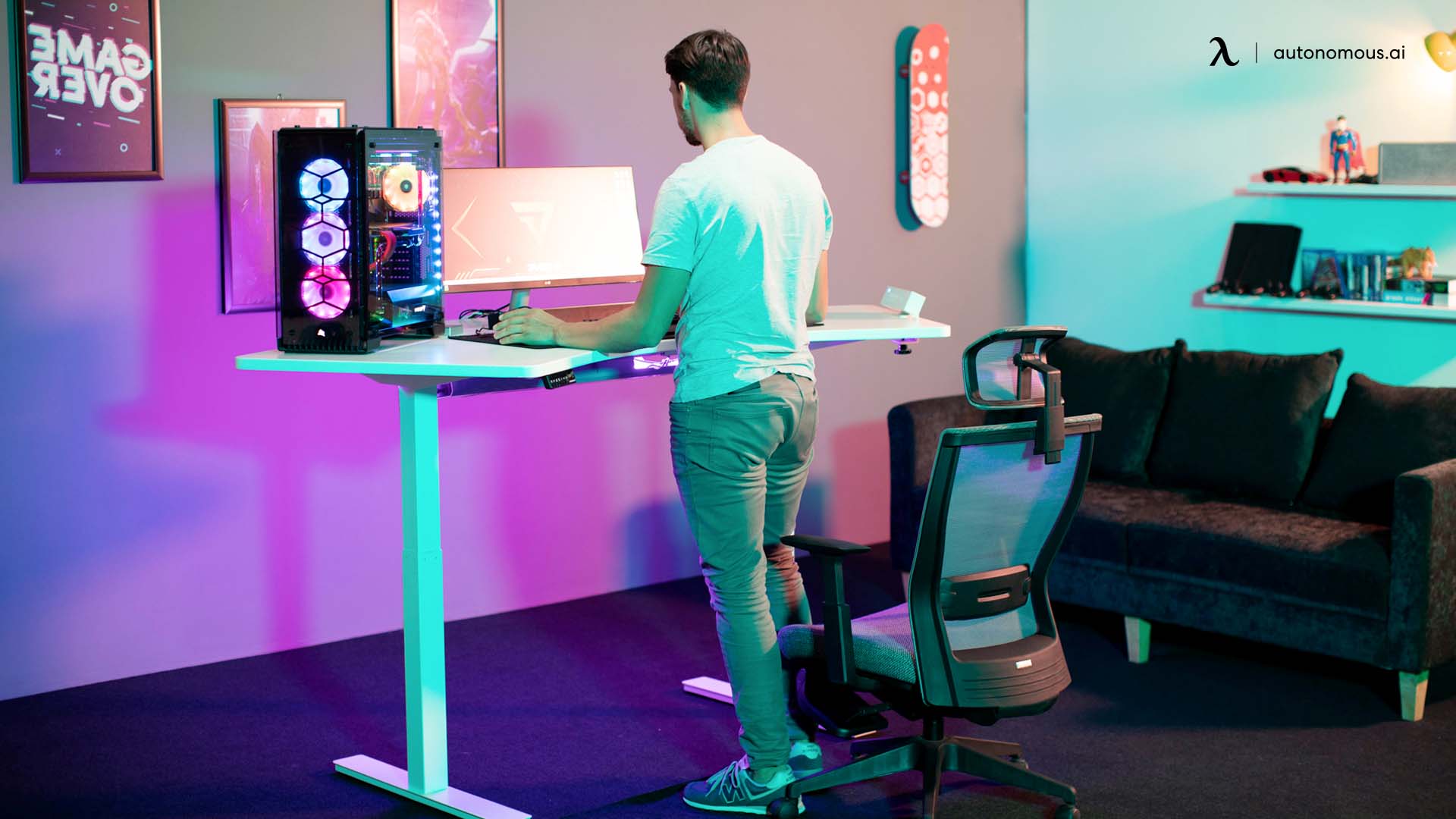 A standing desk is an excellent option for a gaming desk. You can check out the Autonomous Standing Gaming Desk. It's effortless to adjust the height and move between the standing and sitting positions. You can even move the desk quickly between different rooms, thanks to the wheel system.
3. Autonomous SmartDesk Corner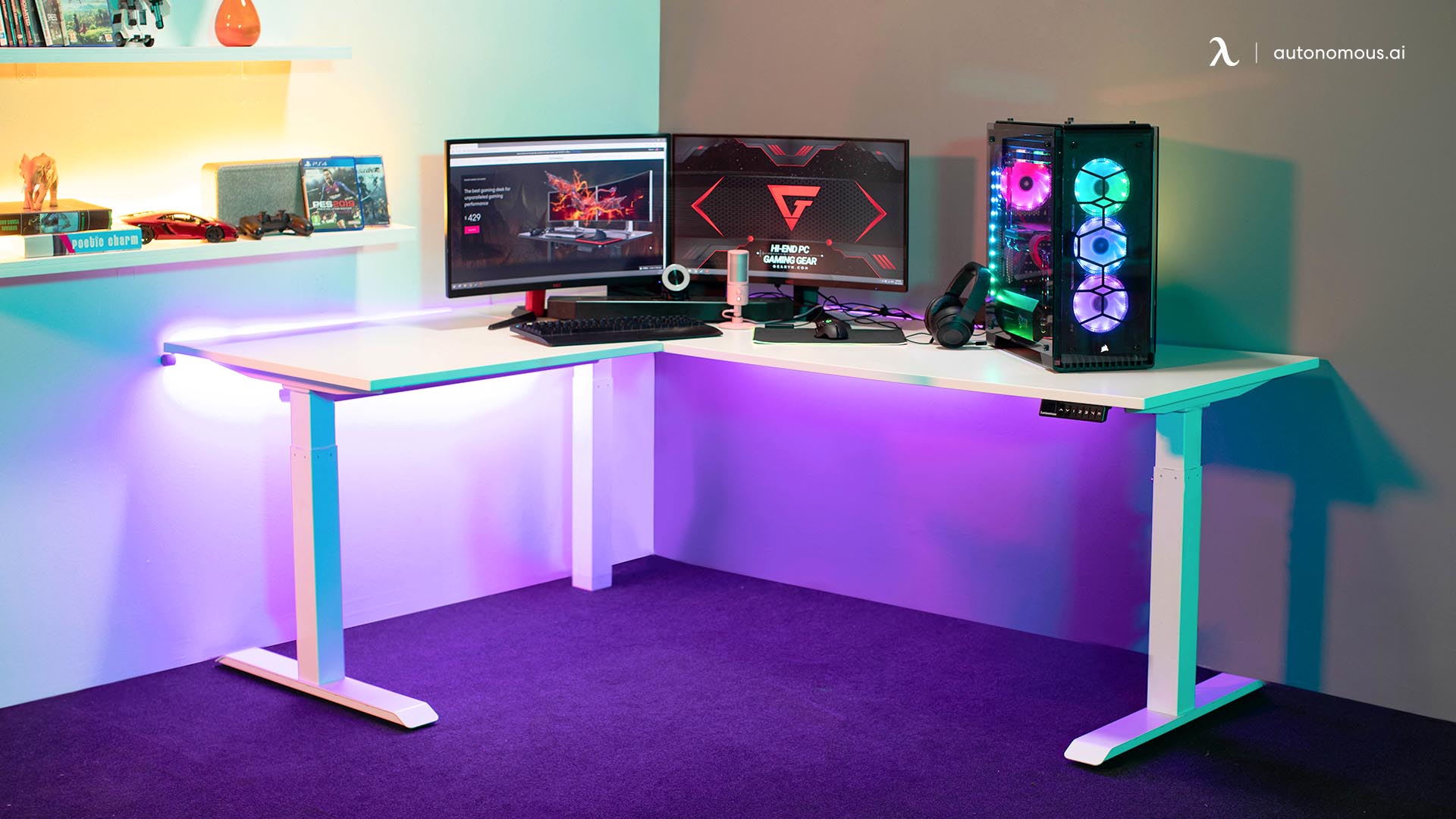 If you have a corner area available for your gaming desk, consider the Autonomous L-shaped standing desk. This desk gives you lots of space and flexibility and fits well with the design of your room.
4. SmartDesk Frame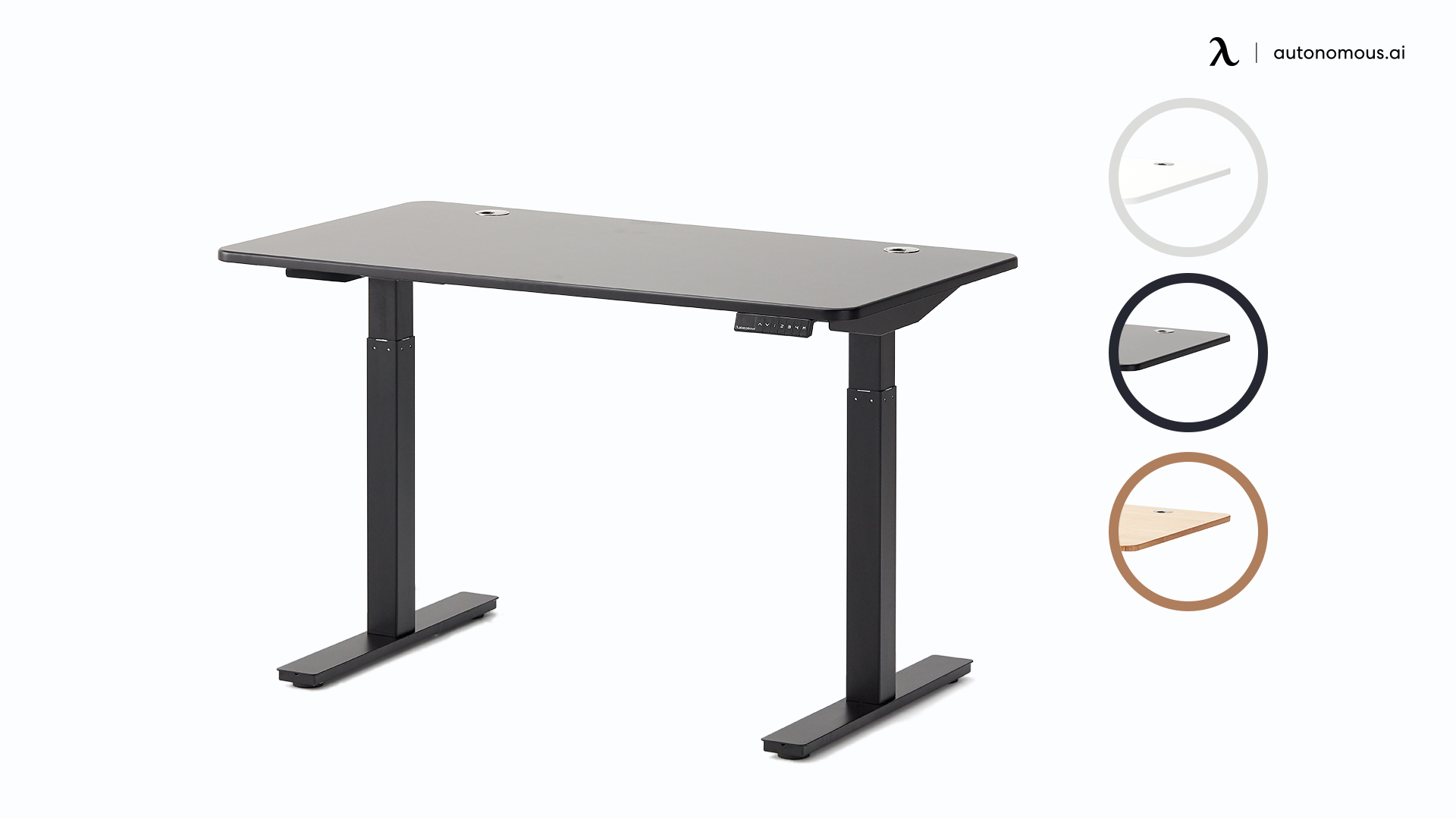 If you want more of a say in what kind of standing desk you have, then consider the SmartDesk Frame. This allows you to design your own standing desk using the motorized frame available in this kit. All you have to do is select the desktop and secure it to the frame.
5. Floating Desk
If space is limited for a full gaming desk, you can still make a plan. A floating desk is not too complex to set up with the help of a carpenter. This can be added to one of the walls or to the corner of a room as a floating corner desk. You have to ensure that it can support your computer and that you do not overload it, as it does not have the frame support of other desks.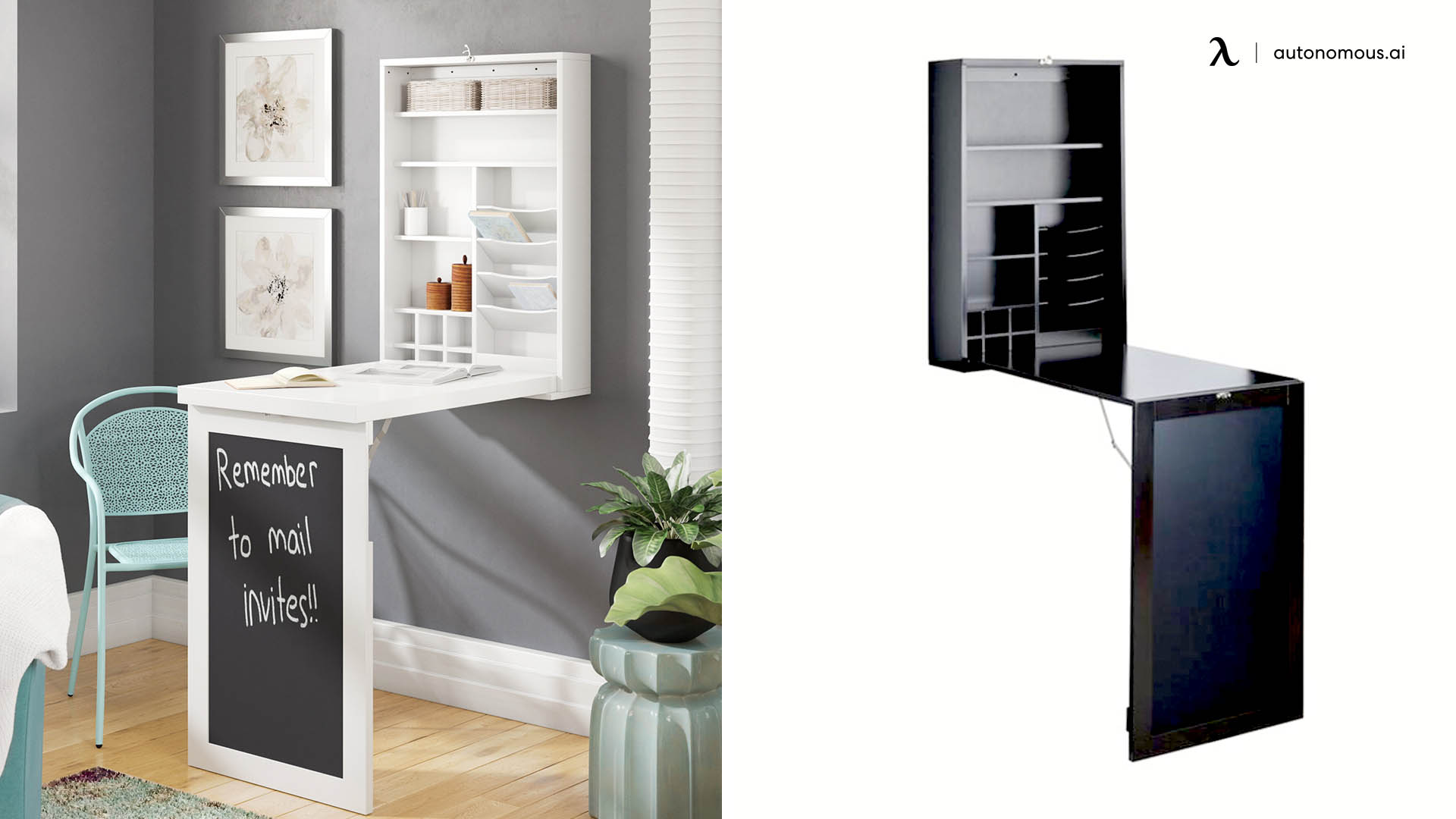 6. Portable and Foldable Desk
If you don't have space or desire to dedicate a full desk to your gaming time, you can settle for a mobile and foldable option. Whenever it's' time for gaming, all you have to do is pull out your DIY gaming computer desk. You can put it away when your gaming and streaming time is over.
7. Bookshelf Standing Desk
If you like the idea of a standing desk, but you are either unable to invest in one right now or do not have the space available, there are other options for a simple DIY gaming desk. You can use an existing bookshelf. For this gaming table design, you can clear the shelf of the level that gives you the optimal computer level. You want to avoid causing strain to your arms, neck, and eyes when you have not arranged your standing desk ergonomically.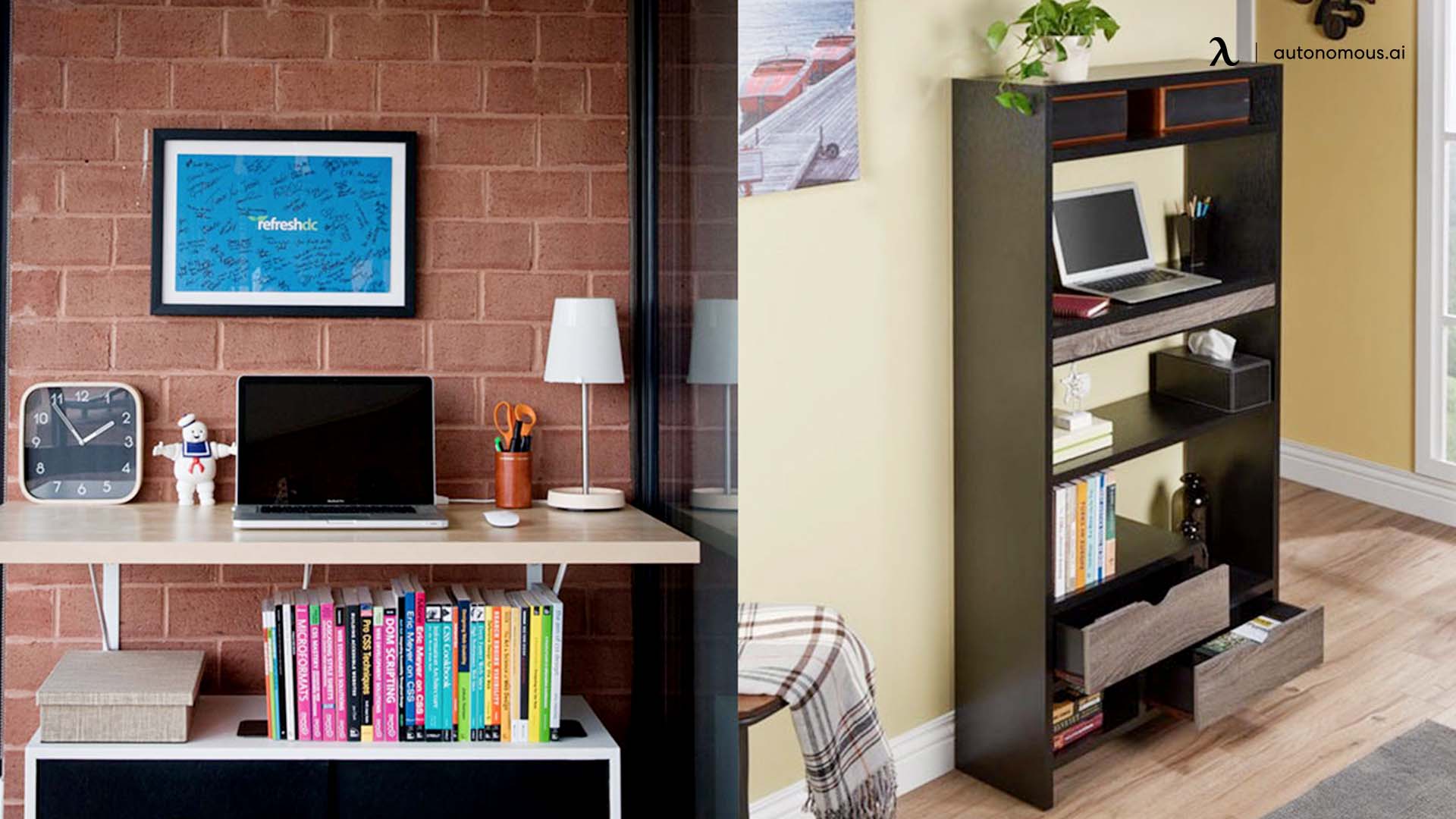 8. DIY Cubicle Desk
If you only have a minimal cubicle area available, there is still a lot you can do with it for your own diy gaming desk. You are able to design and put thounsand things in order.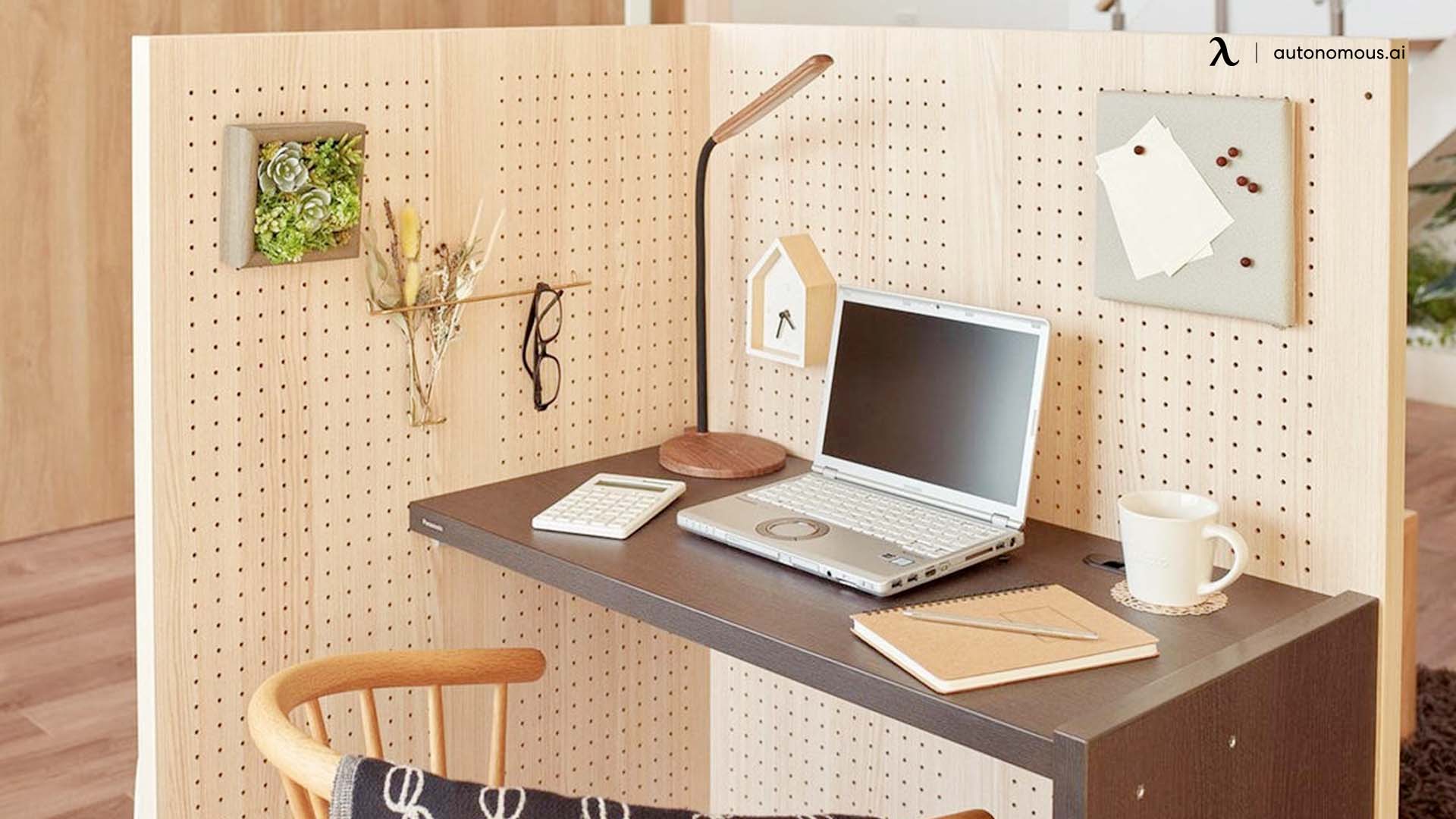 9. Homemade Corner Desk
There are so many ideas to explore for a homemade corner desk. Alternatively, if you don't mind spending on a brand new desk, you can explore some of the L-shaped desk options. You can work with a carpenter to design a snug corner desk with your favorite type of wood or other material. Here are some other corner desk ideas for your new gaming desk.
10. Flexispot Height Adjustable Standing Desk Converter
When you want a standing desk for gaming, but it's not an option at the moment, you can get away with a standing desk converter. This option by Flexispot is an excellent choice because it is spacious enough to fit two computer monitors. You can place it on any sturdy desk, table, or counter and start gaming comfortably in a standing position. It's effortless to adjust the height level to your liking.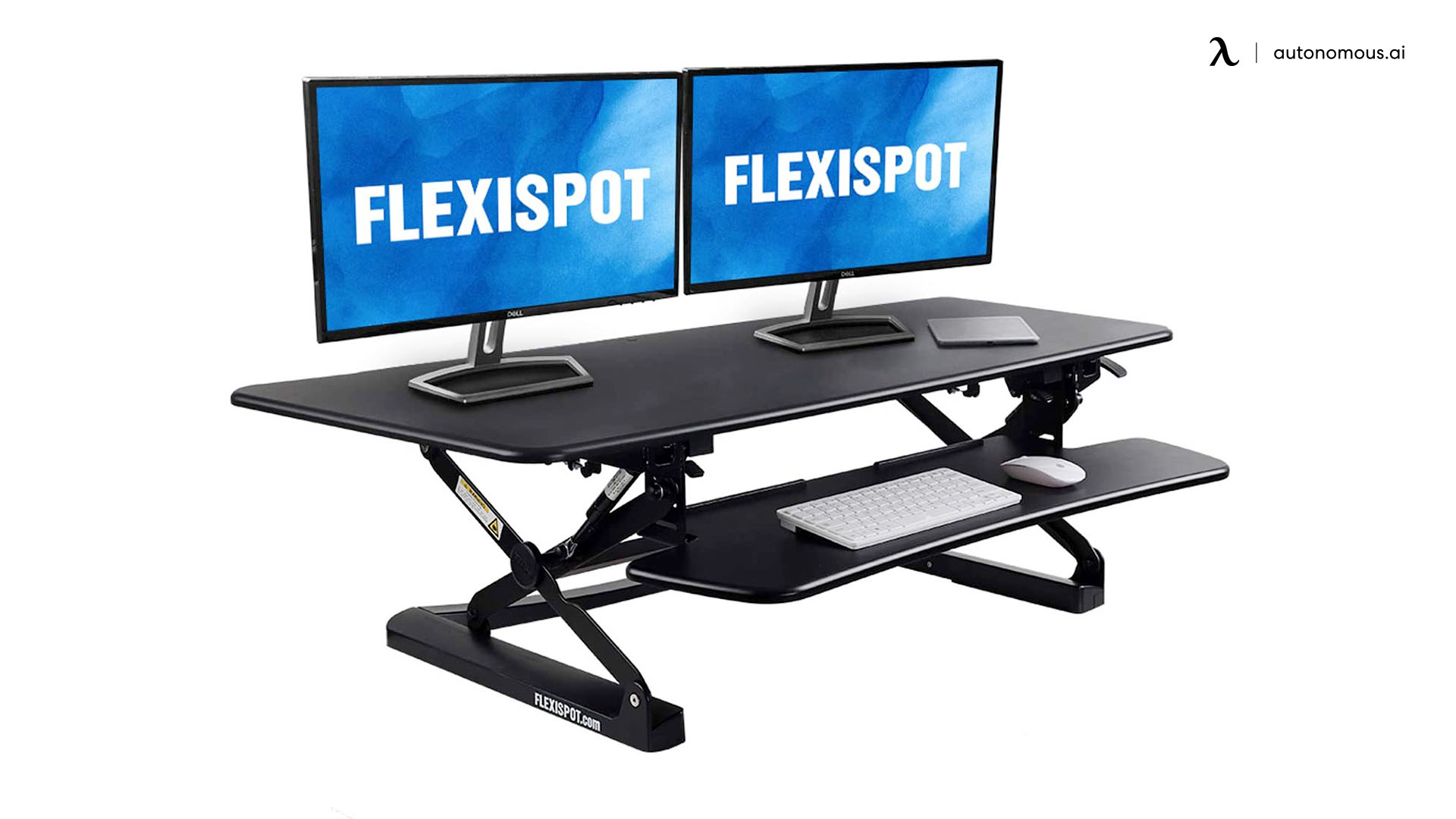 11. Wooden Pallet Wall Desk
You can make use of a wooden pallet wall desk. This is simple to add to an existing wall in your home. It takes up small space and in some cases, you may be able to fold it over when you are not gaming.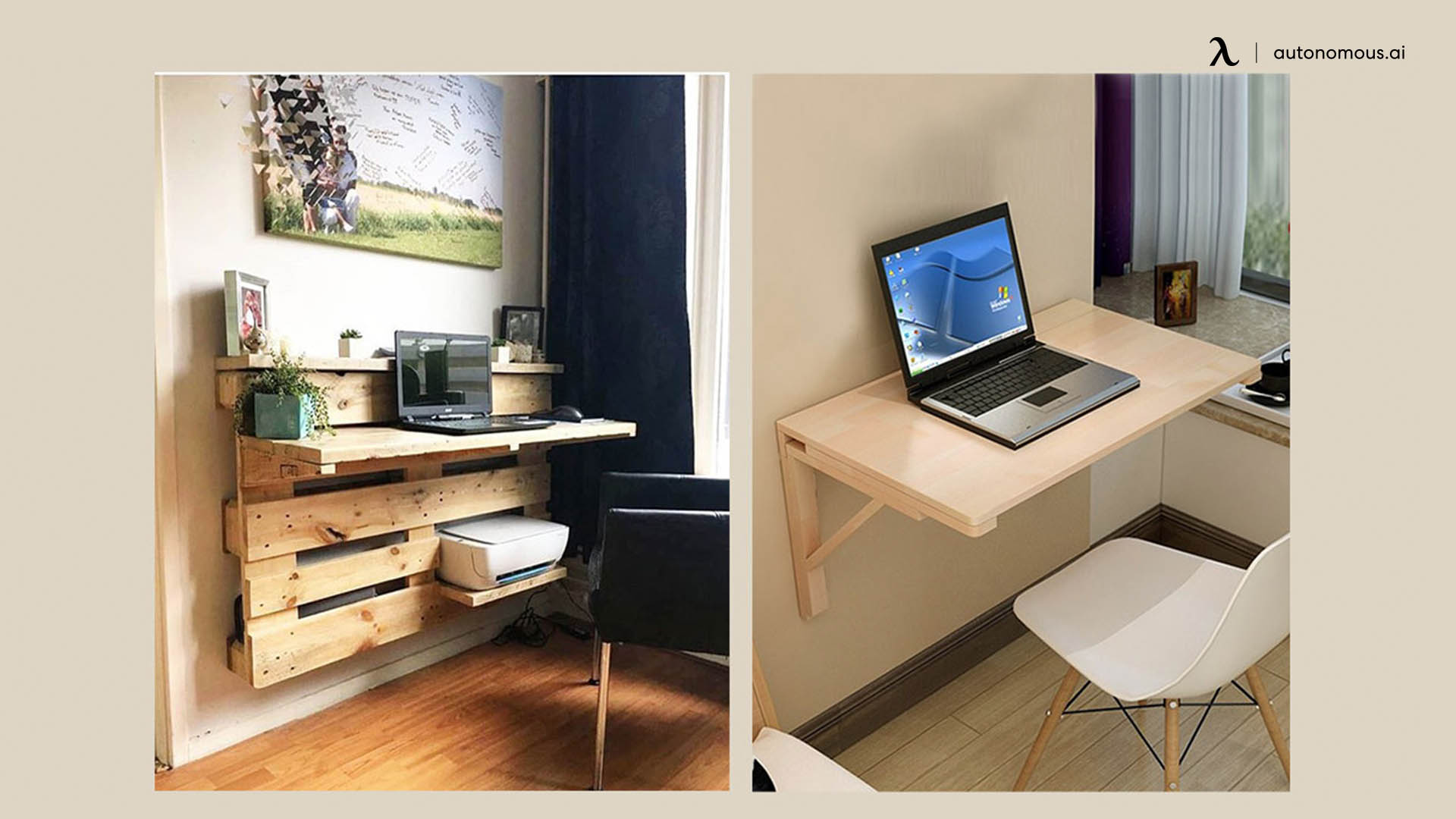 12. Build a Desk from Scratch
Building a gaming desk for yourself from scratch can be a great project to engage in. You have to have some skills with tools and woodwork, but even if you do not, you can get help from an expert.
13. Custom-Made Furniture
Many services are available that provide bespoke furniture. You can work with a designer to draft a gaming table design and then pass it on to a pro at building a gaming desk. You know that with this option, you are assured of a quality finished product.
14. EleTab Desk Converter
Here is another standing desk converter that can help you transform any desk into a DIY gaming desk. This converter has excellent features and has a large height allowance. It is perfect for gamers and streamers who use dual monitors and there is also a place for you to put your keyboard and mouse. This is one of the easiest ways to create your own homemade gaming desk. When you are done gaming, you can fold away the standing desk converter. You can also use it in the sitting and standing position, allowing you to convert even the shortest tables into gaming and office desks.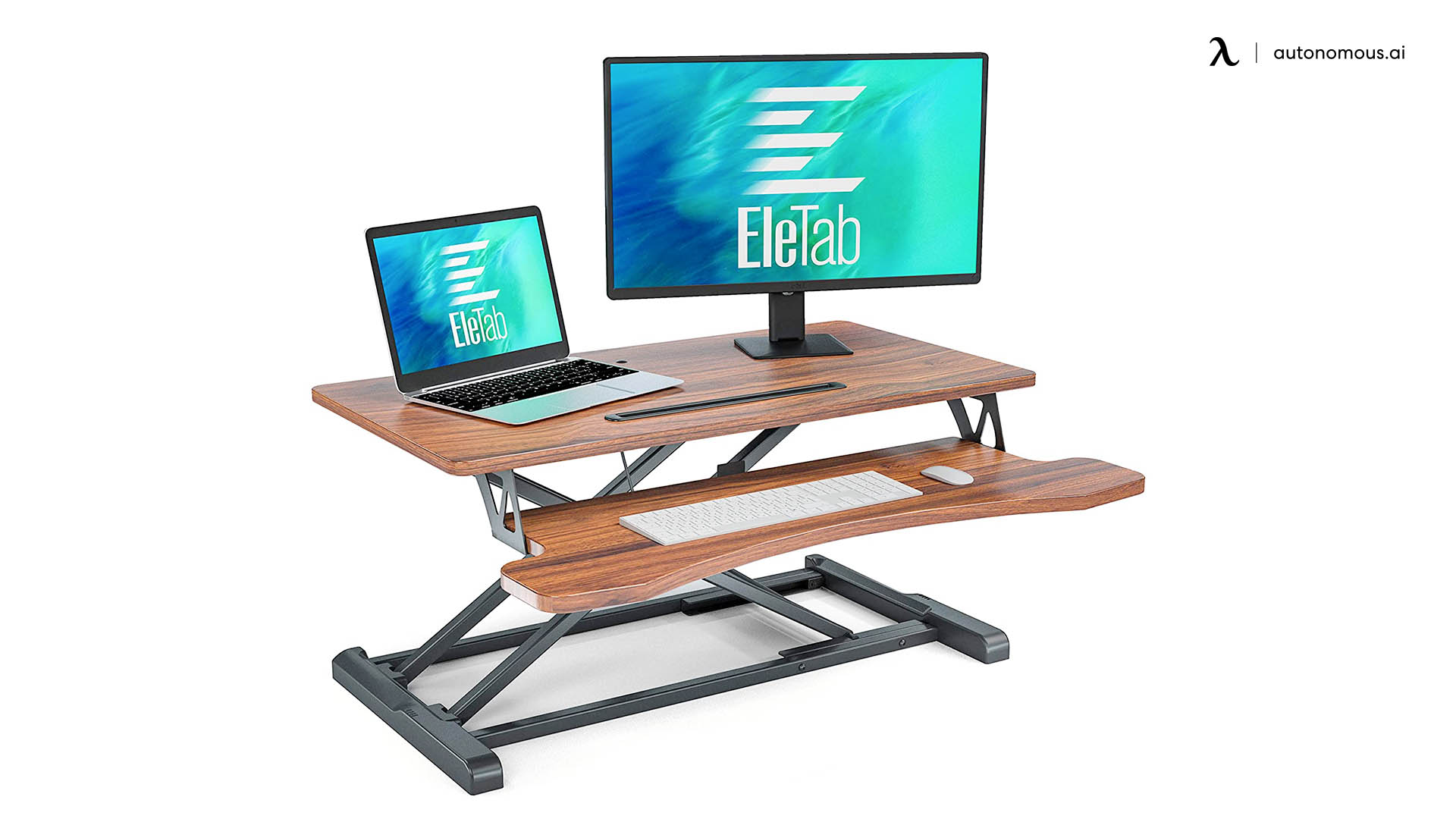 15.  2-in-t DIY Parson Tower Computer Desk
This is an excellent DIY gaming computer desk, and it works as both a regular home office desk and a gaming desk. Building a gaming desk like this can be done quickly, and you can even use old furniture scraps. The desk has a rectangular top and a two-tier storage system underneath. Assembling this Parson Tower desk only takes four steps, and you can make use of a step-by-step instruction guide.
16.  Repurpose Old Furniture
If you are like most people, you probably have some old pieces of furniture laying around somewhere in your home. If you don't, you can also find them from a used furniture store. This is another DIY gaming desk that is great to do as a DIY project. You can break up an old desk and make it like new for all your gaming activities.
17.  Redo the Top of an Old Desk
Building a gaming desk from scratch can be a lot of work, but if you have an old desk with a damaged top, you can opt to replace or redo the top instead. You can replace the entire top or cover it over with various materials, depending on the extent of the damage. There are lots of DIY materials that can be used to transform the top of a desk into a work of art.
18.  Devoko 55" Gaming Desk
If you are willing to invest in a new desk, then the Devoko desk is a great option. It comes with many great features, including a cup rack. It is a wide desk that is ideal for gamers. When you get it, you also receive a free mouse pad. If you are very serious about your gaming, you are going to love the ergonomics of this gaming table design.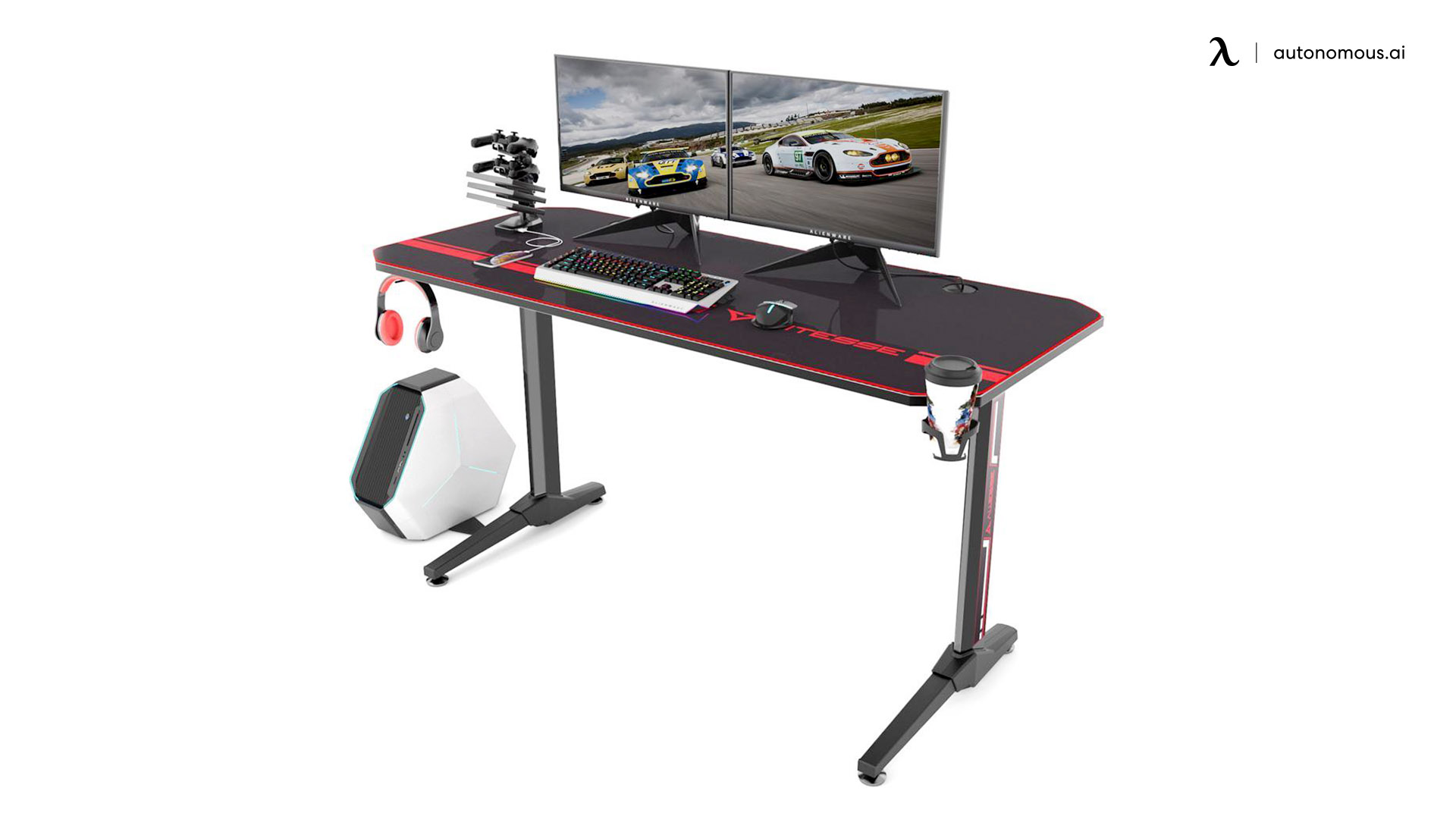 19.  Crosscounter Weight Desk
It is possible to create your own standing desk from scratch as a homemade gaming desk. You are going to need the right type of wood panels and a number of tools. There are lots of designs for a DIY standing desk, and one of the ones worth considering is the cross counter weight desk. You can add a motorized adjustable lift to it or use a crank lift to raise and lower it between the different height levels.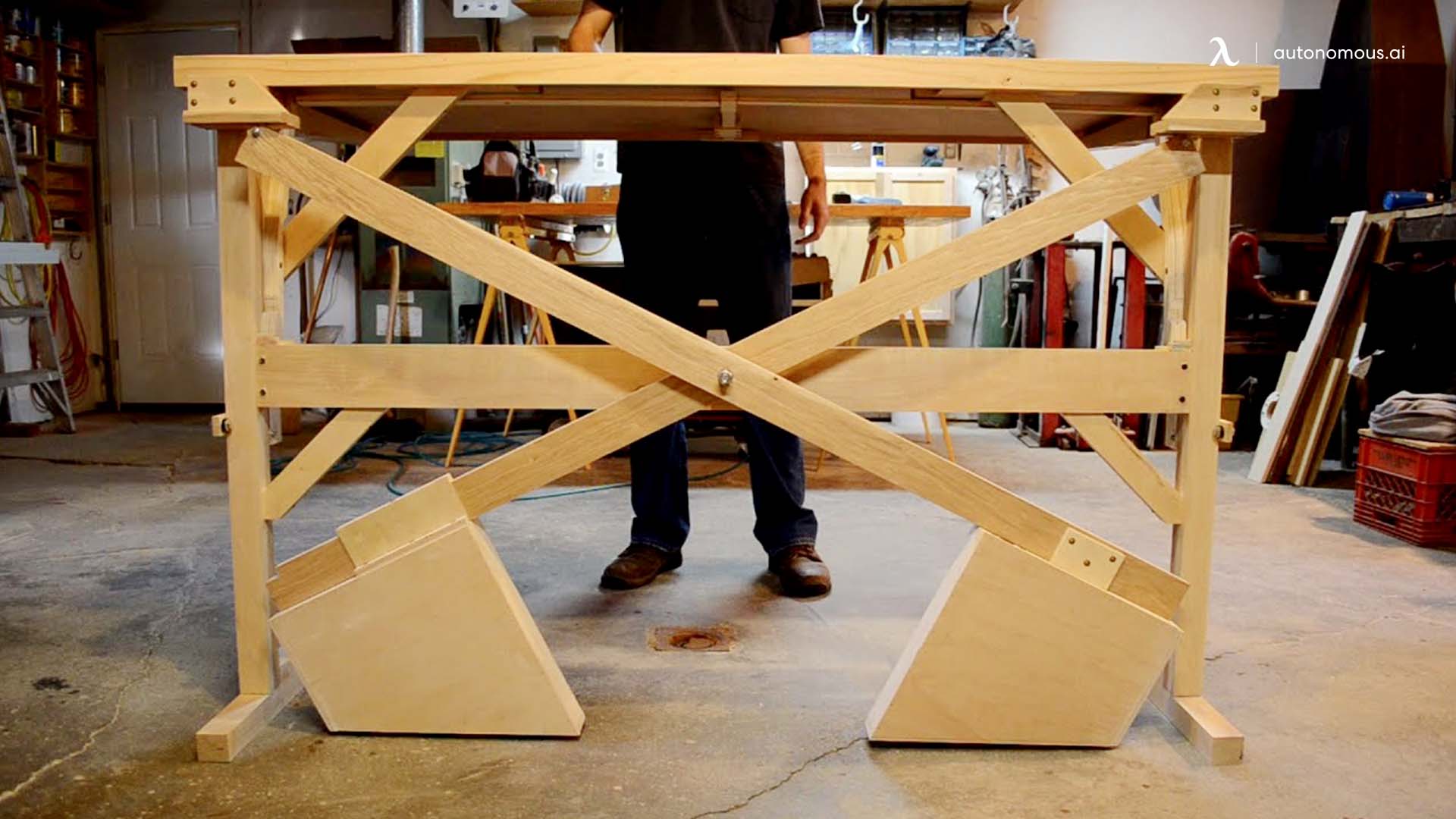 20.  Kitchen Counter Gaming Desk
If you don't have a lot of space, you can dedicate some space on your kitchen counter as a homemade diy gaming desk. You might want to add a standing desk converter if the height level of the counter is not ideal for sitting or standing. Don't forget about the ergonomics.
If you are a big gamer and streamer, it may be time to create a DIY gaming desk for your enjoyment. In this article, we included 20 great gaming desk ideas for you to think about. Some of them are very easy to pull off, while a few of these required some effort and expertise. It's crucial as well to remember that your DIY gaming computer desk should have great ergonomics so that you can enjoy the game with good posture.
Must-Have Accessories for a Streamer
Whether you are a gamer or a streamer, you can easily choose any of your favorite styles from the ones that we mentioned above. So, once you have done that, finally, you come towards equipping yourself with the right accessories. Of course, everyone knows which accessories a gamer needs. However, what often confuses people are the streaming accessories. So, if you're a newbie who is eager to know more about the streaming essentials, read further. 
Stream Deck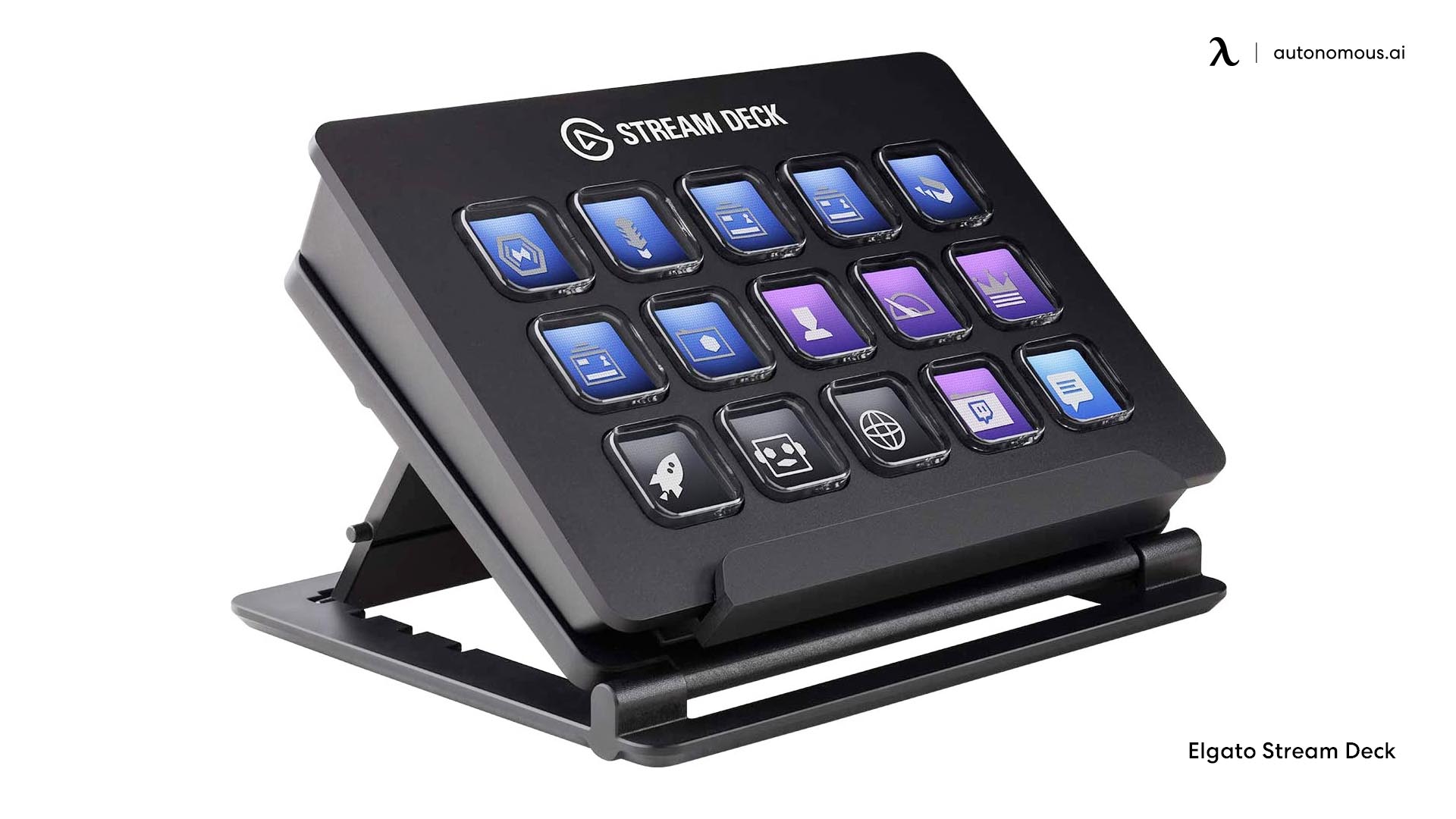 The stream deck is a highly useful tool for streamers and comes in handy during live streaming. Since these decks are customizable, you can conveniently add your most-used icons on the LCD screen.
Microphone and Headset
Every streamer needs a high-tech microphone with crispy sound quality. You can find two different mic types, namely condenser, and dynamic mics, in the market. It is generally observed that the condenser mic is more sensitive, so usually, it's better.
In addition, a headset is also a must if you wish to have a more immersive streaming experience. 
Pop Filter
Pop filters come in handy if you wish to have a cleaner voice output that lacks any noise. This filter is the circular black shield that you place in front of your mic. 
Mic Stand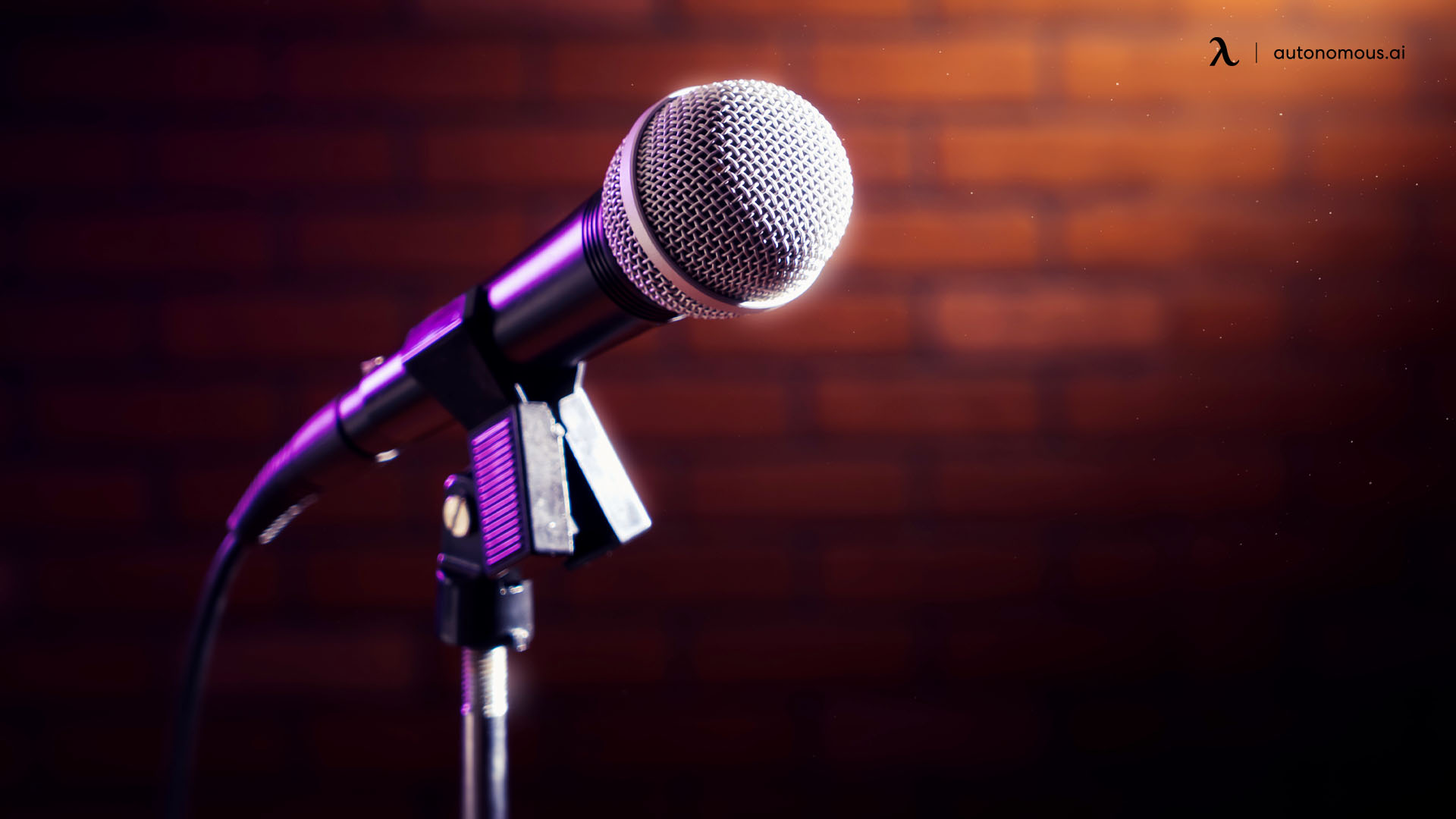 A mic stand would be one of the essential accessories in your DIY gaming desk. Obviously, you will need a holder to place your mic and have a hassle-free experience overall. 
Webcam
Any streamer's streaming station would be incomplete without a nice webcam. You should always invest in an HD webcam to have the best image resolutions and a great gaming experience overall.
Keep up with Autonomous news
Stay informed, stay inspired with our new blogs.
WRITTEN BYAutonomous
We build office products to help you work smarter.