Smart Products
The Top 20 White Office Desk Options for 2023 You'll Love

Autonomous
|
Jan 28, 2021
7,282 Views
It's no secret that a personalized workspace is an essential component to creating a comfortable workflow. Adequate motivation and productivity can be linked to your surroundings, which means that typing away at a broken down or old desk simply isn't going to cut it. You owe it to yourself to work in a well-organized, concise, and clean working area.
If you are all set on making the gracious white purchase for your home office, then you certainly know the benefits of a white office desk. A white work desk is timeless, classy, and an excellent piece of furniture that smartly blends with any office theme. White also brings a sense of calmness into the workplace and makes a room look brighter, both factors playing a significant role in improving productivity.
The colour white is a universal colour, and when it comes to modern office furniture, white is the choice you see most often. This is partly because white works great for minimalist office designs, and a modern white office desk is easy to find. But there are certain things to remember when choosing a white home office desk for your workplace. And we have got it all covered.
Our first means of cutting down the endless load of office desk options is by providing you with 20 of the best white desk options that you're going to love.
Why Should You Choose a White Office Work Desk?
White is an excellent color to incorporate into your workspace, and one of the easiest ways to use this color in your office is by purchasing a white office desk. White executive office desks represent light, purity and offer a calming effect to your working space.
In addition to this, a white office desk places a certain charm that's highly recommended in a variety of offices and other business spaces. Not to mention, a modern white office desk works wonders for those who are looking to brighten up and add light into their office environment.
How to Choose the Best White Furniture?
To choose white for home office furniture is to make a wise decision. White furniture is beautiful and classy. Here are some ways to choose the best white furniture for your home office.
Right Shade
One might be surprised to know, but not all whites are the same. Sure, white is a definite absence of colour, but to pick the right white, you need to compare the brightness of subsequent shades of white. There are many whites you can get, and some are brighter while some go towards a dull side. So make sure to check and find the best white you need.
Layout
Not only for white office desks, but office layout is essential when considering the type of furniture you are opting for. Whether your office is big enough to hold the furniture or even enough space, you do need some free space to roam around and place other things. And clutter in the workplace does a lot more harm than good.
Hence, make sure you choose the correct white desk setup dimensions and shape for your home office. An L-shaped desk works great for tight spaces, but creating a royal office look, a white executive office desk can exude confidence.
Comfort
Office furniture needs to be comfortable no matter what colour, theme or design you are opting for. A comfortable piece of furniture can improve mental and physical wellness and improve the employees' efficiency.
Make sure to opt for ergonomic office desks. Ergonomic office desks are height-adjustable desks that allow you to work both while sitting and standing. This simple feature can bring a lot of positivity to your work life.
Material
Just because you need white doesn't mean you must settle for just any white product you see. The importance of suitable material in an office desk is critical. Material choice impacts strength, durability and longevity. It is also essential to choose eco-friendly furniture, so you and the environment aren't subjected to any harmful exposure to chemicals.
Some Common White Office Desk Styles
Desks are the most versatile piece of a workplace and household furniture. An excellent desk may be the focal point of any room dedicated to a single activity, whether it's a pastime, study, work, or simply having fun. Here are some common white office desk styles that you might love.
White Desk with Drawer
A desk with drawers is an ergonomic option because they improve organization. Drawers can hold your essential files, chargers, pen, note pads and whatnot. There are many types of desk drawers you can find on a desk. You can choose the type of desk drawer that covers your needs.
White Oval Desk
An oval desk might not be the first choice for some because it is rare, but an oval desk is a good option. Especially when it comes to the white oval desk, the colour and aesthetic is just too royal to ignore. In addition, you can get different tabletops from ceramic to glass, and an oval desk will depict a sense of neatness in your workstation.
White Desk with Cable Tray
Cable clutter is a common problem we all experience in our workplace. Cable clutter is not only annoying but is also extremely dangerous for hazards like a short circuit. A cable management tray is a great accessory that comes with some desks. You can easily organize the cables and keep the workplace tidy.
White Desk with Shelves
White desk with shelves or a hutch looks one of a kind. They are ideal for extensive study or work setups and allow you to have all that extra storage options. White desks with shelves can also be used in offices as they can keep many accessories in the same place.
White desk with X Leg Base
White goes well with modernism which is why X leg base works so well with white. The X leg base design brightens up your workspace because it looks trendy and stylish. You can easily elevate the look of your home office by buying an X leg base desk instead of a rectangular desk.
White Rustic Style Desk
Some people love a look of vintage in their home, and a rustic white desk lives up to the mark. It looks antique but is modern and classic. A rustic white desk is a timeless investment.
White Standing Desk
A standing desk can be an excellent alternative for your home office if your line of work doesn't require a lot of time sitting at a computer or if you like to work while standing. Standing workstations are taller than regular desks, allowing you to use your computer and monitor while standing.
In addition, standing desks offer numerous health benefits for the user, and to name a few, you can get rid of high blood sugar, burn more calories, and experience a better mood.
White Floating Desk
A floating desk is an ideal method to keep your home office floor space open and clutter-free. A floating desk is assembled into the wall, so it doesn't take up any extra space with heavy legs or other items that can overpower a space. If you have a small office, these are the ideal home office desks.
White Corner Desk
In their most basic form, corner desks can be a space-saving solution to space issues, or they can be a comprehensive suite of surface area in their most ornate forms. Depending on the size you want, you can get more desktop space in a smaller space or a sizable L-shaped spread.
The fact that they can provide extra legroom is the most excellent feature. A white corner desk blends with multiple themes, and you can set up your workstation even in your colourful bedroom.
Pros and Cons of Adding a White Home Office Desk
Pros of Adding a White Home Office Desk
It offers light into your workspace and makes it look brighter.
You're provided with a piece of office furniture that works to add a calming effect to your office.
It's equipped with a certain charm that offers a clean and refreshing appearance.
Cons of Adding a White Home Office Desk
A white office desk is more prone to visible stains and dust.
What are the Best White Office Desk Options for 2022?
Here are our top picks for the best white work desk options for 2022:
1. Autonomous SmartDesk Core
When purchasing the SmartDesk Core from Autonomous, you gain a quality product. This is another electric standing desk that holds the ability to make your workspace more ergonomically beneficial. It's designed to offer robust technology that allows you to lift a maximum weight capacity of 300 lbs while producing virtually no noise. Thus, you're provided with the ability to transition from a sitting to a standing position effortlessly.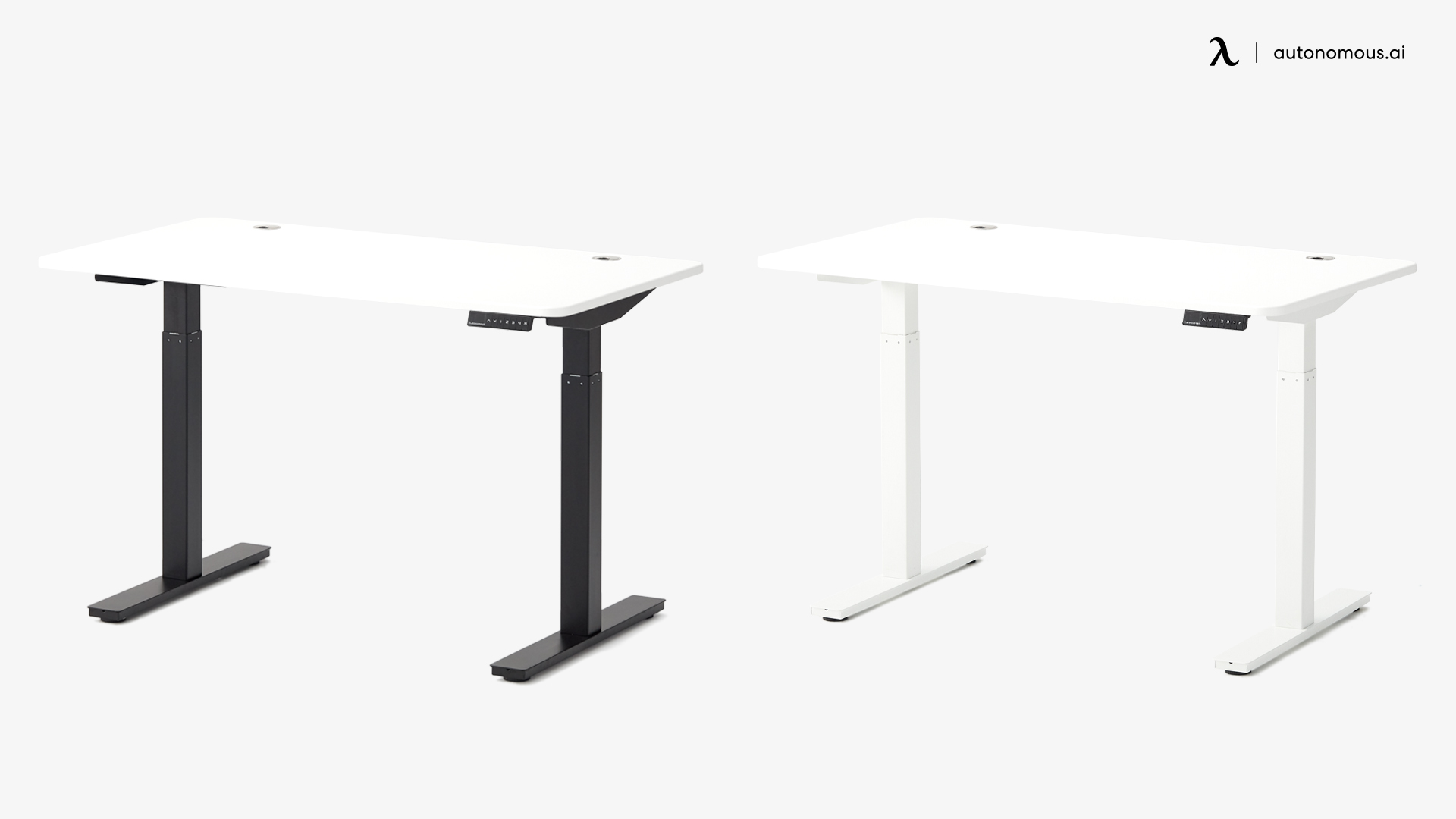 2. Autonomous SmartDesk Corner
The Autonomous SmartDesk Corner is a brilliant option to add to your workspace. There are a variety of reasons for this, but the most prevalent is that it's designed as an electric standing desk. The desk is available for an incredibly reasonable price. It is equipped with a motorized system that allows it to move from sitting to a standing position, which means that you're provided with the ability to negate the negative effects of sitting too much, like lower back pain, while improving your blood circulation.
3.  Autonomous SmartDesk Pro
This Autonomous SmartDesk Pro is designed with a similar layout to the original SmartDesk Core. However, the features included in this white executive office desk are more advanced to provide the best experience while in the workspace. An amazing feature about this white desk version is that it offers a dual motorized system to effortlessly lift you from a sitting to a standing position within seconds and in virtual silence. All of these elements make this one of the best white office desk options on the market.
4. Autonomous Double Desk
This is yet another Autonomous white office desk on this list. However, something significantly different about this white standing desk is that it's equipped with a double desk component. Due to this, you're provided with double the workspace than other white office desk options. When purchasing this Autonomous, you're guaranteed the world-class technology incorporated in all Autonomous products, as well as a refreshing white appearance that can brighten up any workspace and a device that's an excellent collaborative tool.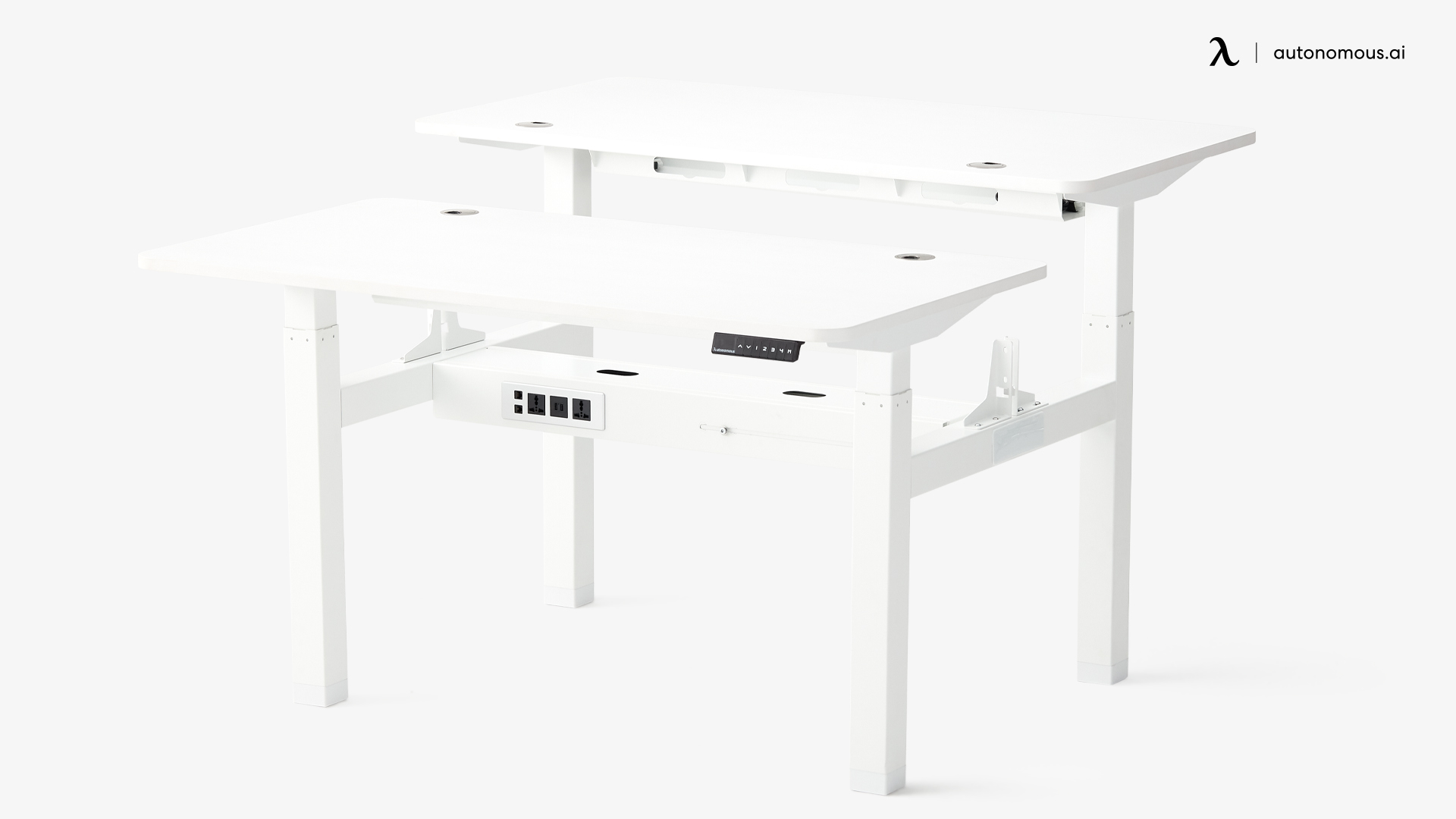 6. Art Desk
An ordinary white office desk isn't going to cut it for some customers. Autonomous understands this. That's why customers have the option to choose the white Art Desk, which is perfect for developers and those who need a large workspace to conduct their daily tasks. Something well-liked about this white office desk specifically designed creative works is that it works as a standing desk. There aren't many white office desks like this that are equipped as a standing desk, and this Art Desk is known as one of the best, making it one of the best white office desk options for your workspace.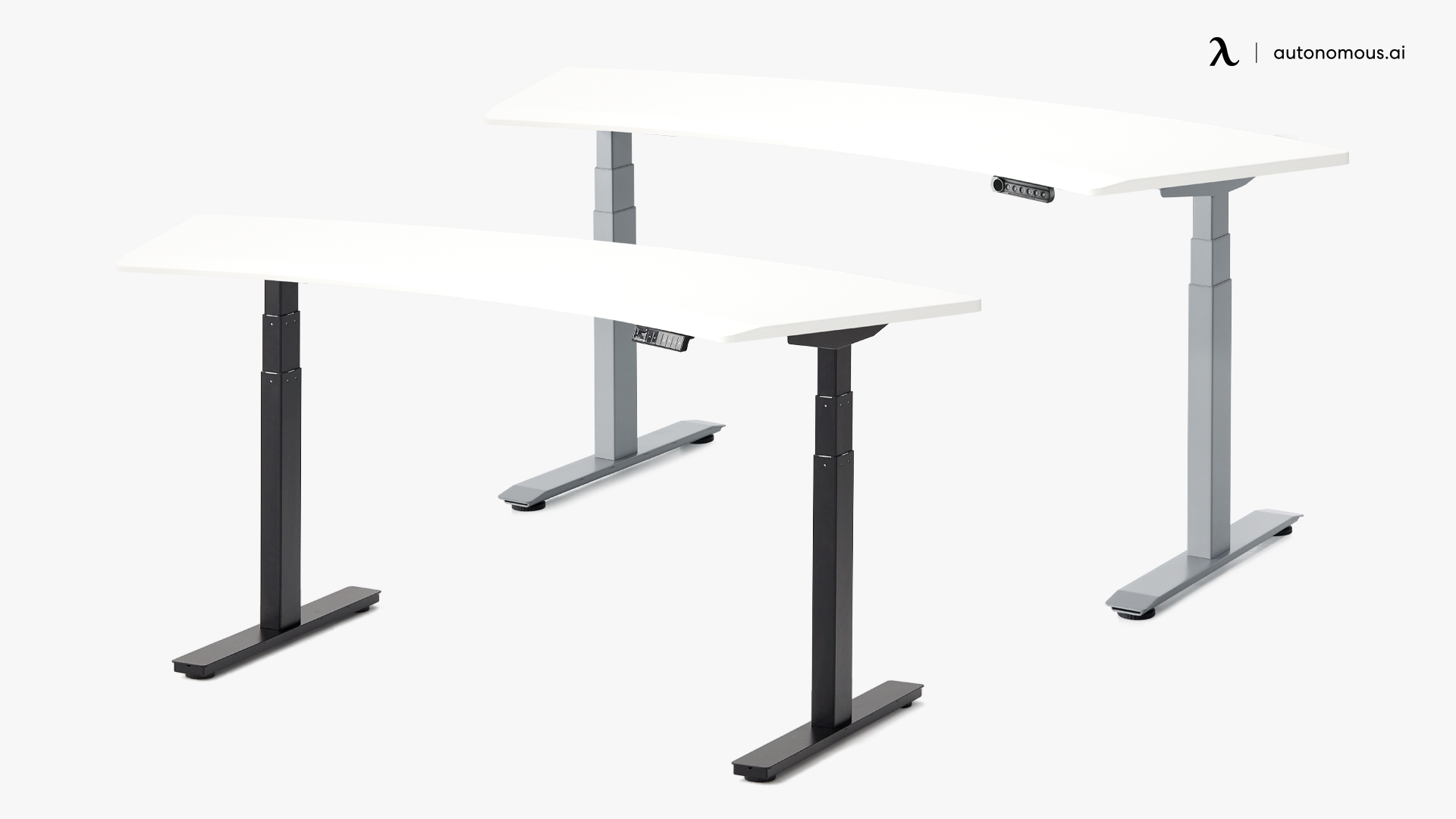 5. Floyd Table White Computer Desk
The Floyd Table white computer desk is designed in a unique way that blurs the lines between household and office use. With this feature, you're provided with an appearance that makes your home look more efficient and put together and an office space that looks more welcoming and homelier. This unique design includes the incorporation of solid birch plywood and a high-tier birch veneer that protects the desk from external inhibitors for a more durable and long-lasting product.
7. BlueLounge Modern White StudioDesk
Is your workspace a little cluttered? When looking at a modern office desk, one of the most important features surrounding the piece of furniture is that it aids in reducing unwanted clutter. In a busy workspace, your workload can quickly become cluttered and hard to handle. That's why the BlueLounge StudioDesk is such an asset, as it aids in providing a clutter-free workspace. It comes equipped with a black leatherette wrapped drawer, as well as an elongated slot and sturdy birch legs.
8. Joybird Gaia White Home Office Desk
This Joybird Gaia modern white office desk is designed with the idea of creating a modern workstation while still embodying character that's found in classic furniture pieces. Thus, you're provided with a piece of furniture that gives your workspace a refreshing and new design while still incorporating a timeless and classical style. Although this is hard to achieve, this Joybird model perfectly blends the two mediums together along with top-quality materials to offer one of the best white modern desks on the market.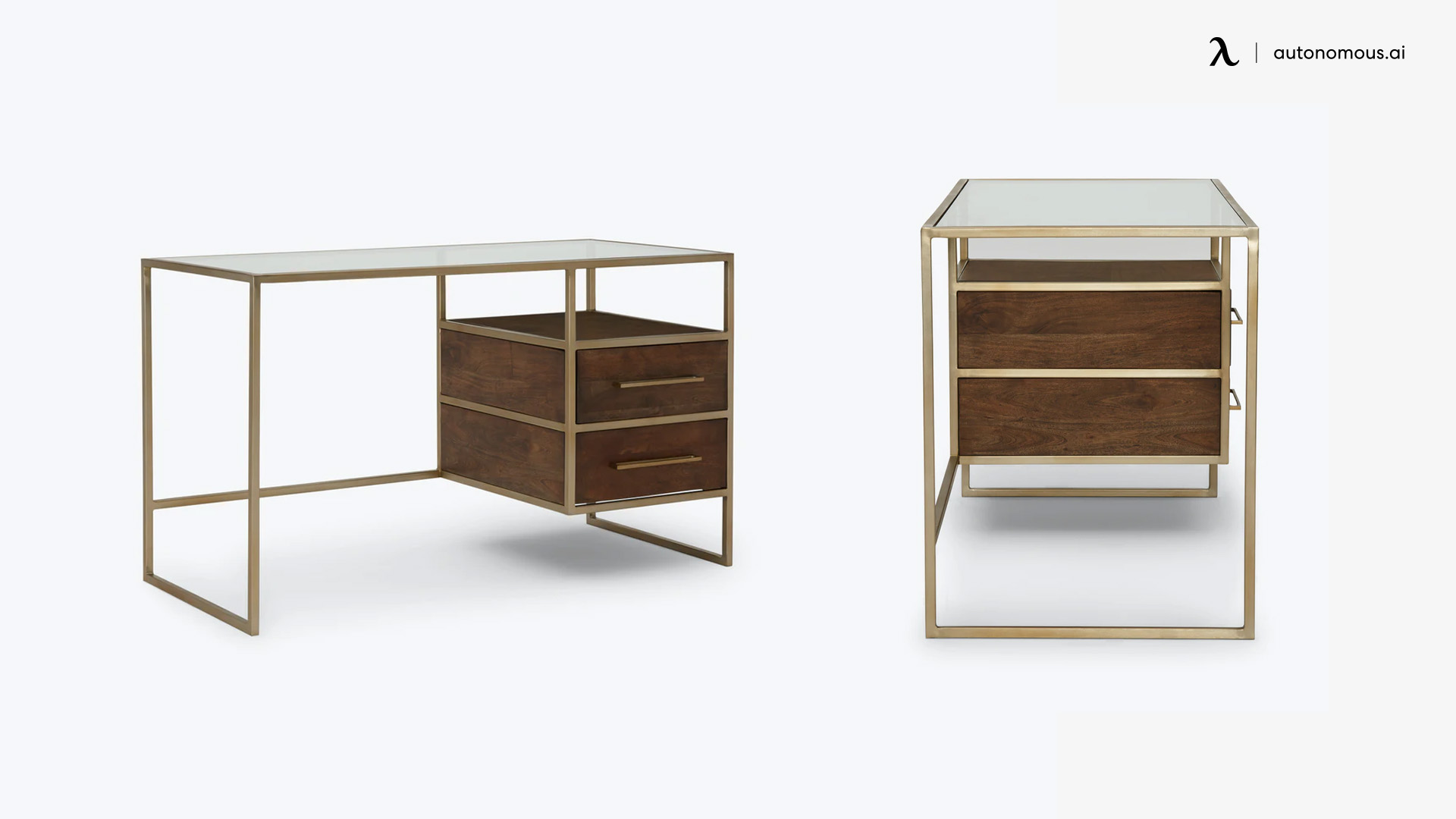 9. Artifox White Computer Desk 02
A minimalist's dream inspires the core of the design of this Artfox modern computer desk. It's equipped as a modular and tech-friendly piece of furniture constructed with a fantastic-looking walnut tabletop and steel accents against a dark stain, which perfectly highlight the white incorporated into the design. Overall, this desk is equipped with features that make it an excellent device to optimize your workspace and encourage productivity. Not to mention, its versatile design works well when incorporating the desk into any working station.
10. Everywhere Rectangular White Work Desk
The Everywhere Rectangular white executive desk is likely one of the most minimalistic desk options on the market. However, this design works exceptionally well in offering a refreshing and clean appearance to any workspace. With the inclusion of simplistic linework, unmatched versatility, and exceptional strength, this white work desk provides effective efficiency that works to boost productivity and motivation.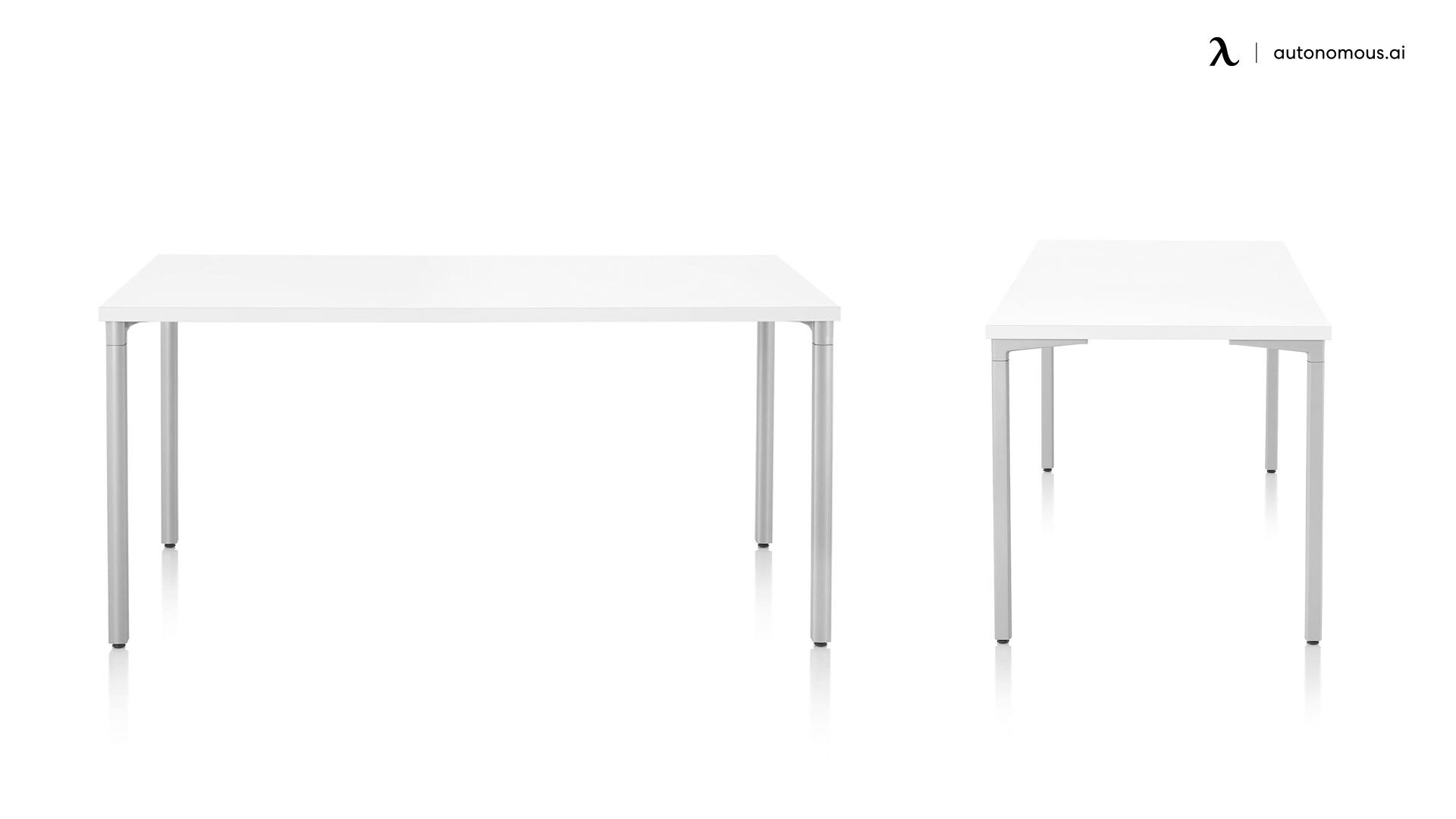 11. Herman Miller White Office Desk
The Herman Miller Eames is designed as a contemporary white office desk while including undeniable timeless features. The manufacturers behind this modern desk have blended together standout and neutral features that make this desk's appearance versatile enough to be incorporated into any office. Not to mention, its refreshing design provides light while making the workstation look cleaner.
12. DWR Nelson Swag Leg White Executive Desk
If you're looking for a modern office desk that's artistic and charming, then the DWR Nelson Swag Leg White Executive Desk is the right choice for you. This modern office desk is the result of incorporating artistic ideas into the construction of a sturdy and durable piece of furniture. The desk is designed with a collection of drawers and storage cubicles to help keep your workspace organized. Overall, this desk is one of the best additions to any office space.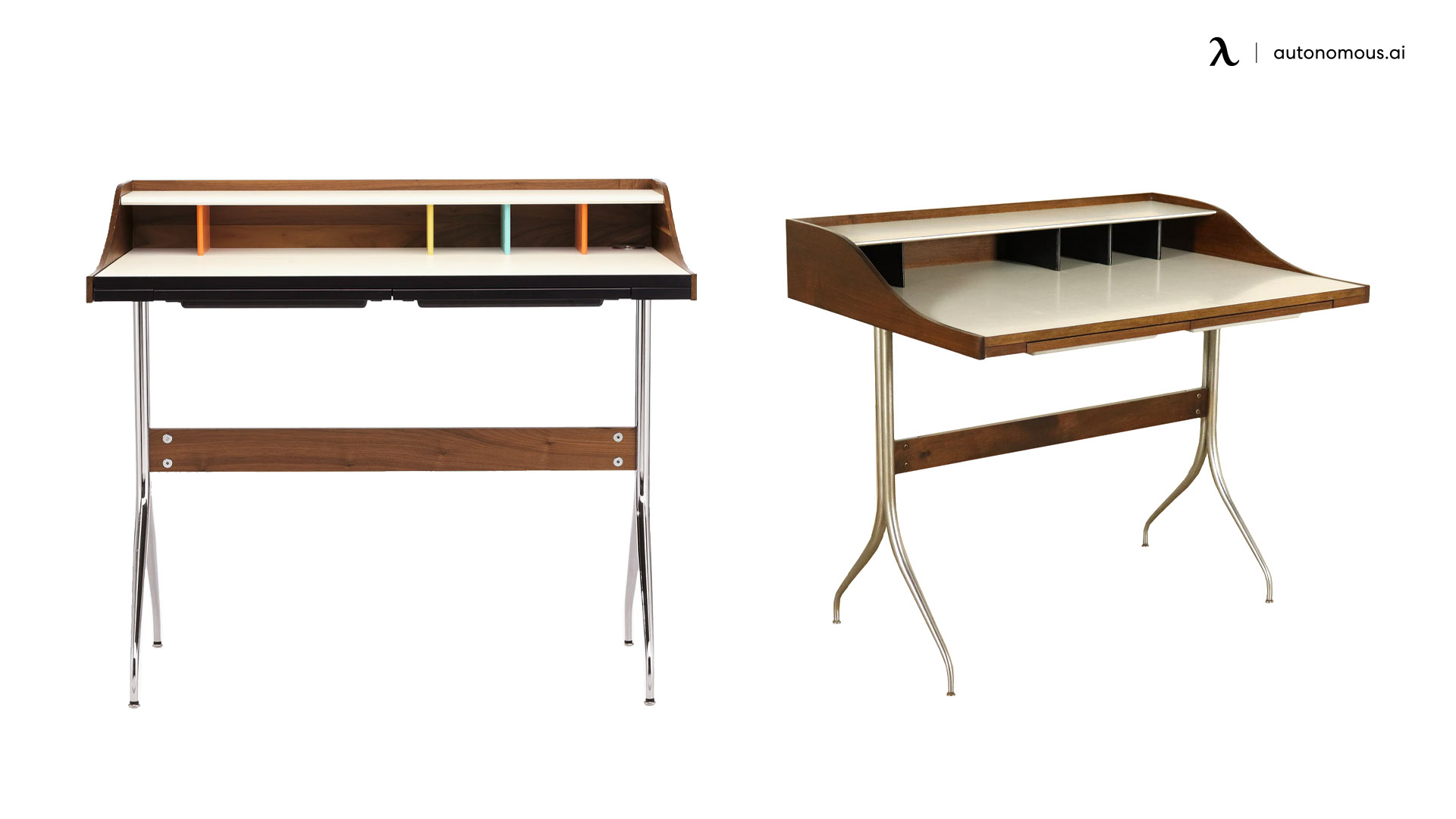 13.  Bludot Swish Console White Office Desk
This white executive desk is designed as an excellent piece of office furniture. The features included in this design make it a well-rounded white office desk that places great importance on the overall appearance of the desk. However, this doesn't mean that the functionality is lacking. This white office desk is equipped to be incredibly stable and durable, which ensures that you can get your work done in comfort.
14. Sean Woolsey Smart Desk
This is another Smart Desk that's available on the market. Smart Desks are growing in popularity and for a good reason. This particular standing desk incorporates a handful of technological advancements into a design that can be considered traditional. Due to this, you're provided with a modern standing desk that still manages to include classic charm found in more conventional and timeless pieces of furniture. 
15. Tribesigns White Computer Desk
This white executive office desk is designed with a modern approach to the traditional features commonly found in conventional office furniture. This is done by combining sturdy materials and a minimalistic design to create the most reasonably priced and affordable white office desk options on the market today. The inclusion of adjustment pads and metal legs ensures a wobble-free design even when the desk is placed on uneven ground.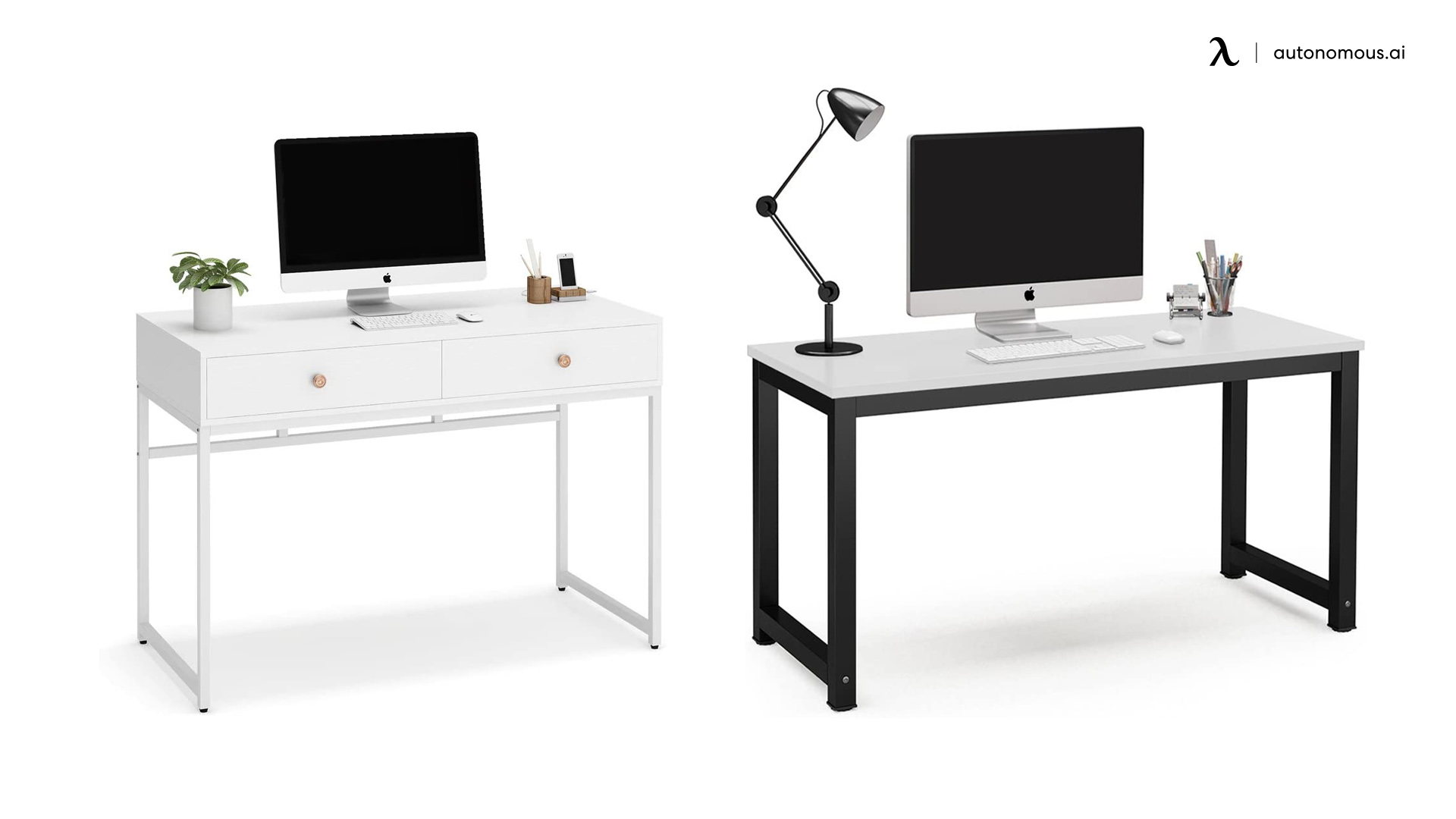 16. APT2B Whitaker Modern White Office Desk
When looking at white executive desk options on the market, you're bound to come across the APT2B contemporary white desk. The reason for this is that this modern white executive is built with efficiency in mind. One of the most well-liked features surrounding this desk is that it was created to blur the lines between classical and contemporary styles. Due to this, you're provided with a modern office desk that has a timeless appearance.
17. Fully Jarvis White Executive Desk
When purchasing the Jarvis white bamboo office desk, you're provided with all of the top-notch features incorporated into all Fully models. However, one significant difference between this ergonomic office desk is the inclusion of an adjustable furnishings feature. Due to this, you're given the ability to personalize your modern white office desk to fit your exact preferences.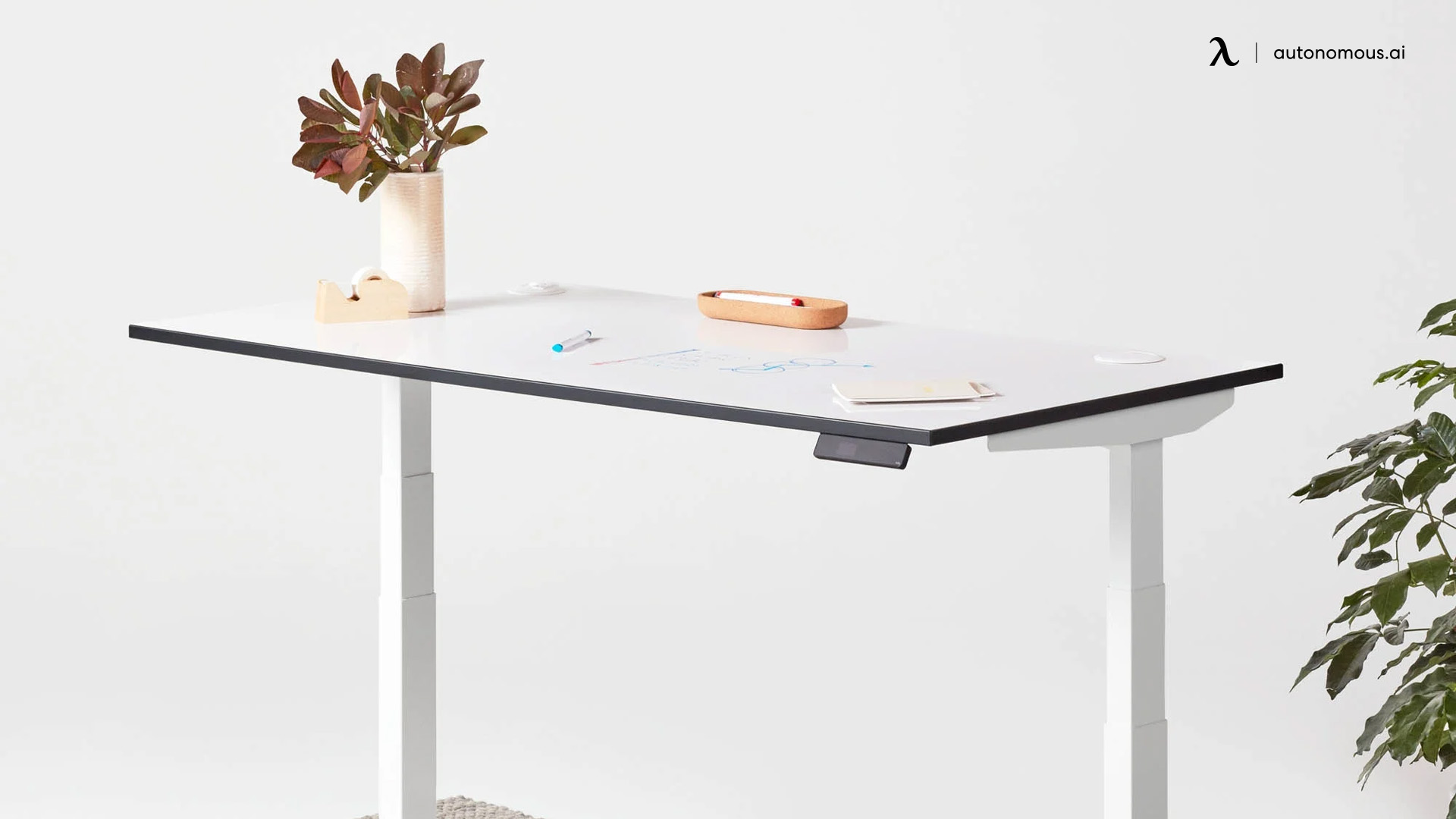 18. Article Culla White Home Office Desk
The Article Culla is the perfect piece of furniture for those who are working in an office and wanting to take the appearance of their workstation to the next level. The inclusion of white and the slimline table top aids in keeping the overall design of the white executive desk stylish yet simple. This ensures that it can fit into a wide variety of office spaces. It's refreshing appearance also holds the ability to turn any dull and tired looking workspace into a welcoming and inviting environment.
19. CB2 Drommen White Executive Desk
The CB2 Drommen White Executive desk is known as an architectural piece of artwork that offers the finest design styles in the industry while being equipped with versatility. It's excellent-looking appearance, and its robust design make this product a must-have in the office space. This is especially the desk for you if you're looking to keep your work area in optimal working order. Not to mention, it also includes a cable management system to keep rogue wires in check and hidden.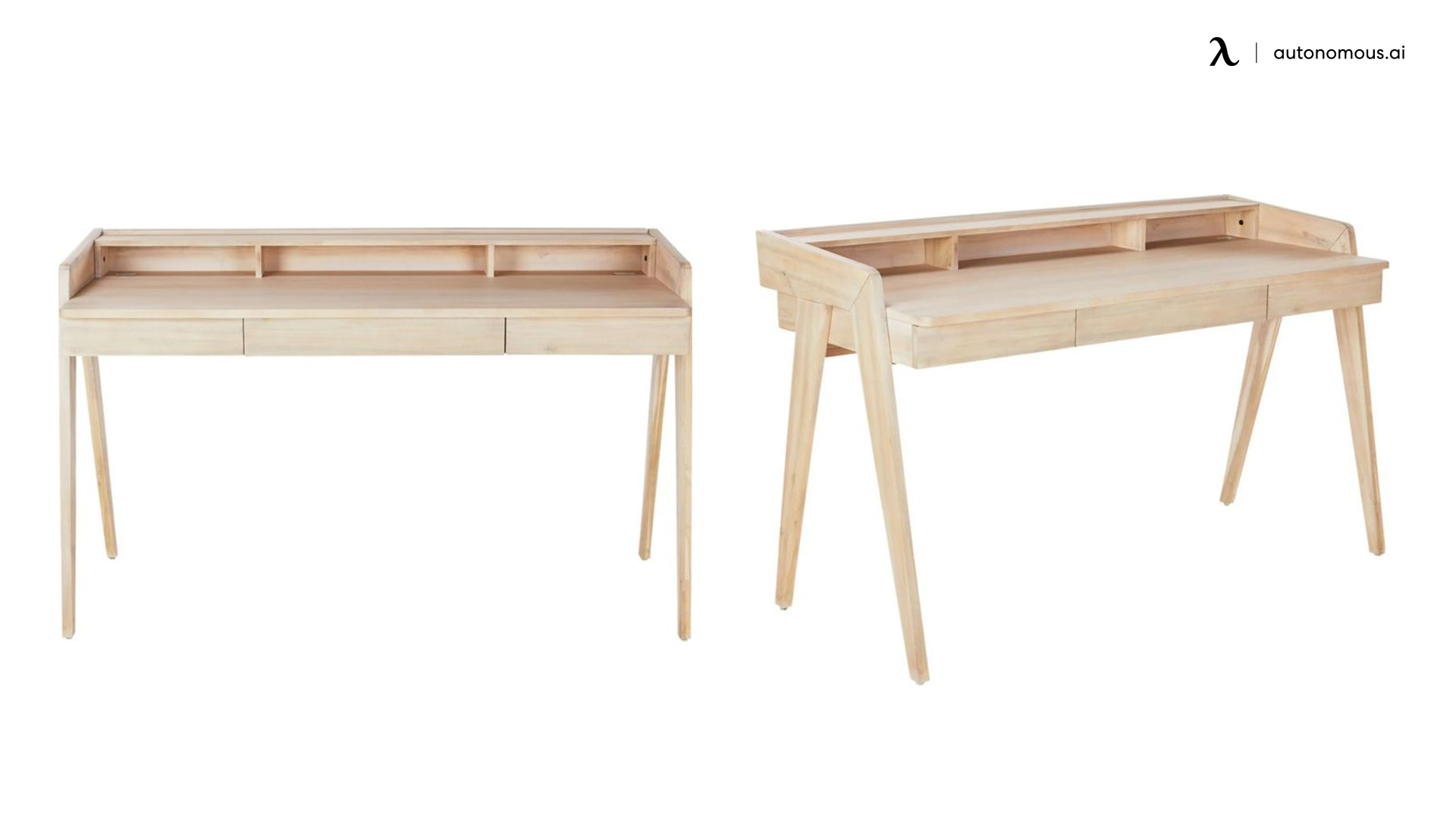 20. Modern Digs Hayes Desk
Unlike the other modern white office desk options on this list, the Modern Digs Hayes Desk brings an entirely different design level into your workspace. It's contemporary performance and its classic design principles make this desk an extraordinary table for prospective buyers. It's equipped with a simplistic desktop, a slew of modern materials, as well as subtle linework for a well-rounded piece of modern office furniture that can enhance the overall design quality of any office area.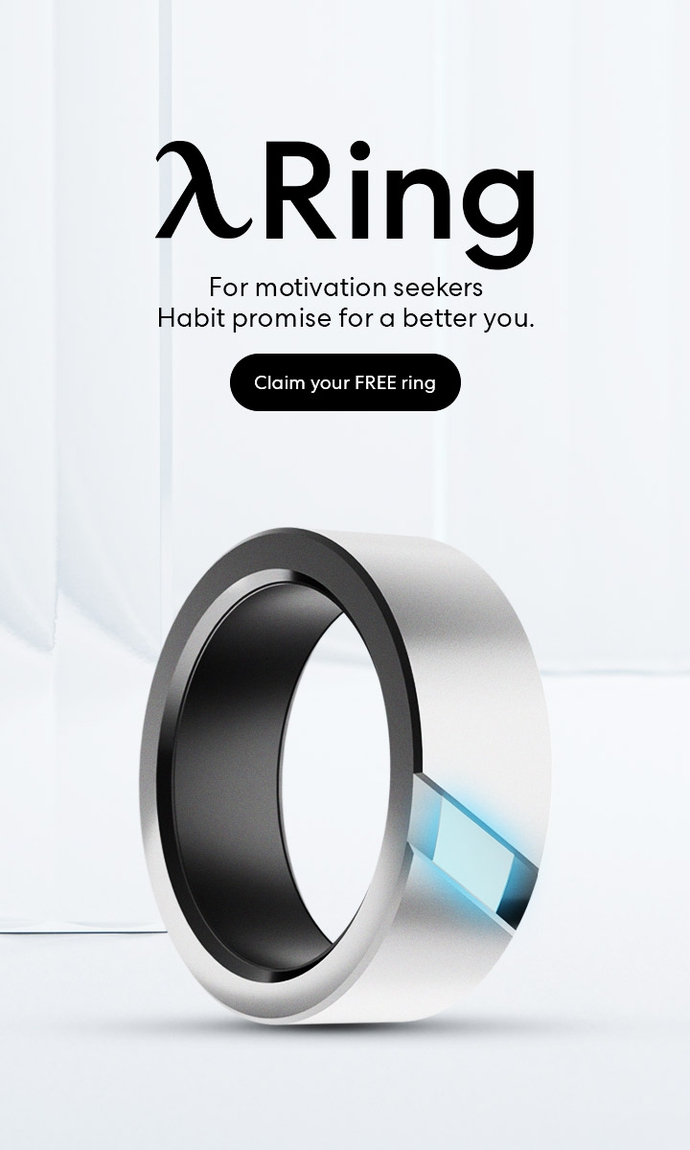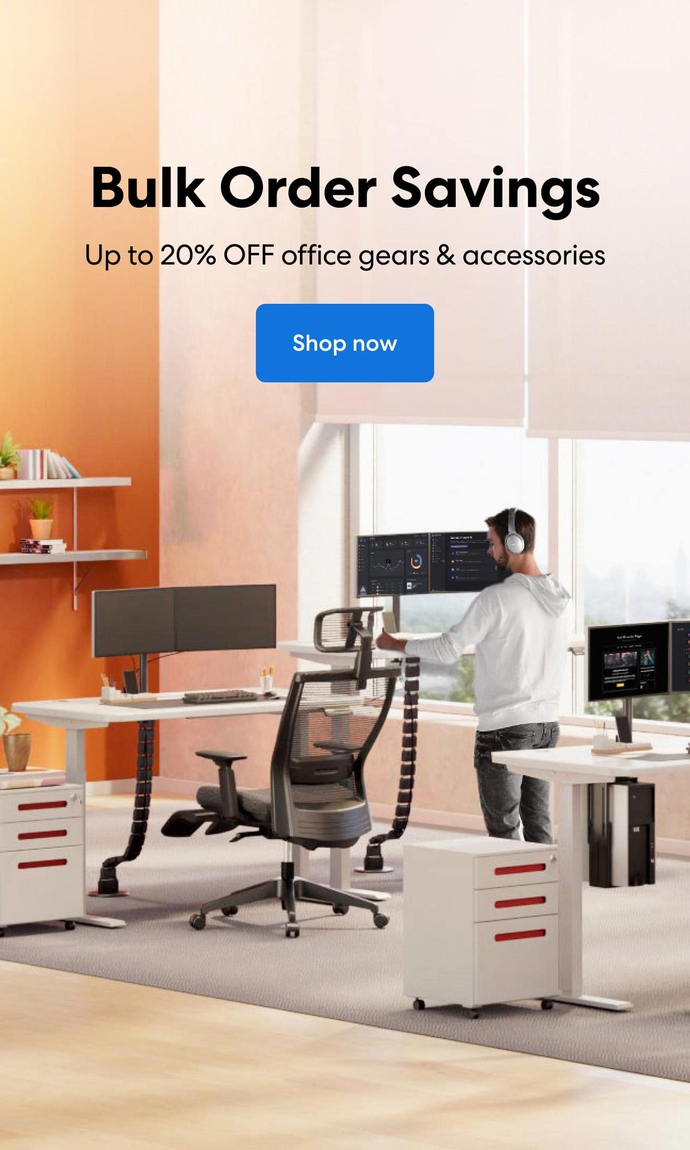 Subcribe newsletter and get $100 OFF.
Receive product updates, special offers, ergo tips, and inspiration form our team.