Smart Products
Top Innovation Should Come With Your Standing Desk in 2023

Autonomous
|
Oct 18, 2020
4,209 Views
One of the biggest trends in 2022 was improving office and homework environments. This served as an opportunity for many people worldwide to create personalized work stations at their home or office. There are currently many ways to innovate your current setup, but from all these improvements, innovation with a standing desk is going to be one of the biggest trends when 2022 arrives. 
Standing desks are proving to be the best way to work since they provide many benefits to your physical health and productivity. When they first arrived in the market, they were already an effective option for workers worldwide. However, thanks to the technological advances of 2022, there are now many standing desk new innovative features that you can enjoy. 
What is a Standing Desk? 
While standing desks have been around for quite a long time, there are still some people who don't know what they are and what tips for using standing desks. A standing desk (also called stand-up desk or sit-stand desk) is a new type of desk that allows the user to change from a sitting position to a standing one while working or reading. 
This allows for a more comfortable experience since this keeps you from sitting for many hours, which has been proven to have negative effects on your health. When standing desks came to the market, you could adjust them by using a manual mechanism. However, this was uncomfortable for some users, so developers worked hard to provide a better sit-stand conversion feature. 
Modern standing desks usually come with electric motors that change from sitting to standing by themselves. This new standing desk upgrades made it more attractive to the general public, especially this year, where many people are now working from home. 
Standing desks have been evolving even more this year. Current models now come with mobile apps that track your working sessions so that you can have a more pleasant experience with your desk. 
What Are the Pros and Cons of a Standing Desk?
When it comes to a standing desk, new innovative features usually mean more comfort while working. Regardless of the model, standing desks have their advantages and disadvantages, which you have to keep in mind before making your purchase.
Pros & Cons of a Standing Desk
It helps with back pain.
It helps to boost productivity levels.
It can improve your mood.
It can reduce the risk of heart disease and high blood sugar levels.
Standing for too long can also be bad for your health.
They're more expensive than regular desks.
Taking all of this into account, it's safe to say that standing desks are great for you if you know how to use them properly. If you want to make the most out of your new standing desk upgrade, you have to include ergonomics into your work routine. 
How Do You Know If a Standing Desk Is the Best Choice for You? 
While innovation with a standing desk is becoming a bigger trend among office workers, they may or may not be the best option for some people. The fact that standing desks do a great job at improving ergonomics doesn't mean that regular desks don't work properly. 
Before you decide to dive into your new standing desk upgrade, here's an overview of the reasons why you should consider getting a standing desk. 
You constantly slouch or hunch over your current desk.

You want to have a proper sitting posture.

You constantly feel low on energy.

Your back, neck, or shoulders hurt.

You sit at your current desk for many hours during the day.

You like to move while working.

Your current work setup doesn't follow ergonomic guidelines.

You feel the need to stretch, move, or adjust your chair to get comfortable.

You feel relief whenever you use a standing desk.
If you identify with some of the reasons listed above, it may be time for you to get a standing desk. Each year, a standing desk new feature comes along, so a modern model may be better suited for your needs than an outdated one. 
How to Know Which Standing Desk to Buy 
There are many standing desks on the market, and since there are many standing desks with new innovative features each year, it may be even harder to decide which one to buy. Thankfully, there are some guidelines that you can consider before buying. 
Autonomous provides an extensive list of standing desks that you can choose from. If you're planning to get into innovation with a standing desk in 2022, this is the way to go!
There are two main options that you can consider depending on your work environment: the SmartDesk Pro and the SmartDesk Core.  
SmartDesk Pro
If you work at an office, it's important that you have a desk that quickly adapts to different work settings while optimizing productivity. In this case, aside from the standing desk new innovative features, SmartDesk Pro works the best thanks to its enhanced height range.
This desk can also endure up to 300 lbs in weight, making it the perfect choice for any office environment. 
SmartDesk Core 
On the other hand, if you mostly work from home and don't want to spend too much money, SmartDesk Core is better suited for you.  
Conclusion
If you've decided to start your office upgrades with a standing desk, make sure you also get the best accessories to maximize your experience. Other products, such as the Autonomous ErgoChair Pro or the Anti-Fatigue Mat, can improve your new standing desk upgrade, ensuring a more comfortable office setting.
All the standing desk new innovative features are making office and home work environments much more modern and ergonomic each year. If you're looking to improve your work environment for 2022, your best bet is to go with a new standing desk!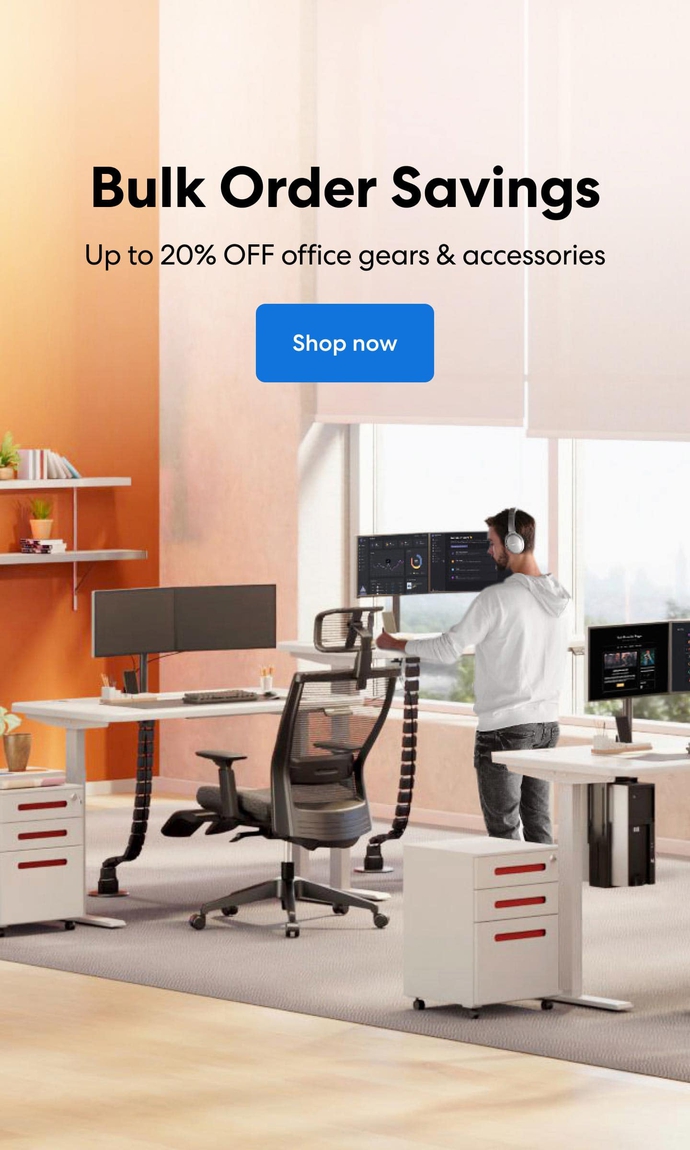 Subcribe newsletter and get $100 OFF.
Receive product updates, special offers, ergo tips, and inspiration form our team.