Workplace Inspiration
Ultimate Desk Setup: A Super Productive Desk Design

Autonomous
|
Feb 24, 2021
8,081 Views
Your desk organization can significantly affect your productivity, especially with the fast-paced nature of work in this current digital era. Arranging your work desk in a modern, clean, simple, and systematic way can eliminate time wasted because of distractions and looking for work tools. Work professionals can agree that crisscrossing electric cables, notebooks, magazines, and stationery items can be frustrating and decrease work productivity. The minimalistic approach focuses on freeing your desk from clutter while optimizing your office space to create the ultimate desk design for peak productivity.
What Is a Productive Ultimate Desk Setup?
Work productivity is related to how efficiently and effectively we carry out our work-related goals and tasks. Achieving optimum productivity levels means an increased ability to produce quality work in a shorter space of time by finding better ways of doing work rather than working harder. It also means more sustained focus, better work tools, and minimizing distractions.
Reduced focus, clutter, distractions, a lack of motivation, ill-health, and discomfort are barriers to achieving higher productivity levels. The ultimate office desk setup aims to eliminate factors that negatively impact productivity while optimizing those aspects that enhance work productivity.
How to Get an Ultimate Desk Setup
Firstly, before achieving your supreme home office workspace arrangement, you need to choose the furniture, the backbone of any good desk setup. Finding the right office desk and chair is a critical step in creating your ultimate computer desk setup.
Your second port of call is finding the best tools for your specific work or gaming station. The star and centerpiece of your desk setup should be the items, tools, and equipment that drive your work. Any unnecessary extras draw attention away from what needs to be done, stealing your focus and affecting your productivity.
It doesn't matter whether your work is tech-heavy, audio-visual, design orientated, traditional office work, or you are a passionate gamer; you can create the ultimate standing desk design for optimum productivity. Begin by carefully zooming into each aspect needed to create a highly functional workspace and optimize it; be it your choice of speakers, headphones, number of monitors, or digital accessories positioning.
Your most productive desk design is one in which you think through each aspect of your setup and elevate it to be the best fit for your particular needs.
Optimize Your  Office Furniture Selection
Your office furniture is a major game-changer in creating your ultimate computer desk arrangement. The wrong choice of an office desk or chair can not only contribute to an uncomfortable workspace, but it can also affect your health and overall wellbeing.
Select a Top Ergonomic Office Chair
If there is one thing the experts agree on is the invaluable health benefits and improved wellbeing of office workers who utilize ergonomic office chairs to cushion and support themselves while pushing long hours of work while sitting.
Look for all the specs that optimize your work experience and, therefore, productivity. A top ergonomic office chair to suit your ultimate desk plan has height adjustment, mobility, lumbar support, an adjustable headrest, a clean and modern aesthetic, armrests with adjustments, and good quality, breathable fabric that is well padded.
Choosing a Good Office Desk
No one wants a do-over when it comes to purchasing office furniture, so it is advisable to do your best to get it right the first time around.  To get the furniture best fit for the ultimate desk, develop a rigorous selection criterion. Primarily, take out your tape measure and get your dimension rift. There's nothing as off-putting as a huge office desk filling up your entire space and forcing you to squeeze in and out of your seat every day.
Measure the dimensions of the space you have available so you can decide on the ideal desk dimensions ( width and depth) that also cater to the number of office desk accessories and digital devices you have. Other considerations related to the choice of desk include.
The sturdiness and durability of the desk.

Its maximum carrying capacity.

Its aesthetic and design.

The ergonomic design of the desk.
Ergonomic Desk Design
Ergonomic design focuses on improving workspaces to reduce injury and harm by incorporating comfort, safety, ease of use, increased productivity, and aesthetics. Standing desks are one such home office desk designed with ergonomic considerations in mind. Whether you are juggling several work portfolios or an avid gamer, creating an ergonomically sound workstation is key in setting up your ultimate gaming desk setup.
An ergonomic standing desk offers a means to do work better than the traditional sitting desk by creating sit-stand workstations. Professionals worldwide have long suffered the ills that result from extended hours of sitting without relief. Acquiring a suitable standing desk for your needs can lead to a healthier and more balanced work life.
Standing for a minimum of 15 minutes every hour at your home standing desk encourages a healthier and more active workday. The advantages include reduced risk of lower back pain, cardiovascular disease, increased blood circulation and energy levels, better regulation of blood sugar levels, and increased burning of calories. An ultimate standing desk setup translates to improved wellbeing, higher energy levels and alertness throughout the day, and more optimum work output.
The best standing desks have a smooth and quiet adjustable height lever to allow for sitting and standing positions. They are also designed with a clean, modern, appealing aesthetic to enhance your minimalist desk setup.
Finding The Best Home Office Workspace
Another nugget when it comes to developing the ultimate desk arrangement is finding the best location for you to maximize your work or gaming hours. Selecting a dedicated workspace is essential to maintaining a high level of efficiency and effectiveness while working. If possible, choose a room that you can exclusively use as a home office, such as the guest bedroom or study room. If you do not have a spare room, you can find a spacious area for your setup.
The best space is one that is free from distractions and allows you the maximum possible solitude for sustained concentration. Try to avoid a major home access way used frequently, a noisy area of the home, or close to the television. You can also position your ultimate office desk where you get the best lighting possible.
Lighting Considerations
Poor lighting can be extremely strenuous on your eyes and put a serious damper on your productivity. You can set up your office desk near a window to capitalize on natural lighting during the daylight hours.  If you are a Vlogger, YouTuber, or frequently utilize videoconferencing, getting the exact position and angle for the best lighting ensures you the best quality work for your ultimate office desk setup.
Be sure to acquire all the necessary lighting accessories and props for good quality videos. You can also add a desk lamp to improve the lighting of your home office.
The Positioning of Your Accessories and Digital Devices
Once you have carefully selected all your office furniture, digital devices, and accessories considering all the right features and specifications that promote a highly functional workstation, you can proceed to the next step. Now you can start to strategically place these components in a clean, ergonomically sound, functional, and organized arrangement. Your setup should maximize your work productivity to achieve that ultimate standing desk setup. Research has shown that the average professional loses approximately an hour a day due to disorganization. Less is always more; the less you have on your standing desk, the more efficient you are in getting the job done.
To reduce the frustration and disorganization that comes with numerous tangled up cords, go cordless. Select an ergonomic keyboard and mouse that can be connected to your main computer remotely. Cordless connections give you more freedom to maneuver around the desk without getting caught up in a tangle literally and figuratively. Adding a mechanical keyboard to the tools of your trade can be valuable if you do a lot of typing, but that depends on your budget.
Positioning Your Computer Screen and Additional Monitor
An ultimate desk design does not just require you to maximize the available desk space but also considers ergonomic and workflow optimization. To further solidify the idea of enhancing your workflow through a better workspace arrangement, we can look at a practical example.
An optimized workflow improves your work efficiency so that you can get a lot more done in a shorter amount of space. It involves working smarter and not harder. An additional monitor or two is one way to increase your overall workflow. You can view multiple components and tabs on your computer screen and monitor simultaneously, eliminating the arduous task of sorting through multiple open windows on one screen. Studies have shown that working with two monitors can increase work productivity by 25% and that a three-monitor setup can enhance productivity by 35.5%.
Gamers can achieve an ultimate gaming desk setup using multiple monitors setup to enhance their capabilities. Larger and higher resolution screens can give you an added viewing range for an increased competitive edge or Twitch streaming if you are a gaming influencer.
If you need to view your monitors at multiple angles, you can mount your monitor screens on single or dual monitor arms to give you increased work flexibility and save on space. Monitor arms also allow you to adjust your monitor's position horizontally and vertically to get the best ergonomic positioning possible, which is one step closer to your ultimate computer desk setup.
N.B.:  Don't forget to include computer best practices such as placing a good quality anti glare and blue light screen protector to protect your eyes or get a pair of glasses that can achieve a similar effect.
Ergonomic Arrangement of Desk Components
When it comes to positioning your computer, speakers, monitor screens, and mouse, it is essential to place them in a way that promotes a good posture for your neck, shoulders, lower back, and feet. Make sure you have the right desk height, then focus on your arrangement. Position your computer screen so that it is at eye level, position your mouse on a mousepad for ease of use, making sure it is close to you and your keyboard straight in front of you. Both the mouse and keyboard should be placed at elbow height, close to the front of the desk.
If you need additional height for the correct positioning of your computer, invest in a computer or laptop stand.
A Highly Motivating Workspace
Motivation affects work productivity. The more excited a person is to get behind their desk, the higher their work output. Different things motivate different people, with one such motivator being the office space's overall outlook and feel.  An inviting, comfortable, clean, and organized aesthetic is the kind of workspace that can boost any professional's motivation while working. There are ways that a remote worker can further enhance their work area to create the ultimate desk arrangement.
You can add your own unique design and aesthetic to your new workspace without cluttering the area. Choose a backdrop that is most appealing considering your color palette, décor theme, one or two ornamental items, and personal artifacts such as photos, awards, and souvenirs. Personalizing your workspace in this way creates a highly appealing and warm environment that is desirable to work in for increased direction and strength of effort while working.
When including additional design and decorative pieces, try to use a few items that can be hung or placed on wall shelves to avoid cluttering the desk area. Add freshness, beauty, and a natural air filter to your ultimate gaming desk setup with succulents or a realistic artificial equivalent for a more modern aesthetic.
Getting the job done is the reason people sit down at their workstation daily. If you want a boost to help you work through those daily tasks with greater efficiency and effectiveness, start by managing the components of your work you have control over. You can elevate the various elements that go into a desk design arrangement to increase your productivity. A highly functional, organized, ergonomic, and pleasant work environment is what truly makes for the ultimate desk design.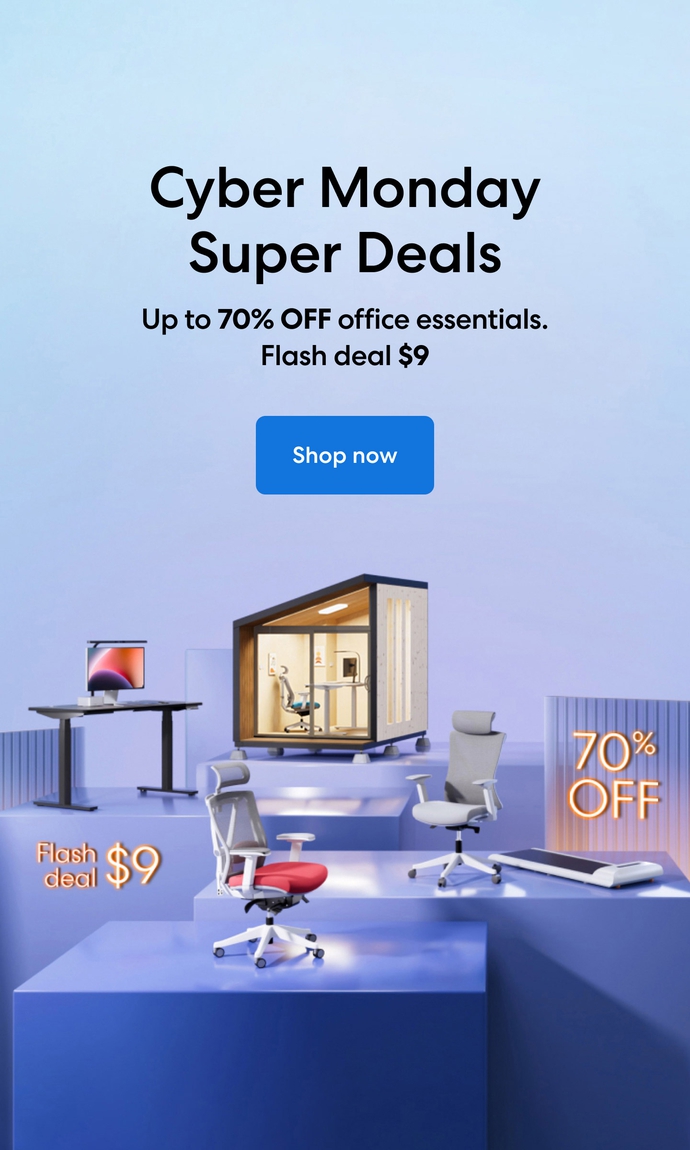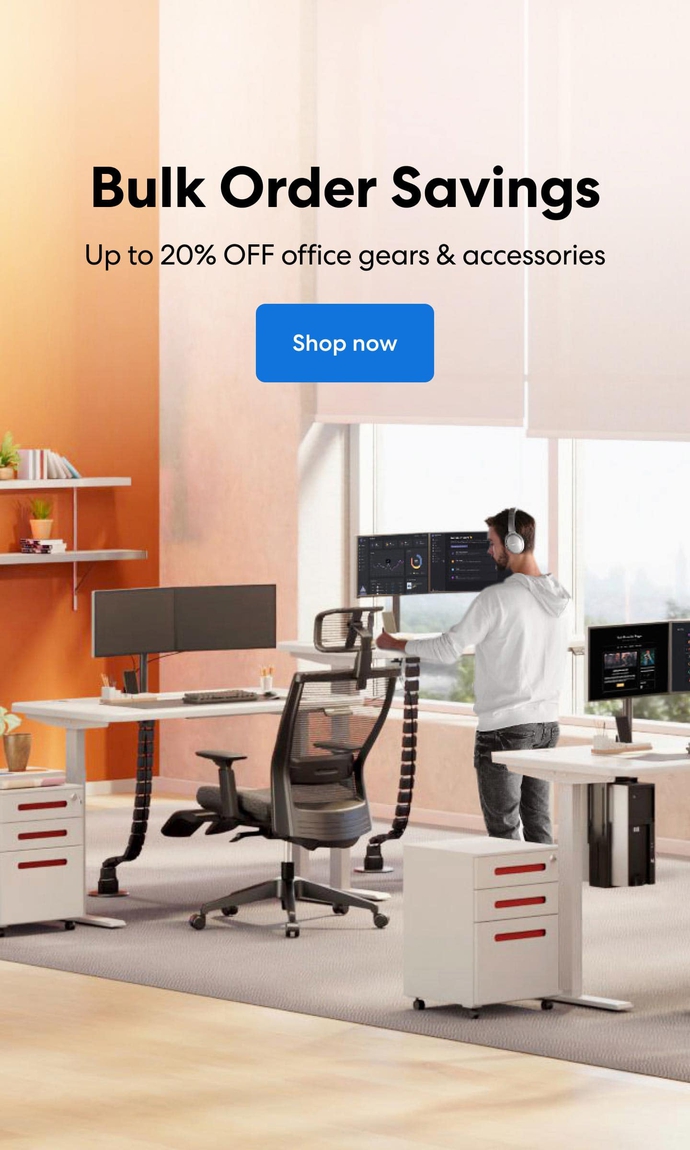 Subcribe newsletter and get $100 OFF.
Receive product updates, special offers, ergo tips, and inspiration form our team.