Smart Products
Manual Standing Desk Frame – Top Picks to Skyrocket Your Productivity

Autonomous
|
May 27, 2023
5,687 Views
A standing desk offers many health and work-related advantages over a conventional work desk. As the awareness regarding the importance of healthy practices is increasing in the workplace, so does the need for ergonomic furniture. Standing desks are an important part of the ergonomic family. A manual standing desk frame is undoubtedly one of the cheapest investments you could make for your health and improved productivity.
For people transitioning to this phase of health consciousness in the workplace or even setting up their own home office, investing in furniture is the biggest expense. A height-adjustable desk offers greater advantages than a manual standing desk frame, but it is not expensive to invest in an electric height adjustable desk frame. However, with the help of a few tricks and common accessories, you can set up your manual height adjustable desk frame and transform it into a smarter version.
What is a Manual Standing Desk Frame?
A manual standing desk frame is not powered by electric motors. Rather there are manual hand cranks or rotating shafts for the desk to decrease or increase in height. A manual standing desk frame serves the same purpose as a height-adjustable desk with all the health benefits of a standing desk, but they are not very versatile and easy to use. But if you are looking for a cheaper option, then manual standing desk frames cost less than an electric standing desk frame.
Difference between Electric vs Manual Standing Desks Frame
Electrical motors power electric standing desks; on the other hand, manual standing desk frames are operated through hand cranks. Electric standing desks are more durable, but their maintenance is high if there is a failure. They are more versatile and aesthetically pleasing too.
Sure, a manual standing desk is more affordable, but an electric standing desk does not cost twice as a manual standing desk. If you have a little slack in your budget, opting for an electric standing desk is a long-term investment. However, it matters why you should think of an electric standing desk over a manual desk.
Why Modify a Manual Standing Desk Frame to Electric Version?
Taking breaks while sitting or changing your position several times a day has advantages for heart health and reduces cancer risk. Sitting for long hours is detrimental to health in many ways. There are many variations of a standing desk in the market, each one modified for different needs. An electric desk frame has many advantages over a manual sit-stand desk frame. For starters, it is easier to manage and saves you time. It has long durability as compared to a manual standing desk base.
Electric Desk
Electric standing desks also have a greater load capacity because electric motors power them.
Electric standing desks are ideal for people who suffer from frequent back and neck pains.
Electric standing desks are usually made technologically smart and are often compatible with other apps or features.
It is ideal if you are willing to change positions several times each day
An electric standing desk is a great option if more than one individual is working on the height-adjustable desk
Electric standing desks are operated with just a push of a button so people with joint pains can use this desk
Manual Desk
A manual desk is ideal for someone who doesn't wish to change the sit-stand position often.
It reduces your electricity consumption.
It is a cheaper option as compared to electric standing desks
It is ideal for places where there is no power supply
It offers a low weight capacity
To update your already existing manual standing desk frame to the electric standing desk, you need to set up an electric power supply for your manual desk frame. The electric desk motors are usually sold as an additional accessory. There are many standing desk converters for people who wish to convert their ordinary desks to electric standing desks. Or another cheaper option would be to invest in an electric standing desk frame.
Top 5 Picks of the Best Manual Standing Desk Frames (2023)
Today when most of us spend long hours sitting at our desks, maintaining a healthy work environment cannot be overstated. This is where manual standing desk frames come to the rescue.
With their adjustable height feature, these desks allow you to switch between sitting and standing positions, promoting the perfect posture, reducing the risk of health issues, and ultimately skyrocketing your productivity.
In this section, we will explore the top picks for manual standing desk frames in 2023 and provide valuable insights on what to consider when purchasing one.
1. EUREKA Ultra Long Standing Desk: Manual Height Settings
The EUREKA Ultra Long Standing Desk is a remarkable option for individuals seeking ample workspace. With its manual height settings, you can easily adjust the desk to your preferred standing height. The sturdy construction ensures stability, and the spacious surface accommodates multiple monitors and desk accessories.
This desk is designed to enhance productivity and provide a comfortable working experience. It is available in awesome black color and comes with a solid 5-year warranty, giving you complete peace of mind while purchasing it.
2. EUREKA IM63 Curved Desk: Additional Storage & Manual Height Settings
The EUREKA IM63 Curved Desk is an excellent choice for those requiring extra storage space. In addition to manual height settings, it offers integrated storage shelves and a curved design that maximizes workspace utilization. The standing desk with crank has an ergonomic shape which promotes a more natural posture, reducing strain on your neck and back.
With the EUREKA IM63 Curved Desk, you can keep your essentials within arm's reach while maintaining an organized workspace. The unit also includes accessories such as a mouse pad, and headphone holder for better functionality. It weighs around 200 pounds and is the perfect option for your workspace.
3. ApexDesk Standing Desk: Pneumatic Lift Mechanism
The ApexDesk Standing Desk features a pneumatic lift mechanism, allowing for seamless height adjustment. You can effortlessly transition from sitting to standing with a gentle squeeze of the handle. The desk's sturdy construction and spacious surface suit heavy-duty tasks. Whether you need a desk for work, gaming, or creative pursuits, the ApexDesk Standing Desk offers versatility and functionality. It also comes with a 1-year warranty to ensure your purchase is tension-free.
4. Modernsolid Folding End Table: Height-Adjustable
The Modernsolid Folding End Table is an ideal solution if portability is a key consideration. This height-adjustable desk frame can be folded and easily transported, making it perfect for those who work in different locations or require a desk for travel purposes.
Despite its compact design, it offers a stable work surface and ensures ergonomic comfort, even on the go. The wood and aluminum alloy used in manufacturing this solid unit makes it a viable option in your workplace.
5. Mount-It! Height Adjustable Rolling Stand-up Desk
Last, but not the least, we have the Mount-It! Height Adjustable Rolling Stand-up Desk. This manual height-adjustable desk is a highly flexible option that caters to individuals who value mobility. With its four lockable wheels, you can effortlessly move the desk from one room to another.
The adjustable height feature allows you to customize the desk to your preferred standing position. Whether you want to work in your office or collaborate with colleagues in a different area, this desk provides the freedom and convenience you need.
What to Consider When Buying a Manual Standing Desk Frame?
When purchasing a manual standing desk frame, several important factors must be considered. By considering these aspects, you can make an informed decision and choose a desk frame that best suits your needs and preferences. Here are some key considerations to keep in mind:
Height Adjustability
One of the primary reasons for investing in a manual standing desk frame is the ability to switch between sitting and standing positions. Therefore, choosing a desk frame that offers smooth and easy height adjustment is crucial. Look for models that provide a wide range of height settings, allowing you to find the perfect ergonomic position for your work.
Stability
Stability is paramount when it comes to a standing desk frame. You want to ensure the desk remains sturdy and wobble-free, even when extended to its maximum height. Opt for desk frames constructed with high-quality materials and a solid base to provide the stability needed for a comfortable and safe working experience.
Workspace
Consider the size and surface area of the desk frame. Assess your work requirements and determine if the desk offers enough space to accommodate your essentials, such as monitors, laptops, keyboards, and other accessories. Having ample room for all your work materials is essential without feeling cramped or cluttered.
Ergonomics
Ergonomics plays a crucial role in maintaining a healthy and comfortable work environment. Look for manual standing desk frames that prioritize ergonomic design features. This can include curved desktop surfaces to reduce strain on your wrists and arms, adjustable keyboard trays to promote proper typing posture and monitor mounts to position your screens at eye level.
Durability
A standing desk frame is an investment; you want it to last years. Prioritize desk frames made from durable materials such as steel or aluminum, as they offer robustness and longevity. Additionally, consider the weight capacity of the desk frame to ensure it can support your equipment and withstand regular use.
Additional Features
Depending on your preferences and work requirements, you may want to explore manual standing desk frames with additional features. This could include integrated cable management systems to keep your cords organized, built-in storage options to keep your workspace tidy, or even features like anti-collision sensors for added safety.
Conclusion
Manual standing desk frames are a game-changer for improving your work environment and boosting productivity. All the options discussed in this post offer a range of features and benefits to cater to different preferences and requirements. Shop from Autonomous to make sure you get the best value for your money. Thanks for reading!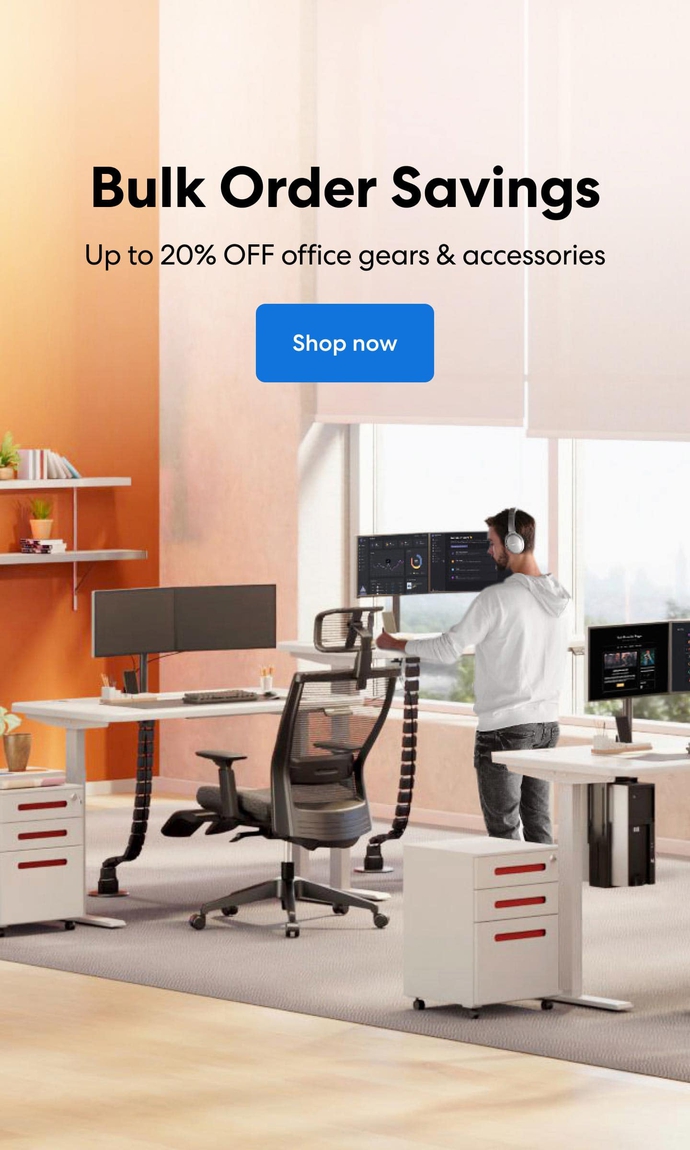 Subcribe newsletter and get $100 OFF.
Receive product updates, special offers, ergo tips, and inspiration form our team.