It's a great time to buy a portable treadmill if you enjoy walking your recommended 10,000 steps per day but don't always like leaving the house. 
Larger pieces of equipment, like treadmills, are too bulky for small apartment residents, despite the pandemic forcing people to create room for an at-home gym setup with extras like weights and yoga mats. 
A portable treadmill with an incline can be beneficial in this situation. Essentially, a walkable treadmill can be folded up and stored anywhere you have room, like under a bed, in a closet, or wherever you have space. Although they are often less expensive than standard treadmills, they don't have the same top speeds, incline levels, or program options. 
We spoke to running coaches and personal trainers about how to shop for folding treadmills and how they work to help you choose the best folding treadmill for you. They also provided us with their own recommendations for mini treadmills. 
What Is a Folding Treadmill?
These are exactly what they sound like: folding treadmills. They may not be able to withstand the more intense workouts that you may be used to because they are less sturdy than a regular treadmill due to their compact design. 
Furthermore, none of the options we provide can bear a load of more than 350 pounds.
The Best Folding Treadmills to Shop in 2023
According to the experts we spoke with, the best portable treadmill should permit an average runner to go up to 7 mph. They stated that the front bar should face the top of the treadmill, so it won't get in the way of the running belt. In light of this, the running teachers and personal trainers we spoke with recommended their top folding treadmills across a range of price points. 
We also added the 2 in 1 folding treadmills that previous trainers had recommended us to buy. Additionally, we included some key information for each home gym equipment treadmill, including its top speed, weight capacity, deck size, and incline/decline settings (if there are any). 
1. WalkingPad
The WalkingPad X21 treadmill is the best portable treadmill for us. It folds up into a very small size that is just 8.9" long. When you're done using the deck, you can slide this one up against a wall or into a closet after folding it twice. Its small size and very quiet motor are some of its most attractive qualities. 
While this isn't a model to use for miles and miles, it does the trick for getting in some steps. Its folding deck hinge can take some getting used to, but it's a small price to pay for a treadmill like the WalkingPad X21 that takes up such little space. 
Dimensions
Unfolded: 55.9" L x 28.3" W x 40.2" H
Folded: 30" L x 37.6" W x 8.9" H
Walking area: 47.6" L x 18.1" W
Item weight
81 lbs
Color
Space
Materials
Panel: Acrylic
Layer: EVA cushion
Body build: ABS + Aluminum Alloy
Power
918W
Speed Range
0.6 - 7.5mph
Weight capacity
240 lbs
App
Available for both IOS & Android
Warranty
1 year
2. LifeSpan Fitness
The LifeSpan Fitness is a sturdy treadmill with mid-range pricing but a ton of features. We are impressed by its astounding top speed of 14 mph. 
LifeSpan has integrated customizable personal settings functionality into the console, so you can sync your workout data with several compatible programs.
Dimensions
Belt size: 20"W x 50"L
Treadmill: 63"L x 28.5"W x 7.25"H
Omni sonsole display: 8.1"L x 5.7"W x 3.2"H
Item weight
114 lbs
Color
Black
Power
115V NEMA 5-15 Non GFI Circuit
Speed Range
0.4 - 4.0 MPH
Weight capacity
350 lbs
Warranty
Frame: 10 years
Parts: 2 years
Labor: 1 year
3. InMovement Treadmill
The InMotion treadmill is a great option if you're looking for a high-quality office treadmill to fit under a desk. It is reliable, exceptionally well made, runs quietly, and can serve several people per day. 
This treadmill isn't sized for running but offers a comfortable way to walk yourself to lofty goals for both work and fitness. 
You can simply climb on and off the UnSit thanks to its low-profile step-up height of just 5". 
Additionally, this standing desk with treadmill has safety features like a pause sensor that will stop the treadmill as soon as you get off and a weight sensor that prevents anyone or anything weighing less than 70 pounds from starting it. This makes it ideal for home offices where there may be children or pets around. 
Dimensions
Overall: 56"L x 39"W
Walk surface: 30"W x 40"L
Item weight
162 lbs
Power
120VAC - 60Hz - 6amp - 600 watt
Speed range
0.3 - 2.0 mph
Weight capacity
400 lbs
App
Unsit App
Warranty
Labor: 1 year
Parts: 3 years
Frame: Lifetime
4. ProForm Pro 2000
One of the best compact treadmills in 2023 is the ProForm Pro 2000. It has undergone a complete redesign this year with a smaller frame to fit in tighter areas, making it the best option for anyone wanting the optimal balance of features and power. The 10" touchscreen, which requires little space, and the free 30-day trial of iFit classes deliver excellent content right to your home. 
A few of the upgrades to the Pro 2000 include a smaller footprint and easier folding capacity. With a speedier processor, upgraded Android touchscreen, and simple OneTouch interface, the console maintains its superior quality. 
The running surface is 20" broad and 60" long, giving even taller users plenty of length. We adore iFit since its lessons and content are always being updated. 
Training options for walking, hiking, jogging, and running will take you to locations all over the world, including Africa, New Zealand, and even London.
5. NordicTrack T 6.5 Si
Essentially, the NordicTrack T 6.5 Si is one of the most cost-effective treadmills on our list of the best compact treadmills. The most recent T 6.5 Si treadmill is an upgrade over the previous T 6.5 S and is still a small size with more advanced technology. This 6.5 Si measures 67.5" long, 36" broad, and 73" tall. 
These streamlined measurements make it easier to fit the T 6.5 Si in an apartment or small home. The 10" smart HD touchscreen on the T 6.5 Si has also been upgraded. 
Many of the treadmill's features can be controlled directly on the screen thanks to the touchscreen's responsiveness. The touchscreen allows you to change the fan speed, belt speed, incline, and volume.
6. ProForm Carbon T10
An excellent option for a limited budget is the ProForm Carbon T10 treadmill. It has a beautiful construction, interactive programming for the touch screen, and training programs. Check out the T10 if you're looking for a treadmill that has a lot of the same features as expensive treadmills but at a lower cost. 
7. Horizon T101
We adore that the Horizon T101 can handle users weighing up to 300 pounds, which is an incredibly outstanding weight limit for a small treadmill! 
Horizon T101 offers good training options in terms of functionality. This T101 has a top speed of 10 mph and a 10% incline. Programs like calorie burn, distance, manual, time, and weight loss are among the many options available. 
Furthermore, the console includes tablet storage, Bluetooth speakers, and an integrated fan. Additionally, the deck of the T101 has 3-Zone variable response cushioning.
8. LifeSpan 5500i
This LifeSpan 5500i portable treadmill has impressed us. The top speed of this quiet, small portable treadmill is 13.5 mph, which is faster than average. When open, the 5500i is 73" long, 35" broad, and 55.5" high. With the 5500i, LifeSpan has created a strong, impressive treadmill that will fit in many small homes and apartments. 
Its deck's step-up height is only 9". Unlike other small treadmills, this one may be inclined as high as 13% before dropping to a 2% decline. Its deck measures 22" broad by 60" long, giving you extra surface area on a small footprint once more. 
9. Echelon Stride
 The open footprint has dimensions of 69", 31", and 49". Echelon Stride does not have a touchscreen; instead, it has a panel that shows digital metrics and a shelf for a tablet in the center. 
You can place your tablet in the center of the console and still see the metrics on either side. Once you're done, the uprights collapse down and the console will fold flat, so it rests against the deck. When folded, the Stride is 69" long, still 31" wide, but folds down to just 10.25" high.
10. LifeSpan TR2000e
We adore the LifeSpan TR2000e's design. This small portable treadmill folds and unfolds on its own thanks to the eFold electric folding system, making it more than just an average small treadmill. Just press a button, then sit back and observe! 
This portable treadmill with an incline is perfect for people who live in tiny homes or who want a high-quality treadmill that can discreetly fit in a corner and not take up much space. The smart features of this treadmill make it our top choice for seniors. It's easy to get on and off the 2000e because the step-up height is only 8". 
Since it contains eight compression shocks under the deck for additional cushioning, it is a good option for anyone with mobility concerns or for those who prefer a quiet, comfy treadmill. 
Portable Treadmill - Buying Guide
Below are some of the factors to consider before buying a portable treadmill for your home or office: 
Treadmill Motor Size
Motor power is usually measured in horsepower (HP). Although they are relatively uncommon in curved treadmills, alternating current (AC) motors provide power in a different way and usually are stronger at lower horsepower levels.
What Treadmill Belt Size Do You Need?
Since the overall treadmill measurements aren't always an accurate predictor of how much space you have on the deck (we'll discuss dimensions in the following section), look at the belt size first when comparing treadmills. 
Runners need a longer belt surface than walkers do because running takes a longer stride. Additionally, people over six feet tall might require a longer deck to accommodate their longer leg spans. 
Treadmill Weight Capacity
Each walking treadmill base will have a maximum weight capacity listed on it. Even if you want to lose weight, we recommend not going above this limit. Running can have a significant impact on your treadmill because each foot can have an impact of up to two times the user's weight. Therefore, it is preferable to keep your weight below the maximum limit. 
Users who are above six feet tall (182 cm) are advised to opt for a treadmill belt that is at least 20" broad and 60" long. This will provide enough stride length for taller users.
Treadmill Console
Many treadmills are sold with pre-programmed workouts that can support a variety of exercise goals. As an example, they will be able to guide you through a training schedule to drop weight or increase your stamina. 
Programs are classified into weight loss, performance, and aerobic, to make it easier to select a specific workout for your goals. These programs will also regulate the treadmill's pace as well as its inclination.
Measure the Space Where You Plan to Put Your Portable Treadmill
To get on and off the treadmill safely, make sure you have space to walk around it. If your treadmill has a touchscreen and subscription content, you may have the option of doing strength, boot camp, or stretching classes off the treadmill. 
When taking classes, you'll need enough space to move your arms and body. Your surrounding space can be limited by bookshelves, doors, or other obstacles. Many treadmill manufacturers will mention the ideal location for their machines. 
Check Your Ceiling Height
Most treadmills have an incline that moves you up toward the ceiling. To make sure you have enough space, measure the top of the deck at the steepest slope setting and multiply that distance by the height of your tallest user. 
Also, look for ceiling fans. If a fan hangs too low, you might need to move it or take it off the wall. 
Conclusion
Please feel free to read our detailed reviews of each treadmill as you consider your options for the top compact treadmills of 2023. 
With these reviews at your disposal, you can make a thorough decision when it comes to purchasing your new treadmill.
Video ads for product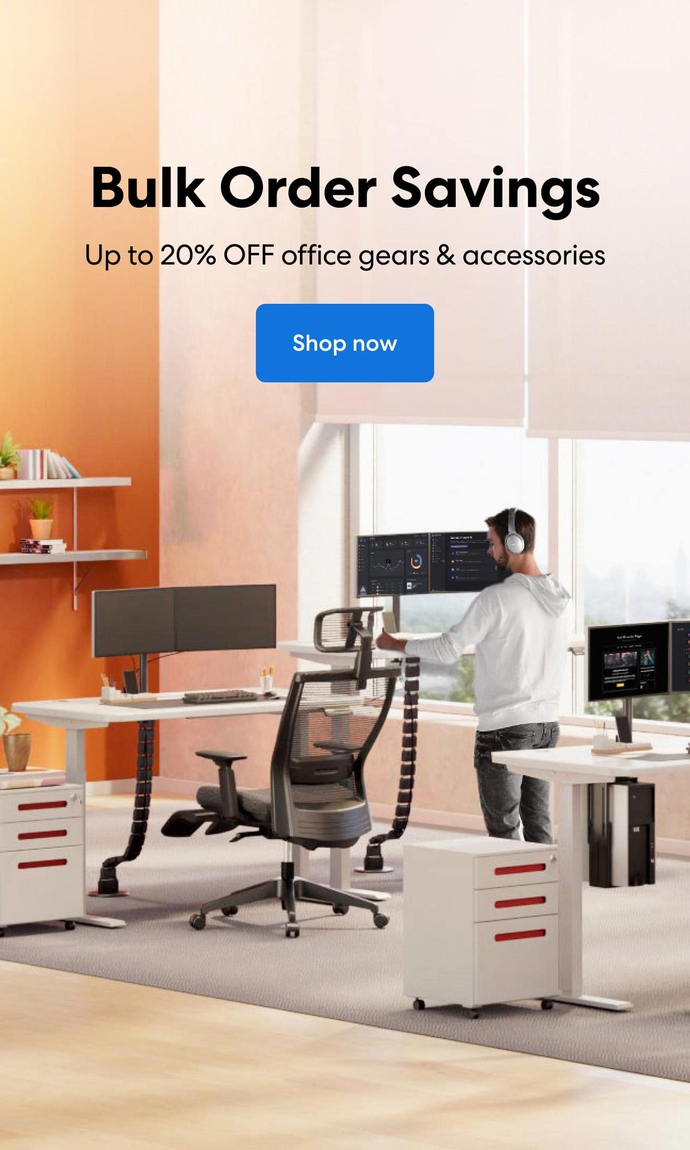 Subcribe newsletter and get $100 OFF.
Receive product updates, special offers, ergo tips, and inspiration form our team.