Do you hate coming to the gym to work out every day? If so, you might want to get a treadmill. Everyone can benefit from treadmills, but seniors who want to improve their health, lose weight, or get fit should use them more than anybody else. 
Having access to the best treadmill for seniors at home might help you stay on track when you are pressed for time or when the chilly weather tempts you to stay inside rather than work out. Furthermore, several studies have found that walking is one of the best workouts for preserving independence and improving health in older persons. 
The best treadmills for seniors can offer a secure environment for exercise, whether you choose to run, jog, or walk. Considering factors like size, weight capacity, pace, incline, available training programs, and features, we compiled a list of the best treadmills for seniors.
Are Treadmills Beneficial for the Elderly?
Don't think twice if you want to offer your grandparents a treadmill for indoor walking because, as long as they strictly adhere to treadmill safety precautions, this equipment is entirely safe for the elderly. 
The use of a walking treadmill base can significantly increase postural stability, which reduces the risk and consequences of falling. One of the most serious and common concerns with getting older is being prone to falling often. Poor postural stability or a failure to keep equilibrium are the main reasons for falling.
Furthermore, a third of seniors over 65 fall at least once a year, and half fall regularly. A great way to avoid these situations might be to do treadmill walking workouts. 
Treadmills can also be used for stroke therapy. It encourages healthy aging and reduces the risk of diseases like diabetes and high blood pressure. 
Exercises like jogging on workout equipment are also excellent for increasing bone density and muscle strength. As a result, it can reduce the elderly's chance of developing sarcopenia or osteoporosis.
The Best Walking Treadmills for Seniors
1. WalkingPad Foldable Walking Treadmill C2
If you want to move around at your desk and then be able to fold it up and store it out of the way, this walkable treadmill is a great choice. To do this, the deck folds in half, and the C2 can be stored upright by resting it against a wall. Since it is only 5.35" thick when laid flat, you can also store it behind a couch, bed, or cabinet. 
The WalkingPad C2 is available in a variety of colors, so you can fit it into your workspace aesthetic. It has a deck that is 16" broad and 47" long. Despite being small enough to fit under most desks, the treadmill surface is big enough for walking. 
Remember that the WalkingPad just contains the treadmill. The C2 has a top speed of 3.7 mph, giving you enough speed to walk relatively quickly if you want to.
If there are other people in your work area, you won't disturb them because the motor is pretty quiet. Furthermore, since the WalkingPad C2 weighs only 62 lbs, relocating it shouldn't be a problem. You also won't have to carry it because it has wheels. 
Dimensions
Unfolded: 56.9'' L x 20.4'' W x 4.9'' H
Folded: 32.5'' L x 20.4'' W x 5.4'' H
Item weight
48.5 lbs
Color
White / Black
Materials
Panel: ABS plastics
Power
1 HP
Speed range
0.3 - 3.7mph
Weight capacity
220 lbs
Warranty
1 year
2. WalkingPad Foldable Walking Treadmill A1 PRO
The WalkingPad A1 Pro is the best treadmill for senior walking. It can monitor your progress by displaying steps, distance, calories burned, walking speed, and time. Walkers can easily change the speed using the remote control by pushing "+" for faster or "-" for slower. The highest speed on this treadmill will also give you more of a brisk walk even though it is not designed for running. 
This device will be helpful if you're looking for something to walk on at home, and you already have a preferred smartwatch or smartphone app for tracking exercises. Using the remote, it is easy to start, stop, and switch on. 
Dimensions
Unfolded: 56.4" L x 21.5" W x 5" H
Folded: 32.5" L x 21.5" W x 5" H
Walking area: 47" L x 16.5" W
Item weight
62 lbs
Color
Quiet Black
Materials
Running board: HDF
Shell cover: IML injection
Layer: EVA cushion
Power
1.25 HP
Speed Range
0.3 - 3.7mph
Weight capacity
230 lbs
App
WalkingPad KS fit app
Available for both IOS & Android
Warranty
1 year
3. InMovement Unsit Under Desk Treadmill: Under Desk Treadmill
The Inmovement Unsit treadmill was created primarily for use in office environments rather than gyms, so you can expect a few features that prioritize noise reduction and space efficiency. 
This type is referred to as "library quiet" and is designed wider than the other models on our list, giving it 55% more usable space when working. The standing desk with treadmill operates at just 42.9 dB while moving at 2mph. 
A dial panel that connects to your smartphone via an app can be used to control the treadmill, making any adjustments simple and quick. This app data can easily be shared with other health-tracking apps like Apple Health or Fitbit for anyone using another fitness ecosystem. 
Dimensions
Overall: 56"L x 39"W
Walk surface: 30"W x 40"L
Item weight
162 lbs
Power
120VAC - 60Hz - 6amp - 600 watt
Speed range
0.3 - 2.0 mph
Weight capacity
400 lbs
App
Unsit App
Warranty
Labor: 1 year
Parts: 3 years
Frame: Lifetime
4. LifeSpan Fitness TR1200-GlowUp Under-desk Treadmill Base (Omni Hub)
If you have the money, the LifeSpan TR1200-DT3 is a fantastic treadmill to install in your home or business. It's quiet and soothing, and it's a simple way to increase your miles from your desk. We tested this treadmill for seniors and experienced no foot or knee problems while using it. 
Everything you would expect from an under-desk treadmill is offered by the Lifespan TR1200-DT3 GlowUp treadmill. Six shock absorbers work in tandem with the belt's fluid motion to create a smooth, judder-free walking surface. 
Overall, this is an excellent option for most people, especially for those looking for a durable treadmill that will work for everyone on the team. 
Dimensions
Belt size: 20"W x 50"L
Treadmill: 63"L x 28.5"W x 7.25"H
Omni sonsole display: 8.1"L x 5.7"W x 3.2"H
Item weight
114 lbs
Color
Black
Power
115V NEMA 5-15 Non GFI Circuit
Speed Range
0.4 - 4.0 MPH
Weight capacity
350 lbs
Warranty
Frame: 10 years
Parts: 2 years
Labor: 1 year
5. WalkingPad Foldable Walk-Run Treadmill R2
Are you too busy to visit the gym? Are you trapped at home and have nothing to do? You can exercise safely and comfortably with the new WalkingPad R2. Unlike a treadmill that is quite large, this one is compact and foldable, so it doesn't take up much room. This curved treadmill is the best option for a daily exercise routine that won't keep you from your home workout. 
Dimensions
Unfolded: 57.2" L x 28.3" W x 40.6" H
Folded: 39.4" L x 28.3" W x 6.4" H
Walking area: 47.2" L x 17.3" W
Item weight
79 lbs
Color
Silver
Materials
Running board: HDF
Shell cover: IML injection
Layer: EVA cushion
Body build: Aluminum Alloy
Power
918W
Speed range
0.3 - 6.2mph
Weight capacity
240 lbs
App
Available for both IOS & Android
Warranty
1 year
6. Sole – F63
The Sole F63 is perfect for seniors. First of all, it is easy to put together and fold when not in use. With 15 levels and a robust 3.0 high-powered engine, it offers a speed range of 1.0 to 12 mph. We also appreciate the SoleF63's safety features, which include a sizable stop switch, a padded deck, a strong frame, and a roomy walking area. 
Cooling fans, as well as simple buttons on the armrests, make it easy to change the speed and incline throughout a workout. Additionally, the display offers a 1/4-mile tracking option, a peak and valley graph for different programs, and the option to choose either a basic preset program or a personalized workout. 
It's easy to get in the zone with your favorite songs and shows thanks to the built-in speakers and an integrated tablet holder. This is definitely one of the best treadmills for the elderly.
7. Horizon T101
It is not necessary to spend a fortune on a treadmill for seniors. With this affordable treadmill, the HorizonT101 strives to make exercising simple for everyone, regardless of their favorite kind of exercise (sprinting, running, jogging, or strolling).
Running, jogging, and walking can be done safely with less fatigue and better body support thanks to the innovative engineering of the 55" deck and the shock-absorbing 3-zone cushioning. 
The Johnson Drive System, a notably ultra-quiet motor used in the HorizonT101, calibrates with each step, so there are no lags or surges. To change the pace and level of slope, use the EasyDial controls positioned on the handles. 
Additionally, the deck has three cushioning zones—push-off, transition, and impact zones—that lessen the strain on joints.
8. Sole S77
The Sole S77 is a durable device that was made to be tough, durable, and resilient. This Sole S77 has a 4.0 HP motor, a big deck, and a wide running area, allowing it to support up to 400 pounds. Walkers have a speed range of 0.5 mph to 12 mph and a range of 0 to 15% incline.
9. UREVO 2-in-1 Under Desk Treadmill
This Urevo 2-in-1 office treadmill under your desk is great for a quick, convenient walk or run. The 17-inch, five-layer, non-slip running belt contains silica gel to cushion your muscles and joints and absorb shock. 
A strong 2.5 HP engine powers the Urevo 2-in-1 folding treadmill up to a maximum weight capacity of 265 pounds. Your speed, distance, time, and calories are tracked on a simple display. With a remote control, you can stop the treadmill or adjust the speed up to 7.6 miles per hour.
10. Proform Carbon T7
The ProForm CarbonT7 Treadmill is a cost-effective, high-performance folding treadmill. From walkers to intermediate runners, ProForm Carbon T7 cushioning also supports users who have joint pain. However, the 2.6 continuous HP motor of the T7 might not be enough for serious athletes. 
It can ramp up to a top speed of 10 mph, which may be set in 0.5 mph increments or quickly reached by pressing the QuickSpeed buttons.
11. NordicTrack Elite Treadmill
Like the rest of NordicTrack's treadmill lineup, the Elite treadmill for seniors offers a high-quality, luxurious workout experience. The NordicTrack treadmill is an excellent set-up for older adults who need a treadmill's reliability, durability, and space. 
It has two screen sizes available: 32" or 22" and has an adjustable floating design that can be moved up, down, left, and right. One Touch Controls and a 30-watt sound bar are some features of this NordicTrack treadmill. You can participate in streamed international workouts on demand if you have iFit capabilities.
12. Sunny Health Incline Treadmill
The well-designed features on this Sunny Health treadmill support users in achieving their fitness goals. With a simple folding mechanism and soft drop system, the treadmill is easily accessible, portable, and safely stored. 
Its shock-absorbing design minimizes fatigue and injury risks. There are quick speed controls to start, stop, or change your pace, and the top speed is 9 mph with an inclination of up to 0-4.3%. Additionally, it has an emergency stop clip for a quick stop.
13. LifePro Compact Foldable Treadmill
This LifePro foldable treadmill is specifically made for beginners and people who are under 5'4" tall, such as older kids, teenagers, and the elderly. It is a great addition to small rooms or apartments. However, it can seriously make a difference in your fitness journey. During your workout, place your tablet or another device in the holder and connect via Bluetooth for entertainment. Your workout progress can be monitored with the use of heart rate sensors on the handrails. 
14. ProForm Pro 9000
To fit your budget, the ProForm Treadmill has a selection of treadmills for the elderly with different features. The ProForm Pro 9000 has features that can help you achieve your fitness goals. It has a 12% maximum incline and a 3% maximum decline. The treadmill has a CoolAire fan that can keep you cool while you exercise. 
Furthermore, with a 300-pound weight capacity and QuickSpeed controls that let you change the intensity of your workout; the 3.6 CHP motor can push the machine at speeds ranging from 0 to 12.
15. Horizon 7.4 AT
With a variety of apps to implement connectivity and high-quality features to support your exercise routine, Horizon Fitness focuses on providing a connected fitness experience. The Horizon 7.4 AT treadmill has a spacious running deck, 3-zone cushioning, and QuickDial controls that are ideal for comfortable interval training. 
This 7.4 AT treadmill for seniors can move from 0.5 to 12 miles per hour and up to a 15% incline. The push-off, transition, and impact zones are the three key zones that the 3-Zone Variable Response Cushioning System integrates on the running deck.
Conclusion – Find the Best Walking Treadmills for Seniors
Seniors should opt for mini treadmills that are secure, cozy, and simple to use. Since older people are more vulnerable to injury, safety features are crucial. 
To ensure their safety, look for treadmills with handrails, an emergency stop button, and a low-speed mode that lets the elderly select their own pace. 
Seniors can safely benefit from jogging and walking from the comfort of their own homes if they choose the right home gym equipment. We hope this article has helped you find the best treadmill for senior walking.
Video ads for product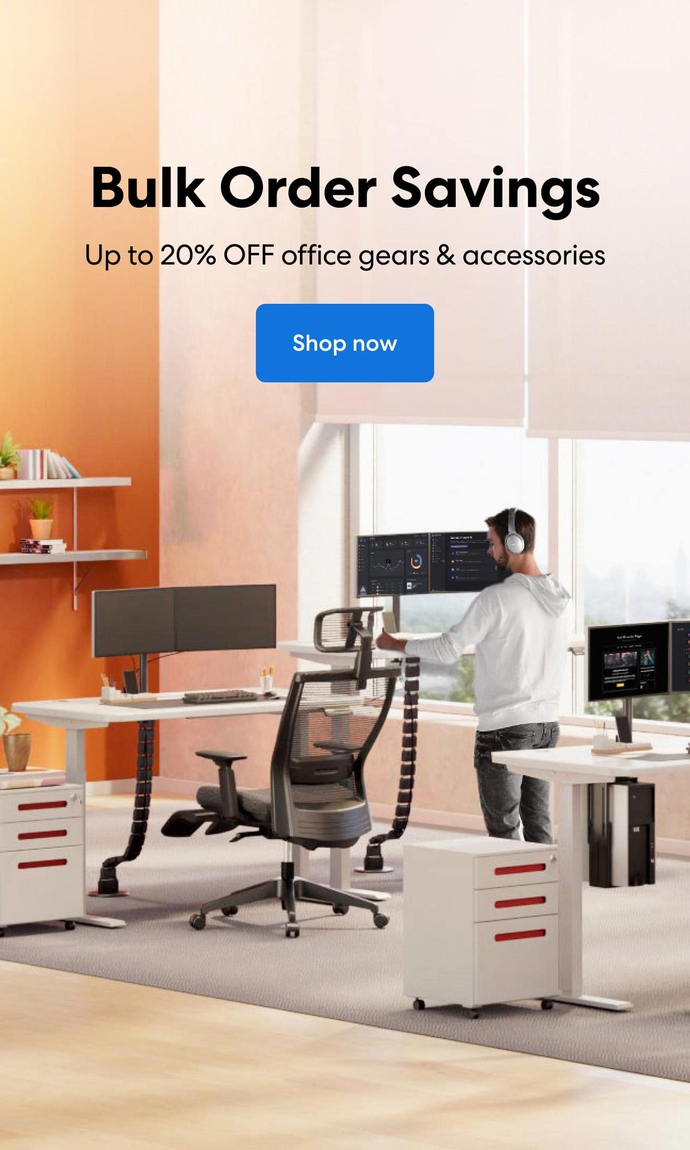 Subcribe newsletter and get $100 OFF.
Receive product updates, special offers, ergo tips, and inspiration form our team.