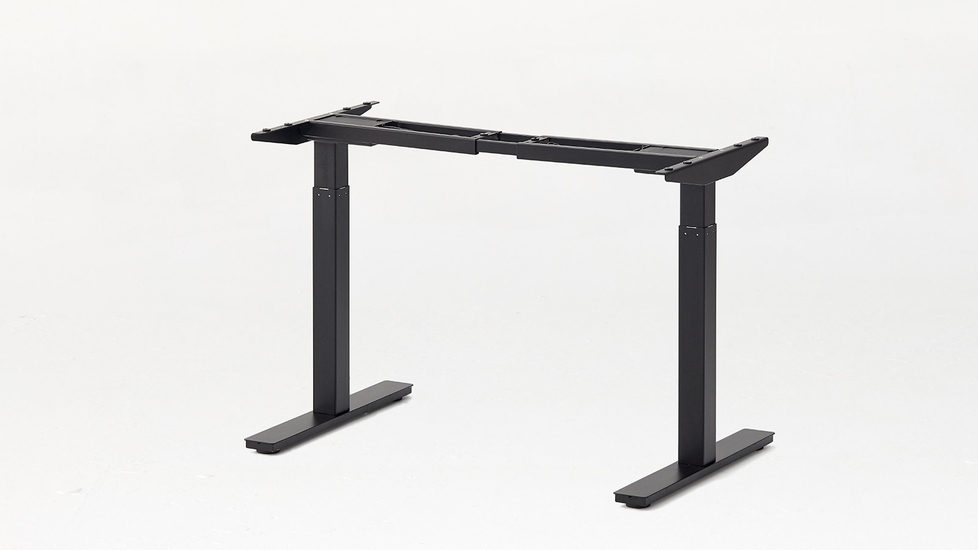 Let us do the leg work. Pair your custom desktop with any of our height-adjustable steel frames.
Ships within 2 business days
|
Free shipping
& 30-day returns
If you don't love it, just return it for a full refund.
Your transaction is secure
Our security system encrypts all payment information and ensures your data is safe. We don't and will never share your credit card details with anyone.
• Choose from Core, Pro, and L frames
• All powered by whisper-quiet electric motors
• All frames made of solid steel
• Pick your ideal height range
• Select your required weight capacity
• Get the right size frame for your desktop
• 5-year warranty
• Pay over time with Affirm: $38/mo
Deep dive into specs
A Truly Personalized Standing Desk
Craft your own unique workspace with the highly customisable Autonomous SmartDesk Frame, which you can assemble easily in a matter of minutes. Top it off with your own desk surface to get the exact look, width and material you're after.
A Top-notch Quality DIY Standing Desk
A Gentle & Stable Standing Desk Frame
Our height adjustable standing desk frames produce less than 45 decibels of sound when in use. Choose from two different heavy-duty motorized frames, which can hold and lift between 300-330lbs of equipment.
Ready In Minutes
You won't need more than half an hour to have your DIY standing desk ready to rock and roll. Assembly is fast and easy; our standing desk frame comes with instructions and video guides are available online. The standing desk workstation of your dreams is only minutes away.
Top Tier Standing Desk Manufacturing
Our fully adjustable SmartDesks are made by experienced industrial manufacturers with a proven track record. The pieces they create stand the test of time.
Tried and Tested
The SmartDesk line of workstations carries certification from global safety inspection body UL, BIFMA and EMC. As you can see, we've had the standing desk frame as well as the whole SmarDesk tested independently for environmental worthiness, electromagnetic compatibility, safety and overall quality.
FAQs
Don't see the answer to your question?
What is the recommended length & width of the top for the DIY Kit?
The desk top you choose should be within the range of 45 - 80 inches long and 26 - 32 inches wide.
Does this desk use regular 120 volt outlet?
Yes. Our standing desk is compatible with standard 110 volts - 240 volts outlets. Both currents are automatically converted by the desk. US orders are installed with the standard two-prong plug. For international orders, we convert the plug to the type used by the destination country.
I see that there is a "black box" to be installed on the underside (aside from the control panel), with power and data connection. Is this like a power strip and data plug-in?
Yes, this is the control box. It must be attached under the standing desk to use the Smart Keypad. It is connected with the Smart Keypad to control the height of the desk, and with the power source to tell the electric motor(s) when to move up and down.
We do! We have shipped to more than 60 countries so far, and we're still counting! Please select your country for localized checkout and appropriate pricing, duties, and taxation processing.
What is the maximum load that the frame can support?
Premium frame can lift up to 300 lbs.
Home Office frame can lift up to 300 lbs.
I think I want to get a standing desk frame. I'm 6' 3". Should I get the single or dual motor frame?
Go with the dual motor standing desk frame which can rise up to 52 inches (with top). One of our team is 6'5 and uses it comfortably everyday!
Can you give me more information about your 30-Day Trial policy?
If you don't like your desk, we'll take it back. It's that simple and easy. You have until 30 days after delivery to build and use your desk. If you change your mind, you can then request to return the desk for a full refund (we even cover shipping!), no questions asked. This policy applies to all desks delivered inside continental U.S. and returned in their original packaging only. International orders do not qualify for this program. Please note that the returned standing desk needs to be in its original packaging. If not, we reserve the right to refuse your request.
How many amps does each desk use?
The desk is 110 - 240 Volt. 50-60 Hz.
How much does the shipping package weight?
Package specifications are as follows: 
Frame box (Premium): 43"L x 13"W x 10"H x 70 lbs. 
Frame box (Home Office): 43"L x 13"W x 10"H x 67lbs.
What is the warranty on the DIY standing desk?
The Premium frames have a 7-year warranty. The Home Office frames have a 5-year warranty. All tops are covered by a 1-year warranty. In the unlikely case of any problems, we will quickly fix the desk, free of charge, or send a brand new standing desk to your location of choice.
I'm building a table top for the DIY standing desk kit I have just bought. What dimension should the table top have?
For DIY Kit Business Office and Home Office platforms, your table top should be in a range of 45 - 80 inches long and 26 - 32 inches wide.