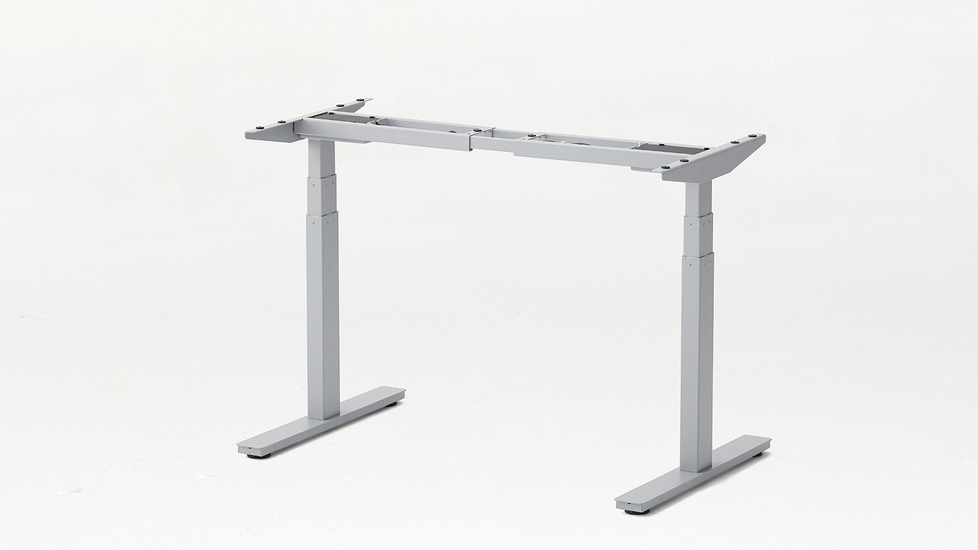 Autonomous SmartDesk Frame
- DIY Standing Desk
Buy now
Add to cart
FREE shipping Jun 10 - Jun 12. FREE 30-day returns.
Bought by 100+ Vifah employees
Sold and shipped by Autonomous.
Autonomous SmartDesk Frame at a glance.
Let us do the leg work. Pair your custom desktop with any of our height-adjustable steel frames.
• Choose from Core, Pro, and L frames
• For different space, height, and capacity needs
• All powered by whisper-quiet electric motors
• All frames made of solid steel
• Hardware kit and programmable keypad included
• Adjustable lengthwise to suit any desktop
• 7-year warranty
Deep dive into specs

SMARTDESK FRAME
For any desktop.
Every SmartDesk Frame is adjustable. Not just in height, but also in length. They span a wide 40" to 73" to ensure a perfect fit for the desktop you have – or the one you're about to.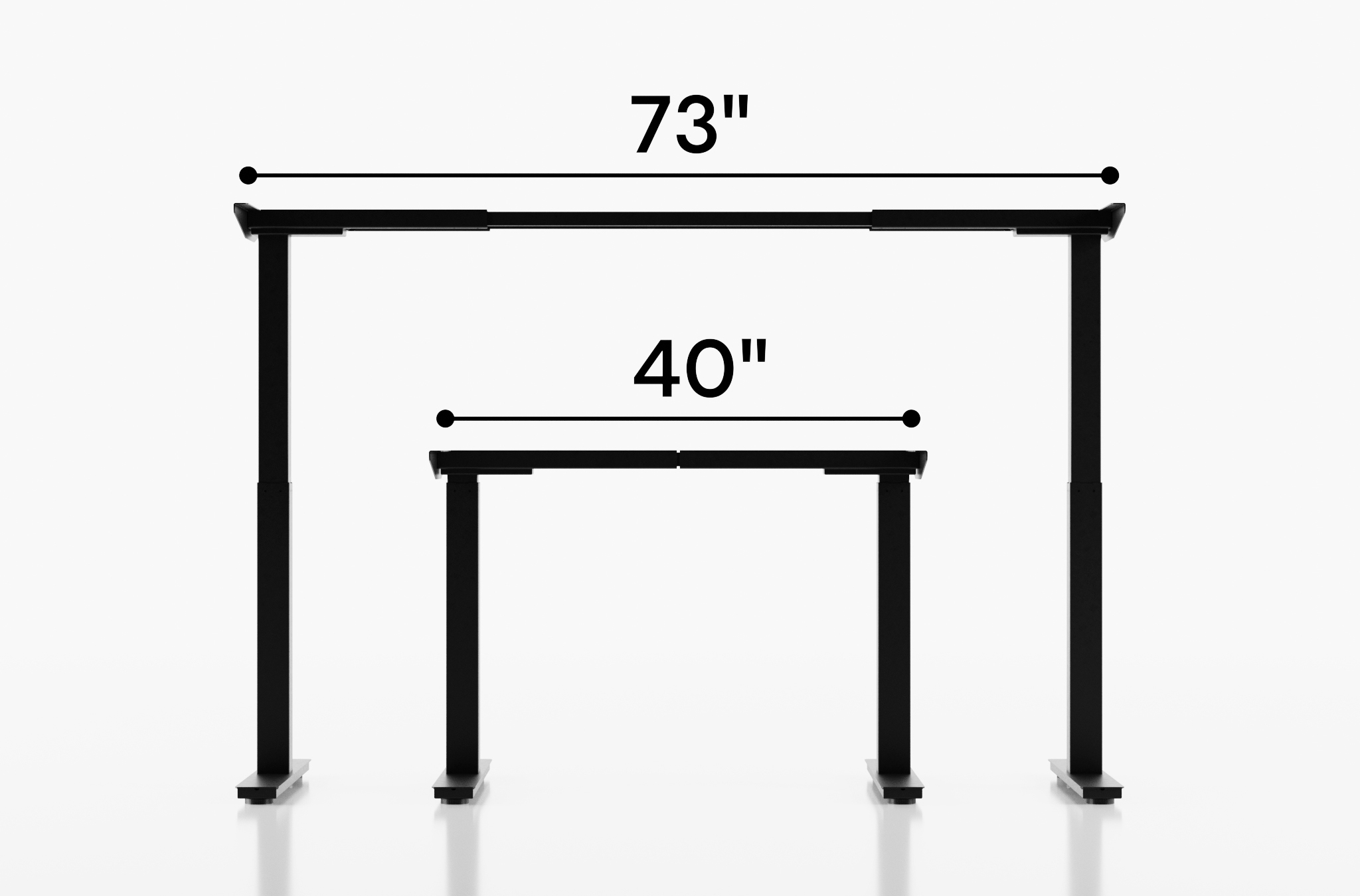 3 OPTIONS
Your way is the right way.
There's a frame for everyone. Are you tall? Do you have lots of stuff? Go for the Pro frame. Do you need space and flexibility? Get the Corner. Looking for just the essentials? You'll like the Core.
EASY ASSEMBLY
Get going in minutes.
All our frames have been engineered for simplicity. So they're really easy to put together, and every package includes all the tools you need to get started. You'll be up and running in no time.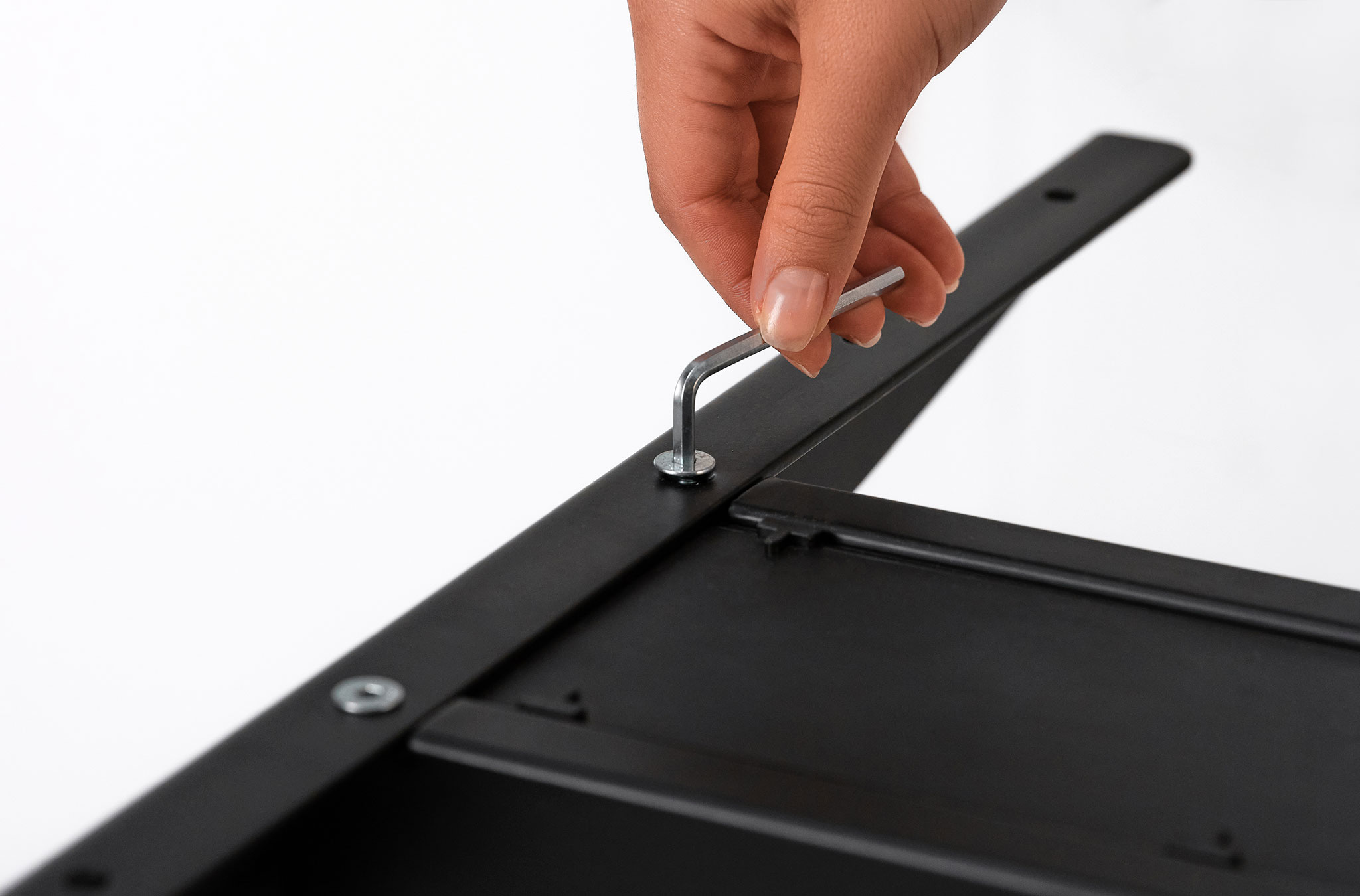 CERTIFIED DURABLE
Build on a strong foundation.
Each frame has been vetted for durability and safety by BIFMA and EMC. And rigorously tested to support at least 10 years of heavy use. You just need to decide which one you like best.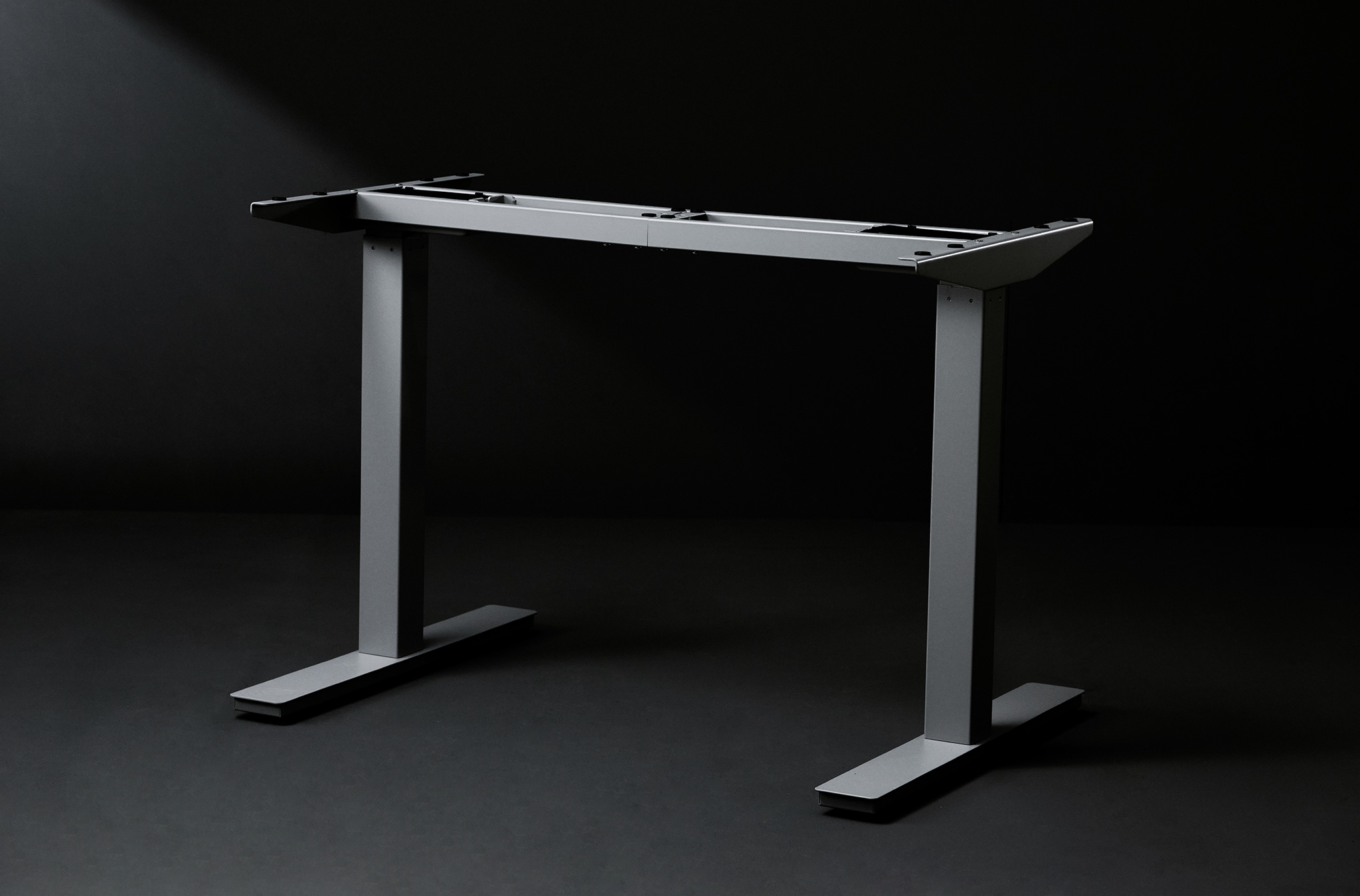 Now more than ever, there's a wide array of options for building your ideal workspace, whether you work at home or you've begun transitioning back to the office. Some people prefer an all-in-one package—just unbox it, set it up, and you're good to go. But the downside to this approach is that you're not getting a personalized space, and for creative types who like to do things differently, this is less than ideal. That's why the SmartDesk DIY Kit is the standing desk do it yourself option for anyone who wants to take control and create a unique, beautiful workspace that you actually look forward to using! With the DIY standing desk, you can attach any desk top you like while enjoying all the benefits of an electric standing desk from Autonomous. Still, it can be a challenge to know how to go about building your own DIY standing desk. With this blog, you'll know everything you should consider before you buy DIY standing desk tools. Plus, you might pick up a little extra inspiration along the way. Read on to find out more about how you can create your own DIY adjustable standing desk.
Common challenges when building your own DIY standing desk
For the inexperienced, building your own desk can have its challenges. It's good to be acquainted with these potential scenarios so you can be prepared to tackle them should any of these common problems arise. For starters, having a wobbly foundation can be a dealbreaker for any DIY standing desk. If your frame lacks the strength to support the custom tabletop you've chosen, you'll be stuck with a desk that shakes and wobbles every time you use it. In the worst case scenario, the desk could collapse and potentially cause damage to your valuable office equipment. Before you buy, always check the specifications to ensure your standing desk legs have sufficient weight capacity for your diy standing desk top.
Another common issue is building a standing desk that can't be adjusted easily. Convenience of adjusting your desk is critical if you plan to alternate between sitting and standing frequently throughout the day. Though inexpensive manual options exist, it can be difficult to manually adjust a desk loaded with all your office supplies—and again, if your adjustment goes wrong, all your gear could end up crashing down on the floor. Be sure to opt for an automatic, motorized standing desk frame for optimal convenience and functionality. Finally, though we may have an idea of what our final outcome will look like, some DIY standing desk ideas are better imagined than in reality. Even if you have a solid foundation for your desk, it could just end up turning out just plain ugly. To ensure your custom desktop shines, it's best to go with a minimalist standing desk frame that will serve as a foundation without any clashing aesthetic.
Elements to consider when choosing a DIY adjustable standing desk frame
Now that you know what potential problems you could run into, here are some key features you should consider when choosing the right standing desk frame for your DIY standing desk:
Height range & Ease of movement
This is crucial, and it depends on your body type. If you're taller or shorter than average, you'll need a DIY adjustable standing desk that can accommodate a broader height range. To check, sit and stand with your arms bent at a 90 degree angle, which is the optimal ergonomic position for sitting and standing. Take those measurements, and compare them to the specifications of the standing desk frame to ensure it can lift and lower to the correct height for you. Manual standing desks are a pain, so it's good to get a desk that you can easily adjust up and down. Consider investing in a standing desk frame that has a motorized solution to make lifting and lowering all your expensive, heavy office equipment an absolute breeze. Especially if you'd like to alternate frequently between sitting and standing, ease of movement is a must.
Weight & Working surface
How much weight can your standing desk legs support? This is a critical element that you should test by weighing the desktop you intend to use, as well as all the equipment (computer, monitor, peripherals, printer, decorations, etc) you plan on keeping on your desk. Then, check to make sure the standing desk frame you're choosing has enough weight capacity to suit your needs. You may only need space for the basics, or you may have a lot of equipment you use at any given time throughout the day. Avoid feeling cramped and cluttered by making sure you choose a standing desk frame that can accommodate the size of the surface you need in your workspace. And remember: when in doubt, give yourself more space, as you won't regret having extra room on your desk, even if it's rarely used.
Easy step-by-step assembly for your DIY standing desk
If you're new to assembling your own DIY standing desk, we've put together a simple, easy-to-follow step by step instruction process for you. Just check out the blog here and follow along and you'll have no trouble getting your DIY standing desk put together in no time.
Craft your own unique workspace with the highly customizable Autonomous SmartDesk Frame
If you're looking for the most simple and reliable solution for your DIY standing desk frame, look no further than the DIY standing desk frame from Autonomous. With all the convenience, features, and minimalist aesthetic you get from a full SmartDesk, this sturdy frame will have you working on your beautiful custom desktop for years to come. The powerful dual electric engine is whisper quiet, so you'll have no trouble lifting and lowering your desk frequently without bothering your housemates or coworkers. You'll also have a keypad with four preset memory settings, so you can set custom heights that lift and lower to the exact right position every time, with just the press of a button. It's a super convenient way to ensure you're always working comfortably and ergonomically. The DIY SmartDesk frame is powerful, capable of supporting up to 300 lbs of weight. This makes it ideal for any professional or gaming setup that requires the use of lots of heavy gear. You could even use it to take a nap, though we wouldn't recommend this! Best of all, for designers, this desk frame is minimalist and complements your aesthetic perfectly without clashing with your custom desktop, whether it's an artistic design or a custom cut of wood for that classic, sophisticated feel. Check out the SmartDesk DIY standing desk frame from Autonomous and get started on your very own custom workspace today!
FAQs
Don't see the answer to your question?
What is the recommended length & width of the top for the DIY Kit?
The desk top you choose should be within the range of 45 - 80 inches long and 26 - 32 inches wide.
Does this desk use regular 120 volt outlet?
Yes. Our standing desk is compatible with standard 110 volts - 240 volts outlets. Both currents are automatically converted by the desk. US orders are installed with the standard two-prong plug. For international orders, we convert the plug to the type used by the destination country.
I see that there is a "black box" to be installed on the underside (aside from the control panel), with power and data connection. Is this like a power strip and data plug-in?
Yes, this is the control box. It must be attached under the standing desk to use the Smart Keypad. It is connected with the Smart Keypad to control the height of the desk, and with the power source to tell the electric motor(s) when to move up and down.
We do! We have shipped to more than 60 countries so far, and we're still counting! Please select your country for localized checkout and appropriate pricing, duties, and taxation processing.
What is the maximum load that the frame can support?
Premium frame can lift up to 300 lbs.
Home Office frame can lift up to 300 lbs.
I think I want to get a standing desk frame. I'm 6' 3". Should I get the single or dual motor frame?
Go with the dual motor standing desk frame which can rise up to 52 inches (with top). One of our team is 6'5 and uses it comfortably everyday!
Can you give me more information about your 30-Day Trial policy?
If you don't like your desk, we'll take it back. It's that simple and easy. You have until 30 days after delivery to build and use your desk. If you change your mind, you can then request to return the desk for a full refund (we even cover shipping!), no questions asked. This policy applies to all desks delivered inside continental U.S. and returned in their original packaging only. International orders do not qualify for this program. Please note that the returned standing desk needs to be in its original packaging. If not, we reserve the right to refuse your request.
How many amps does each desk use?
The desk is 110 - 240 Volt. 50-60 Hz.
How much does the shipping package weight?
Package specifications are as follows: 
Frame box (Premium): 43"L x 13"W x 10"H x 70 lbs. 
Frame box (Home Office): 43"L x 13"W x 10"H x 67lbs.
What is the warranty on the DIY standing desk?
The Premium frames have a 7-year warranty. The Home Office frames have a 5-year warranty. All tops are covered by a 1-year warranty. In the unlikely case of any problems, we will quickly fix the desk, free of charge, or send a brand new standing desk to your location of choice.
I'm building a table top for the DIY standing desk kit I have just bought. What dimension should the table top have?
For DIY Kit Business Office and Home Office platforms, your table top should be in a range of 45 - 80 inches long and 26 - 32 inches wide.