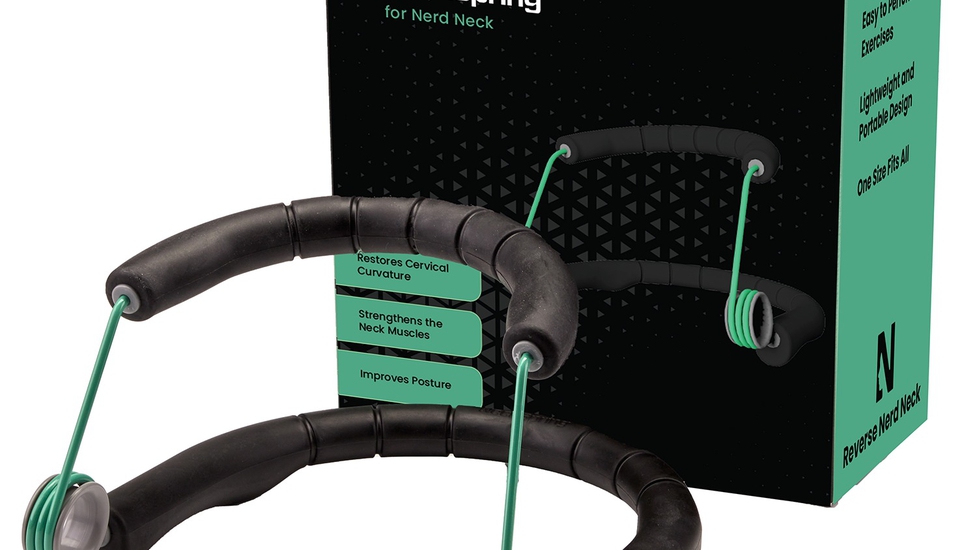 PMT Portable Neck Strengthener: Relieve Neck Pain & Improve Posture
Buy now
Add to cart
FREE shipping Dec 02 - Dec 04. FREE 30-day returns.
Sold and shipped by PMT

Price Match Guarantee
COMBAT NERD NECK - Relieves the discomfort after spending too much time in front of screens. NeckSpring can help fix slouching so you don't have to feel the pain of a long day at the desk or suffer after a night of gaming. PERFORM EASY, SIMPLE EXERCISES- The Neck Spring has a minimalistic design that's easy to put on and take off for an exercise that can be performed in moments. Using the Neck Spring as a regular exercise can help restore cervical curvature and posture. LIGHTWEIGHT AND SLEEK DESIGN -The NeckSpring is extremely lightweight and can be carried with you, wherever you go! Use it at work or at home so you can relieve your neck pain anywhere. The coil guards eliminate the risk of pinching and the padded back adds support for your neck and shoulders. BUILT TO LAST- High velocity springs maintain powerful resistance so the neck spring will remain at peak performance and will never lose their strength even with consistent use GUARANTEED SATISFACTION- The NeckSpring is safe and easy to use for everyone with simple instructions. Our 30-day warranty guarantees that you will be satisfied with our product with no risk. If there are any problems that occur during use, please contact us and we will return or replace the product for your money back!
• 1-year warranty
The NeckSpring is an innovative neck exerciser and posture corrector that targets the problem behind poor posture. The device itself consists of a thin, industrial strength coiled wire, surrounded by a soft touch foam designed to cradle the neck and shoulders. Once the device is on, the easy to perform exercises strengthen the muscles in the neck to relieve pain from long periods of sitting in front of a computer or looking at screens. Improving these muscles allows the user to feel more comfortable in the correct posture so after enough exercise, you can prevent the pain before it comes!
Deep dive into specs