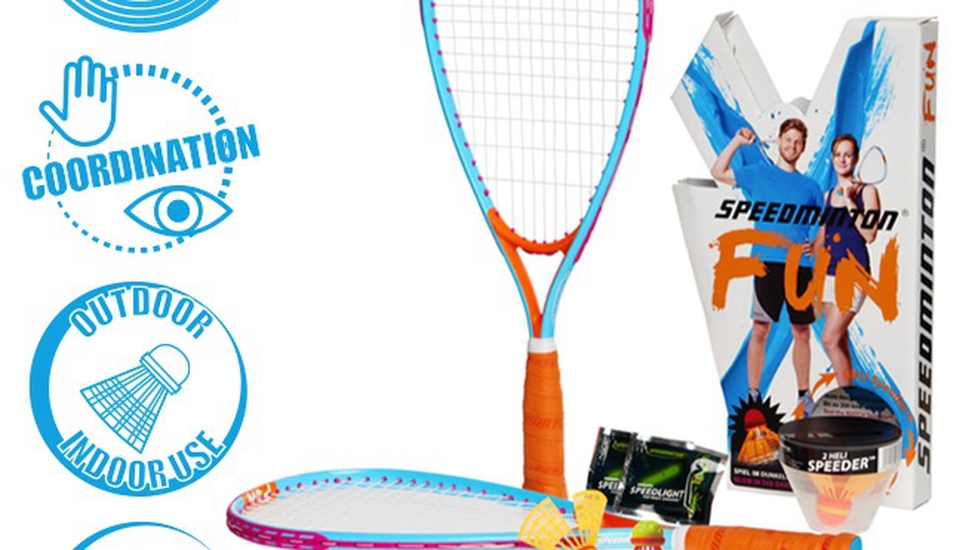 FREE shipping Mar 27 - Mar 29. FREE 30-day returns.
Sold and shipped by Speedminton. Visit our store
SPEEDMINTON: The innovative racket game that requires no net. The FUN set is perfect over short distances, beginners and the whole family as well as for the beach, park or backyard as an alternative outdoor game to badminton, spike ball or beach ball. RACKETS: 2 original FUN Speedminton rackets, short and light, made of high quality aluminum. SPEEDER: 2 innovative Speedminton birdies for short distances of 5-20m. SPEEDLIGHTS: 2 original Speedminton Speedlights allowing play in twilight and darkness. Lasts approx. 3 hours. ORIGINAL: Speedminton is the leading manufacturer of crossminton / speed badminton equipment as well as official equipment of the ICO (International Crossminton Organization).
• 6-month warranty
The Speedminton FUN set provides ultimate fun for family and friends and can be played anytime and anywhere - no net, no court necessary. The centerpiece is the newly developed HELI Speeder - Made in Germany. With its rotating properties you can play over short distances - perfect for the beach, the park or your own back yard. The FUN set now comes with the original Speedminton FUN Speeder, giving you two options, and twice the fun!
Deep dive into specs
FAQs
Don't see the answer to your question?