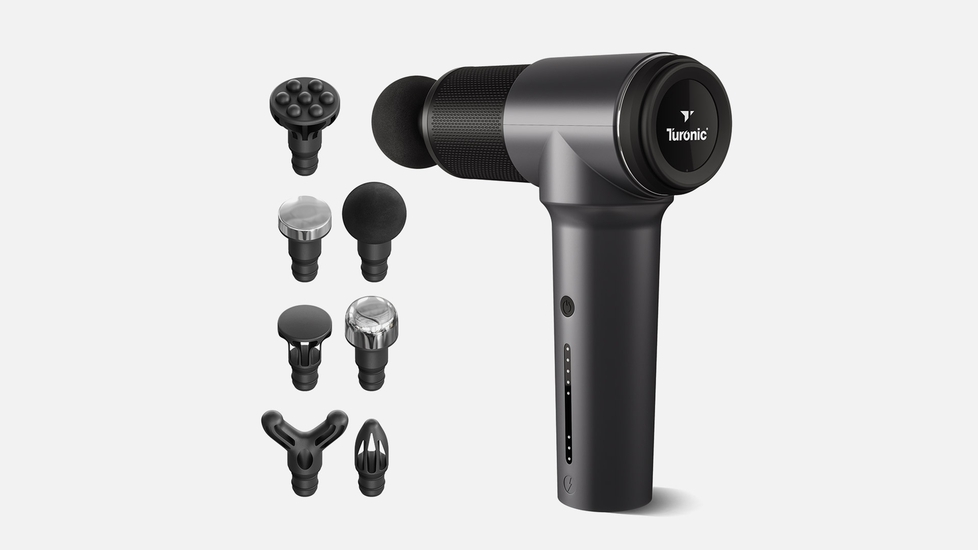 TREBLAB Turonic GM5 Massage Gun: Deep Tissue Massager
Buy now
Add to cart
FREE shipping Jun 02 - Jun 05. FREE 30-day returns.
Sold and shipped by TREBLAB.
• Powerful deep tissue massage gun with 11 mm depth amplitude; efficient for lower back pain relief; 5 intensity modes range 1200 to 3200 rpm. • Complex bodywork: 7 heads for different muscle groups includes a special anti-cellulite head. • Resilient battery that charges up quickly. GM5 has 3400 MAh battery life; it's fully charged after 3-5 hours and can go without charging up to 8H. • Minimalistic, user-friendly design: switch between modes with one button; there are two light indicators: for battery life and the current intensity mode. • Easy and comfy to use: ergonomic design allows you to use GM5 for a long time without getting tired of holding it; head replacement takes no more than 3 seconds; GM5 turns off automatically after 10 minutes of using it - it's the time you'd usually need to relax properly - but you can use longer if you want. It's really quiet: GM5 sounds at 45 dB, whereas casual conversation volume is 66 dB, and a phone rings at 75 dB.
• 1-year warranty
Deep Tissue Massage Gun - Get instant muscle relief with a GM5 percussion massage gun: work through knots and swellings after a workout as efficiently as a professional therapist would; massager has the intensity of 1200-3200 rpm: it reaches sore spots in 11 mm-depth, improves blood flow, and helps you relax Full Body Work - Get rid of stiffness and pain after a workday: with 7 replaceable heads and 5 intensity modes, you can relax rigid muscles after a day in the office or a workout Easy to Use - switch between modes with one button and quickly replace heads for different muscles; the interface is super simple: there are just 2 indicators for battery and the current mode Quiet with Long Battery Life - noise level is 45 dB: quieter than a casual chat; bring it to the gym or office and don't worry about charging: it works up to 8 hours without it Anti-Cellulite Effect - don't give up on problem areas. The special head has lifting effect, promotes weight loss, and improves the skin quality
Deep dive into specs
FAQs
Don't see the answer to your question?