Smart Products
Top 12 Under Desk PC Mounts of 2023
9,318 Views
PC mounts are very useful home office desk accessories for everyone who desires a professional setup. They keep your PC safe and your desk a lot cleaner than it would normally be. They're also fantastic for maximizing the space if you're struggling with a minimal surface for your setup. 
However, not every under desk PC mount is 100% optimal for you and your PC, as there are several characteristics that you must consider when choosing one. Some of the most important aspects you should check are: 
Brand value. Different brands offer diverse value propositions and special features that others may not

Search for the specific features that fit best with your necessities

Always check the specifications of each

under desk PC mount to know how powerful they are

Remember to buy within your budget

Check the ratings and reviews you might find online for more accurate descriptions 
However, PC mounts aren't the first gadget that comes to mind when you start building a setup, but they should still be a home office essential. These devices can make your life easier in several different ways. Keep reading and find out how. 
Why Should You Use an Under Desk PC Mount?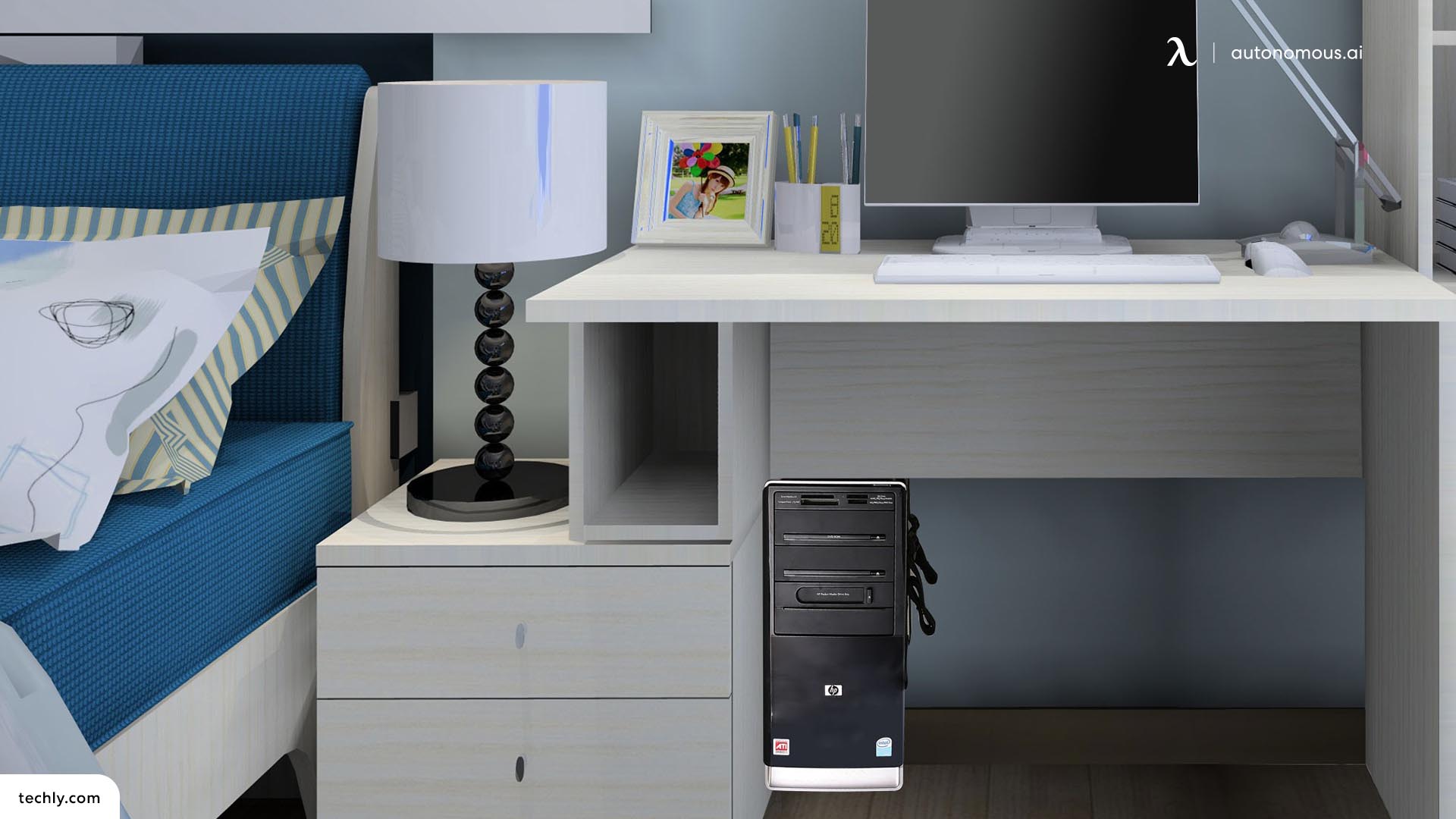 Your CPU is a general-purpose microprocessor in charge of controlling the entire operation of the computer. Therefore, it is a vital piece, as it is "the brain of the computer." However, it is very fragile and can easily break if accidents happen. 
In addition, like many smart office accessories, it contains a fan. This allows it to cool and protects it from heat. If it is exposed to dirt, it may impact its regular operations. CPU computer case holders are designed to meet all these needs and extend the CPU's life, which is essential for any PC owner.
You can get many benefits from buying a PC holder under desks. One of them is extending the life of your CPU. You can also keep your device off the floor, so the office equipment doesn't suck dust and dirt from it. It's also no longer in a place prone to damage from bumps or kicks. 
Additionally, these mounts provide much more comfort during working or gaming hours. There are a variety of models that can adapt perfectly to your space, making it much more discreet, tidy, and easy to access for cleaning. 
Best 12 Under Desk PC Mounts of 2022
Most people use a computer on a daily basis, but both at home and at the office, space is often limited. When it comes to desktop computers, the CPU is often hard to place. We waste space and do not know where or how to place it. It is a difficult task, considering that we don't only need to worry about convenience, but also about its security. 
Nowadays, products that end this problem are appearing on the market. If you want to know them, this article is meant to show you the most important ones so that you can choose the product that suits you the best. 
1. Under Desk Computer Mount by Mount-It!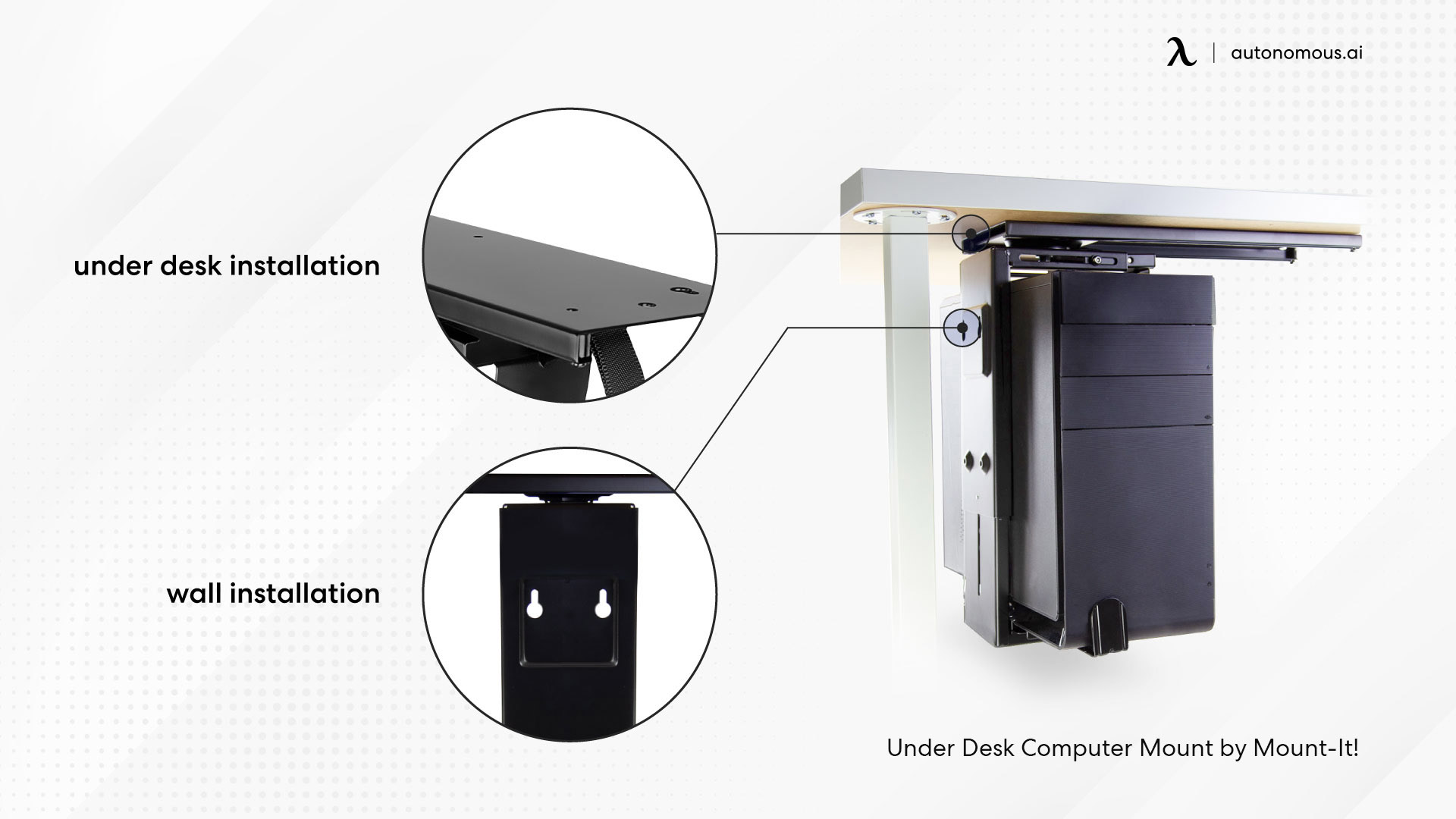 The Mount-It! Under Desk PC Mount gets easily installed under your desktop and keeps your computer tower at an ideal position, close enough to your monitor to ensure an effortless connection. It also has a smooth sliding track that allows you to move the CPU tower back and forth and in 360 degrees for easier access to all the necessary plugs. 
You can enjoy its durable steel construction that holds up to 66 pounds of weight. Additionally, your PC is going to be safe from any spilling or dust, and it's going to be optimally cooled due to its open design that reduces overheating.
2. Huanuo CPU Holder Under Desk Mount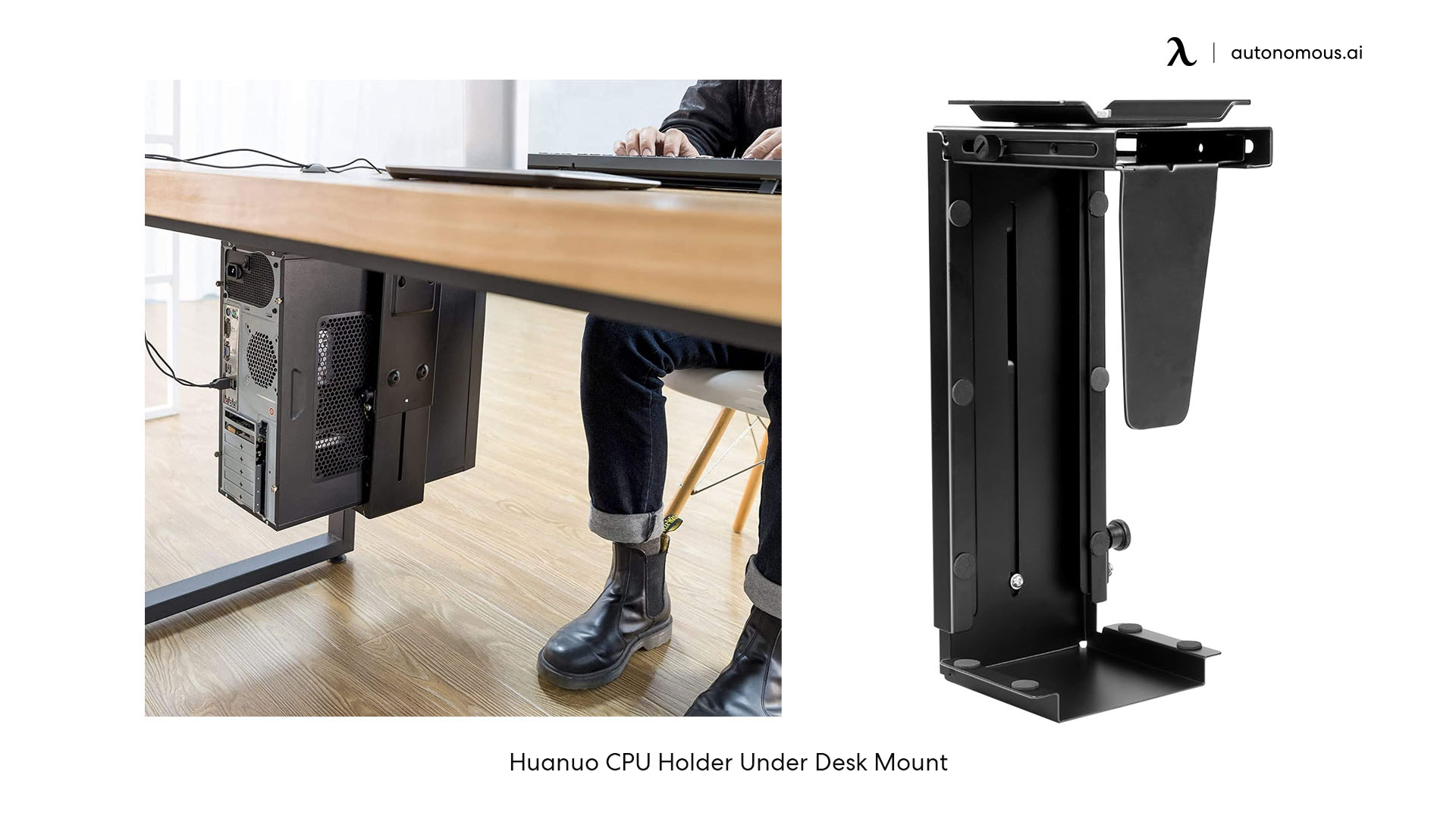 This PC mount is made of 36 mm steel and features an anti-rust coating. It offers the best solution for protecting your equipment and saving space. Additionally, it provides you with the perfect location for placing your PC. It has 178 cm straps with fully adjustable buckles, including anti-slip pads for a safer suspension. 
It is a solid and resistant PC mount, with a maximum load capacity of 44 pounds, and it manages to maintain a prudent separation between your equipment and the floor; thus, it avoids possible damage from dust, dirt, tripping, vibrations from the ground, etc. In addition, its design allows easy access to the PC's ports and other necessary features. If you get this fantastic under the desk mount, you are definitely going to ensure better utilization of space in your workspace. 
3. Vivo Heavy-Duty Adjustable Under Desk PC Mount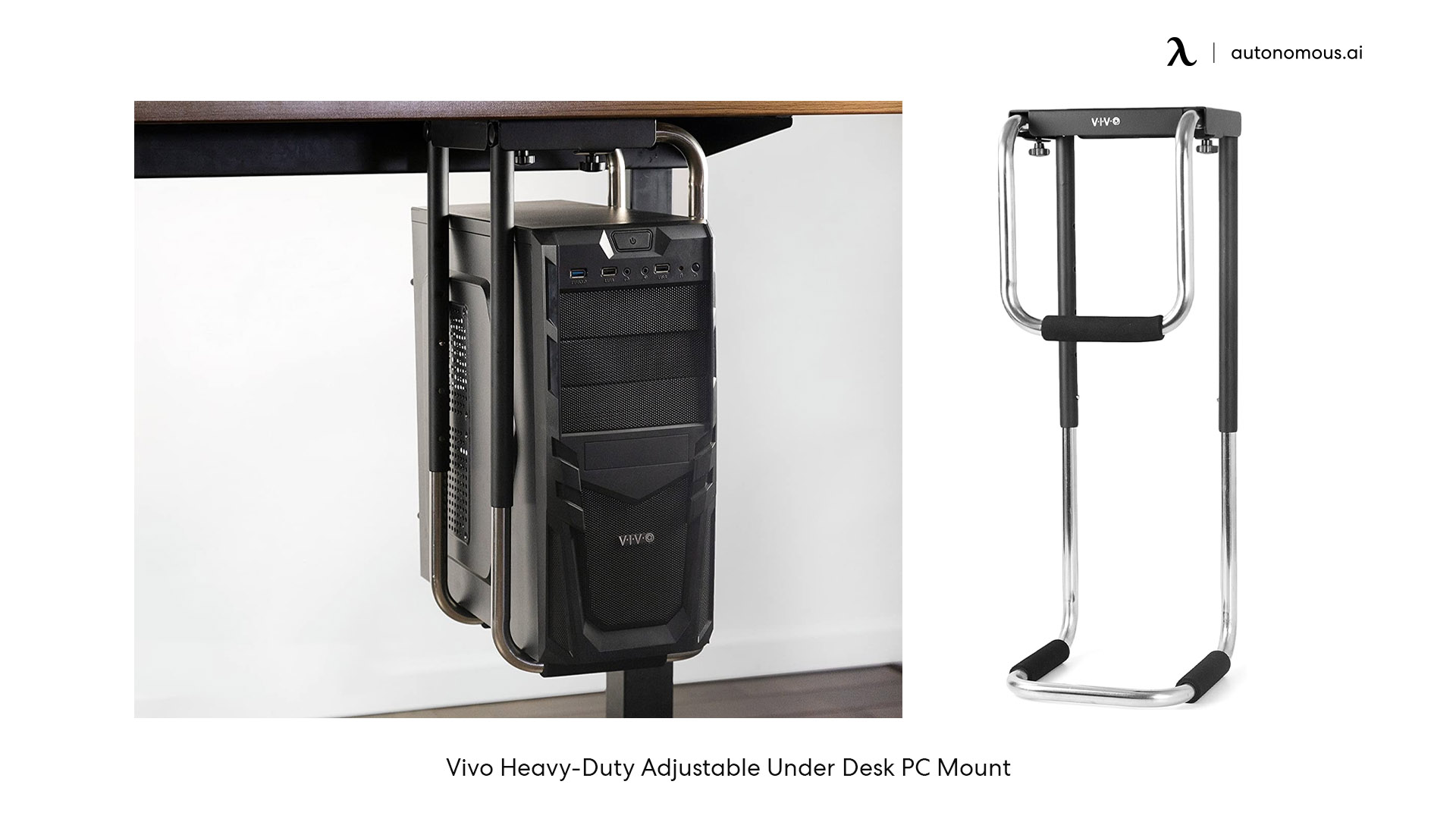 This PC computer holder for desk, as its name suggests, can be placed under your electric standing desk. If you are trying to save space, this can be a good solution, as it holds towers up to 44 pounds and is adjustable from three to 27 inches wide and from one to 23 inches high. 
You can install it by yourself without a problem, but it is going to be easier if you find someone to help you. Two straps and eight screws keep the CPU in place, and it has four protective pads to avoid accidents. 
Remember to evaluate the computer's ventilation, as the table shouldn't block it. Moreover, as the stand does not have rails that allow the computer to be moved, the rear connection ports get blocked to some extent. It is recommended to connect all the cables of the pc before placing it since accessibility gets complicated after installation. 
4. Oeveo Under Mount 242-12W
If you want to protect your CPU from dust and prolong its life, we recommend using the Oeveo 242-12W. A PC mount that you can install quickly and easily under your desk, allowing you to save space, keep your computer clean and your wiring tidy by maintaining a safe distance from the floor. 
It is a light and very resistant product, capable of supporting a maximum weight of 44 pounds. In addition, its width and height are adaptable to fit any CPU. It includes self-adhesive tape on the top and all the necessary screws, so you only have to glue and screw everything in place when fixing it. 
Without a doubt, this is the perfect solution to give a clean and elegant look to your office or workspace. 
5. Tripp Lite CPU Mount for Computer Towers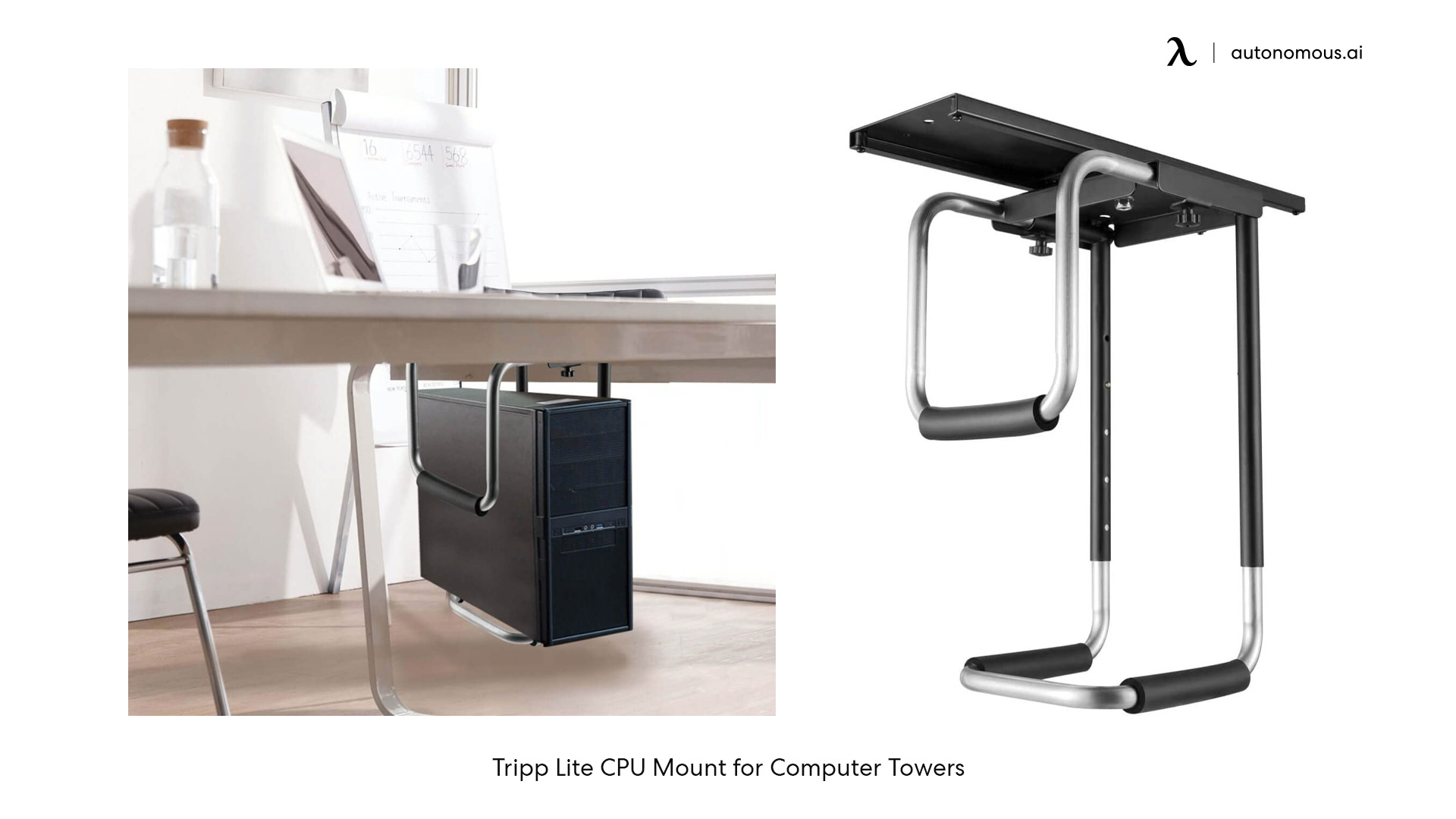 If you like to keep your office or workplace tidy, the Tripp Lite mount offers you a CPU computer case holder that helps you free up space, avoid loose wiring, protect your equipment from accumulated dust on the floor or desk, and facilitate your work. 
This mount can be placed on the wall or under a productive desk, allowing you to adjust it to your computer's size in width and length. It supports a maximum recommended weight of 22 pounds. 
The installation is very simple, as it also includes the necessary screws for mounting. Hence, if you want to give a new look to your office, free up some space, and protect your PC, you should definitely use this incredible CPU mount. 
6. 3M – Adjustable Under-Desk CPU Holder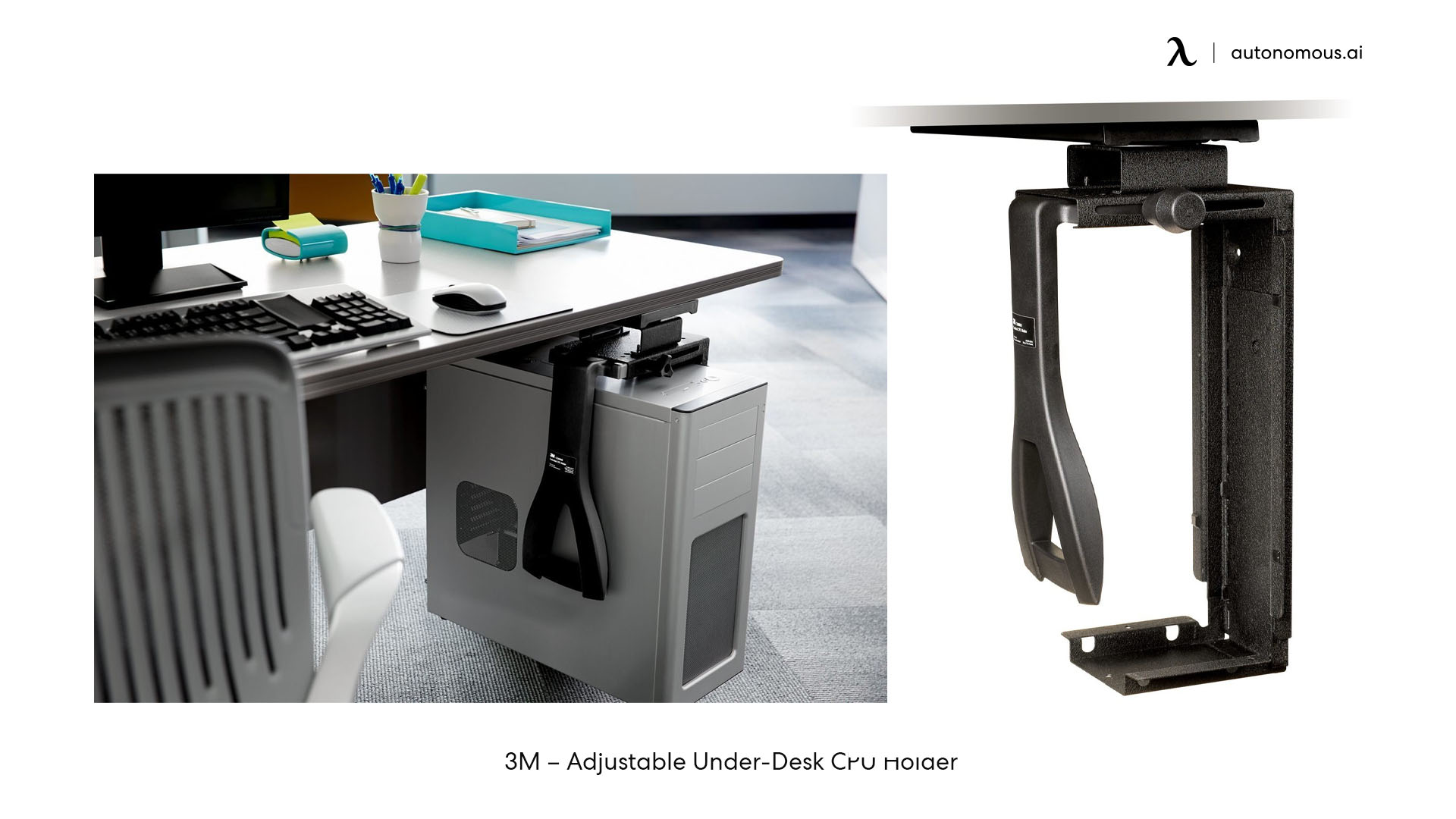 This under-desk PC mount from 3M is created to fit most CPUs on the market, as it has an adjustable height range that goes from 12 to 21 inches and a width range of 3.5 to 8 inches. Its swift 135-degree swivel is designed to allow easy access to all the needed plugs and cables. 
The 3M CPU PC holder under desks offers several installation options, as it allows you to mount it under your desktop or to the back of your monitor, just choose the option that better suits you. Your PC is protected at all times, as it has thick padding and a sturdy steel design that's made to endure the passing of time. Additionally, just in case you have any manufacturing problems, you can enjoy a three-year warranty for this product. 
7. StarTech – Under-Desk CPU Mount
If you want guaranteed durability and high quality, the StarTech mount is the one for you. This under desk PC mount offers a wide range of adjustments, as it allows you to place your CPU vertically or horizontally, depending on your necessities. Its measurements are 12 inches in width, four inches in height, and 11 inches in depth, which makes it a fantastic option for a wide range of CPUs. 
8. HUMANCENTRIC – Adjustable Computer Case / CPU Holder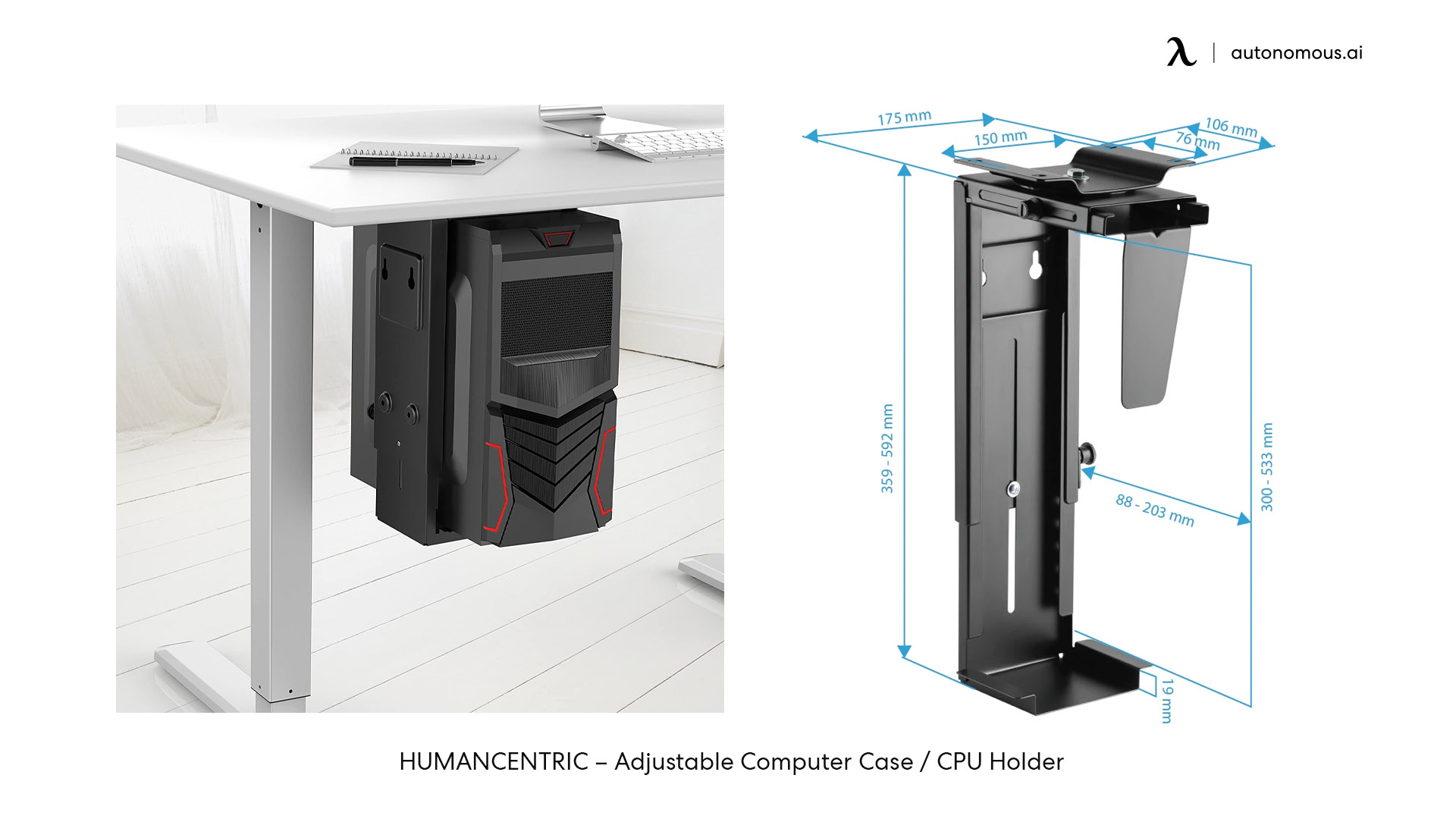 HUMANCENTRIC is a well-known brand famous for its high-quality products, and the Adjustable Computer Case isn't the exception. This under the desk CPU computer case holder allows you to maintain your room as clean as possible by keeping your CPU off the floor. It can hold up to 22 pounds. Additionally, it features a width that varies between 3.5 and 7.75 inches and an adjustable height in the range between 12 to 21 inches. 
The seamless rotation of this under desk PC mount provides easy access to all the plugs and ports of your computer, and its beautifully made padding dots add that extra protection that every PC owner needs. 
9. Stand Up – Adjustable CPU Holder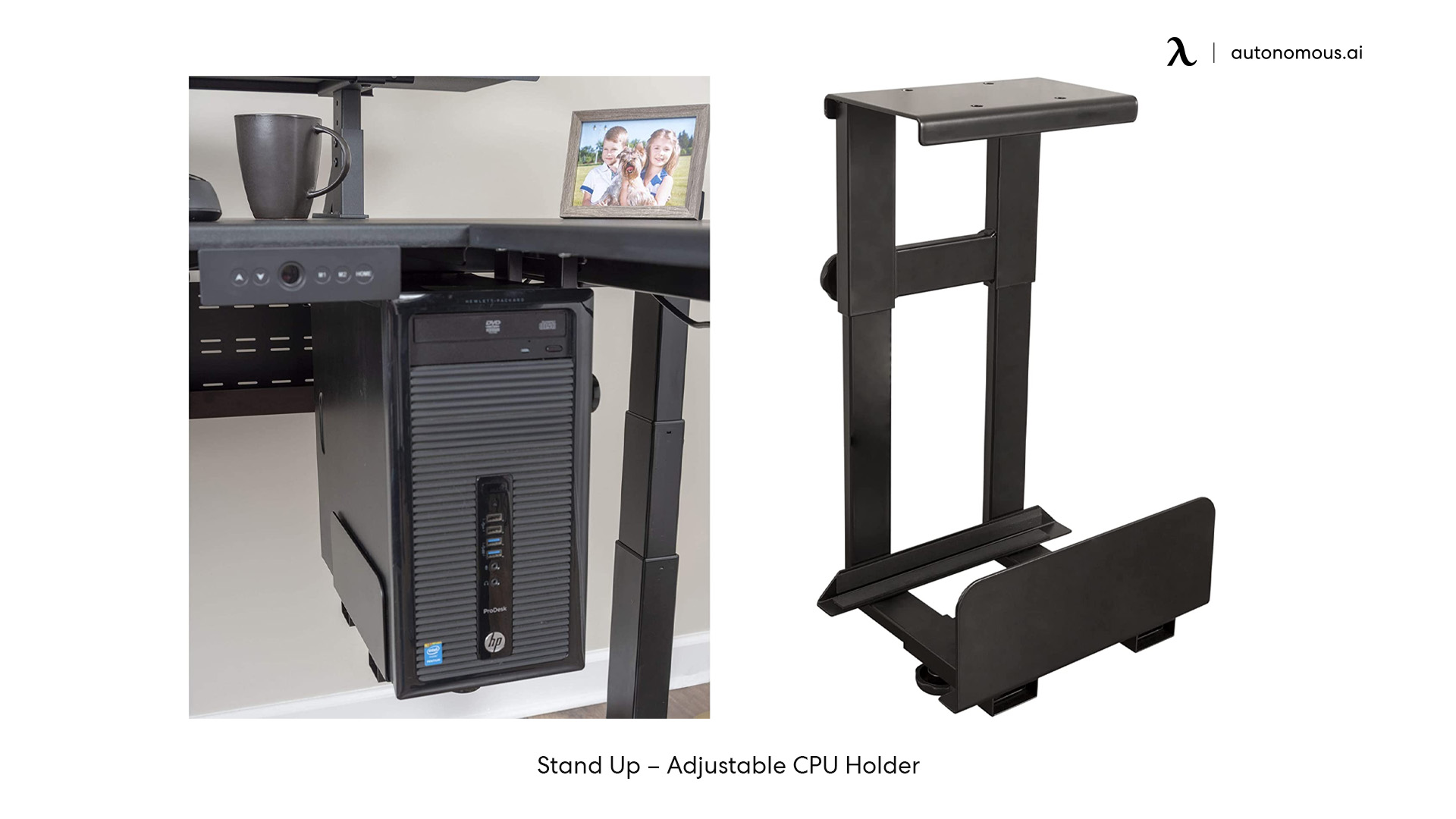 Stand Up is amazing at understanding the market's needs, and that's why this fantastic adjustable PC holder under desks was created. Its premium quality is suitable for all types of CPUs between 15 and 19 inches. Additionally, its thick padding prevents all kinds of scratches or bumps. Its durability is internationally certified due to its thick steel construction and powder coat finish, which ensures a maximum weight capacity of 30 pounds. 
This CPU holder can provide easy tool-free adjustment to fit all types and sizes of CPUs, which makes it an ideal place for safely placing your CPU. 
10. Uncaged Ergonomics Swiveling Under-Desk CPU Holder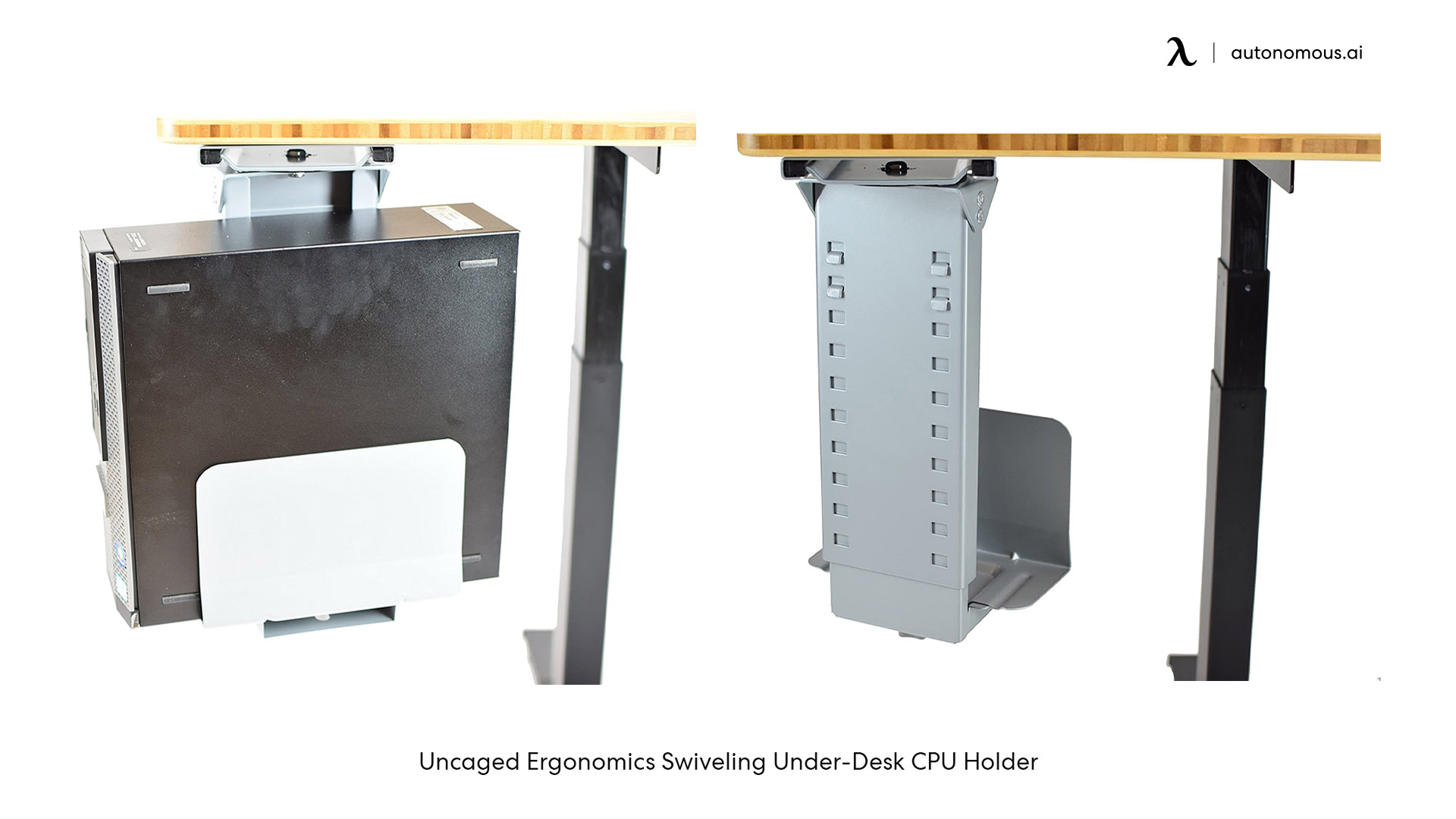 Get yourself a handy under desk computer bracket for decluttering your desktop and boosting your workspace's organization. The Uncaged Ergonomics CPU computer holder for desk does this like no other under desk PC mounts on the market. It allows you to get complete access to all the plugs on your CPU due to its 360-degree rotation. Moreover, it's completely adjustable, as it features a width range of 3.5 to 5.75 inches and a height range of 13 to 21 inches. 
The installation process is quite simple and can be done in no more than five minutes. Additionally, its metal constructions ensure long-term durability. 
11. StarTech Mini PC Thin Client Mount
This is a fantastic option if you want to elevate your CPU tower to prevent it from damaging. You can save up a fair amount of space and reduce all that annoying cable clutter you usually see in PC laptop setups. Its entirely adjustable mount has a width range from 0.7 to 2.8 inches, which is perfectly suitable for mini PCs like a Mac Mini or Intel NUC. 
Additionally, this under desk PC mount is as long-lasting as possible, and it supports up to 11 pounds of weight. It also has an adjustable strap and rubber pads for extra protection and preventing the device from moving. 
12. EleTab Under Desk Adjustable PC Mount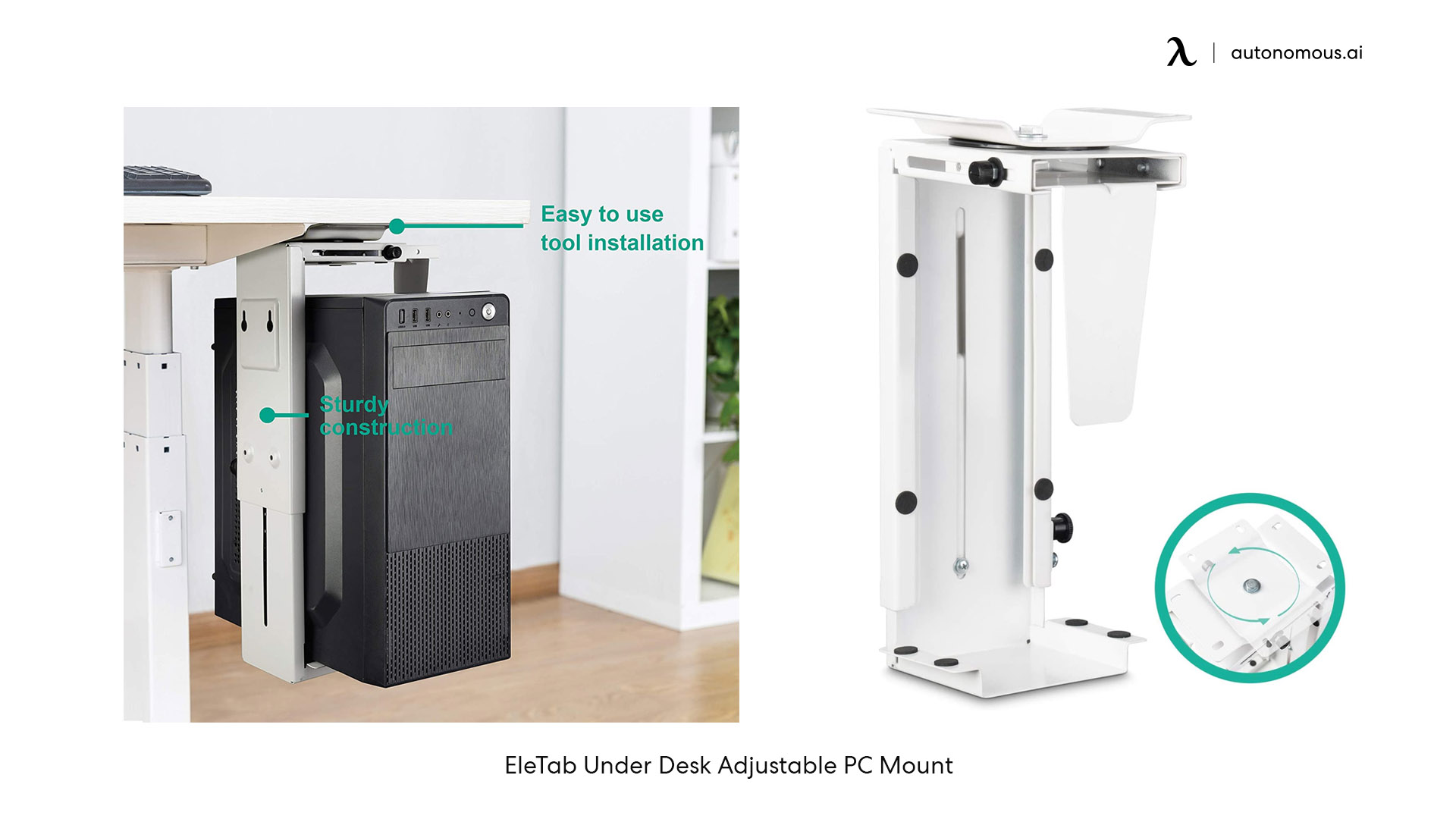 If you're looking for a universal fit, the EleTab mount is the one for you. It has up to five adjustable settings that vary from 14 to 22 inches for height and five to 10 inches for the width. 
You can easily free up some space off the ground, as this PC mount holds up to 66 pounds of weight without experiencing any unbalance. It even features padding dots for extra protection against spilling or scratches and a 360 degrees swivel for better accessibility. 
Bottom Line
The CPU holder is definitely a much more useful device than it may seem. Its principal function is to take care of the CPU by placing it off the floor and out of danger. It also provides greater comfort when sitting at the desk in front of the computer. 
Due to its great and varied benefits, many people have already decided to incorporate under desk computer brackets into their setups. If you are determined to give it a try, you can go to our catalog and take a look at all the different options we've got for you. Additionally, don't hesitate to check out our blog for more desk setup ideas.
Subcribe newsletter and get $100 OFF.
Receive product updates, special offers, ergo tips, and inspiration form our team.
WRITTEN BYAutonomous
We build office products to help you work smarter.