Smart Products
15 Best Chairs for Herniated Discs in 2023
5,870 Views
Herniated discs are more common than you would imagine, so everyone must do all they can to avoid suffering from that issue. This condition may even worsen if your job requires you to sit or stand for extended periods.  
Sometimes that's what makes you have herniated discs in the first place, but that doesn't mean you should quit your job or look for another one. Office workers can avoid all those issues if they use the right office equipment while working. Those items can also help you ease the pain in case you already have herniated discs.  
Ergonomic chairs are probably the best investment you can make if you have a herniated disc. However, you have to pick the right one if you want to enjoy those benefits. Read this page if you want to know the 15 best chairs for a herniated disc in 2022 and learn how to sit comfortably with herniated discs efficiently! 
What Does It Mean to Have a Herniated Disc?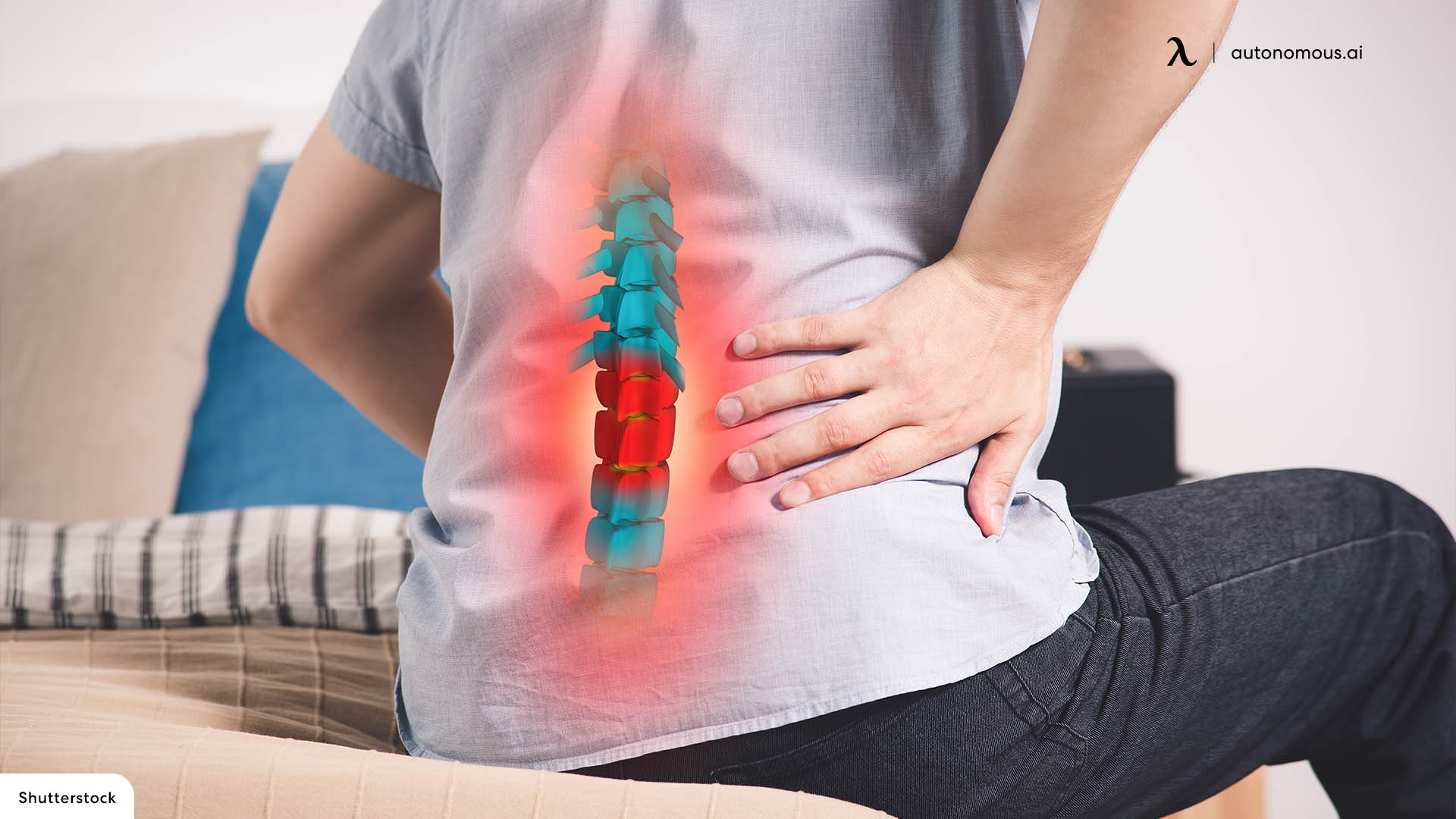 Herniated discs are a problem people can develop in their back discs after enduring a lot of physical pressure on their back. When that happens, your discs pass through an external rift to pile on a specific zone in your spinal cord. That causes back pain, neck pain, and some other issues with your arms and legs. 
However, it's important to know that not all symptoms develop in every herniated disc case. Some people experience considerable back and neck pain, others only have problems with their legs' blood flow, and some patients can even develop both. 
The wisest thing to do if you think you could have herniated discs is to make a doctor's appointment as soon as possible. Explain your situation and follow their instructions if you want to make the process easier for you. 
How Should I Sit If I Have a Herniated Disc?
People with herniated discs can't sit for extended periods, so they must work with standing desks. However, if they have to sit, they have to do it while resting their spine on the chair's back.  
Ergonomic chairs are meant to support your back, so they all have a lumbar support feature. Some chairs allow you to adjust where the lumbar support is. In case you were wondering: "Where should lumbar support be?" The quickest answer would be: In your spine's lumbar area, which is just above your waist.  
What Are the 15 Best Chairs for Herniated Discs in 2022?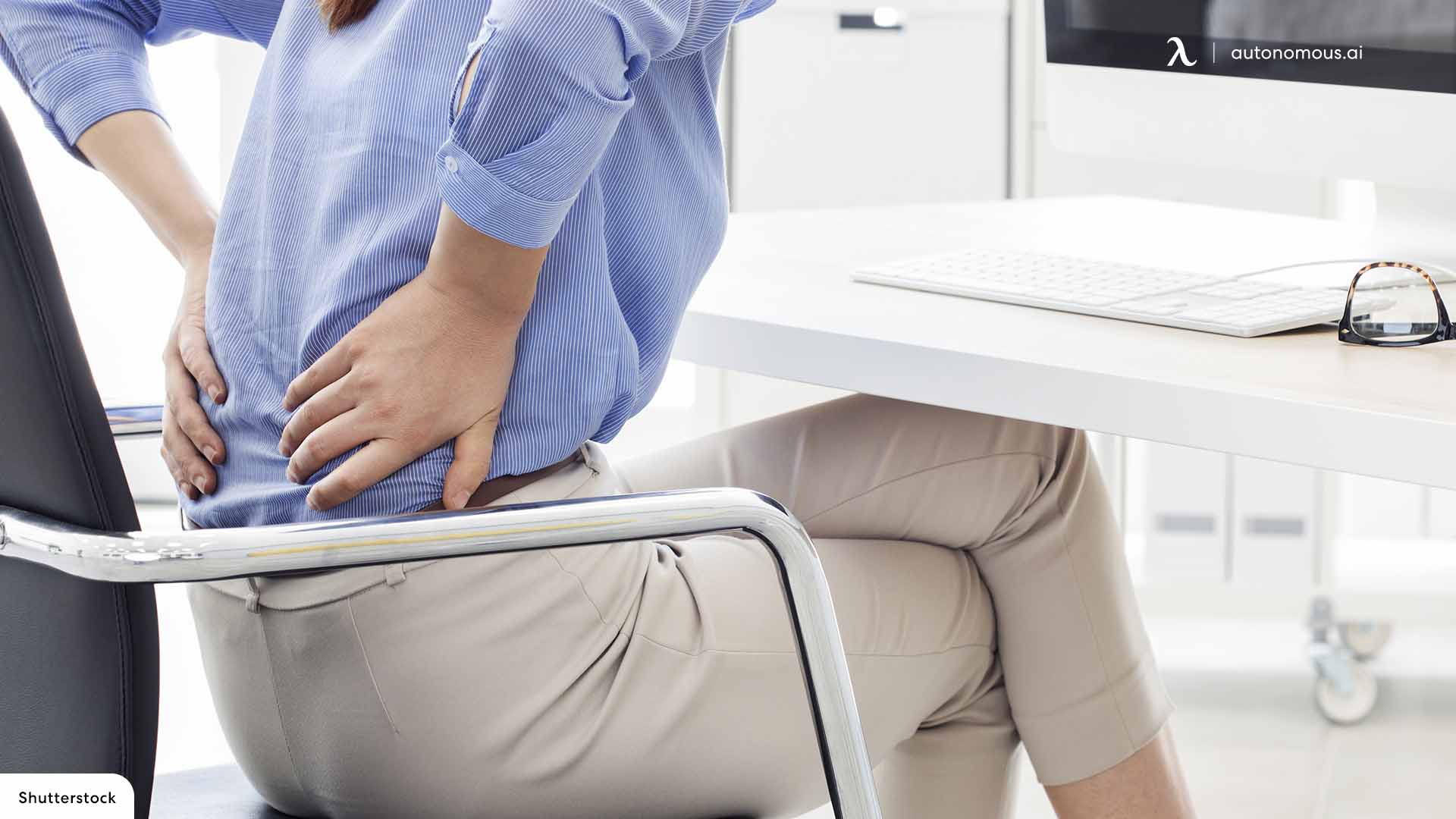 As we mentioned before, you need to get the best chair for herniated discs you can find if you want them to support your back and ease your back pain. Make sure to take a close look at our list of the best 15 chairs for herniated discs in 2022!  
1. Autonomous ErgoChair Recline
The Autonomous ErgoChair Recline is the overall best office chair for back pain you can find on the market. First, this chair feels even comfier than an average coach would due to its supportive foam seat; not to mention that you can adjust every feature this chair has, so if you invest some time in it, you can make it adapt to your body perfectly.  
What makes this best chair for herniated discs good for people with herniated discs is that its fishbone design mimics your spinal cord's natural curvature, so it offers the best lumbar support you can ask a chair to give you. 
2. Autonomous ErgoChair Plus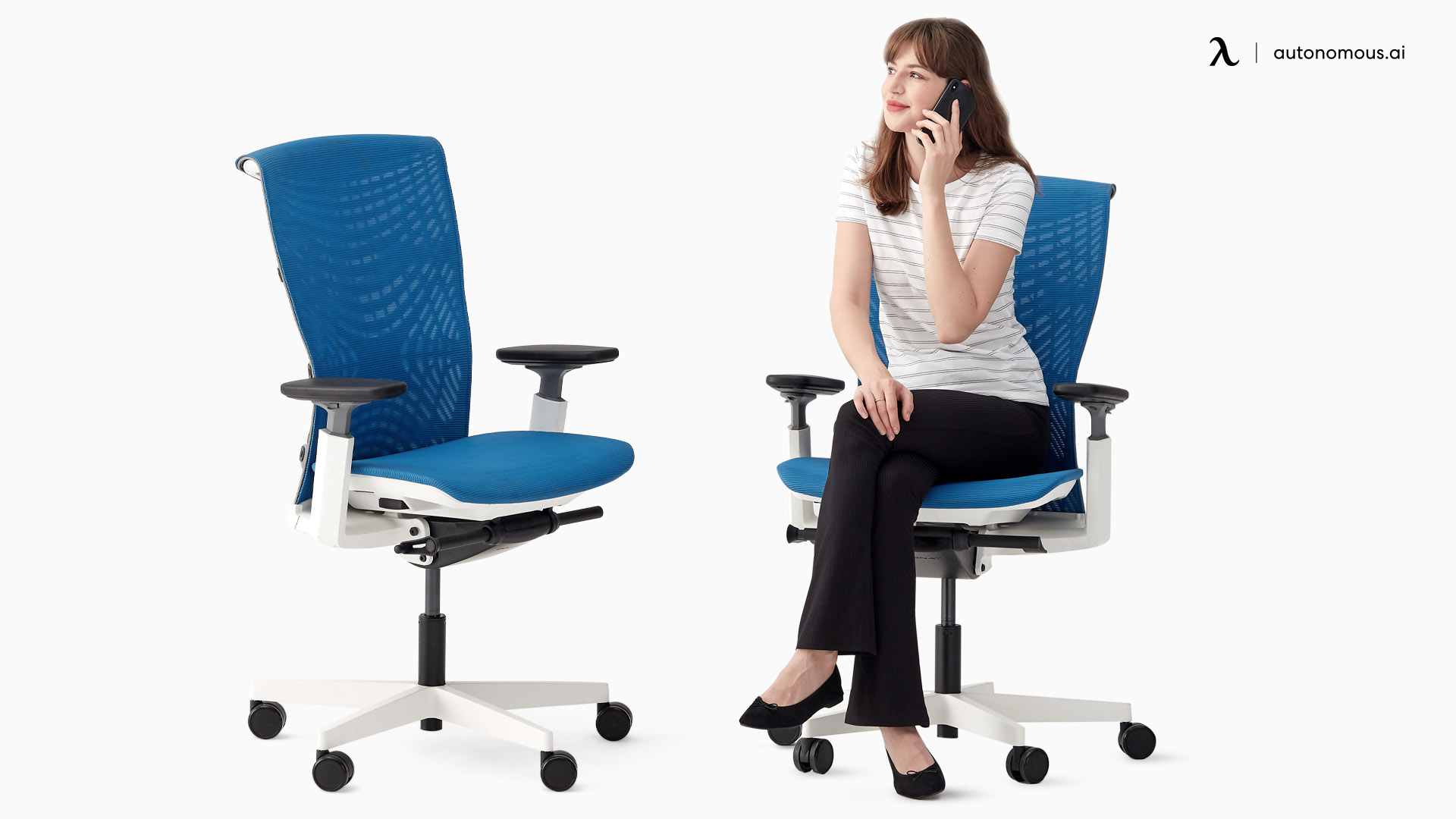 Many office workers consider this chair to be the most dynamic in the Autonomous stock because of how freely you can move while sitting on it. A decent ergonomic chair with back support should support your entire back as much as possible, and the Autonomous ErgoChair Plus takes that to the next level. 
Sitting on this chair encourages natural mobility and micromovements that help you release pressure from your body and feel more active at the end of the day. Apart from that, it has an adaptive spinal support feature that supports your back regardless of how you sit.  
3. Autonomous ErgoChair Pro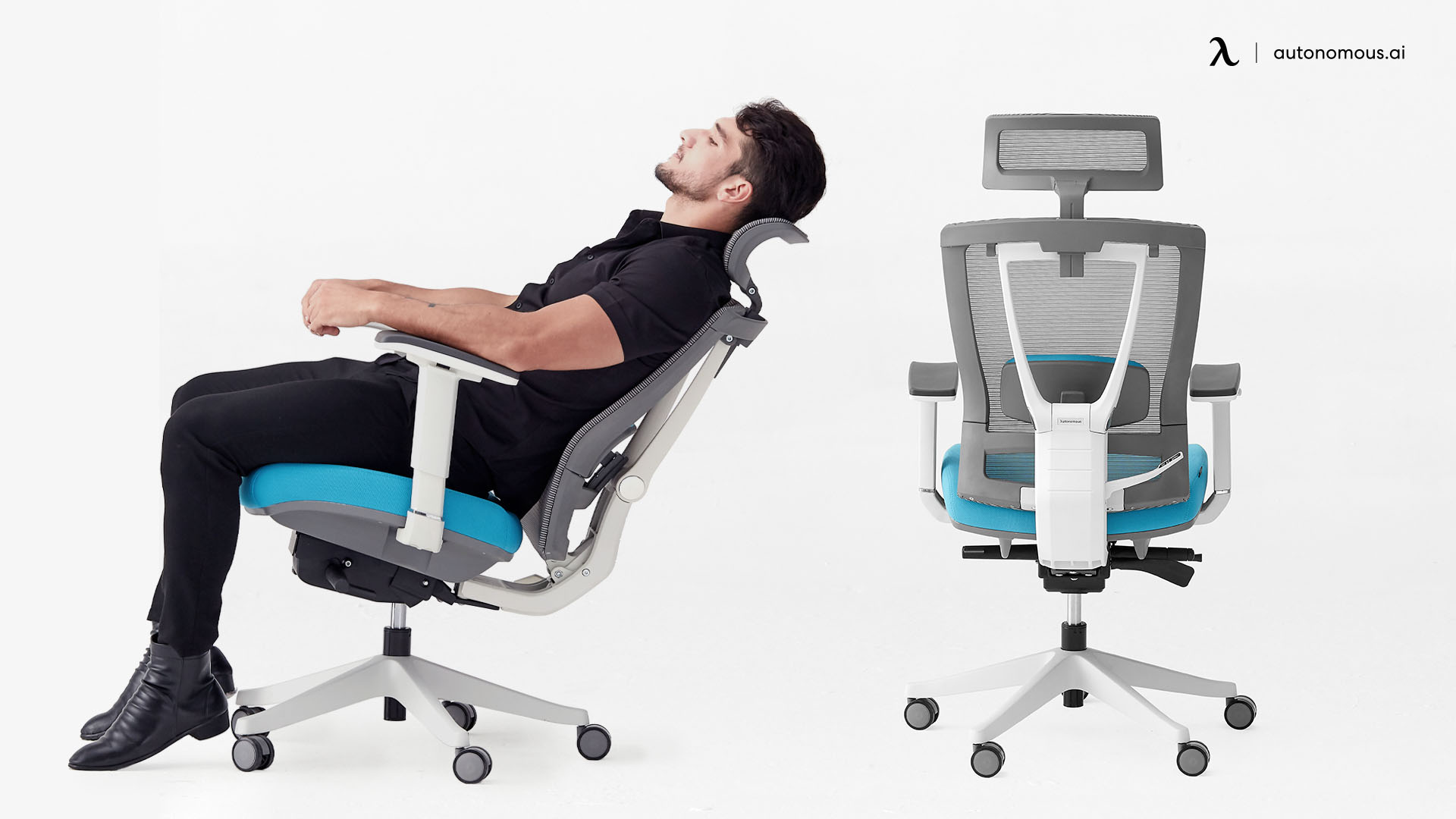 Although this is the last Autonomous product on this list, it's still one of the best ergonomic chairs on the market. At first, you can see it's available in a wide variety of colors, so you can pick the one that fits your office best.  
This best chair for herniated discs has all the good things the other Autonomous chairs on this list have: Full adjustability, full-body support, and a generous warranty! Additionally, the ErgoChair Pro has a woven mesh back that optimizes your back's breathability.  
4. Humanscale Freedom Task Swivel Chair
Although ergonomic chairs support all your back in the best way possible, some models focus on helping specific zones. More specifically, you have high-back chairs, mid-back chairs, and low-back chairs. 
The Humanscale Freedom Chair focuses on easing low-back pain, which makes it excellent if you want something that supports your spine's lumbar area. You can adjust its seat, arms, and neck support any time you want.  
5. Modway Articulate Mesh Chair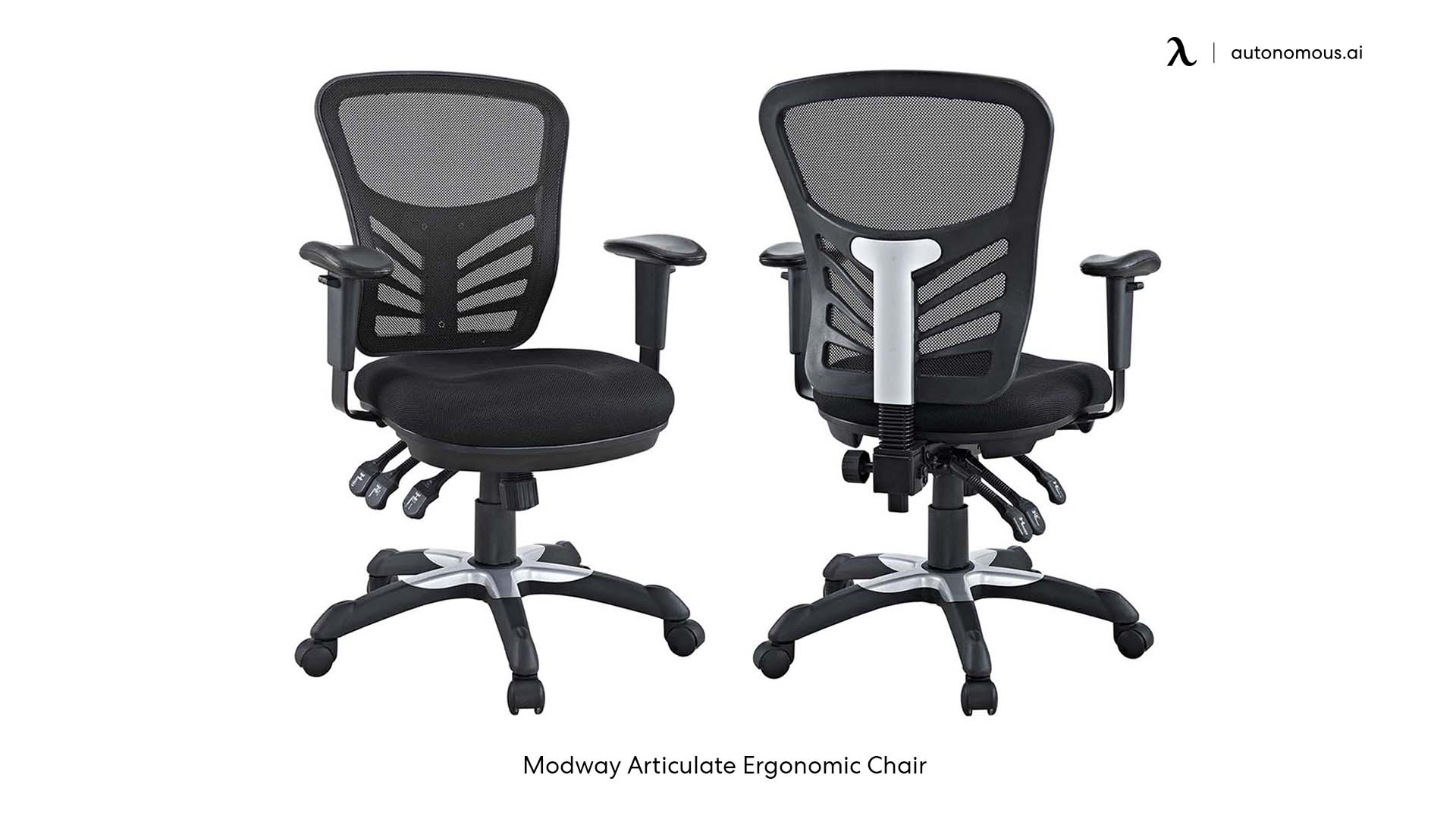 This is another best chair for herniated discs. Mesh chairs always give additional comfort to everyone who sits on them. Having chairs, such as the Modway Articulate Mesh Chair, that also allow you to adjust their height and armrest is a relief for people who need to work all day. This office chair for herniated disc is optimal for people with back pain since it alleviates it and corrects your sitting posture. 
Combining this back support office chair with a standing desk would double the benefits it gives you and doing it is not that difficult since you can adjust its height any time you want to.  
6. Herman Miller Aeron Chair
Herman Miller is one of the best ergonomic companies worldwide, but it's only issue is that its products are highly expensive. If you can afford it, the Herman Miller Aeron chair is a wonderful ergonomic chair with lumbar support. 
The Aeron chair aims to help you distribute the weight you have to hold throughout your body, and it does that by making you work in the best posture possible. It's "PostureFitSL" feature lets you adjust the chair's lumbar support, so you can also customize it to fit your taste.  
7. Herman Miller Mirra 2 Chair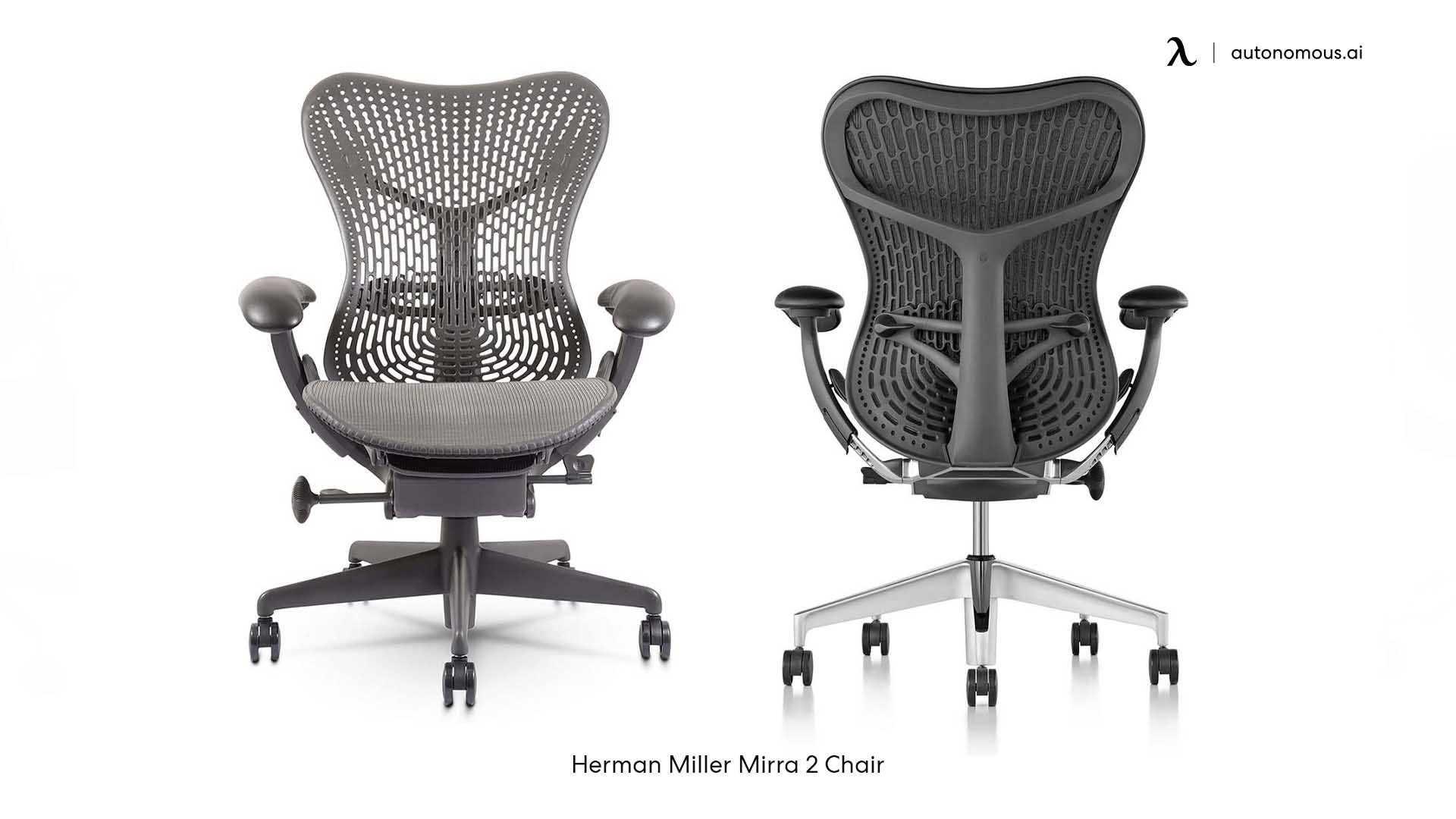 Following up with another Herman Miller chair, we have the Herman Miller Mirra 2. Each part of this product is meant to contribute to the overall support the chair gives you, and apart from that, it's as light and soft as a chair can be. 
This best chair for herniated discs adapts to the movements you make and the position you are in while working, so it's perfect if you are looking for an ergonomic chair for a herniated disc.  
8. Zipcode Mesh Chair
Every office worker in the world should be able to enjoy ergonomic chairs and standing desks; those products help them improve their productivity and avoid back and neck pain. However, since ergonomic items have more functions, they naturally have a higher price than others on the market. 
Fortunately, there are many budget-friendly alternatives for people who want to buy an ergonomic office chair for herniated discs but can't spend too much money on it. The Zipcode Mesh chair is an example of that. However, keep in mind that the fact that it's affordable doesn't make it a bad product. This item has all the essential features an ergonomic chair needs to help you. 
9. Tempur-Pedic TP9000 Mesh Chair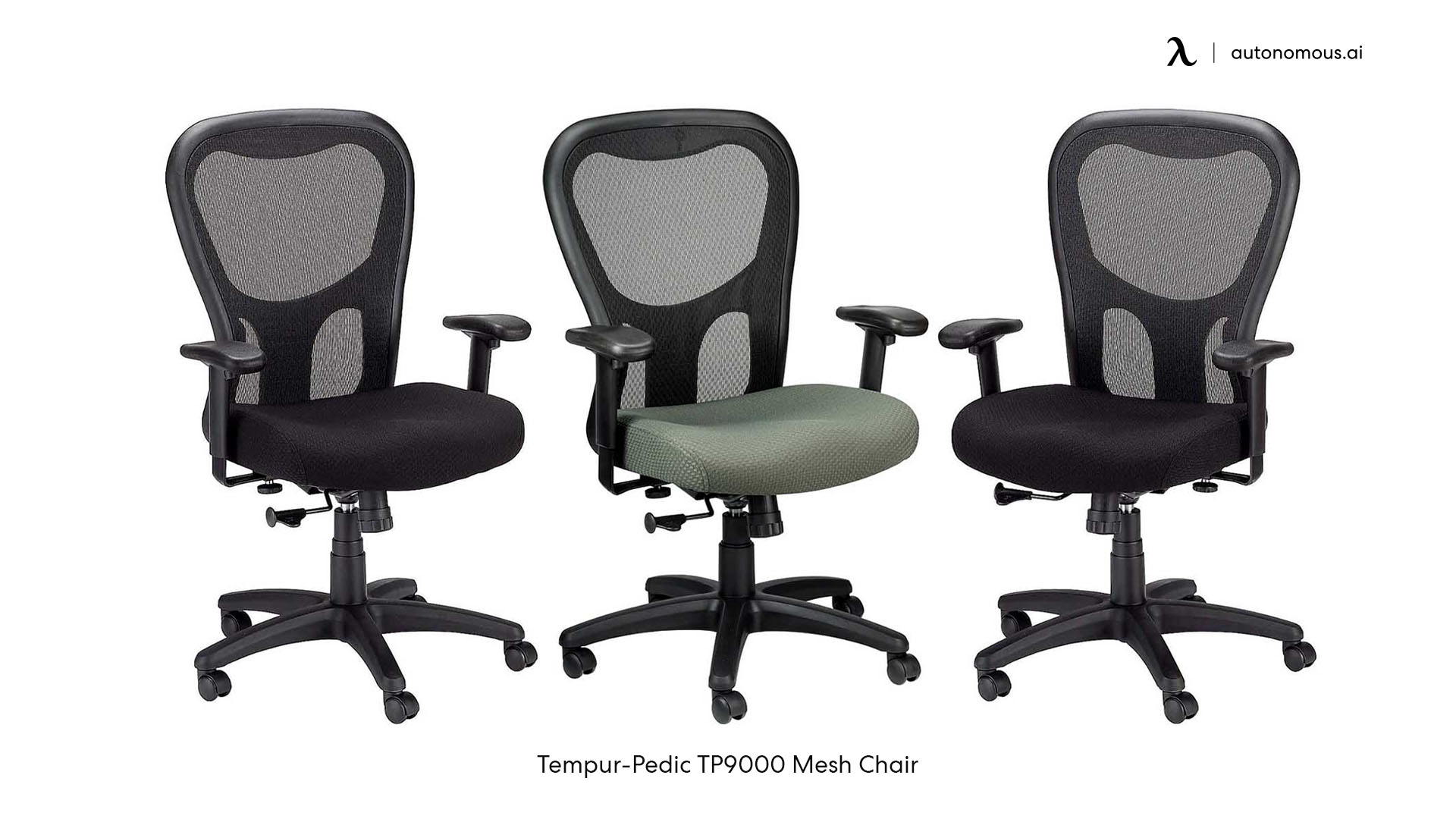 When someone suffers from a herniated disc, most people tell them they can't sit for extended periods. Doing it could trigger back pain or worsen the situation. However, that only applies if you don't use the right products. 
Chairs such as the Tempur-Pedic TP9000 chair not only offer you lumbar support but also let you sit all the time you need without suffering any consequences. 
10. Steelcase Series 1
This is one of the best chairs for herniated discs in the market. While some chairs focus on offering an appealing design, full adjustability, or top-notch lumbar support, the Steelcase Series 1 gives you all three, and it does it excellently. 
You don't need to worry about your back support office chair being uncomfortable while working, and taking that into account, Steelcase integrated a LiveBack technology into this chair that makes it adapt to any movement you make in the most natural way possible.  
11. Tivoca Ergonomic Chair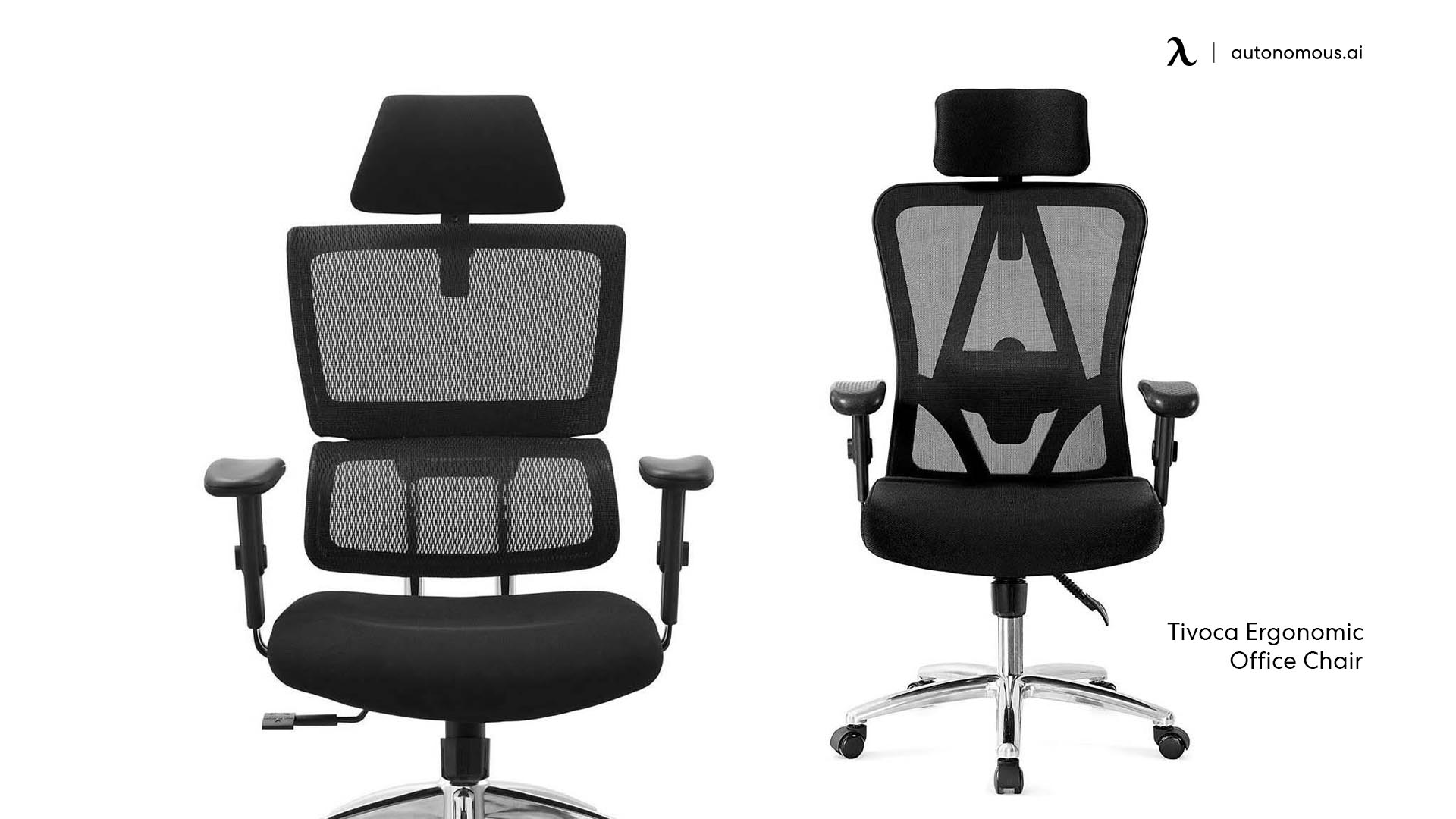 Brands like Autonomous, Herman Miller, or Humanscale are popular among office workers, so most people get their office products from them. Products like the Tivoca Chair, which, despite not being that mainstream, have a decent lumbar support feature that is ideal for people with herniated discs or office workers who want to correct their posture. 
Posture correction is one of the most important features an ergonomic chair can have. The reason for that is that it's scarily easy to get a bad posture while you walk or sit on traditional chairs. That could make you develop back and neck pain, so it's best to use a posture correction chair, like the Tivoca model, to address that issue. 
12. Gabrylly Mesh Chair
If you like assembling and customizing your chairs yourself, then you should consider buying the Gabrylly Mesh Chair. This office chair for herniated discs lets you make it perfect for you from the very beginning since you have to assemble it and adjust all its features before sitting on it.  
The only problem with that is that many people find assembling their chairs a nuisance. Although you should pick another model if that's an issue for you, we assure you taking some time to customize your ergonomic chair is worth it in the long run.  
13. La-Z-Boy Trafford Ergonomic Chair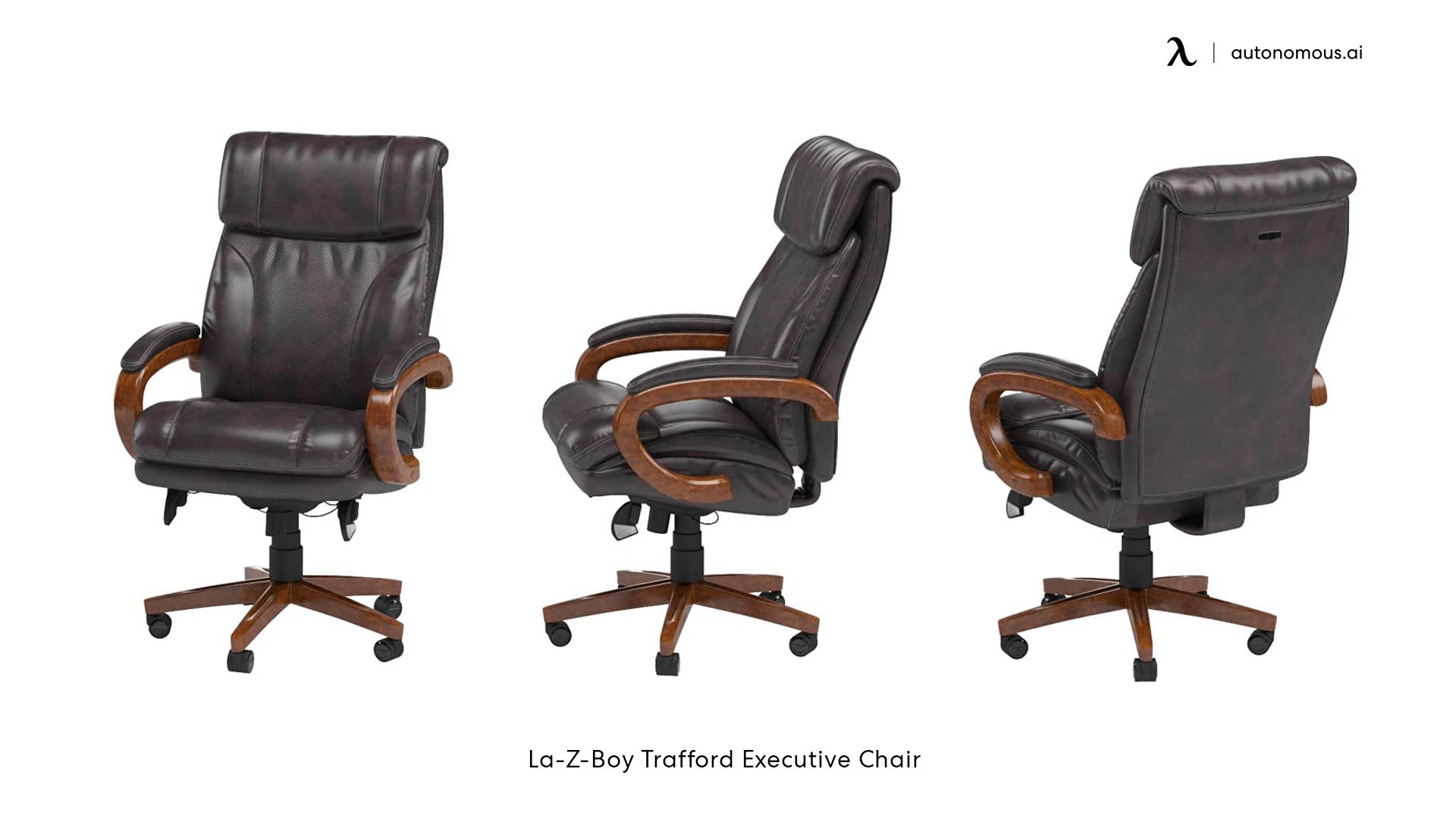 Old school executive chairs have always had a stylish and sophisticated design, but they still lacked the ergonomic features you need to ease herniated discs. Fortunately, some models, such as the La-Z-Boy Trafford chair, give you an appealing design and the essential functions every ergonomic office chair needs. 
This ergonomic chair for herniated discs can easily handle 500 pounds of weight, so you don't need to worry about weight support at all. The Trafford best chair for herniated disc also has a memory foam that gives you a more comfortable sitting experience than other chairs.  
14. Steelcase Gesture Ergonomic Chair
Many people get scared when buying chairs or desks because they think their bodies might not fit in them, but this doesn't happen when you buy an ergonomic chair. The Steelcase Gesture chair is an example of that since it's an office chair for herniated discs that automatically adjusts to your body position and mimics your spine's natural curvature.  
15. Herman Miller Cosm Chair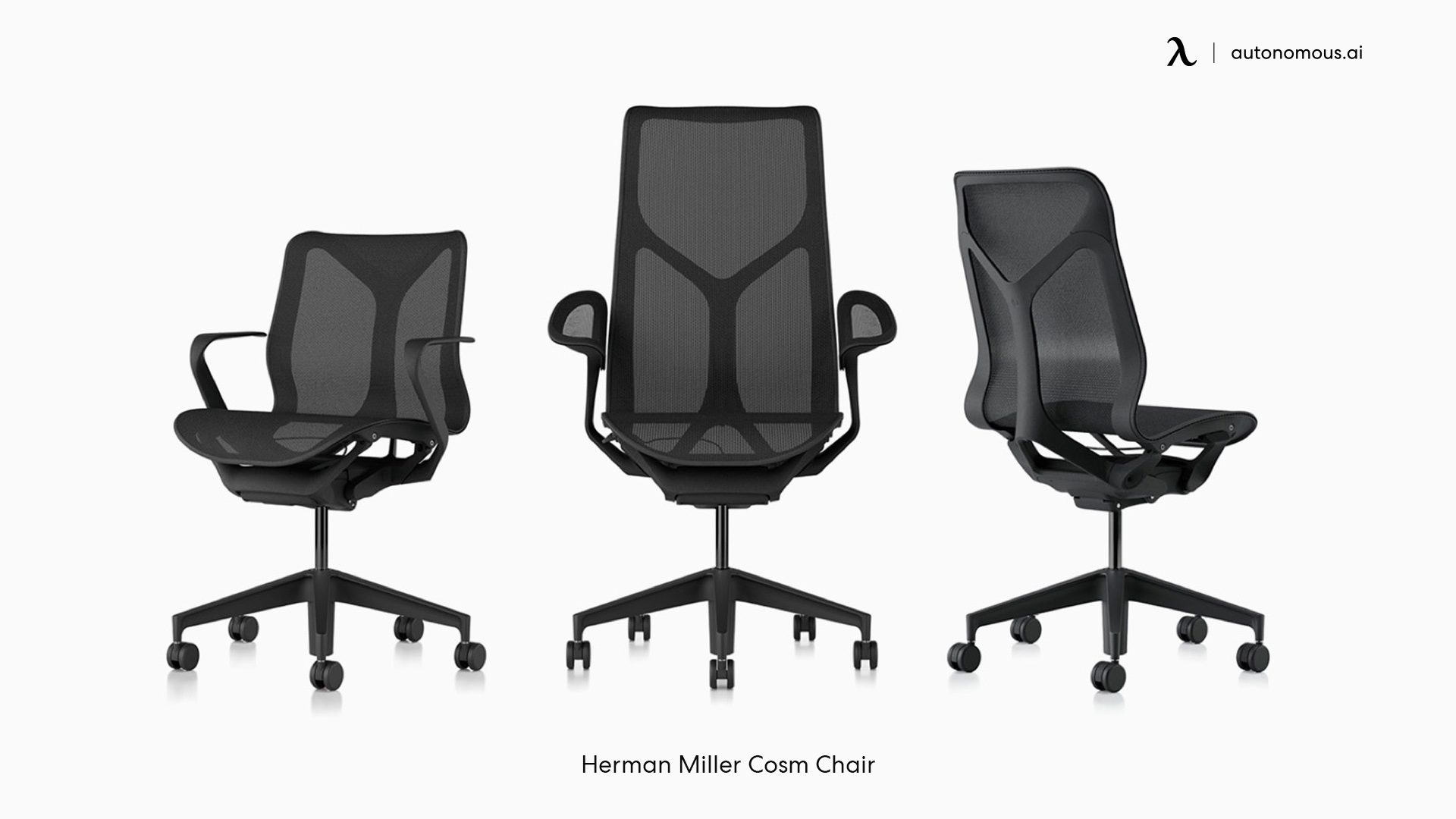 The last chair on this list is a Herman Miller chair; specifically, the Herman Miller Cosm Chair. This product is available in six different colors, so aesthetics is not a problem with it. Herman Miller fans state that sitting on this ergonomic chair for herniated discs makes them feel lighter due to its Harmonic inclination feature and Intercept suspension. 
Although this chair has more features, the two we just mentioned are a great mix that gives you off-the-charts back support. Apart from that, this office chair for herniated discs offers full adjustability of most of its features, so you can spend all the time you want trying out which configuration you like best for your back support office chair. 
Bottom Line
Unlike what many think, there are many options of the best chair for herniated discs for people suffering from pain. Having this condition doesn't have to keep you or anyone from working or going through their everyday life.  
You should get ergonomic chairs even if you don't suffer from that problem, though. Sitting on those back support office chairs gives you endless benefits, so don't miss out on the opportunity to try one. Remember you don't have to spend all your money on an ergonomic chair since there are many budget-friendly alternatives on the market. 
However, there's also no need to spend hours looking on the internet to see which chairs have the best lumbar support. We have it all for you! Pick any of the back support office chairs listed on this page and see how your back pain gets better each day.
Subcribe newsletter and get $100 OFF.
Receive product updates, special offers, ergo tips, and inspiration form our team.
WRITTEN BYAutonomous
We build office products to help you work smarter.