Smart Products
15 Best Ergonomic Saddle Chair for your children's Active Sitting
7,014 Views
A saddle chair is a seat designed to be similar to a horse's saddle, while an ergonomic version is one where several features can be adjusted, such as height, depth, and angle. These sorts of seats are used in a variety of homes and even professions such as dentistry! Naturally, there are several health benefits associated with using an ergonomic chair, including the saddle chair. Some of these benefits can include: reduced neck pain reduced back pain, and more proper blood flow throughout the body. It's easier than ever to get an ergonomic saddle chair for studying in today's day and age! However, it's advisable to figure out which ones are worth purchasing through a list that includes several pros and cons for simplification.
1. ErgoStool - Best Ergonomic Saddle Chair
Active sitting for students has never been more comfortable than with the ErgoStool. While designed for office use, this stool has a saddle-esque design that can make a person feel quite like an equestrian! It is deceptively sturdy for an adjustable seat, allowing it to support heavier frames compared to its competition. Not only that, but there are several colors to choose from to complement different locales. Given its lightweight design, it's easy to move around and about and still feel good thanks to the aforementioned sturdiness. The height can be adjusted up to ten inches, making it suitable for most workplaces and homes.
ErgoStool
Supports up to 264 lbs.
Affordable price.
Some good color variety.
2-year warranty.
Adjustable up to ten inches.
Can tilt around without worry.
Can be a tad simplistic.
Requires assembly, albeit it is easy to do so.
2. ErgoChair Pro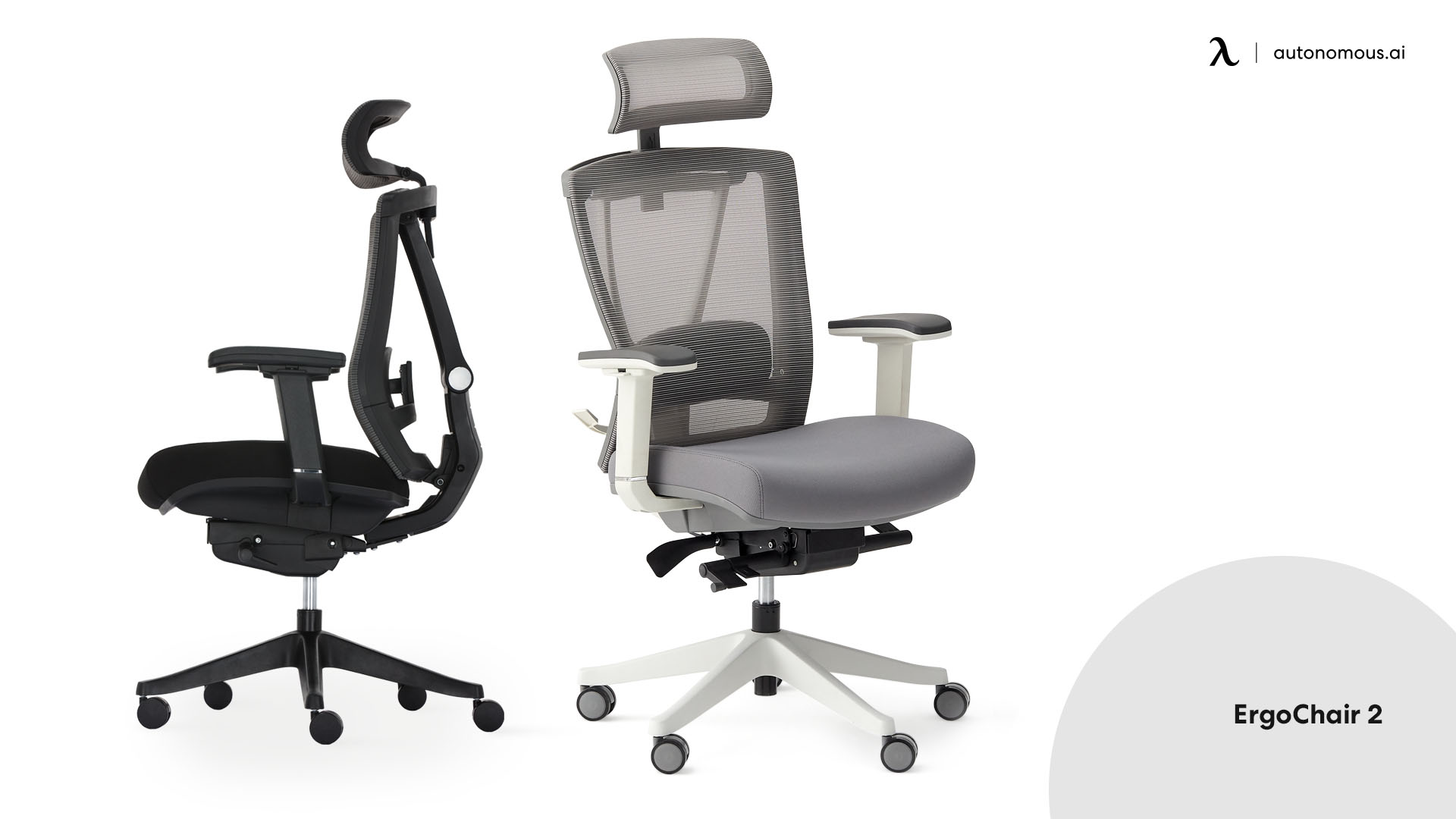 Autonomous.ai has several wonderful ergonomic chairs that can entertain kids who need an ergonomic saddle chair to study. Although the ErgoChair Pro doesn't have a saddle design, it is nonetheless one of the best for its ergonomic design. It has more adjustability than any other item on this list, so if a parent is interested in a healthy yet comfortable seat for their children, then the ErgoChair Pro is a must-have for their home. The best chair for lower back pain ErgoChair Pro can also work as a chair for the stay-at-home parents who need to take care of their children as they study for college.
ErgoChair Pro
A plethora of customization and adjustability options.
2-year warranty.
Tilt range is up to 20 inches.
Comfortable for studying at a desk while supporting the back.
Is pleasing to look at.
Mesh design limits overheating, thus maintaining more consistent energy.
Not a true saddle design.
Requires assembly, albeit it is easy to do so.
3. FRNIAMC Adjustable Saddle Stool
Although this stool looks rather dull, it is nonetheless a fantastic choice for somebody looking for a saddle stool. Ergonomic seats tend to favor height adjustments, and the FRNIAMC Adjustable Saddle Stool is no different! Its height can be adjusted up to 9.5 inches, making it slightly higher than the Capisco Chair, yet lower than the ErgoStool. The best aspect regarding this chair is its ability to hold up to 450 lbs!
FRNIAMC Adjustable Saddle Stool
Can hold up to 450 lbs.
Good for healthy sitting.
Comfortable for long sessions.
Leather is finely made.
Not the most aesthetically pleasing.
Back is held by pressure; sadly, there is no lock system.
Top-heavy design makes it tip easily.
4. Master Massage Swivel Saddle
True to a more classic saddle design, the Master Massage Swivel Saddle combines aspects of a rolling swivel chair with a saddle chair. The result is a comfortable, albeit plain saddle chair that is easy to use for general office work. There are many benefits associated with sitting down, so it's nice to have a reliable saddle that can support a whopping 550 lbs. Unfortunately, only the height is adjustable for this saddle seat chair, which can leave a lot to be desired for those seeking an ergonomic saddle chair for multi-use functionality.
Master Massage Swivel Saddle
Holds up to 550 lbs.
Affordable price.
High Amazon ratings.
Comfortable for long sessions.
Limited adjustability.
Quality is a little lackluster.
Not ideal for skinny people.
5. Capisco Saddle Desk Chair
This Capisco chair is an eco-friendly option for those concerned about the environment. It's made out of 50% recycled material. 90% of the overall chair can be used in some form of recycling. This chair's height can be adjusted up to 9 inches, so its ergonomic design is well appreciated for chair enthusiasts. All of the adjustable features include height, depth, back height, and the back tilt of the chair. Considering all of this, the Capisco chair is a good option for those with a lot of money to spend.
Capisco Saddle Desk Chair
Works great with tall people.
Solid base.
Good back support.
Good quality materials.
Insanely expensive.
Not comfortable for long sessions.
Not ideal for short people.
6. Master Massage Split Seat Style
Unlike Master Massage's previous entry, this seat focuses more on two tilting options for extra adjustability. As a result, it is more expensive. However, this ergonomic saddle chair is a good option for people suffering from back pain. Students tend to slouch around a lot, so having a reliable chair like this one can ease or prevent specific back issues from developing within them. It is worthwhile for its adjustability, as there are several tilt and height adjustment options regarding its strange split seat style.
Master Massage Split Seat Style
Suitable for those who suffer from lower back pain.
Useful for those with a wide frame.
Moves around easily.
Good adjustability options.
Design can be awkward and cumbersome to use for somebody sizes.
Mediocre durability.
Not the most comfortable.
7. Safco Twixt Saddle Seat Stool
This saddle seat chair may be insanely plain looking, but students should love it for its sheer simplicity. Sometimes, it's better to have a simple design than one overly complicated. After all, they need to spend more time studying than messing around with controls on a saddle stool! Children are expected to spend hours each week working on some assignments, so it's great to have a saddle stool that can reliably keep them busy without hurting their body or their brain. Its bottom design makes it not so top-heavy, allowing the user to tilt as they please.
Safco Twixt Saddle Seat Stool
Comfortable and great for posture.
Affordable price.
Won't harm hardwood flooring.
Easy to use, so children can spend more time studying.
Requires assembly, albeit it is easy to do so.
Not the most aesthetically pleasing.
8. Coolu Saddle Stool
While nearly 8 inches of height adjustment may not seem impressive, children should still be able to use the Coolu Saddle Stool for general schoolwork. Its 360-degree swivel design makes maneuvering around it easy, especially as students tend to move about from one location to another. The wheels on the bottom also assist in its convenience.
Coolu Saddle Stool
Nylon Dual Casters gives it some good stability.
Affordable price.
Space in-between the cushion lets air flow more naturally.
No tools required for assembly.
Small height adjustment.
The seat can be hard to sit on for hours.
Craftsmanship isn't ideal for prolonged use.
9. Kaleurrier Saddle Stool
This stool is terrific for kids and adults who need some color variation in their life. Most seats tend to only come in a black or brown variation, limiting the overall decor that can complement it in a home. However, this stool comes in four delectable choices and can be used for heavy-duty work. This aspect makes it perfect for families that need chairs that can do more than just studying.
Kaleurrier Saddle Stool
High average rating.
Affordable price.
Great for prolonged study sessions.
Although the chair is big, it is surprisingly comfy.
Multiple coloring options.
Its white design makes messes and stains more noticeable.
Packaging tends to be rushed.
Base isn't the most sturdy.
10. Norwood Commercial Stool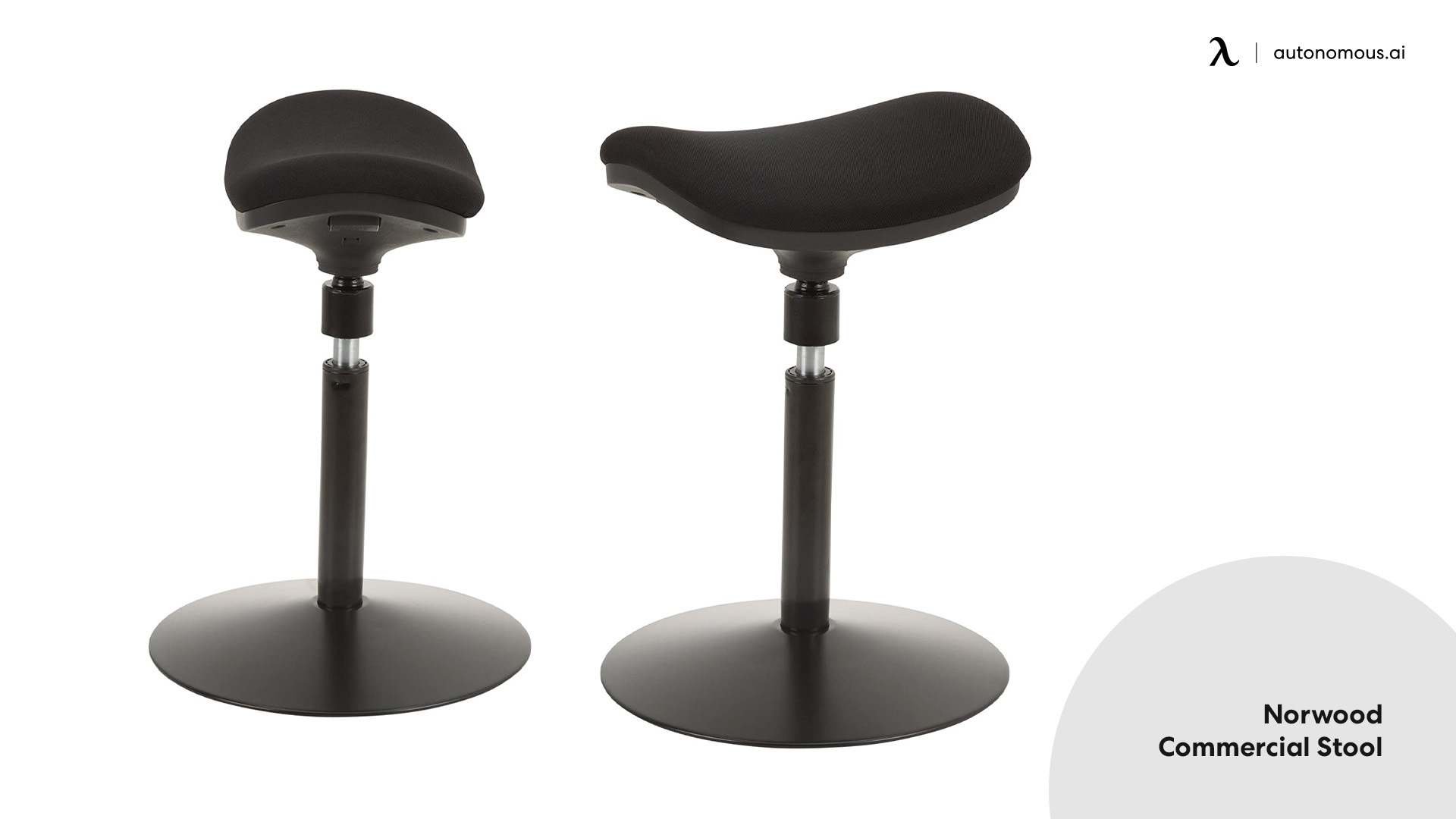 Ergonomic stools have several uses, but there are many benefits to active sitting that some people are not aware of. Similarly, the Norwood can help a person out with their various ergonomic stool needs. It isn't the most customizable nor adjustable, but its height can be adjusted almost six inches. This may seem small, but even the smallest of improvements can make a child's life more proactive.
Norwood Commercial Stool
Light, hence easy to move around.
Easy to sit down on.
Can rotate around 360-degrees quite easily.
A measly six inches is all one can get out of height adjustment.
Lack of other adjustable or customizable features.
11. Geboor Hydraulic Saddle Stool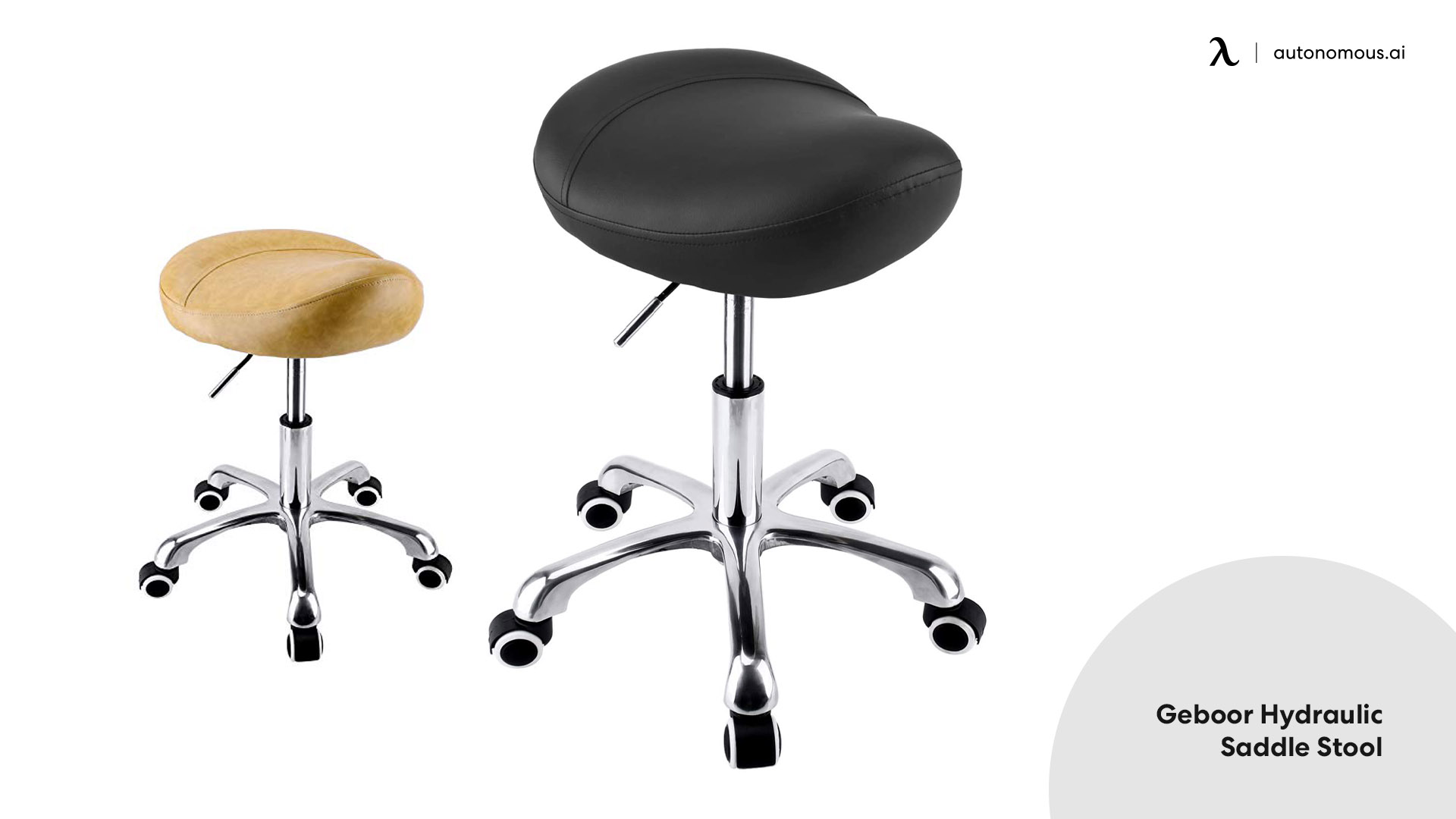 This seat is another ergonomic saddle chair designed with simplicity in mind. It's among the cheapest options on this guide, so it's ideal for families tight on a budget! Geboor made a thick seat, so its comfort levels are lovely for a saddle stool. One of the most common complaints regarding saddle stools is the lack of initial comfort upon sitting on one. Fortunately, this stool does not suffer from that fate. Instead, it excels as an option for families in need of an ergonomic saddle chair.
Geboor Hydraulic Saddle Stool
An Amazon's Choice item.
Very sturdy base.
Comfortable to sit on.
High Amazon ratings.
Very affordable price.
Lack of other adjustable or customizable features.
Can a bit plain to look at.
12. Saloniture Ergonomic Saddle Stool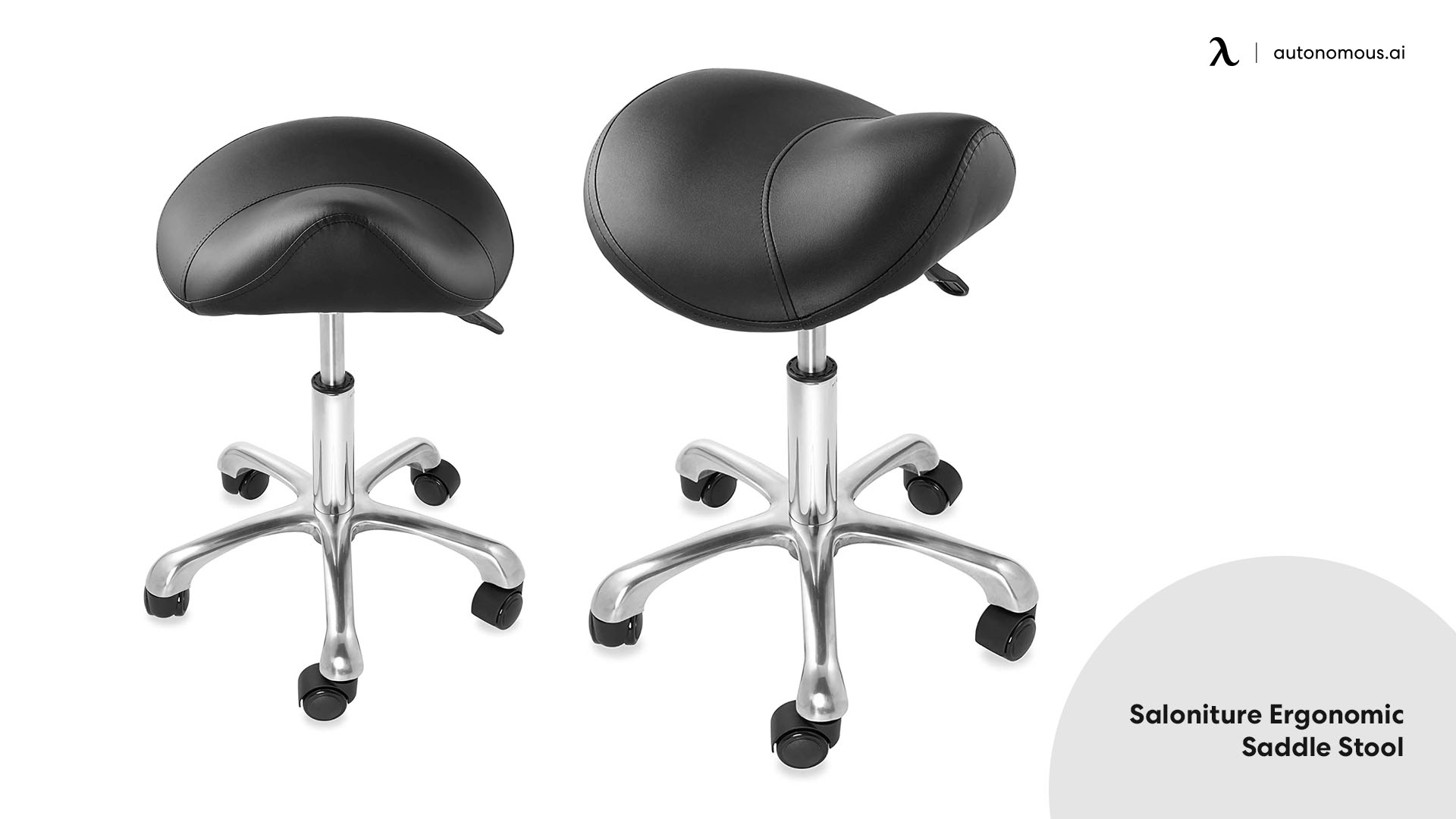 Another budget ergonomic saddle chair on this guide, it's an alternative to Geboor's saddle chair. It's not as functional or useful, but it is slightly cheaper. Still, a cheap ergonomic chair can help people out as a transitional chair until they can afford a better one. One notable thing regarding this saddle office chair is that it works great for wider frames, but skinnier people can still use it comfortably. Its high-density foam makes it ideal for long sessions, once a person gets used to it.
Saloniture Ergonomic Saddle Stool
Very affordable price.
Several color options.
Strong, sturdy support.
Can be used for tasks other than studying.
High-density foam is comfortable to sit on.
Meager padding.
Takes a while to get used to.
Can easily tip the wrong way.
13. 2xhome Ergonomic Saddle Chair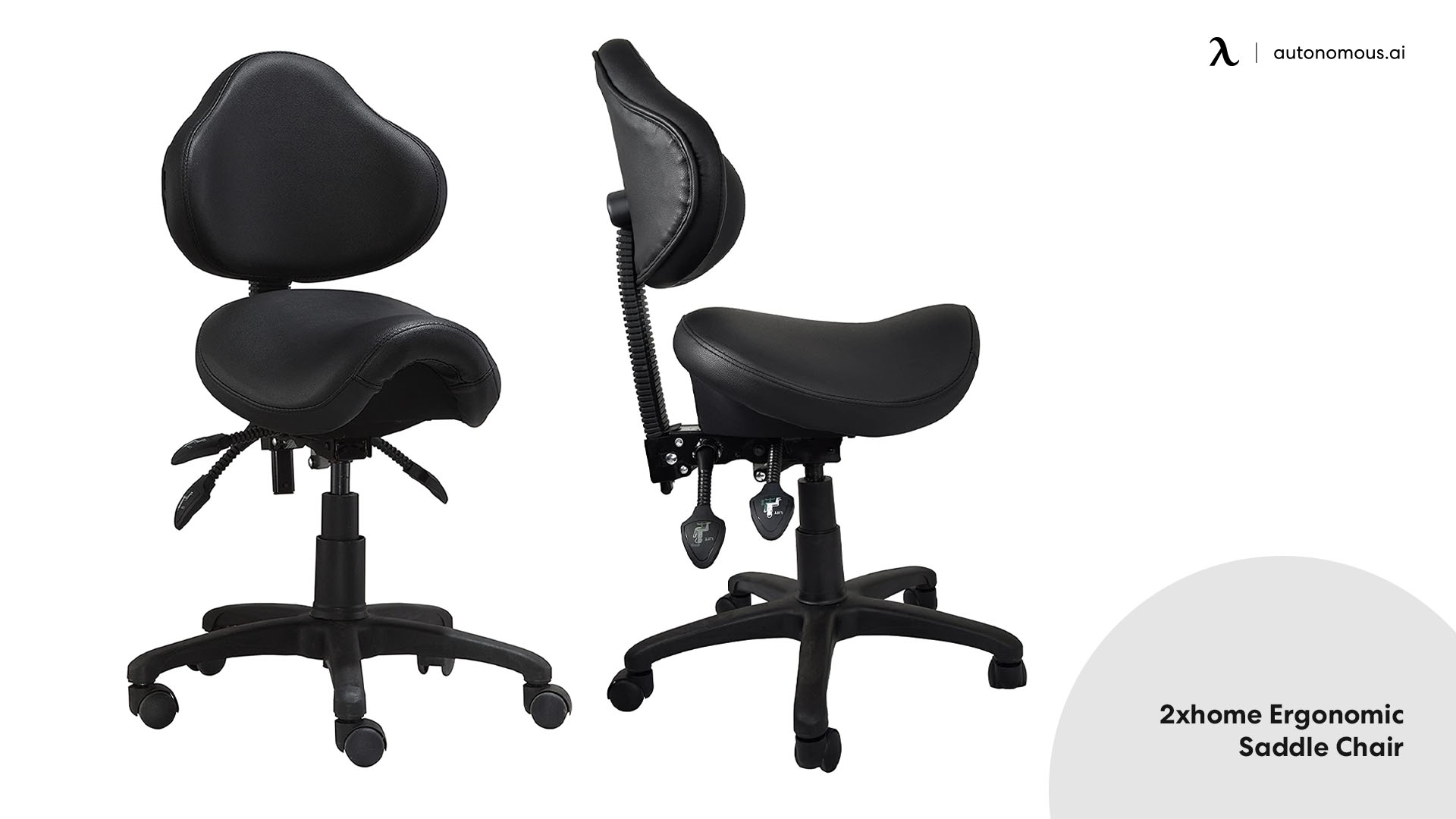 2xhome's ergonomic chair is another candidate for the best ergonomic saddle chairs guide. One crucial distinction this chair offers compared to other chairs is the ability to order it with or without the backing. The back makes it similar to an inferior ErgoChair Pro, which is still a good quality trait to have considering the ErgoChair Pro's usefulness. Without the backing, it resembles a stool.
2xhome Ergonomic Saddle Chair
Comes in two variations: one with a back and one without.
Can tilt both forward and backward.
A good amount of padding for a saddle stool.
A little more costly compared to other items.
Wheels can be a bit wobbly.
Not comfortable.
14. Humantool Portable Saddle Chair
This saddle seat chair is a strange option on this list. However, students in university should appreciate the mobility this chair can offer to them. Hence, one can bring it to the library relatively easily or move it around the dorm or home without much effort. Humantool's Portable Saddle Chair is innovative, yet it does have a few quirks in need of fleshing out before being considered compared to other options like the ErgoChair Pro or the ErgoStool.
Humantool Portable Saddle Chair
Designed with mobility in mind.
Has the option to include expert assembly.
Simple yet comfortable design.
Designed to alleviate back pain.
Can flatten after prolonged use.
Can be uncomfortable to sit in for extended periods of time.
Not ideal for tailbone pain.
15. Easy Life Saddle Stool
As the final item on this 2022 guide for the Best Ergonomic Saddle Chair for Children's Active Sitting, the Easy Life Saddle Stool is a simple saddle stool that is very similar to Geboor's Hydraulic Saddle Stool. There is not much to say about it, other than it's slightly more expensive than Geboor's option, yet not as effective. Nonetheless, any student can enjoy this option for general study sessions.
Easy Life Saddle Stool
An Amazon's Choice item.
Comfortable to sit on.
High Amazon ratings.
Affordable price.
Lack of other adjustable or customizable features.
Can a bit plain to look at.
Conclusion
For general office use and study sessions, the ErgoStool is the overall recommended saddle chair for its outstanding ergonomic design, simplicity in use, and a delightful 2-year warranty. The ErgoStool contains a great aesthetic look, a strong base, and can tilt around comfortably. Compared to its competition, the ErgoStool is innovative and reliable for ergonomic saddle stool options!
Its flaws are easy to overlook, for sometimes, simplicity is bliss! Plus, the assembly time should only take a person about 10 to 30 minutes, so a student can get straight to work upon receiving one. Check out for more ergonomic office chairs at Autonomous.ai right away.
Keep up with Autonomous news
Stay informed, stay inspired with our new blogs.
WRITTEN BYAutonomous
We build office products to help you work smarter.