2023 has just started, and your hopes for the current year must be high. We are sure you will have made some resolutions and plans for your workout sessions this year. One thing you must be aware of is that you will need a set of useful workout accessories to ensure you get the most out of your exercise plan.
If you plan to set up a home gym, you must equip yourself with the best home workout accessories and gym equipment. We understand that selecting the best workout accessories is a tough job for you, especially while deciding which ones are the workout accessories for him and which ones for her.
We understand your situation very well; that's why we have made a list of the best workout accessories for her and him separately in this blog. These accessories will help you plan your dream workout routine and assist you in achieving your desired physique. 
Men's Workout Accessories
Here we have compiled a list of some men's workout accessories, but you will notice that women can also use some of them with variations. 
1. Water Bottle
The very first accessory that you must get is a water bottle. You know that staying hydrated is crucial for any workout, so make sure you have a water bottle. A good water bottle should be made of durable, leak-proof materials and have a wide mouth for easy drinking.
If you ask us, we'd recommend a DYLN water bottle. Featuring a patented diffuser system, this alkaline water bottle provides you with safe and tasty drinking water whenever you need it.
Dimensions
ϕ 3.7" x 11" H x 1.53 lbs
Color
Blue / Black / Pearl / Aqua Teal / Galaxy Blue / Living Coral
Materials
Food-grade 304 stainless steel
Surgical-grade 316 interior
VitaBead components
Magnesium
Tourmaline
Zinc
Silica
Volume
1.2L (2.5 lbs)
Warranty
Lifetime
2. Stationary Bike
A small cardio session is a must in any cardio, so you may think of investing in a stationary bike. If you are someone who is planning to do their workouts in their home office, you may think of getting a bike desk. A bike desk will help you stay active even during the time when you are working on your office tasks and keep you more productive.
| | |
| --- | --- |
| Dimensions | 47"L x 31"W x 41"H x 88.2 lbs |
| Desktop surface | Durable Cherry-Grain Laminate |
| Desktop materials | 3/4" Thick HD Composite Board |
| Pedals | Oversized; Bi-Directional (Forward/Backward Pedaling) |
| Weight capacity | 300 lbs |
| Seat adjustment | 7" (11 positions) Fits Users Ranging In Heights From 5'0" to 6'6" |
| Warranty | 10 years |
3. Headphones
What's a workout session without music? Dull and boring, right? Music can be a great motivator when working out, so invest in a good pair of headphones. It will be better if you get workout headphones that are comfortable, have good sound quality, and are sweat-resistant.  
| | |
| --- | --- |
| Signal range | 33 feet / 10 m |
| Battery | 620 mAh |
| Playtime | 35 hours |
| Charging time | 3 hours |
| Colors | Black with White Logo, Black with Black Logo |
| Functions | ANC, Voice Assistants |
| Warranty | 1 year |
4. Indoor Rowing Machine
An indoor rowing machine is a great addition to a home gym as it provides a full-body workout, targeting your arms, legs, back and core muscles. So, we suggest you must get one for your home gym this year. Rowing machines usually have adjustable resistance, which allows you to increase the intensity of your workout as you get stronger, and come with multiple workout options. 
5. Workout Towel
Apart from a bottle, you must get your hands on a workout towel as well. You'd be sweating a lot during your workout sessions if you plan to do a HIIT session or powerlifting. Since sweating may make you catch germs, you must get a workout towel. The good thing is that your workout towel can even serve as an impromptu mat. 
6. Resistance Bands
Next in line are resistance bands. You may use these versatile bands to target specific muscle groups and perform strength training and rehabilitation. Resistance bands are especially useful for people who cannot afford to buy multiple barbells and dumbbells to diversify their workout sessions. 
7. Lifting Belt
You must have added exercises like squats and deadlifts in your powerlifting sessions. You will need a lifting belt then to support your lower back. We recommend you fetch a belt made of durable materials with a secure, adjustable closure.
8. Dumbbells/Barbells
Dumbbells help you add resistance to your workout routine. They come in various weights, making it easy to progress as you get stronger. We recommend you look for a set of dumbbells with comfortable, non-slip handles.
Women's Workout Accessories
We will now be continuing our list with workout accessories for her. However, some of these accessories are such that men can have them as well, but with a little variation. So, let's have a closer look at these workout accessories: 
1. Yoga Mat
A yoga mat is great for stretching and yoga exercises but can also be useful for other types of workouts. It provides a cushioned surface to exercise on and can help with balance and stability. In our opinion, the Bellabeat yoga mat is one of the best workout accessories. Its cushioned surface and bright color make it the center of your home gym.
| | |
| --- | --- |
| Dimensions | 61cm W x 183cm L x 0.6cm H |
| Materials | Polymer environmental resin |
2. Fitness Tracker
A fitness tracker helps you track your progress and set goals for your workout. In our opinion, HEALBE GoBe3 Smart Band will be the best choice. The good thing is that both men and women can use it. It can help you to monitor your activity level, heart rate, steps, and sleep. 
Dimensions
9.1"L x 1.4"W x 0.5"H x 0.63 lbs
Display
1"L x 1"W
176x176 pixels
8 colors
Backlight
Color
Gray / Burgundy / Yellow
Materials
Lens — Gorilla Glass 2320
Case / Electrodes - ABS plastic
Replaceable strap — Plastic 2500 + Silicone
Warranty
1 year
3. Therapeutic Massager
You will encounter muscle stiffness and strain if you begin working out after a long time. So, ensure that you must get a therapeutic massager as well. 
Dimensions
Unfolded: 56.9'' L x 20.4'' W x 4.9'' H
Folded: 32.5'' L x 20.4'' W x 5.4'' H
Item weight
48.5 lbs
Color
White / Black
Materials
Panel: ABS plastics
Power
1 HP
Speed range
0.3 - 3.7mph
Weight capacity
220 lbs
Warranty
1 year
4. Walking Treadmill
Any gym is incomplete without a walking treadmill, as it helps you with a cardio workout. There are several compact walking treadmills available in the market that you may go for. 
Dimensions
Unfolded: 56.9'' L x 20.4'' W x 4.9'' H
Folded: 32.5'' L x 20.4'' W x 5.4'' H
Item weight
48.5 lbs
Color
White / Black
Materials
Panel: ABS plastics
Power
1 HP
Speed range
0.3 - 3.7mph
Weight capacity
220 lbs
Warranty
1 year
5. Foam Roller
You may find a foam roller useful in your workout sessions this year. A foam roller is a versatile piece of equipment that you can use for self-massage and muscle recovery. It is ideal for releasing muscle tension and knots, increasing blood flow and flexibility.
6. Workout Clothes
You must ensure that you have the right workout clothes. Outfits like high-waist leggings and t-shirts are a basic requirement for any workout session. You must choose a moisture-wicking fabric. Your clothes must neither be too tight nor too loose. Basically, it will be ideal if you wear something that does not restrict movement. 
7. Sneakers
Lastly, a quality pair of sneakers is essential for any workout. Look for shoes that provide good support and stability and are designed for the type of exercise you'll be doing.
End Note
Surely, starting a workout routine can be daunting, but having the right workout accessories can make it a lot easier. We hope that you have some idea now about which accessories will help you kickstart your workout routine this year.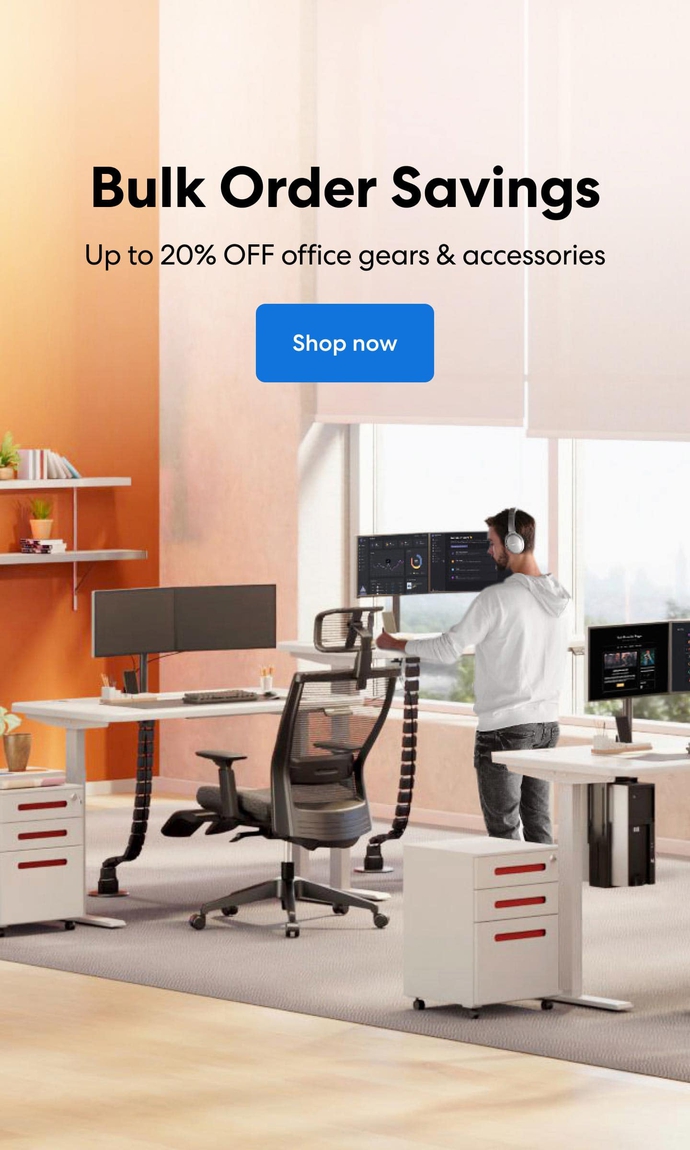 Subcribe newsletter and get $100 OFF.
Receive product updates, special offers, ergo tips, and inspiration form our team.