Smart Products
The 15+ Best Lumbar Supports for an Office Chair (2023 Updated)
3,946 Views
Sitting on an office chair for an extended period can leave your lower back aching. This is why most office chairs incorporate some form of lumbar support into their design. However, if you have an older office chair or have an office chair with poor lumbar support, purchasing additional lumbar support for an office chair might be the next best thing. 
There are several different types of lumbar support pillows on the market, so you may be having a tough time deciding which one to choose. Here are 17 of the best lumbar support pillows for your office chair. 
What Is Lumbar Support?
The human spine hasn't been designed to be straight, but rather forms more of an S-shape. When you sit with your back against a chair, you may feel a space between your lower back (the region of your spine that is located behind your waist) and the back of the chair. This is known as the lumbar region of your spine and is the lower curvature of the spine. 
If your chair does not include lumbar support, the muscles in your lower back are working hard to keep you upright, which over time, can lead to strain, tension, and stiffness. When left untreated for extended periods and your lower back and the lumbar spine remain under constant stress, it can even lead to paralysis. 
Lumbar support for office chairs is anything used in the lumbar region of the spine to relieve the pressure from your lumbar region, preventing pain and injury by giving your muscles a break while you sit down and promoting good posture. 
It is made of breathable textiles and may come as a standard feature of an office chair or can be purchased as an accessory. Lumbar support promotes airflow and dissipates heat, preventing a build-up of heat in your lower back that can cause discomfort and sweating. 
You may be wondering: "Where should the lumbar support be?" The optimum position for lumbar support for office chairs is in the small of your back. This is the space between your lower back and the back of the chair. 
Who Needs Lumbar Support?
Anyone who spends more than an hour seated on an office chair every day needs lumbar support. Unfortunately, without lumbar support for office chairs, it becomes a lot easier to slouch, causing pain and injury. 
In 2018, a study showed that more than 141 million working days were lost due to injury or illness, an average of four days per employee.
While mild ailments such as colds and flu account for most missed workdays, musculoskeletal issues accounted for more than 27 million missed days during the year. Back discomfort is likely to account for a large percentage of those ergonomic injuries. 
This shows how vital lumbar support for office chairs is for the workforce. If the pandemic has forced you to work from home, you may have taken up a space at the dining room table to work during the day. Unfortunately, most dining chairs do not include lumbar support, so purchasing lumbar pillows for your chair is essential in this scenario. 
17 Lumbar Support Pillows for Your Office Chair
If you need a lumbar support accessory for your office chair, here are some of the best lumbar pillows to choose for your chair. 
1. Mount-It! ErgoActive Lumbar Support Pillow
2. ErgoFoam Lumbar Support Pillow
3. Qutool Lumbar Support Pillow for Office Chair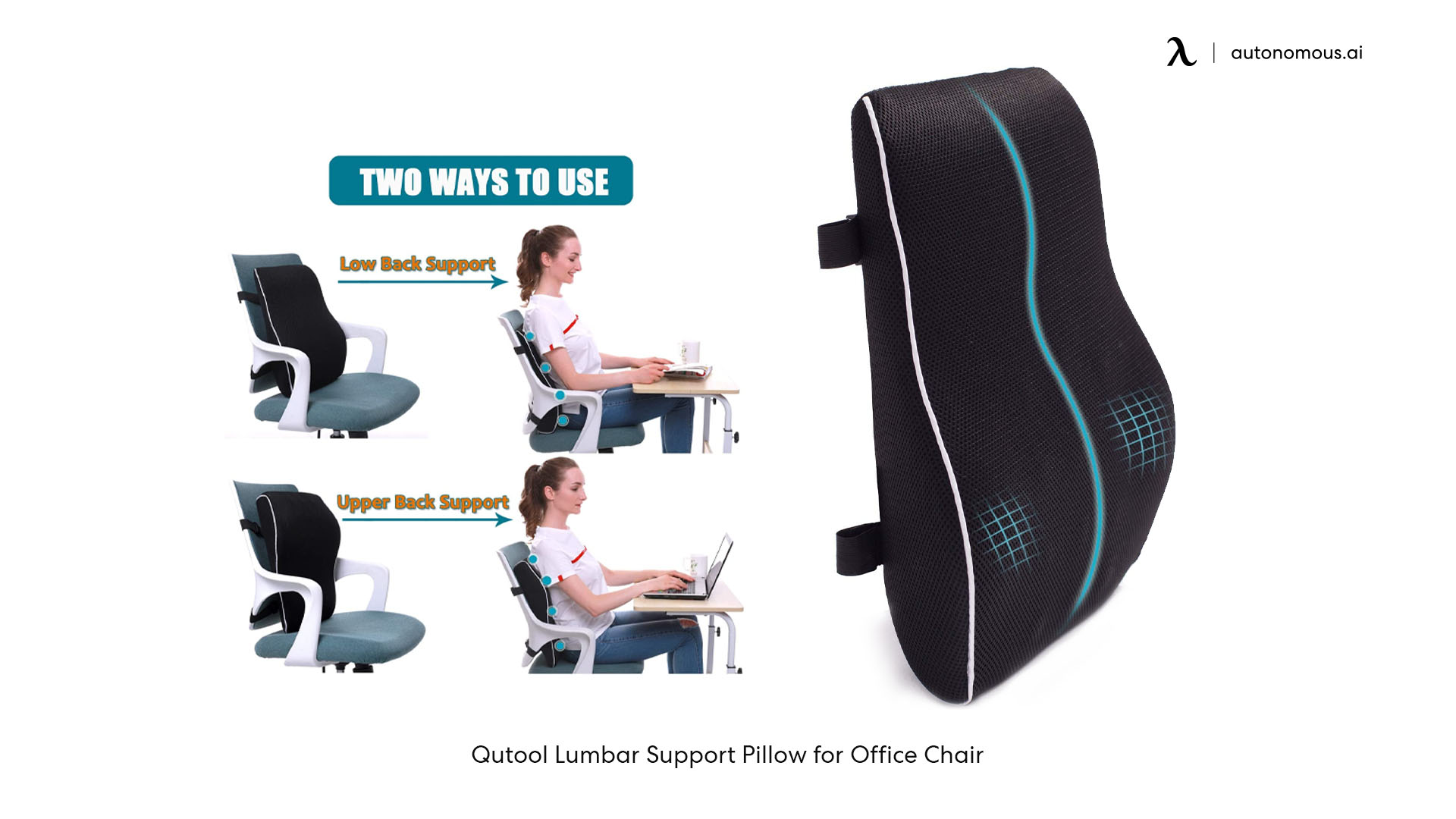 If you need additional lumbar support for a gaming chair, then this is the best option. It doesn't just offer great support, but also looks great and can blend well with any gaming chair. The pillow also has adjustable extension straps, so you can get the perfect fit for your chair and is reversible, so you can get the support that suits you best. 
Unlike other options on this list, the Qutool is a firmer pillow, so some may find it uncomfortable, and if you do not have a high-back office chair, it may be too high for your chair. 
4. Cushion Lab Lumbar Pillow for Chairs
This pillow has a unique design to support the muscles on either side of your spine. It also claims to support the upper, middle, and lower back, which many other lumbar support pillows do not do. 
These additional features and special design come at a price, though, and this lumbar support for office chairs is a much more expensive alternative. 
5. Samsonite Ergonomic Lumbar Support Pillow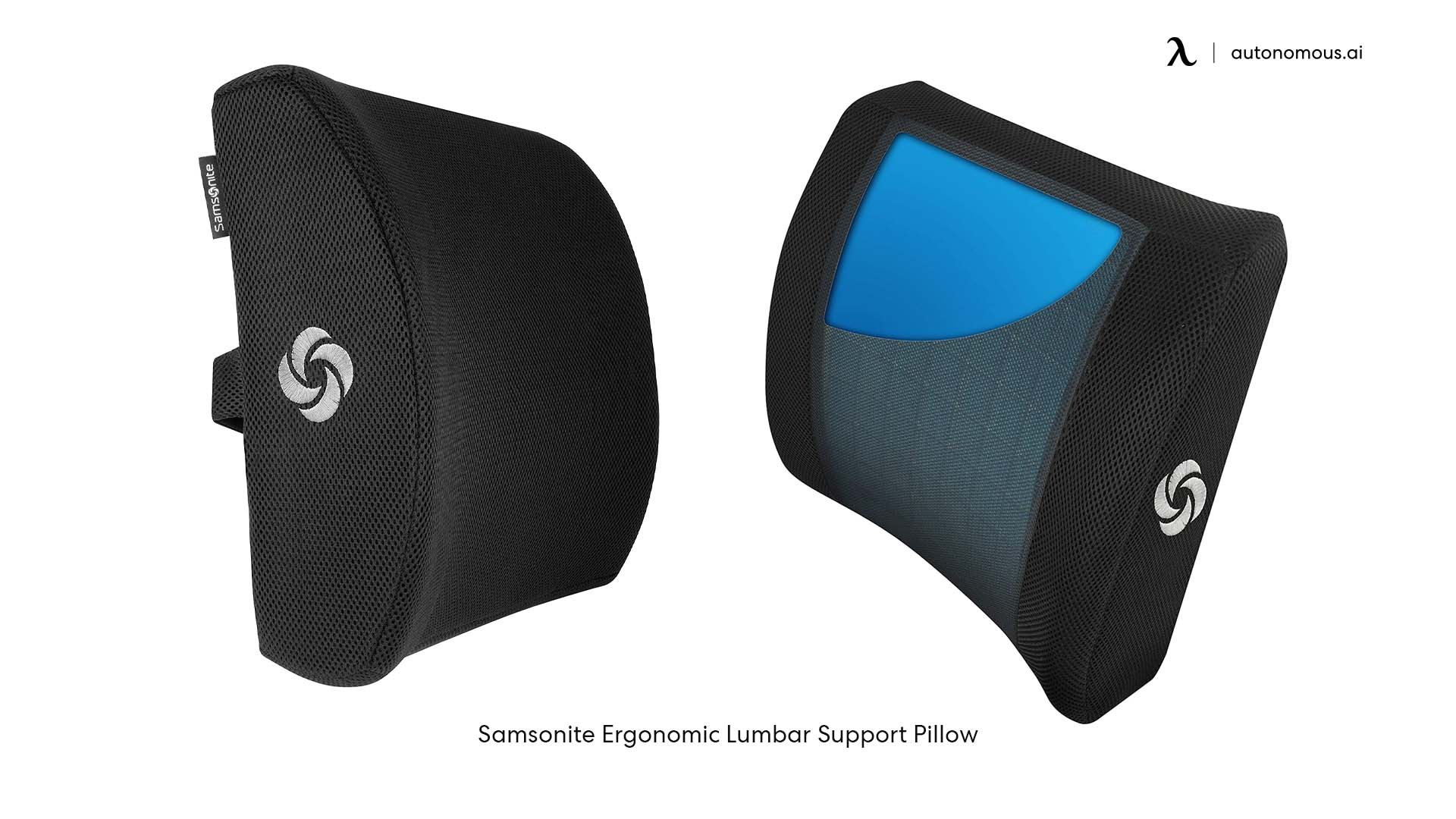 If you're searching for a more affordable alternative, the Samsonite pillow may be ideal. It is also a great option if you need to carry it around for support in your car. Unlike many other options on this list, the Samsonite can be used on car seats, so your back is supported no matter where you are. 
It is a softer option, though, so if you need a firmer pillow to support your back, you may not like this one. 
6. ComfiLife Lumbar Support Back Pillow
Those who suffer from sciatica know how hard it is to find lumbar support for office chairs that eases the pain. Fortunately, pillows like the one from ComfiLife have been explicitly designed for those with sciatica. 
This support pillow has two adjustable straps, assuring that your support stays put. It also comes with a lifetime warranty and an affordable price tag, making it a great choice. 
7. Vaunn Medical Lumbar Back Support Cushion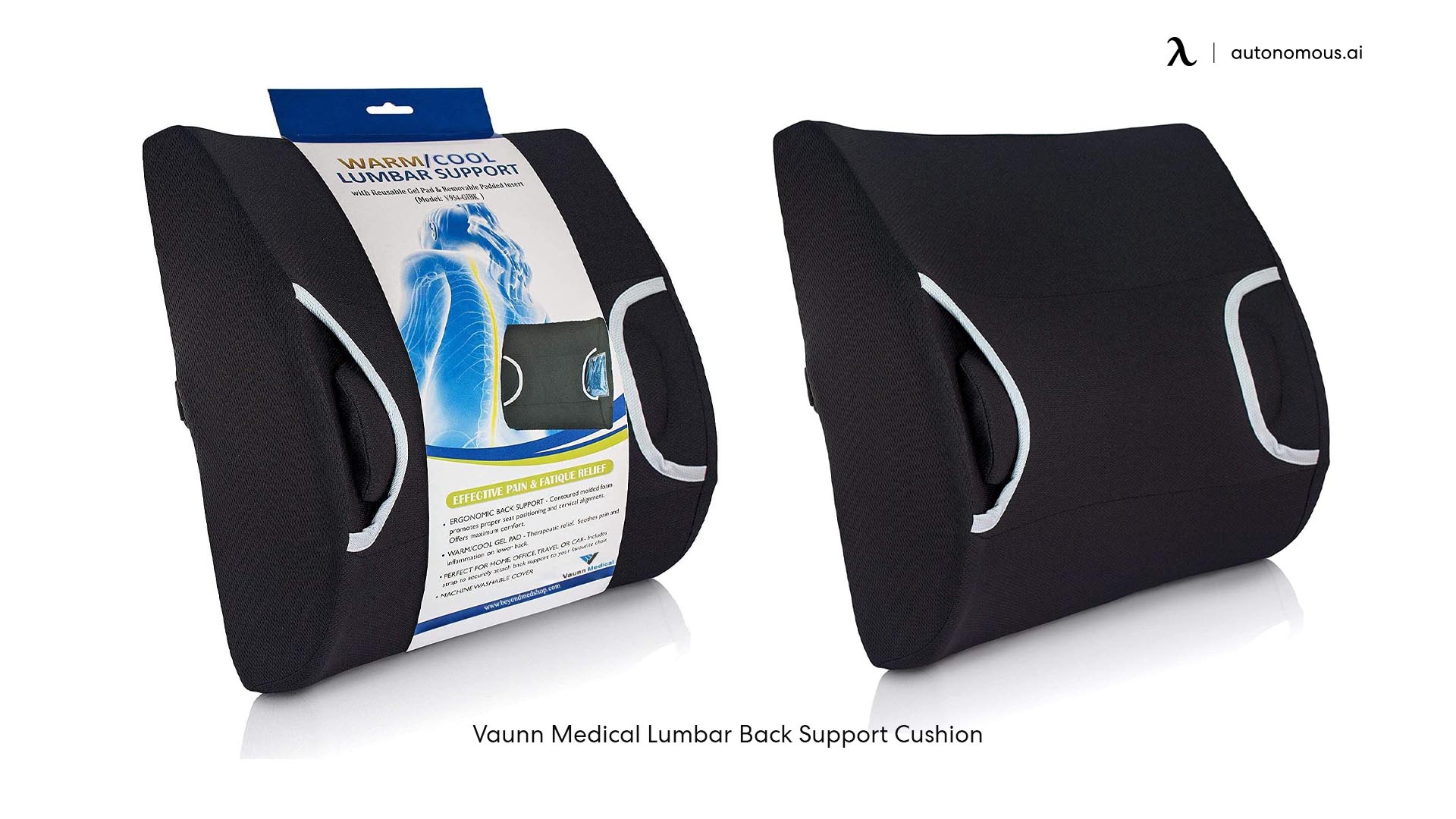 In conjunction with lumbar support for office chairs, warm or cold therapy may provide further pain relief if you suffer from lower back pain or sciatica. A compartment for a warm or cool pack is included in the Vaunn back pillow. 
It is a curved molded foam cushion with an additional padding insert that can be purchased separately. The cushion provides support, while the warm or cold pack can help to decrease inflammation and further relax your muscles. 
8. The McKenzie Early Compliance Lumbar Roll
Made from high-density foam, this lumbar roll has a strap that can fit onto your chair or your back, making it the ideal lumbar support for office chairs to take with you on your travels. It isn't just suitable for car seats and office chairs but can also be used on plane seats. 
The pillow's most notable advantages include a removable cover that can be washed, polyester mesh covering that does not wrinkle or absorb moisture, and a 60-day money-back guarantee. 
9. Relax Support Back Support Pillow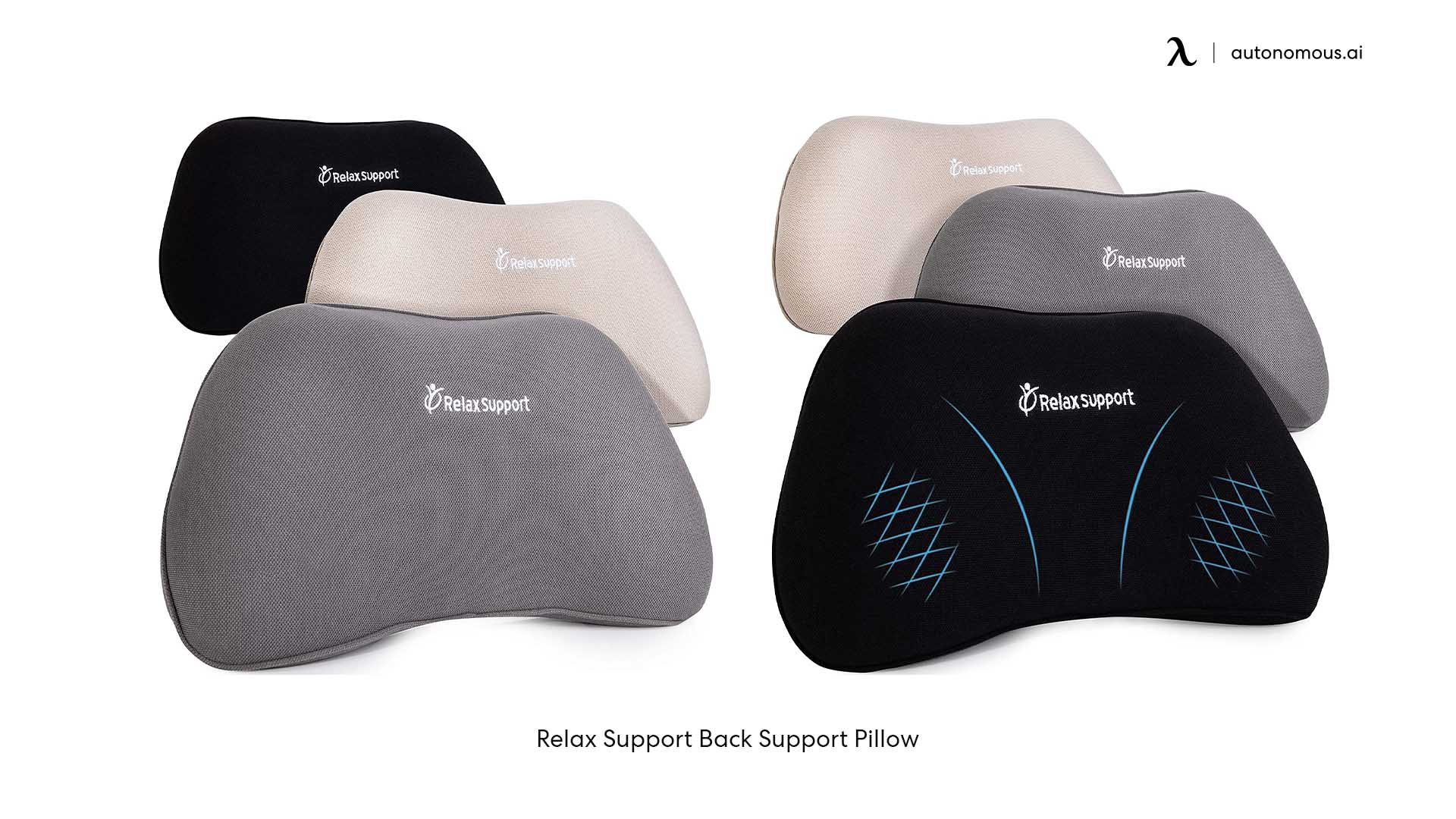 This is one of the best lumbar pillows on market. Those who are smaller in build often find it more challenging to find lumbar support that can fit their petite lumbar regions adequately. Fortunately, Relax Support has designed a back support pillow that is ideal for petite people. It has a minimalistic design and is easy to use. 
10. Purple Back Cushion
This back support for office chairs was designed to improve airflow, preventing sweat and moisture build-up that cause odor. It can be used on various chairs, including gaming chairs, and can be used on car seats. 
We loved this cushion because it comes with a 30-day free trial period, so you can test it out for yourself to see if it is suitable for you. You can also wash the entire cushion in the washing machine, so it remains clean and smells great. 
11. Drive Medical Heated Lumbar Support Cushion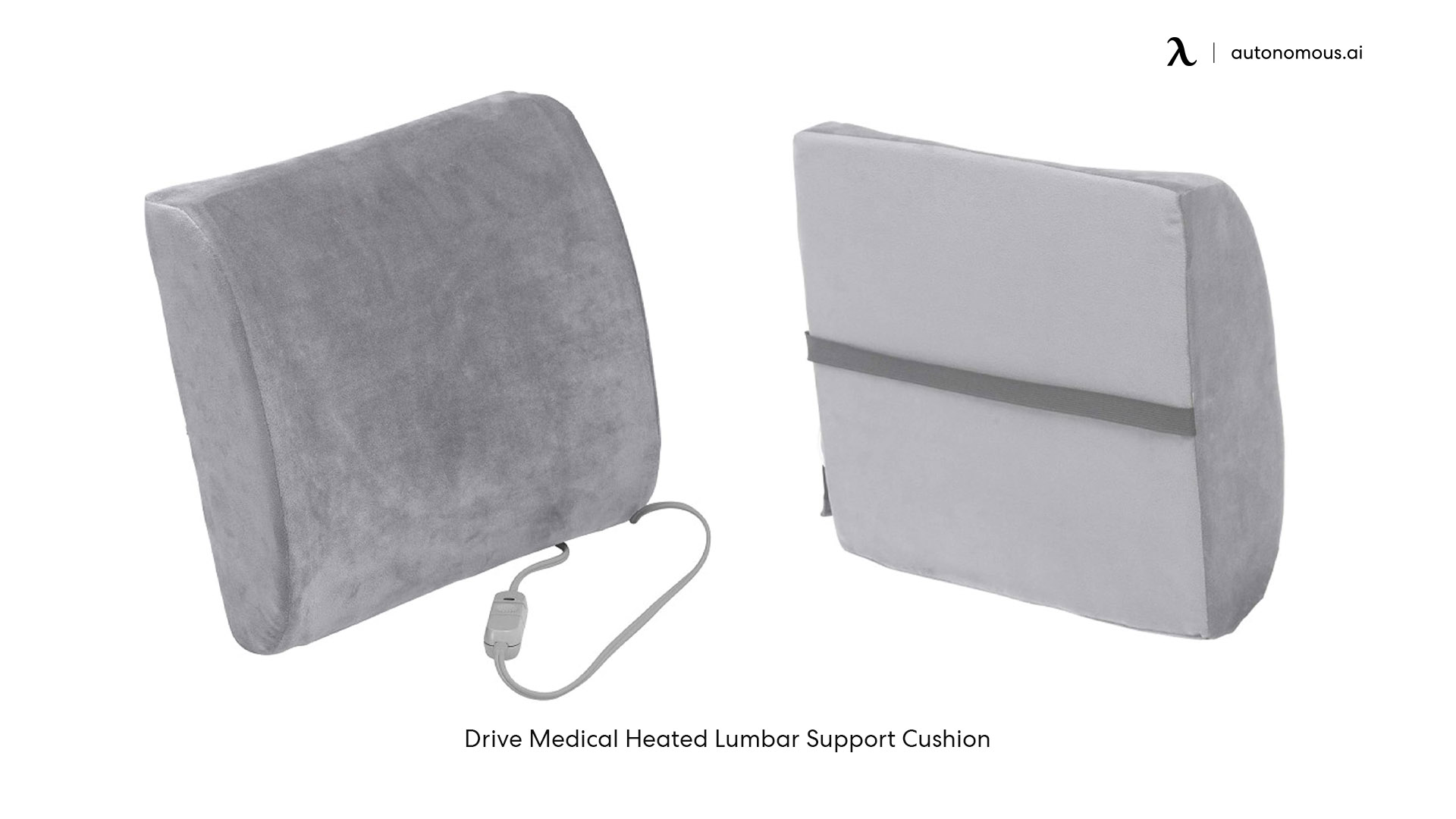 If you suffer from chronic back pain, lumbar support in chairs alone may not be enough to relieve you of your pain. Sitting for extended periods with lower back pain can significantly reduce your productivity. 
Fortunately, Drive Medical has a heated support cushion that can keep your back supported and warm, relieve tension and pain. 
12. Dapota Lumbar Support Roll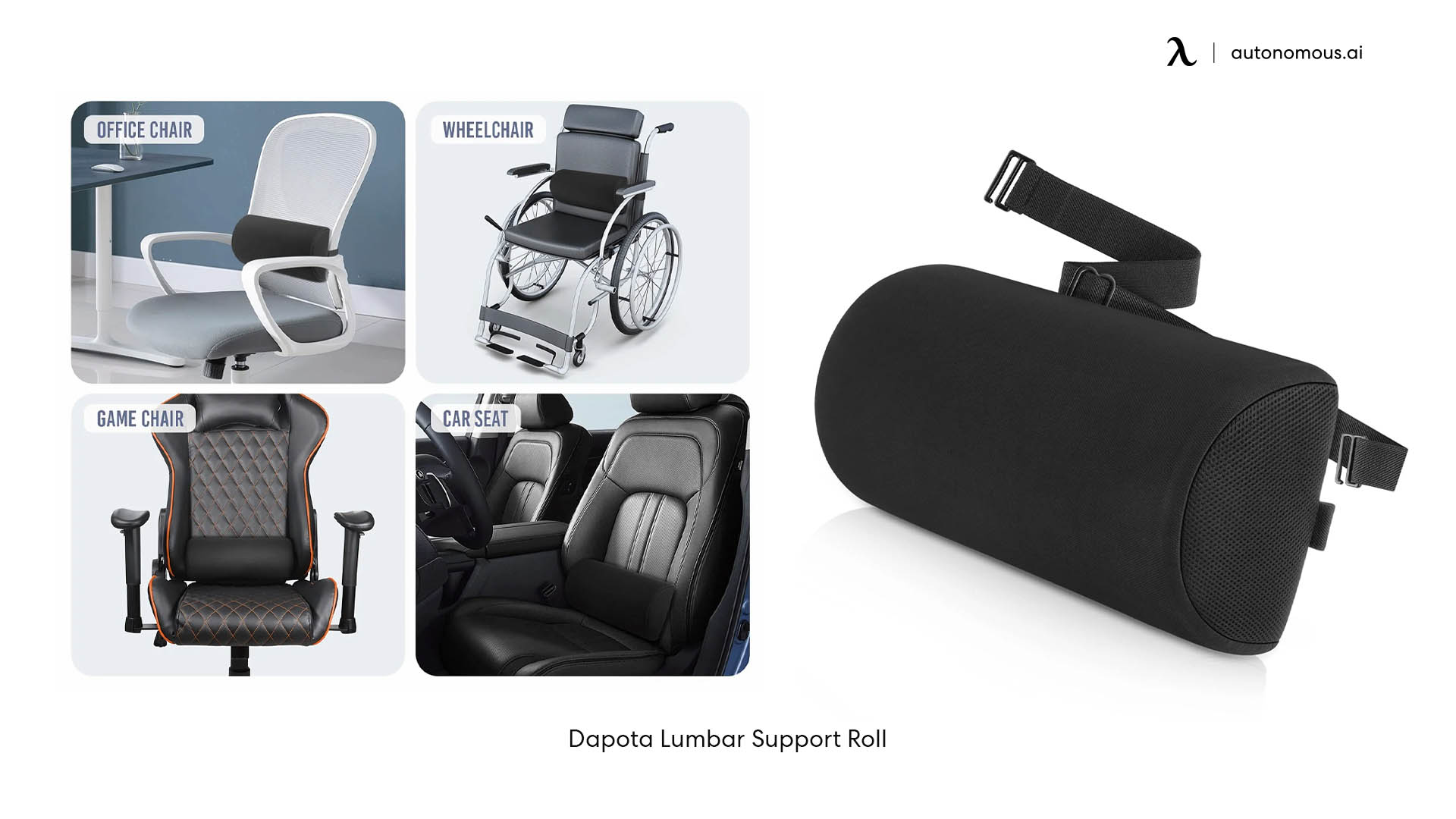 The Dapota lumbar support pillow has been designed like a roll. However, it resembles a semi-circle on the side, allowing it to fit snugly onto your office chair. When you're not using it as lumbar support on chairs, it can support your upper back or even your neck. Take it with for use one a car seat or a plane. 
13. Pioneer Memory Foam Support Pillow
This support pillow is comfortable, and the memory foam conforms to your body, providing optimum support, relieving pressure and tension from your pressure points. It also includes a removable, breathable mesh covering, but comes with a very high price tag.
14. Marina Decoration Lumbar Support Pillow
If you are looking for a more affordable memory foam pillow, the Marina Decoration pillow may be a more suitable option. It has a removable cover with a zipper that runs across the entire length of the pillow, making removing the cover quick and easy. 
15. ComfiCasa Lumbar Support Pillow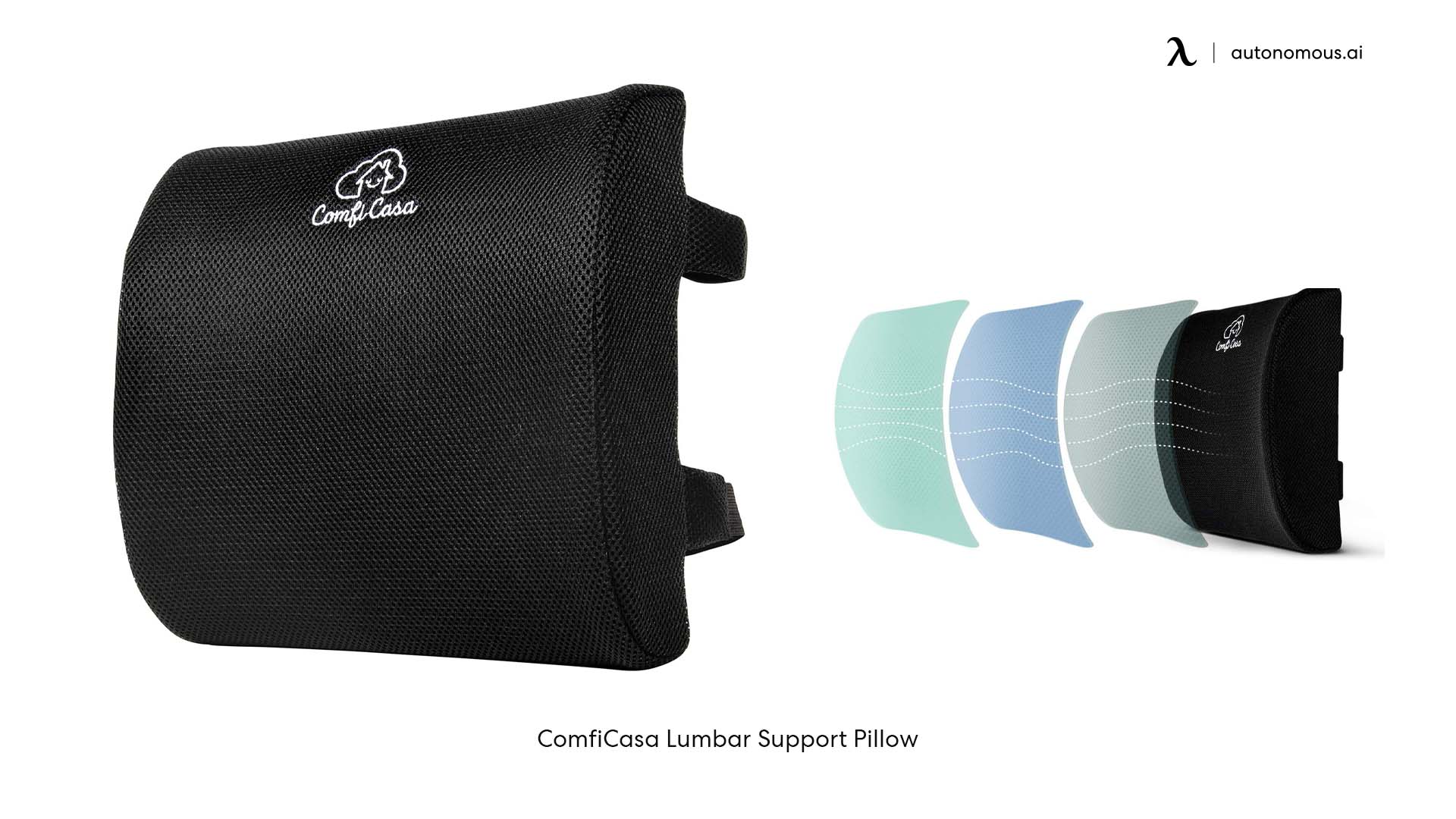 This lumbar support pillow features adjustable straps, so that you can achieve a comfortable, stable fit. It comes with a lifetime warranty and has a wide range of applications, so you can take it with you to remain healthy and supported wherever you go. 
The pillow is also durable and made from high-quality memory foam, so you never need to replace it. 
16. Everlasting Comfort Lumbar Support Pillow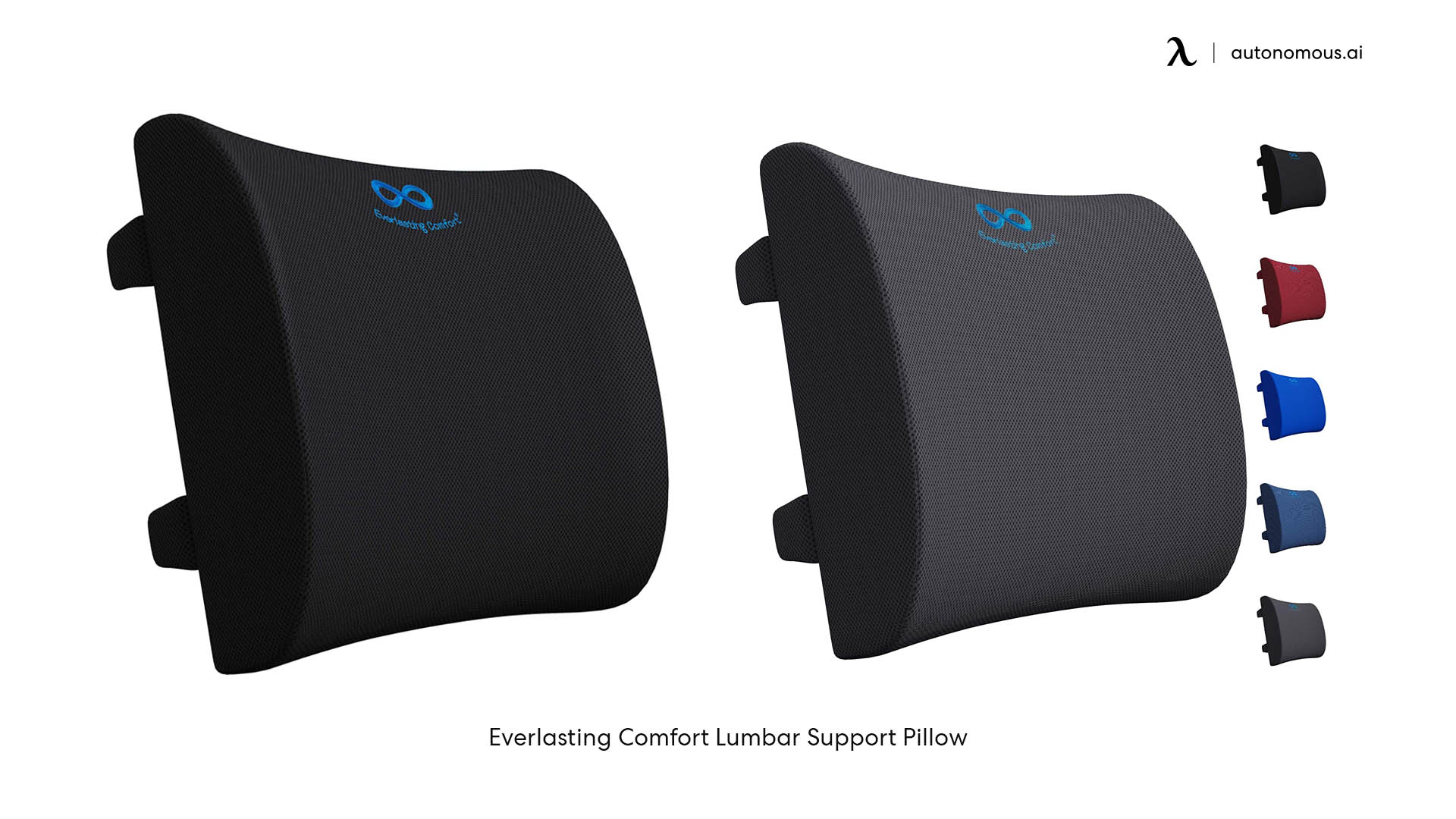 The Everlasting Comfort pillow is an excellent option for those looking for lumbar support for office chairs. Some of its most notable strengths include a breathable mesh cover to prevent the build-up of sweat and odor and a lifetime replacement policy, which means that you never have to purchase another lumbar support pillow again. 
You can remove the mesh cover and wash it, ensuring that your support pillow is always clean. However, those with a smaller build may find this back support for an office chair unsuitable, as it is pretty large. 
17. LoveHome Back Cushion
This lumbar support cushion is similar in support and quality to the Everlasting Comfort pillow. However, this pillow has shorter straps to help it fit onto smaller chairs more firmly, so if you need a support pillow that stays put, the LoveHome is a great option to try. 
One drawback to this product is that its cover is quite difficult to remove, but it is breathable, preventing a sweaty lower back. 
Built-in or Additional Lumbar Support on Chairs?
If you are wondering whether it is better to purchase an ergonomic chair with lumbar support or an additional lumbar back support accessory, here are a few things you need to consider. 
While lumbar support on a chair may seem like the best idea as it can save you money, it is essential to remember that lumbar support pillows only provide support for your lower back. On the other hand, ergonomic office chairs offer additional support for your arms, head, neck, and shoulders. 
Additionally, an ergonomic office chair is height adjustable, so you can achieve optimum eye level when looking at your computer screen. 
Concerning lumbar support, most high-end chairs have adaptive lumbar support that changes to fit your body type, providing tailor-made support for your back. 
However, if you are constantly on the go and need to take your lumbar support with you, a lumbar support pillow is the best option. Be sure to purchase one that can fit onto your car seat, so you can get great support while traveling, too. 
Lumbar Support Office Chairs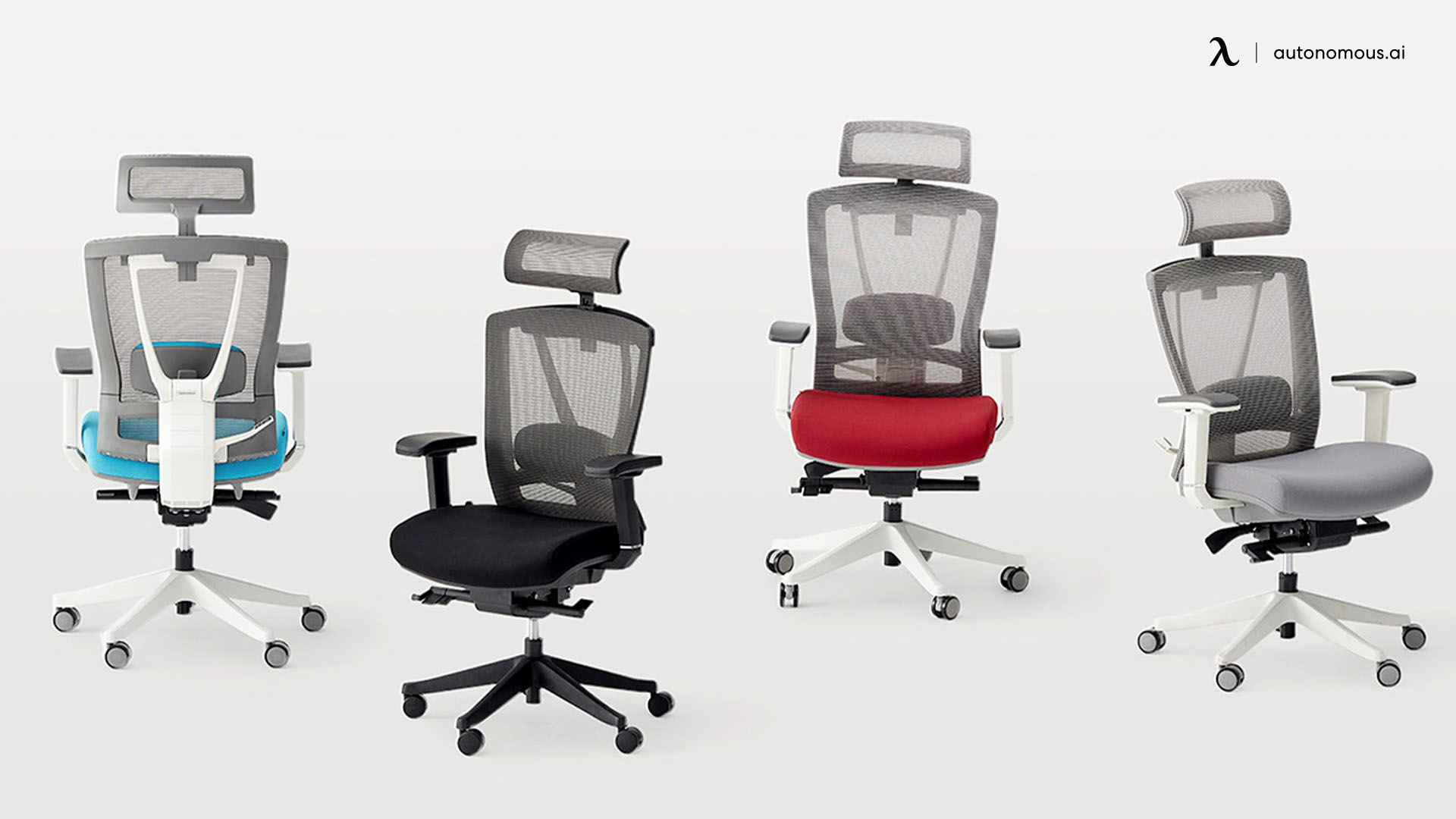 The best lumbar support office chairs are often high-end, expensive chairs. However, when you choose a chair from Autonomous, you can rest assured that you are getting all the benefits of a high-end chair at a fraction of the cost. 
We recommend the Autonomous ErgoChair Plus or the ErgoChair Pro. Both chairs provide outstanding, tailor-made support to prevent strain and injury to the lower back.
The great thing about choosing the ErgoChair Pro or Pro+ is that they include a plethora of other features, such as adjustable tension, seat tilt, and a tilt lock, so that you can recline during your breaks comfortably. 
Final Thoughts
Lumbar support is essential for office workers because it relieves the strain and tension the muscles in your lower back experience from having to keep you upright in a seated position for extended periods. 
We recommend that you buy an ergonomic chair with built-in lumbar support, such as the Autonomous ErgoChair Pro or Pro+, because they include supportive, adaptive lumbar support designed to suit your body type. 
Alternatively, if you are looking for additional lumbar support, you are sure to find the perfect lumbar support accessory on this list.
Keep up with Autonomous news
Stay informed, stay inspired with our new blogs.
WRITTEN BYAutonomous
We build office products to help you work smarter.