With November fast approaching, you should look for great deals on comfortable furniture. Consider a Black Friday recliner chair. There are numerous benefits that promote a healthy living environment for you. Whether you are an office worker or you work remotely from home, you need ergonomic support. With Autonomous Black Friday office recliner chair sales, you can cut down the costs and enjoy the comfort of a new chair.
Health Benefits of a Recliner Chair
Recliner chairs provide pain relief. When you work on a project, you might sit in a chair all day. You may experience back problems as a result of incorrect body posture. Good posture allows you correct spine alignment, which recliner chairs give you through lumbar support. If you reduce back pain, you also reduce stress. Recliner chairs also improve blood circulation due to their free range of movement. It results in a healthy oxygen flow within your body. With prices down, you can enjoy comfort in your own home with a Black Friday recliner chair.
What to Look for in Black Friday Recliner Chair Deals
There should be plenty of Black Friday office recliner chair sales available. Consider not only the price of a Black Friday recliner chair but also what they bring to the table. A good recliner chair should maintain the proper body posture for you, such as armrests and lumbar support. Leg rest also provides an important function for your blood circulation, since you can freely move your legs around. You should also compare prices between recliner chairs to find the right deal for you.
Below is a list of fifteen Black Friday recliner chair deals. The list is in no particular order. Each item has a short description and consists of pros and cons for each Black Friday office reclining chair. Here are 15 recliner chairs to consider:
1. ErgoChair Pro (ErgoChair 2)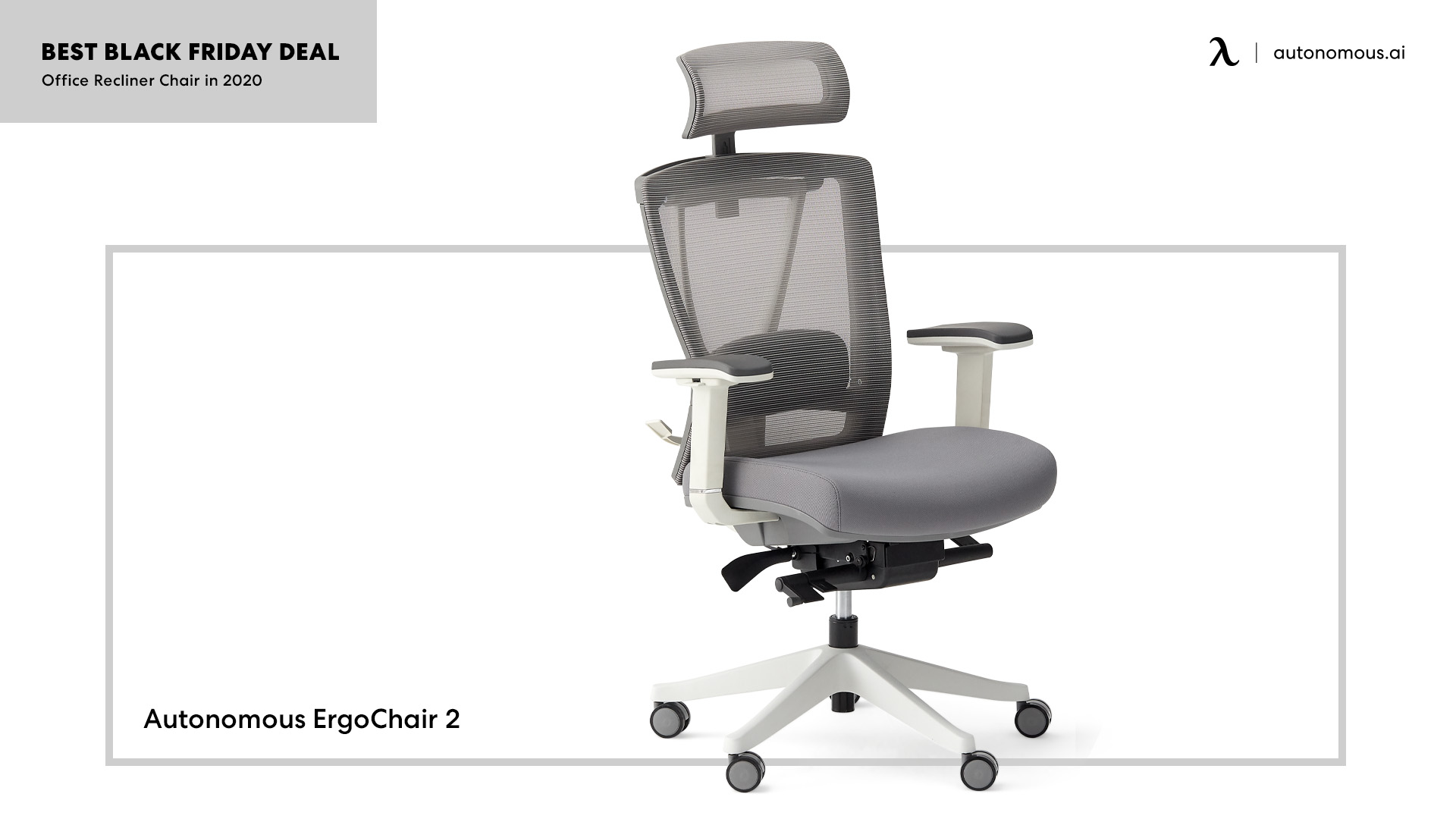 The ErgoChair Pro promoted in Black Friday recliner chair deals from Autonomous fits all the requirements for ergonomic support. Autonomous sells all kinds of ergonomic chairs, but the ErgoChair Pro stands out. It redefines how you sit with body posture realignment, which allows your back, arms, and legs to stay in place while you work comfortably.
Pros and Cons of ErgoChair Pro
Lumbar support feature to straighten your back
Headrest, armrest, and leg rest for maximum comfort
Monthly payment options for affordability
Adjustability with size, height, and setting
Wide range of color schemes
Tilt and tension mechanisms
Eco-friendly materials made to last
Somewhat expensive if you pay upfront
2. ErgoChair Core (MyoChair)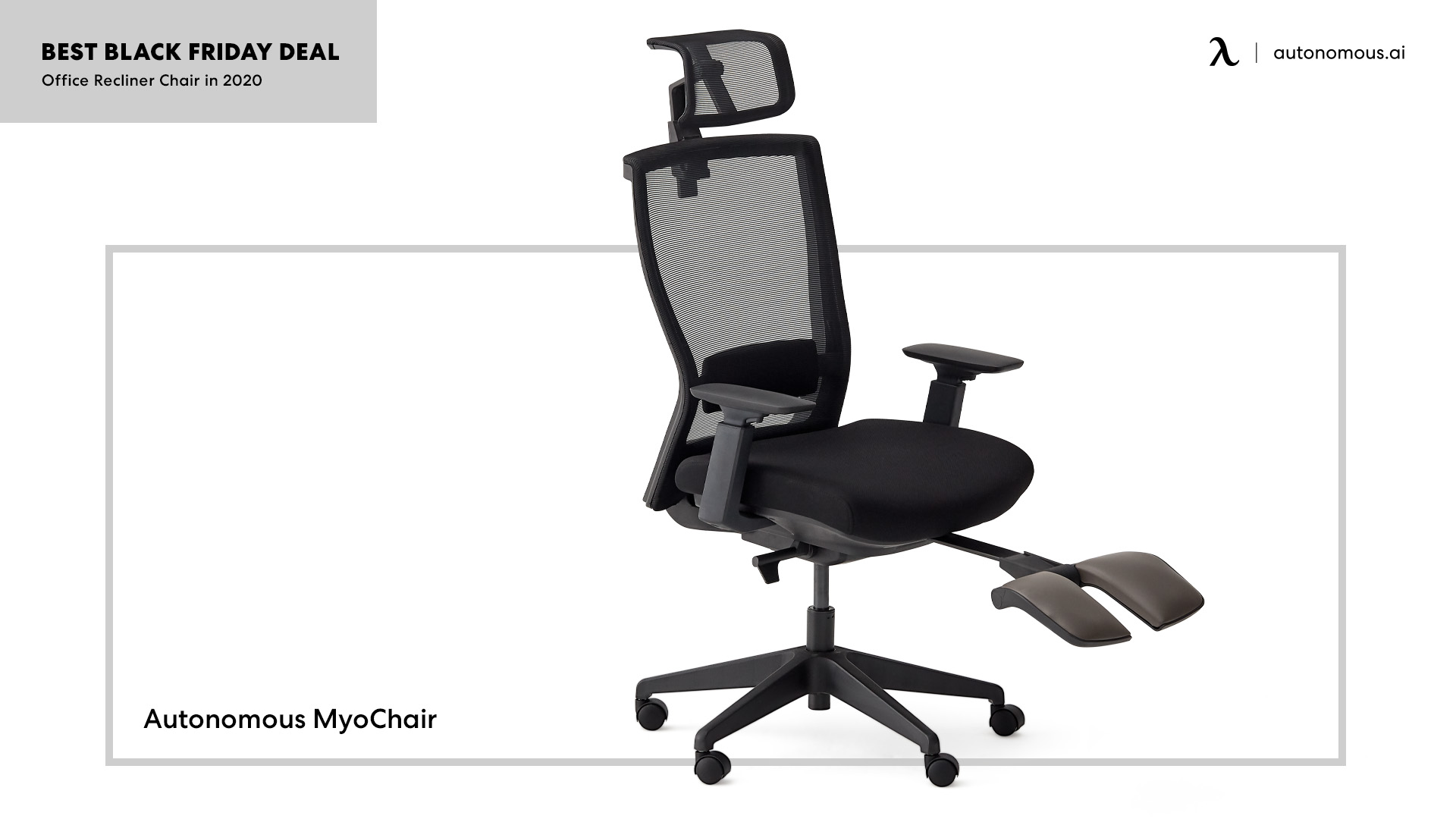 Autonomous also supplies the ErgoChair Core. The ergonomic chair allows comfort for prolonged periods of time. You have a choice of black or cool grey colors. Like all Autonomous products, you can pay a monthly fee instead. Of all the Black Friday recliner chair price cuts, the ErgoChair Core is one of the cheapest.
Pros and Cons of ErgoChair Core
Adaptability for individual sizes
The wide selection of adjustment points
Accessible and affordable price range
Recline goes far back for resting positions
Headrest and leg rest available
Available monthly payments
Armrests are not as powerful as the leg rest
3. ErgoChair Pro+ (Kinn Chair)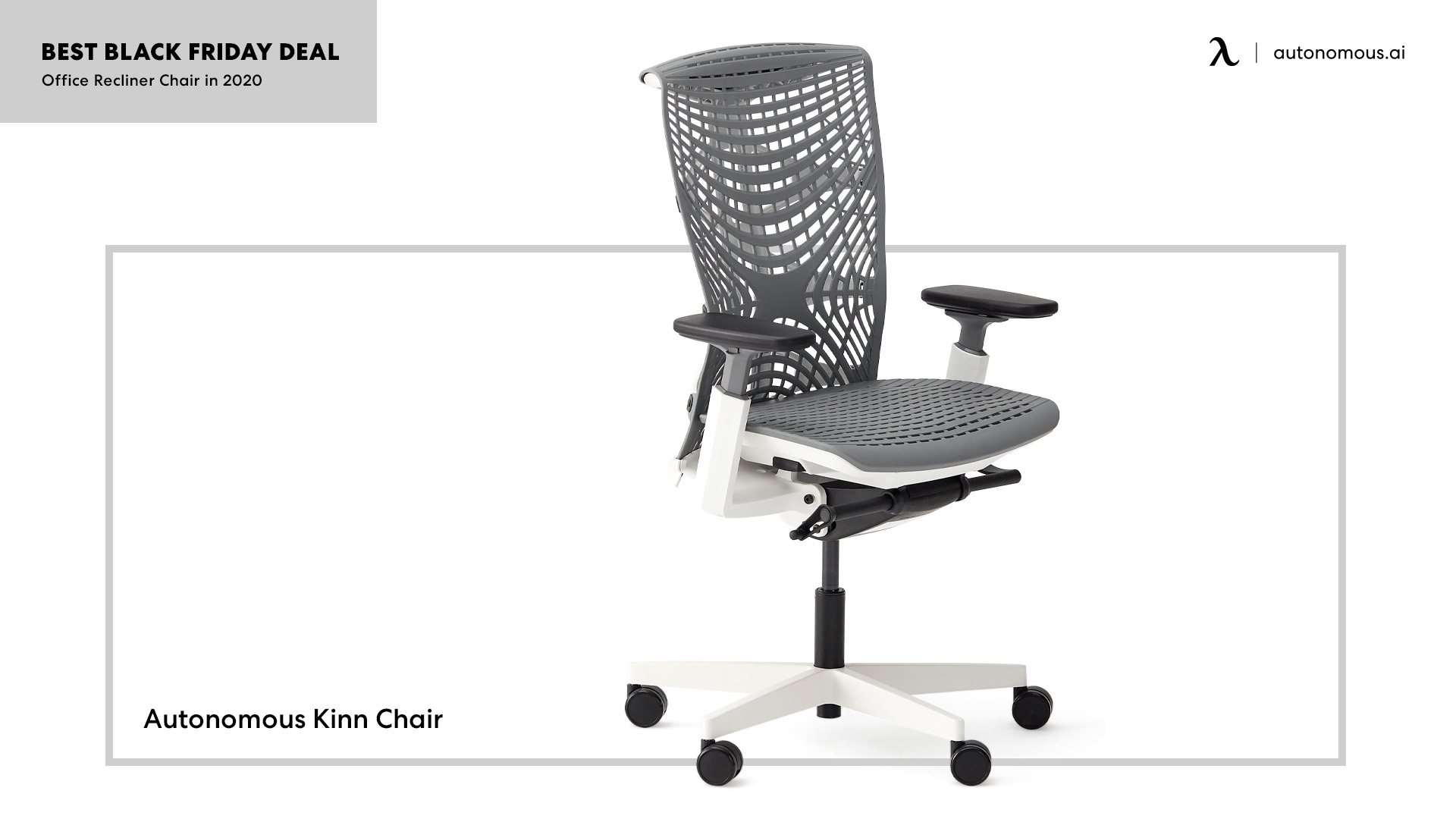 The ErgoChair Pro+ from Autonomous is another good option for ergonomic comfort. Built with thermoplastic elastomer (TPE) material, this recliner provides correct sitting posture. It has a sleek black design for contemporary use. It offers a wide range of colors, such as a black frame with grey mesh or a white frame with blue mesh. This chair is one of the best ergonomic chair this Black Friday from Autonomous.
Pros and Cons of ErgoChair Pro+
The strong, durable material provides back support
Eco-friendly with expert craftsmanship
Fully adjustable functions
Modern design gives it a fresh look
Affordable monthly payments
Lack of leg support
4. AvoChair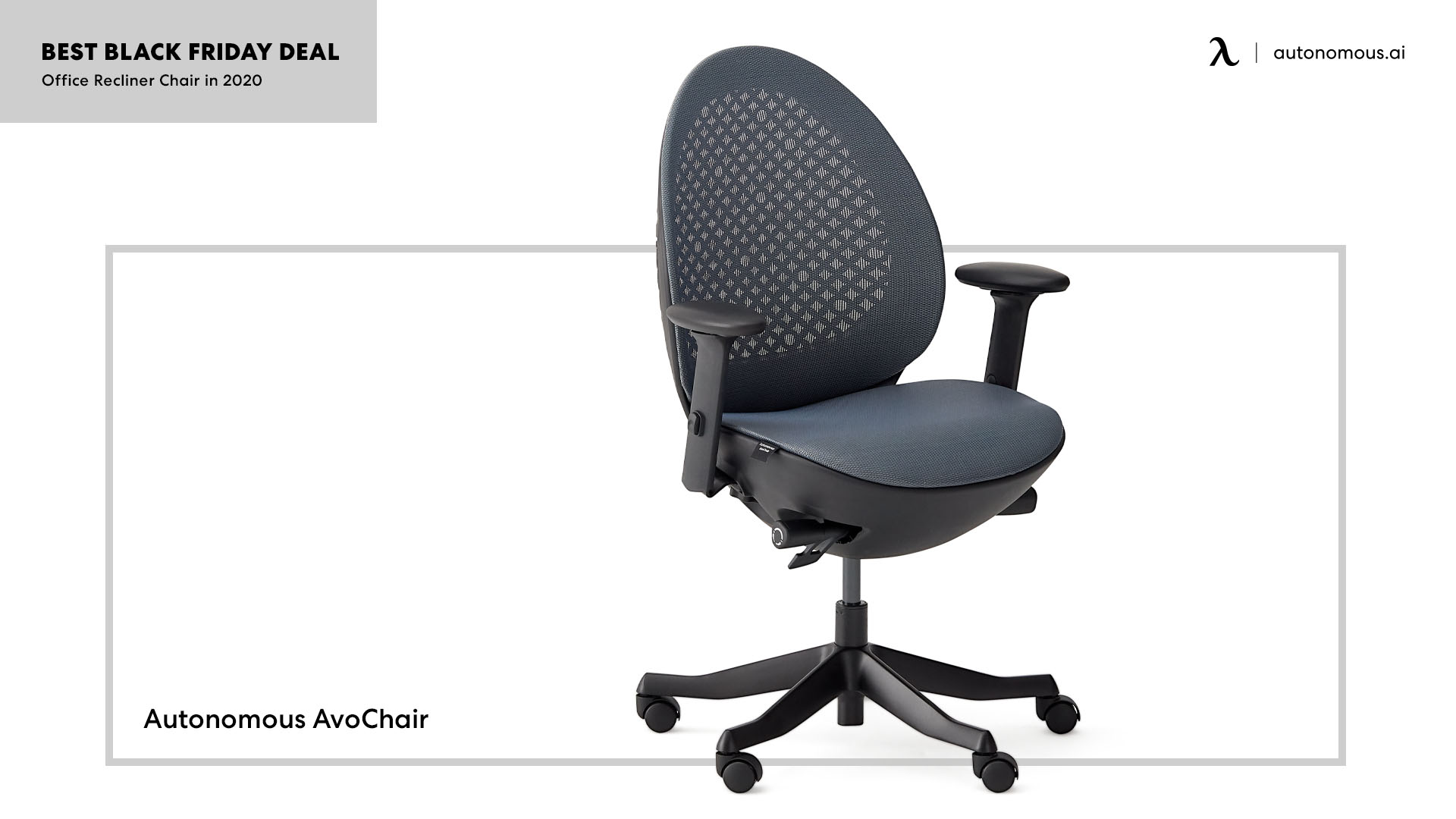 Another product of Autonomous is the AvoChair, which offers a sleek modern design with ergonomic comfort. Color options range from white evergreen, baby blue, all black, and suntan. Nature is the main inspiration for this chair, given the minimalist lines and breathable backside.
Pros and Cons of AvoChair
Mesh back offers spinal support
Both comfortable and curvy in design
Reclining tension, arm position, and seat height
A solid base makes it easy to sit on
Eco-friendly with natural materials
Lack of leg support
5. Renaro Bonded Leather Managers Chair
Quill Brand offers the Renaro bonded leather manager chair. With its quilted pattern, it provides a smooth look for the modern workspace. It is black with chrome accents. A severe warning - it may have exposure to chemicals like Di(2-Ethylhexyl) phthalate (DEHP), which can cause cancer and birth defects. Do not buy if you or others are at risk.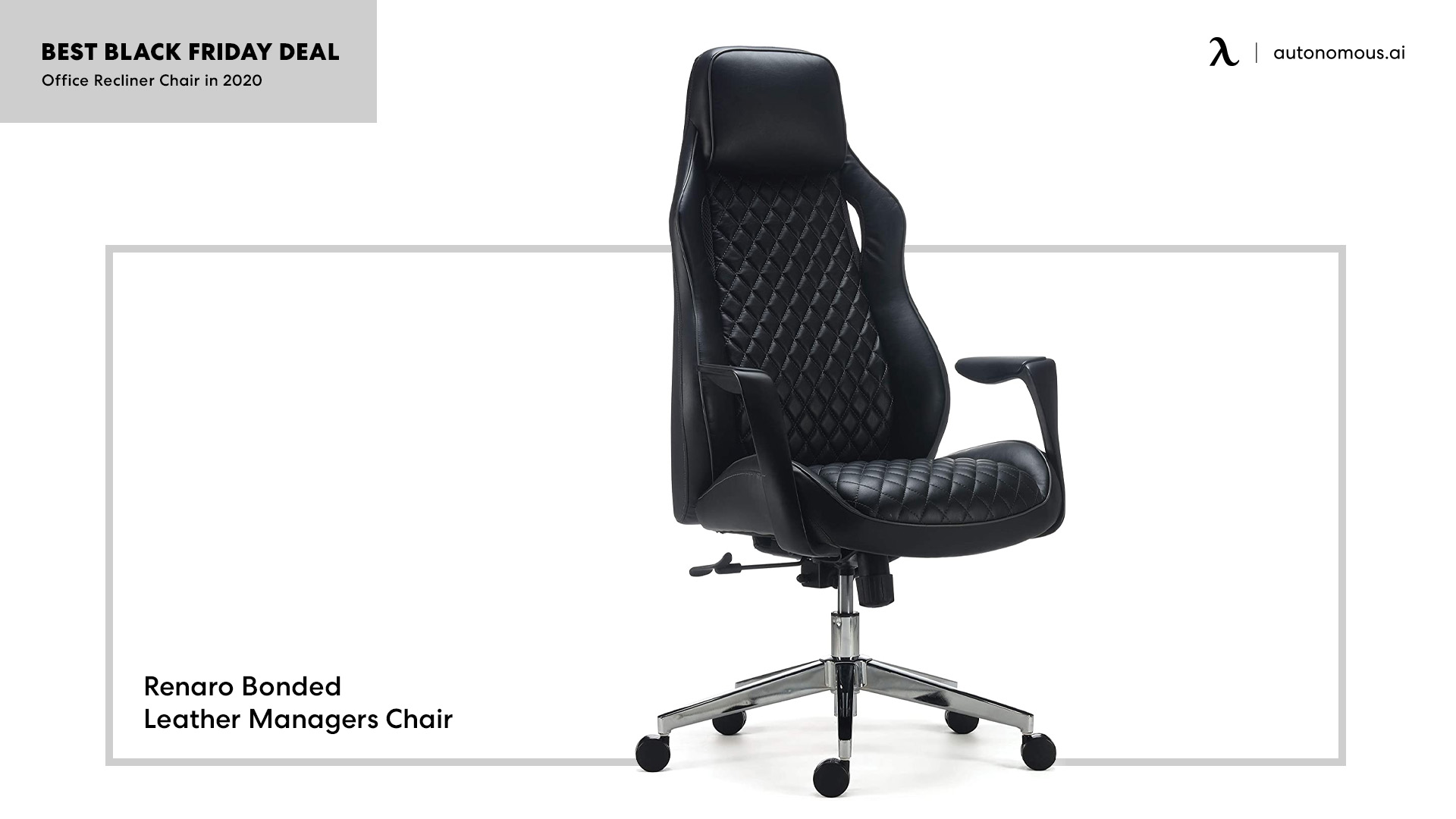 Pros:
● Adjustable seat height with tilt tension and lock
● Sleek, fashionable look
● Comfortable material
● Seven-year warranty
● Easy assembly
Cons:
● Stitching on the back is prone to becoming loose
● Chair seat can stretch out
● Armrests are low
● Lacks leg support
● Potential exposure to Di(2-Ethylhexyl) phthalate (DEHP)
6. Llewellyn Recliner
The Llewellyn Recliner from Latitude Run has a functional glider and manual swivel. The black recliner is extra-padded for more comfort. It has plenty of space to move around with two positions - sit and recline.
Pros:
● The swivel allows free range of movement
● Leg support with full recline
● Flexible payments
Cons:
● The large bulky design makes it heavy
● Slight difficulties in assembly
● Stiff height adjustability
● Expensive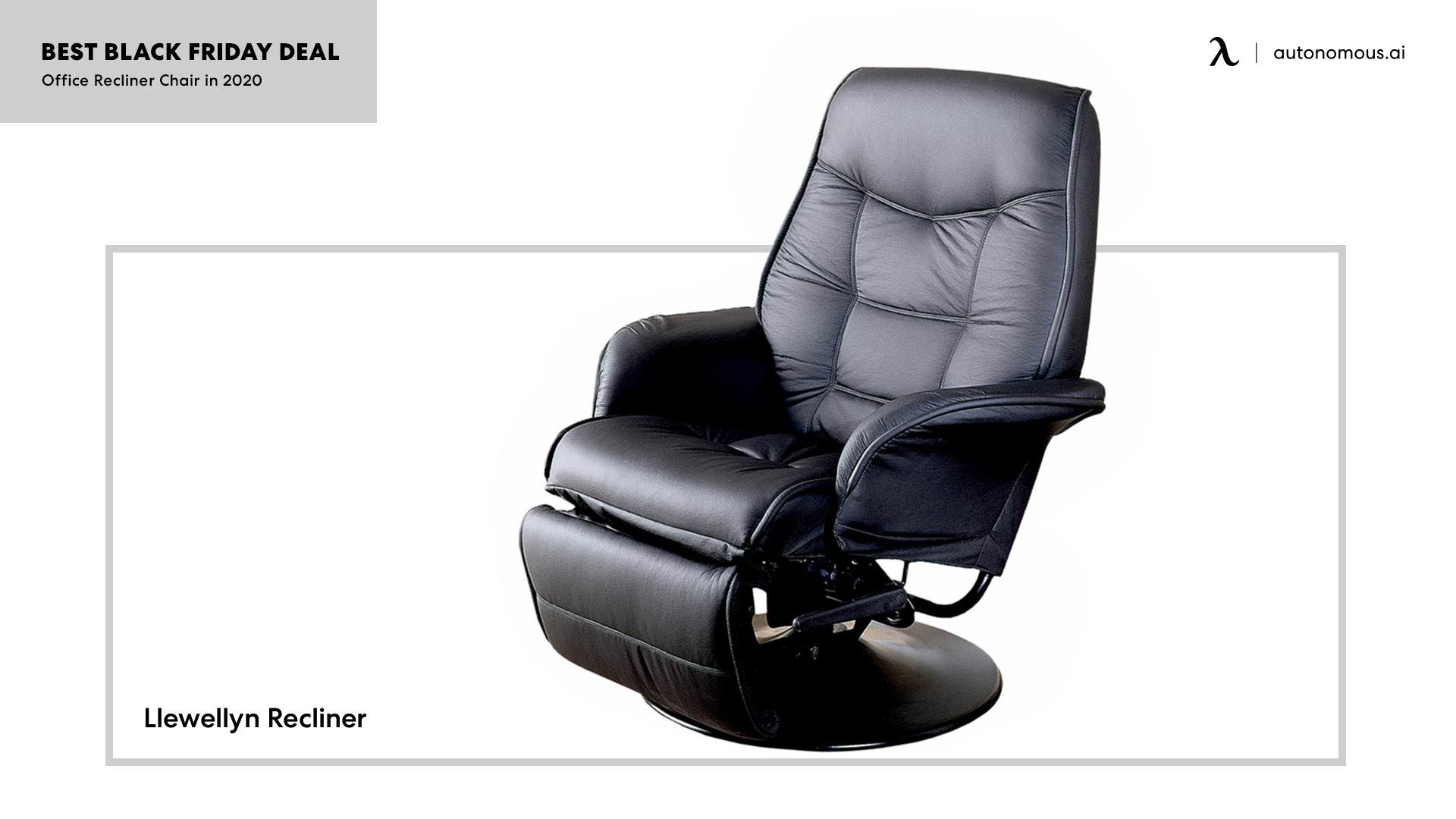 7. Gambill 20" Recliner
The Gambill recliner from Orren Ellis has a manual swivel with full leg support. With its leather-wrapped base, it offers comfort with plush foam cushions. The chair only has one color choice, which is black. It is a relatively cheap Black Friday recliner chair.
Pros:
● Ergonomic functions allow maximum comfort
● Somewhat cheap with flexible payments
● Leg support
Cons:
● Sits at a low elevation
● Lack of height adjustment
● Material is prone to damage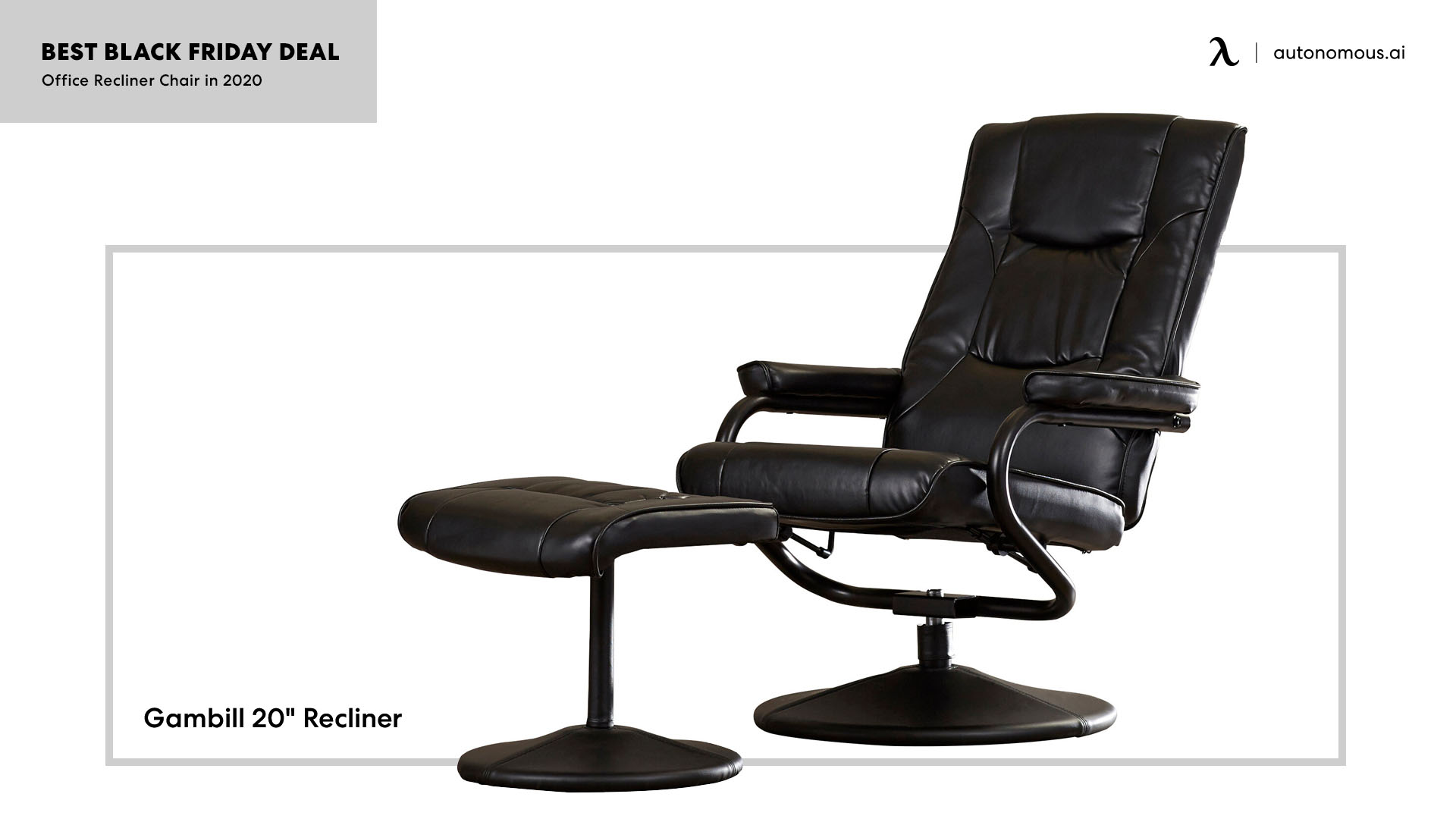 8. RecPro Nash 28" RV Euro Chair Recliner in Black RV Furniture
The EuroChair recliner from RecPro is made of high-quality leather and has a stylish look. This recliner offers ergonomic comfort through rest functions. It is black with white stitching. Unlike the usual Black Friday recliner chair, there are no special deals, but it offers a money-back guarantee.
Pros:
● Backrest support, in addition to an armrest and footrest
● Suprema leather with luxury design
● Offers size compatibility
Cons:
● Leg rest might be prone to stiffness
● Assembly has some difficulties
● Expensive given the materials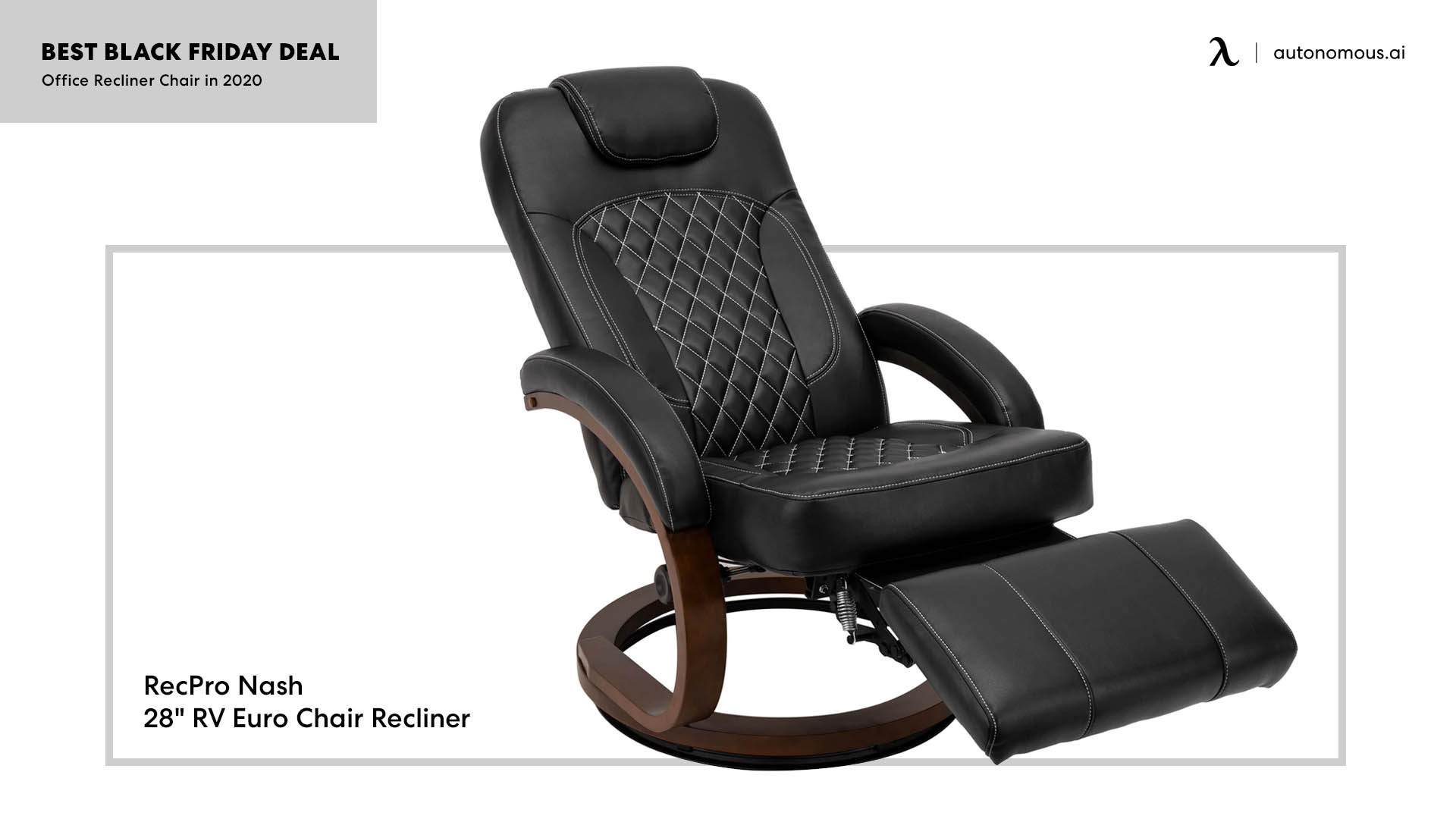 9. Rockefeller Leather Executive Chair
The Rockefeller executive chair from Zuri is made of high-quality leather and has four color options: black, white, grey, and dark brown. It has a high-density foam pad for comfort. While expensive, it offers a classy look for your workspace.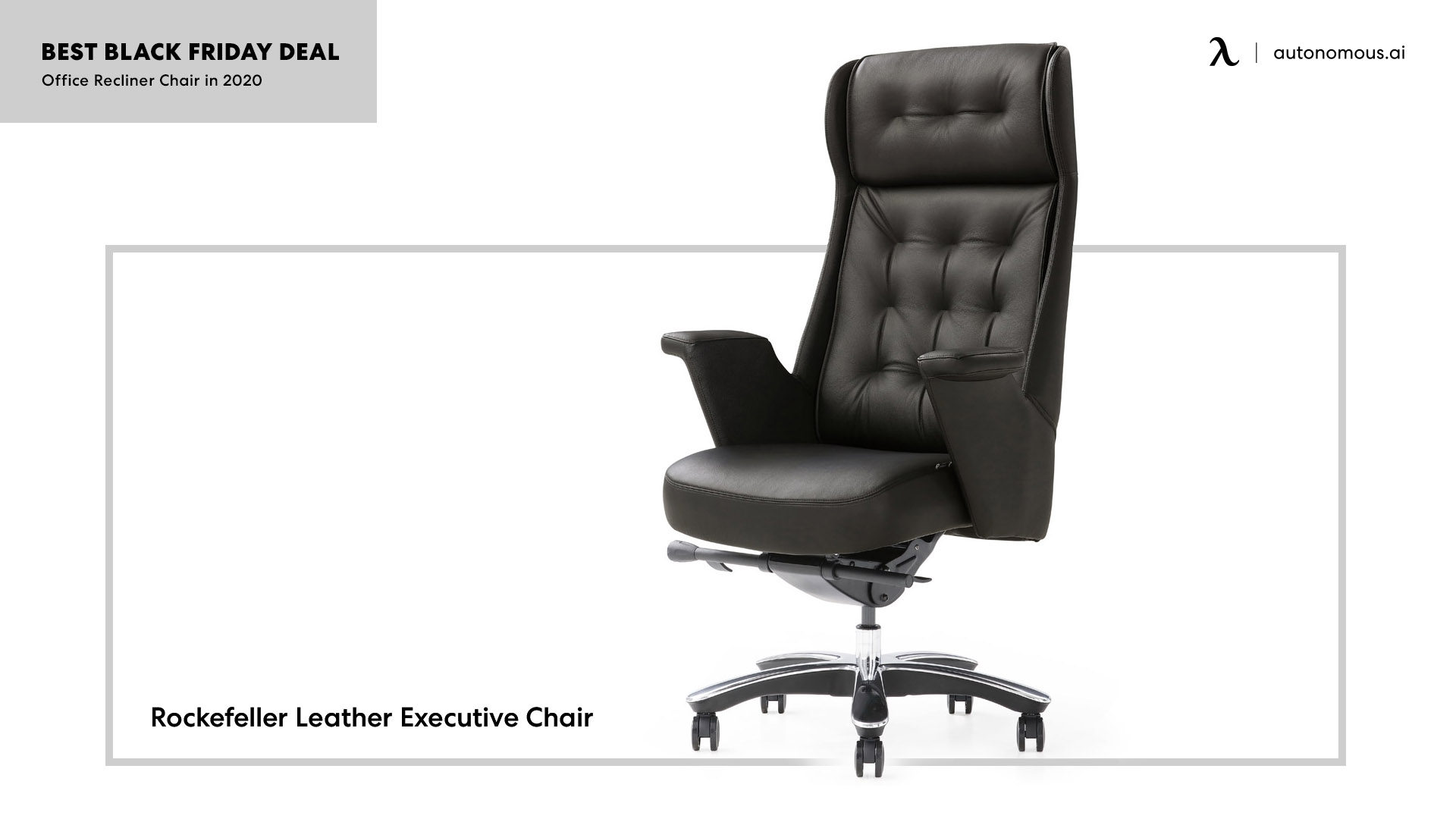 Pros:
● Clean executive look
● Height adjustability
● Aluminum swivel base
● Padded armrest
Cons:
● Lacks leg support
● Does not do well in excessive heat
● Armrests are rather small
● Considerably expensive, even with price cuts
10. Finkelstein Faux Leather Manual Swivel Recliner with Ottoman
Another product of Orren Ellis, the Finkelstein recliner provides a unique look with ergonomic support. Upholstery color includes black, white, and sandalwood. The material itself is durable, thanks to the plush upholstery. It also saves space with its design.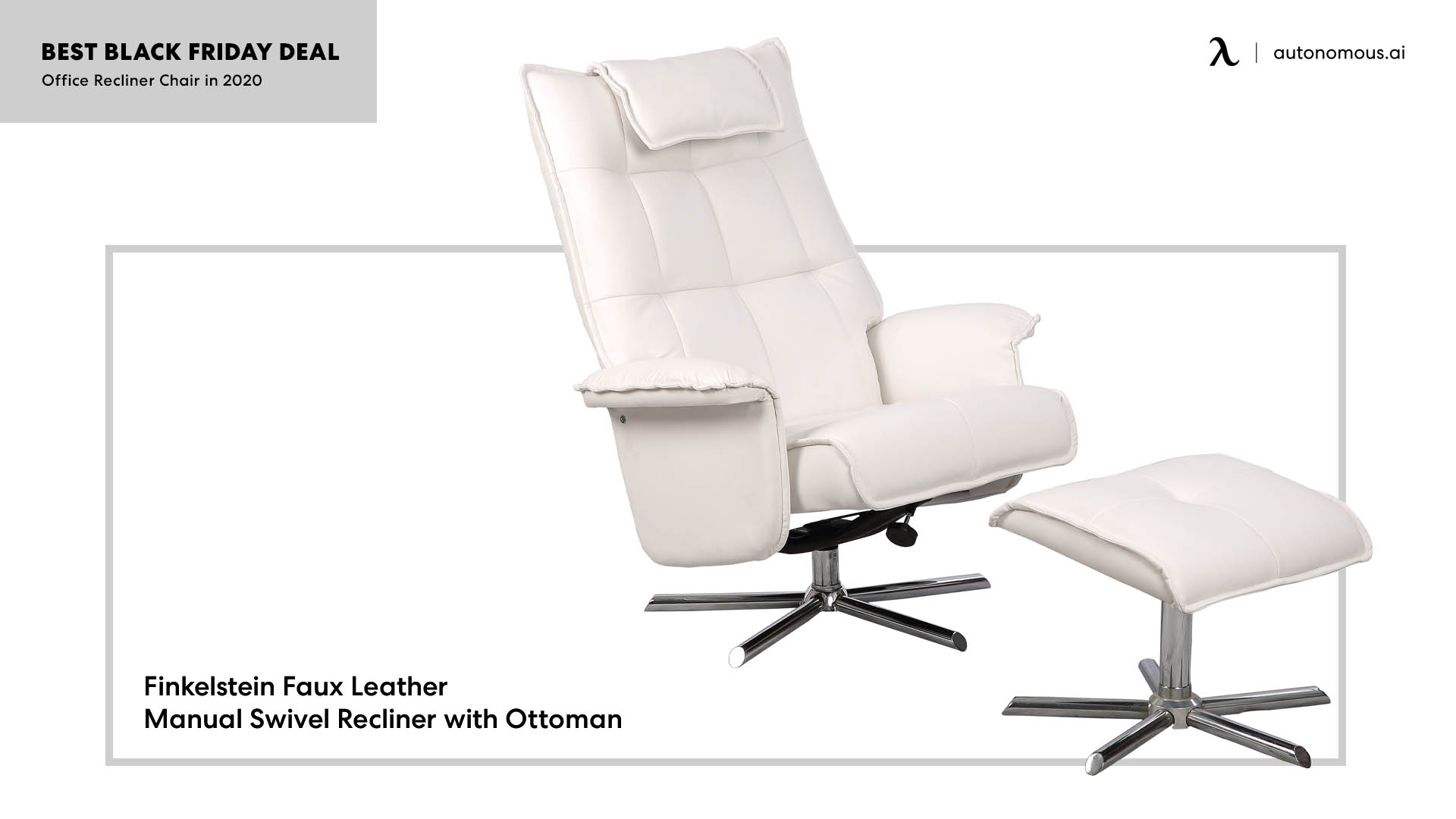 Pros:
● High level of comfort with the recline
● Plenty of space to move around
● Smooth material makes it easy to relax
● Durability to last a long time
Cons:
● Leather is not authentic
● Assembly can be difficult
● Somewhat expensive
● Plush material is prone to dirt
11. Winnols Manual Swivel Recliner with Ottoman
Latitude Run also has the Winnols recliner. The leg support is not attachable. Instead, it is a separate piece of furniture that goes with the recliner. For Black Friday office recliner chair sales, it has price cuts but is still expensive. It has a light brown color.
Pros:
● Pillow-top headrest and padded armrests
● Leg support is fully functional
● Flexible payment
Cons:
● Not as comfortable as other products
● Material is not completely solid
● Somewhat bulky in design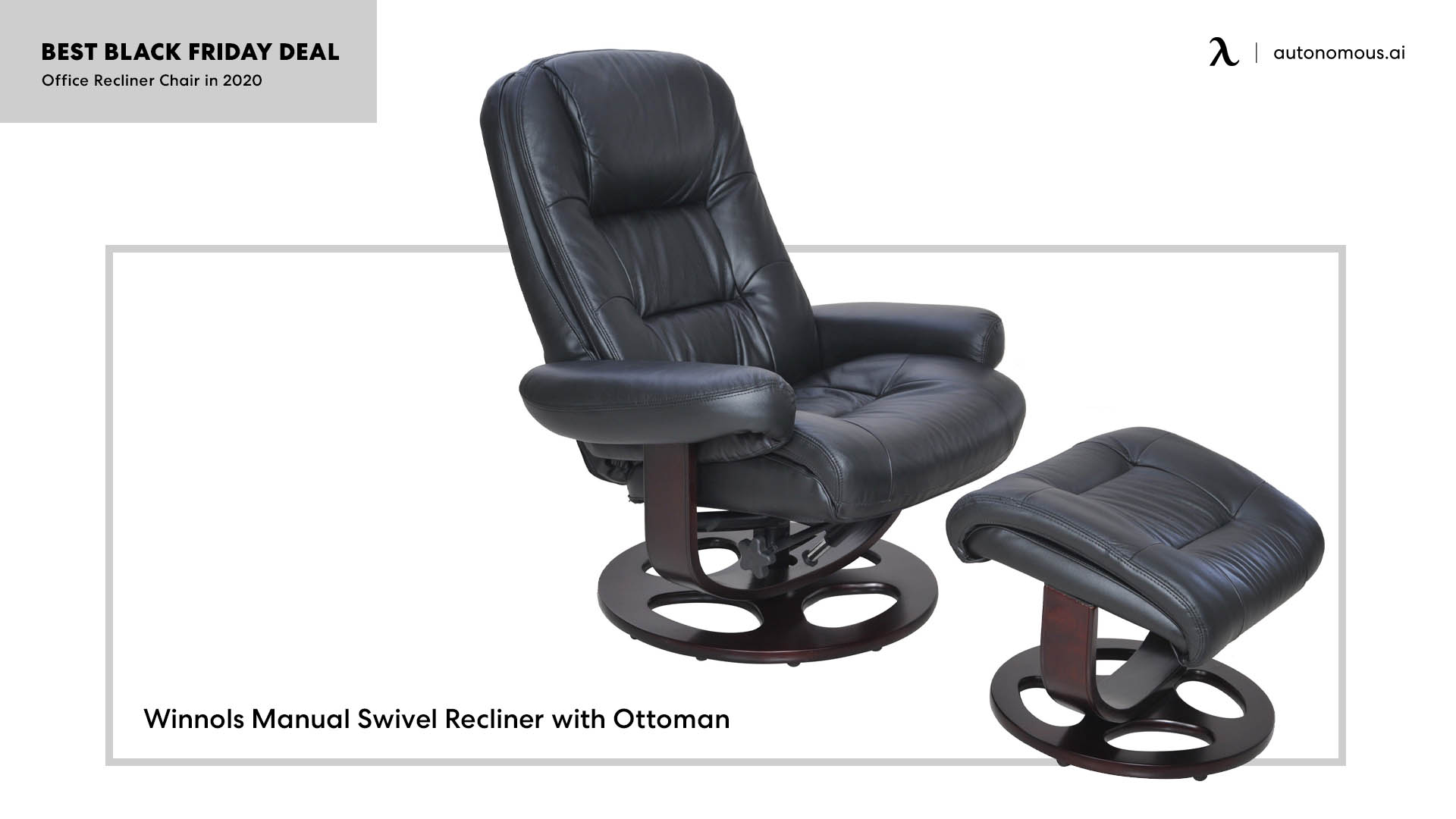 12. Faux Leather Manual Recliner with Massage
The leather manual recliner from Homall has high-quality faux-leather and a high-density sponge feel. The fabric has two color options and red and black, alongside blue and black.
Pros:
● Two massage points in the back-give comfort
● Provides a suitable sitting experience
● Built-in leg support
● Affordable price range
Cons:
● Leather is not authentic
● Narrow design limits space and size
● Material is weak and prone to damage
● Adjustability can be stiff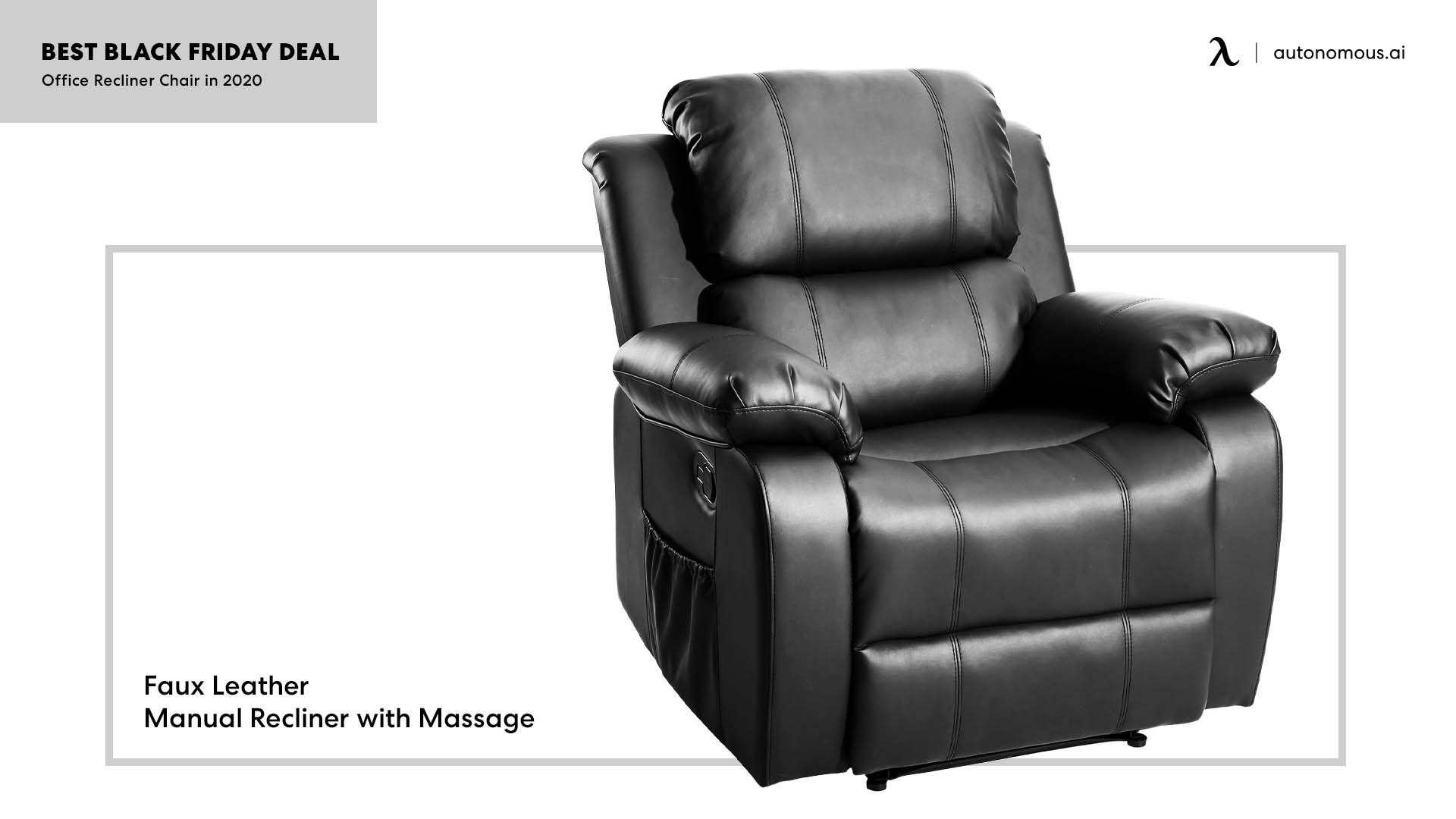 13. BackStrong C1 Recliner
The BackStrong C1 from All33 uses only vegan leather materials. With doctor recommendations, the chair design focuses on pain alleviation. Upholstery includes black, black with red, and black with tan.
Pros:
● Supports correct back posture
● Stimulates circulation with free movement
● Reduces neck and shoulder pain
● Eco-friendly materials
Cons:
● Narrow design
● Lacks leg support
● Not as much flexibility
● Considerably expensive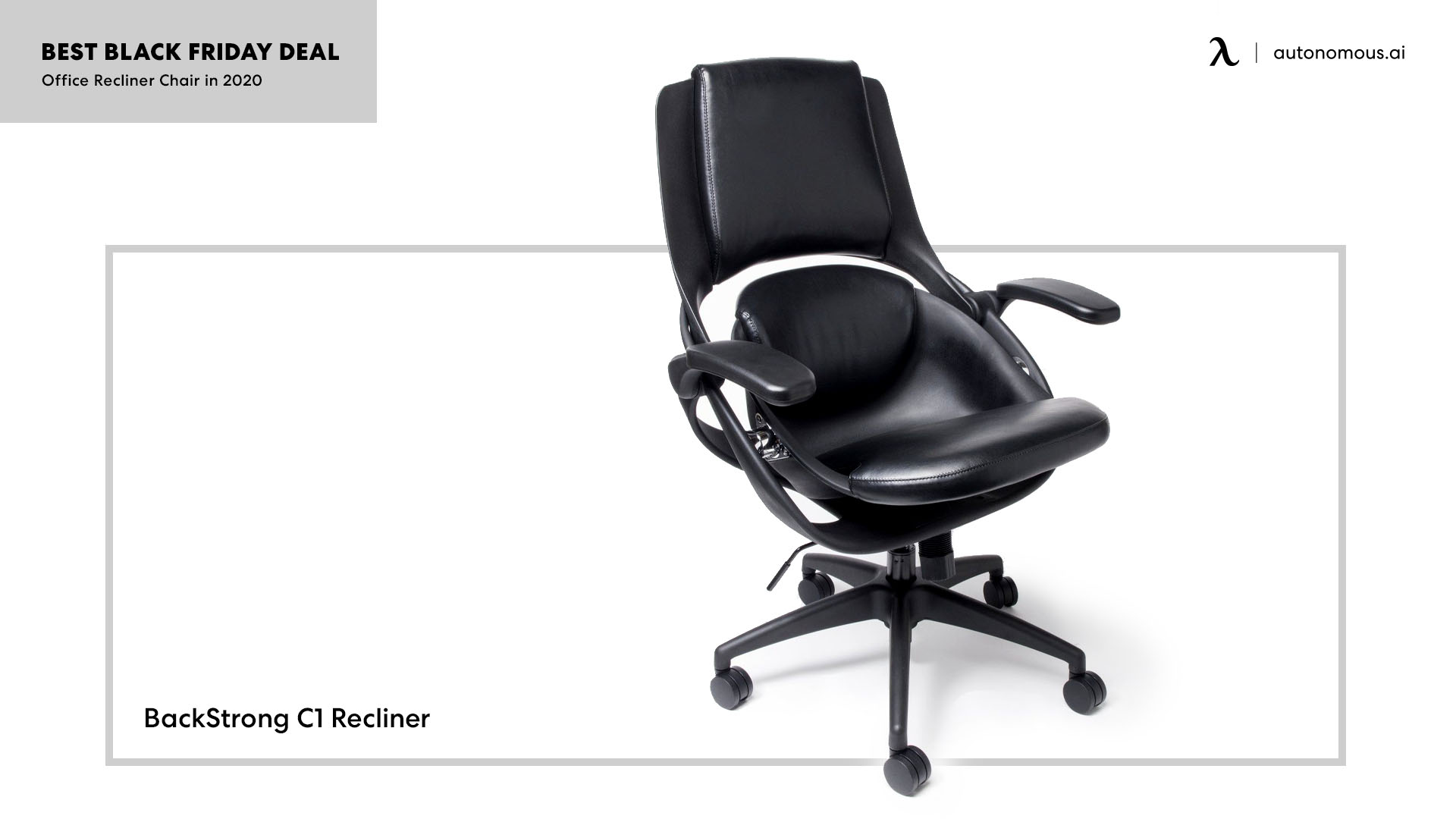 14. HomCom Recliner Chair
The HomCom recliner chair from Aosom is made of faux leather and has an adjustable manual swivel base. It is made in the traditional style of a classic recliner and has a footrest. Grey is the only color option available.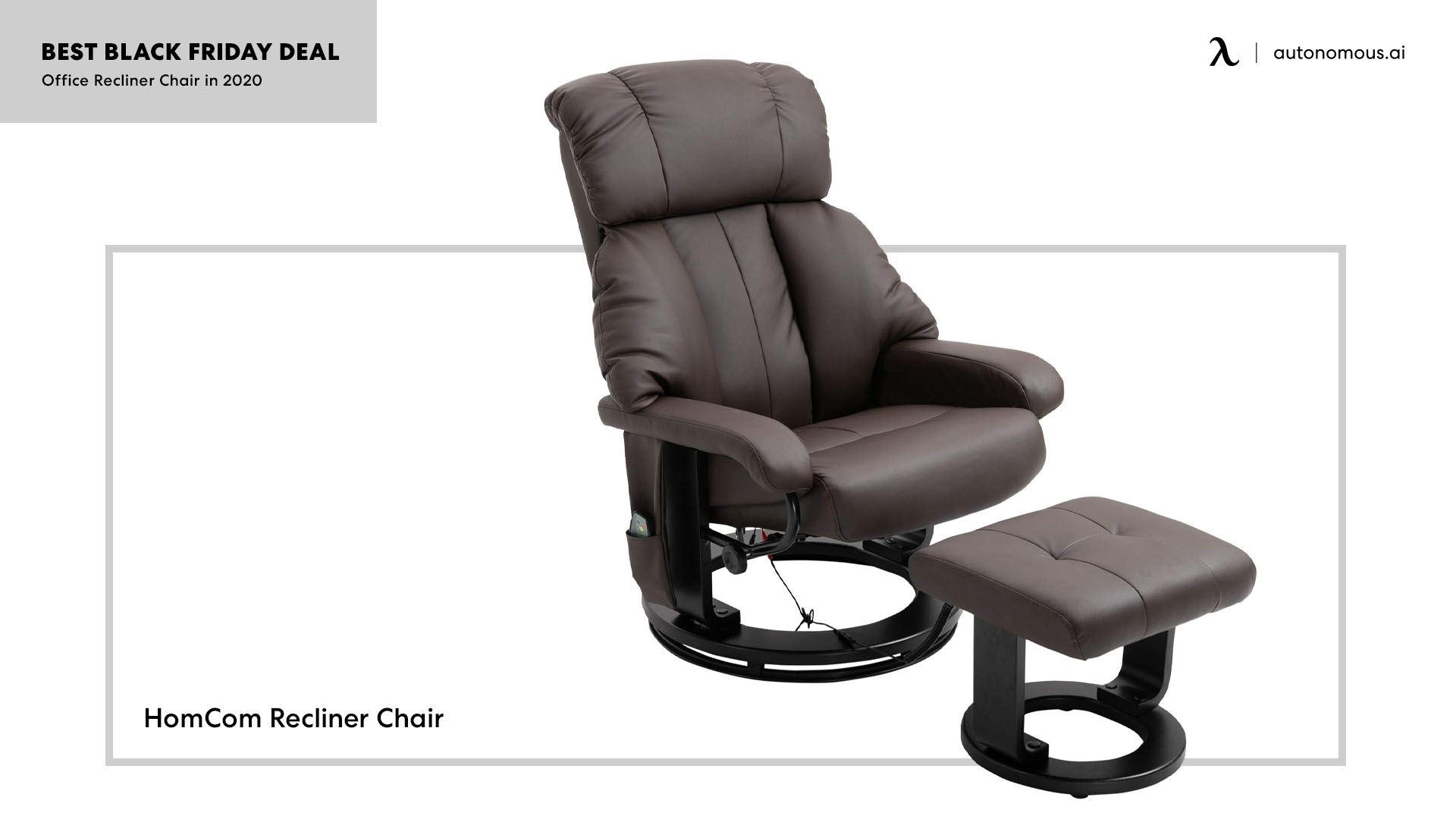 Pros:
● The classic design gives it a smooth look
● Comfortable padding provides back support
● Swivel base allows you to move around
● Footrest is extendable
Cons:
● Leather is not authentic
● The armrest is somewhat narrow
● Lacks height adjustability
● Slightly expensive
15. Hbada Ergonomic Office Recliner Chair
The Hbada recliner chair from the Hbada Store offers a high backrest with lumbar support. It provides a soft foam seat cushion, which gives it comfort and support. The black recliner has two color options for the armrests, which are white and black.
Pros:
● Height adjustable seat
● Ergonomic design provides backrest
● Mesh makes it breathable
● Affordable price range
Cons:
● Backside might shift side to side due to bolt placement
● Armrests are narrow in space
● Footrest does not provide much support
● Makes quite a bit of noise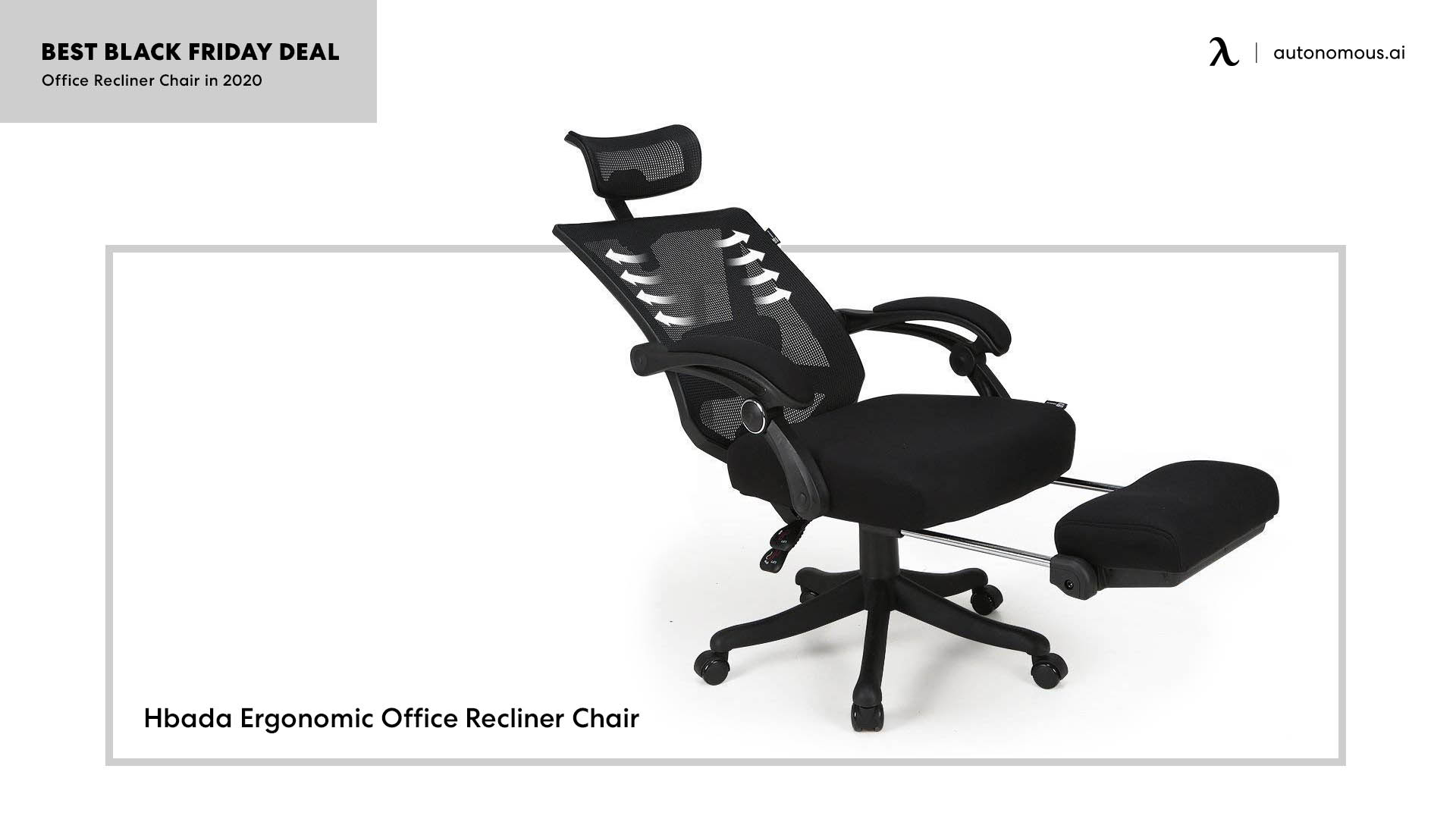 Conclusion
With Covid-19, online shopping is more important than in previous years. You can stay safe within your home as you shop online for a Black Friday office reclining chair. Ergonomic chair design allows you to enjoy the health benefits of a straight posture, better blood circulation, and oxygen flow. Hopefully, this list gives you an idea of what to look for. Keep in mind comfort, stability, and sales prices as you buy a Black Friday recliner chair.
Get exclusive rewards
for your first Autonomous blog subscription.

WRITTEN BYAutonomous
We build office products to help you work smarter.
Coming at You Live from Autonomous' Social Media!
Please fill the information below.
Thank you!