In a workplace, there is no bigger killer of efficiency than clutter on your desk. With the theory that surroundings impact the state of mind to a huge level, the state of your desk will direct your work performance and influence your thought process on your workstation. That being said, one should take suitable measures to minimize all kinds of clutter from their desk. From eliminating useless accessories to following the approach of a minimalist desk setup, you can easily build a workstation with only essentials at your bay.
 But while you try to achieve the most of your workstation, it is also likely that your desk gets cramped with essentials you cannot do without. This includes the screen, CPU, and other gadgets important for work. A desk PC  case, also known as an under-desk Pc case, is a mountable accessory that you can place or attach under the desk. It keeps your CPU machinery safe and prevents the mess on your desk. In this article, we will enlist the best computer desk PC cases.
Top 15 Useful Desk PC Cases You'll Love
With the right desk PC case, you can create a sleek and efficient setup that fits perfectly into your room and lets you get the most out of your hardware.
Picking the right desk computer case for your room is important because it will affect your setup's look, feel, and performance. Good ergonomics is crucial, especially if you have a work from home desk setup  because your setup will eventually determine your productivity.
Besides picking the top PC case and the perfect desk for it, you can also improve your setup by adding other products like lamps, power outlets, etc. In the following section, we'll look at some useful accessories you can add to your setup.
1. Mount-It! Under Desk CPU
Save space on your desk and minimize clutter with this versatile and affordable under desk CPU mount by Mount-It!. The Mount-It! under desk computer case has a space range of 11.8 inches to 21 inches. Other than being mountable under your desk, it can also be installed on the wall if you work with a floating desk. It has a weight capacity of 22 pounds and offers 360 degrees swivel for flexible alignment.
| | |
| --- | --- |
| Dimension | 3.5" – 8"W x 11.8" – 21"H |
| Load capacity | 22 lbs |
| Materials | Steel |
| Swivel | 360° |
| Warranty | 10 years |
2. Under Desk Computer Mount
If you prefer a computer tower holder with a not-so-loud design, opt for this product from mount. It has a weight capacity of 22 pounds, and the adjustable frame makes it universally fit for all kinds of CPUs. The swivel feature allows 360 degrees adjustability, and you also get a security lock to fasten your machinery in place.
| | |
| --- | --- |
| Dimension | 20"L x 8"W x 6"H x 12 lbs |
| Load capacity | 22 lbs |
| Color | Black |
| Swivel | 360° |
| Slide extension | Up to 12.9'' |
| Warranty | 10 years |
3. Mount-It! Thin CPU Case
One of the top PC cases due to its thin design and fill adjustability, the Universal Thin Client PC Mini Mount is popular among users. It fits most mini computers, even big-sized CPUs and large docking stations, and provides a tangle-free pathway to cables. The universal bracket has a weight capacity of 11 pounds, and the 4 mounting options allow you to make the most versatile use. Moreover, you can purchase this multi-purpose work or gaming desk PC case with the employee purchase program and get a decent discount.
| | |
| --- | --- |
| Load capacity | 11 lbs |
| Color | Black |
| Hold | Between 0.67" and 2.8" |
| Mounting options | Under desk, behind monitor, attached to a pole or attached to a wall |
| Warranty | 10 years |
4. Fractal Meshify Compact
Not only do you get a CPU case, but also a lifelong solution to troublesome cable management. This one comes with 3 fans for effective cooling of your sensitive machinery. You will get excellent thermal performance as well as easy filter access. However, one drawback of this CPU Case for gamers is that it doesn't have an RGB setting.
5. Cooler Master Cosmos
One of the most stunning cases we've ever seen is the premium case, which has a few contemporary additions. Additionally, the side panel's dark color has been toned down to make the shiny components you paid a lot of money to house inside easier to see.
Individually controllable RGB strips running continuously from the top panel's rear through the case's bottom are a feature of lightning.
6. Corsair Carbide PC Case
The Carbide 275R casing, which has a straightforward appearance but more complex functionality, may be the pinnacle of minimalism. Up to six 120mm fans and a 360mm radiator can be supported by the Carbide 275R. The 275R is an affordable option for users at all skill levels who want to design a sophisticated custom loop.
7. Phanteks Eclipse
This CPU case is no exception when we talk about performance with quality. It also has the much-needed feature by gamers, the RGB fan. The price for this one is also pretty reasonable for the features you get. However, a common problem with this cause is that it doesn't support USB-C type and the cable routing design is not the best you would want.
8. NZXT PC Case
The NZXT PC Case is applaudable and built with a sturdy design. It offers extra cooling so the devices that are always ready to fire up can cool down with this PC case. The routed cable removes all the clutter and cable mess problems on your workstation. It also comes with a 3-year warranty, although the durability is assured to last.
9. Lian Li PC Case
The PC-O11 from Lian Li is a fantastic choice. With this case, which is very reasonably priced, you get a lot for your money, including three PWM fans, attractive aluminum pieces, a glass panel, a dapper appearance, plenty of IO, an excellent interior design, and full ATX compatibility.
10. Silverstone Seta
Another tower computer mount with high-quality material built and cooling mechanism. This PC case is compatible with different sizes of CPUs, and the best part is that it also falls within the affordable price range. It doesn't have an RGB option, so that it might be suitable for work needs only.
11. Antec Cube
For all of you Razer enthusiasts, the Antec Cube is undoubtedly the greatest PC case available. The Antec Cube has a surprising amount of room for future expansion and is small enough to carry along.
12. MSI Forge
A high-quality gaming PC case shouldn't be prohibitively expensive for no reason. With its 100R case, which is perfect for any budget builder and ensures that your money may be better spent on core components without compromising on quality, MSI seems to agree with this statement about its line of MAG Series cases.
13. Silent Base 802
Best desk PC case with maximized airflow silently, the fan of this PC case doesn't make a noise in quiet settings. It has a minimalist design with plenty of fans and excellent customization. It can support up to 25 pounds and also comes in different sizes.
14. Thermaltake Core
The Thermaltake Core is a master of cooling hot CPU setups, so it can house multiple options and be durable. It is customizable, where you can choose between different sizes and adjust the mounting with multiple mounting options.
15. Cooler Master HAF 700
The Cooler Naster is indeed a one-time solution to your PC overheating problems. This PC case offers ideal thermal performance and a glass grille that adds to the aesthetics. Moreover, you get an Iris LCD screen paired with drive support. Two included fans in this desk PC case carry out the cooling process effortlessly.
Advanced Accessories For Your Desk PC Case
The good thing about all the accessories mentioned in this article is that you can easily find them in online computer accessories stores.
1. LED Desk Lamp
LED desk lamps are becoming increasingly popular due to their energy efficiency, long lifespan, and adjustable lighting. LEDs are the most energy-efficient type of lighting available and can last up to 25 times longer than traditional incandescent bulbs. LED desk lamps offer adjustable lighting to suit your preferences and can be dimmed or brightened with the touch of a button, making them perfect for studying or focusing on detailed tasks.
LED desk lamps are also incredibly safe because they generate very little heat. This eliminates the risk of fire or burns associated with traditional incandescent bulbs. Additionally, LEDs are mercury-free in the making.
| | |
| --- | --- |
| Dimensions | 21"L x 3"W x 7.5"H |
| Colors | Black |
| Materials | Die casting Aluminum & Metal |
| Input voltage | AC 100 - 240V 50/60Hz |
| Brightness | 600 lm |
| Light colors | 3000k, 4000k, 5000k, 6000k |
| Lamp lifetime | 50,000 hours |
| Item weight | 18 lbs |
| Warranty | 1 year |
2. Power Outlet
When using an LED desk lamp, it is important to consider the power outlets available in your workspace. Many LED lamps require a dedicated power outlet to function properly.
If you don't have access to a dedicated power outlet, it is important to use a power strip or extension cord to ensure your LED lamp receives enough power. Getting a separate power outlet for your desk will keep all your electronics working no matter where you place your desk.
Dimensions
8.6"L x 5.7"W x 2.5"H
Colors
Black, White
Outlet specs
12A, 125VAC, 60Hz, 1500W
Weight capacity
26 lbs
Item weight
2 lbs
Features
03 US power socket (Flat prong plug)
02 USB charger socket
71 inches US power cord
Warranty
1 year
3. Desk Organizers
If you are a PC-inside-desk person which means you keep your computer inside a desk, chances are you keep everything else on top of it, which is why you should get a desk organizer. A desk organizer is a great way to keep everything organized and in one place. Desk organizers come in various styles, shapes, and sizes to suit any desk space.
The most important thing when selecting a desk organizer is to make sure it fits your desk and the items you plan to store. Consider the size of your desk, the items you plan to store, and the type of materials the desk organizer is made of.
Desk organizers are a great way to keep your desk space tidy. They help keep all the items on your desk in one place, making it easier to find what you need when you need it. Plus, they add a touch of style to any desk space.
Dimensions
13.5"L x 3.25"W x 3.75"H
Colors
Natural/ Brown/ Black
Materials
Bamboo base with N52 NiCuCi magnets
ABS plastic organizing compartments
Non-Slip Silicone Feet
Include
2 Tall tray
1 Short tray
1 Phone stand
1 Medium tray
1 Post-it holder
1 Magnetic Grid
Warranty
Lifetime
4. Standing Mats
It is important to invest in a standing mat if you have a standing desk setup. A standing mat helps cushion your feet and legs from the pressure and strain of standing for long periods. This can help you to stay comfortable and reduce the risk of developing health issues such as back and joint pain.
Standing mats are designed to provide cushioning and support for the feet, legs, and back. They are usually made from materials such as rubber, foam, or gel and come in various sizes and thicknesses, so you can find one that meets your needs.
Some standing mats are designed with features such as anti-fatigue technology and beveled edges for improved ergonomics. Choosing the right mat is important because the wrong kind can be detrimental to your health.
| | |
| --- | --- |
| Dimensions | 33"L x 20"W x 2"H |
| Colors | Black |
| Materials | PU (Polyurethane) + PVC leather + SBR anti-slip layer |
| Weight capacity | 331 lbs |
| Item weight | 4 lbs |
| Warranty | 1 year |
Why Is It Important To Pick the Right Desk PC Case?
Picking the right desk PC case for your room is an important decision that should not be taken lightly. It's not just about finding the right size and color to fit the look and feel of your room but also about finding a case that fits your needs, whether you have a standing desk or a plain one.
The right CPU holder can make a huge difference in the comfort and usability of your desk setup. With the right case, you'll be able to customize your setup to fit your exact needs and preferences while also providing enough protection for your equipment. By taking the time to research and pick the right desk PC case for your room, you can ensure that you have the best setup for your needs.
What Should You Look for in a Desk PC Case?
Depending on your individual needs and preferences, you may want a PC case with plenty of room for your hardware and can accommodate multiple monitors. On the other hand, if you don't need a lot of space, a compact desk may be more suitable.
In addition to providing adequate space, the right desk PC case should also be able to keep your hardware cool and safe. Many cases come with built-in fans and other cooling systems to ensure that your components stay at safe operating temperatures.
A good case should also have a dust filter to keep dust and debris away from your hardware and prevent it from clogging up the fans and other sensitive components.
Finally, the right desk PC case should also be stylish and match the rest of your decor. With so many options available, from classic to modern styles, you will surely find a case that fits your room perfectly.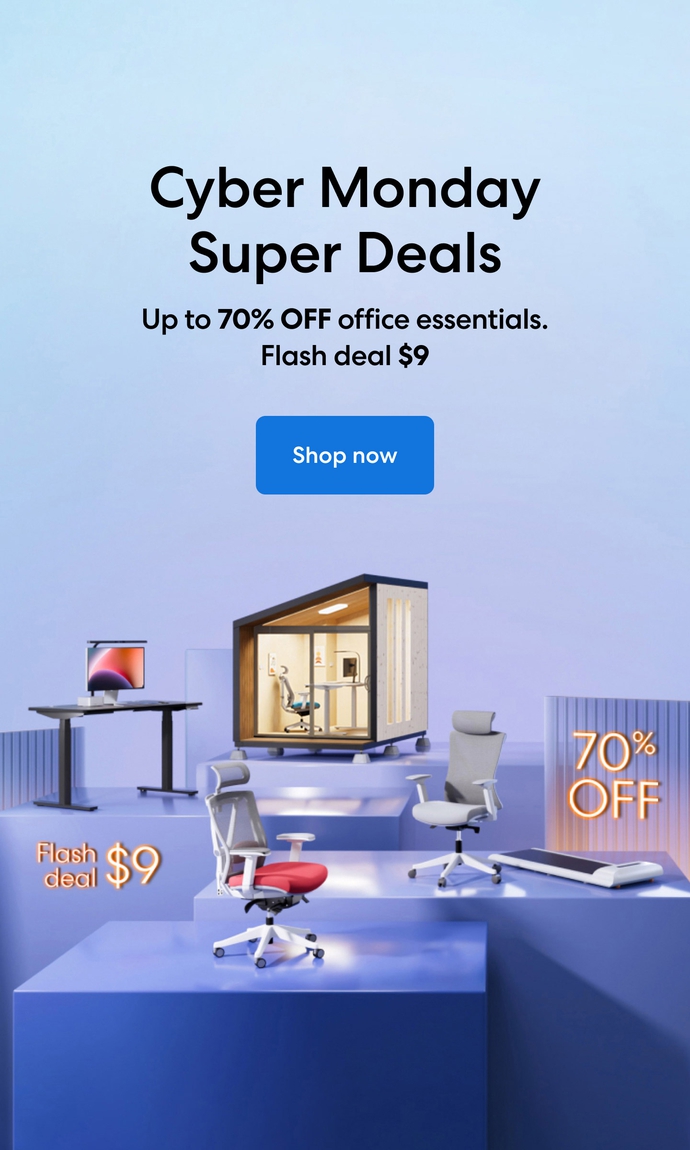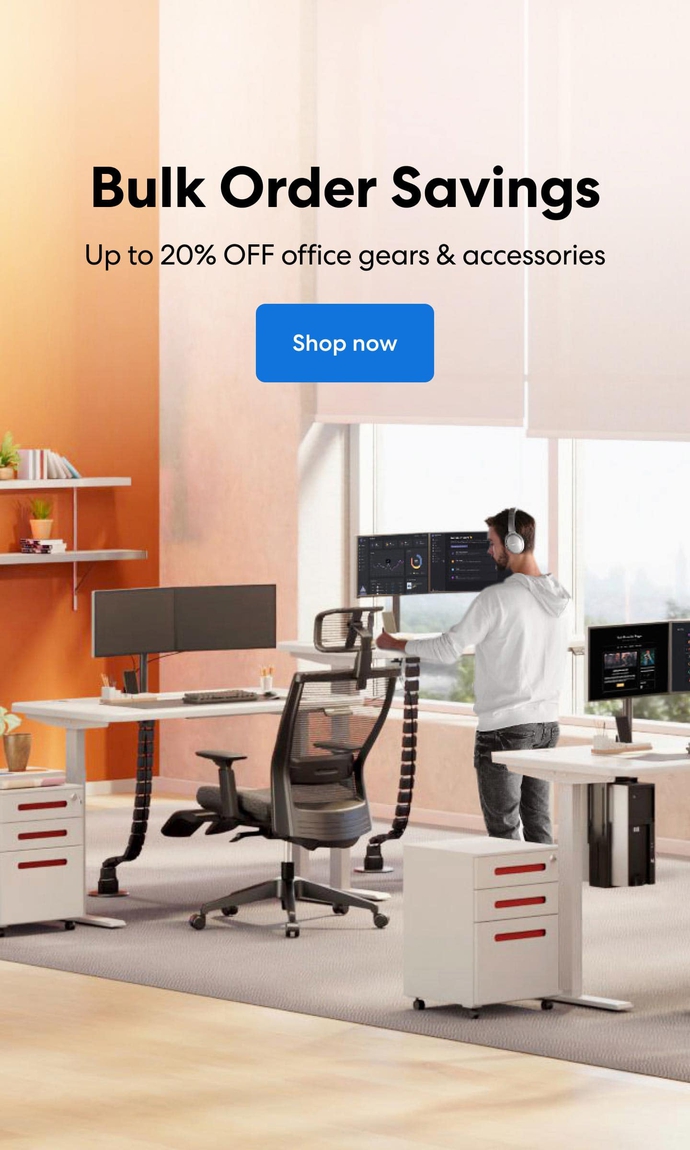 Subcribe newsletter and get $100 OFF.
Receive product updates, special offers, ergo tips, and inspiration form our team.