Smart Products
15 Useful Desk PC Cases for Computer Users
630 Views
In a workplace, there is no bigger killer of efficiency than clutter on your desk. With the theory that surroundings impact the state of mind to a huge level, the state of your desk will direct your work performance and influence your thought process on your workstation. That being said, one should take suitable measures to minimize all kinds of clutter from their desk. From eliminating useless accessories to following the approach of a minimalist desk setup, you can easily build a workstation with only essentials at your bay.
But while you try to achieve the most of your workstation, it is also likely that your desk gets cramped with essentials you cannot do without. This includes the screen, CPU, and other gadgets important for work. A desk PC case, also known as an under-desk Pc case, is a mountable accessory that you can place or attach under the desk. It keeps your CPU machinery safe and prevents the mess on your desk. In this article, we will enlist the best computer desk PC cases.
1. Mount-It! Under Desk CPU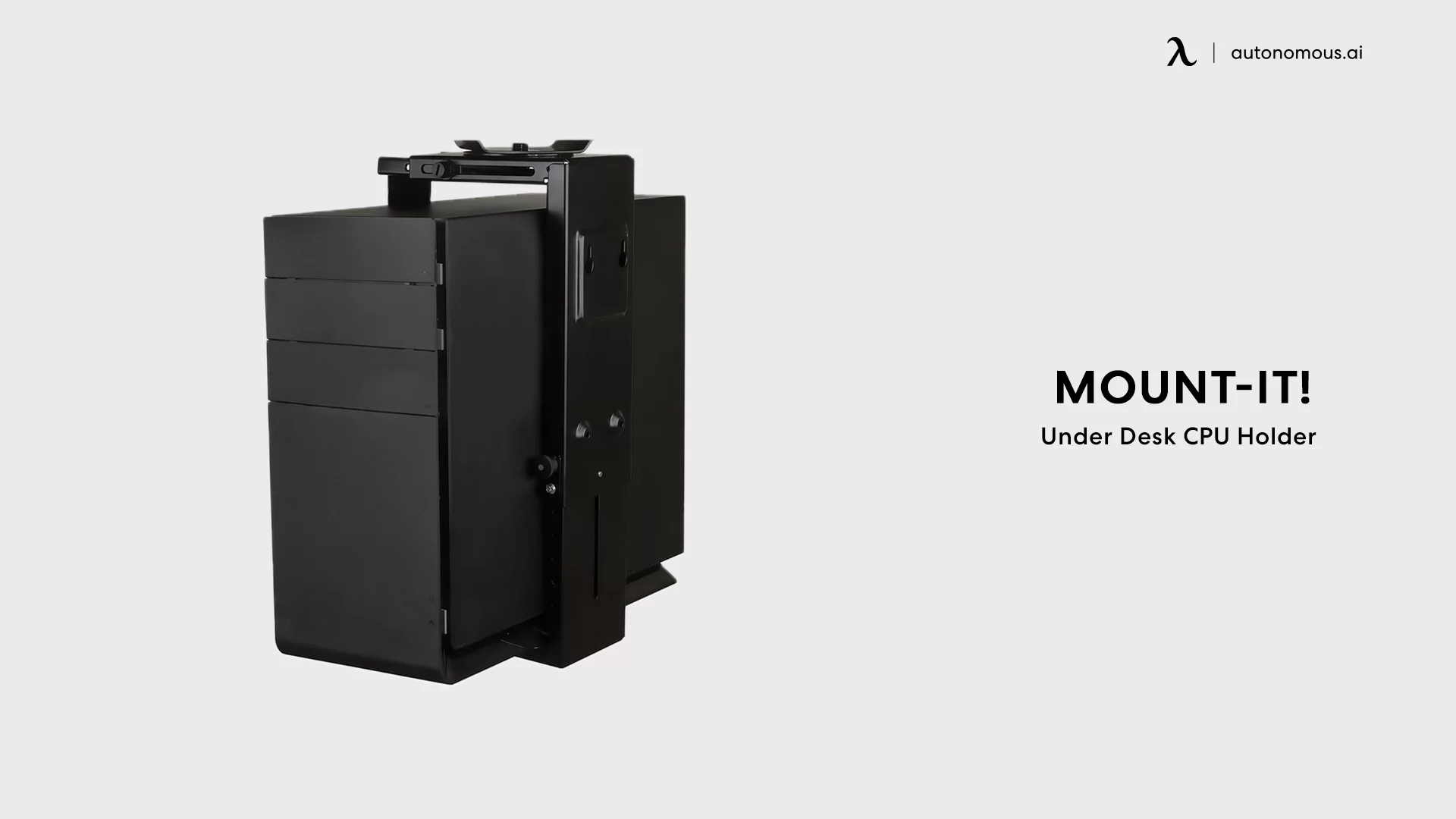 Save space on your desk and minimize clutter with this versatile and affordable under desk CPU mount by Mount-It!. The Mount-It! under desk PC case has a space range of 11.8 inches to 21 inches. Other than being mountable under your desk, it can also be installed on the wall if you work with a floating desk. It has a weight capacity of 22 pounds and offers 360 degrees swivel for flexible alignment.
2. Under Desk Computer Mount
If you prefer a computer tower holder with a not-so-loud design, opt for this product from mount. It has a weight capacity of 22 pounds, and the adjustable frame makes it universally fit for all kinds of CPUs. The swivel feature allows 360 degrees adjustability, and you also get a security lock to fasten your machinery in place.
3. Mount-It! Thin CPU Case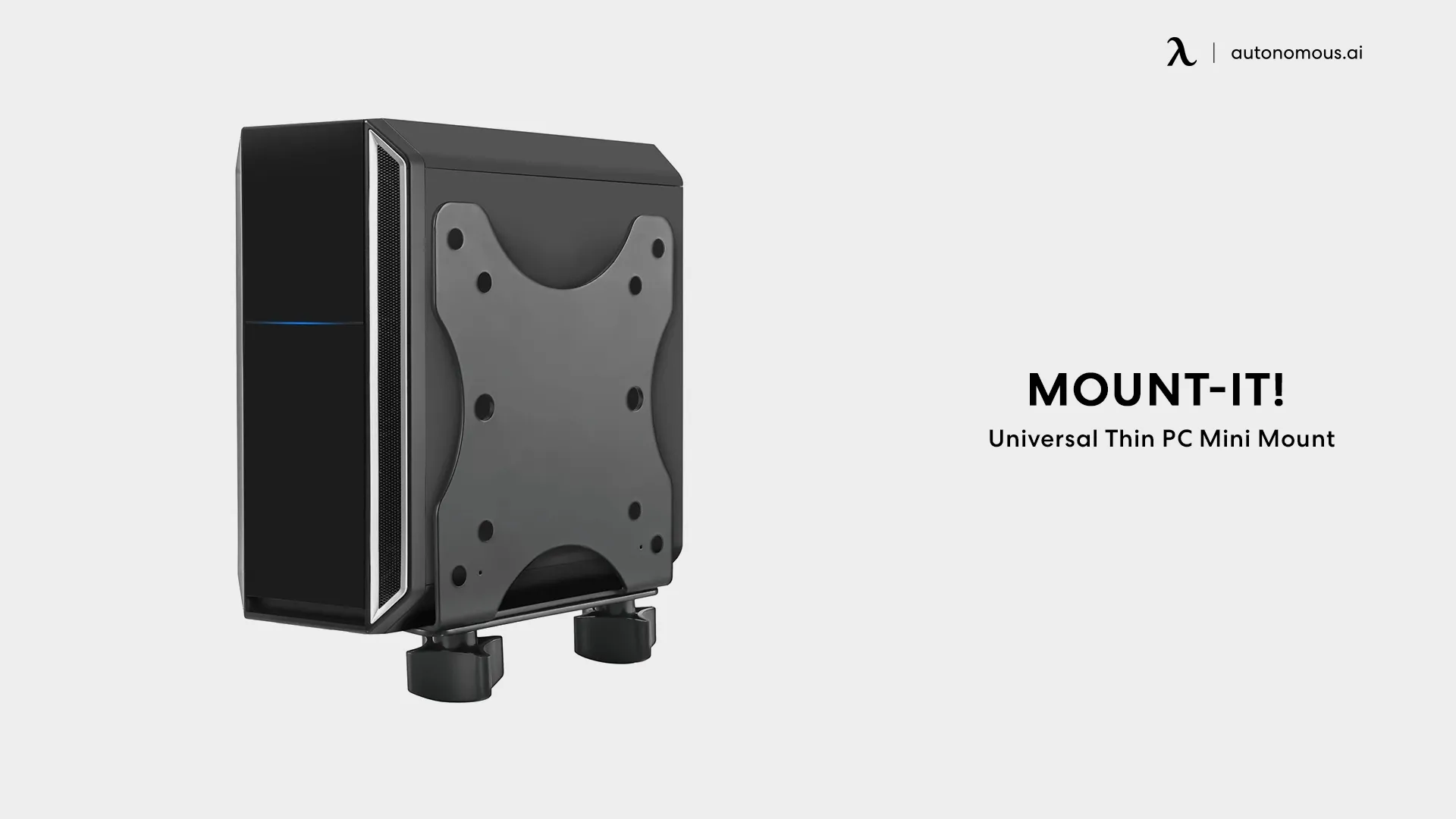 One of the top custom desk PC cases due to its thin design and fill adjustability, the Universal Thin Client PC Mini Mount is popular among users. It fits most mini computers, even big-sized CPUs and large docking stations, and provides a tangle-free pathway to cables. The universal bracket has a weight capacity of 11 pounds, and the 4 mounting options allow you to make the most versatile use. Moreover, you can purchase this multi-purpose work or gaming desk PC case with the employee purchase program and get a decent discount.
4. Fractal Meshify Compact
Not only do you get a CPU case, but also a lifelong solution to troublesome cable management. This one comes with 3 fans for effective cooling of your sensitive machinery. You will get excellent thermal performance as well as easy filter access. However, one drawback of this CPU Case for gamers is that it doesn't have an RGB setting.
5. Cooler Master Cosmos
One of the most stunning cases we've ever seen is the premium case, which has a few contemporary additions. Additionally, the side panel's dark color has been toned down to make the shiny components you paid a lot of money to house inside easier to see.
Individually controllable RGB strips running continuously from the top panel's rear through the case's bottom are a feature of lightning.
6. Corsair Carbide PC Case
The Carbide 275R casing, which has a straightforward appearance but more complex functionality, may be the pinnacle of minimalism. Up to six 120mm fans and a 360mm radiator can be supported by the Carbide 275R. The 275R is an affordable option for users at all skill levels who want to design a sophisticated custom loop.
7. Phanteks Eclipse
This CPU case is no exception when we talk about performance with quality. It also has the much-needed feature by gamers, the RGB fan. The price for this one is also pretty reasonable for the features you get. However, a common problem with this cause is that it doesn't support USB-C type and the cable routing design is not the best you would want.
8. NZXT PC Case
The NZXT PC Case is applaudable and built with a sturdy design. It offers extra cooling so the devices that are always ready to fire up can cool down with this PC case. The routed cable removes all the clutter and cable mess problems on your workstation. It also comes with a 3-year warranty, although the durability is assured to last.
9. Lian Li PC Case
The PC-O11 from Lian Li is a fantastic choice. With this case, which is very reasonably priced, you get a lot for your money, including three PWM fans, attractive aluminum pieces, a glass panel, a dapper appearance, plenty of IO, an excellent interior design, and full ATX compatibility.
10. Silverstone Seta
Another tower computer mount with high-quality material built and cooling mechanism. This PC case is compatible with different sizes of CPUs, and the best part is that it also falls within the affordable price range. It doesn't have an RGB option, so that it might be suitable for work needs only.
11. Antec Cube
For all of you Razer enthusiasts, the Antec Cube is undoubtedly the greatest PC case available. The Antec Cube has a surprising amount of room for future expansion and is small enough to carry along.
12. MSI Forge
A high-quality gaming PC case shouldn't be prohibitively expensive for no reason. With its 100R case, which is perfect for any budget builder and ensures that your money may be better spent on core components without compromising on quality, MSI seems to agree with this statement about its line of MAG Series cases.
13. Silent Base 802
Best desk PC case with maximized airflow silently, the fan of this PC case doesn't make a noise in quiet settings. It has a minimalist design with plenty of fans and excellent customization. It can support up to 25 pounds and also comes in different sizes.
14. Thermaltake Core
The Thermaltake Core is a master of cooling hot CPU setups, so it can house multiple options and be durable. It is customizable, where you can choose between different sizes and adjust the mounting with multiple mounting options.
15. Cooler Master HAF 700
The Cooler Naster is indeed a one-time solution to your PC overheating problems. This PC case offers ideal thermal performance and a glass grille that adds to the aesthetics. Moreover, you get an Iris LCD screen paired with drive support. Two included fans in this desk PC case carry out the cooling process effortlessly.
Hey, you have special pricing through your company.
Get exclusive rewards
for your first Autonomous blog subscription.
WRITTEN BYAutonomous
We build office products to help you work smarter.