Smart Products
18 Best Dorm Desk Recommendations for Students in 2023

Autonomous
|
Aug 3, 2022
1,643 Views
A dorm desk is one of the essentials that you should add to your study space. However, finding the ideal one might prove challenging if you don't have a list of the best alternatives. Here are some top-notch models to consider.
Top 18 Best Dorm Desks for College for Students
1. Mount-It! Rolling Desk: Tiltable Desktop
The first dorm room desk on this list is the Mount-It! Rolling Desk: Tiltable Desktop, which is a compact alternative that's ideal for your workstation if you need something functional.
Since it doesn't take much space, it's one of the best college dorm desk alternatives you can find. Its mobile design makes transport a quick and straightforward process, so you only need to worry about putting the table in the place that benefits you the most.
2. The Office Oasis Premium Small Computer Desk
If you're looking for dorm room desk ideas, don't fear – The Office Oasis has something for you. It's a compact but sturdy desk that can accompany you for years and help you keep your school supplies in order. 
Buying The Office Oasis' Small Premium Computer Desk means you get a one-of-a-kind table to add to your study space. It includes a cable organizer, so it's ideal if you want to make sure that your surroundings look tidy.
Considering all the convenient features that this alternative offers you, it's a cheap computer desk. Thus, take a good look at it and decide whether or not it's for you. 
3. FENGE CompactDesk Ultra Long: Drawer & Bag Hook
Another small dorm desk to consider is the FENGE CompactDesk Ultra Long: Drawer & Bag Hook. This option is more expensive, but it's still worth its price because of its ergonomic design and fantastic features.
Buying the FENGE CompactDesk Ultra Long means you get a table that you can adjust. You can work and study while you're sitting or standing, depending on your needs. Therefore, it's ideal for people who want to complete their tasks while alternating positions to avoid getting tired.  
4. FENGE CompactDesk Ultrawide: Drawer & Bag Hook
While looking through different college desks, you're probably thinking that you want something both functional and stylish. Luckily, this brand has the ideal table you need. 
The FENGE CompactDesk Ultrawide: Drawer & Bag Hook offers one of the most beautiful designs you'll find out there. At the same time, it's immensely sturdy, so it can support the weight of your school supplies and technological devices.
This desk also includes ergonomic features, so it's an ideal model to consider if you want to switch between sitting and standing.  
5. Benzara Compact Gaming Desk
You don't need to be a gamer to enjoy the best pieces of furniture that they have available. If you love games, you might know about the Benzara Compact Gaming Desk, but if you don't know anything about gaming, it might still be the ideal table for you! 
All types of students (gamers and non-gamers alike) can enjoy this dorm desk. It's a convenient, multifunctional alternative that you can use to organize your surroundings and make sure that everything looks tidy.
With this dorm room desk, you get a cable organizer, so you don't need to have any cords lying around. Furthermore, it has two different shelves for your monitor or laptop, so it might be the best addition to your study space. 
6.  Convenience Concepts' Stainless Steel Desk
Even though you might be scared of the prospect of putting together your own desk, you never need to fear if you get Convenience Concepts' alternatives because you don't even need any tools to do it. 
Furthermore, this fantastic small dorm desk is stylish and it comes in different colors. Thus, you can pick the one you like the most. 
7.  Prepac Mounted Computer Desk
Saving space might be challenging when you're a student, but not if you get Prepac's Mounted college dorm desk. With this alternative, you get a thick and sturdy table that's able to support the weight of your technological devices and college supplies. 
With two side shelves to help you keep your books in order, it's one of the most convenient models to get if you're keen on saving as much space as possible. 
8. Coavas' Foldable Wood Computer Desk
Finding the ideal dorm desk that looks stylish, is inexpensive, and offers the features you need is one of the most challenging jobs of being a student. 
While some prefer the ApexDesk Standing Desk: Pneumatic Lift Mechanism, others love the Foldable Wood Computer Desk by Coava, which is definitely one of the best options you can consider.
Coavas' alternative is fantastic due to different reasons. It has foldable features, a sturdy and robust design, and clean lines. Therefore, it's both beautiful and convenient. Use it whenever you need it, and once you're done, fold it and put it under your bed!
9. Rockpoint Desk
Another college dorm desk you should consider is the Rockpoint, which is available in no less than five different colors. 
Getting the Rockpoint college dorm desk means you're buying a compact table, ideal for people who don't have much space available. With open shelves, a keyboard tray, and a drawer, it has everything you could ever need. 
The Rockpoint is one of the best alternatives you can get because it offers numerous options for you to store your supplies. At the same time, it's not very expensive, so it's a convenient model to consider if you're on a budget. 
10. Need's 47-inches Computer Table
If you need a table with a lot of legroom and different storage options, Need's alternative might be for you. This fantastic model has a 47-inch tabletop and it's made of sturdy materials, so it can definitely support the weight of your computer and other school supplies. 
With a dorm room desk such as Need's, you don't have to worry about the table shaking whenever you use your printer. Instead, enjoy the beautiful and sturdy work surface while you do your homework and study! 
11. Reversible L-shaped Desk with Shelves by WeeHom
Just because you're a student doesn't mean you have to get a compact computer desk. Some people have more space in their rooms, and if that's you, you might want a different table that allows you to organize additional studying supplies. 
WeeHom's model is the ideal one to consider if you want a spacious table to organize all your activities. It's an L-shaped desk, so you can quickly put it in the corner of your room and make sure it fits its style. 
12. SHW's Corner Desk
Some students don't have a spacious room, but they also don't want a compact desk. If you feel identified with this, fear not – SHW has an ideal model that's the best of both worlds. 
It's 51 inches long on both sides, which gives you a lot of space to place your computer without taking up half of your room. Additionally, this model has a sturdy frame with steel as its primary material, so it can last for years by your side without you having to worry about getting a new table. 
13. Hollow Corner Desk by Monarch Specialties
If you want a dorm desk with a lot of storage space and an elegant design, the Hollow Corner Desk by Monarch Specialties might be the one for you. 
With a spacious file drawer and two additional medium storage drawers, you might never need to worry about needing extra space to put your things in order.  
Furthermore, the opposite side of the college dorm desk is hollow and it gives you two shelves parallel to your chair along with three extra shelves right in front of you. Overall, it's one of the most convenient tables on the market, particularly if you have many documents and supplies to store.  
14. Kurv Floating Desk by Prepac
If you're looking for the best compact college dorm desk to add to your surroundings, Prepac has something that you should consider. 
The Kurv Floating Desk might be one of the most space-efficient alternatives out there. Since it's compact and its design is unique, you can quickly add it to your study space and guarantee that it won't take up a lot of it. 
Moreover, this dorm room desk gives you three additional shelves, so it's an ideal model to consider if you also need some space to store your books and other school supplies.  
15. Standing Desk Converter by Vivo
A desk with ergonomic features is what you need to guarantee that you won't hurt your neck, back, shoulders, arms, or legs while studying.  
The dorm room desk by VIVO has enough space for you to place two monitors, so it's an ideal model to consider if you have more than one screen.
At the same time, you can adjust this table and switch between standing and sitting, which alleviates tension, increases blood flow, and reduces any pains or aches you might have. 
16. Laptop Table Stand Adjustable Riser
Students who spend a lot of time at the library might want to check out this dorm room desk alternative. It's a portable option that you can take with you regardless of where you want to study, so why not give it a try? 
One of the best features of this adjustable dorm room desk is that it reduces the temperature of your laptop. It works with silent, USB-powered cooling fans to keep your computer at an appropriate temperature, which is ideal considering that laptops usually heat up quickly. 
This small dorm desk has adjustable legs, so you can study while sitting or standing, it's up to you. Lastly, its joints rotate up to 360 degrees and it's so light that you can quickly fold it and take it with you in your backpack! 
17. Sturdy Joy Desk by Stand
If you want a more straightforward alternative, the Sturdy Joy college dorm desk might be the one for you. It doesn't have adjustable features or additional storage space, but it has other characteristics you should consider. 
On the one hand, this table's assembly process is quick. Additionally, even though it doesn't have storage space, it's spacious enough under its legs to allow you to store different things if you want to. 
Lastly, the small dorm desk goes high enough to be ideal for students under six feet tall. Thus, if you want something more classic and straightforward, this might be the one for you. 
18. Nathan James Desk
The last item on this list is the Nathan James college dorm desk. With a solid wood composition and an elegant design, it might be the ideal addition to your study space if you want something functional but beautiful. 
Buying the Nathan James college dorm desk means you get two large compartments that you can use to store documents or other supplies. Put everything under the table and enjoy how clean and beautiful your surroundings can be! 
Keynote Takeaways
As a student, your college dorm desk is one of the essential pieces of furniture you must add to your study space. Choose carefully and consider each alternative before deciding!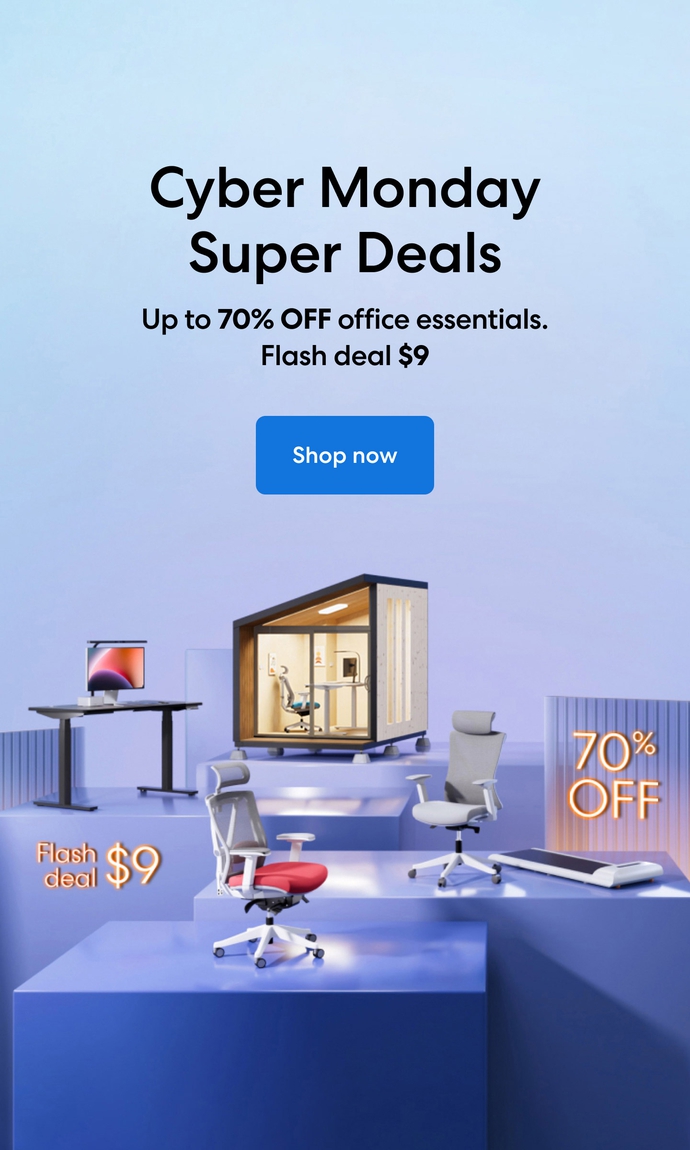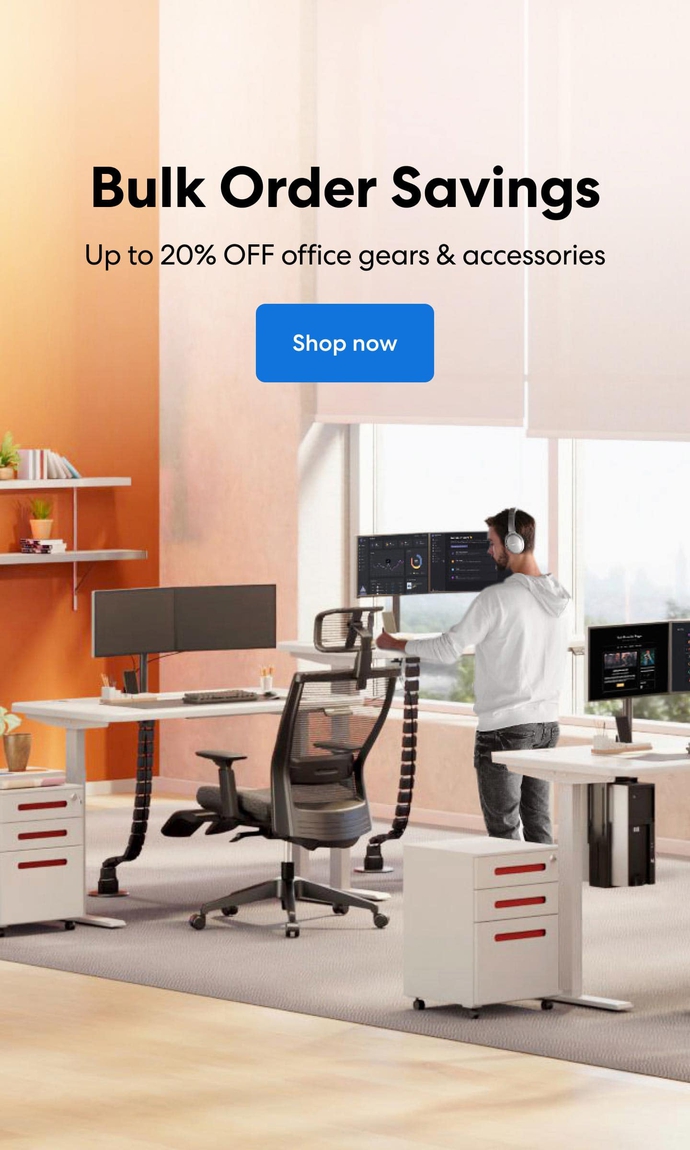 Subcribe newsletter and get $100 OFF.
Receive product updates, special offers, ergo tips, and inspiration form our team.