Smart Products
20 Adjustable Standing Desks for Small Spaces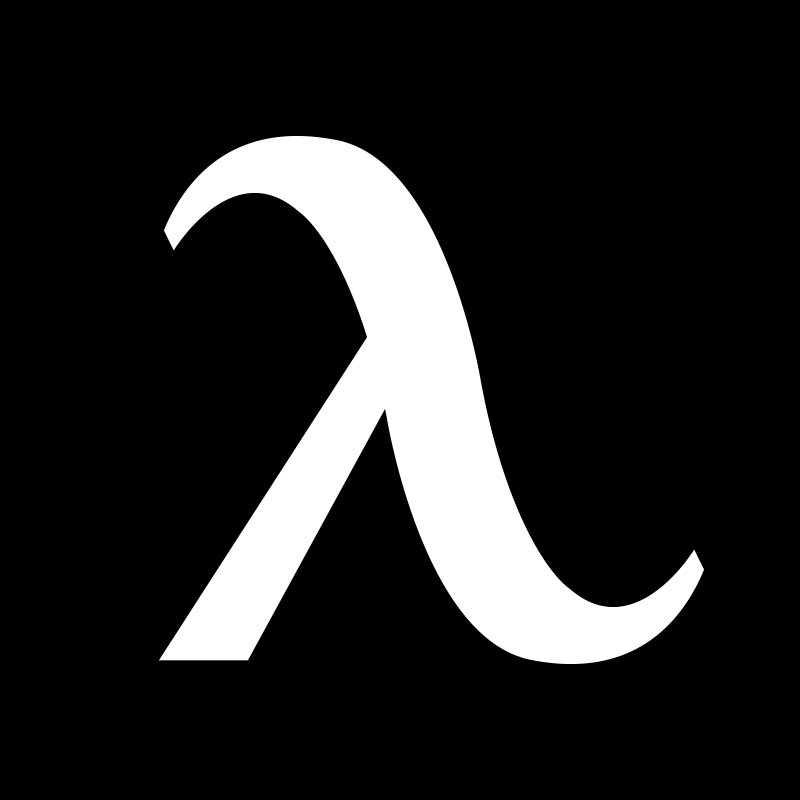 Autonomous
 | 
Feb 12, 2021
It has been a norm for the longest time for persons to be seated while at work. In this era, research has revealed that sitting for an extended period can cause severe damage to the whole body.
You are probably aware an adjustable standing desk can be useful for your health and is very convenient for small spaces. In the pursuit of being more productive and healthier, acquiring an adjustable standing desk for small spaces inside your home or office can facilitate that.
What is a Standing Desk?
A standing desk, also known as a sit-stand desk, allows you to stand up comfortably while working. Many versions are available, but the most modern ones are adjustable to cater to all heights and alternate between standing and sitting positions. The main aims are to ensure maximum comfort, improve efficiency, and negate the harmful side effects of sitting too much.
How do you know which ones are ideal for a small space? A listing below discusses the 20 best standing desks for small spaces that are guaranteed to transform the working experience.
Why Use a Standing Desk?
You may be thinking to yourself, "Why do I need an adjustable standing desk for small spaces?" Research has uncovered the benefits of using such a desk versus the traditional concept. Here are some answers to your question.
An adjustable standing desk can change the way you work during the days and contributes to your overall health in the long run. Adjusting your desk in the middle of the day when you feel slumped can feel good, boost your physical health, rejuvenate your mind, and help you stay alert and productive.
This height-adjustable desk can reduce strains, which is a common complaint among office workers who sit for long hours. Using the standing desk can have you sitting less and standing more, minimizing the chances of intense back pain.
Standing up can flex your legs and muscles, frequently reducing cramping and soreness. It can lower your risk of health complications such as blood sugar levels, weight gain and obesity, and heart disease.
So far, standing desks seem to improve productivity. It may take some getting used to, but you are bound to be more agile and effective at what you do with mobility. This desk can even improve your energy levels and mood, as studies have confirmed persons who have used a standing desk reported increased vigor and energy when compared to those who did not.
These are some of the main reasons organizations invest in an office standing desk for their employees and why you need an adjustable standing desk for small spaces at home or otherwise.
Have you noticed you are having severe back pains and are becoming less productive while working? Look at these 20 sit-stand desks for small spaces listed below.
Here are 20 Adjustable Standing Desks for Your Small Spaces
1. Art Desk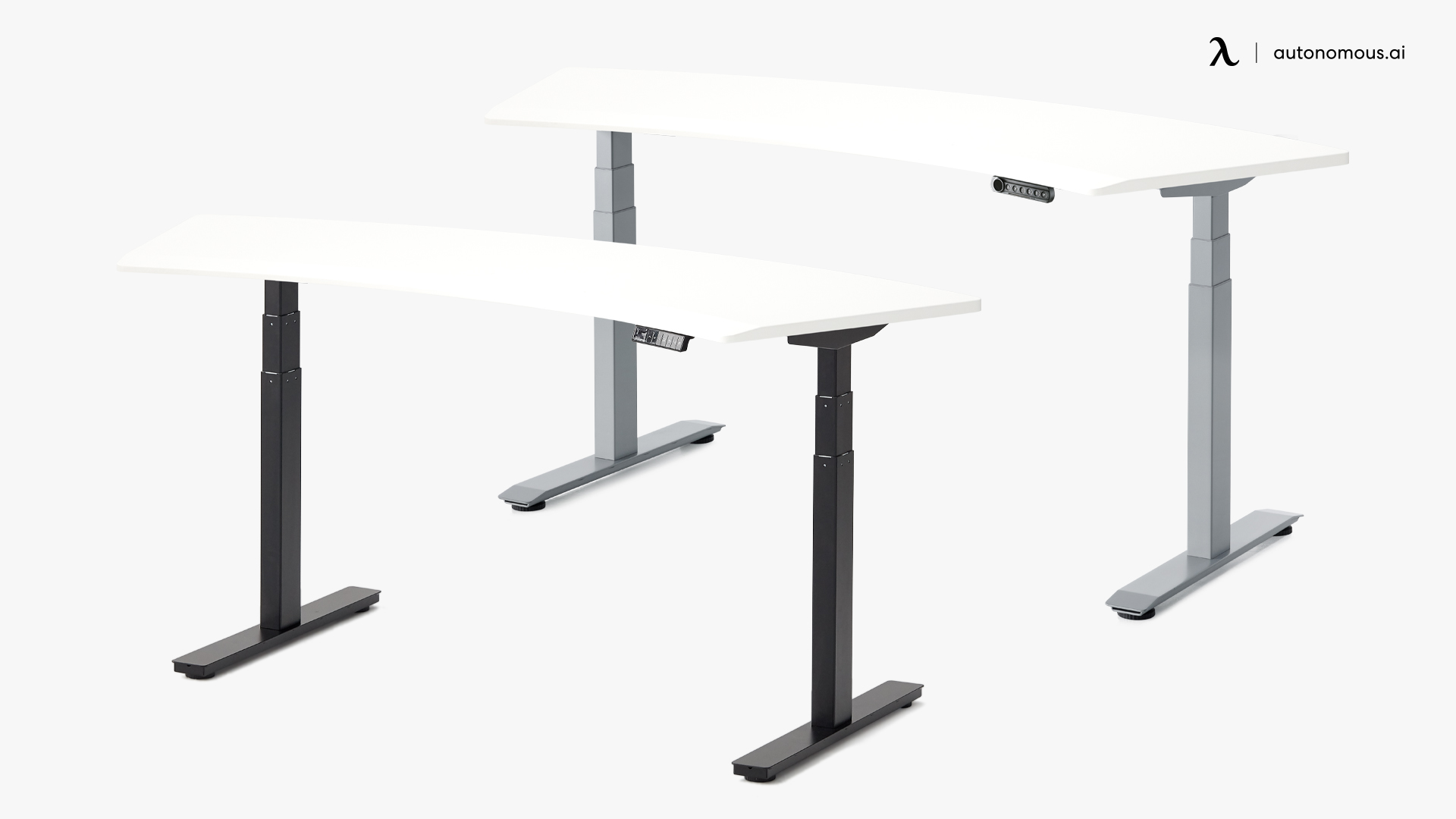 The number spot goes to none other than the Art Desk with its creative design and premium features. This fully adjustable standing desk has an SPCC steel frame and there are four memory height settings to enjoy.
The Autonomous Art Desk has a smooth, quiet dual-motor system that can safely lift 300 pounds, beautifully finished MDF wood, and plenty of space to work on. It is easy to assemble and comes with a lifetime warranty of five years on the home office frame, seven years on the premium frame, and a year for the top. The Art Desk can create an aesthetically appealing and efficient ergonomic workstation even in small spaces.
2. SmartDesk Core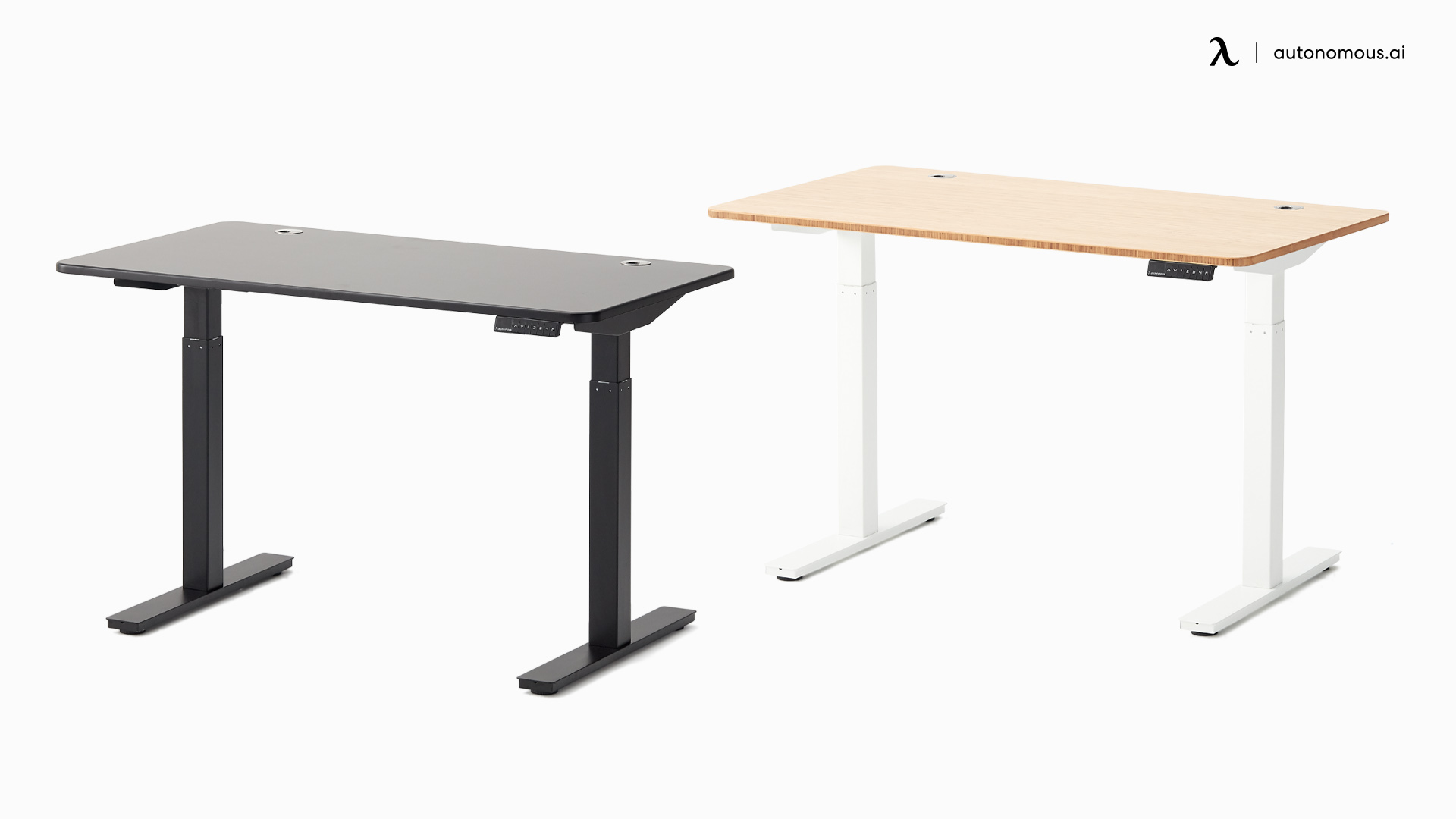 The name here says it all. This electric is the best standing desk for small spaces, which is ideal for your home office space. The Autonomous SmartDesk Core is the definition of affordable for all things standing desk. It features a heavy-duty steel frame that keeps it sturdy and prevents any wobbling even at its highest length, a high-quality MDF wooden or natural bamboo top, and it supports up to 300 pounds of weight.
Its electric height adjustment uses a dual motor that adjusts both quickly and quietly. There are four programmable memory presets to record your favorite positions. Additionally, it is super easy to assemble and comes in two spacious sizes with height ranges suitable for the short and tall.
While the premium model is better, this one is intended for smaller spaces.
3. Autonomous SmartDesk Frame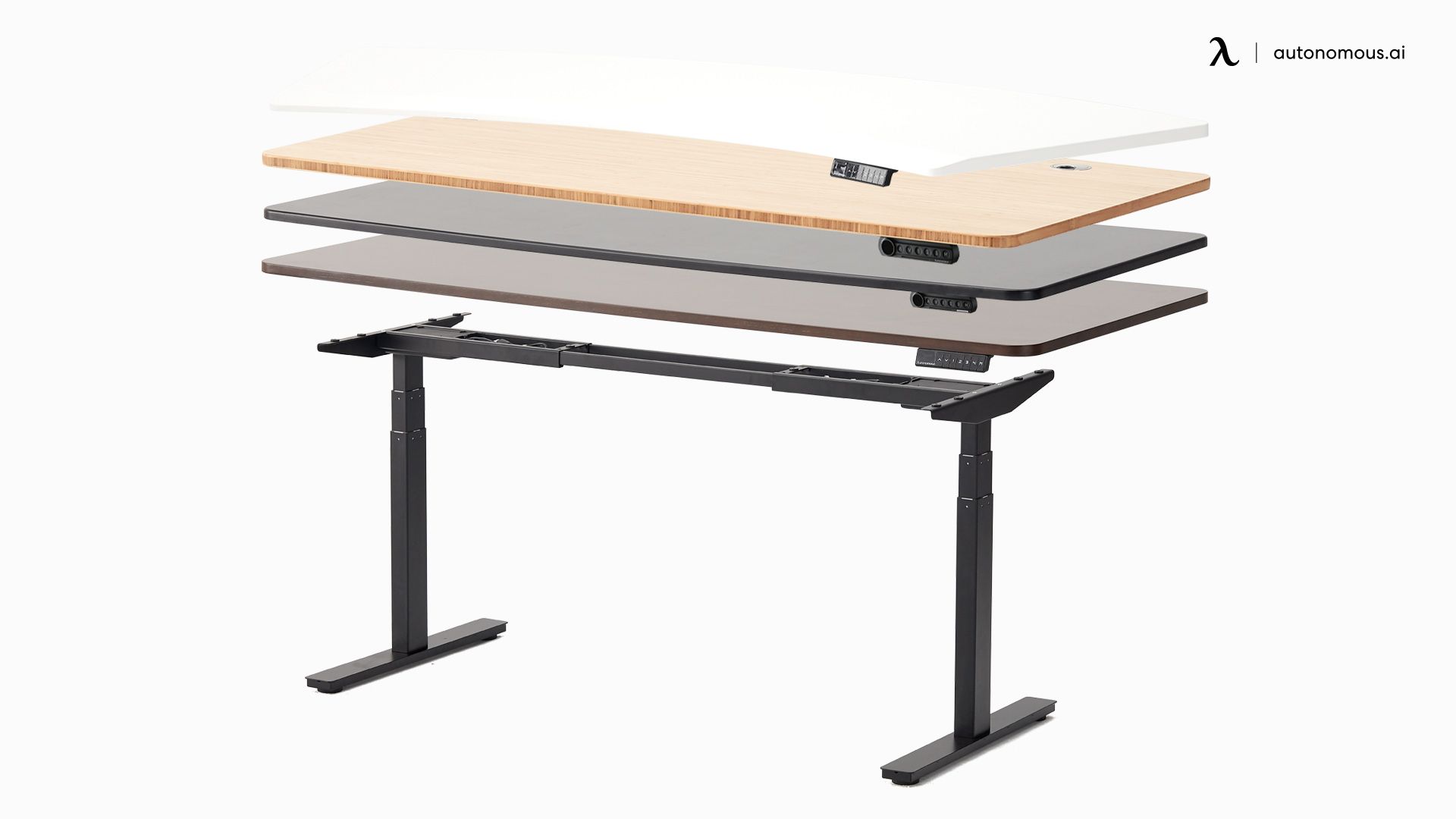 If you seek precise customization and want to build your desk for a small office, it gets no better than this. If you are not the handy DIY type, it is better to go for a pre-built desk than a DIY standing desk. The DIY kit from Autonomous only takes a few minutes to assemble. It has a sturdy base, top-tier manufacturing, and is quiet in motion. After assembly, all you need is the tabletop or desktop of your choice. Place the top on it, and you are ready to start working. You not only get to save some cash, but you also get to add a bit of a personal touch to it.
4. Autonomous SmartDesk Corner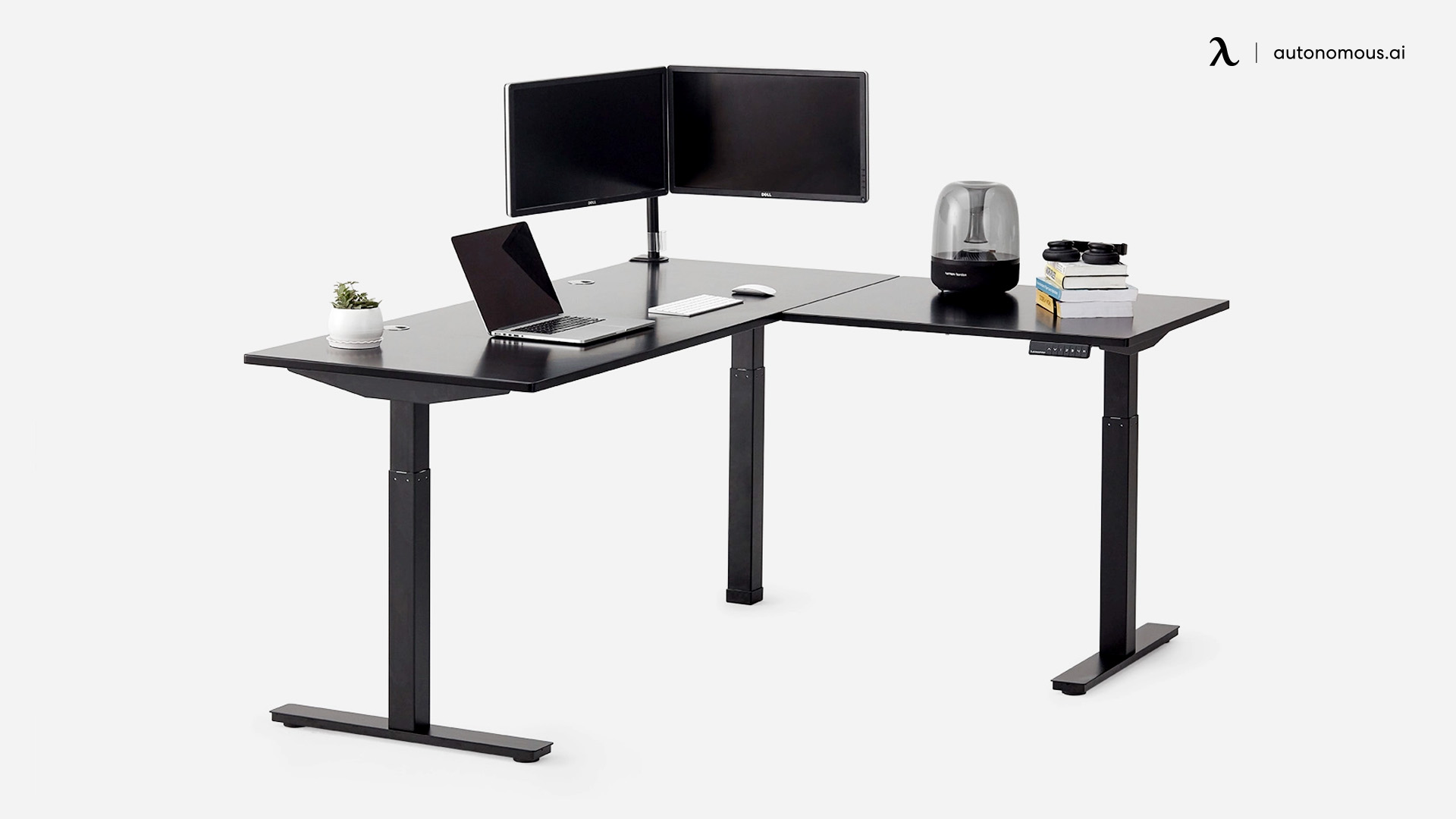 Once you have space, there is no better choice than the Autonomous SmartDesk Corner. It comes in three different sizes and has a triple motor system that supports up to 330 pounds. The design has a lot of tabletop space for all your equipment and accessories, and because the long and short pieces are interchangeable, you can set it up wherever and still maintain your comfort. It comes with a cable tray to cater to your aesthetic needs, high-quality MDF wood, and durable SPCC steel.
5. Autonomous SmartDesk Pro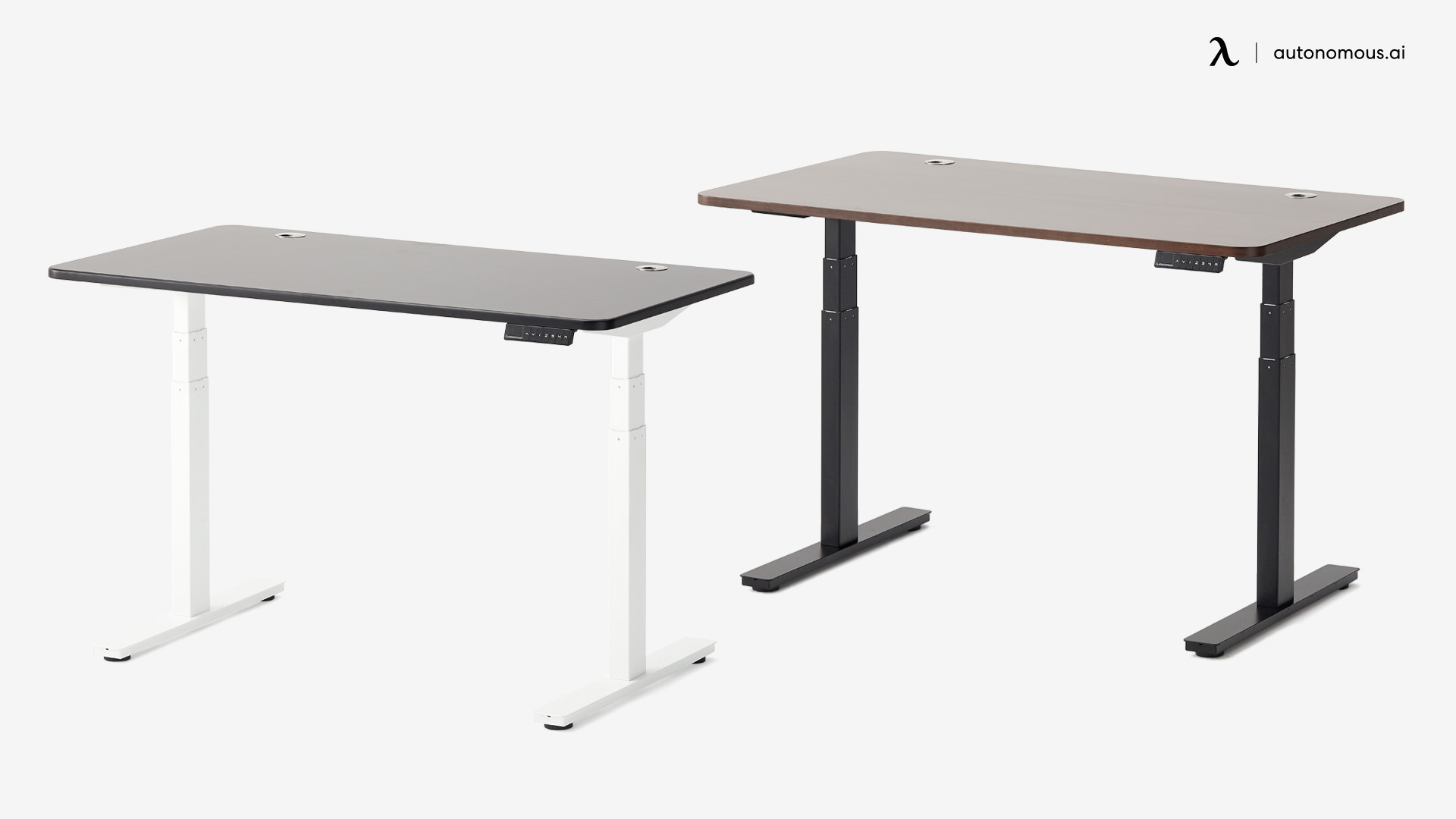 Courtesy of all the home office features being present, but with a better height range, the Autonomous SmartDesk Pro claims this spot as one of the best electric adjustable desk options. This BIFMA and EMC certified design is going to serve you for a lifetime, so take advantage of its seven-year warranty, sturdy base, fresh finish, and quick assembly process.
6. Vari Electric Standing Desk 48
This electric standing desk gives a premium look and feel to your workspace, whether at home or otherwise. It is one of the best standing desks for small spaces. The Vari Electric Standing Desk 48 is very simple to assemble, comes with a built-in cable management feature, and is made from high-quality material. The tabletop space is enough for your computer, files, and peripherals. There is only one problem. Changing the height is not as fast as one would like.
7. SHW Electric Height-Adjustable Computer Desk
This entry is mostly about its versatility. The SHW Electric Height-Adjustable Computer Desk is easy to assemble, sturdy (though there is a tiny wobble at its highest length), but it has a motor that slows down with continuous use. This is still an excellent considerably adjustable desk for small spaces.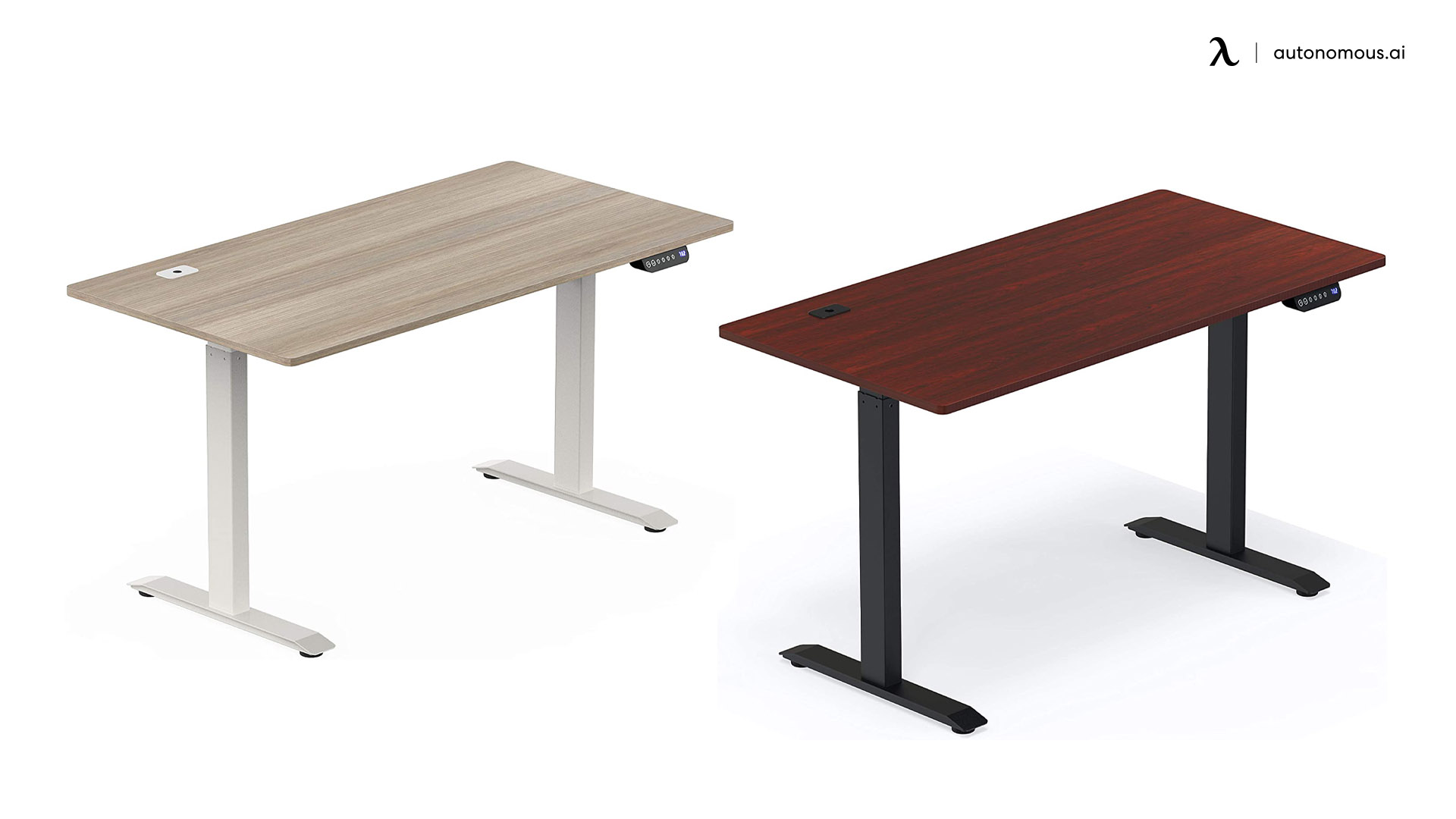 8. VariDesk ProDesk 60 Electric
This may be the most expensive entry on the list, but it's a well-respected brand name in the industry. The desk comes partially pre assembled, it's made from durable material, and it uses a horizontal base to prevent wobbling. Though there is no denying the quality, there are cheaper options that get the job done.
9. IKEA Bekant Sit-stand Desk
Though this desk is suited for both home and traditional office spaces, the desktop workspace is relatively small, so not much equipment can be placed on it. Additionally, it has a fair sturdiness level. However, if you are on a tight budget, this is the desk for you.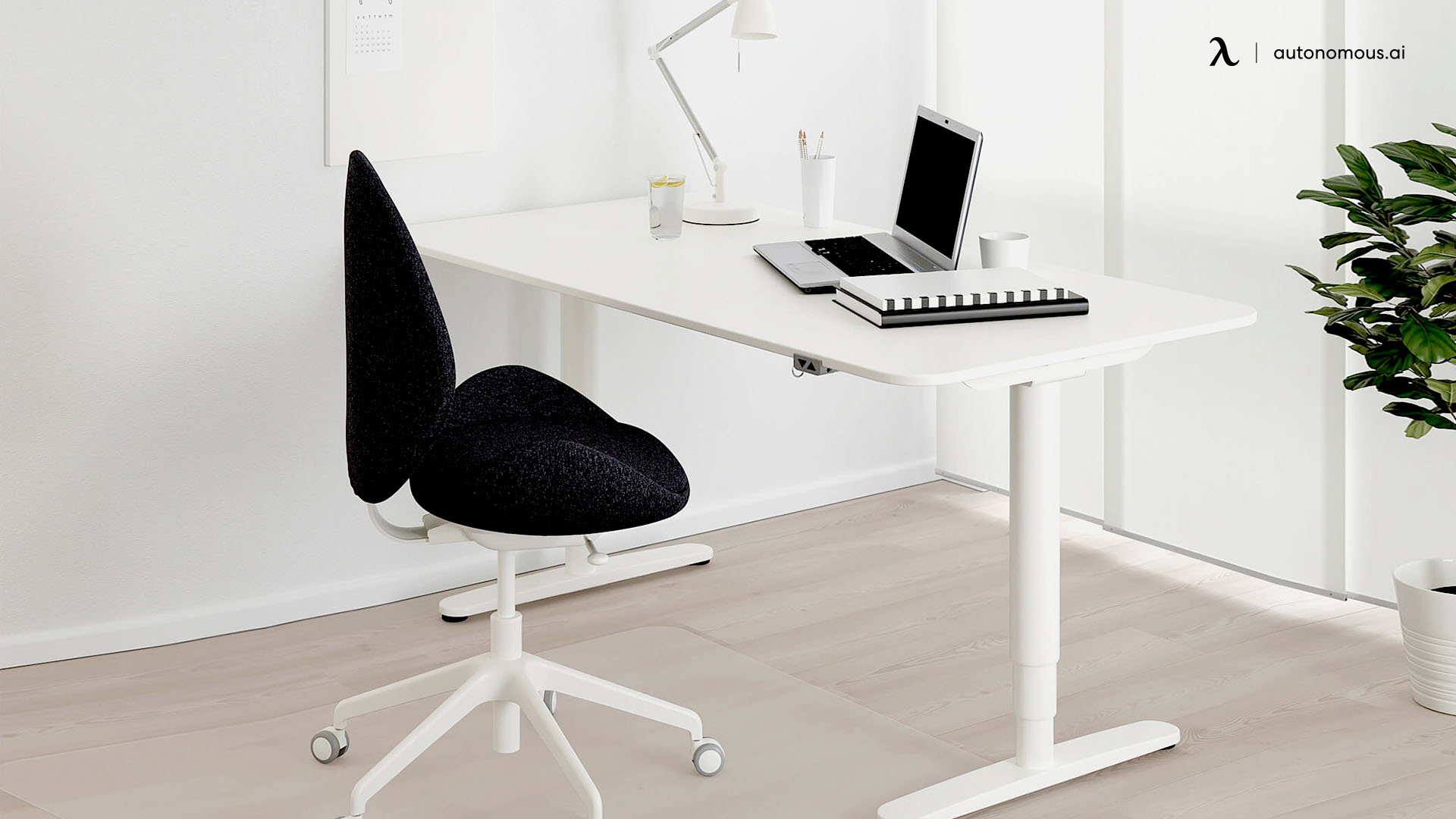 10. Rebel Up Standing Desk
This wide glass top, two-USB port adjustable standing desk is fully powered and is best kept near an outlet. It is an incredible option for small spaces. The design helps with cable management, and you have the option of personalization when ordering.
11. Symple Stuff Grattan Height Adjustable Standing Desk
With its expensive look, this desk can fit into almost every office space, traditional or otherwise. It is designed to improve your workflow, and its ability to help you maintain good posture is a feature that secured it a spot on this list. It accommodates heights up to 45 inches but can only withstand a maximum of 100 pounds.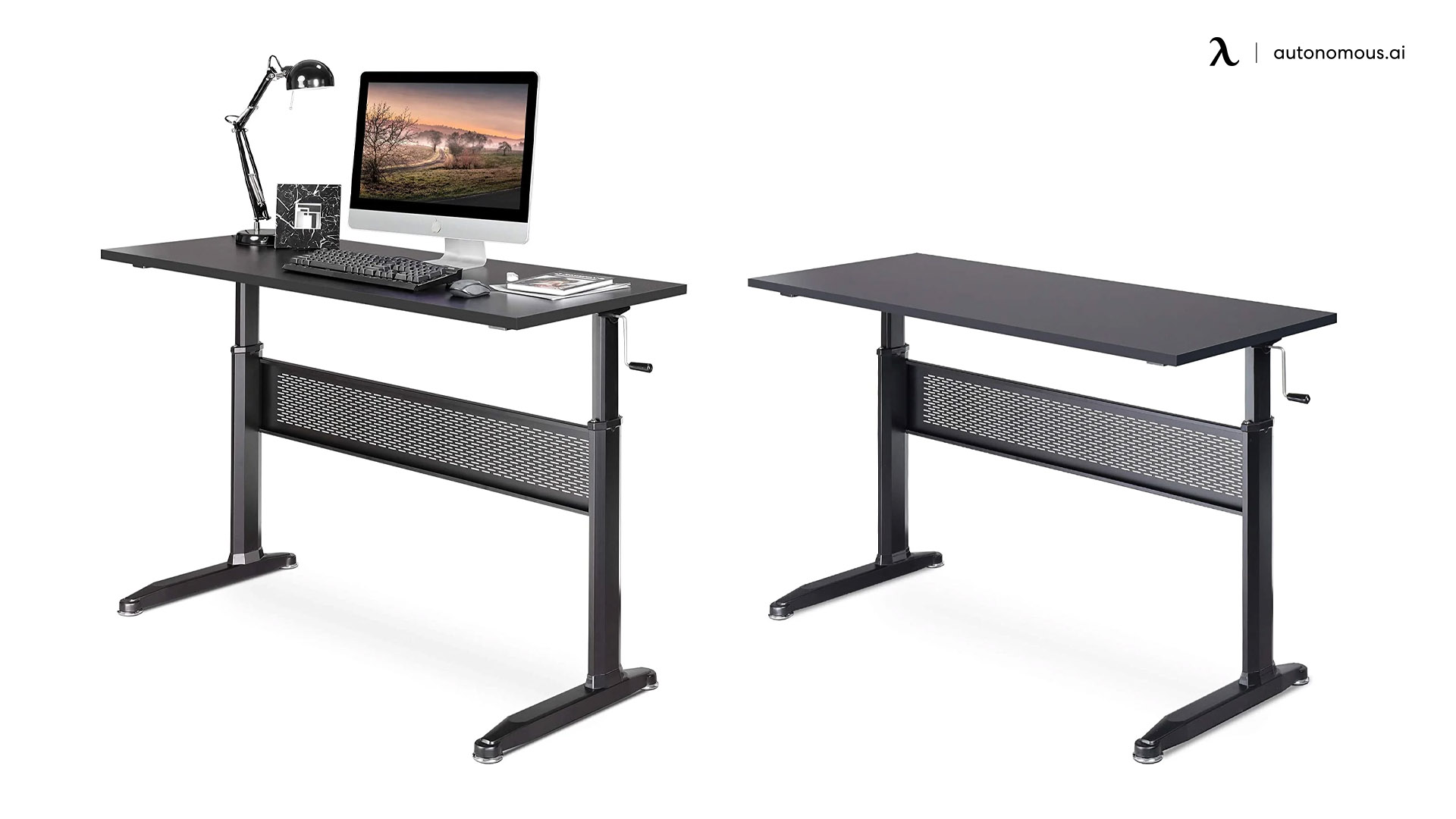 12. Mr. Ironstone Height Adjustable Desk
This desk uses a manual adjustment method to change heights. It is effortless to assemble, and its small form factor makes it ideal for small spaces; however, it does not have a lot of workspace at the top.
13. ALFA Furnituring Upgraded Stand Desk
This desk is offered in three different sizes, with 60 inches being the largest, which is a good sit stand desk for small spaces. It has excellent real estate to fit two screens, plus there's enough space for your mouse and keyboard. The electric adjustment is quick and smooth, and the memory presets are just amazing.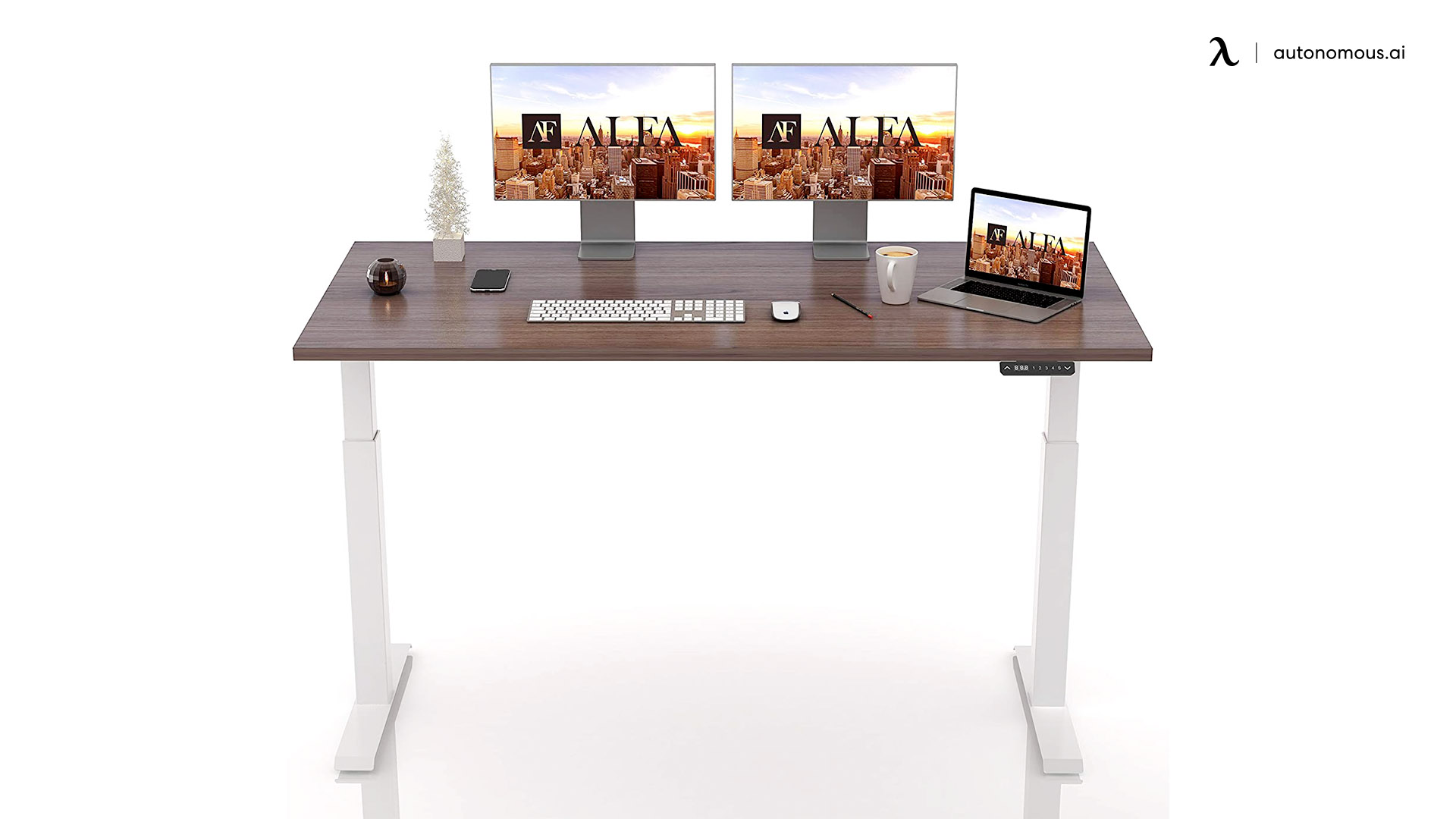 14. Fezibo Height Adjustable Electric Standing Desk
This is a well-built and reasonably priced standing desk and also a perfect stand up desk for small space . The Fezibo Height Adjustable Electric Standing Desk has excellent tabletop real estate, a cloth draw for extra storage, a smart cable management system, and side deck hooks. The adjustability here is done electrically and hit as multiple memory presets to retain your favorite positions.
15. Upper Square ALBIN
This manual steel-based adjustable desk is easy to move around and fits into almost any small space. It achieves up to 42.5 inches of height, which should be enough for most users. The unit has excellent tabletop space and a tray for your mouse and keypad.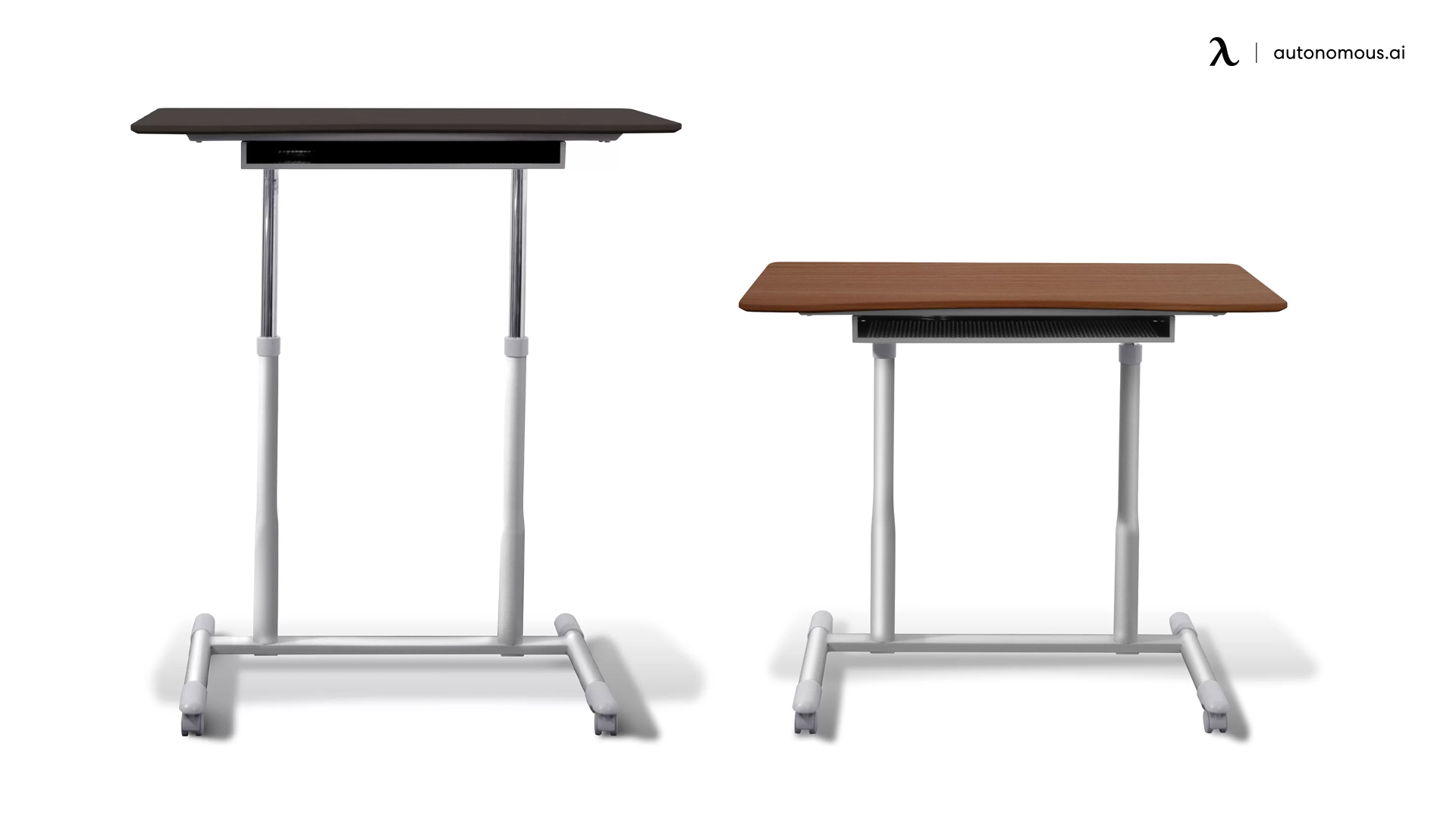 16. Lander Lite Desk
This is a one-of-a-kind desk that is made to order. It has many innovative features, and its color and size are left up to you as the options are endless. With your order, you receive a 10-year warranty where redress is possible for whatever reason and a 100-day satisfaction guarantee.
The desk has a weight capacity of 225 pounds to hold your computer, peripherals, and any other equipment or files you may have, and it stretches up to 55 inches. It's ideal for some of the more vertically inclined office workers.
17. Airlift Tempered Glass Electric Standing Desk
Did someone say "fancy?" This airlift tempered glass standing desk, an adjustable standing desk for small spaces, is a fancy, aesthetically pleasing gem with the practicality to match its beauty. It is considered as a stand up desk for small spaces. It has many desktop spaces to accommodate two screens, a USB charger port, a hidden draw to store your various items, etc.
This unit comes with a touchscreen controller with programmable heights, so it can keep track of all your favorite positions. It can reach up to 47 inches with a smooth glide you can hardly notice, making it an excellent asset for your small space.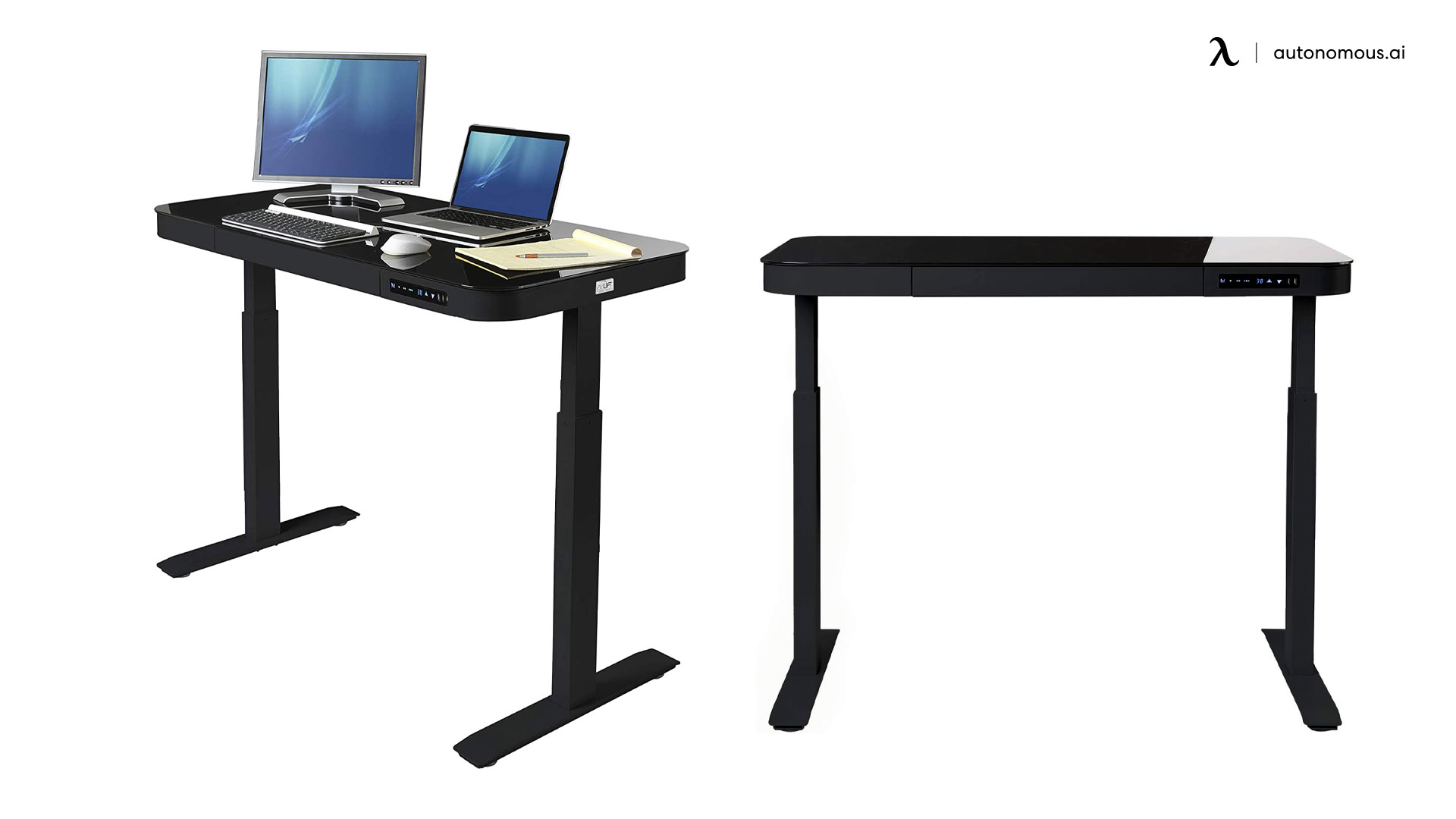 18. iMovR Lander L-desk
This L-shaped electric standing desk is a perfect choice for persons who plan on working from corner areas. It is undoubtedly a perfect sit stand desk for small spaces. Whether you can believe it or not, there are over 1000 different colors and sizes to choose from. This is good for small spaces as you do not have to get the desk modified but select one with the right measurements to fit your space.
There is a five-year warranty on the desktop, 10 years on the base, and a lifetime warranty on the frame. The iMovR Lander L-desk comes almost entirely preassembled and requires only 8-10 minutes of effort to get started. It has impressive mobile app-controlled height adjustment features worthy of its selling price.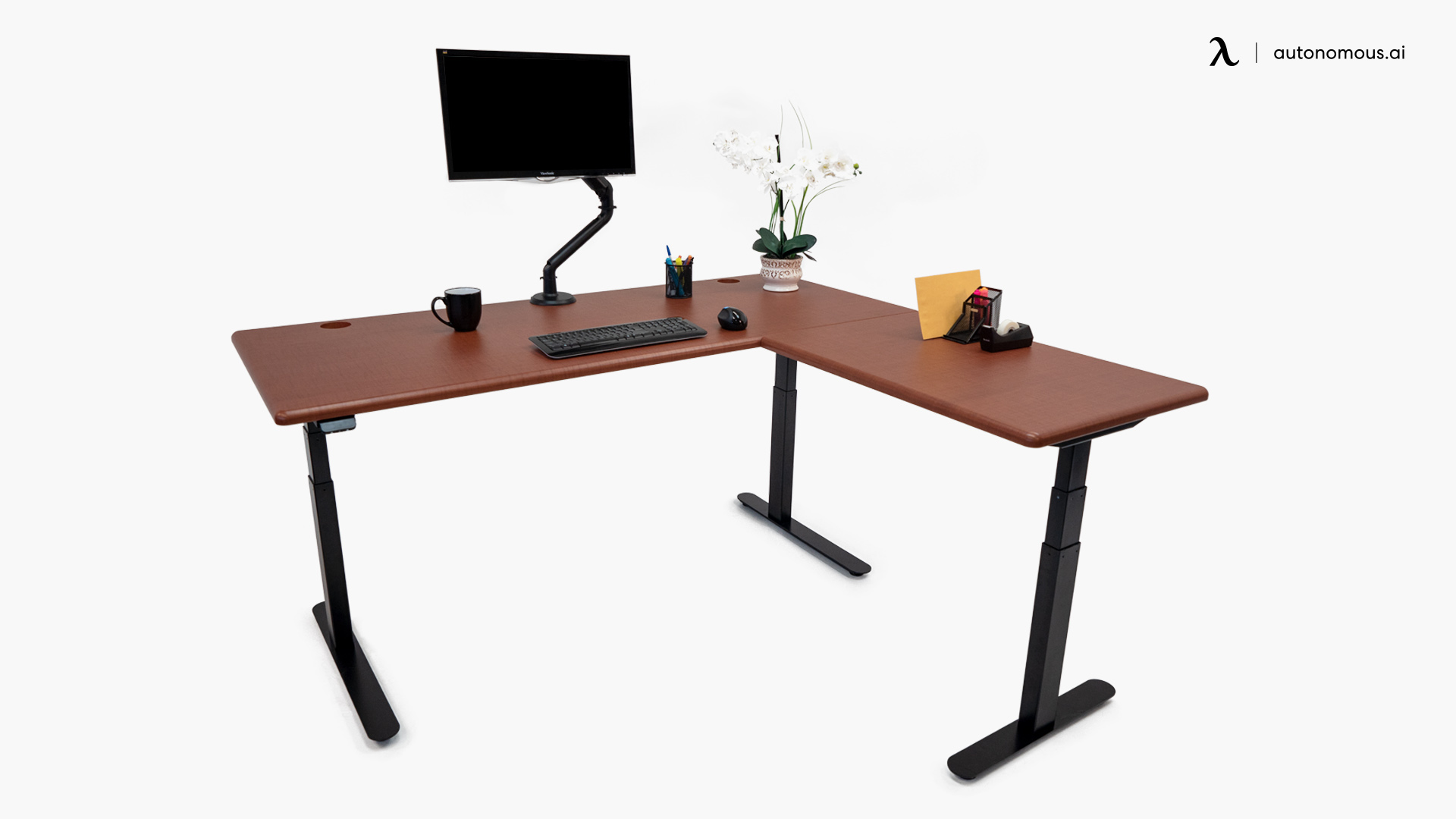 19. TechOrbits Electric Standing Desk
While this desk can be used traditionally, it is ideal for those who work from home. It is a suitable sit stand desk for small spaces. The TechOrbits desk has a straightforward design that allows for smooth incorporation into any environment. You are bound to have a good experience with 28 inches to 48 inches of height adjustment and a preset memory function. There is a lifetime warranty on all the components, so you can seek redress where necessary in case of manufacturing defects.
20. Flexispot Electric Height Adjustable Desk
This adjustable desk from Flexispot is affordable, has good quality, and can offer the functionality you seek. It has a weight limit of 154 pounds, a 4-foot width, and a stable base. You can be quite productive working here. This desk's form factor is laudable as it can fit into some small spaces, making it ideal for your small home office.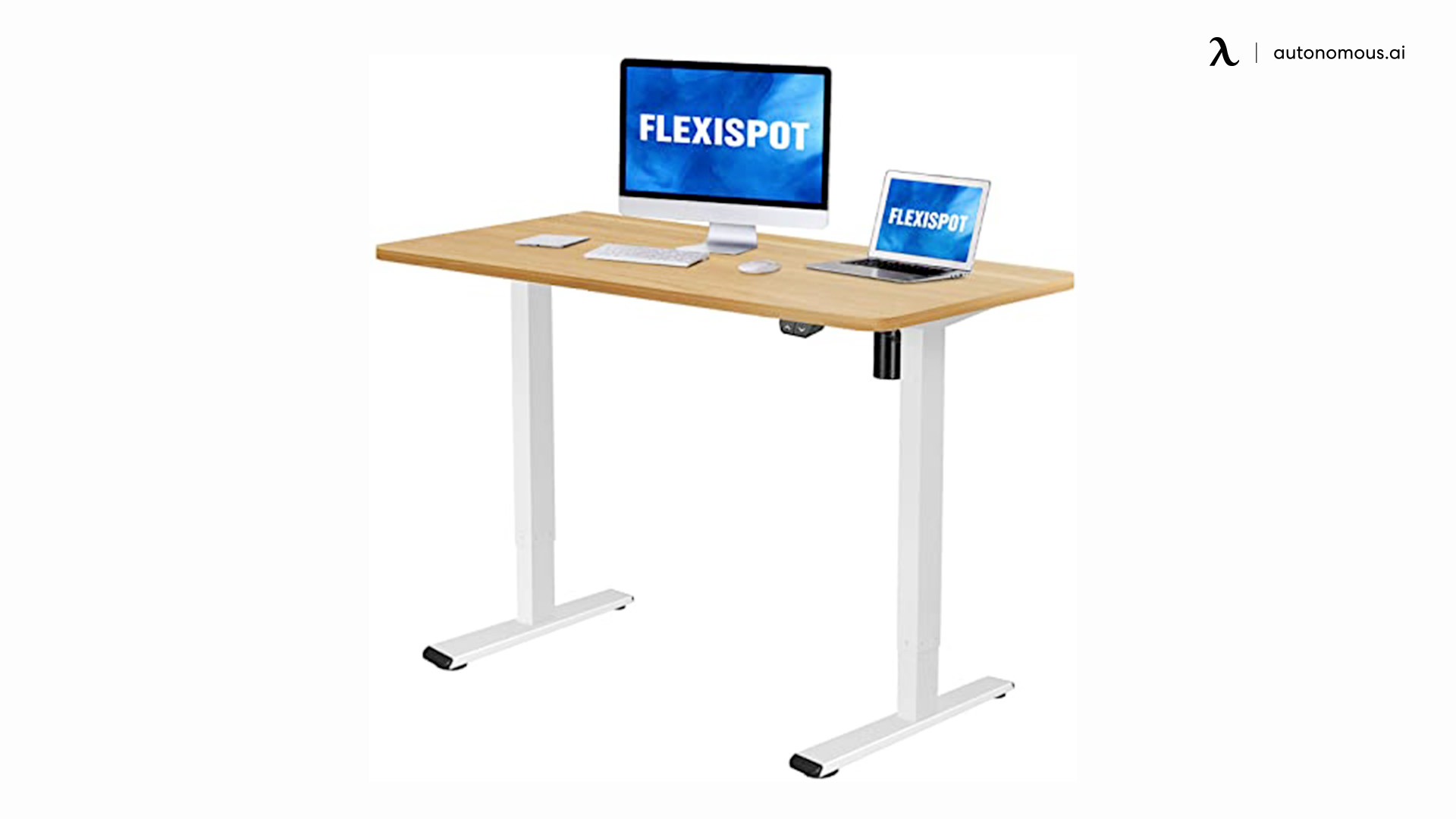 Hey, you have special pricing through your company.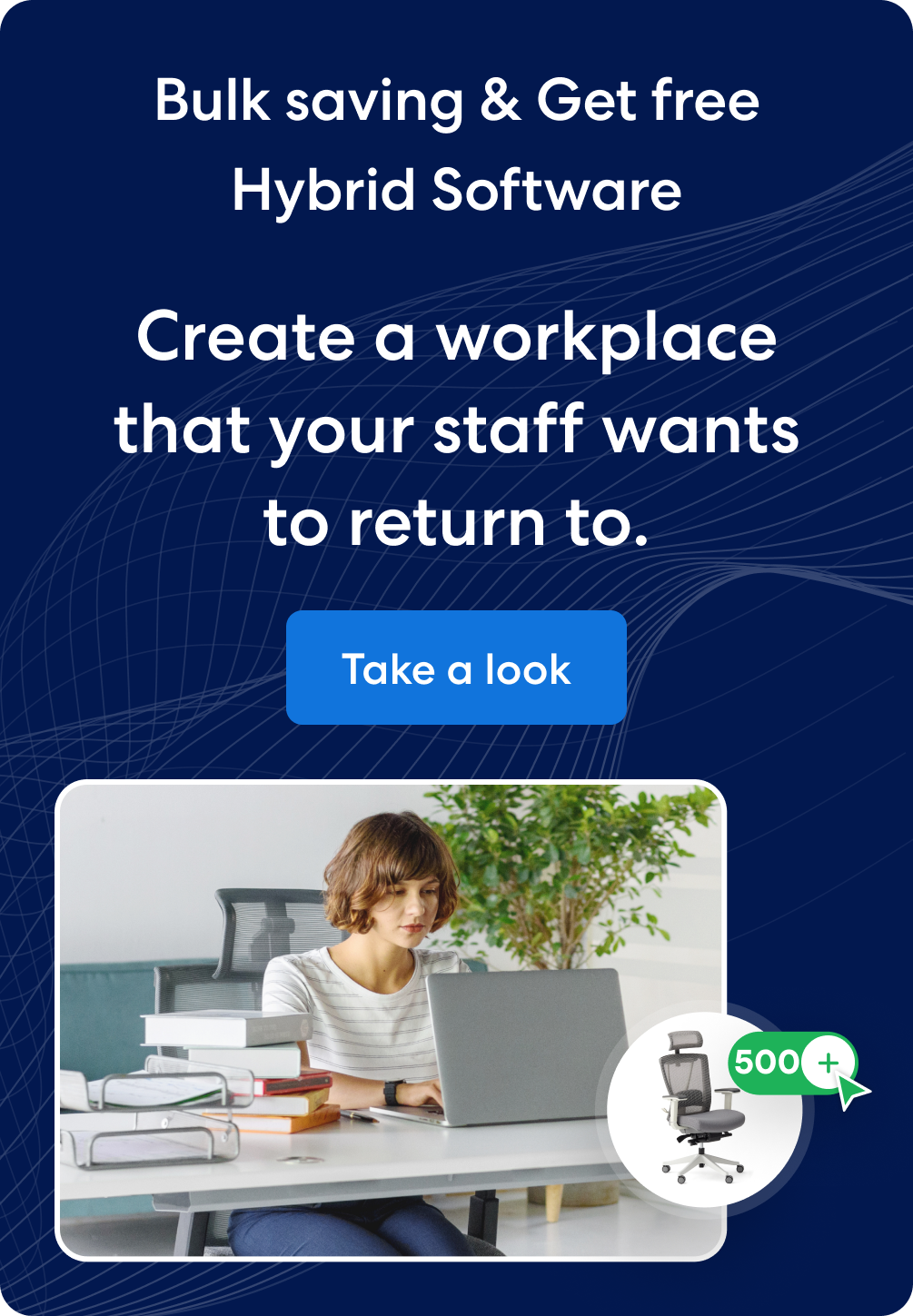 Get exclusive rewards
for your first Autonomous blog subscription.
WRITTEN BYAutonomous
We build office products to help you work smarter.
Coming at You Live from Autonomous' Social Media!