Black Friday approaches, which means it's time for you to take advantage of great deals. If you are a remote worker, you should consider a standing desk for your ergonomic needs. Working long hours while sitting in a chair all day is not good for your body. A Black Friday desk sale offers you plenty of uses. 
Standing desk Black Friday deals are a common search amongst the people who need a little upsurge of productivity in their workspace. Black Friday desk sales will be a huge one this year, all thanks to the remote work routine, which now seems to be the future of the majority of workplaces.
While you could be looking for the best Black Friday office desk deals, price should not be the only factor that governs your choice or pick for the product. The right Black Friday desk must have all the important features that make an ergonomic workstation for you.
From L-shaped office desks to white modern desks, height-adjustable desks to floating standing desks, there is a lot you can find during the Black Friday desk deals, but what product is right for you? Keep reading if you need to learn about the must-have features in your standing desk.
There are reasons to look for standing desk Black Friday. Not only do you save money, but you also enjoy several health benefits. Black Friday computer desk deals give you a good motivation to try out a new standing desk for your workspace. Consider what a standing desk can do for you.
Benefits of Standing Desks
Sitting around too much is not good for your health. What happens is you lose more energy, which causes you to become tired. More importantly, it increases the risk of bad blood pressure and high blood sugar. Incorrect body posture also results in increased risks. If your back is not straight, it can cause lower back problems. The same applies to legs since blood circulation decreases with bad positioning. 
Standing desks, in conjunction with an ergonomic chair, position you in just the right way. These types of desks give you extra room to move your legs around. The health benefits of standing desks you receive include better oxygen flow, improved blood circulation, and potential exercise breaks. When you have more room to do stretches or squats, you can break up the monotony of boredom. Use a standing desk, not only for your health but also for increased work productivity. 
How To Choose the Right Desk from Black Friday Desk Deals?
Welcome to the health club, where people have realized how even the simplest act of sitting can do much more damage to your body than you imagined. A sedentary lifestyle has made us ready to embrace multiple health issues and people who work 8 or more hours a day in the same position often complain about back pain.
And why wouldn't they? Sitting is the enemy of health, and it isn't until the benefits of a standing desk revealed that sitting has been considered the new smoking. If you are all set on purchasing a standing desk for yourself, then here are some things to consider.
Type
When it comes to the Standing desk Black Friday, it is not just about standing, but the right approach is switching between sit and stand positions. Hence, height-adjustable standing desks are the most common type of standing desk you will find. These desks are either manually or electrically controlled and can be lowered or increased in height several times a day.
Another added benefit of this product is that multiple people can use the same desk and adjust the height to the last degree. While there are different types of standing desks, electric and manual are the two most commonly used. Electric standing desks are easy to operate through electric motors, while manual desks are tough to use, lighter on the pocket.
Desk Height
If you're particularly tall or short, this can be a problem. The size ranges from 21 to 56 inches. You should be able to type with your elbows at your sides and your forearms inclined down towards the floor while standing. Choose a standing desk height that suits you and all the people willing to use this product.
Load capacity
This may not appear to be a big deal at first, but if you're used to having a lot of stuff on your desk, you should think about how much weight the motor can manage. Remember to include the weight of the tabletop when calculating the motor's lifting capacity. Low-cost desks can barely raise 50 pounds.
Take everything you have on your desk right now and weigh it if you're not sure how much your stuff weighs. If the weight of the tabletop of the desk you're contemplating isn't provided, contact the manufacturer. Some desks can rise to 700 pounds on the high end!
Table Top
In addition to being very useful and providing several health benefits, a standing desk can also improve the desk aesthetic appeal of your room. You can choose between bamboo, laminate, and wood to ensure that your standing desk matches your home or business decor perfectly.
Warranty
Various standing desk manufacturers provide a variety of warranties. The minimum warranty period is two years, while some businesses provide a lifetime warranty on the base or frame but just a limited warranty on the surface or motor.
Material
Standing desk often comes in wood or MDF, a modified version that is cheaper. Most standing desks (height adjustable ones) come with metal frames. Metal frames are a good choice as they are not only strong but also durable. They can easily shift the height, and you can rely on the weight capacity of those legs.
Brand Name
A Standing desk Black Friday is an excellent purchase. It can last for years based on how it will be used and how it will be cared for. The desk's quality and structure are also crucial factors in deciding its lifespan. As a result, make sure you only buy from reputable and authentic manufacturers.
Customer Reviews
Customer reviews are the clearest windows to experience a brand's performance and credibility. Read a lot of reviews and keep an eye out for stability concerns. When you raise your standing desk, some of them become wobbly, while others are just unsteady in general, causing your monitor to wobble as you type.
Additional Features
Additional features do add to the product's price, but they are also here to make your experience worthwhile. Reputable brands introduce products that can give you a much better experience by paying a few bucks extra. Some of the known special features that you can get at a standing desk are:
The desk connects with your phone, telling you how long you've been standing or sitting, as well as how many calories you've burned.

You may also raise and lower the desk with commands.

On the tables, you can write.

A softly textured tabletop that responds better to mouse input (this desk is designed for gaming).

The pre-programmed setting in the desk to achieve a height that was previously used

Built-in speaker and  audio system
What Should Each Standing Desk Have?
Before you find the best Black Friday desk sale, consider what each desk should have.  There are ways to take into account what makes a good standing desk. First, you want intervals where you can stand and sit. Certain desks remind you when to take breaks. Support is also important. Standing desks should have non-wobbly legs so they remain firm. A good ergonomic standing desk should give you plenty of room to work at your station. Now, it's time to look for standing desk Black Friday just for you. 
Best Black Friday Office Desk Deals
Below are 20 of the best Black Friday office desk deals. They take into consideration the level of support a desk should provide you. Whether it's for your home or business, you need ergonomic support with a standing desk. Boost productivity while you work. Consider the price cuts and save money on your Black Friday computer desk deals. There are several options to choose from, so pick the one that's right for you. 
1. SmartDesk Core
The SmartDesk Core is a classic standing desk Black Friday from Autonomous. With adjustable height control, you can personalize your workspace however you see fit. The ergonomic design of the desk allows you to exercise during breaks and freely move around during work. Autonomous SmartDesk Core offers not only free-day trials but also several-year warranties. The SmartDesk Core comes in white and black frames and wooden materials like bamboo and oak. In terms of Black Friday standing desk deals, this Black Friday office desk sale lets you save more money.
Pros:
Programmable height settings are easy to use
Lifts up to 300 pounds with a dual-motor system
A heavy-duty steel frame keeps the table sturdy
Built with durability in mind, it lasts a long time
Plenty of space gives you room for physical activity
Five-year warranty with a 30-day free trial
Affordable monthly payments
Cons:
It's a relatively simple desk 
2. SmartDesk Corner
The SmartDesk Corner is another variation of the popular L-Shaped standing desk this Black Friday. It offers a practical design for the corner of your room. Your workstation is important, which is why the SmartDesk Corner gives you the surface area on both sides of the desk. Autonomous also provides warranties and free-day trials. Among standing desks Black Friday, consider monthly payments as an option for this model.
Pros:
Ergonomic design gives you plenty of space
Steel frames provide durability and strength
Carries 330 pounds with the triple motor system
Mix and match both sides of the interchangeable desk
Sleek look with a professional touch
Five-year warranty with a 30-day free trial
Affordable monthly payments
Cons:
Assembly takes a little bit of time
On the expensive side 
3. SmartDesk Pro
The SmartDesk Pro has everything you need for ergonomic support. Whether you use it at home or in the office, this deluxe version of the SmartDesk maximizes your focus. It has a better height range than the regular SmartDesk, a good choice as a standing desk for tall people. With a stable foundation, you can rely on the table for strength and support. Like other Autonomous products, the SmartDesk Pro offers free-day trials and a long warranty. .
Pros:
Upgrades several features from the original SmartDesk
Fully adjustable settings with better height control
Dual motor system is silent and carries 300 pounds
Minimal design allows the desk to go anywhere
Design offers smooth edges and a sleek modern look
Bulk order offers a good bargain in comparison to other companies
30-day free trial with a seven-year warranty
Cons:
More expensive than a regular SmartDesk 
4. Flippus Standing Desk
Latitude Run offers the Flippus height adjustable standing desk Black Friday. It serves its purpose well in providing ergonomic space and surface. The ongoing sale price is 18% off. 
Pros:
Nice clean look
Sturdy foundation
Cable management and USB port
Cons:
Expert assembly is considerably expensive
Somewhat small
5. Kubiak Desk
Mercury Row has the Kubiak standing desk, which offers a unique wooden look. With a Scandinavian design, it has a rectangular desktop. The wood has a nice grain finish. 
Pros:
Drawers offer you more space
Natural aesthetic brings your room to life
Metal base holds it together well
Cons:
Only a few left in stock
Assembly takes time
Leg standing might get in the way
6. Mind Reader 2 Standing Desk
This standing desk from Mind Reader offers one of the best Black Friday deals. You get a height-adjustable desk with a keyboard tray and minimalist design. The desk allows you to move while you work. 
Pros:
Assembly is easy
Good ergonomic space
Very affordable
Cons:
7. Flexispot Standing Desk
Flexispot gives you control through electronics. It comes with a keypad and a digital display for height presets. The desk offers a good variety of colors, such as walnut, marble, and graphite. 
Pros:
Electronically height adjustable
Relatively cheap for high-quality materials
Great selection of desktop colors
Cons:
Design is considerably simple
8. Jarvis Bamboo Standing Desk
Jarvis brings you a standing desk with an eco-friendly design. Bamboo offers a clean look for your work area and is sustainable. The design frame is durable and gives you strength and support. 
Pros:
Environmentally friendly materials
Allows natural arm motion
Lifts up to 350 pounds
Cons:
Considerably expensive, but allows monthly payments 
9. Vari Standing Desk
Vari uses an electric standing desk motor with customizable height controls. It uses T-Style legs for stability and offers smooth corner edges. The setup is fast and easy for beginners.
Pros:
Quick assembly
Four programmed memory settings
Good choices in wooden materials
Cons:
10. Grattan Standing Desk
Sturdy and height-adjustable, this standing desk from Grattan promotes good posture. You can choose a white or black color scheme. There's a good sale going on right now, cutting the price down by 18%.
Pros:
Good ergonomic design overall
Nice clean look for modern rooms
Affordable price range
Cons:
11. Babin Standing Desk
Upper Square offers strength and support with the Babin standing desk. With built-in USB support and cable management, you can save your projects. The finished back is a nice touch.
Pros:
Extra power, durability, and resilience
Good surface area and plenty of space
Advanced technology allows electronic input
Cons:
Big and clunky look
Slightly heavy
12. Kamen Standing Desk
Upper Square brings you the Kamen height adjustable standing desk. It offers a good quality desk with a sturdy foundation and good materials. You get 41% off with Black Friday savings. 
Pros:
Improves body posture with ergonomic design
Promotes a healthier lifestyle
Includes protection plan
Cons:
Expert assembly is costly
The mechanism to move the desk up and down isn't smooth
13. Hambrook Manual Standing Desk
Symple Stuff introduces the Hambrook standing desk. Like other height-adjustable desks, this one reduces back pain and stress. Space allows for comfortable leg posture. You can try out physical activities with the Hambrook. 
Pros:
Promotes health with physical activities
Ergonomic space improves blood circulation
Protection plan and warranties
Cons:
Expert assembly is costly
12. Sabine Standing Desk
Another product from Upper Square, the Sabine standing desk, has a relatively modern look. The Black Friday desk has USB ports, cable management, and is eco-friendly. It also offers a protection plan in case of damage.
Pros:
Reversible orientation
Uses modern technology
Crafted with recyclable materials
Protection plan
Cons:
Somewhat expensive
Expert assembly charges additionally
15. Hassen Adjustable Desk
Another standing desk Black Friday from Symple Stuff is the Hassen. Perks include reversible orientation and a distressed finish for a clean look. You can get good savings with this one since it is cheap.
Pros:
Assembly line is quick
Offers strength and support
Customizable settings
Affordable price range
Cons:
Warning - contains the chemical Formaldehyde
16. Inbox Zero Home Office Desk
This standing desk Black Friday from Inbox Zero is aesthetically pleasing with the finished back and wooden polish. The Black Friday desk is both height adjustable and electronically controlled. It is made from eco-friendly materials. 
Pros:
Customizable settings
Clean and sustainably resourced
Recyclable materials promote green living
Cons:
 Assembly instructions need more clarification
17. Eureka Ergonomic Standing Desk
Made with a strong metal frame, this Black Friday office desk from Eureka Ergonomic is sturdy. You can support up to two monitors. It is perfect for computer gaming. 
Pros:
Solid foundation
Good surface area
Nine-level height settings
Cons:
Legs must be adjusted before installation
18. SmartDesk Core Dou
If you work with a partner, consider the SmartDesk Core Dou. You can connect both desks with a controlled frame. Autonomous offers programmable height settings and a dual-motor system, which is completely silent.
Pros:
Adjustable height settings
Modern clean look for corporate environments
30-day free trial with a seven-year warranty
Cons:
One of the more expensive options 
How Can I Find the Best Black Friday Computer Desk Deals?
How times change, from waiting for TV and electronics deals on Black Friday to waiting eagerly for the standing desk Black Friday deals. But you are in luck as Black Friday standing desk deals are all packed and ready for release. Since standing desk is no new concept nor a rare one, standing desk deals are a common thing you will find this Black Friday.
This year's Black Friday will be in November, and the weeks leading up to the big day will be jam-packed with offers. Make sure you keep an eye on all of the leading stores for the duration of the sale to ensure you don't miss out.
For now, all we can say is that the Autonomous Black Friday deals are going to be a catch.
Conclusion
Enjoy the benefits of standing desks with these 18 standing desks for Black Friday. From improved productivity to health benefits, you can maintain your focus while you work. Consider these Black Friday deals while you do your yearly shopping. As a remote worker, you should consider your body and mind the main priority with standing desks. Check out for more Black Friday computer desk deals with the most affordable price from Autonomous to make your home office more ergonomic.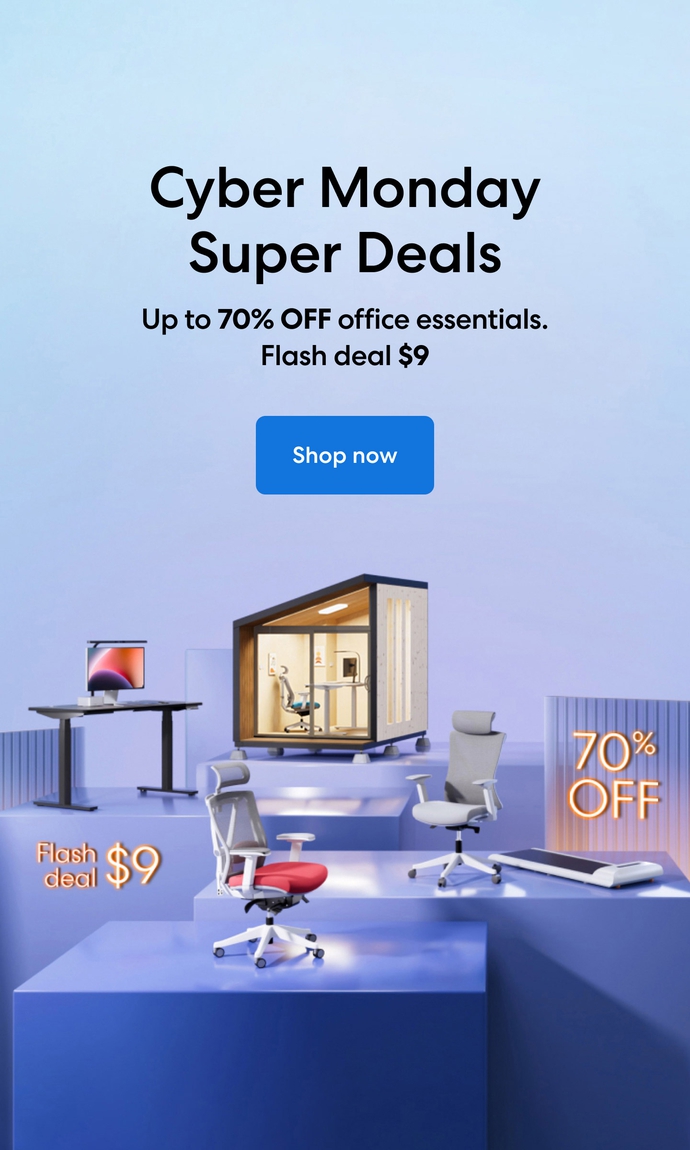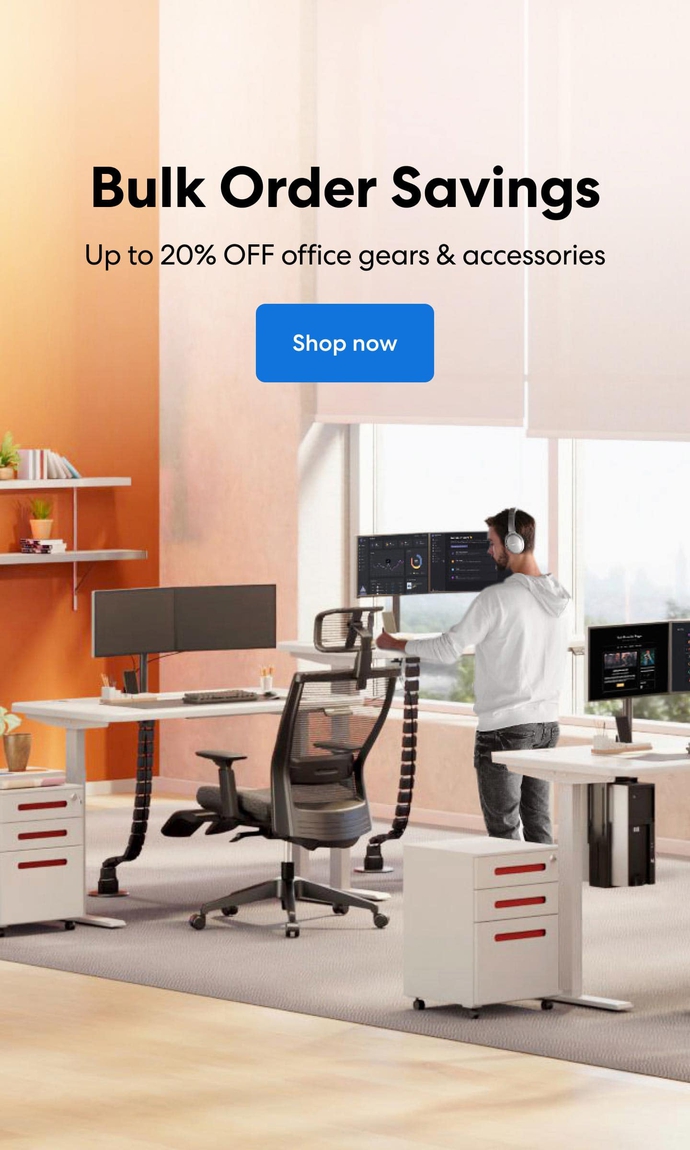 Subcribe newsletter and get $100 OFF.
Receive product updates, special offers, ergo tips, and inspiration form our team.