Work Wellness
20+ Hand and Wrist Massager Options for Carpal Tunnel in Office

Autonomous
|
Jan 28, 2023
1,028 Views
Working long hours can certainly get you tired and cause you pain, but what a blessing it would be to have a massager right when you need one. We have brought you the market's best hand and wrist massager options that would help you reduce your aches and stresses away. 
Read on more to find out, and increase your productivity while easing your pains away instantly.
1. TREBLAB Turonic GM5 Massage Gun - Deep Tissue Massager
| | |
| --- | --- |
| Amplitude | 11mm |
| Intelligent mode | 10 min smart timing |
| Torque pressure | 0~7.5kg/cm |
| Charging time | 3h |
| Battery capacity | 3400mAh |
| Massage gun weight | 1.68 lbs |
| Include | 7 replaceable heads and 5 intensity modes |
| Warranty | 1 year |
2. Ovicx Deep Tissue Massage Gun
| | |
| --- | --- |
| Dimensions | 2"L x 3.7"W x 6.4"H x 1.7 lbs |
| Color | Black |
| Materials | Aluminum-alloy |
| Vibration frequencys | 1500 - 3000 rpm/min |
| Input voltage | 110 - 220 V / 60Hz |
| Warranty | 1 year |
3. ADDADAY Edge: Massage Gun with 5 Heads
Feature
5 interchangeable heads
Bluetooth-enabled to connect to the optional Addaday app
Warranty

1 year
4. PMT Body Drummer Pro X Percussion Massage Gun
Dimensions
16.5" x 10" x 4.5" x 4.5 lbs
Features
S5 interchangeable massage heads
20 intensity levels
Long lasting battery
5. Microwavable Heated Mittens
Heat the gel pack in the microwave to get a soothing moist heat for the wrist massager for carpal tunnel. It distributes heat well, improving blood circulation and providing full comfort during hot compresses for the entire hands. To relieve hand swelling and bruises, freeze the gel packs in the freezer, and use them as cold therapy. 
It has a plush fabric on the external portion of these therapy mittens, so they feel soft and comfortable to wear. Because you can easily remove the filler packs on each side of the hand therapy mitten, the cover can be machine-washed and reused.
6. CLORIS Hand Massager Multi Massager
This unique 3-level massage combines compression with heat (provides a gentle warmth, about 100°F/107°F - just enough to relax & increase the benefits of the massage) for a comfortable massage for various body parts. The unit will automatically shut down after 15 minutes and recharge for four hours to provide ten hours of relaxation. 
As a combination of rapid graphene heating and shiatsu massage, rapid graphene heating can alleviate abdominal pain, menstrual cramps, and stomach discomfort, as well as regulate the intestines and stomach and improve blood circulation. The device can also relax muscles, making it a useful massager for necks, backs, waists, and legs.
7. CINCOM Hand Massager
After a long day of work, you can relax your hand with this electric hand massage equipment that relieves arthritis and carpal tunnel pain. Finger numbness and joint soreness can be relieved with heat, air pressure, and kneading. This product is suitable for both left and right-handed people. 
You can choose three massage modes and strengths to suit your comfort level. This wrist massager provides soothing, infrared heat at 95 - 104 °F (35 - 40 °C) for improving blood circulation, reducing fatigue of fingers and palms, reducing pain, and warming cold hands.
8. iReliev Far Infrared Heating Pad with Natural Jade & Tourmaline
By passing far infrared waves through the stones, JADE AND TOURMALINE distributes heat evenly throughout the body. The stones emit more than 1500 negative ions per square inch when heated. Negative ions can act as antioxidants in the air and promote healing, positivity, and well-being. As a result, it penetrates up to three inches deep into the muscle and soft tissues to provide natural therapeutic relief. Softly wraps the targeted area with the flexible pad.
9. PPLOONG Red and Infrared Light Therapy for Hand Pain Relief
The Red light at 660nm speeds up the metabolic reaction of cells, reducing inflammation, and speeding up healing, and is also useful for the skin. 850nm Near Infrared light penetrates deeper into the tissues, organs, and joints than other wavelengths to enhance muscle recovery and reduce joint pain.
10. CAMECO Red Light Therapy Glove for Hand
At Cameo, a steady-on mode and an upgraded pulse mode are available, and you can set them on your keyboard tray to use them. Pulse mode can't work alone; it must work in conjunction with either steady-on or pulse mode. According to your needs, you can choose from different modes. 
In 2022, the company upgraded the design with a side zipper. Make sure the zipper is zipped up so you can use your hand. After unzipping the zipper, there are two straps for fixing it to the body. This large size covers most people's whole hands, including the arm. The overall size of the device is small, it is lightweight, and it is easy to carry and use.
11. Dermalotak
Over here, there are a total of 30 LED chips built into this red light glove that you can place on your desk pad, each of which places 660NM (red light) and 880NM (near-infrared light). 
With 660NM reducing skin inflammation, and 880NM targeting joint pain directly, this wavelength combination is clinically proven to be the best. In order to efficiently relieve pain in the painful joints of the hand, 30 lamp beads are most effective, which can provide up to 50W/cm2 of light energy.
12. Scienlodic Red Infrared Light Therapy Hands
With scinlodic therapy, light, muscle, and nerve tissue can be reached faster and without pain during treatment, promoting cellular repair and regeneration, and reducing inflammation due to arthritis. 
We offer wrist wraps with infrared red light therapy capabilities, with three brightness settings and varying temperatures. Using infrared light, it heats deep within muscle tissue. It provides soothing heat to help improve blood circulation and relieve carpal tunnel pain, osteoarthritis, tennis elbow, golfer's elbow, and climber's elbow. The product is warm outside and heats inside without harming the skin.
13. iReliev Cordless Electric Hand Massager
The Hand Massager can relieve muscle pain and fatigue in your hands and wrists. It has six specially designed automatic hand massage programs with six adjustable massage intensities for optimum relaxation. 
With the 15-minute automatic timer, you can easily adjust the length of your massage. Designed ergonomically to conform to acupuncture points and hand curves that begin to ache when you overuse your gaming accessories.
14. Breo iPalm520 Electric Acupressure Palm Hand massager
In this product, hands are comforted by heat-enabled energy that promotes healthy blood circulation and relieves fatigue, soreness, numbness, and cold fingers between 98F and 107F (35C to 42C).
In addition to being an appropriate accessory, the iPalm520e helps to better absorb the nutrients in hand creams. Warm compression makes it effective, and it doubles as a wrist pad for the mouse. After applying hand cream or essential oils, use this product.
15. COMFIER Cordless Hand Massager with Heat
Using three pressure modes and three intensity levels, the Comfier Cordless Hand Massager with Heat massages all sides of your hands. Starting from the wrist and extending to the fingers and palms, the massager's designed modes help to pressurize the entire hand rhythmically. 
With three optional heating levels, the Comfier Hand Warmer Massager helps keep your hands warm and moist to prevent dryness. Warm heat therapy provided by the electric hand machine promotes blood circulation in the hands and eases sore muscles, numbness, and cold fingers and palms.
16. Lunix LX3 Cordless Electric Hand Massager
This Lunix LX3 pressure point therapy massager provides a deep massage that can be fully customized to suit your individual needs. With its six levels of intensity and compression, the LX3 massager offers the closest sensation to a real hand massage, including warmth (around 104°F - enough to relax and enhance the benefits of the massage) and vibration. 
As with any massage, the soft inner cushion ensures 100% comfort, and the sensation of tingling is normal. You don't need to worry about cords or plugs when you charge it once.
17. Lunix LX7 Touchscreen Electric Hand Massager
There are four levels of massage intensity and compression in the LX7. It provides a gentle warmth of around 104°F to relax the muscles and enhance the effects of the massage as well as vibration for the most real-life feeling of a massage. 
This new LX7 premium hand massager uses acupressure therapy to compress the hand, stimulate acupuncture points, and improve circulation by compressing the hand for 15/20/30 minutes. With the massage tool, over 300 patients who have been receiving hand physical therapy have been able to decrease arthritis pain and recover more quickly after carpal tunnel surgery.
18. MoCuishle Shiatsu Shoulder Massager
A neck massager can be heated to enhance further comfort and improve blood flow to the muscles and ligaments. When you are falling asleep, auto-shutdown every 15 minutes prevents overuse. Featuring eight powerful 4D Deep-Kneading, the Shiatsu massager rotates in both directions to improve blood circulation and relieve back pain, lower back pain, neck pain, shoulder pain, leg pain, and tight muscles. 
Moreover, their massagers are perfect gifts for holidays, birthdays, graduations, and special occasions.
19. Myobuddy Pro - Percussion Deep Tissue Massage Gun
Depending on your needs, there are three levels of adjustable strength. You can use the hand-held massager with massage oils for a more relaxing experience. Use it before using the microfiber cover. With no need to change equipment parts, you can get a full body massage in minutes. 
You can use this wrist massager to massage deep tissue, knots, or trigger points by laying it flat against the area or switching to a percussion massager by tilting it on the side.
20. Mebak Chic Percussive Massage Gun
You can select any speed between 1900-2800 RPM on the Mebak chic massager, depending on how sore or painful you are. A lithium-ion battery powers the Mebak chic for 120 minutes continuously. 
Type-C ports allow charging from a 5V/2A adapter or power bank. These ports provide greater portability (depending on your massage speed.) You can charge the massage gun using any regular phone adapter.
21. LifePro Hand Massager
It is ideal for relieving pain caused by arthritis, carpal tunnel syndrome, and aching joints or promoting quicker healing by improving blood flow, reducing inflammation, and promoting faster healing. This device's design can target your pain the exact way you desire; choose from 5 massage modes, two vibration options, and five intensity levels on the LED display to show yourself how to massage your wrist.
22. Tuob Red Light Therapy for Hand Pain
Blood circulation is increased by the 660nm red light, which is particularly effective for skin health. A strong ability to penetrate deeper into joints makes the 880 nm infrared light ideal for enhancing muscle recovery and relieving pain. 
These therapeutic wavelengths of Red light and NIR light reduce oxidative stress and relieve pain by delivering safe and concentrated light to your skin and cells. There are no side effects or major health risks involved.
23. iRest Cordless Hand Massager
You can gently warm your hands with the iRest hand wrist massager (about 109° Fahrenheit). As a result of a much gentler heat therapy, you can improve your blood circulation, and soothe sore muscles. 
Three massage modes are available to meet your different massage needs with this hand and wrist massager. There are three types of massage wrist pain modes: soft, medium, and strong. Pressing the start button activates the stimulating vibration that goes deep into the acupressure points and improves your blood circulation. It even provides you with an intense hand massager mode that works extremely well when your hands feel very tired after extensive manual labor, keyboarding, or exercise.
24. Scienlodic Medical Grade Red Infrared Light Therapy
The arthritis glove is the perfect wrist braces for typing. It has three levels of brightness adjustment, and the temperature varies depending on the brightness setting. Infrared light heats deep into muscle tissues, improving blood circulation, and reducing finger and palm fatigue. It is much safer and more efficient than traditional hot compress products because it is warm outside and hot inside without harming the skin.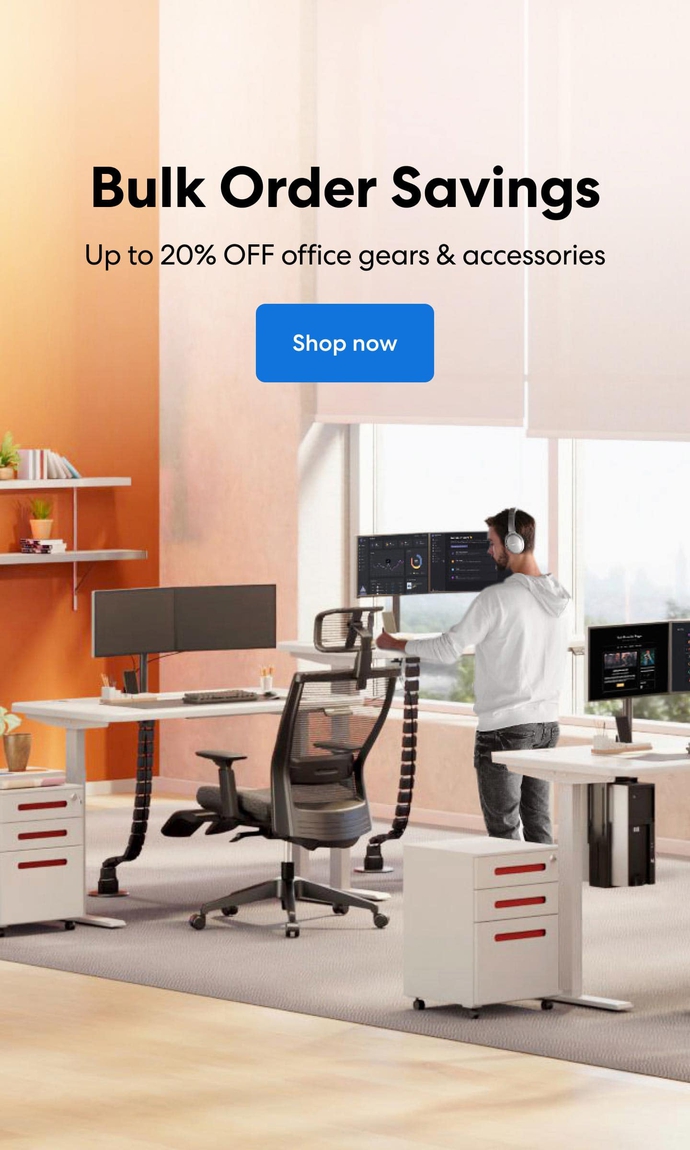 Subcribe newsletter and get $100 OFF.
Receive product updates, special offers, ergo tips, and inspiration form our team.