Workplace Inspiration
20 Home Office Layout & Floor Plan Ideas for Productivity
1,369 Views
The home office layout you choose for your office influences how much work you will do. It's, therefore, imperative to consider your work demands and lifestyle before choosing a home office floor plan. You can't just prop a laptop and phone anywhere in your home and think this qualifies as a home office. 
This is further from the truth; the home office should be specially curated to meet your day-to-day needs. It's the only way it'll make working from home possible. Let's look at some of the best 20 office layout ideas you can choose to carve out your own dedicated home office.
20 Home Office Layout & Floor Plan Ideas
1. Bedroom Layout Ideas with Desk
Working from home has its perks, from higher control over your workspace, minimal interruptions, no commute, among others. You'll, however, need to make deliberate choices when it comes to where you'll set up your home office for efficiency. If you're setting up a home office in a small home space, then bedroom layout ideas with a desk are the best option to go for. 
An excellent way to do it is ensuring the stand-up desk faces outward and is facing the wall. On the other hand, the ergonomic chair should be set up correctly on the desk placement. The type of ergonomic chair you go for should increase the aesthetic value of your home office. More importantly, you'll need to separate the room into two areas for work and relaxation by incorporating the Feng Shui office layout; adding furniture that serves different purposes is a plus.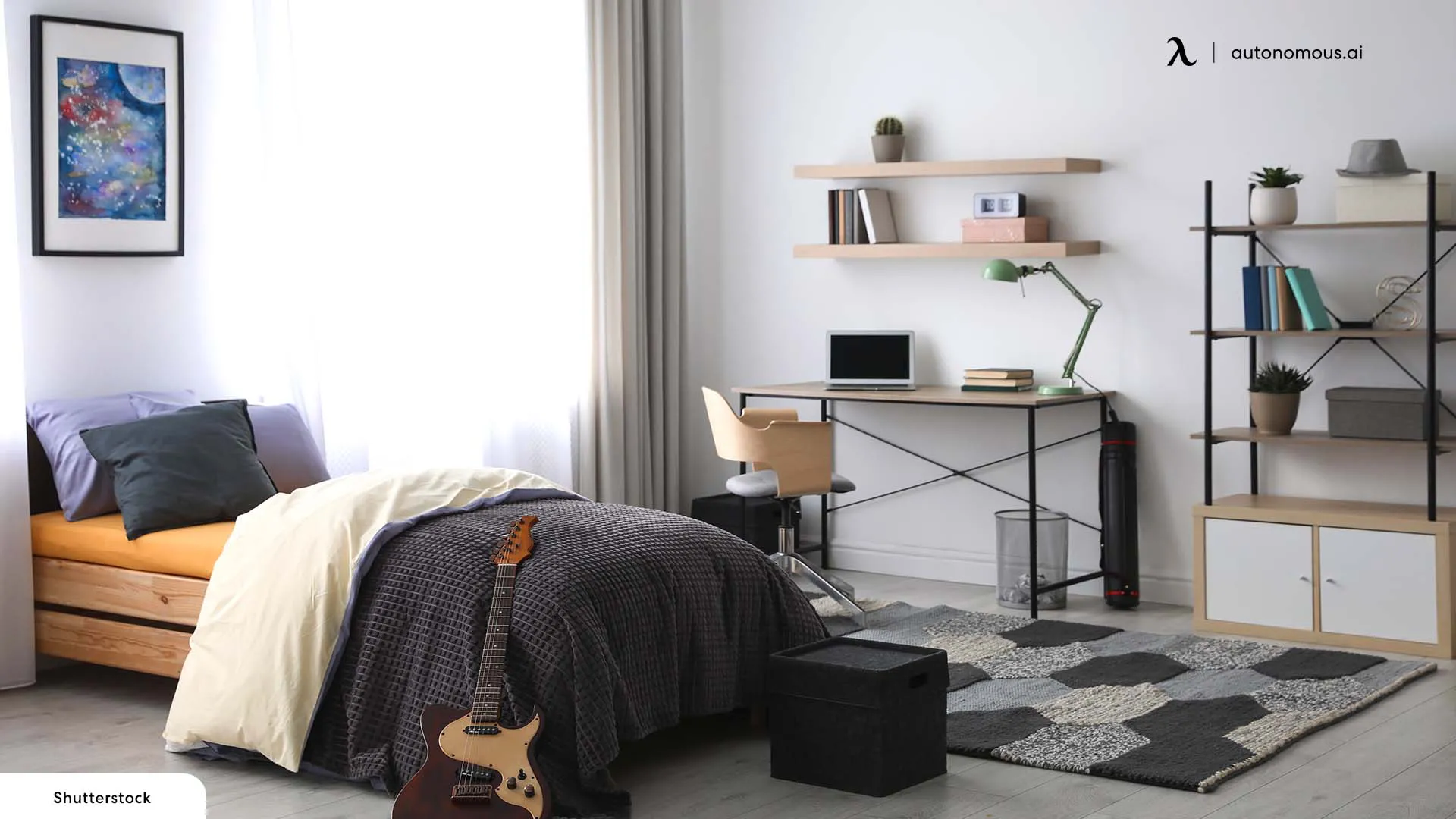 2. Feng Shui Office Layout
The most common problem remote workers face while setting up a home office is the unavailability of space. Even so, this shouldn't deter you from setting up a home office. You can use the Feng Shui office layout in any area of your house. It allows you to arrange furniture, decorative, wall decor, and desk accessories to form a proper energy flow. 
Overall, the Feng Shui concept majorly depicts that our mood and mind are affected by our surroundings; when you modify your office into this layout, you can achieve harmony in the workplace. 
3. Small Office Layout
With your imaginative skills and maximum use of space, you can turn any small space into a fully functional office. A small office layout is all about incorporating creative ideas and maximum utilization of space, which brings about efficiency. After all, efficiency and cost-effectiveness are the hybrids of a workspace as more and more organizations are gearing towards that. 
Modern designs for offices and advanced home office ideas are derived from their concepts of small office layouts. If you have a small space around your house that you want to turn into an office, then ensure you go through various small office layout ideas that'll help you come up with the best setup. It'll ensure you enjoy a smooth yet productive work area.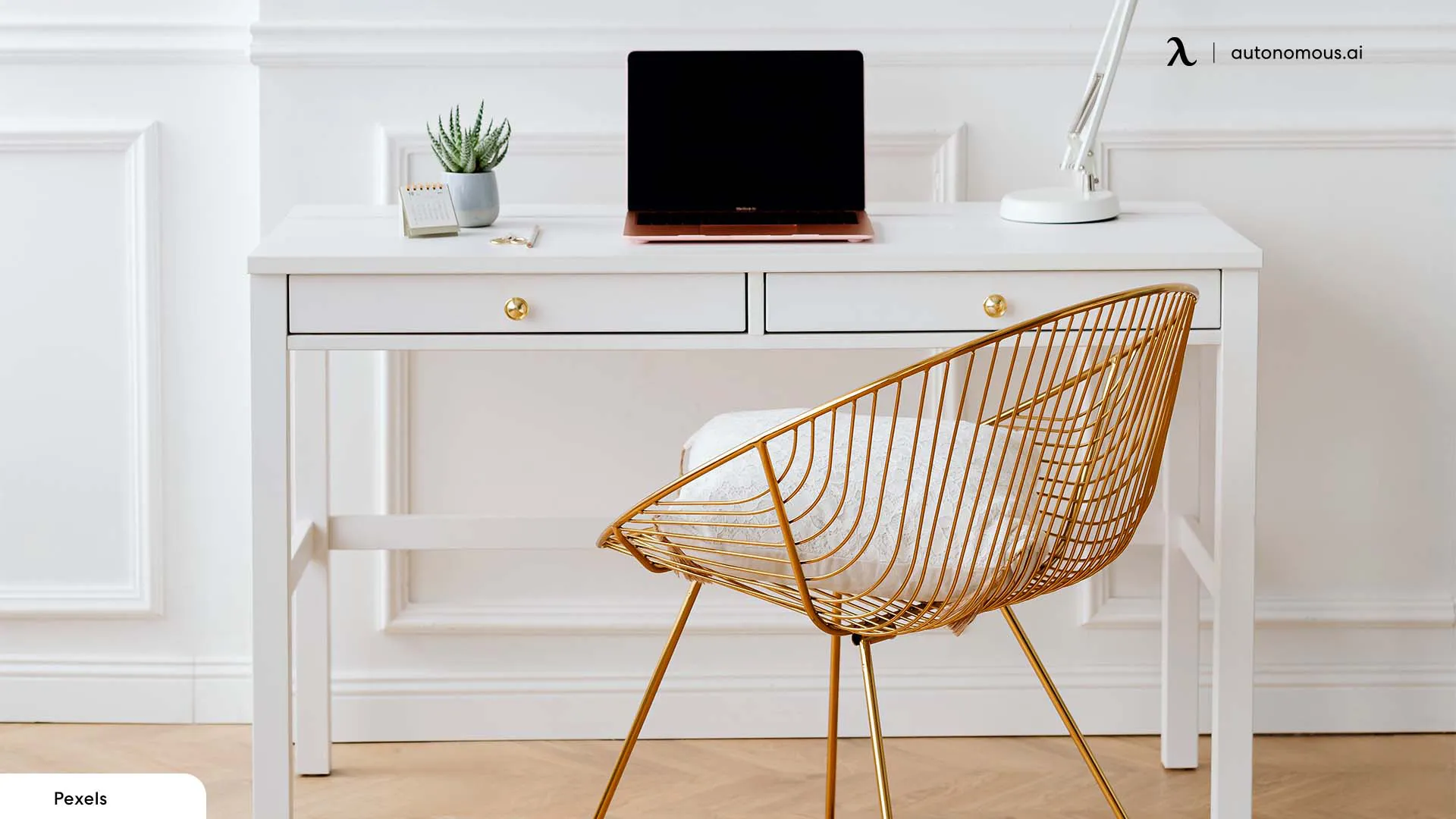 4. 10X10 Office Layout
Many businesses are embracing 10X10 office layout ideas to downsize into smaller offices, including a home office. Usually, smaller apartments have 10X10 feet rooms that can easily hold meetings; therefore, you can efficiently incorporate the 10X10 office layout ideas into this space. There are many ways you can go about creating this office floor plan; they include; pushing every piece of furniture to the corner and leaving the office right at the center. 
Moreover, you can push some shelves and add items that'll improve the room's aesthetic, like curtains, plus installing inbuilt shelves for storage. However, don't invest in bulky furniture as they'll take up a lot of space. 
5. Desk in Living Room
This is another office floor plan you can opt for the home office. The only thing you have to do is draw a fine line between work and play. You need to focus and be productive while working at a casual desk in the living room. Achieving this requires you to fully have the knowledge and plan the kind of desk in a living room layout you want for your home office. 
Whether you have a spacious living room or a small one, you can easily incorporate a small office layout idea that'll ensure you focus on increasing productivity. A good small office plan you can tweak in your living space is putting the home office set up behind the couch or using your corner shelves in the area to create your workspace.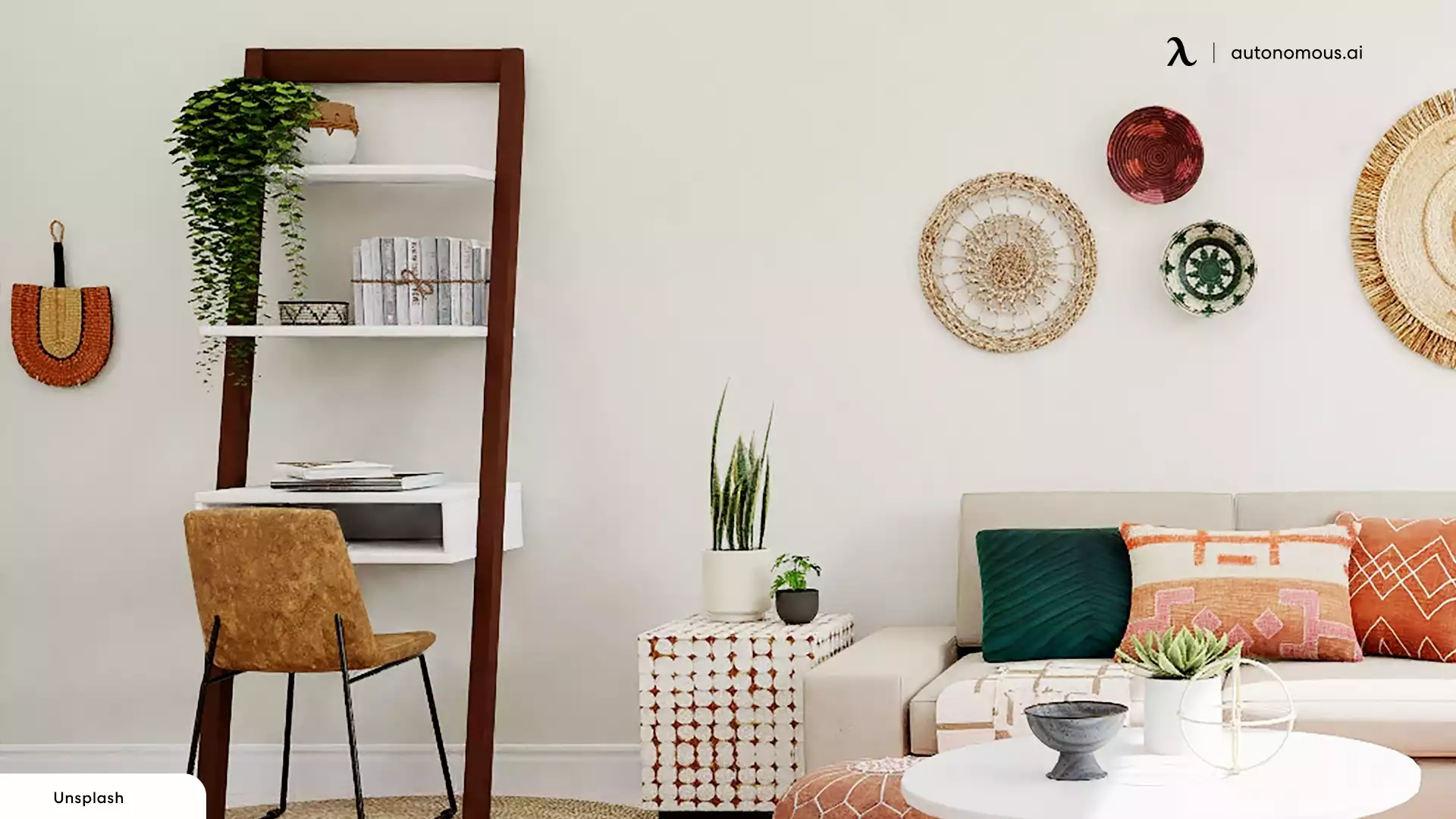 6. Home Office in a Dining Room
The dining room can be a nice place to set up your home office, especially if it's not your ordinary traditional dining room. If you're lucky, you can easily turn the whole area into an office laying out the furnishings you want. However, if you need this area for meals and a place for children to do their homework, then you may need other solutions. 
Creating an office in a shared area will require you to go for small office layout ideas. You don't want a situation where your compact desk is taking up all space, making it look overcrowded; something you weren't going for: an overcrowded place won't motivate you. 
7. Home Office with a View
If you'll be spending the better part of your day in this space, then it's not bad to go for a home office floor plan that has a view. The desk can be placed near a massive window, bringing in natural light. Some install blinds and curtains to control lighting. Moreover, it's spacious enough to add seating to serve as a meeting area for your guests and clients.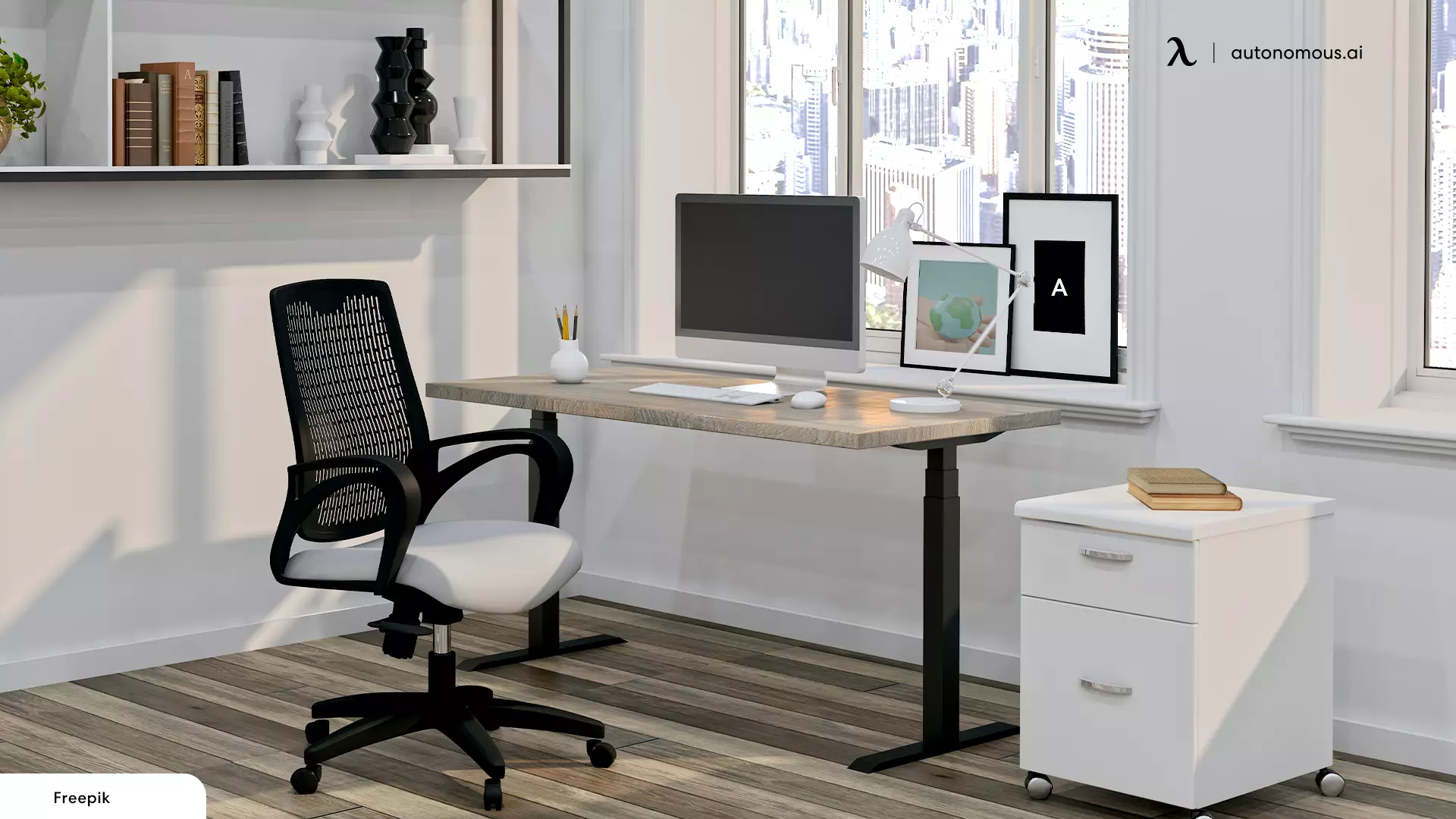 8. Adapting to Unusual Room Shapes
When the space you want to set up your office is not in a perfect square or rectangular shape, you can adapt home office layout ideas that align with unusual shapes. Sometimes, the rooms come in T or L shapes, which can pose a challenge. A nice space that comes with an alcove or inset space can be a great storage space. Moreover, you may need to use a specialized desk or a combination of furniture to optimize space. 
9. Cozy Corner Desk
This home office layout creates a solace workspace that allows you to improve productivity. The expansive setup ensures you spread out your work essentials and focus on the important stuff. It'll allow you to put seating along the walls. However, the setup doesn't have enough floor space, therefore, it's not ideal for group settings. The main aim for setting up this home office floor plan is to get things done and for privacy purposes. Additionally, it goes against Feng Shui office theory as you'll be sitting on your back facing the door.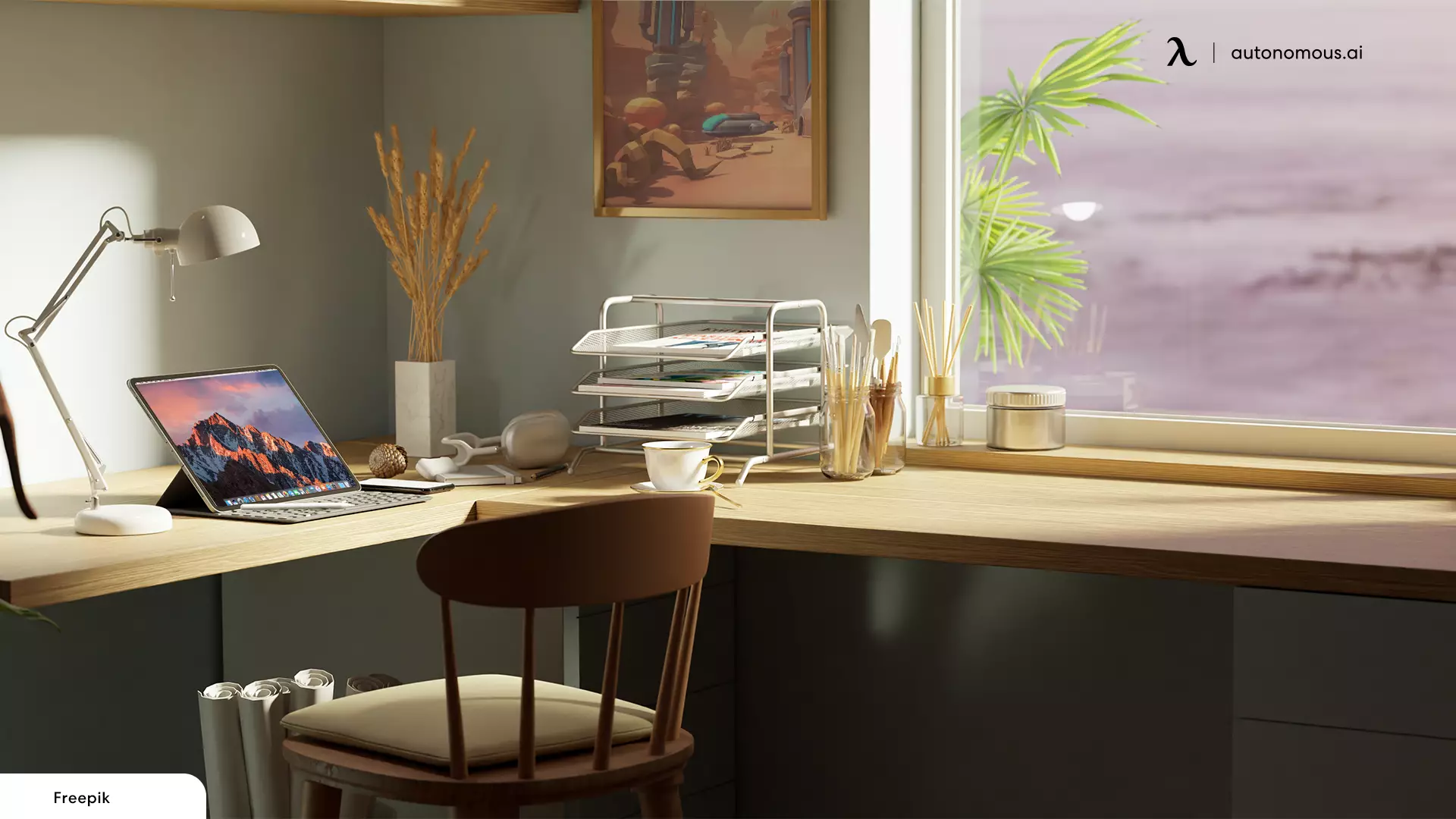 10. The Perpendicular Desk Layout
The home office layout invites remote workers to go off-grid from the ordinary desk facing a wall. Here, you'll design your desk to be perpendicular, which changes the overall ambiance and atmosphere of the workplace. It's ideal for people that don't like their backs facing an open room. The good thing about them is that it leaves room for wall storage and seating options. 
11. Home Office in a Pass-Through Space
Just like the name suggests, you'll be able to set up your home office in an area where you pass through, like the hallway. The area will thrive well when you incorporate an open office floor plan. Use a desk that has drawers for the storage of work essentials. Additionally, the desk will face the wall to ensure the workspace stays neat. This is certainly a small office layout option for people with limited space.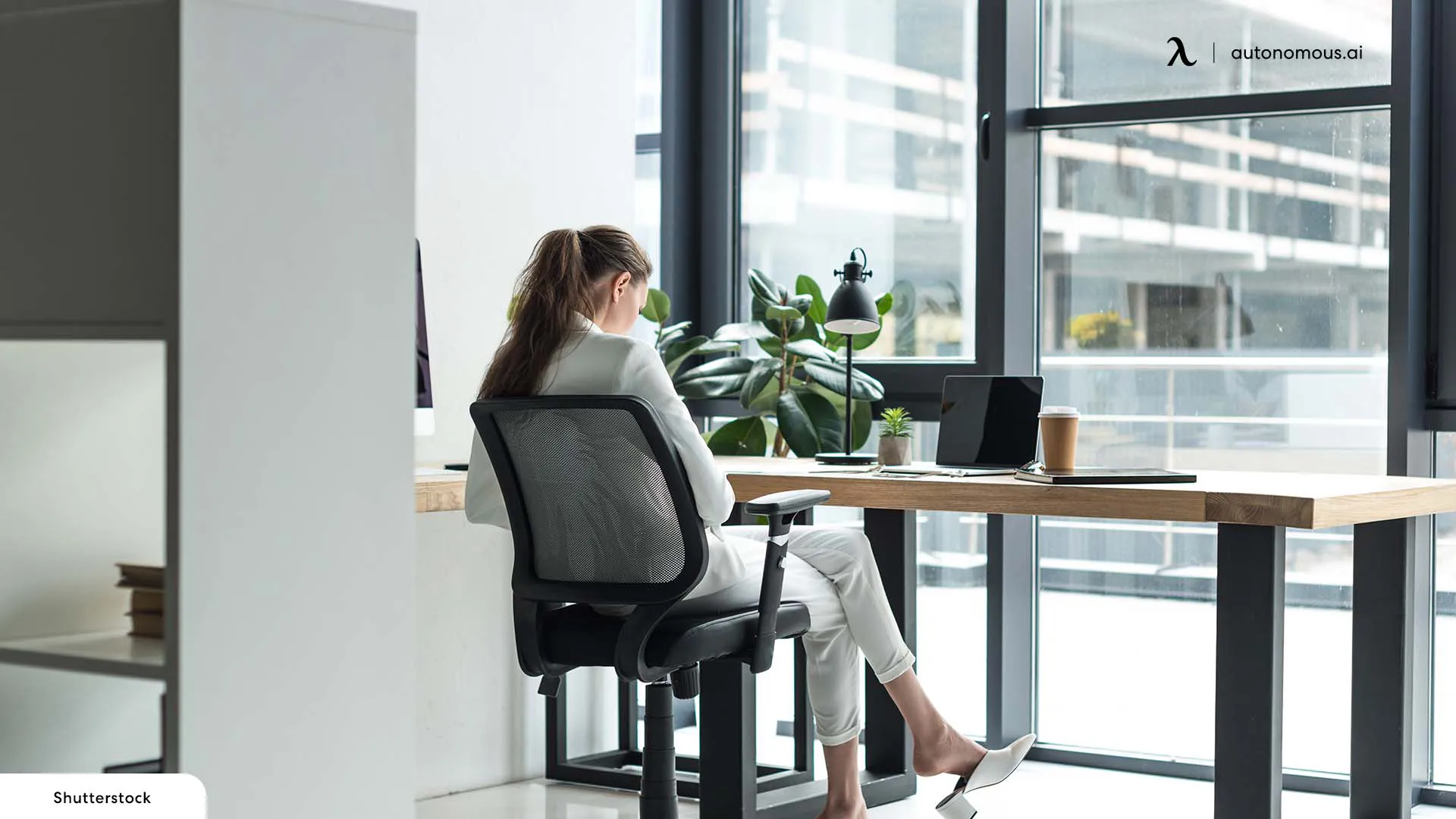 12. L-Shaped Office Design Layout
An L-shaped office layout is a great office design layout for a multi-purpose room where a family member shares the room. The L-shaped compact desk will maximize the use of space, tucking nicely in one corner. This gives you enough space to install other furniture in the room. It's great for a busy home and can be combined to function both as an office and a reading space. Steer clear from this type of desk if you're easily distracted from work by relaxation. 
13. Desk Space in an Under-Stair Nook
The home office layout is installed in hard-to-fill spaces. If you don't have enough space around the house, you can easily make the most out of your under-stair area by incorporating the sloped steps as storage spaces. Moreover, you can take a rug and use it as a visual zone distinguishing your home and the office.  
It's not the perfect office design layout for people who don't want to work in an open plan. If you're going to host clients and need more concentration, then this office layout idea is not for you. However, it's a nice home office floor plan that uses limited space and allows remote workers to concentrate.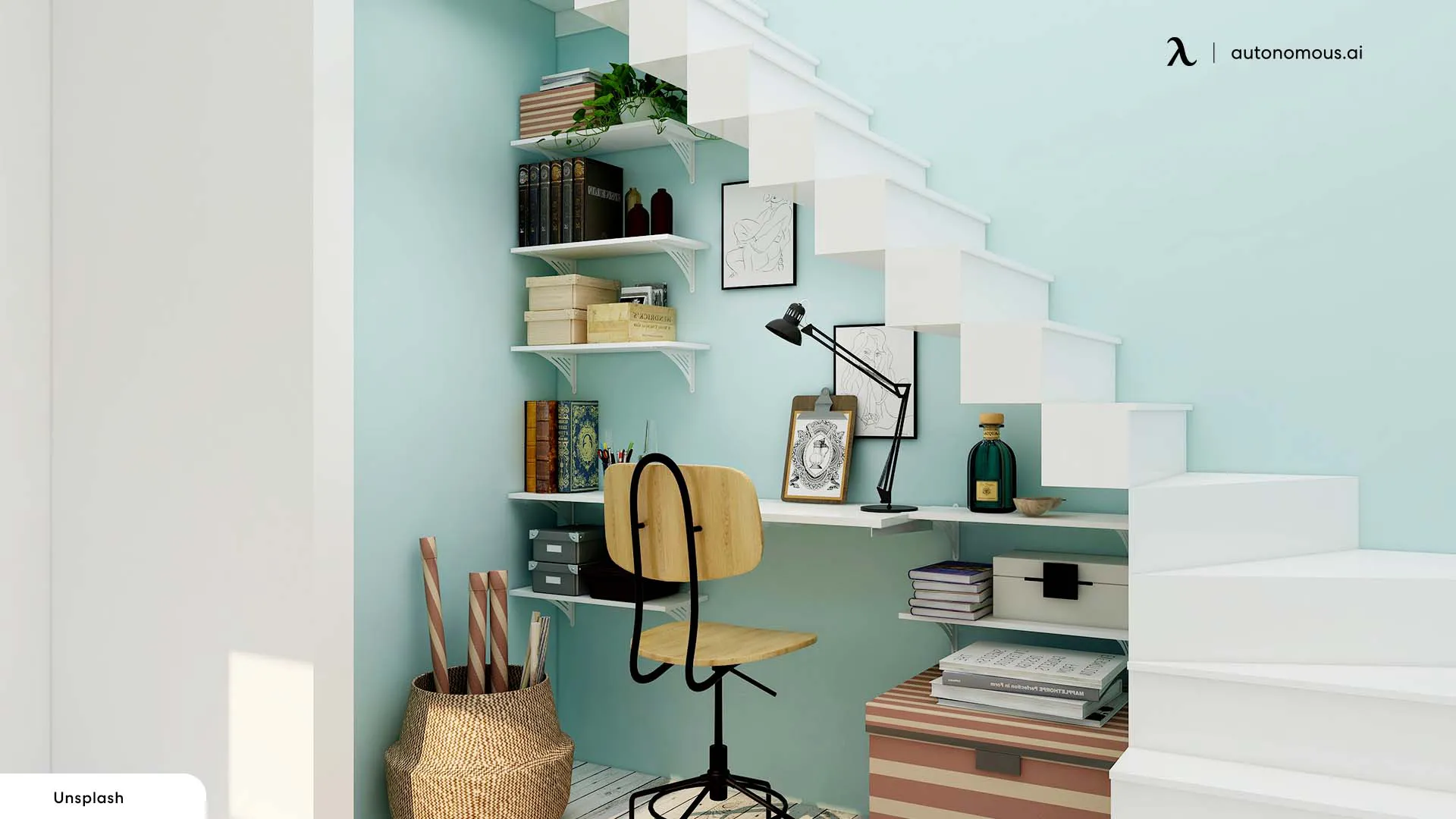 14. Optimal Office at Home
Among the many home office layout ideas, there's the optimal office at home office design layout. It's characterized by four working stations plus ergonomic seating arrangements for families and clients. The setup emanates a simple traditional office, so when laid out at home, it would appear regel and very thought out. You'll easily get things done, which is congruent with higher productivity. The office floor plan comes with pocket doors that promote privacy and segregates the rest of the room. 
15. Flexible and Fun Home Office Layout
If you want an office layout for your home that's flexible and fun but still enables you to focus on your work, then this type of home office floor plan is suitable. The layout is empathetic to people not wanting the traditional office setup. It comes with a dual workstation, in-built counter seats, and corner surface space for optimal work experience. This office layout is suitable for people who want to spread out and get things done. You can create this format in spaces where it's hard to configure.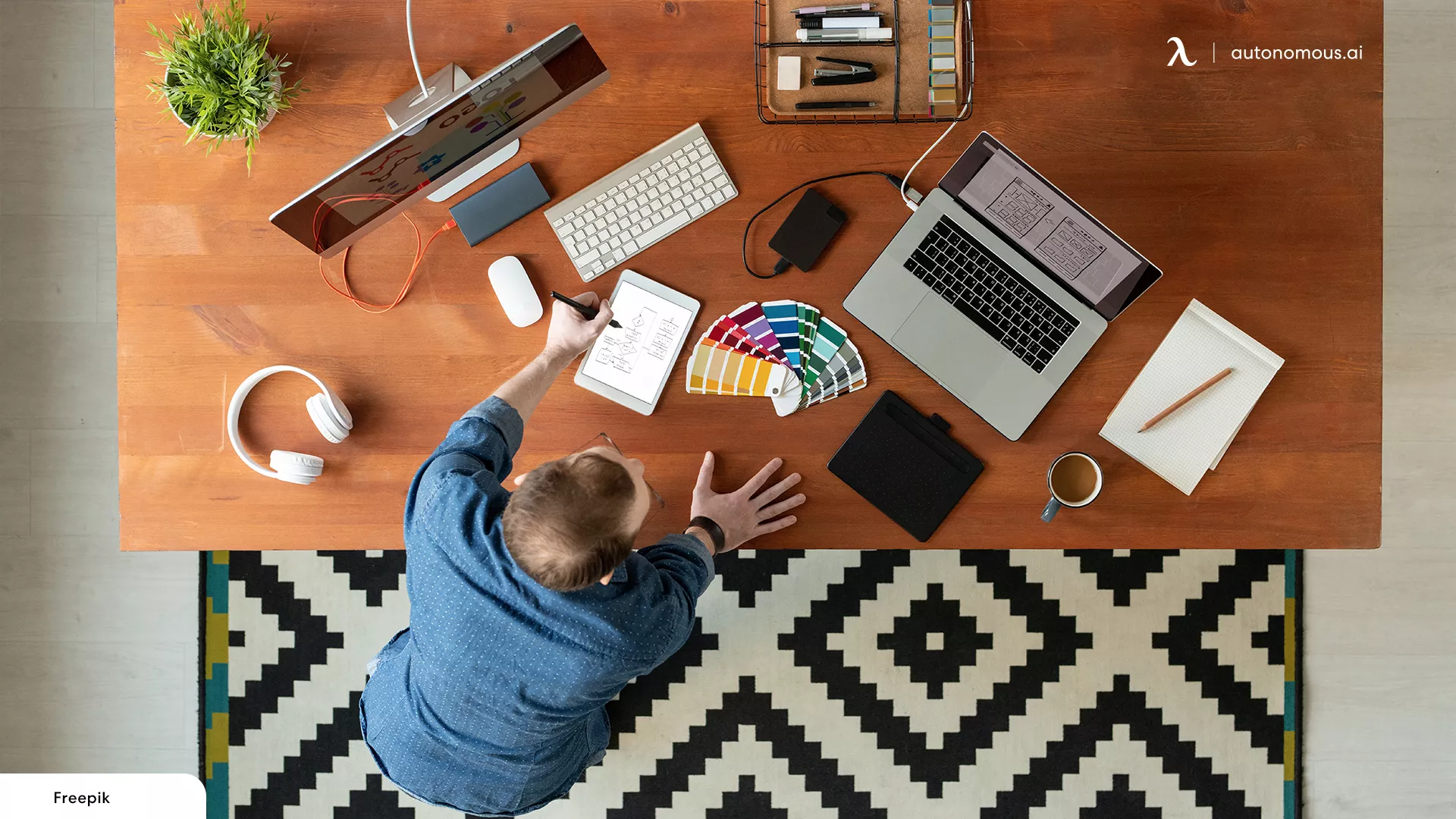 16. Have a Seat Office Layout
Immediately when you open the door to this office layout; you'll not believe you're at home. It has replicated a traditional office from a waiting room, with seats where guests can wait to be attended to a designated area for private meetings and workspace. This certainly increases focus and productivity levels due to minimizing interruptions. Moreover, the casual seating brings coziness and comfort to the workspace. 
17. Central Control Office Design Layout
Remote workers are in a position of power while working in such a home office floor plan. Firstly, it oozes a dual-controlled workstation with a spacious surface area for any work you need. The space may look bigger than it actually is, with seating for guests being separated from the control center, giving the room more dimension. Moreover, windows add to this aura, plus the space available in the room gives the office an unhurried and relaxed vibe.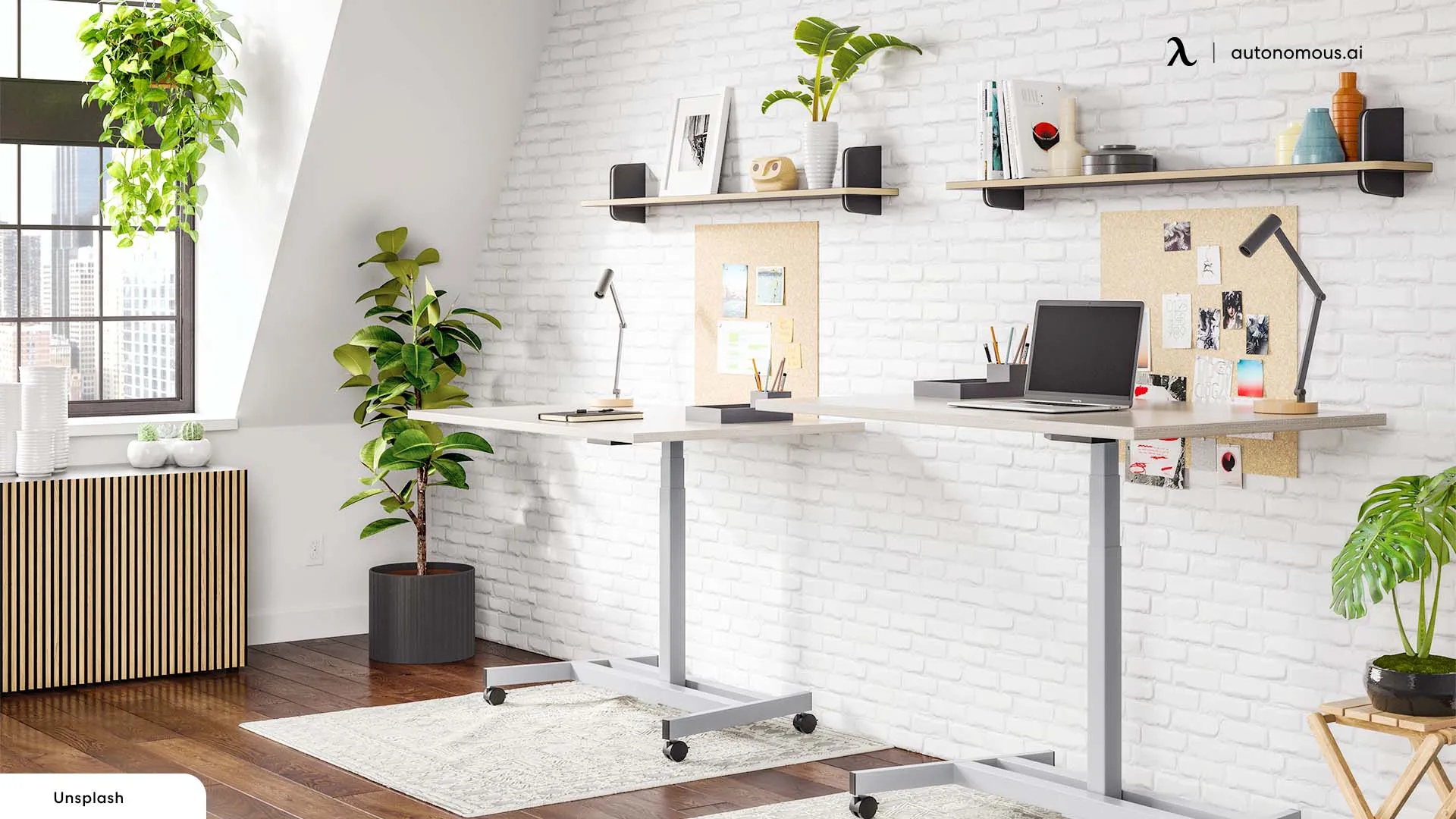 18. Clubhouse Home Office Floor Plan
The home office layout is a sophisticated design layout suitable for remote workers working from home but occasionally having their colleagues come to join them. It's circular in nature, fostering an ambiance of collaboration and cooperation. Moreover, there's additional space for sofa seating where all workers can sit for meetings and have their meals. The office layout definitely brings that clubhouse feeling to it. 
19. Dreamer's Designer Layout
This office layout configures regel and opulent yet functional furnishings. You'll first notice the coordinative wing back chairs on this home office floor plan. It pretty much changes the office ambiance by evoking elegance and vintage class, while the desk is tucked away nicely in a corner. Most people add a funky ergonomic chair to spruce up the overall ambiance of this whisky office.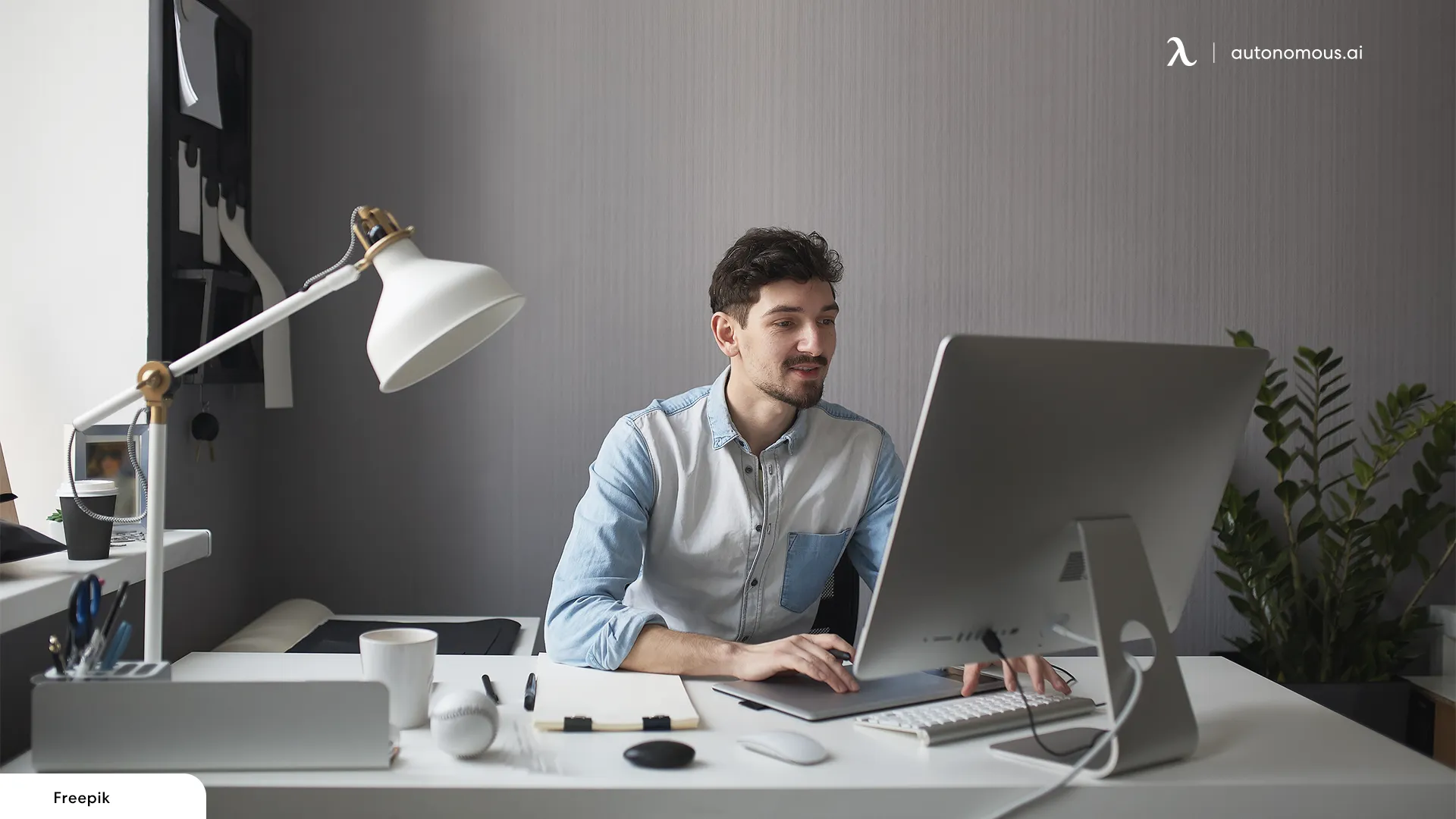 20. Versatile Home Office Floor Plan
The layout is versatile, and you'll pretty much do anything you want in the space. It can hold multi-purpose workstations. Getting chairs with casters from site to site will revolutionize the entire setup, ensuring a better workflow. Moreover, it has enough room, ensuring no clutter due to extra furniture. You can use the walls to spread out work and for storage purposes. Additionally, selecting a wink chair at a corner will provide a focal point for the office. 
Final Thoughts!
These are some office layout ideas you can incorporate into your home office. Ensure you consider your office needs before settling on a particular layout, as they're of different kinds meeting different space needs.
Subcribe newsletter and get $100 OFF.
Receive product updates, special offers, ergo tips, and inspiration form our team.
WRITTEN BYAutonomous
We build office products to help you work smarter.