Posture can become a problem quickly if you overlook it, leading to back pain and other health issues. However, you can prevent this if you buy an office chair with lumbar support. This feature supports the lumbar region of your body, which most people refer to as the lower back.
These chairs work by filling the leftover space between your lower back and the chair. It helps you maintain the natural S-shape of your spine, which relieves some pressure from it and other back muscles. Consequently, these chairs tend to be more comfortable than most.
Without good lumbar support, using a chair can be taxing. In some cases, it may lead to slouching, which is significantly worse for the spine and posture. For that reason, we explain the types of lumbar support for office chairs and provide the top 20 options we found.
Types of Lumbar Support for Office Chairs
There are several types of lumbar support, but the following three are the most common types you can find on almost every ergonomic chair with back support on the market:
Fixed Lumbar Support: In these chairs, the lumbar support is static, meaning you can't reposition or modify it in any way. You usually find it on lower-end chairs, but it's better than no support at all. Occasionally, it may be counterproductive as the spine's curvature is typically unique to each person, and the chair might not match it.
Adjustable Lumbar Support: These chairs allow you to adjust where lumbar support should be, letting you set it in a way it properly fits your back. The settings you can change are usually the height, depth, and firmness. Good chairs tend to combine some of these adjustability features.
Dynamic Lumbar Support: This lumbar support automatically adjusts based on the user's posture, providing constant support at all times. You can find this type in some of the best ergonomic chair options. A lumbar support computer chair of this type is highly beneficial.
What Are the Top 20 Office Chairs with Lumbar Support
Finding the right desk chair with lumbar support on the market can be challenging with the sheer number of options available. That's why we searched for excellent office chairs to help you make up your mind and included some runners for the best office chair for lower back pain.
1. Autonomous ErgoChair Pro
The ErgoChair Pro is an extraordinary lower lumbar support office chair, in no small part due to its highly flexible lumbar system. This feature allows you to adjust how much support you need from the chair with the help of a simple handle that lets you set just the right amount of pressure.
Additionally, you can push it up and down within a six-centimeter range, making it an excellent fit for any body type. If you're looking to buy an ergonomic chair with excellent lumbar support, the ErgoChair Pro is among the best options you have.
2. Autonomous ErgoChair Core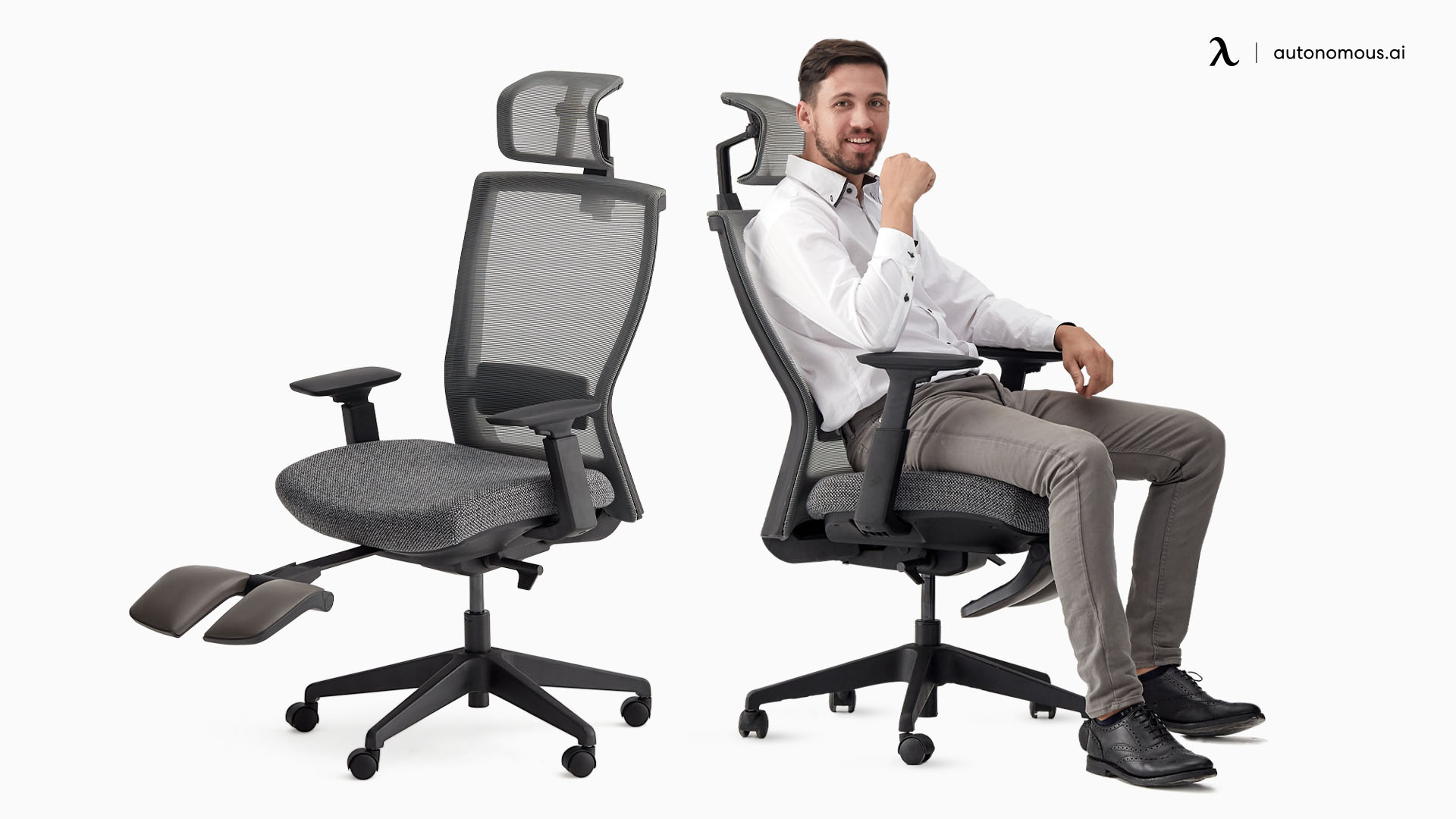 This ergonomic office chair with lumbar support is considerably comfortable. It's not only adjustable but also naturally arched to support your spine's natural curvature. You can have an excellent posture whether you sit upright or lean back.
The ErgoChair Core also has an effortless 18-degree recline that responds to body weight, keeping your lower back stable as you tilt. It doesn't place any strain on your neck, shoulders, arms, or back. Moreover, this lumbar support computer chair has a mesh back that's significantly breathable and has numerous remarkable adjustable features.
3. Autonomous ErgoChair Pro+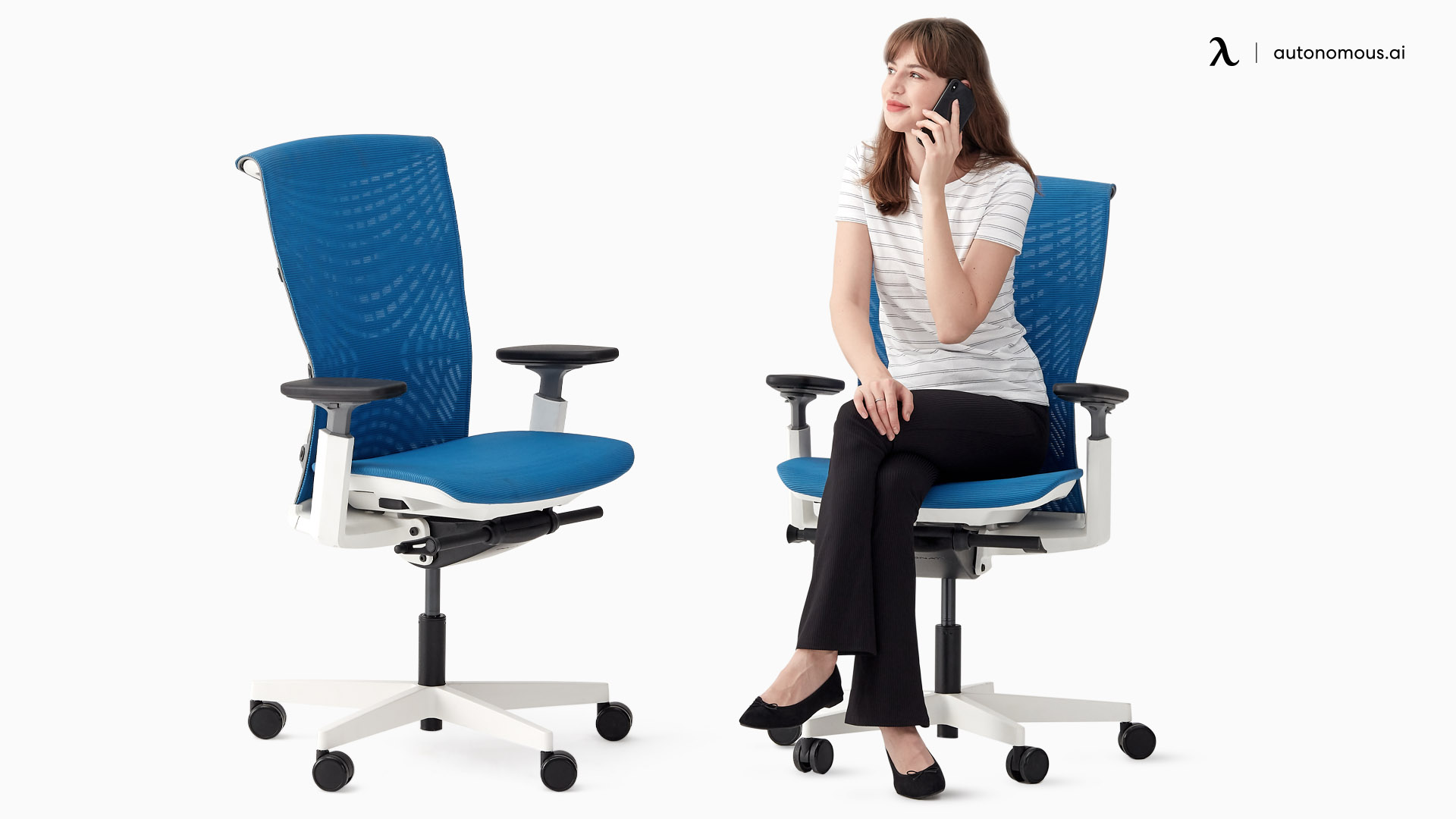 The ErgoChair Pro+ is the most dynamic chair that Autonomous produces. It has a frameless construction that allows unimpeded, natural movement. The adaptive spinal support it has provides an ideal balance while you sit in it. Modeled after magnetic fields, it encourages a proper seating posture that activates your body's core and promotes a better sense of well-being.
Although it doesn't have cushioned seats or a backrest, the TPE material it uses is significantly comfortable and durable. It's easy to clean, environmentally friendly, and odor-resistant. This lower lumbar support office chair is a welcome addition to any office.
4. Steelcase Leap
The Leap is a high-performance desk chair with lumbar support for people who value ergonomics and productivity. Its backrest features the LiveBack technology, allowing the lumbar support to move with your spine's shape as you change positions. You can adjust its height in a five-inch range, providing more lower back support. Furthermore, you can change its firmness with the turn of a dial.
5. Herman Miller Embody
The Embody features a unique backfit adjustment designed like a human's spine. It allows you to position it in line with your spine, achieving a good posture with ease. Over time, the backrest naturally adapts to your movements and starts to adjust as you move automatically. Whether you tilt forward or recline, the support is constant and comfortable.
Another unique technology from this lumbar support computer chair is its pixelated support. When you sit on it for the first time, it gives off a perfectly balanced sense. After all, it conforms to your body's micromovements and distributes weight evenly. As this desk chair with lumbar support is high-end, its price is on the higher side. However, its features and durability make it worthwhile.
6. Steelcase Amia
This chair combines a sophisticated design with high-performing ergonomics, resulting in a more affordable product than the Leap model. The Amia features the LiveLumbar system, which has a dialed-in spring force in the chair's lumbar region, which actively supports your lower back. You can also adjust its height by a little less than four inches.
This lower lumbar support office chair has many additional features, including four-dimensional armrests, seat height, seat depth, and back tension. It also has the LiveBack technology, which creates a personalized, breathable mesh backrest that flexes as you move.
7. Humanscale Freedom Task
This chair has won several design awards by revolutionizing the way people sit. It has a weight-sensitive recline and synchronously adjustable armrests, which sets a new standard for task chairs.
Its intuitive, pivoting backrest automatically moves with you throughout the day, offering excellent lumbar support in all positions. Moreover, the armrests move alongside it as they're attached to it. Overall, the chair's modular design and high-performance textiles complement this office chair with lumbar support, maximizing comfort and performance.
8. Herman Miller Mirra 2
The Mirra 2's PostureFit technology offers dynamic sacral support, keeping your spine aligned as you sit. It's also highly ventilated and well-supported, keeping you cool and comfortable.
Another of its backrest technologies, the Loop Spine, enables some torsional flex. It allows you to stretch and reach laterally with ease. Meanwhile, the Harmonic 2 Tilt lets you recline smoothly. This lower lumbar support office chair from Herman Miller is more affordable than the Embody, but it does lack some features.
9. Duramont Adjustable Office Chair with Lumbar Support
Duramont built this chair specifically for people who require lumbar support, making it an excellent choice for those looking to prevent these issues. This high back office chair with lumbar support is adjustable in many ways. You can move it in, out, up, and down. Moreover, it has a comfortable recline feature that lets you make the most out of it. The Duramont lumbar support computer chair is a good option for those looking for a reliable upper back pain office chair.
10. Nightingale CXO 6200D
The Nightingale CXO is one of the most stylish and comfortable chairs you can purchase. It has generous lumbar support that allows dynamic movement. You can adjust it up, down, in, and out, allowing it to offer personalized support and comfort.
This chair also has highly adjustable armrests that operate on a spring-loaded ball-bearing system. They can move in every direction: in, out, up, down, forward, backward, and even pivot. Overall, it's a highly comfortable and supportive desk chair with lumbar support thanks to its adjustability and the proprietary ENERSORB foam.
11. Raynor Ergohuman High Back Chair LE9ERG
If you're looking for an extraordinary high back office chair with lumbar support, you might be interested in this chair. The ErgoHuman LE9ERG offers numerous adjustable features, including height-adjustable lumbar support. You can raise or lower it to better support your spine's curvature.
Some people might feel that the chair's size makes it a poor fit, but it's adjustability makes it irrelevant. When it comes to the mid back vs high back chair argument, the latter is better in most cases as long as it has good adjustability features. After all, it fits all but small people.
12. HON Exposure Task Chair
This comfortable office chair with lumbar support takes care of your body. You can move it up or down depending on your needs, encouraging a better posture. In addition, it has other remarkable features, including a synchro-tilt control with a 2-to-1 ratio and height and width adjustable armrests. Overall, the fully adjustable HON Exposure is an excellent option for people looking for a comfortable yet affordable chair.
13. SIHOO M18 Office Chair
This office chair has many adjustable ergonomic features to help you find a proper sitting position, including height-adjustable lumbar support. That, and the S-shaped backrest, helps release your spine's pressure and makes sitting significantly more comfortable. If you're looking for a healthy sitting experience, this lower lumbar support office chair can help.
14. La-Z-Boy Bellamy Executive Office Chair
This chair technically doesn't offer lumbar support. What it does have are contoured lumbar cushions that are incredibly comfortable. These can support your back whenever you shift, and their layered memory foam eventually adjusts to your body, keeping you comfortable in any position.
The La-Z-Boy Bellamy office chair supports 250 pounds and offers many one-touch settings, including adjustable recline, height, and tilt settings. Overall, this high back office chair with lumbar support in the form of cushions can be an excellent addition to premium-looking offices.
15. Hbada Office Chair
This office chair with lumbar support has an ergonomic design that protects your spine by encouraging a good sitting position. You can adjust its height to make it fit your back better, but only by two inches. Nonetheless, that's more than enough in most cases. Apart from that, it has 90-degree flip-up armrests and a 125-degree recline angle.
16. SUNNOW Ergonomic Office Chair
This high back office chair with lumbar support props up your spine and lets you experience a comfortable sitting experience. You can adjust its height and depth easily to fit most body types. The backrest has a high 135-degree reclining angle that's lockable in three different positions. Additionally, the chair has a soft, spongy seat with a waterfall edge design that's 2.75 inches thick.
17. Zenith High Back Desk Chair
Those with a strict budget might appreciate this chair. It has built-in lumbar support that encourages a correct sitting posture, protecting your neck and waist. You can adjust it approximately four inches up and down.
This desk chair with lumbar support also has other helpful features such as flippable armrests and a tilt-lock mechanism alongside a tension knob. Its breathable mesh back and the four-inch-thick cushion are very comfortable as well.
18. Mimoglad Office Chair
This ergonomic office chair with lumbar support lets you maintain a healthy spine posture with its natural curvature. It can mitigate the strain and pain of most users as you can move it up and down. Overall, it's an affordable chair that can hold up on its own.
19. Space Seating Deluxe Chair
Compared to other chairs on this list, this one only offers fixed lumbar support. However, it's comfortable yet firm, making it a great option. This lower lumbar support office chair has an intelligently constructed AirGrid seat and backrest, which are very fresh and cozy. The latter has a 2-to-1 synchro tilt control with adjustable tension. Finally, it has adjustable armrests, but they aren't extraordinary.
20. Gabrylly Ergonomic Office Chair
Although this ergonomic office chair with lumbar support provides three well-made supporting points, including a headrest, armrest, it offers low adjustability. Regardless, it's a significantly comfortable and dependable lumbar support computer chair. You can flip up the armrests and change the headrest's height and angle. Finally, the chair can recline up to 120 degrees and has a breathable mesh that provides plenty of ventilation.
The Bottom Line
If you experience frequent discomfort due to lower back pain, an office chair with lumbar support can be significantly helpful. This feature props your back and encourages a proper sitting posture.
However, you can't count on an adjustable lumbar support ergonomic chair to do all the work for you as it can't fix your posture immediately. Nonetheless, these 20 chairs are all excellent choices to help you improve your sitting experience, even more so if you're willing to put in some effort to correct your position.
Get exclusive rewards
for your first Autonomous blog subscription.

WRITTEN BYAutonomous
We build office products to help you work smarter.
Coming at You Live from Autonomous' Social Media!
Please fill the information below.
Thank you!