Smart Products
Best Memory Foam Chairs to Elevate Your Comfort Level

Mark Hernandez
|
Aug 27, 2023
2,617 Views
When it comes to choosing the right chair, comfort is key. Memory foam chairs have gained immense popularity for their ability to provide exceptional comfort and support. We have done the homework for you and have tested the best memory foam chairs available in the market.
A memory foam office chair is the best decision you will make for your workplace, both looks, and comfort-wise. Counting the importance of comfort in the workplace, a memory foam office chair is unmatched.
In this article, we'll explore the world of memory foam chairs, where plush cushioning meets superior support. We'll dive into the top picks for the best memory foam chairs in 2023, providing detailed insights and reviews to help you make an informed decision. So, let's take a seat and discover the ultimate seating comfort.
Top Picks of the Best Memory Foam Chairs
Here are our top picks for the best memory foam office chair.
1. Autonomous ErgoChair Core
The Autonomous ErgoChair Core is a modern century office chair for people who prefer comfort, style, and simplicity all at once. This chair offers full adjustability with adjustable height, seat tilt, seat movement, adjustable lumbar support, and control over recline. The chair has a weight capacity of 250 pounds, and the breathable mesh design is aimed to improve breathability and work efficiency.
What sets the ErgoChair Core apart is its exceptional adjustability. Every aspect of this chair can be tailored to your exact preferences. The seat height, depth, backrest tilt, armrests, and lumbar support are all customizable. This level of flexibility ensures that anyone can find their perfect sitting position.
Beyond its functionality, the ErgoChair Core boasts a sleek and modern design that fits seamlessly into any workspace. It's a chair that not only feels great but also looks great.
2. Serta Leighton Home Office Chair with Memory Foam
The Serta Leighton Home Office Chair is a fantastic blend of style and comfort. Memory foam cushioning offers plush support that conforms to your body, reducing pressure points. This chair exudes elegance with its Twill Fabric upholstery, making it a stylish addition to any office chair with memory foam cushion. But it's not just about looks – the memory foam seat with pocket coils provides unmatched comfort, ensuring you stay cozy throughout the day.
Whether you're grinding away at work or taking a break to relax, the Serta Leighton has your back, literally. It offers versatility with adjustable height settings, a convenient swivel design, and smooth-rolling casters.
The neutral fabric and chrome accents make it versatile for any decor. So, if you're searching for an office chair that combines comfort, style, and functionality, look no further than the Serta Leighton Home Office Chair with Memory Foam. Your back will thank you!
3. Autonomous ErgoChair Pro
Get your hands on this memory foam office chair cushion with a mesh design; the ErgoChair Pro is a fully supportive office chair with features like maximum breathability and comfort. The chair has a smooth recline feature that moves up to 5 different positions, and you get features like flexible lumbar support, a great benefit for people with back pain problems. The ErgoChair Pro has a weight capacity of 300 pounds, higher than most chairs.
The ErgoChair Pro doesn't just impress with its comfort and adjustability; it's also built to last. The materials used feel sturdy and high-quality, and the chair's construction exudes durability. It's clear that this chair is designed to withstand years of use without showing signs of wear.
As someone who spends long hours at a desk, we can't emphasize enough how the memory foam in this chair has transformed my sitting experience. It provides the kind of support that keeps you feeling refreshed even after extended periods of use.
4. Duramont Ergonomic Office Chair: Adjustable Desk Chair
The Duramont ergonomic office chair is a reclining desk chair with full control over adjustability. You get up to 8 adjustable features, a breathable mesh, and a fully adjustable back support rather than just the lumbar region. The chair has an easy-to-install assembly, is lightweight, and has a weight capacity of 330 pounds.
The Duramont chair exudes quality. From the robust metal frame to the durable upholstery, it's clear that this chair is built to last. The stitching is precise, and the materials used are of premium quality, ensuring longevity.
Beyond its comfort and functionality, this chair boasts a sleek and contemporary design that complements any office or workspace. It's not just a chair; it's an attractive piece of furniture.
5. Skyline Decor Mid-Back Fabric Executive: Swivel Office Chair
While working peacefully in this Skyline office chair, sit back and unwind. This chair's 5" of foam is upholstered in multicolored fabric. Nylon armrests provide neck and shoulder relief. It is movable, turn the tilt adjustment feature to raise or decrease the force needed to rock and recline.
6.  Serta Ashland Ergonomic Home Office Chair with Memory Foam
The Serta Ashland Ergonomic Home Office Chair should be on your radar if you prioritize ergonomics. It features memory foam cushioning and a 360-degree swivel base, allowing flexibility and comfort while working or relaxing.
The signature Serta comfort with memory foam cushions in the seat and arms is a game-changer. It cradles you in comfort, making those long workdays a breeze.
What's great is that it fits perfectly into any space, thanks to its height-adjustable settings. Whether you're tall or short, this chair has you covered. The 360-degree swivel feature and chrome-finished stainless steel base with adjustable height control add to its versatility.
Plus, the rolling base with casters ensures easy mobility so you can move around your workspace effortlessly.
7. Skyline Decor Mesh Padded Swivel Task Office Chair: Chrome Base
Sold in more than ten colors, the Skyline Decor mesh padded chair lets you work comfortably all day long. The chair is modern, armless, and has a competitive design with a minimum footprint. Enjoy the gray mesh upholstery, which not only looks regal but is exceptionally comfortable too.
8. La-Z-Boy Bellamy Executive Office Chair with Memory Foam Cushions
La-Z-Boy is synonymous with comfort, and the Bellamy Executive Office Chair lives up to its reputation. The memory foam cushions in this ergonomic office chair are like a dream. They mold perfectly to your body, providing unmatched comfort during long work hours. Plus, its bonded leather upholstery adds a touch of elegance to your workspace.
The combination of solid wood arms and base adds durability and a touch of sophistication to our office. It's stylish and built to last.
The rich brown bonded leather upholstery and dark wood finish brings a classic, executive-style charm to my office space. It's a timeless look that fits seamlessly. This memory foam desk chair is a true multitasker. It caters to my every need with fully adjustable height, recline, and tilt settings. Plus, it can support up to 250 pounds, so I'm fully covered.
9. Amazon Basics Adjustable 14-Position 41-inch Memory Foam Floor Chair
The Amazon Basics Adjustable Memory Foam Floor Chair is a unique pick for those seeking versatility. Its 14 adjustable positions and memory foam padding make it ideal for reading, gaming, or watching TV. It's a space-saving and comfortable addition to any room.
The memory foam cushion for office chair construction is blissful – it cradles me comfortably and provides fantastic support. What sets it apart are the 14 adjustable positions! I can go from an upright 90 degrees for intense gaming to a fully flat one for a quick nap.
Plus, the convenience factor is top-notch. It's so slim that I can easily slide it under my couch when not using it. And the best part? No assembly is required!
10. Skyline Decor Low Back Mesh Swivel Task Office Chair: With Arms
This black mesh task chair will support you in your office and at home as you work long hours to complete the task. No matter how intense the pressure becomes, you will remain cool thanks to the translucent skyline mesh back's ability to circulate air. Black mesh upholstery and 2" of foam padding are used to cushion the swivel seat. Back strain and muscular aches are reduced thanks to the integrated lumbar support.
11. Techni Mobili Upholstered Tufted Office Chair
The Modern Upholstered Tufted Home & Office Chair with Armrests by Techni Mobili combines comfort and strength. It has a 5-star steel base, non-marking casters, pneumatic seat height adjustment, and a tilt with the tension control system. Its foam-filled upholstery fabric with a polyester trace gives both looks and comfort.
12. Skyline Decor Home and Office Upholstered: Mid-Back Chair
Get your hands on this blue office chair with a modern, classy design. The Skyline Decor home and office chair are ideal for a home office setup or a professional workplace where first impressions matter the most. This chair is available in black and blue colors, with a fabric upholstery overall. The chair has a mid-back design which might seem uncomfortable but is enough to support the entire user and the weight. The chair is padded with flame-retardant foam and has a 360 degrees swivel action with a pneumatic height adjustment.
13. FM FURNITURE Albury Office Chair: Medium back rev chair
The mesh back and fabric seat of the Albury office chair boast a great design combined with smart functionality. The chair has fixed armrests, which is a drawback for some people. Other than that, all features are fully ergonomic and make the chair highly useful and durable in the longer run.
14. Techni Mobili Mid Back Mesh Task Office Chair
Stylish and portable, this Techni Mobili office chair is the best of both worlds. It has height-adjustable padded arms that may fit beneath table tops and a cool mid-back mesh. The height-adjustable, comfortable Gray PU seat reclines. What truly sets the Techni Mobili chair apart is its memory foam cushioning. It molds to your body's contours, relieving pressure points and reducing discomfort. It's like having a custom-made chair tailored to your body.
15. Mount-It! ErgoActive Memory Foam Seat Cushion
Lastly, if you want to enhance your existing chair's comfort, the Mount-It! ErgoActive Memory Foam Seat Cushion is an excellent solution. Its ergonomic design and memory foam padding relieve back pain and discomfort, making it a valuable addition to any office or home chair. The seat cushion is a game-changer for anyone who spends hours at a desk or in the car.
First off, it's like a magic trick for your comfort. The memory foam inside molds to your body, making those annoying pressure points in your hips, lower back, and coccyx disappear. It's like sitting on a cloud!
Cleaning is a breeze, too, thanks to the removable and washable cover. No more worrying about spills or stains. The cushion's 17.5" x 13.75" x 3" makes it just the right size, and the memory foam material is top-notch. Plus, with a 10-year warranty, you know it's built to last.
Conclusion
In a nutshell, memory foam chairs offer many options to cater to your comfort needs. Whether you prioritize style, ergonomics, versatility, or pain relief, you have a memory foam chair. Investing in one of these chairs is a surefire way to elevate your comfort level in 2023. Our list of the best memory foam office chairs makes your search for the best chair easier. Thanks for reading!
Video ads for product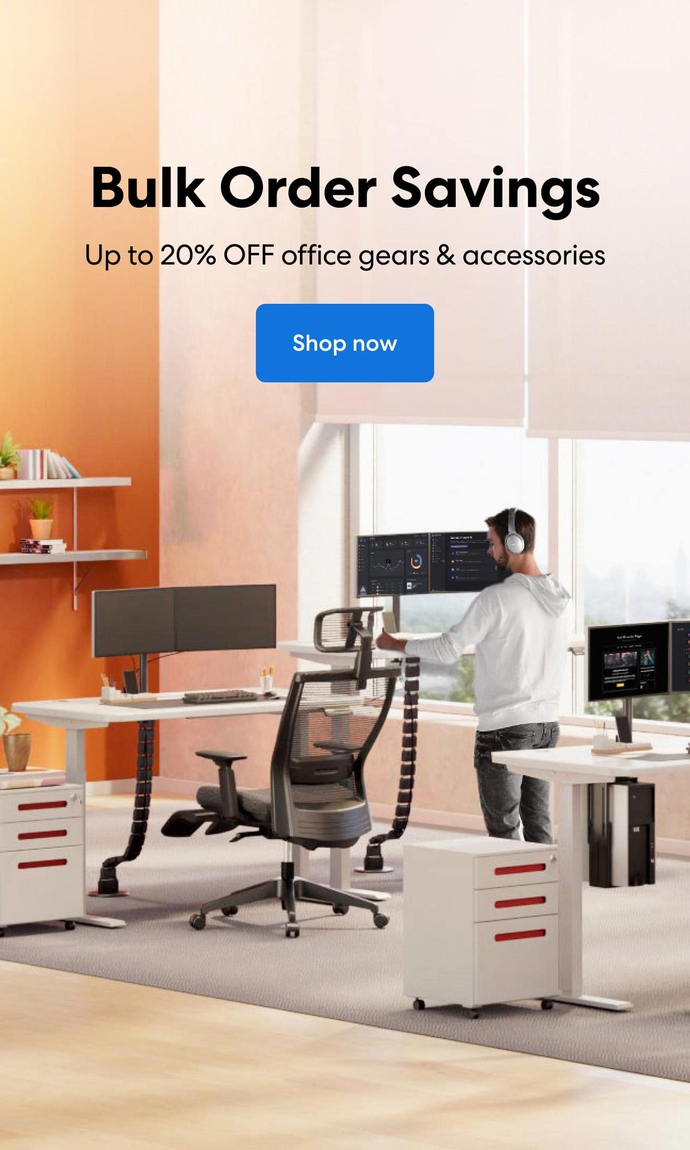 Subcribe newsletter and get $100 OFF.
Receive product updates, special offers, ergo tips, and inspiration form our team.