Smart Products
Pros & Cons of Floor Chairs with Back Support: Top 15 Choices
6,435 Views
Our workstations have changed a lot in recent years, and if we consider the context we're currently living in, then we can say that floor chairs with back support have become quite popular. The adoption of new technologies to improve our comfort has increased greatly since we started working from home,
While working from home seems to be the dream for everyone, it can be a nightmare for others, and not necessarily because they live in a house with multiple people. Some people don't have the appropriate office chairs to be comfortable throughout the day.
However, please note that you don't necessarily need an ergonomic chair to be comfortable at your workstation. You can choose a few alternatives, such as an adjustable floor chair with lumbar support.
Also known as Japanese floor chairs with back support, these chairs allow you to sit comfortably on the floor as you continue working on your responsibilities. These chairs can be an excellent option for those that live in enclosed spaces.
Advantages and Disadvantages of Floor Chairs with Back Support
Floor chairs with lumbar support come with advantages and drawbacks that every user should know. They can also work pretty well as cross-legged chairs, especially if we consider that sitting cross-legged is easier if we're on the floor. Now, let's explore the benefits and drawbacks that floor chairs have.
Pros
You will be granted more freedom of movement as you continue working.

They're more appropriate if you're working for prolonged periods.

Floor chairs are excellent for back pain!

Furthermore, they're highly versatile. You can place them pretty much anywhere, and they will continue working as they should.

Most floor chairs are portable. Therefore, an adjustable floor chair

for adults with back support can be a good choice for those with small spaces.
Cons
Some of these chairs may not be equipped with enough ergonomic features for you to be comfortable.

Bigger individuals may have a hard time trying to find a floor chair that's appropriate for their size.

It's possible for some chairs to have balance issues.
Floor Chairs with Back Support: 15 Options You Can Consider
Now that you know the pros and cons that may appear with this chair type, let's explore the different options you can consider adding to your home office. Perhaps you will find the best office chair with back pain within this list!
1. Malu Luxury Padded Floor Chair with Back Support
This best floor chair for adults with back support combines everything you need to be comfortable throughout the whole day. You can choose from five adjustable positions, which means you will be able to find the best position for you to work comfortably throughout the whole day. Since it is foldable, you can easily store it and take it anywhere with you. The padding is thick, comfortable and easy to clean, too!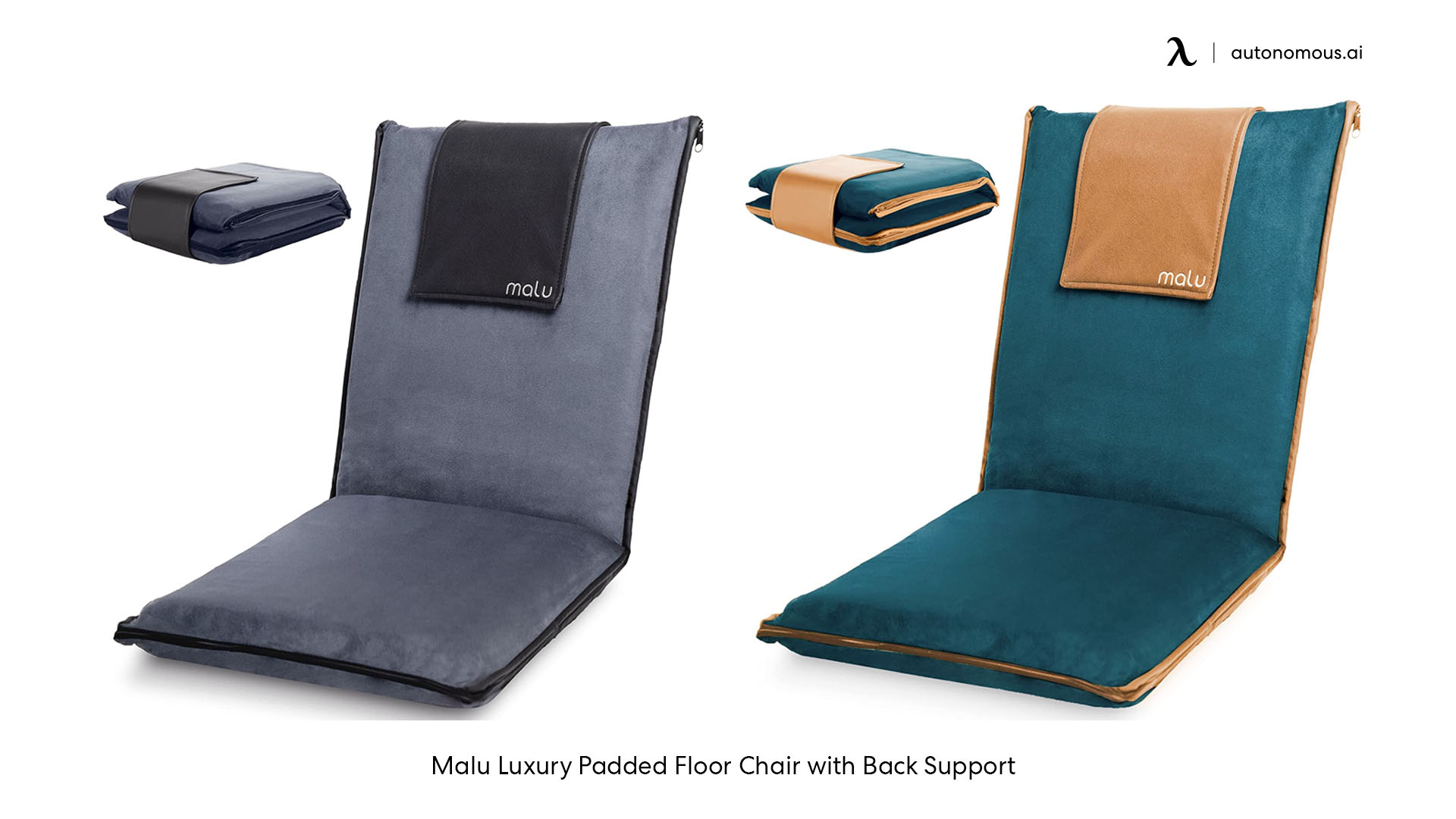 2. Birdrock Memory Foam Floor Chair
This floor chair for adults with back support contains more adjustment features than a regular chair does. It allows you to choose from 14 different adjustments, which means it is suitable for diverse users. Besides working, it can be used as a chair where you can sit for a while to relax while watching a movie or reading a book. Plus, it is wide enough to support plus-size individuals.
3. bonVIVO Folding Floor Chair
This brand has been providing floor chairs for quite a while, and it has gained an overall good reputation. The bonVIVO folding floor chair is small but is lightweight and easy to carry. The main drawback is that it is made of plastic. However, it is extremely easy to carry and maintain. It's also a cost-effective option.
4. Gianex Floor Folding Gaming Sofa
If you're looking for a Japanese floor chair for adults with back support that allows you to sit comfortably throughout the whole workday, this can be a great option, especially because you can choose from fourteen different positions. However, unlike other options, it is made of thick-padded material that will remain comfortable throughout the whole day. Its ergonomic design makes it excellent as a chair for low back pain.
5. MORCOE Floor Lazy Sofa
This chair by MORCOE is equipped with an extra pillow in the low back area. Additionally, you can adjust the backrest from 90º to 180º, and the 360-degree swivel (which is removable) allows you to move freely as you keep working. Furthermore, it has armrests, meaning that it is equipped with all the ergonomic features you need to sit comfortably.
6. Sundale Adjustable Soft-Brushed Polyester Floor Chair
This floor chair for adults with back support is another cost-effective option, similar to the bonVIVO floor chair. However, instead of plastic, it is made of thick padding that will contribute to your comfort as you continue working on your responsibilities. Here you'll have five reclinable positions available, but you may need a heated lumbar support pillow to be fully comfortable.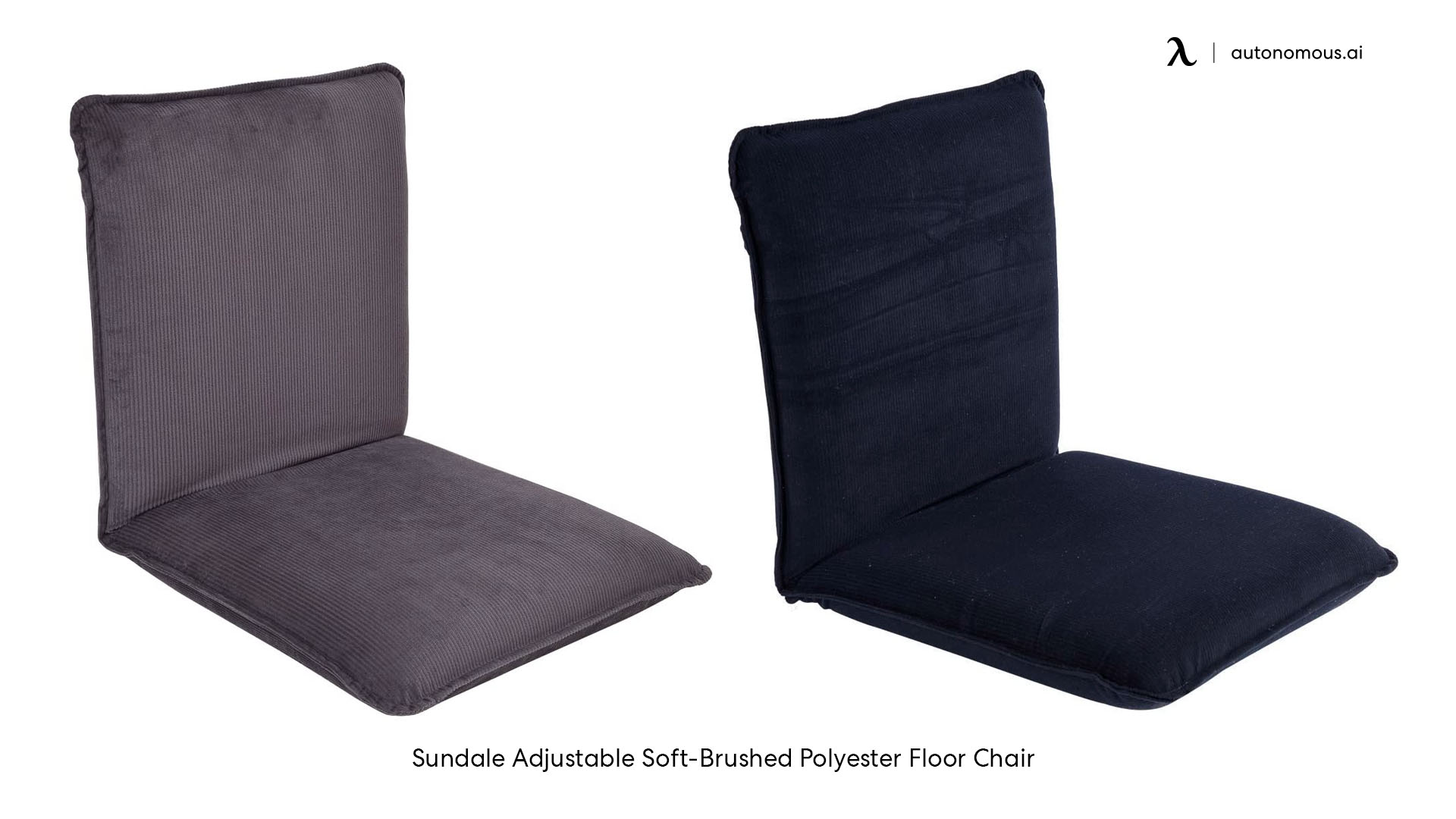 7. BestComfort Adjustable Foam Floor Chair
This is another floor chair for adults with back support for you. Like some of the other options mentioned in this post, it has 14 reclinable positions available. However, it can also be utilized as a bed couch, which means it can be the perfect companion for you during your breaks. The soft plush fabric is comfortable enough for you to work for several hours. Furthermore, it will keep your back fully supported throughout the whole day.
8. Best Choice Produce Gaming Floor Chair
This gaming chair is designed for those that spend long hours sitting in the same positions. The back is equipped with thick padding that emphasizes the low back area, and the swivel allows you to move freely easily. The armrests make it more convenient for office work or gaming.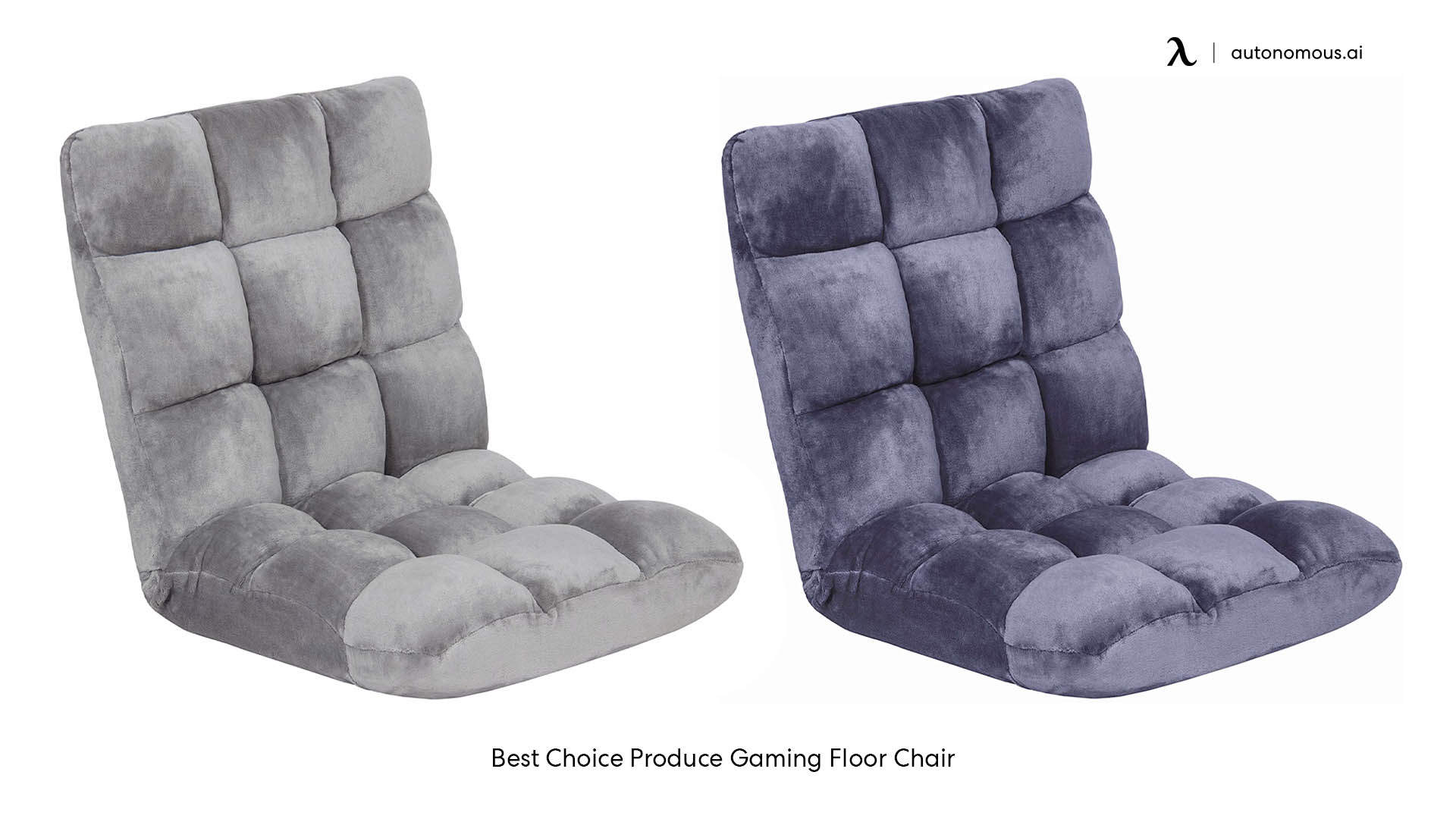 9. Giantex Updated Folding Massage Lazy Sofa
If you wish to assure your comfort as you continue working throughout your day, this sofa chair by Giantex is one of the best options you can choose. It emphasizes the lower back area thanks to the adjustable angles and the extra cushion it contains.
10. X Rocker Pro Series H3 Black Leather Vibrating Floor Gaming Chair
Although this floor chair for adults with back support was designed specifically to be connected to your gaming system, it can also be used perfectly as your office chair. Despite its size, you can fold it for easy storage. Furthermore, it has built-in speakers, and the low back support it has will keep you comfortable during your work sessions.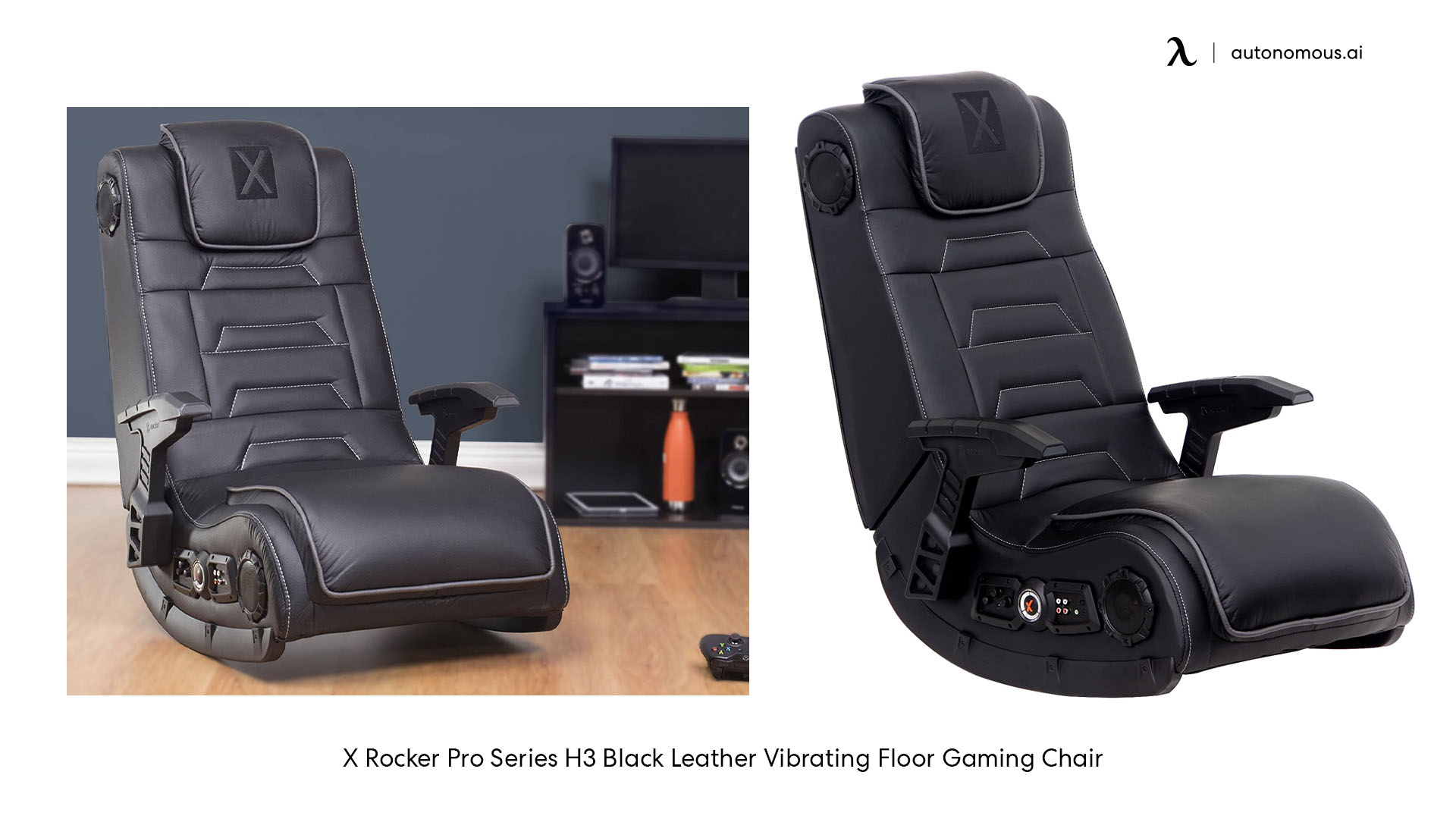 11. Big Joe Dorm Bean Bag Chair
Your search for the best floor chairs for adults may end here. In pursuit of ultimate comfort, this is among the best ones for comfy floor chairs. Who doesn't like bean bags, right? This chair is supremely good for your back and provides support and comfort after a long day at work.
The Big Joe chair will take you back to your childhood when you'd revel in the comfort of bean bags. Consider this an older and cooler sibling of that childhood bean bag. It has the same squishy attraction of a bean-filled chair and a big design with plush handles and a large headrest. Even better, there are 2 small pockets: one for a water bottle and another for items like a tablet, phone, or TV remote.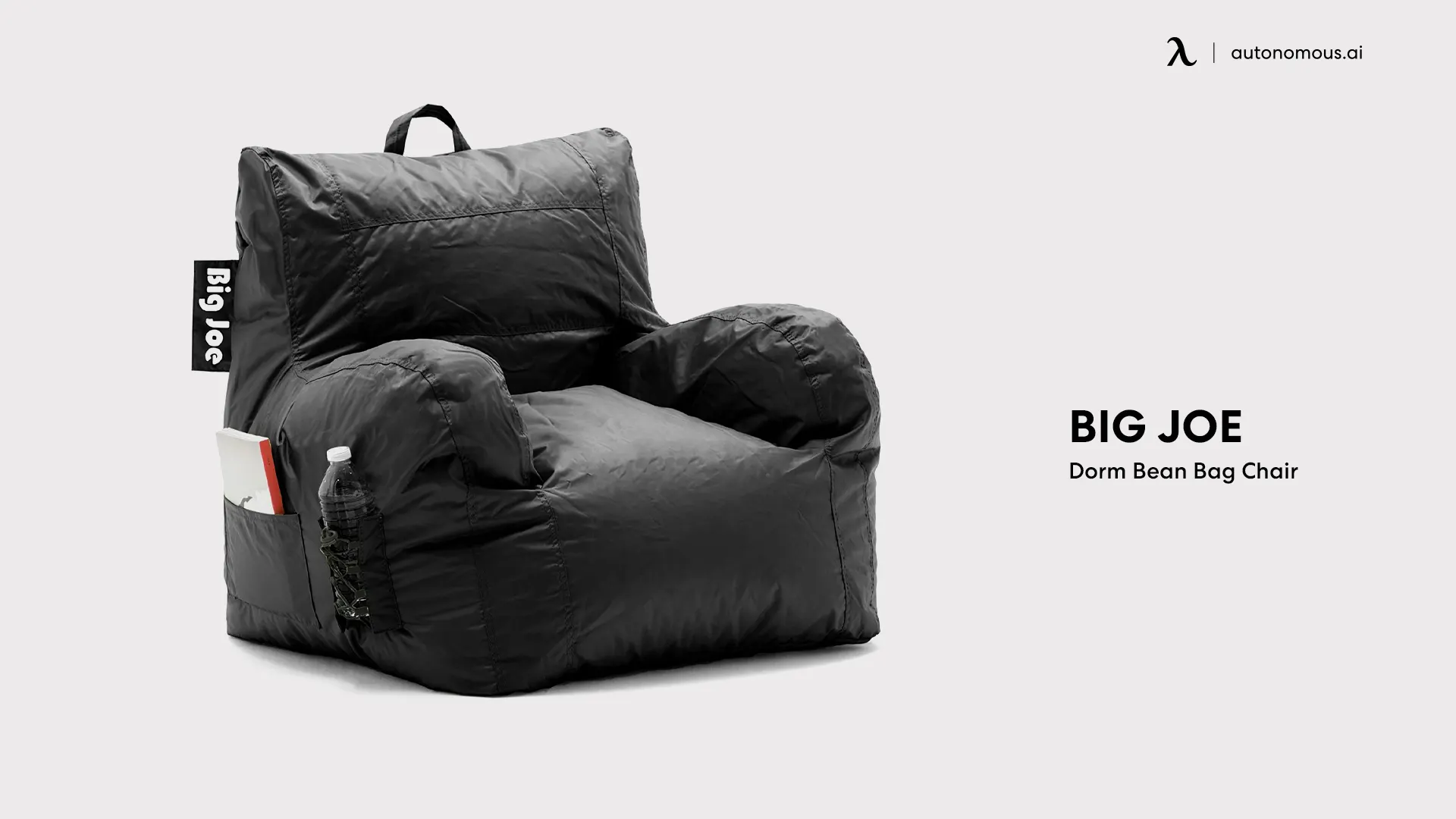 12. Alpcour Folding Stadium Seat
We've got the solution to all your seating needs through this adjustable floor chair for adults. Invest in it, and you will no longer need to sit on wet grass in a concert, wet sand at a beach getaway, or even on a stadium bench with uncomfortably hard metal pressing into your back during that one baseball game you were looking forward to.
The cushioned, folding seat is available in three colors and weighs only 4 pounds. It has six recline positions, from standing to flat, and is completely covered in water-resistant fabric. Bonus: There is a zippered mesh pouch at the rear for storing your belongings, and the bottom has a sturdy material to add stability. The maker has added a sling strap which aids in moving this floor chair about (or simply to and from the yard) even more simpler.
13. Merax Chaise Lounge Chair With Armrests
Imagine this: you're back home after a long day at work. What do you need the most? Well, whatever aspects just crossed your mind are covered by this all-rounder Merax Chaise Lounge Chair. After all, the last thing you'd want at this point would be to deal with big and tall office chairs like you probably did all day. If you're big on armrests and wish to enjoy the perks of a reclining floor chair, this one will do the job for you!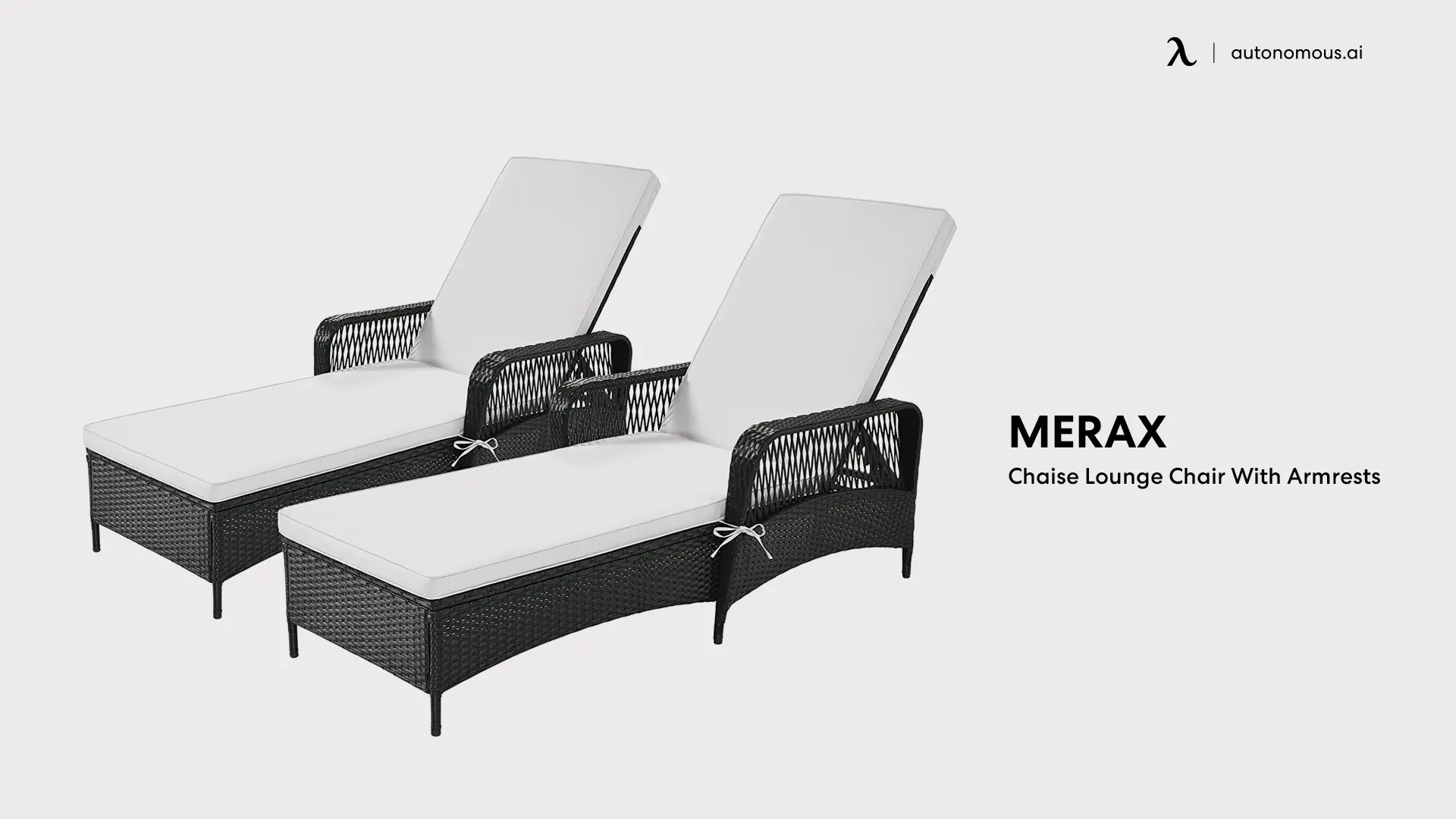 14. Luckyermore Large Floor Lounger Chair
We may have what you've been searching for all this time! After spending long hours in a reclining office chair or conference room chair, your back surely deserves some rest. If you hope to sink into the world of soft comfort while giving your tired feet and legs some rest after an exhausting week as an adult, this large floor lounger chair by luck more surely does the trick!
This chaise-style choice is waterproof nylon-covered at the bottom, making it ideal for indoor and outdoor use. You may independently adjust the footstool and headrest according to your chosen angles. Additionally, this all-encompassing hair has a backrest that reclines into 5 distinct positions. Once prepared to keep it, you may fold it halfway like a cot or lay it flat.
15. 360-Degree Swivel Folding Floor Gaming Chair
If you're a gaming enthusiast, you've come to the right place. This ultimate 360-degree swivel folding office chair caters to all angles (pun intended). Beyond being the ideal gaming chair, it caters to your comfort in the best way after a long day. The implication remains: sit in it for hours, and you will feel nothing but serenity and comfort!
This all-rounder chair for floor sitting comes with thick padding, adding to the overall comfort. Additionally, it is widely adjustable through its four distinct settings. Moreover, beyond its comfort perks, it also consists of a removable base which allows you to clean the chair easily. Your floor is also guaranteed to remain scratch-free due to its silent, smooth, and easy rotation.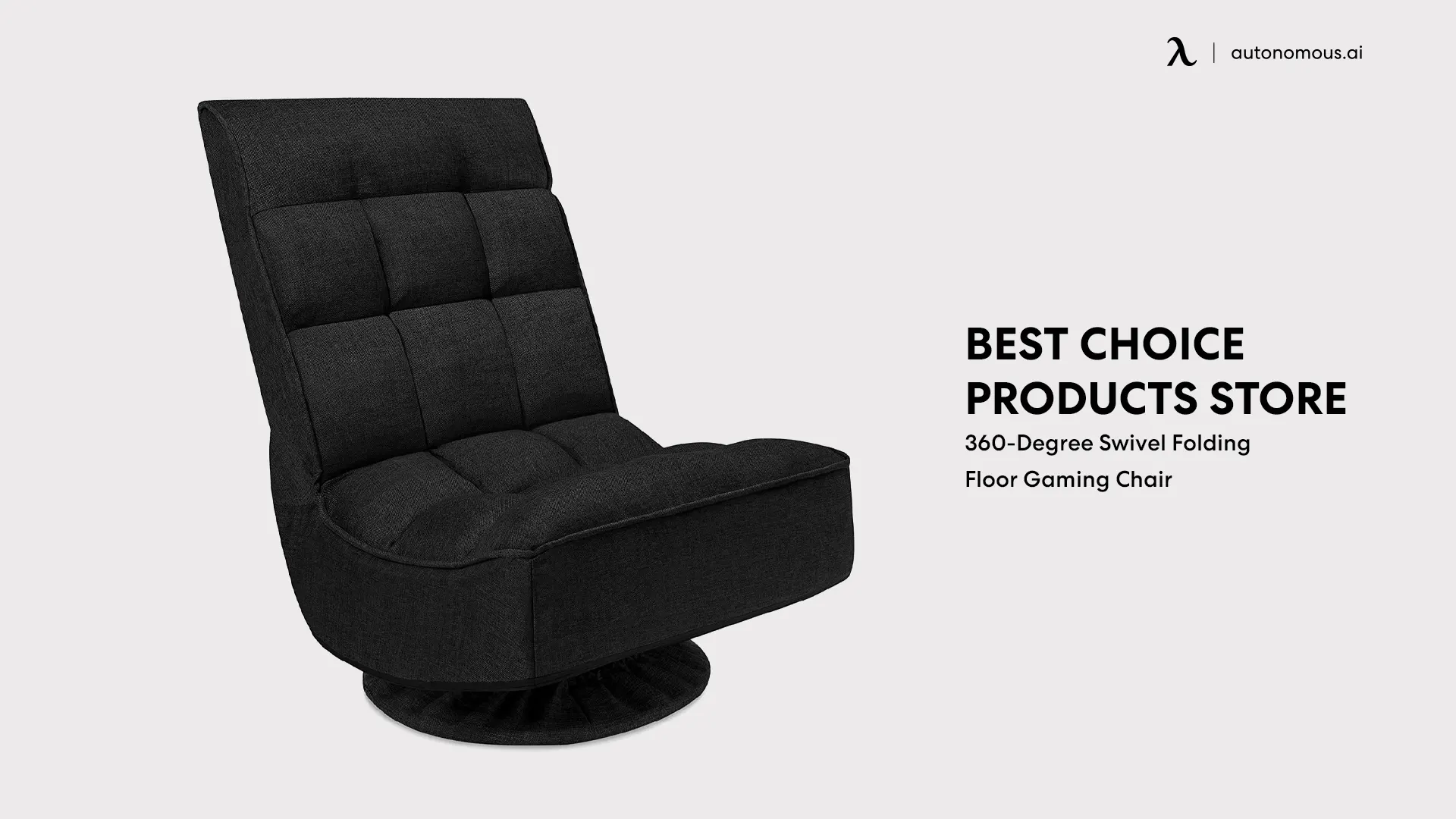 What To Consider When Choosing The Best Floor Chair
There are various factors to consider when hunting for an appropriate floor chair for adults. If you're over the conventional mid-century modern desk chair and are hoping for something a bit more comfortable, these factors ensure that the chair you choose is the optimal fit for you. Therefore, as a customer, it is essential to consider them. These include:
Type
Various types of floor chairs for adults are available, including bean bag floor chairs, lounge floor chairs, etc. Therefore, before you purchase a particular floor chair, it is integral that you choose the type that is relevant to your requirements. For example, if you're low on space and need a casual-looking floor chair, we recommend a bean bag chair. Otherwise, a lounge floor chair would be the way to go if you want to remain comfortable as you work on your laptop in your lounge.
Size and Weight
Aligning your floor chair with your room or office capacity is essential. You don't wish to add too much clutter to your room and take away from its comfort and aesthetic. Therefore, its size and weight should align with your requirements and your available space. For this, the parts of a chair play a crucial role.
Material
You must always check the fabric of any floor chair, as you would with any piece of furniture. This is important since the materials used will show how durable and comfortable something is.
Cushioning and Back Support
In addition, there needs to be an aluminum casing to assist your bottom and back. It should be strong enough to keep it in place, whether folded 90 degrees or seated. Also, find a floor seat that provides you with the necessary comfort and backrest. You ought to be capable of unwinding while doing things like napping, video gaming, and meditation. A decent and appropriate floor chair should allow for various cozy sitting postures.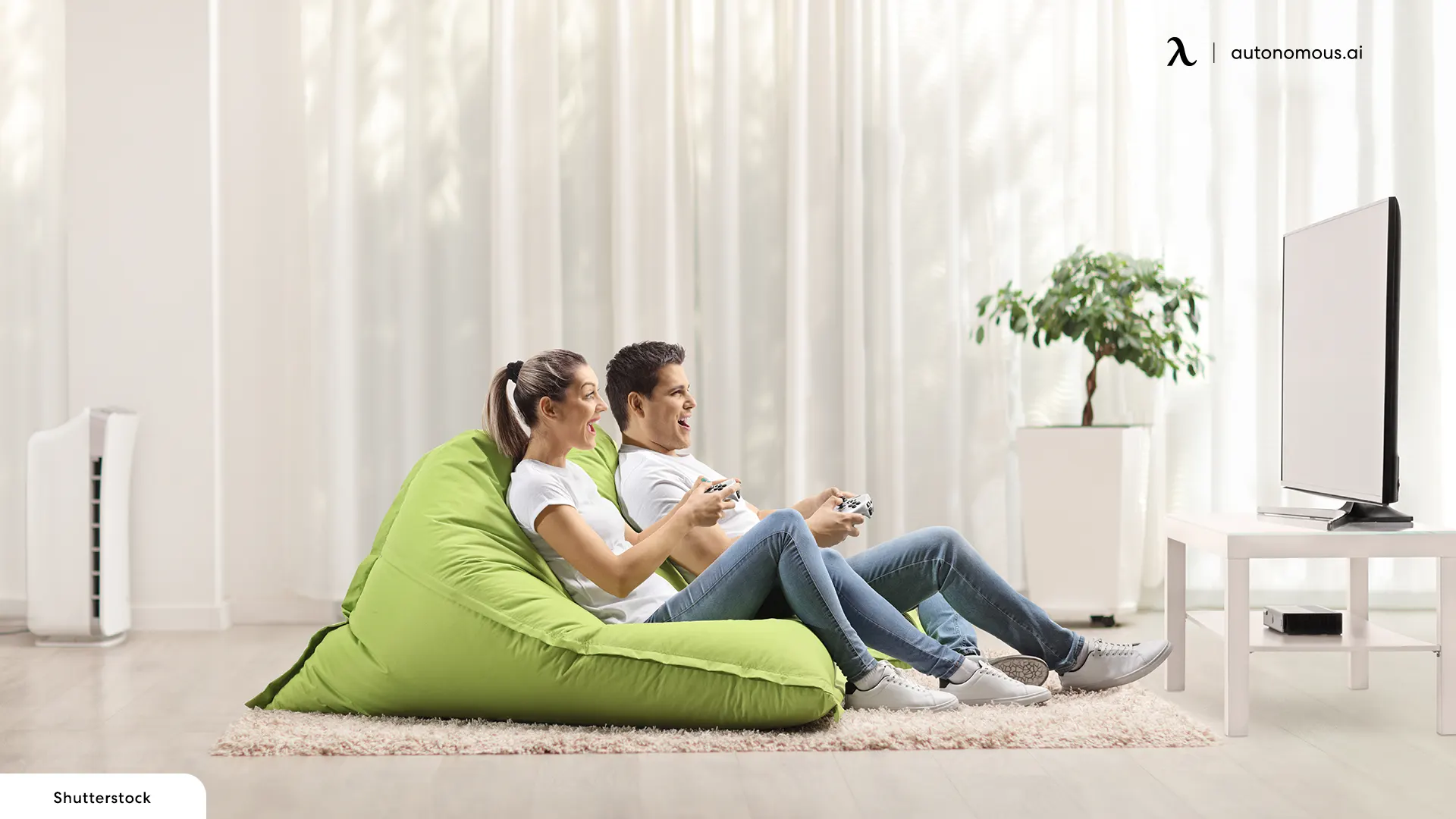 Adjustability
Since you deserve a floor chair that can cater to different comfortable positions, you must ensure that your chosen floor chair is adjustable. Therefore, it should be flexible and cater to your specific comfort and needs. After all, it is common to get tired of sitting in the same position.
Weight Capacity
Whenever you decide to purchase a floor chair, ensure that you keep its weight capacity in mind. You don't want to pile too much weight onto it only to break it or permanently damage it. After all, no one wishes to waste their investment. Therefore, ensure that the chair's weight capacity aligns with your needs.
Aesthetic
No matter what anyone says, looks matter when it comes to the interior you choose for your home or office. Therefore, we recommend going for a floor chair that looks pleasing while also offering the functional benefit of comfort and ease.
Subcribe newsletter and get $100 OFF.
Receive product updates, special offers, ergo tips, and inspiration form our team.
WRITTEN BYAutonomous
We build office products to help you work smarter.