Smart Products
10 Best Heated Lumbar Support for Your Chair (2022 Updated)
2,000 Views
Back pain, muscle spasms, and stiffness can restrict your movement and make physical activity, and even common everyday activities, difficult. While medication is often used to reduce inflammation, heat therapy can also help to relieve back pain and discomfort.
If you sit at an office desk for several hours a day, you can benefit greatly from using heated lumbar support to help correct posture and help to relieve any back pain. Here is everything you need to know about heated lumbar support, as well as 10 of our top choices for heated lumbar support.
What Is Lumbar Support?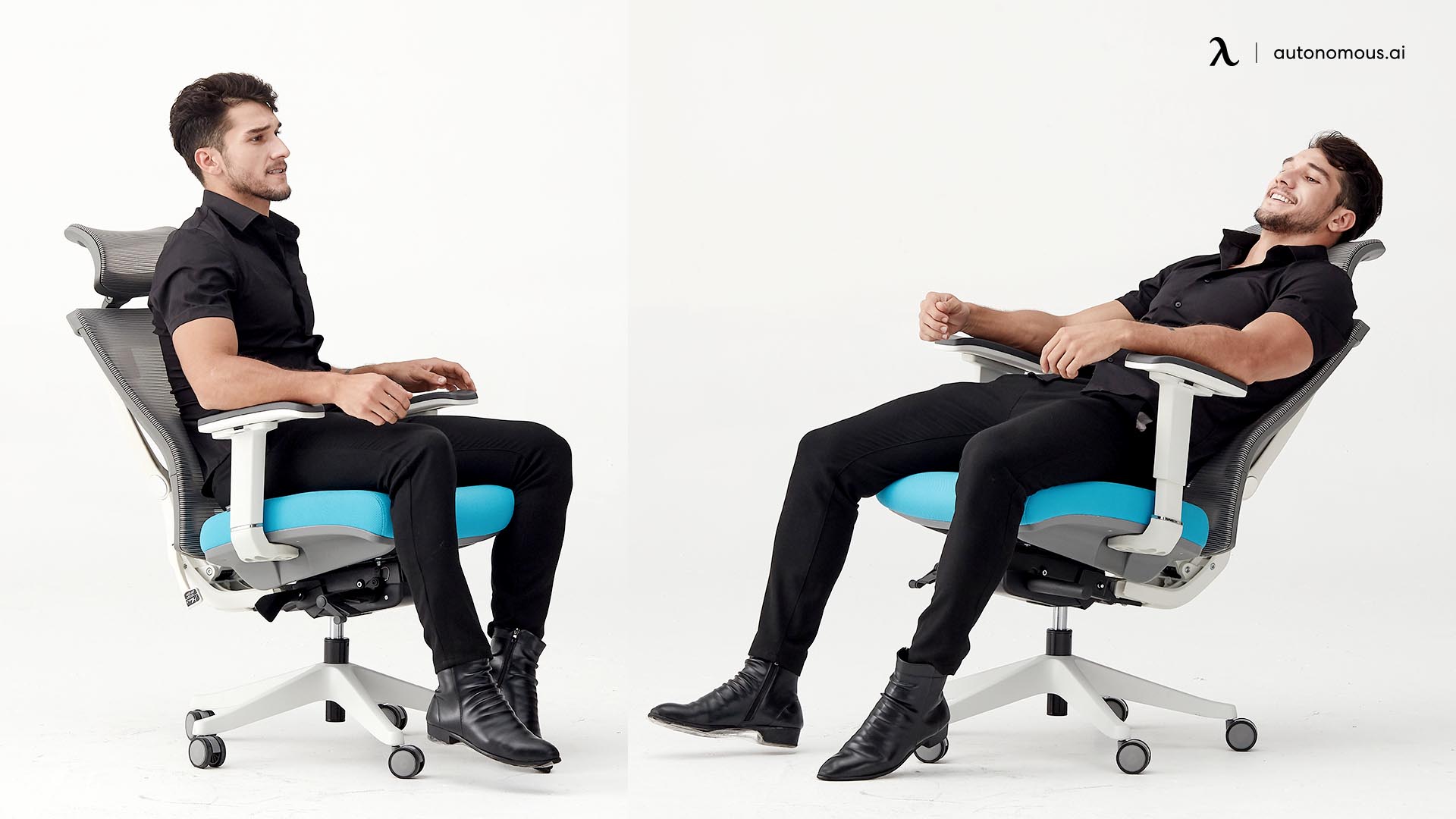 The term "lumbar support" is typically used to describe anything that provides extra support to the lower back or lumbar region. Technically, the lumbar region is the lower part of the spine located between the upper thoracic and lower sacral regions.
When people spend long periods sitting down on a chair, they tend to lean forward, causing the spine to form a C-shape. This can put pressure on the muscles, nerves, and blood vessels found in the lumbar region or the lower back.
The C-shape formed when a person leans forward in this manner is an unnatural position, placing strain on the lower part of the spine. Unfortunately, the result of this is pain and even ergonomic injury.
However, when you use lumbar support, it forces your body to maintain the natural inward curvature of the spine, preventing slouching, which in turn prevents strain and injury to the lower back.
Why You May Just Need Heated Lumbar Support
Lumbar support is an effective way to correct your posture, preventing any additional injury and strain to your lumbar region. However, you need heated lumbar support if you already have preexisting lower back pain or other more serious injuries such as sciatica.
These conditions can cause excessive pain that can affect your productivity levels, and regular lumbar support may not be enough to help you deal with this. However, by adding a heated back pillow, you can significantly improve your health by treating pain with heat therapy.
This method of treatment is not new. Its origins can be traced back to the ancient Egyptians and Greeks, who treated pain and illness using the sun's rays as a form of healing. Hot springs were even used to relieve pain by the Japanese and Chinese.
The Health Benefits Associated with Heat Therapy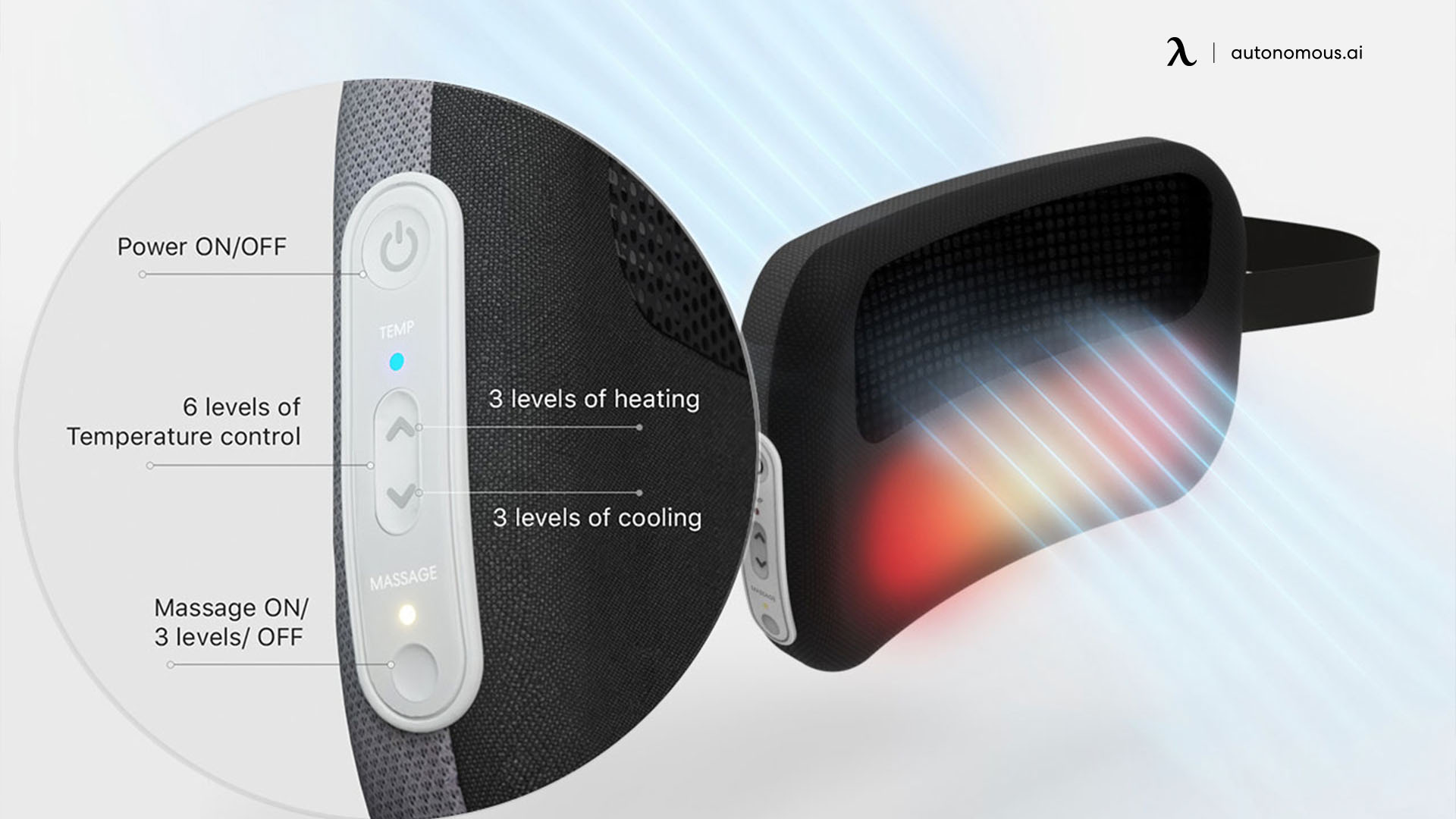 Heat therapy is an excellent back pain treatment because it improves circulation in the affected area, allowing oxygen and nutrients to reach your muscles and joints. An improvement in circulation is fundamental in the regeneration of damaged muscle tissue, the reduction of inflammation, and the alleviation of tightness or stiffness in the lower back.
Back pain can be relieved with any sort of heat therapy. Heating pads are often the most popular form of heat therapy because they are convenient and portable.
Baths that are hot or lukewarm can offer moist heat that promotes circulation and relieves pain. Those who have pain in other places of their bodies can benefit from heat therapy in the form of a bath.
However, those who work in an office setting often do not have the luxury of relaxing on a bed or couch throughout the day or taking a warm bath. Additionally, maintaining an incorrect seated posture can add to the problem. A heated pillow for the back can be incredibly useful in this situation.
Where Should You Position Your Lumbar Support?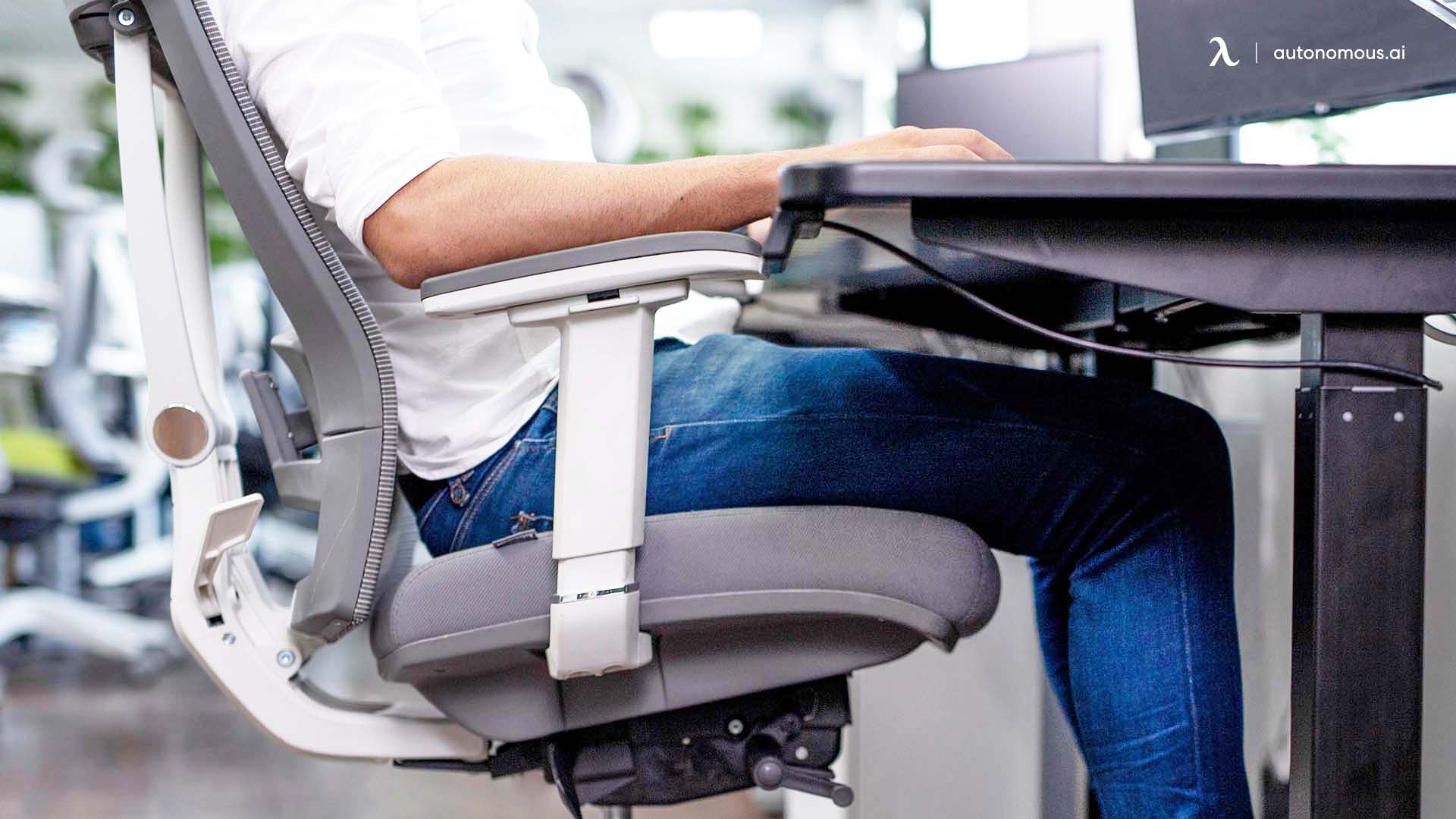 One of the most common questions that people ask is: "Where should the lumbar support be on your back?" It's fantastic to have lumbar support, but if you don't know where to put it, it can lead to more pain and injury to your back.
The lumbar area of the spine is where you need to position your heated lumbar support. Your lumbar area lies at the lower curve, or lower portion of the "S," of the spine's natural S-shape.
Sitting in a chair without lumbar support and positioning your back straight against the chair's backrest is an easy way to identify the lower curvature of the spine. Ensure that there is no existing lumbar support on the chair.
When your back is straight against the chair, you should feel a gap behind your lower back. This is where your heated back cushion needs to go.
Lumbar Support Chairs Versus Removable Lumbar Support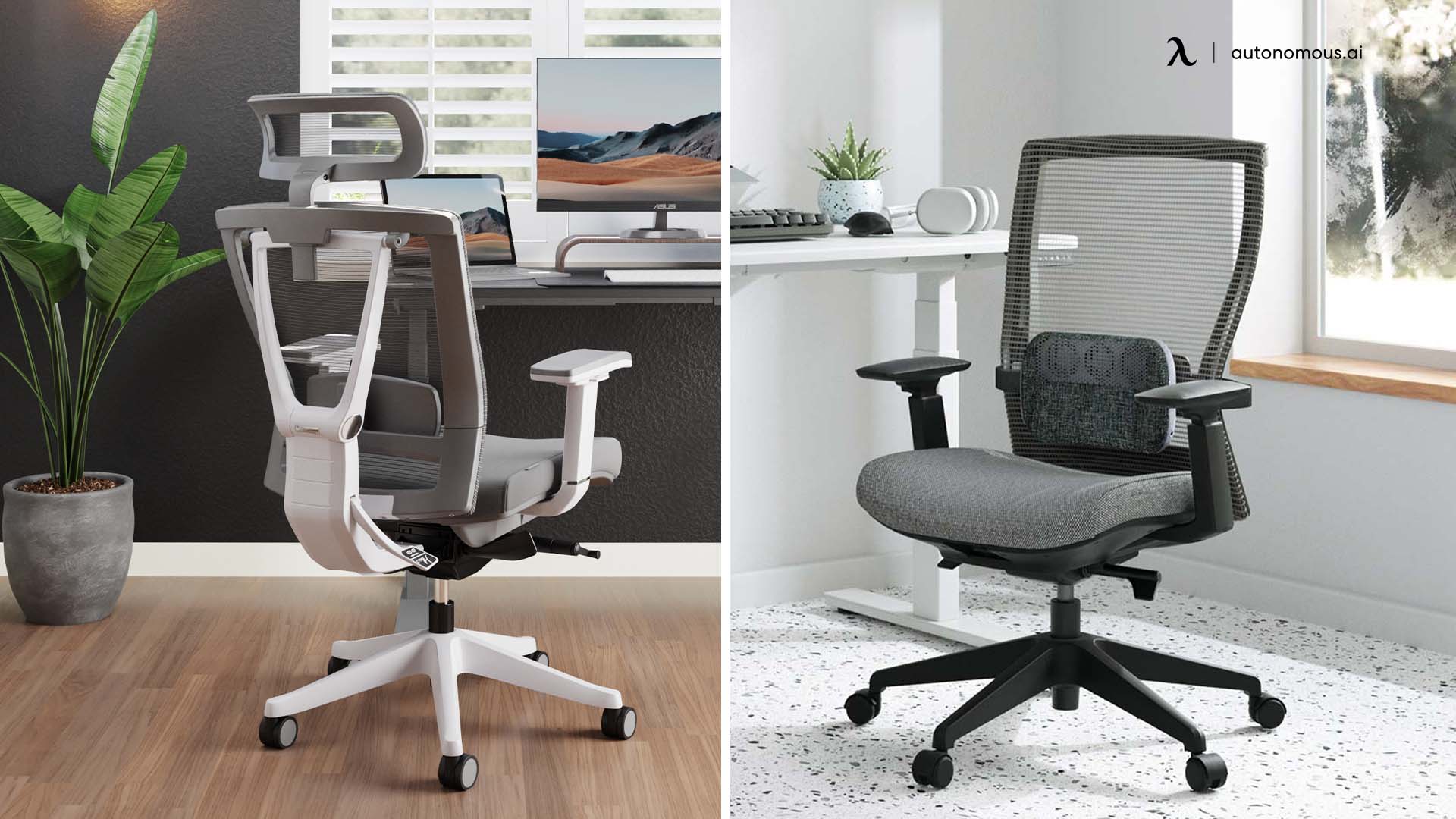 If you're contemplating purchasing a lumbar pillow vs. a lumbar support chair, there are a few factors to think about.
While a heated back cushion may appear to be the greatest option because it saves you money, remember that lumbar support pillows only provide support and pain relief for your lower back.
An ergonomic chair like the Autonomous ErgoChair Pro, on the other hand, provides additional ergonomic support for your head, arms, shoulders, and neck. This can help to prevent pain and injury in these regions.
Additionally, several high-end chairs on the market incorporate an overall ergonomic design with built-in heat or massage therapy, so this is an option to consider if you suffer from chronic posture-related pain and stiffness.
A lumbar support cushion may be the greatest solution if you are someone who is constantly on the go and suffering from chronic back pain. Purchasing a removable lumbar support pillow means that you can take your lumbar support and heat therapy with you wherever you go.
Make sure you choose one that fits on your car seat comfortably, so you can enjoy wonderful support and pain treatment while you're on the road.
10 Best Heated Lumbar Support
As promised, here is our list of the 10 best heated lumbar support to choose from if you suffer from chronic lower back pain or other related back injuries.
1. ThermalComfort Heated Lumbar Support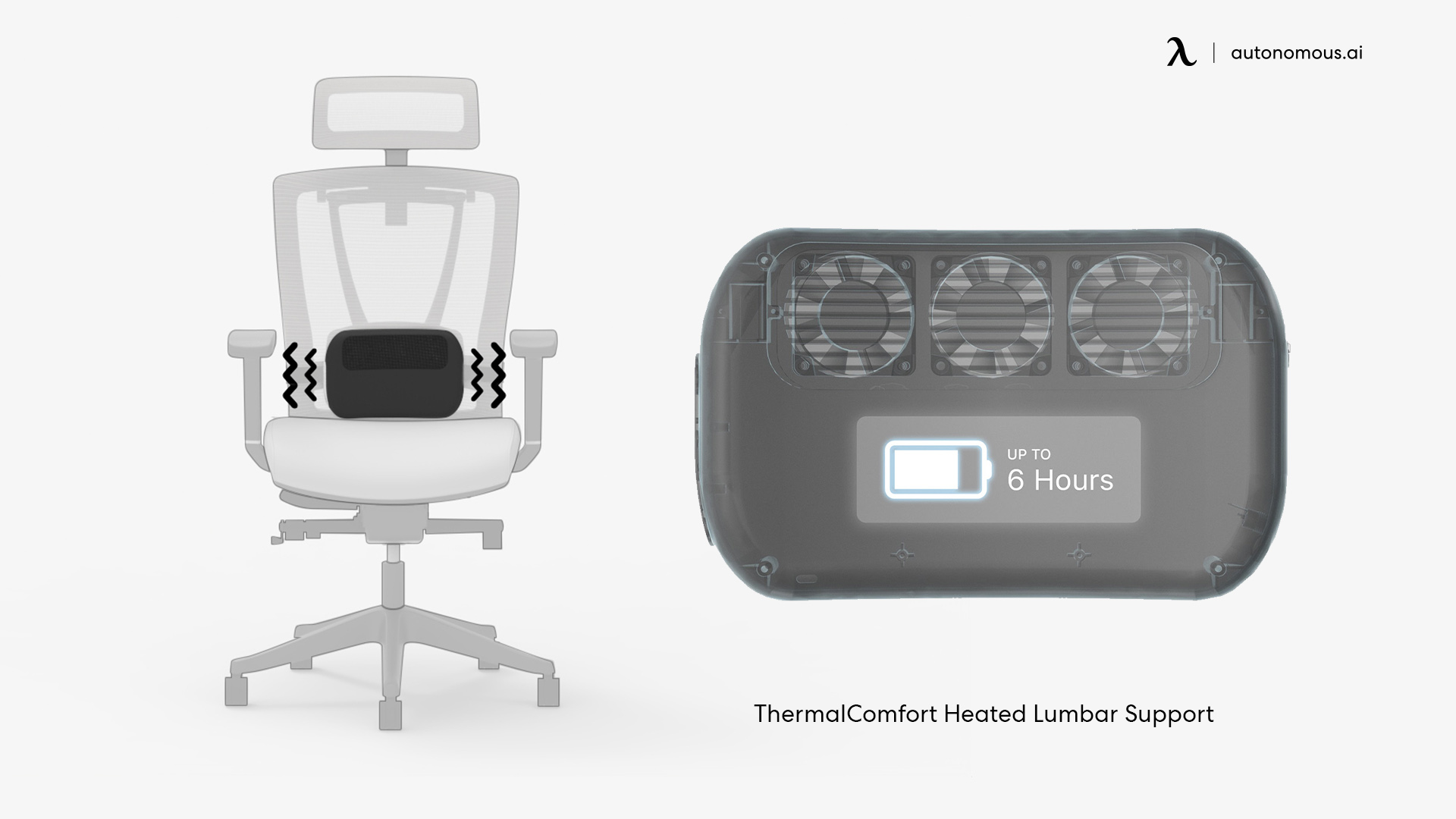 If you're looking for a lumbar support pillow that doesn't just treat your pain and stiffness through heat therapy, then you need the ThermalComfort Heated Lumbar Support. It also includes massage therapy to release any tension in your lower back gently.
There are three massage settings to choose from and six temperature settings, which allow you to treat moderate to intense pain and stiffness. The heated back pillow is also covered with breathable fabric that can be removed and washed, so you never have to worry about it smelling bad.
With an impressive six-hour battery life, a one-year warranty, and a 30-day money-back guarantee, you can remain supported, comfortable, and pain-free with this incredible heated pillow.
Additionally, the device also has three cooling levels, so that you can alternate between heat and cooling therapy for the ultimate pain relief solution.
2. Drive Medical Comfort Touch Heated Lumbar Support Cushion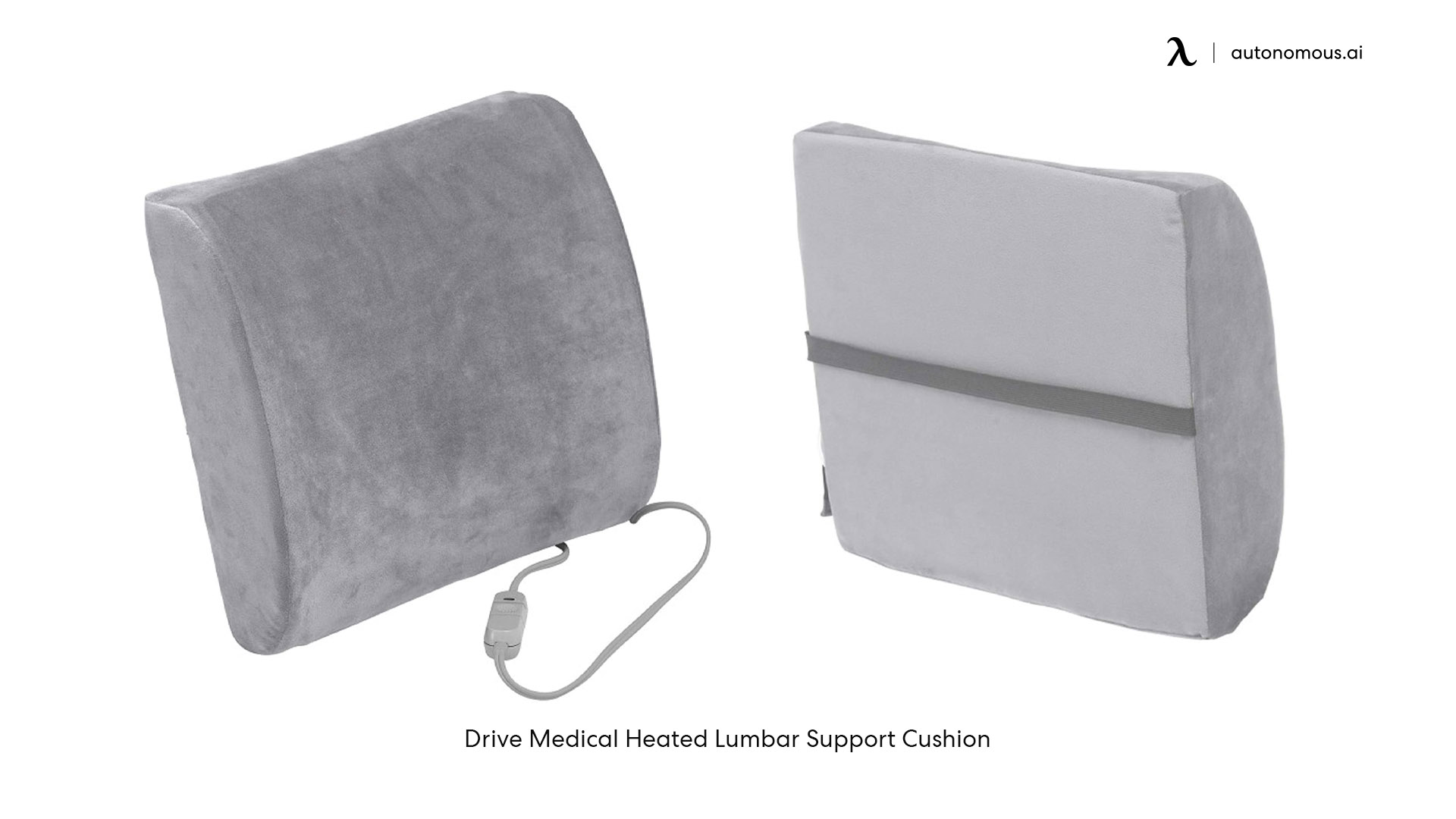 Those who are on a tight budget are sure to love Drive Medical's heated cushion. The smooth grey cover of the support cushion gives it a nice feel. It has the ideal design to improve your posture and is suitable for use on almost any chair, with or without power.
It is only compatible with AC power, but you may purchase an adaptor if you want to use it in a car. The heat that it produces is ideal for easing backaches and strain. It also turns on and off in regular intervals to prevent the risk of you overheating.
3. Chincom Shiatsu Back Massager Heated Cushion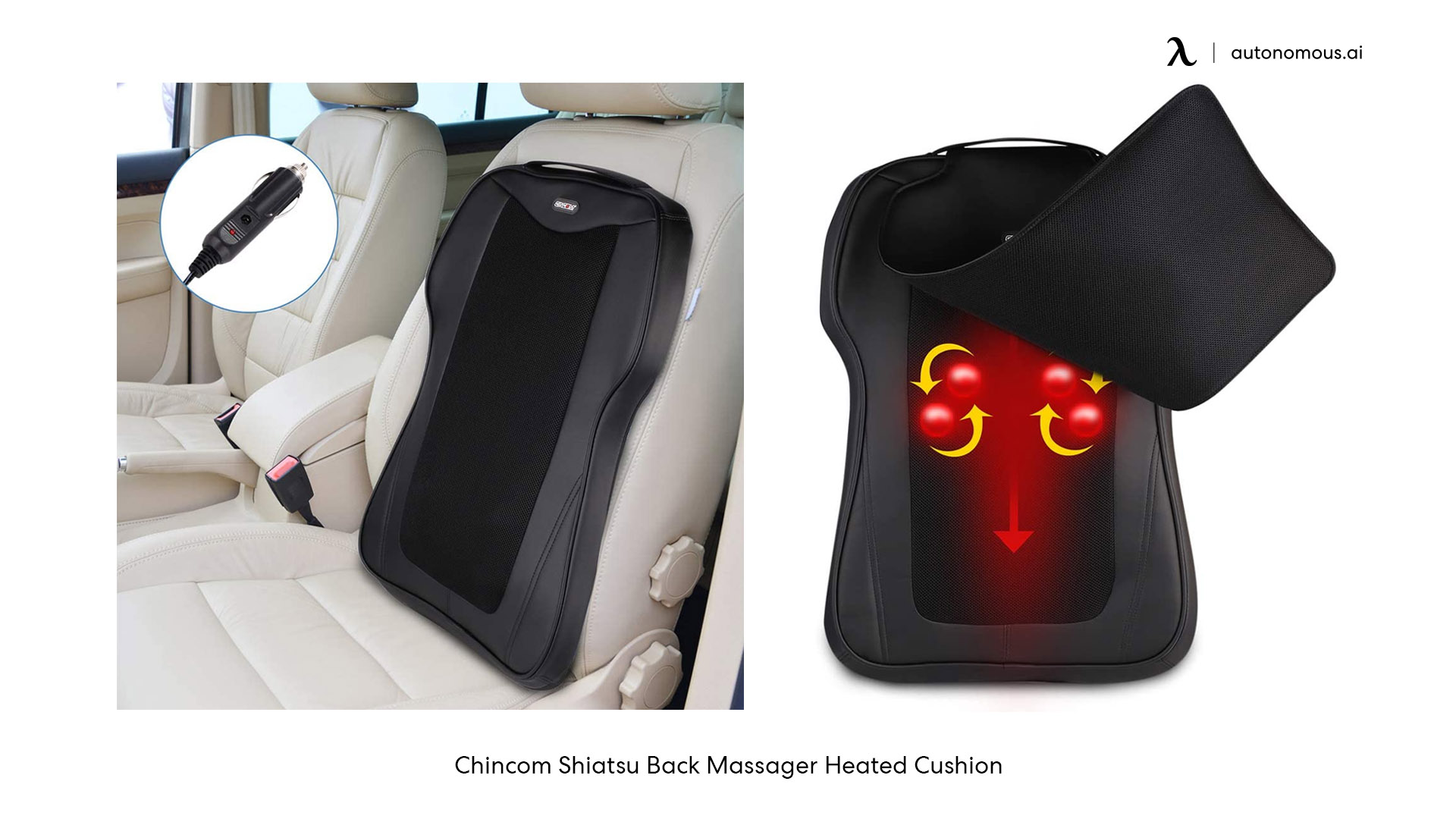 Chincom's heated massage cushion is one of the best lumbar support pillows for office employees who wish to use their pillows in their vehicles, thanks to its compact, sleek design.
The heated back cushion can not only improve your posture and soothe your back, but it can also massage your muscle tissue, making it a wonderful treat for your back. It has four different knead settings and uses shiatsu kneading technologies.
This smart office device may be used anyplace with an electrical outlet, and it is also suitable for use while traveling. You also receive an adaptor and a car charger when you purchase this cushion, which allows you to use it wherever you are.
4. The Shiatsu Heated Lumbar Support Massage Cushion by Make Lemonade
The shiatsu heated support pillow is perfect for office employees who like to bring their pillows home with them. You can effortlessly transport the cushion because it is equipped with handlebars.
It is small enough to fit inside most office desk chairs and can heat or massage your back to help alleviate back pain. The pillow features an impressive 12 modes that may be adjusted to function in different directions. It is also programmed to deliver shiatsu massages.
You can use the cushion everywhere there is an electrical outlet. However, it is not recommended for use in cars. Nevertheless, if you purchase an additional adaptor or car charger, you may be able to use it in a vehicle.
5. SEG Direct Lumbar Support Pillow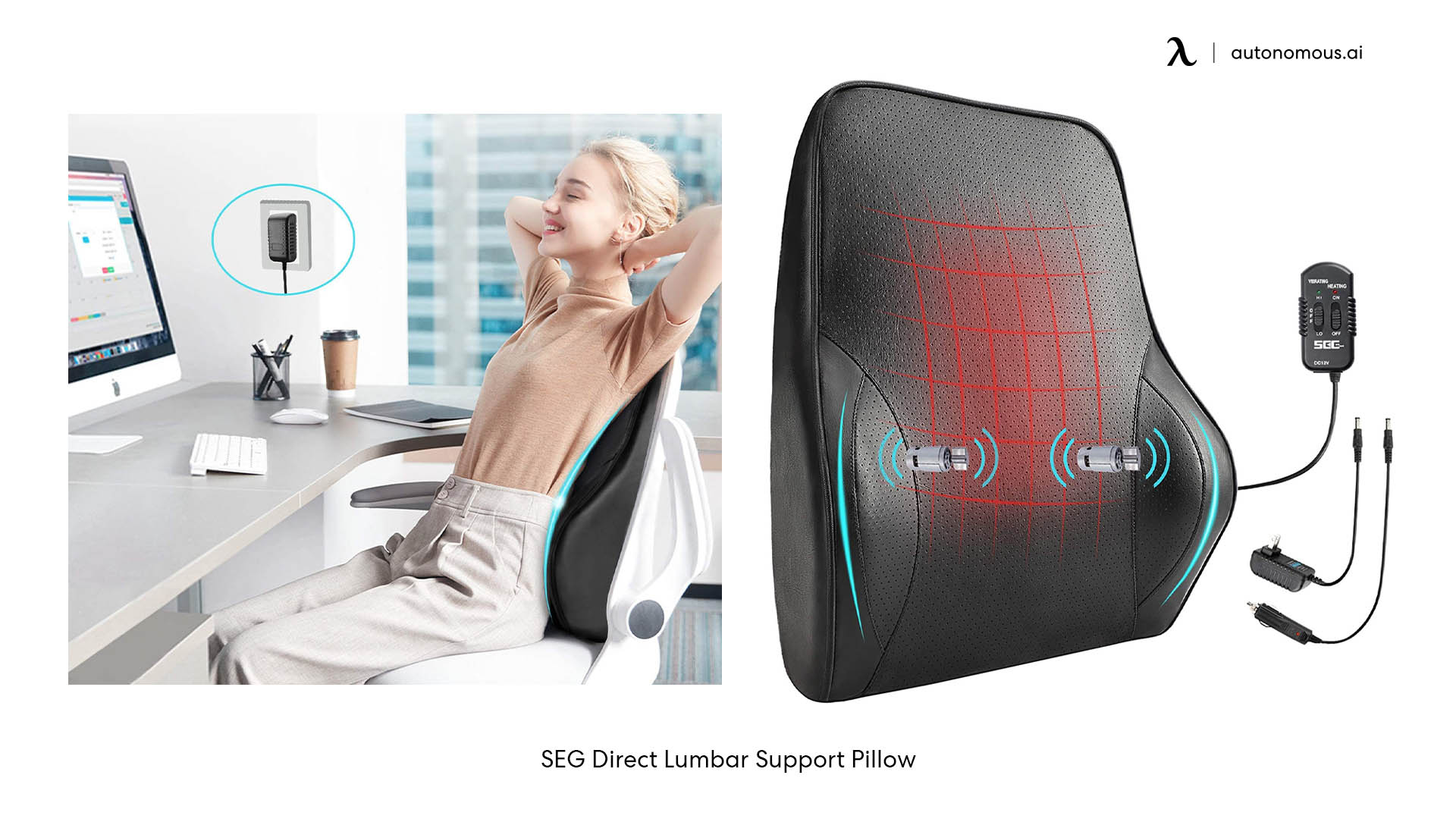 This heated pillow for the back provides optimum comfort that workers who spend a great deal of time seated are sure to appreciate. It has an auto-shut-off feature that prevents your back from overheating, so you do not have to worry about it as you complete your daily tasks.
The sleek pillow reaches a maximum heat of 175 degrees Fahrenheit and can be used on an office chair or a car seat.
6. Papillon Back Massager with Heat
Another heated lumbar support pillow that delivers deep tissue shiatsu massage is the back support from Papillon. This innovative pillow comes in a choice of grey, black, or cyan blue, so you can choose a color combination that best suits your office chair.
The massage function has three adjustable speeds, allowing it to deliver both heat and massage therapy to relieve your aches and pains.
7. Shiatsu Back and Neck Massager by Viktor Jurgen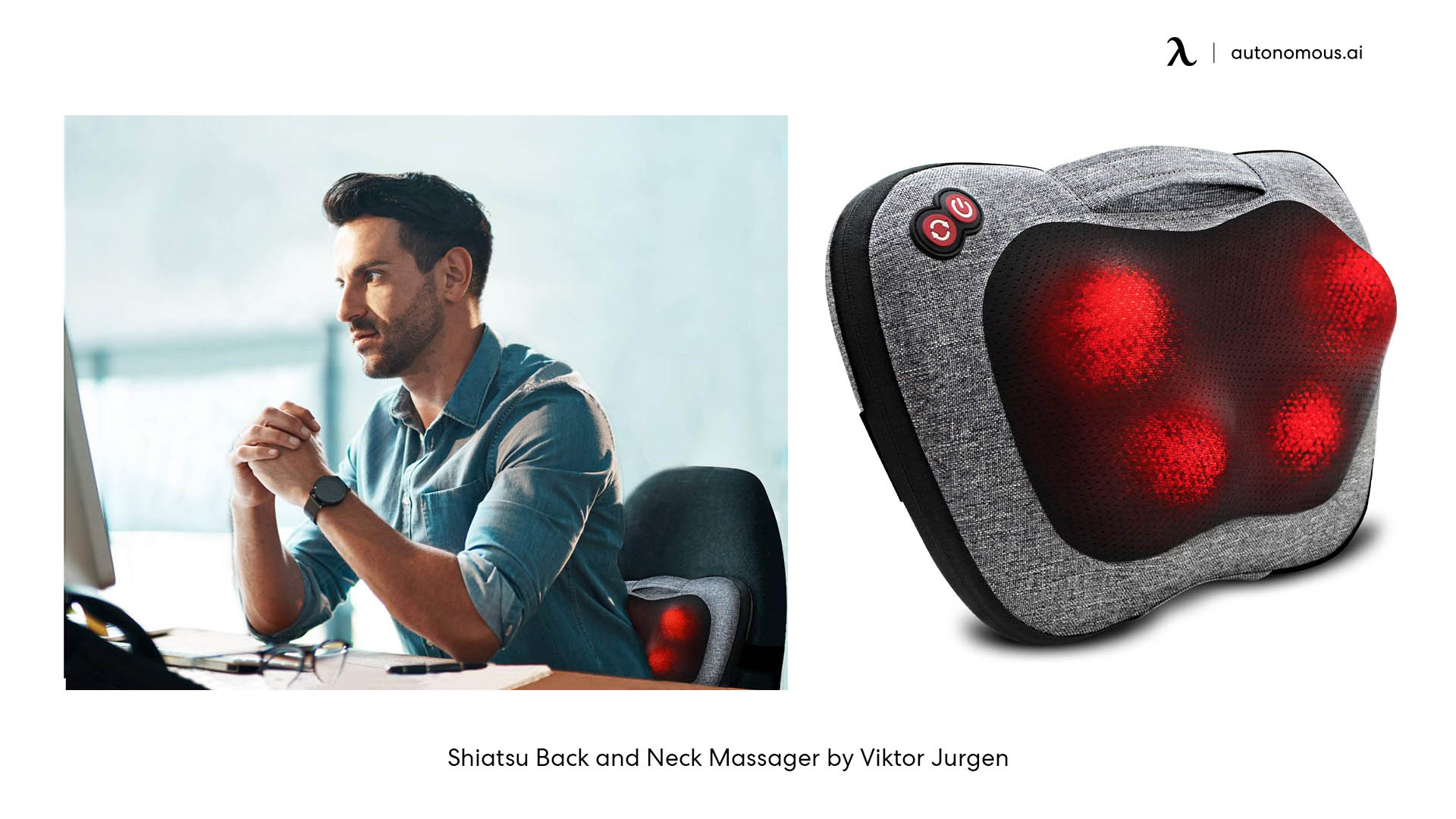 This multi-use massage pillow with heat includes a convenient remote control that lets you control the massage speed and the temperature without having to reach behind you to find a switch or knob awkwardly.
Its adjustable straps make it a suitable addition to any car seat or office chair, so you can carry this pillow around with you for pain relief and back support on the go.
8. Cureve Lumbar Support with Memory Foam
Experts often recommend alternating between hot and cold therapy to provide the ultimate pain relief solution. The lumbar support pillow from Cureve may not be an electric one, but it does allow you to alternate between hot and cold packs.
It comes with two gel packs. One may be placed in the freezer and used as an ice pack in the lumbar support pillow, and the other gel pack can be heated in a microwave oven to provide heat therapy.
This can be a convenient option because you can use it anywhere, even if there is no power supply nearby.
9. Zyllion Shiatsu Back and Neck Massager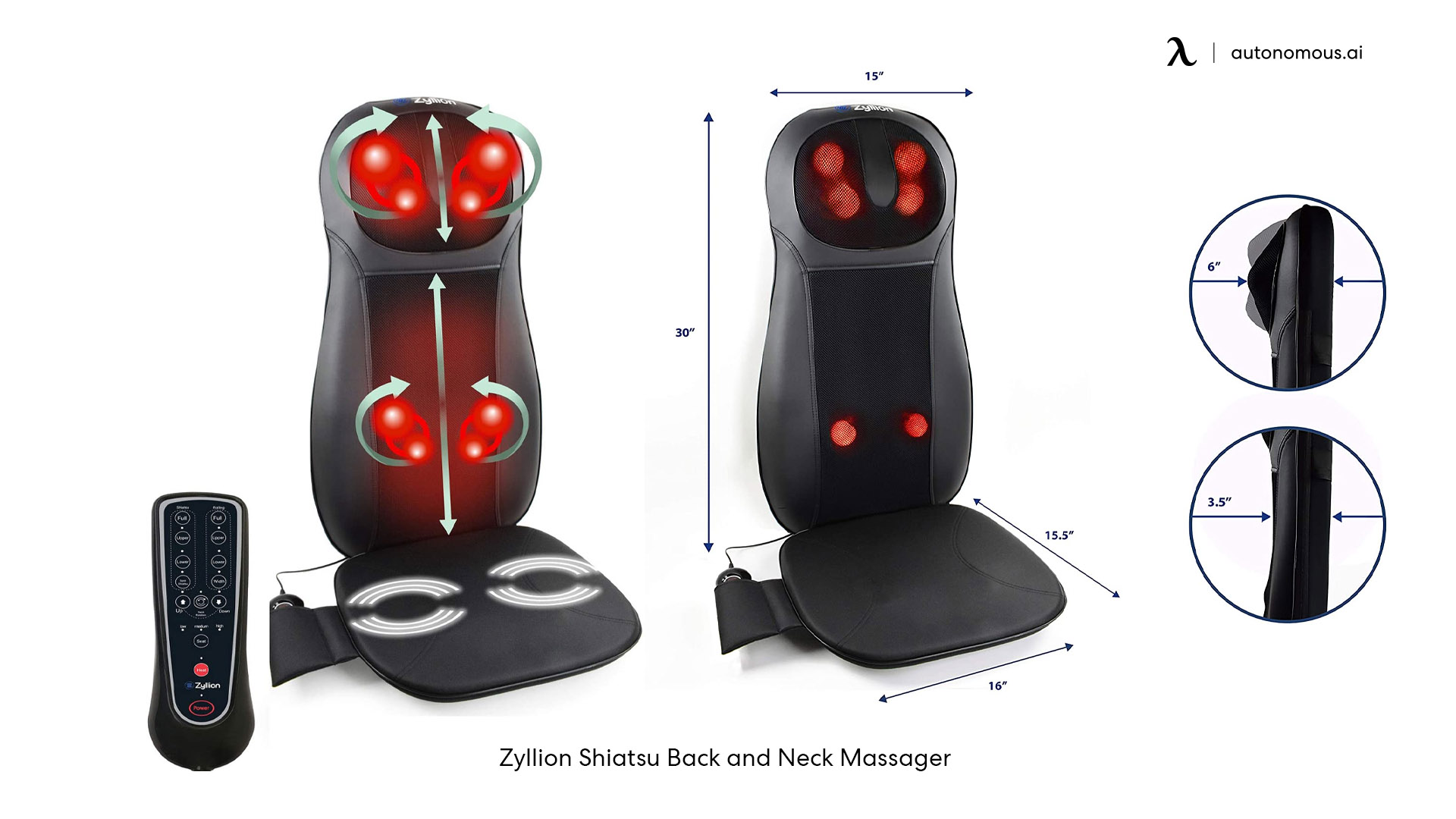 If you suffer from chronic back and neck pain, a multi-functional massage pillow with heat like the one from Zyllion may just be what you need. This heated lumbar support can also be used to massage your upper back, neck, calf muscles, thighs, and abdominal area.
10. Comfort Products Massage Lumbar Cushion with Heat
The lumbar support cushion from Comfort Products has a simplistic design with an easy-to-use on and off switch on its side. While it also includes massage therapy, it does not have variable speed settings like other heated massage cushions on this list. Nevertheless, it is portable and can be used on any chair, as long as a power outlet is available.
Final Thoughts
Heated lumbar support may be exactly what you need if you suffer from chronic back pain. A heated back pillow doesn't just help with relieving pain and stiffness, but also improves your circulation, all while correcting your posture to prevent any future injury of the lower back.
We highly recommend the ThermalComfort Heated Lumbar Support because it is the only heated lumbar support pillow on this list that is portable. With a battery life of six hours and a plethora of other functions and features, this pillow is sure to be your companion for a very long time.
Hey, you have special pricing through your company.
Get exclusive rewards
for your first Autonomous blog subscription.
WRITTEN BYAutonomous
We build office products to help you work smarter.