Workplace Inspiration
Check Out Reviews of 20 Popular Prefab Log Cabins for 2023

Autonomous
|
Sep 16, 2022
1,657 Views
Are you wondering what to do with all the extra space in your backyard? You can consider investing in a great-looking prefab log cabin. It not only looks good sitting in your backyard but also adds a lot of value to your property. 
Gone are the days when the idea of building prefab log cabin homes meant investing in a long and expensive project. Thanks to the availability of prefab log cabin kits, having your very own prefabricated ADU is very easy. 
At Autonomous, you will find a wide range of prefab log cabins that come in different sizes and styles. How you choose depends on the specific features you are looking for, your budget, style preference, and the amount of extra yard space you have. 
This review will look at some of the most popular prefab log cabin options for 2022 and help you decide which is the best wooden pod for garden installation for you.
Are Prefab Log Cabins Worth It?
Although having your own prefabricated log cabin is very easy, it still requires some money to buy the unit. If you are on a tight budget, you may find yourself wondering whether it is worth it to invest in such a project. 
However, there are definitely a lot of benefits to having your own prefab log cabin, such as: 
A 

home work studio is a great place to catch up on some work

Adds a lot of value to your property

Can be used as a hobby studio

You can entertain visitors in your cabin

Can be fitted out to be an extra living space for grown kids

If you rent it out, it will provide an extra source of income 
Pros and Cons of Buying a Prefab Log Cabin
After you have decided that having a backyard ADU is a great decision, one thing you will have to decide is whether you are going to buy a prefab log cabin, or build your own DIY backyard office shed. 
The following are some of the advantages and disadvantages of buying a prefab log cabin: 
Pros

of Buying a Prefab Log Cabin
Quick and easy setup and installation

Affordable

The units are more energy efficient

Made from durable material

Available in a wide range of designs 
Cons

of Buying a Prefab Log Cabin
Transportation costs

Has more upfront costs, such as buying and installing the unit

It is less customizable 
What Is the Difference Between a Modular Home and a Prefab?
The terms prefab and modular are sometimes used by many people to mean the same thing, but that is not the case. There is a difference between the two regarding the construction and installation phases. 
A prefab home is entirely built in the factory before being shipped out to its new location. This means all you will need to do after receiving your prefab log cabin is to read the instruction manual and install the unit. 
Modular homes, on the other hand, are only partly assembled in the factory. When you install it in your yard, you will still have to do some extra construction to finish off the project. 
While a prefab home is usually cheaper and much easier to install, a modular home offers you more room to customize the building to your style preferences. 
Is Prefab Cheaper Than Building?
The overall expenses associated with either option depend mostly on the type of material you choose. In general, a prefab unit will cost you less than building your own backyard shed, but you will have to invest a lot more money upfront for purchasing the unit. 
However, with some research and creativity, you can significantly lower the total costs of building your own home. By choosing cheaper materials, and going for simpler designs, you can build a backyard shed for very affordable prices. 
Are Prefab Log Cabins High Maintenance?
These days, prefab log cabins are being designed to be as low-maintenance as possible. All you have to do is set up the cabin according to the manual and it will be ready for occupation. 
However, the features of your prefabricated log cabin will have a huge impact on whether it is high or low maintenance. An outdoor office pod with a lot of extra accessories, for example, will need a lot more maintenance than a simple backyard storage cabin. 
Do Log Cabins Stay Cool in the Summer?
Insulation is a big issue that you need to consider when choosing a log cabin, especially in regions that experience extreme weather conditions. 
Having an insulated backyard shed should be high on your list of priorities. In particular, if you intend to do some work in your backyard office pod, then you will have to make sure the place stays cool in summer. 
Depending on the type of wood you choose, log cabins are usually very well insulated and will stay relatively cool throughout summer. If you live in very hot areas, you can add a few extra design features to your log cabin to make it a more comfortable place to spend time. 
20 Awesome Prefabricated Log Cabin Options for 2022
You have to be very careful when choosing the right prefab log cabin because there are so many available options and you do not want to be stuck with the wrong choice. To make your choice easier, we have made a list of great cabins that are worth considering. 
1. Autonomous Pod
First on our list is the very simple yet fully equipped Autonomous Pod. If all you need is a safe and secure place to get some work done, then this is a good choice for you. It is made of the highest quality wood which is guaranteed to last you a lifetime. 
2. StudioPod
Creative people often struggle to find the perfect place to work free from the distractions of the outside world. However, with the StudioPod, you will be able to hide away inside its enclosed work area. It is made from waterproof material that is both stylish and affordable. 
3. WorkPod
With the rise in the popularity of working from home, you should definitely consider using the WorkPod as your home office. It has a lot of office space suitable for a small team to work in comfort. The insulated wooden walls ensure that even in very hot or cold weather you can still continue working in comfort. 
4. Suncast Tremont Outdoor Storage Shed
Unlike other prefab log cabin homes, storage sheds are usually very dark and damp places that you will avoid going to at all costs. However, the Suncast Tremont has large windows that let in a lot of light, making it a pleasant place to be. It is also very large to give you a lot of extra storage space. 
5. Sound-proof Pod
Do you live with a noisy family or in a noisy neighborhood? Then you should consider the Sound-proof Pod. Once you close the door on this garden office shed you will soon forget all the distractions from outside thanks to its wooden soundproof walls. 
6. The Archipod
The way the designers of the Archipod were able to create the curved wooden walls of this prefab log cabin is truly impressive. It will be the centerpiece of your yard thanks to its artistic design. 
7. Solidbuild Aspen Garden Shed
As the name suggests, the Solidbuild Aspen Garden Shed is a very sturdy prefabricated log cabin that is made of the highest quality material. Its design makes it suitable for any type of yard, but if you can place it next to a beautiful backyard garden, it would be perfect. It is cozy, cute, and functional. 
8. Five-Sided Studio From Summerwood Catalina
You do not always have a say in the type of space you have available for your backyard shed. The five-sided studio will fit in the most awkward of spaces easily. Thanks to its five-sided shape, when you enter inside you will find an open and airy space for you to work in. 
9. Lifetime's 6446 Outdoor Storage Shed
If you have a lot of space to use and you are looking for a shed big enough to occupy that space, then consider the 6446 outdoor storage shed. The combination of steel, quality wood, and HDPE make this shed strong and easy to maintain. 
10. 157 SQF Cabin Kit by Allwood Estelle
A prefab log cabin such as this is better suited for people who are looking for a more traditional look than what is commonly found on the market. Even though it only has one window, you will not feel completely cut off from the outside world because the doors have glass panels that allow you to see your surroundings. 
11. YARDADU Outdoor Backyard Prefab Pod
This is a very good-looking, top-quality backyard prefab log cabin that is spacious, soundproof and insulated. Depending on the style of your backyard, you can choose any number of great-looking colors for your cabin. 
12.  Quality Shed Studio
The Quality Shed Studio is a great option if you are working on a limited budget. With as little as $5,600 you can get yourself a lovely shed that comes with all the useful features that you need for a home office. If you have a little extra money left, you can add the redwood deck as an additional feature. 
13.  Tetra Shed
One look at this futuristic-looking shed and you will fall in love. It is one of the most uniquely designed sheds on this list. There is enough room inside to comfortably fit a few people which makes it a great place for you and your colleagues to brainstorm some ideas. 
14.  Yard Pods
Yard Pods come in a wide range of different sizes and styles all made by the same San Francisco company. This allows you to pick and choose the perfect Pod for your backyard. The only downside is that it is slightly more expensive than other similar Pods. 
15.  Rolling Prefab House
Even though it is cylindrical in shape, the Rolling Prefab House is actually a very stable prefab log cabin that provides you with a great place to curl up with your favorite book away from all the noise outside. 
16.  Leggo Pods
Leggo Pod's elegant design features make it stand out from the crowd. It comes with a built-in temperature regulation system that makes it the ideal place to work no matter the kind of weather outside. 
17.  PopUpHut Office Pod
The PopUpHut was designed to look amazing sitting in your backyard. It's simple yet elegant features will be the centerpiece of your backyard and the envy of all your visitors. With a creative combination of glass and wood, you can easily fit two workstations inside its spacious interior. 
18.  ÖÖD Home Office
This prefab log cabin is the most expensive unit on this list. However, it is certainly worth it thanks to its stunning looks and list of enviable features. The size of the cabin also means you have to get a permit before you set it up. 
19.  Kanga Room Systems
Even though the Kanga Room prefab cabins look very expensive and complicated, you will be surprised by how affordable and easy to install they are. In just a few hours, your cabin will be set up and ready for use. 
20.  Rattan Lounger
The Rattan Lounger is made up of eco-friendly material that is durable and beautifully designed. It has a wide-open work area that will give you enough room to set up your workstation. 
Conclusion
There is a lot that you can do with the extra space in your backyard, but using it for a prefab log cabin is one of the best options. The popularity of these types of units has skyrocketed over the last couple of years. 
These days, there are countless designs and styles of prefabricated log cabins for you to choose from. At Autonomous, you will find cabins that suit every taste and functionality you can think of. 
If you are thinking of adding some real value to your property, then head over to the Autonomous website right now, and choose the perfect prefab log cabin for your needs.
Video ads for product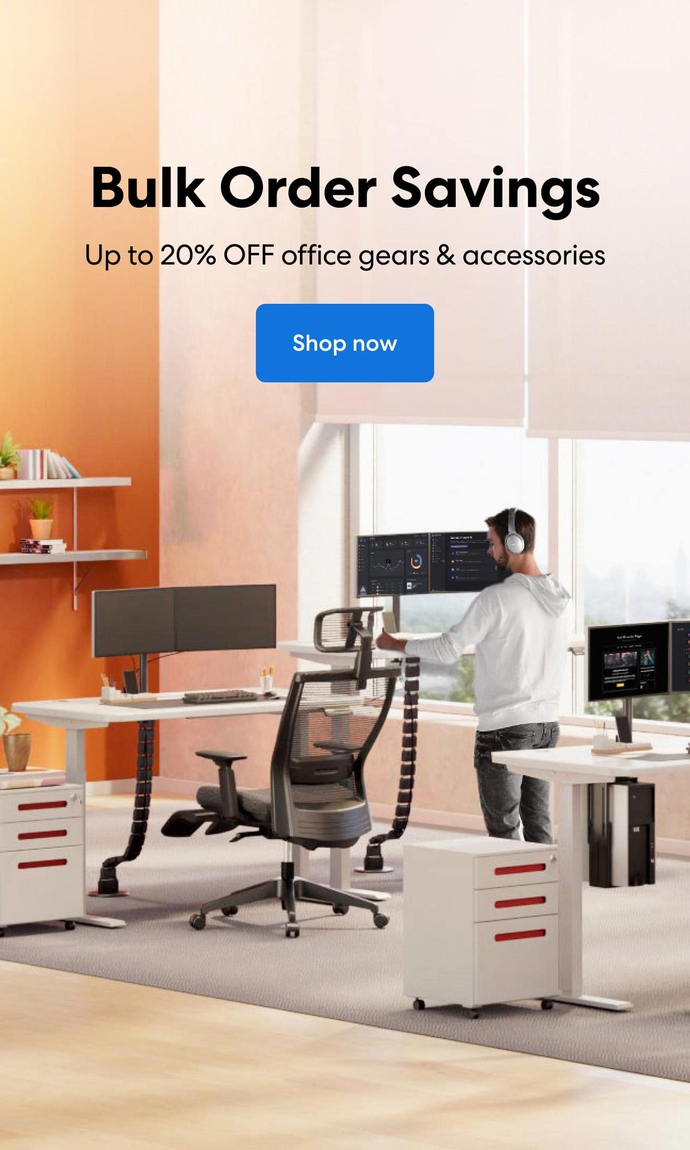 Subcribe newsletter and get $100 OFF.
Receive product updates, special offers, ergo tips, and inspiration form our team.