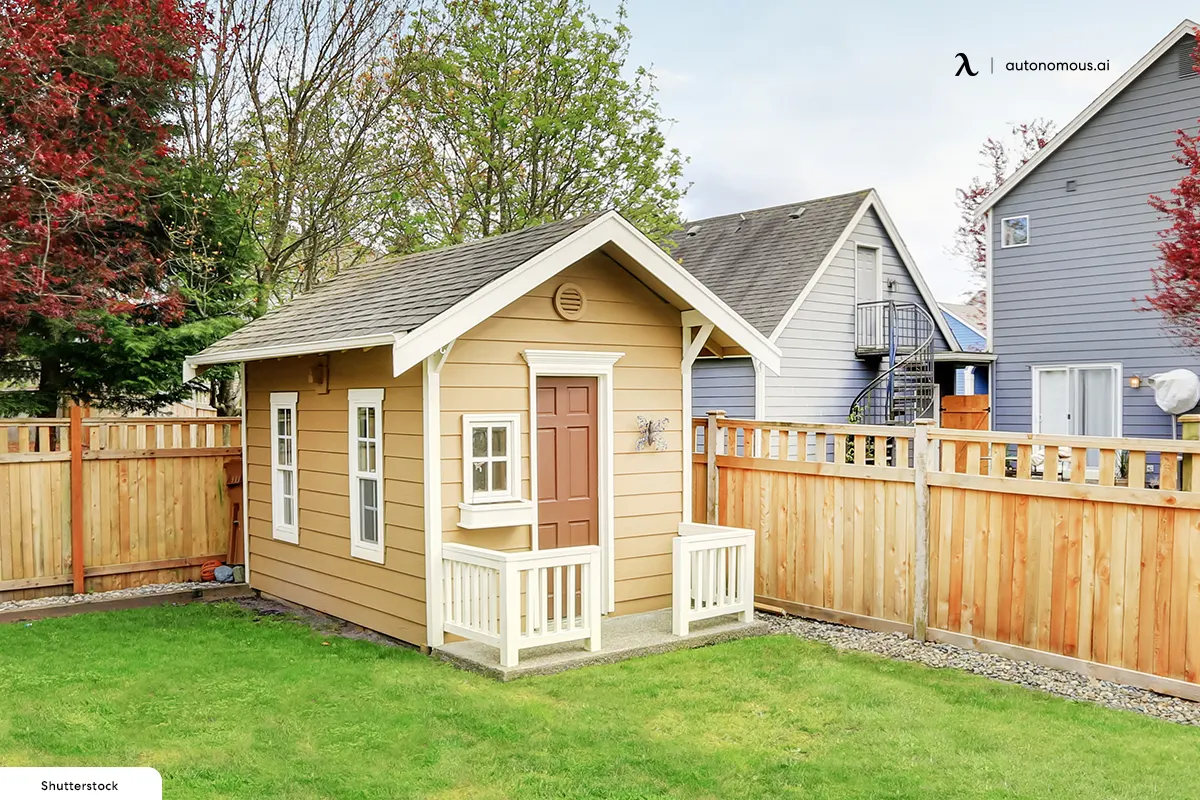 Workplace Inspiration
20 Small Outdoor Sheds You May Need Now in 2023

Autonomous
|
Nov 30, 2022
1,046 Views
Many homeowners have realized they need more space, but a remodel or move isn't possible. Whether it is a need to create a home office or dedicated space for school activities, having an outdoor shed is a flexible way to get the much-needed space. 
A shed allows skipping the commute and working from home. Getting this extra space will enhance your lifestyle beyond what you would think. Let's help you pick a small outdoor shed for your needs. 
20 Small Outdoor Sheds You'll Love
1. Autonomous StudioPod
The prefab studio fits your backyard and is easy to renovate. There's no need to worry about the headaches and disruptions that come with home renovations. Its convenient setup is ideal for working, living, or playing. The studio shed fits a TV stand, desk, closet, foldable coffee table, and convertible sofa bed. 
This multipurpose and flexible shed can be used as a home office or extra living space. It can also be used as an Airbnb when you're not using it. The shed has sockets and connections for climatic control and electricity, including mood lighting with three color modes. 
Its exterior is built with aluminum for waterproofing, weather resistance, and a beautiful aesthetic. The interior is insulated with eco-friendly honeycomb paper for insulation and soundproofing. A sturdy frame offers more durability than a standard wood frame.
Dimension
106" W - 155"L x 106.3"H
Material
Exterior: Aluminum layer
Interior: Eco-friendly honeycomb paper
Frame: Steel
Include
A closet, desk, bookshelf, TV stand, a foldable coffee table and convertible sofa bed
Minimum wattage
150W
Lighting
3 color modes
Warranty
1 year
2. Autonomous Pod
The wooden pod for a garden is simple, flexible, and affordable. You can complete the setup and begin using it in a day. It avoids the prohibitive home renovation costs to get additional space for all your needs. The pod comes fully wired to begin working right away. 
You will enjoy a personalized workspace to cut out distractions and stay focused. Whether starting a new project, working out, or entertaining guests, this unit is spacious enough to accommodate all your space needs. 
It's built with a layered combination of plywood, house wrap, a sturdy frame, and a composite wood coating. This makes it highly durable and able to withstand changing weather patterns throughout the year. Its elevated platform keeps away insects, water, mold, and heat.
Dimension
103"W x 142.5"L x 92" - 125.5"H
Material
Exterior: Composite wood
Interior: Plywood wooden frame
Frame: Steel, M300 cement
Weight capacity
2.9 tons
Minimum wattage
100W
Color
Black, White
Warranty
1 year
3. Autonomous WorkPod
The office pod is sound-insulated with floor-to-ceiling glass doors to avoid distractions without feeling boxed in. It's a dedicated workspace that helps you accomplish your tasks without commuting. Forget waiting for a permit or costly remodeling costs with its headache-free construction that takes one to two days. 
The pod comes pre-wired with warm lighting and outlets to keep all your gadgets powered. Its fuss-free foundation eliminates prepping even on uneven ground. There's no need to worry about durability since its prefabricated body is tested and controlled to exceed factory standards. The small outdoor shed is resistant to humidity, rain, and snow. 
Dimension
103"W x 142.5"L x 92" - 125.5"H
Material
Exterior: Composite wood
Interior: Plywood wooden frame
Frame: Steel, M300 cement
Include
SmartDesk Pro, ErgoChair Plus, Cable tray, Filing Cabinet, Dual Monitor Arm, Anti-fatigue Mat
Minimum wattage
100W
Weight capacity
2.9 tons
Color
Black, White
Warranty
1 year
4. Thinktanks Personal Pod
This small outdoor shed for one offers an efficient private working space with perfect dimensions to match all your needs. You focus better for better productivity thanks to its 34 dB soundproofing that bars outside sound. The spacious unit allows video conferencing, phone calls, and private work. 
It comes in black or white with a sound box for effective sound dampening. The pod boasts soundproofing with four sound-dampening feet. A socket panel with a light switch socket and 12v-USB power supply allows keeping all your gadgets powered up.
Dimension
External size: 40"W x 37"D x 91"H
Internal size: 33"W x 35"D x 84"H
Product weight
Gross weight: 279kg
Net weight: 235kg
Power supply
100-240V/50 - 60HZ
Natural lighting system
4000K/421LM
Color
Black, White
Include
Motion sensor and switch control
Multiple region electric sockets
Emergency safety hammer
Furniture as shown in pictures
Warranty
3 years
5. Thinktanks Compact Office Pod
A home office shed allows getting a state-of-the-art office wherever you want. You can fit the unit in your backyard and work without disturbance from outside sound and without worrying about the effects of bad weather.
The mini space is spacious enough for an office desk, chair, bookcase, and plants to keep your space green and fresh. This small outdoor shed fits anywhere in your outdoor space for remote working, which you can rent out as an Airbnb or a place for relaxation after work. Your cool private space will always be waiting for you, whether night or day.
| | |
| --- | --- |
| Dimension | 7 x 7 x 7.5 ft |
| Material | Double laminated tempered glass, R200 aluminum |
| Color | Black, Green |
| Interior | Washable PET Felt |
| Standard outlet | 110-220V |
| Lighting | LED 140W |
| Warranty | 3 years |
6. Thinktanks Quad Pod
Enjoy unparalleled focus during brainstorming or brainstorming sessions. The small garden shed fits up to four people comfortably to collaborate and focus. There's enough space for a desk chair setup, phone calls, video conferencing, and private work. 
It's available in various colors with soundproofing using tempered glass that produces a 35-decibel drop in surrounding sound. Thanks to its electric locks, you can enjoy state-of-the-art security to keep your pod secure. The pod has 4000k natural light and a turbine fresh air system. 
| | |
| --- | --- |
| Dimension | 87"W x 61"D x 91"H |
| Product weight | 860 lbs |
| Power supply | 1100-240V/50 - 60HZ |
| Natural lighting system | 4000K/421LM |
| Color | Black, White |
| Warranty | 3 years |
7. Writer's Haven
If you want a hideaway in a pseudo lake house or a place to be alone with your thoughts, this shed from Jamaica Cottage Shop is among the best small shed ideas. It has a translucent roof panel and windows to allow plenty of natural light. Its 168 square feet are spacious for reading, writing, thinking, or relaxing. 
8. Loop Solo
Enjoy this small outdoor shed's customizable colors, funky shape, and other fun features. It's an excellent option for people who need a home office pod with a bit of personality and style. The pod has a built-in desk, LED light, circulation system, and ergonomic bench seat. You can further customize various finishes in this pod.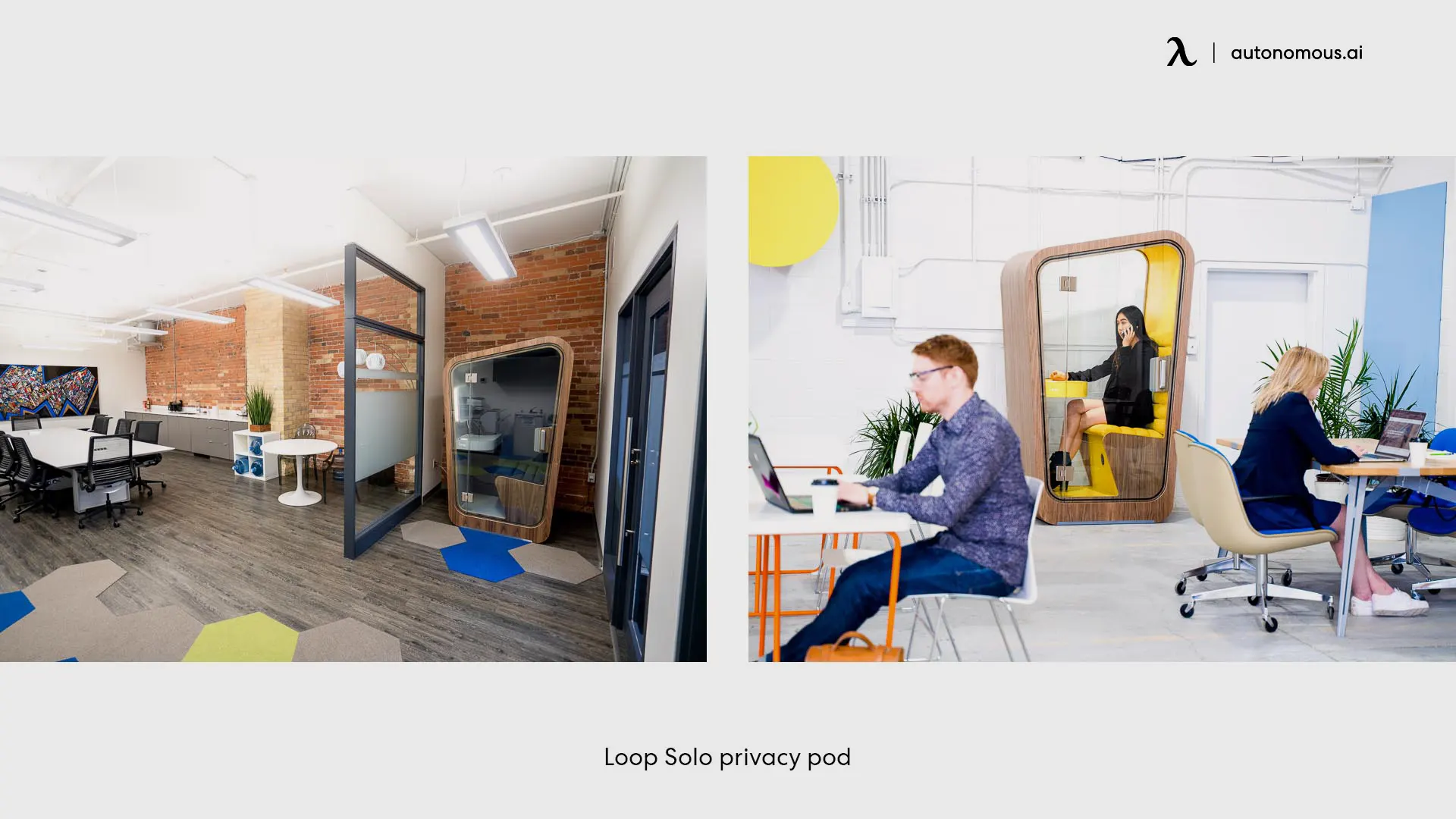 9. Nomad Modern Bunkie
Summerwood made this prefabricated adu with a sleek and stylish look. You can use it as a home office, studio, workshop, or kids' play area. This classic cabin will make you escape the hassle of commuting every day. 
It comes in various sizes starting from 100 square feet. The company can even make you a customized porch. All size options come with large windows, a high ceiling, and a loft design to allow plenty of natural light inside. 
10. Framery' O' Pod
The Finish company has various locations across the US where you can go and physically check the pod you want. This model has sound insulation thanks to acoustic foam and felt fabric. 
It also has an anti-static and stain-resistant carpet and ventilation system for comfort. The small garden shed also has an inbuilt birch plywood table and desk chair. A configurator on the company website allows designing your own pod.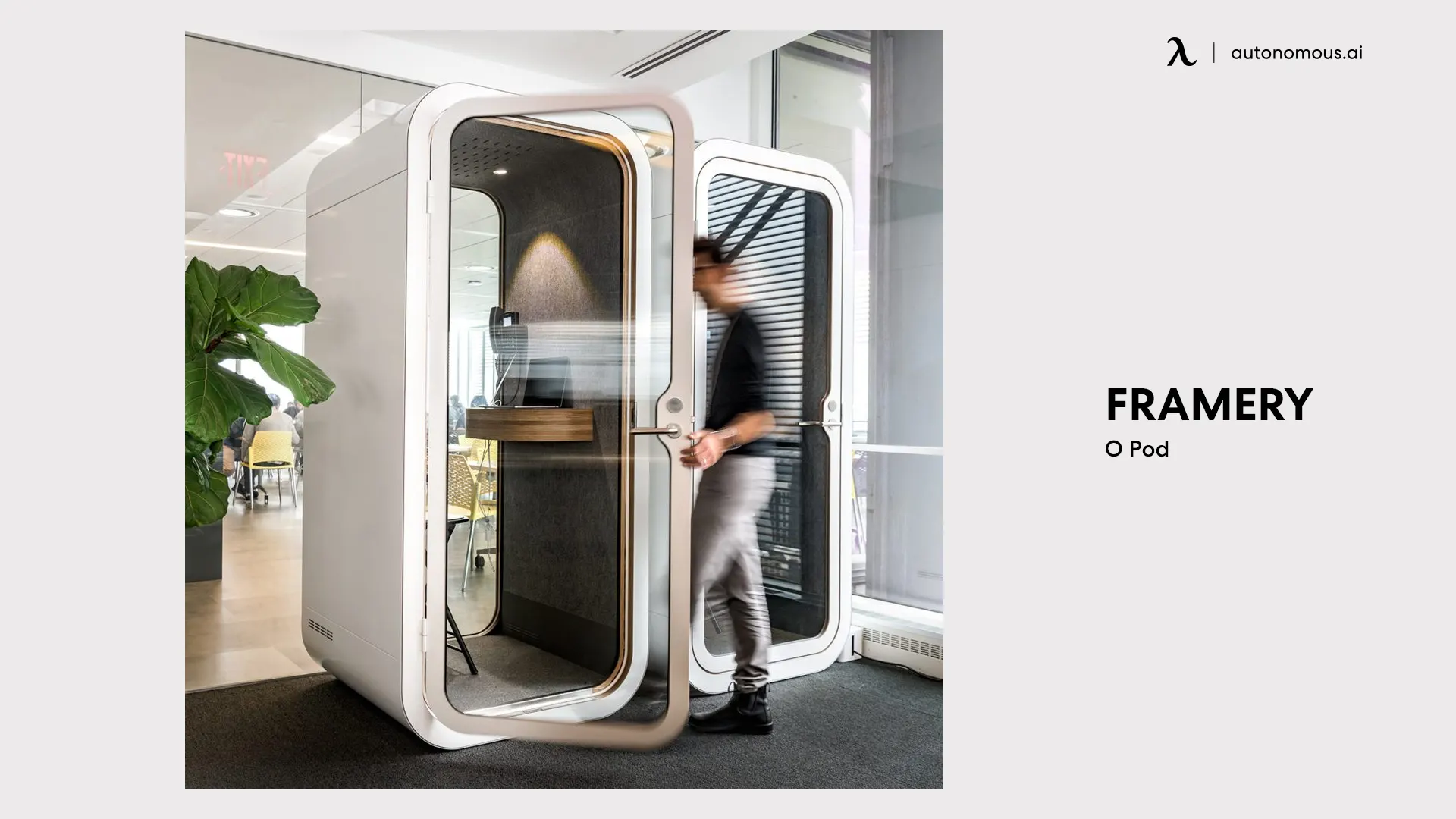 11. Workstation Cabin
Made with Hungarian architecture, this small garden shed functions more than an outdoor office. Its unique geometric shape accommodates up to six people. You can use it as a private meeting space, cool home office, or kids' play area. It can also function as space for winding down in your backyard. 
Its wood paneling stands out with large windows to allow plenty of natural light. The pod comes fully assembled with an inbuilt bench and electrical outlets. It's insulated and soundproofed for disruption-free experiences. 
12. 8-person - Backyard Office Pod
The outdoor team pod encourages brainstorming and all-around mental wellness. It's waterproof for distraction-free focus. Six to eight people can fit in this pod with all tools to accomplish their tasks. 
This small backyard shed has high-quality soundproofing to keep out outside sound when video conferencing, meeting, or making a phone call. Its inbuilt air conditioning and ventilation fan allow staying cool and relaxed.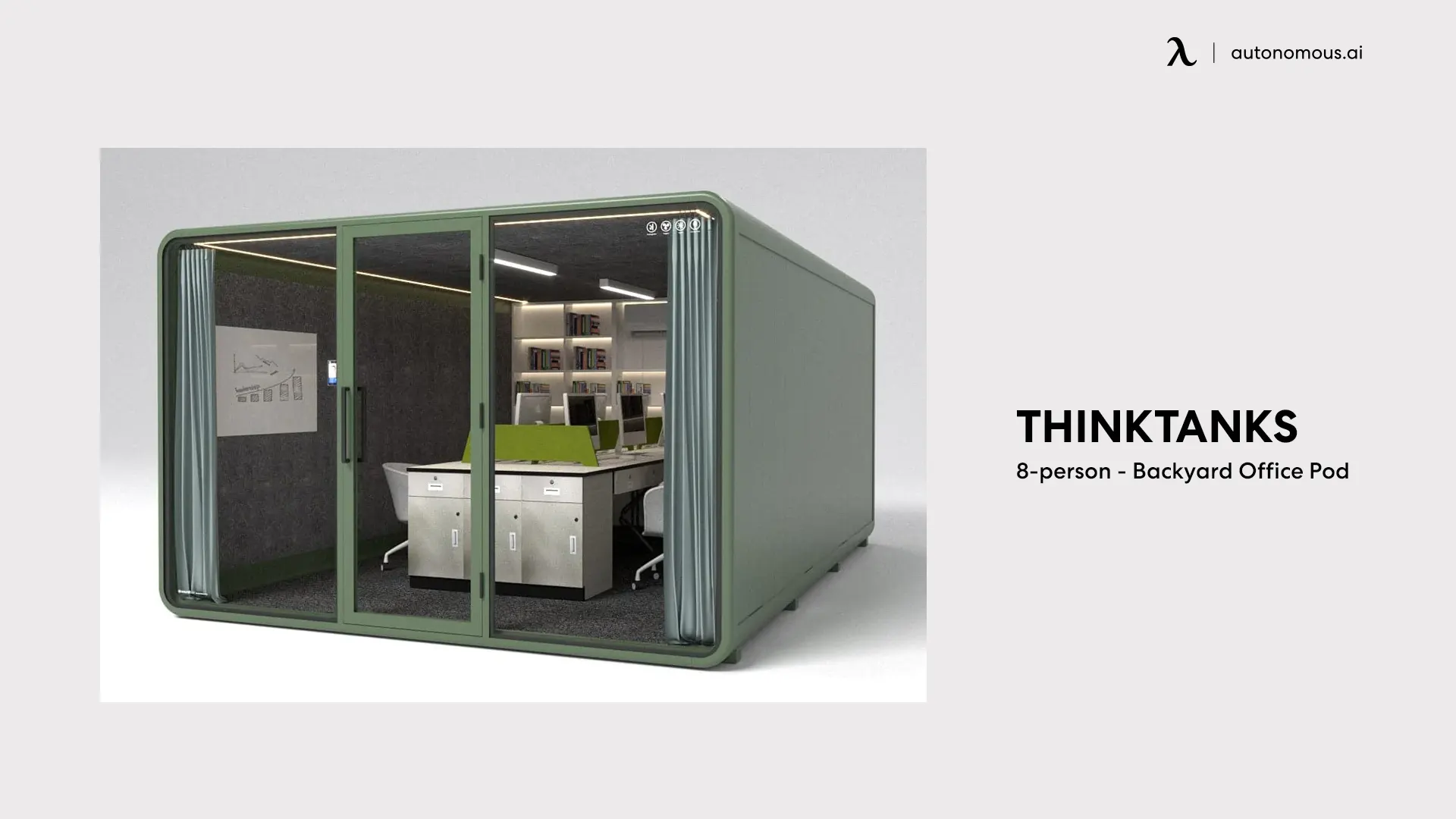 13. Allwood Estelle Cabin Kit
This is an excellent option when looking for small house kits. You can use it for an art studio or Airbnb too. Its double glass doors and large windows offer plenty of natural light. Assembly is simple and quick and comes with a five-year warranty. You won't need a permit to install this pod. 
14. Allwood Solvalla
You'll enjoy having the modern design of this pod in your backyard. Its 172 square feet by 86 square feet allow for use as a home office, studio, or recreation center. It's made from high-quality Nordic wood, making it extremely durable. 
However, assembly takes about two to three days for two handy adults. The small outdoor shed comes with all accessories in the package apart from the foundation materials and roof shingles. 
15. ÖÖD Backyard Office Pod
This small backyard shed allows moving your home office outside. The company can customize the pod to match your preferences after you specify its intended purpose. This pod has a multi-desk workstation and is spacious enough to add all your equipment. You can even add a Ping-Pong table to take a break from work.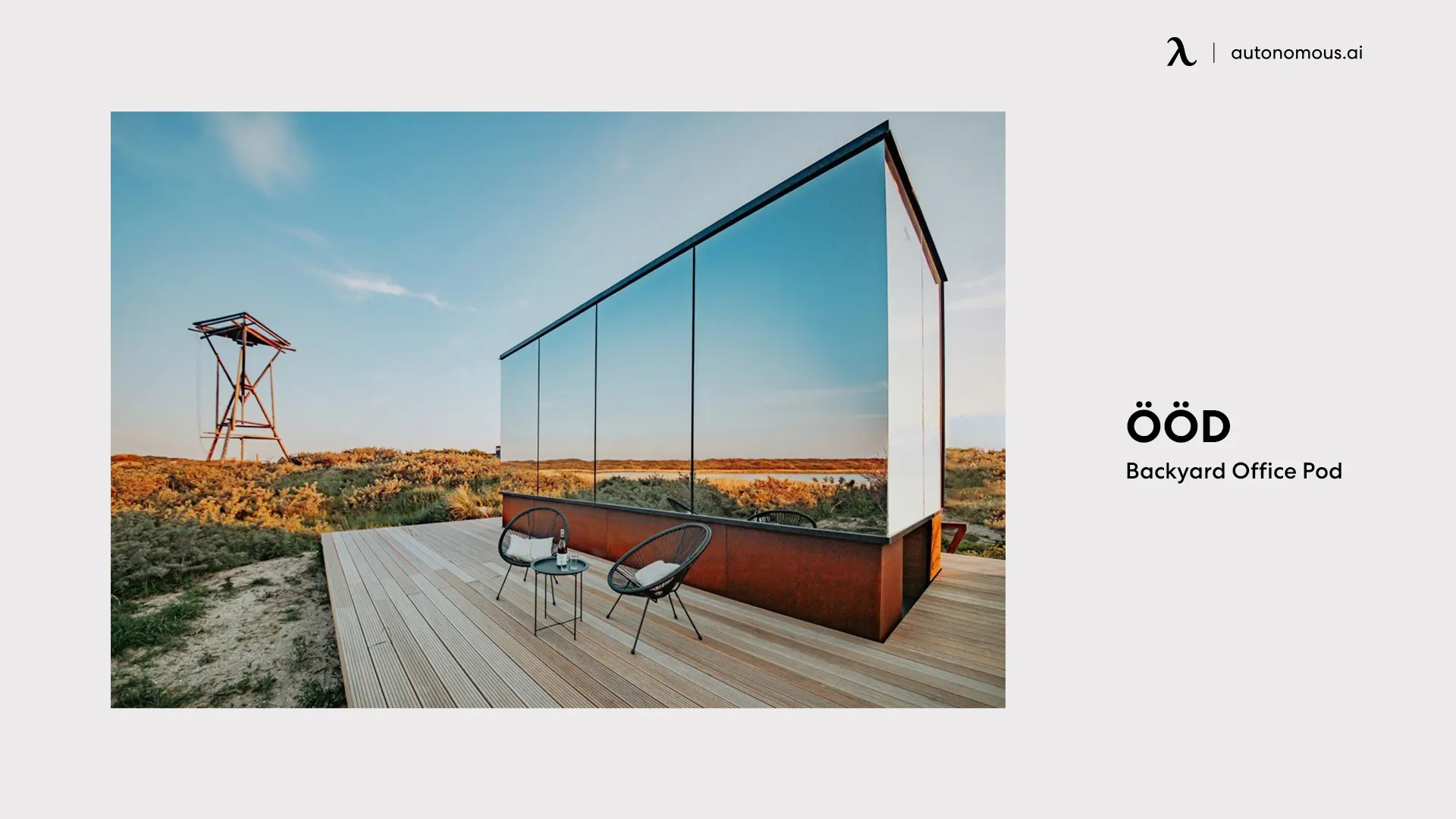 16. Yardadu Prefab Zen Office
You can't go wrong with this product when looking for an office pod with luxe features. The outdoor office will give you privacy and comfort while working in a very fashionable way. You can also use it as a lounging area with a dedicated space for unwinding and relaxing. 
The 103 square feet office has an architect-grade design but is super-easy to assemble. It has toughened glass with superb sound insulation, ventilation, lighting, and fireproofing. The unit comes fitted with power outlets to keep all your devices powered. 
17. Summerwood's Urban Studio
This pod boasts a modern design to give your small shed ideas a stylish appeal. You can use it for a home office studio, poolside studio, entertaining space for guests, or anything you like. The company can include upgrades at a cost, such as walls, insulation, or a switch to transform a window. You can even get a sliding package with seven protective layers against moisture.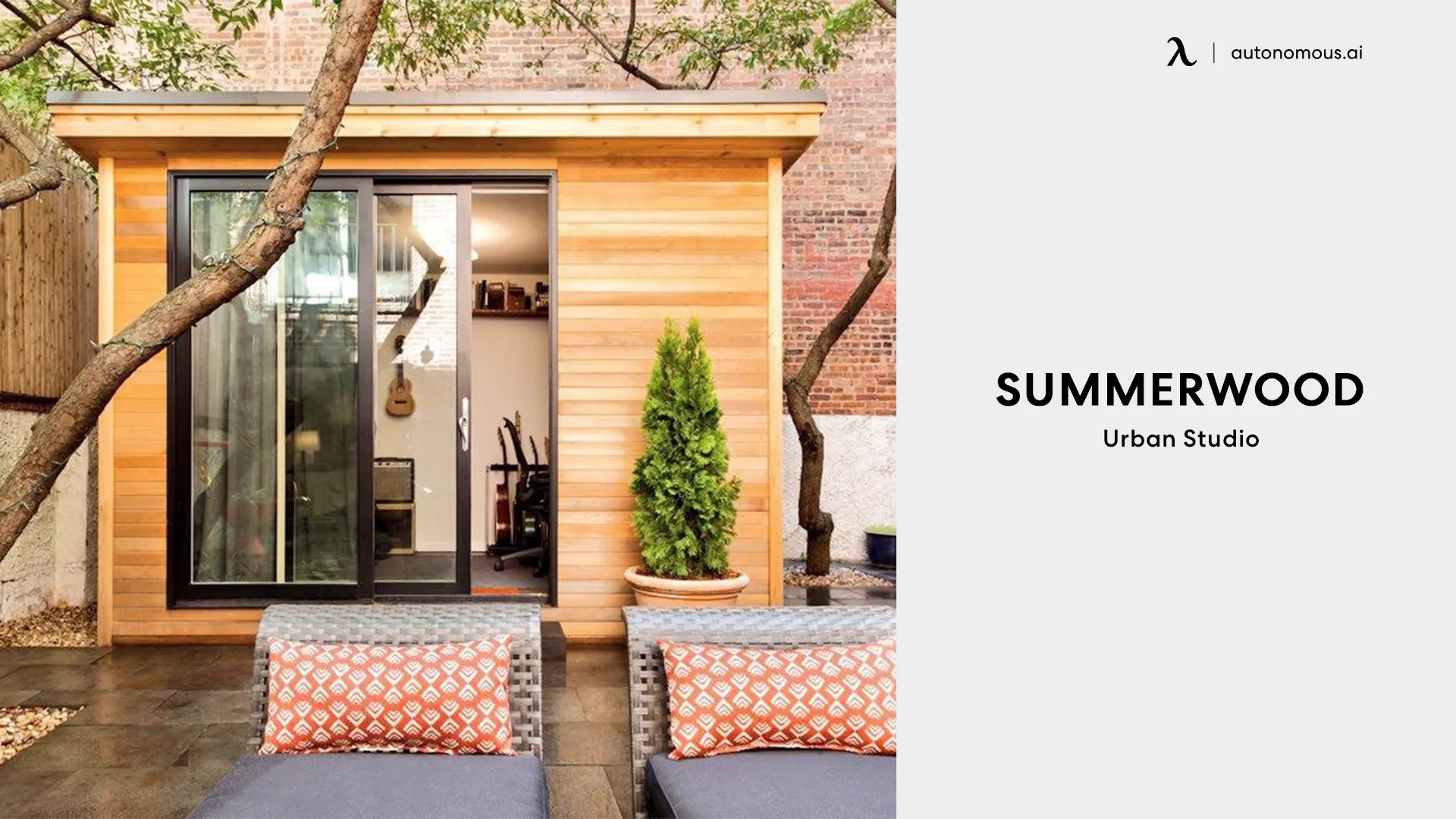 18. KitHAUS' K5 & K6 Series
You'll always be happy working from this beautiful small backyard shed. The prefab house transforms any backyard space into anything you can think about. You can use it as an escape pod, a fully-functioning house, a home office, a weekend retreat, a yoga studio, or Airbnb. 
The 235 square foot pod allows customizing into something more significant with a bathroom and kitchenette using house extension designs. This unit has a structural anodized aluminum frame in silver or bronze. It is lightweight, rust-resistant, and less prone to termites and mold. 
19. Allwood's Bonaire Cabin
The resort-style cabin can work as a home office, space for entertaining guests, or kids' play area. Assembly takes two handy adults about five days. This beautiful backyard shed studio boasts a timeless design and is made with quality Nordic spruce wood. Its large windows allow natural light and complete your surroundings. 
This unit is 225 square feet which is spacious enough for most applications. It comes with a deterrent against termites for long-term use.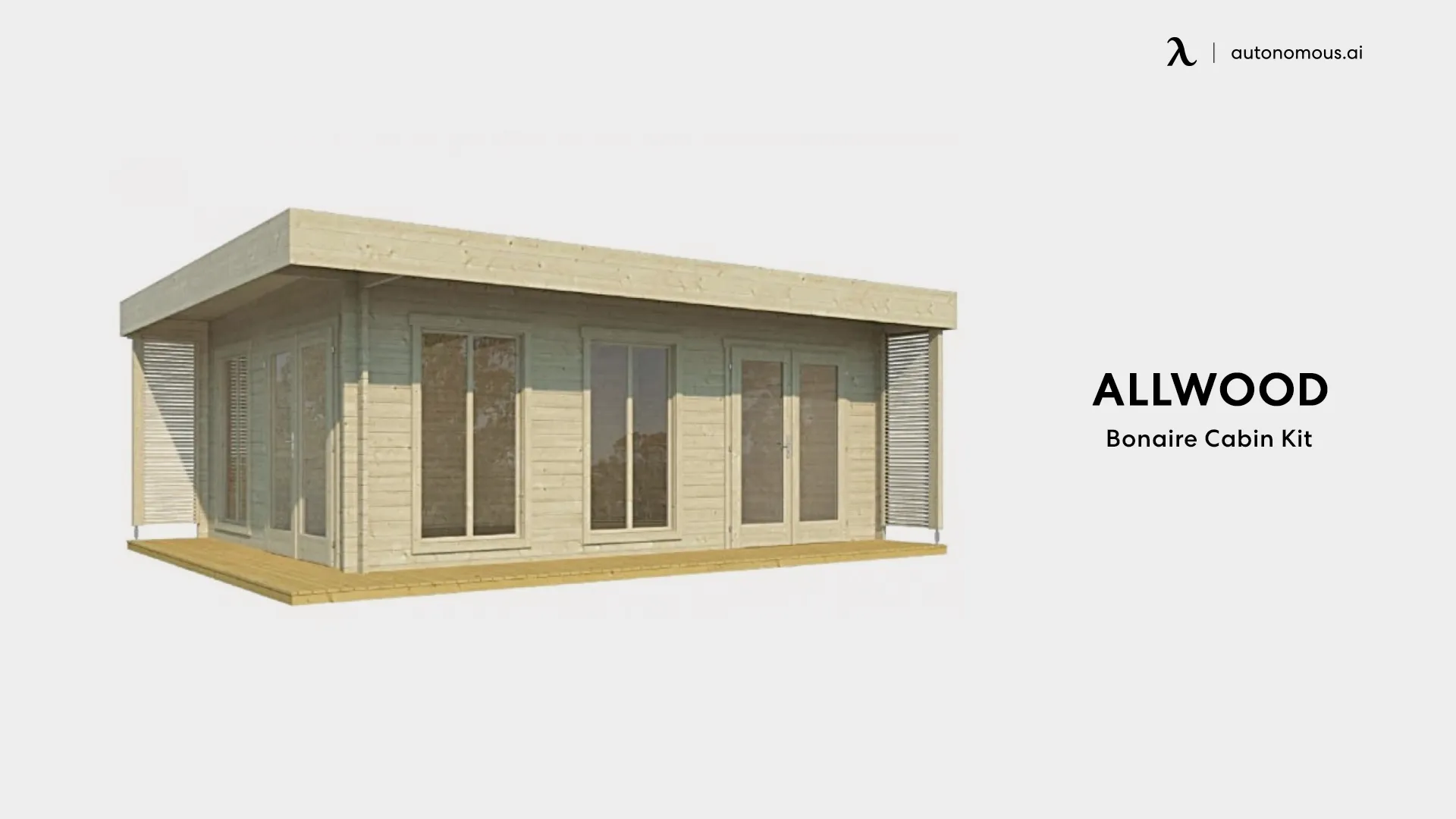 20. Jamaica Cottage Shop's Church Street
You can add this squint shed anywhere in your backyard. It's just 96 square feet with adorable features. The pod has a cabin-style interior with exposed posts and beam framing that give it a rustic look. This modern prefab cabin will become a focal point in your backyard while allowing you to keep up with all your tasks or video conferencing needs in a disruption-free environment. 
Why Invest in a Small Outdoor Storage Shed?
After seeing our recommendations, here are some reasons you should spend on a small garden shed. 
Separate Work and Home
Working from home allows being productive without commuting. However, there are various distractions when working near other household members. A garden shed allows working without disruptions and is soundproof to avoid outside noise.
Personal Studio Space
It wouldn't be a good idea to find that someone has tampered with items in your studio area. A garden shed offers private space for your studio needs. You will enjoy a personal creative haven where no one will misuse or touch your items.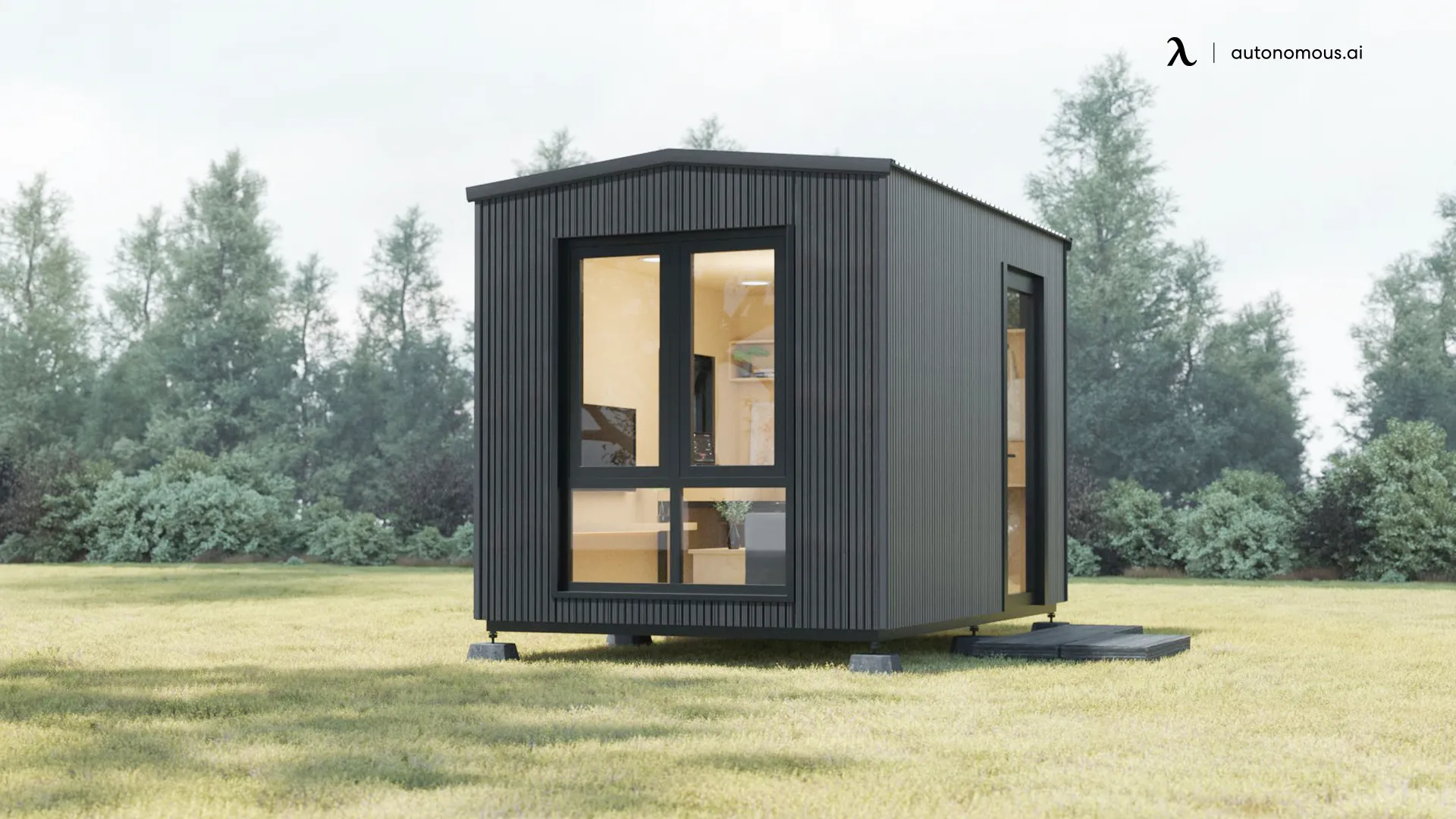 More Access to Fresh Air and Natural Light
A small backyard shed allows more chances of exposure to natural light and fresh air. The large windows and glass body offer plenty of natural light in your workspace and don't make you feel boxed in.  
Multi-Use Area
You can use a garden shed for various purposes. Apart from using it as a home office, you can play games from the space or use it to entertain guests. When not using the shed, you can use it as Airbnb to get back some of your investment. 
Conclusion
You need a dedicated space free from disruptions if you enjoy working remotely. A garden shed is fantastic since you can use it for other purposes. Check our list of recommendations to pick one that best serves your needs.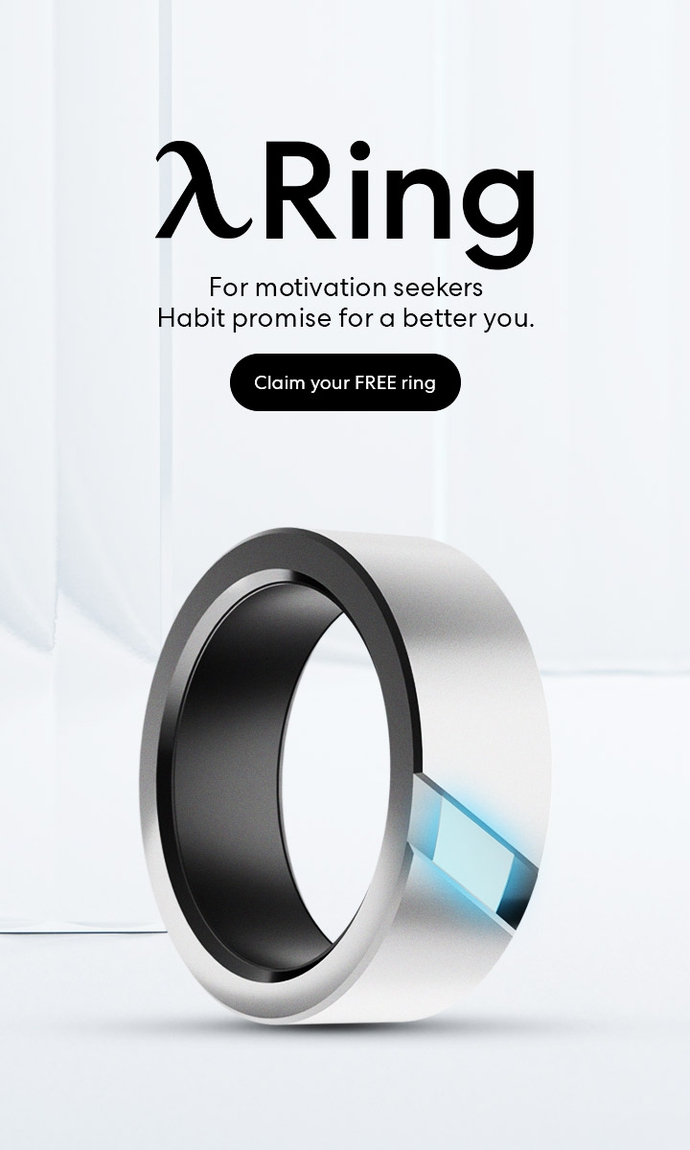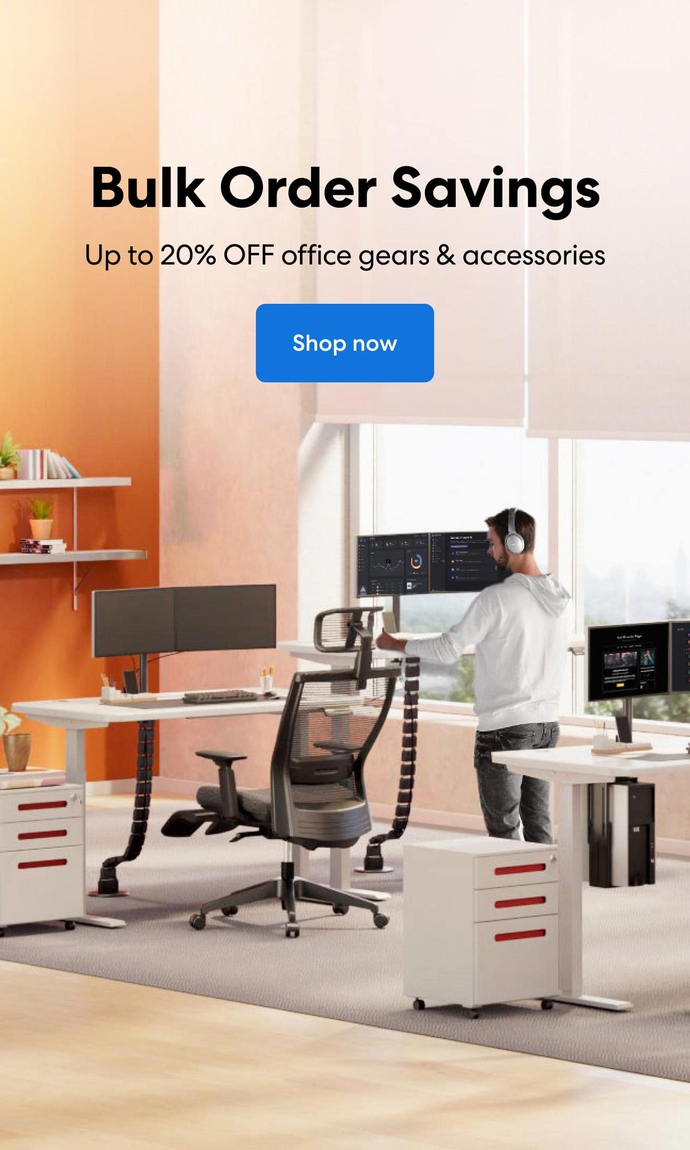 Subcribe newsletter and get $100 OFF.
Receive product updates, special offers, ergo tips, and inspiration form our team.