Gaming Setup
22 PS5 Gaming Setup Ideas for the Best Gaming Experience
4,012 Views
Having the ideal PS5 gaming setup is essential if you want to enjoy every moment of your experience. This guide offers 22 ideas you can try out, so read on and choose what you want to do.
22 Interesting and Inspirational PS5 Gaming Setup Ideas
1. Less Is More
You don't need to have an entire room for your PS5 desk setup. On the contrary, part of putting together the best one possible is understanding how to take advantage of the space and resources you already have. 
Less is more when it comes to organizing your PlayStation gaming setup, and you can put it together even in the corner of your bedroom if you don't have any more available space. 
2. Transportable Gaming Station
When you're a gamer, you might dream of having a whole room to play your games. However, this is not possible for everyone, and sometimes you need something you can use on the go. 
Some people transform the inside of their vehicle to build the best PS5 setup! It shows that you can enjoy your favorite hobby even if you have to drive (for example, to work). 
3. Gaming in a Van
Similar to the previously mentioned idea, living in a van doesn't mean you can't enjoy the best gaming experience. On the contrary, you can renew part of your vehicle and fulfill your gamer dreams! 
Imagine waking up every day and being able to see your gaming setup. It sounds like a beautiful experience!
4. Use the Right Products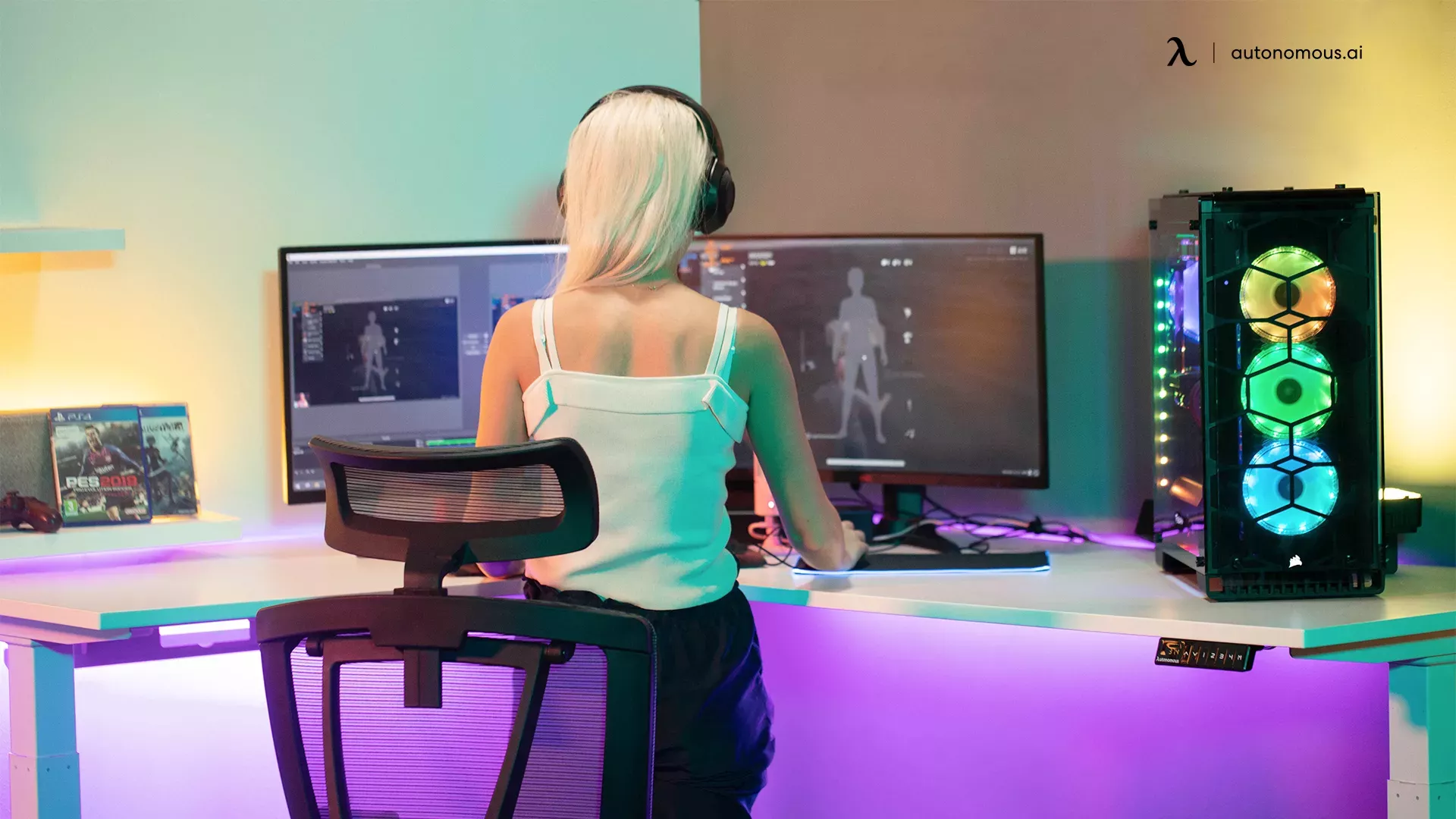 An uncluttered gaming station is essential, and it's just as crucial as making sure that you have all the items you need to play your favorite games. 
Therefore, using the right products is a must. You'll need several items for your setup, for instance, a gaming desk, a Pixio PXC327 monitor, the Karnox gaming chair, Gravastar speakers, and if you want to give your surroundings a beautiful touch, you can get the Lamp Depot RGB light.
While the gaming desk offers you a sturdy surface to place your console, Pixio's monitor gives you the high resolution you need to see your favorite games in high definition. At the same time, with a comfortable chair like Karnox's, you can play for hours! 
The Gravastar speakers allow you to enjoy the sounds of your games, which are an essential part of the gaming experience. Lastly, your RGB light can only make your surroundings look fantastic, so why not give it a try?
5. Peaceful Style
As was mentioned before, having top-notch products can help you get an idea of what you want your PS5 desk setup to look like. 
In this case, a 'peaceful style' gaming setup allows you to focus on the neatness of your surroundings. Going for this idea means your environment should always be clutter-free and evoke feelings of relaxation and calmness.  
6. Creative and Cool
You can have fun when you're building your PS5 gaming setup. Some would say that the primary purpose of setting it up at all is to enjoy the process, so this is the perfect moment to let your creativity flow. 
A cool and creative console gaming desk setup might include minimalist desk décor to include other more eye-catching decorations around you. Gamers sometimes buy, for example, an RGB light gumball, signs with their names, and so on. 
7. Bedroom Setup
You might have little space for your PS5 desk setup, and this is where the Benzara compact gaming desk comes in. If your bedroom is the only space you have available, fear not! You can use a small desk to make things work. 
This compact desk is ideal for people who need to set up their PlayStation in their bedrooms. You can put it in a corner of your room, and if you have a swiveling monitor, it's even better because you can make sure it points to your bed in case you want to watch some TV after playing. 
With this desk, you not only get a compact table but also a product that lasts for years. It's one of the best compact items you can buy, especially for a small PlayStation gaming setup. 
8. Combine It with Music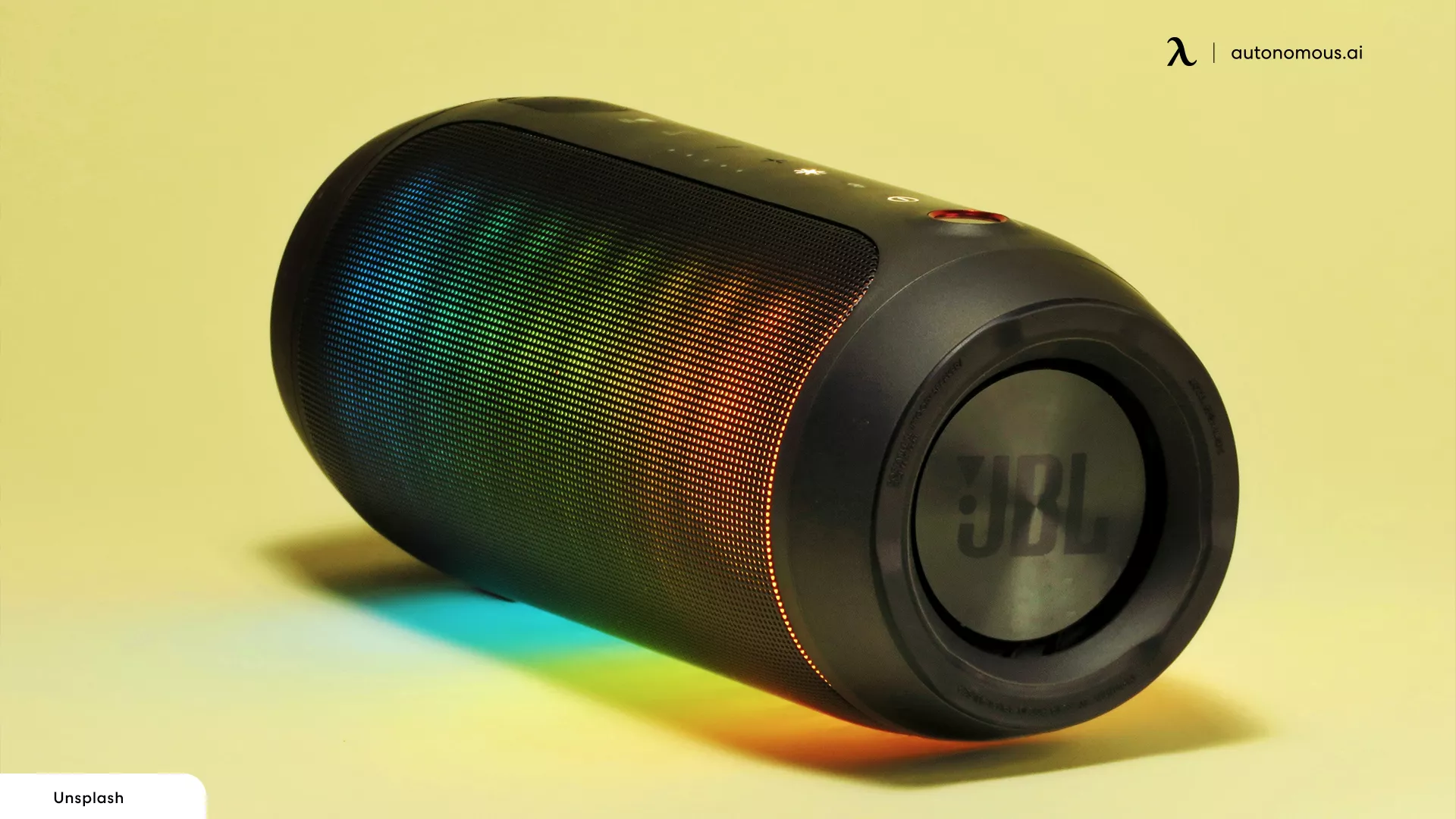 Once you have the perfect speakers like Karnax's, you can organize your setup so it's also an ideal lounge to lie down and listen to music. 
It might sound too complicated at first, but it's not at all. What you need to do is organize your desk and add a space where you can sit or lie down. Make sure your speakers are the center of attention and you're done! 
9. Battle Station – and It Has a View!
Some people say that gamers don't care about the outside world, but you might not agree with that, just like many others. To prove it, you can set up your station in a spot where you can have a beautiful view of what surrounds you. 
If you have any windows or glass panes in your surroundings, this is the ideal moment to take advantage of them. Set up your gaming battle station and ensure that the view is in front of you! 
10. A Bed Might Help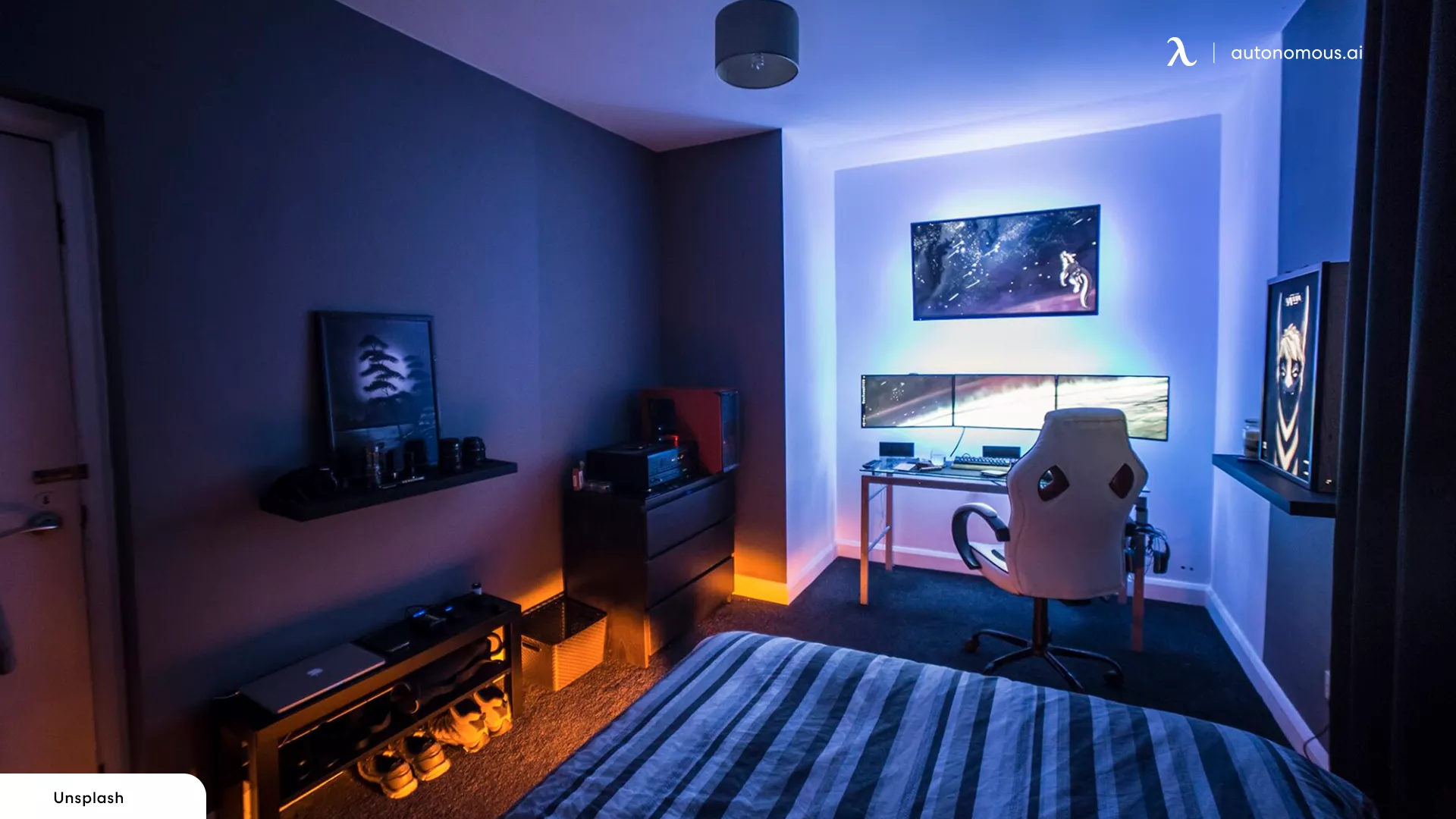 You might be surprised once you find out the number of gamers who prefer playing from their beds. To enjoy this, you'll need a stand for your monitor, a flat surface to place your keyboard, and so on. 
Having a PS5 gaming setup on your bed also helps if you have suffered any injuries or been in surgery and you need something to pass the time. Additionally, it's also a convenient idea for people who are permanently bedridden.  
11. Elegant Minimalism
Make the most out of a few resources by intelligently making your organization decisions when it comes to your station for gaming. 
Once you want to place your PS5 on a desk, you need to make sure that it's stable and comfortable enough for you to be able to play whenever you want, for as long as you wish.  
However, you don't need to buy numerous items for décor. Instead, you can add a few paintings or a couple of plants to your surroundings and still make them look fantastic! 
12. The Gracefulness of Simplicity
Although social media and streaming platforms have made certain types of PS5 desk setups popular, you don't need a whole room full of fancy lights to have fun. 
When you're setting up your PS5 on a desk, you can just focus on the simplicity of it – organize your surroundings so that they work for you and maximize your gaming performance by keeping things simple. 
13. Gaming Forts!
Remember when you were a kid and built forts to have fun? There's no rule that says that you can't do that now! 
A fantastic PS5 gaming setup needs to work for you, and a gaming fort can mean having a secluded space where you can enjoy the worlds you get into when you play your favorite games. 
14. Pretty and Neat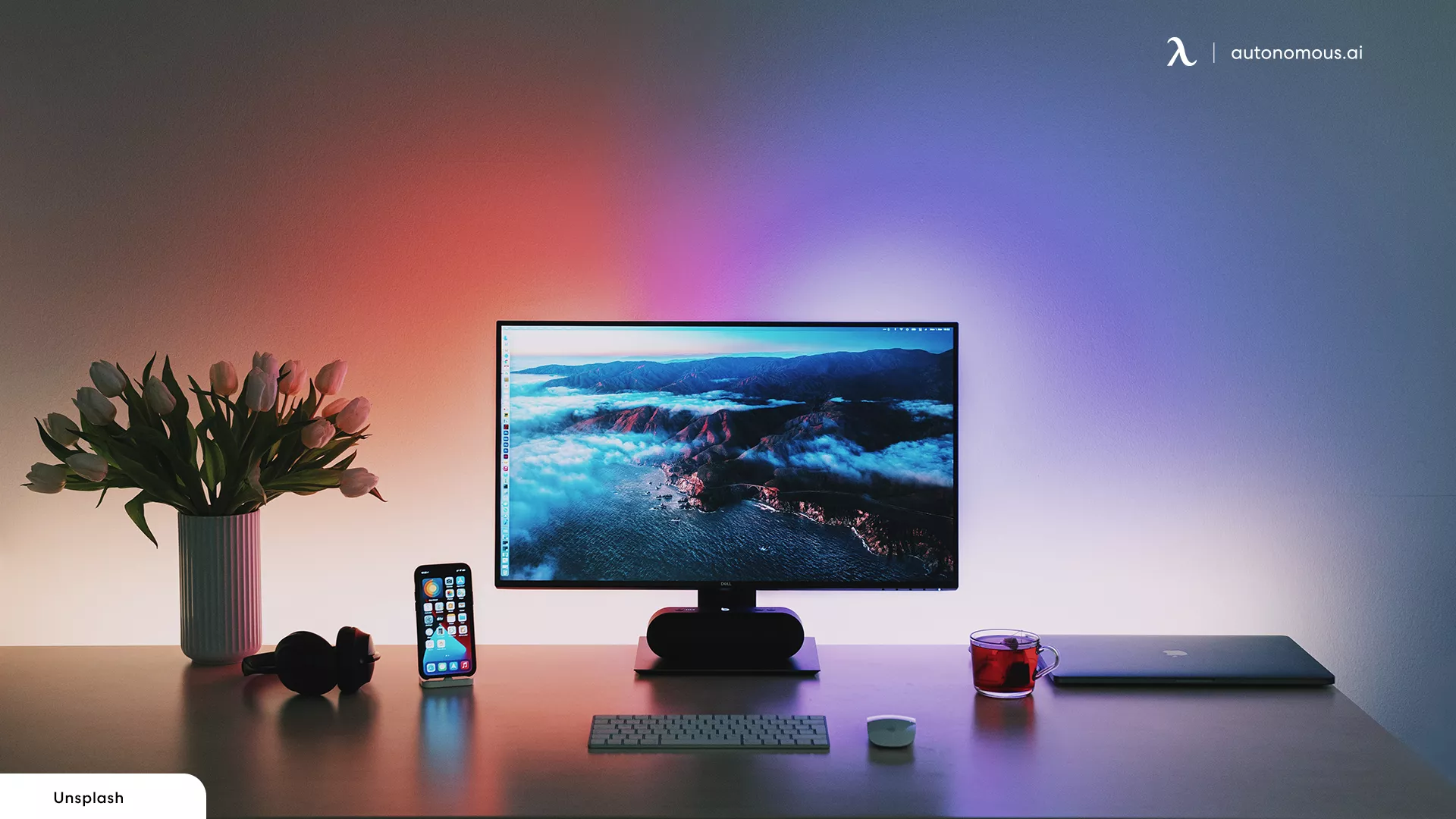 Having a beautiful PS5 desk setup is a fantastic idea, especially if you don't agree with the disorganized-gamer stereotype. 
A neat PS5 desk setup is possible if you have clean walls, a decluttered space, sophisticated décor, and most importantly, the best desk you can get, which might be the SmartDesk Core. 
This beautiful desk is one of the best pieces of furniture you can incorporate into your setup because it's sturdy enough to support your gaming equipment while still having a beautiful, aesthetically pleasing design.
15. Maximum Experience
If you want to take your gaming experience to the next level, doing everything you can to make the most out of it is essential.  
Your gaming experience can change if you add an L-shaped standing desk to your surroundings, and also by joining the gamer purchase program. With a top-notch table like the previously mentioned model, you can take advantage of the space you have and guarantee that you're both comfortable and organized.
At the same time, the purchase program gives you advantageous opportunities as a gamer, and you can use those to get the best deals to set up your station. 
16. Don't Play in One Place!
Two similar ideas have been mentioned before for people who live in a van. The truth is that you shouldn't let being in a vehicle deter you from gaming! 
On the contrary, you can set up a PS5 on a desk, and organize your surroundings to guarantee that the monitor is in front of you. If you don't have enough space for a chair, you can move things around and play from your bed! 
17. Sunset Setup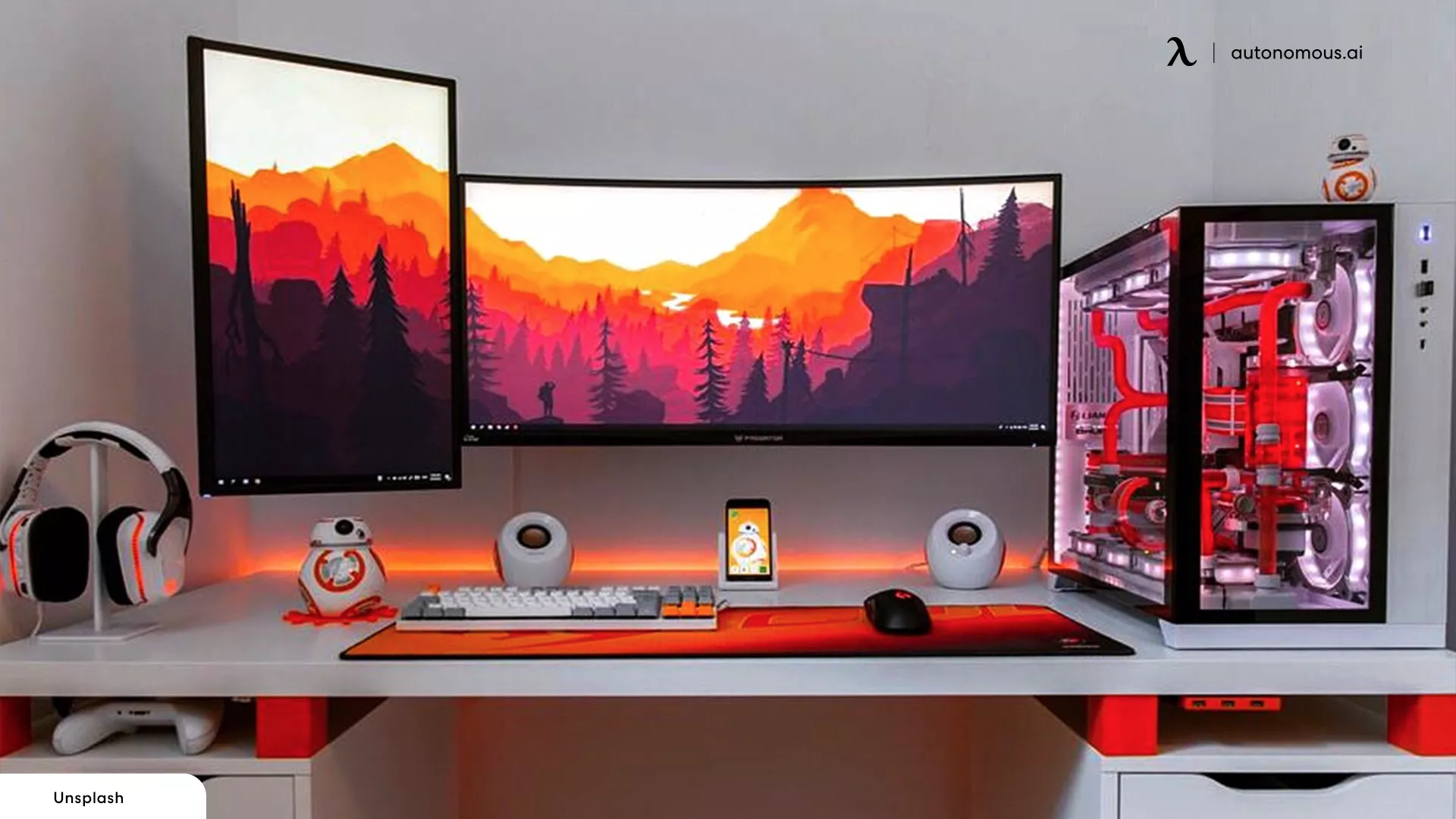 Who says that gamers can't enjoy having contact with nature? You can take advantage of your windows if you set up your PS5 in front of them! 
The best PS5 setup is not the most expensive one. It's the one that gives you what you need to have fun and relax. Therefore, if you want to unwind by watching the sunset, place your monitor on your desk and move it in front of the windows so you can watch the sun go down. 
18. Forest Battle
Scientists have proven that just by looking at plants, you can reduce your stress level. If you're working on your PS5 gaming setup, you probably want to unwind by playing too. Thus, you can combine both of those things, especially if you're a plant-lover! 
Add some greenery to your surroundings by getting houseplants that you can take care of. It can give your setup a few colorful touches, and your cat will probably go crazy by trying to eat everything (dog people might not have this problem). 
The good thing about plants is that they energize you, even if you don't notice them. Having a few of them around you can help you stay focused for as long as you're gaming. 
19. Use Your Basement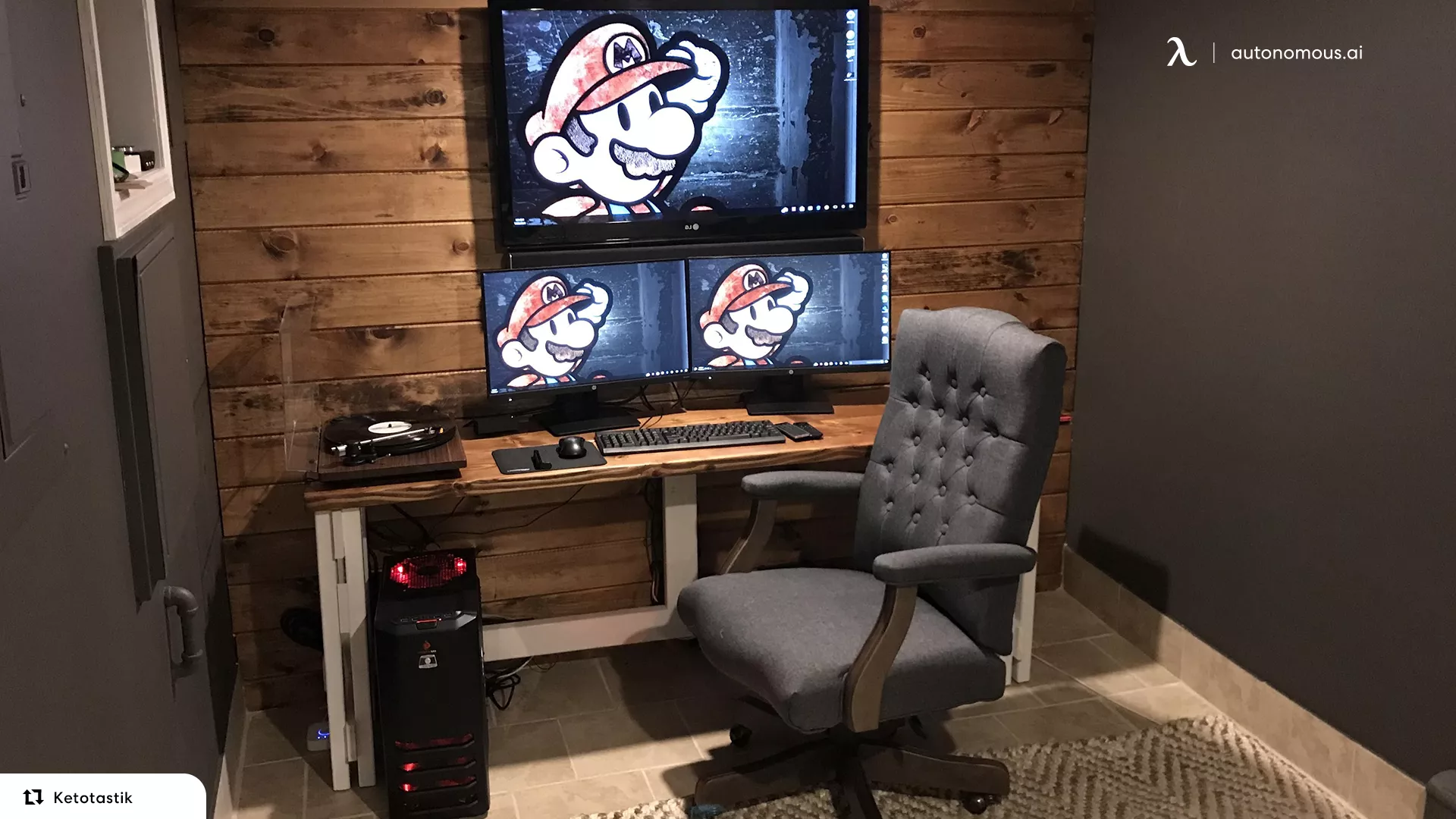 Unused basements are a gold mine, especially if you're looking for a place for your PS5 desk setup. Instead of cramming your desk and gaming equipment in a corner of your bedroom, dust the surfaces off in your basement and take advantage of it! 
Using your basement to play is a fantastic idea because you can get both space and privacy to play your favorite games. Alternatively, if you have any spare rooms at home, you can use them for this same purpose as well. 
20. Gold
The name of this idea might confuse you, but it's just an example of a color that you can use to make your PS5 desk setup look fantastic.  
When you're a gamer, you understand the importance of harmony and synchronization. Therefore, you might know how essential it is to make your surroundings look cohesive, and this is something you can achieve by following a color scheme. 
Regardless of whether you use gold as your primary color or a different one, sticking to a specific palette can help you feel more organized and calmer when you're gaming. 
21. Soothing PS5 Gaming Setup
A soothing, calming PS5 gaming setup is just what you need when you game to unwind and destress. In this case, an abundance of white in your surroundings and gaming equipment might make you feel at peace. 
White walls, for example, are usually very calming. You can always add splashes of colors here and there by hanging pictures, but overall, not having anything can be just as beneficial.
22. Using Messiness
This last idea contradicts the former one, and it's because there are many different types of gamers! If you prefer having a lot of décor and stuff around you, you can also use that in your favor! 
Some might think that messy rooms look awful, but you know better – you can organize your surroundings in a unique way and use all the items and décor you have to give your PS5 gaming setup a one-of-a-kind style. 
Keynote Takeaways
There are numerous ideas you can try out for your PS5 desk setup. The most crucial takeaway to remember is that you should have fun while you're setting up your gaming spot!
Subcribe newsletter and get $100 OFF.
Receive product updates, special offers, ergo tips, and inspiration form our team.
WRITTEN BYAutonomous
We build office products to help you work smarter.