Latest Updates
30+ Christmas Gifts for Doctors and Medical Professionals
503 Views
With the holiday season around the bend, it can be a great time to give back to the people who you love and appreciate. Doctors make actual differences in our lives with their honest diagnoses and treatments, so why not thank them with a thoughtful present this year?  
Finding the perfect Christmas gift for a doctor can be challenging, given that you can't get them impractical presents. 
However, there are many options you can choose, including products for storage & organizers for their office spaces. The following guide should help you find the best doctor gift ideas for Christmas.  
The 30+ Best Christmas Gifts for Doctors and Medical Professionals
The holiday season is for giving back to the ones you appreciate. Browse through our listed items to find the perfect Christmas gift for your doctor. 
1. Lamp Depot Handmade Hydrangea Scented Candle
Our top choice is this handmade candle from Lamp Depot, which has a floral smell. The mix of soy and jelly wax assures a four-hour burn period. This aromatic candle is not only an appropriate Christmas gift for your boss or doctor, but you can also get the item for yourself! 
2. Lamp Depot Austin Rose Scented Candle
This rose-shaped floral candle comes in four calming colors, making it an ideal decorative piece for your doctor's office. Subtle hints of wild bluebell and chamomile create a relaxing ambiance in the room.  
3. Lamp Depot Strawberry Cake Scented Candle
Consider getting this unique scented candle as a Xmas gift for a nurse you're especially close with. This cute present has notes of bluebell, making it an adorable addition to any office.  
4. Lamp Depot Coconut Bowl Scented Candle
This item is an all-natural soy wax-scented candle with coconut cream undertones carved from an actual coconut. The tropical flavors spread a fresh scent around the room, which your doctor can appreciate after long hours in the OT.  
5. Airthereal Essential Oils Set
Why not give your doctor this set for Christmas, as essential oils are proven to comfort and relax stressed individuals? Six 10ml bottles are provided in the box. Choose between a fruity-scented set and spirited flavors when purchasing.  
6. Artistscent The Elizabeth Karlson Collection
This eco-friendly, plastic-free scented candle is offered in five different flavors. The jar itself is lovely to look at, making it a distinctive item for office décor. The fact that this perfumed candle is made entirely of natural soy wax makes it worth the splurge.
7. Artistscent The Ronnie Queenan Collection
Another option to think about for Christmas is this Ronnie Queenan collection. The packaging is entirely recyclable and composed of sustainable materials, making it environmentally secure. 
8. Artistscent The Ron Chereskin Collection
Further down the list, we have yet another Artistscent scented candle collection with four unique notes. Similar to its predecessors, this set is also made from eco-friendly and sustainable materials.  
9. Airthereal APH260 Air Purifier
Other unique doctor gift ideas for Christmas include this high-quality air purifier that covers up to 355 sq. ft. The product has a UV control and auto-mode, which users can turn on for convenient operation.  
10. Airthereal SG100 Dehumidifier
Most medical professionals lack office space, making the room feel stuffy and uncomfortable. This mini dehumidifier is the best Christmas gift for your doctor, given how practical the item is. It also covers up to 55 sq. ft., which is enough for compact spaces. 
11. Autonomous Desk Lamp
LED desk lamps can be a godsend for those who work late. This product comes with four hue modes and five brightness settings. Users can also enjoy over 50,000 hours of lighting. 
12. Autonomous Filing Cabinet
You can consider this Christmas gift for your office staff or family doctor, as it's a functional item to have in the workplace. The cabinet has built-in dividers inside the three drawers, with rust-resistant finishing.  
13. Autonomous Vegan Leather Desk Pad
This vegan leather desk mat by Autonomous is an excellent addition to any tabletop. Purchase this as a Christmas gift for your doctor and let them write prescriptions comfortably! The microfiber material on the product makes it feel soft too, preventing wrist fatigue. 
14. Alphabet Clock
Forget conventional clocks, and take a look at this fantastic alphabet alternative instead! The product is available in four shades and has a jumble of letters on the pitch-black screen. This device lights up every few minutes to tell the time. How cool is that? 
15. TREBLAB Massage Gun
Those looking for practical Christmas gifts for doctors and office staff should consider this deep-tissue massage gun by TREBLAB. The equipment is powered by a 3400mAh battery and has seven interchangeable heads for massaging. Switch between different modes with the touch of a button! 
16. ErgoFoam Foot Rest
Our following product is this adjustable footrest made of breathable foam. This item is also covered with a mesh fabric, preventing moisture from collecting. Users can change the height of the footrest too. You can also flip it over to use it as a simple rocker. 
17. Graphic Image Leather File
If you're looking to surprise your doctor, you can get this bonded file folder as a Christmas gift for your office staff. This Graphic Image folder is available in seven bright shades and is perfect for storing essential documents and medical scans.  
18. Graphic Image Portfolio
Another unique Christmas gift for a doctor is this leather-bond portfolio in four colors. The handcrafted folder comes with a notepad and tabs for convenience. Help your doctor stay organized with this classy portfolio.  
19. Graphic Image Leather Catchall
This handmade leather catchall is the perfect Xmas gift for a nurse or doctor with messy desks. Customers can store paper clips, pens, watches, cufflinks, to even USB cords in the product. Stash all loose items in this high-quality catchall.  
20. Graphic Image Wire-O-Notebook
A refillable leather notebook, such as this Graphic Image model, can conveniently help your doctor schedule tasks and events. The wired edge allows users to add new papers to the notebook too.  
21. Autonomous ErgoChair Plus
Sporting a gorgeous ocean blue shade, this ErgoChair Plus is a comfortable piece of furniture for every workspace. The dynamic chair is engineered for doctors who work hours while sitting only.  
On top of that, the S-curve adapts to the curvature of the spine, providing optimal relief from chronic back aches and joint issues.  
22. FENGE Computer Monitor Riser
Working long hours naturally means constantly staring at a screen, so why not gift your GP this two-tier monitor riser for Christmas?  
The product also features a shelf below, which is helpful for storing an extra keyboard or other miscellaneous items.  
23. Lamp Depot Floating Moon
Other doctor gift ideas for Christmas include this unique levitating moon lamp, which floats and spins solely with the help of magnetic tension below. There are touch sensors on the base, which users can use to control light modes and temperatures.  
24. KERDOM Office Chair
If the previous ErgoChair Plus was too big for your liking, consider this modern and compact alternative for smaller rooms. The product has adjustment settings, which your doctor can use to change the height and recline.  
25. LumiCharge Wireless Charger
Almost every medical professional's desk is messy, with wires and cables sticking everywhere. However, this wireless charging and LED light dock can be a fantastic Christmas gift for your doctor. The multi-functional product is ideal for fast-charging smartwatches and phones.  
26. Lamp Depot Sands Lamp
This modern moving sands lamp comes with three light modes and an energy-saving feature to limit costs. The product can also be remotely controlled, making it a statement piece in any office.  
27. Autonomous Anti-Fatigue Mat
Help your doctor stay fit and relaxed by getting them this practical mat for long-work hours. Standing in an OT can be physically demanding, putting pressure on the lower body. However, this anti-fatigue mat with a gentle incline prevents users from feeling sore.  
28. The Office Oasis Desk Organizer
This desk organizer is a practical Xmas gift for a nurse or doctor, considering they lack space on their tables. Made of high-quality bamboo and plastic combination, this organizer can hold pens, phones, scissors, post-it notes, and even sharpeners.  
29. WalkingPad Treadmill
A foldable treadmill can be great if you want your doctor to stay active while working at a standing desk. This lightweight equipment comes with an automatic foot sensor and control, allowing you to change settings remotely.  
30. R-Go-Tools Monitor Arm
Further down the list, we have this extendable monitor arm with a modular design. The SMART functions on the tool allow users to rotate the arm at different angles. You can even create a vertical monitor when paired with this equipment. Doctors using dual monitors can benefit from such a product.  
31. ErgoFoam Support Pillow
Our last pick is this lumbar support pillow that you can get as a Christmas gift for your doctor. The product is made of breathable memory foam, which is also covered with moisture-resistant mesh. 
Recommended by professional chiropractors, this high-quality pillow can provide busy doctors with much-needed comfort and relief from back aches.  
Choosing Christmas Gifts for Doctors: Buying Guide
While there are countless gift ideas to choose from, you should think of presents that are useful and thoughtful. 
Consider the kind of doctor they are, and select the gift accordingly. This can actually narrow down your options by a lot and help you decide easily.  
Their Personality
The whole point of Christmas is to show your appreciation for others close to you. Doctors go out of their way to help us improve our lifestyle and health, so it's only natural to want to get a Christmas gift for a doctor as well.  
Understanding what the recipient likes and prefers will depend on how well you know the person. This holiday season, consider surprising your favorite doctor with a gift that goes with their personality.  
If your GP is always working late into the night, why not get them a mat for anti-fatigue support? Such an item can prevent strain on their lower body, especially in the OT.
On the other hand, decorative pieces such as scented candles or lamps can also be fantastic Christmas gifts for doctors and office staff.  
Consider hobbies and what your doctor likes to do when not working as well. This way, you can get them a present that they can use outside of their offices too.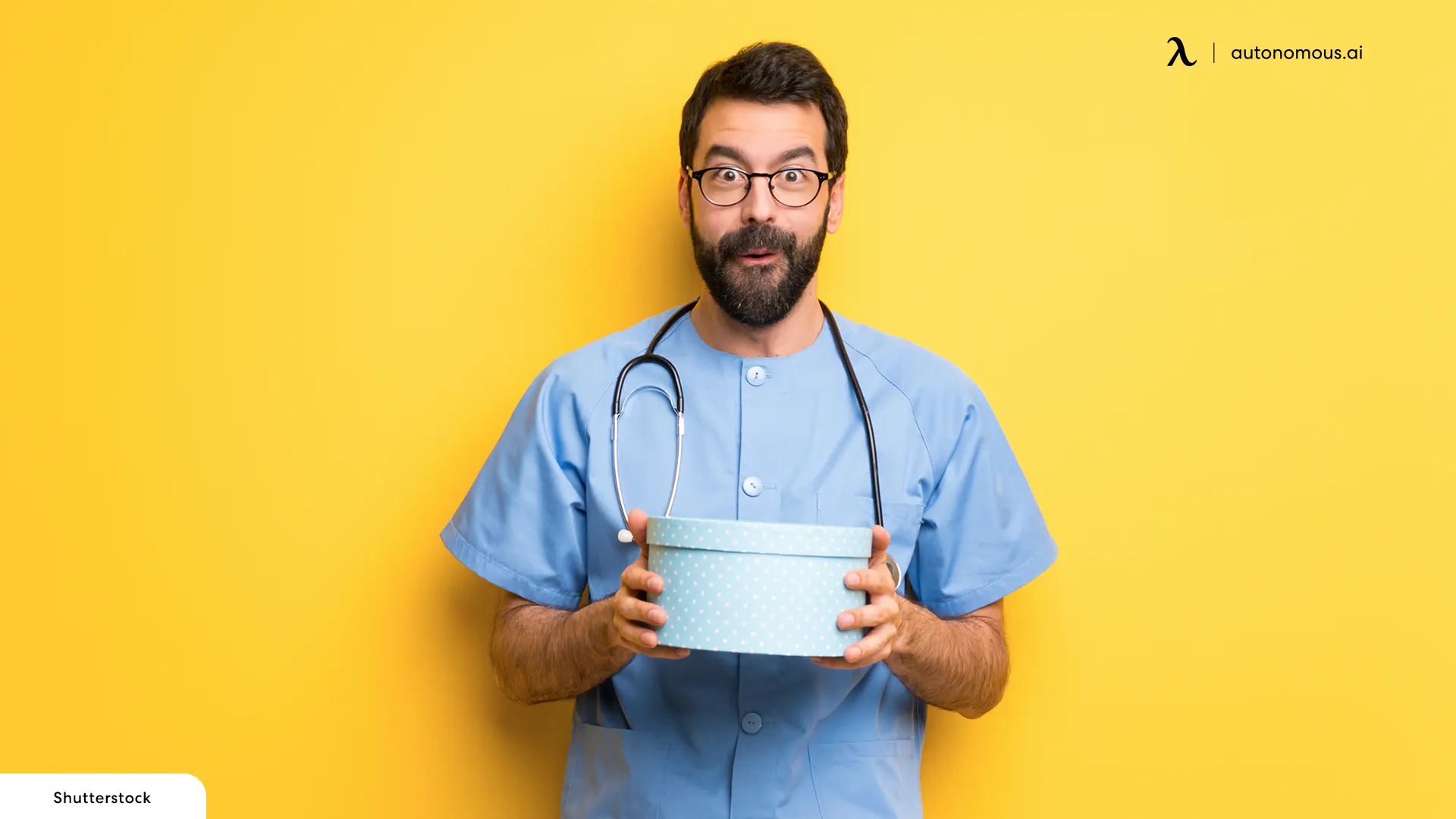 Your Budget
Christmas is quite an expensive holiday, considering everyone is getting someone something. You don't want to spend a lot of money on just one gift and put almost no effort into another.  
Look for items that are on the affordable side, while still letting you show that you put a lot of thought into the gift. There are many options appropriate for medical professionals that won't break the bank, such as practical desk accessories.  
Product Design
Unlike family and friends, medical professionals will probably not appreciate gifts that make too much noise, especially if you want them to showcase them in their workplace. 
As a result, presents such as speakers, Bluetooth headphones, or loud mechanical keyboards aren't the best ideas. 
The best Christmas gift for a doctor will be practical, thoughtful, and affordable. You don't need to splurge a fortune to get your trusted physician something special for Christmas. 
Items like computer accessories or even an orthopedic footrest can put a smile on your doctor's face.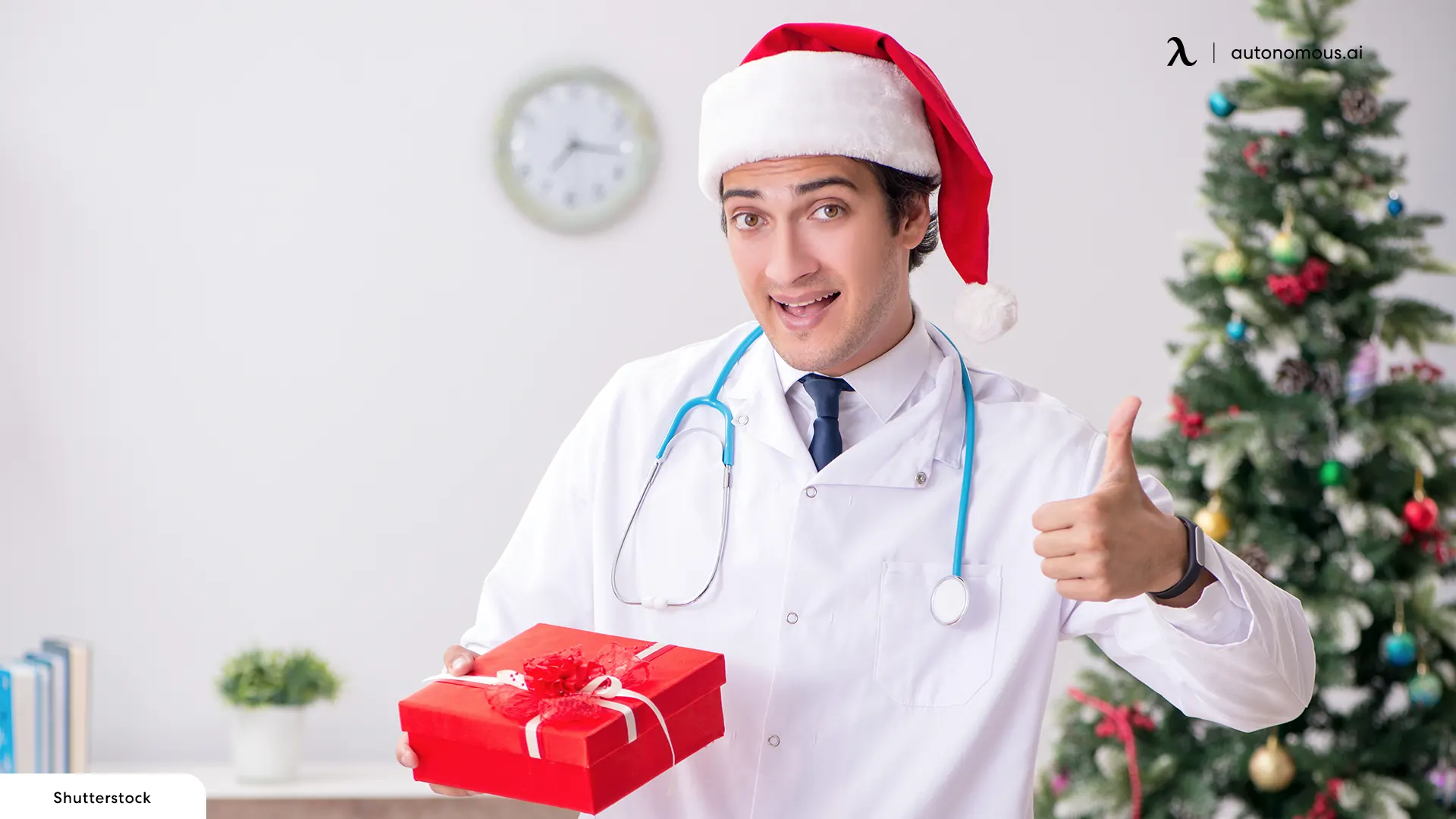 Why Thoughtful Gifts Matter During Christmas?
Like most holiday seasons, Christmas is a time to show your close people how much you love and appreciate them by giving. The entire point of a gift exchange is to create long-lasting, tangible memories that the recipient will cherish for life.  
Doctors are among the most important individuals around us, with some medical professionals becoming as close as friends.  
Many doctors with years of acquaintance also become family members at some point, so why not give back something to them for their services? Unique and functional chair accessories can be a great Xmas gift for a nurse or trusted doctor. 
Conclusion
It's essential to choose a practical Christmas gift for your doctor, so they can use it for years. Consider your GP's hobbies and needs when shopping for any holiday present.  
All of the doctor gift ideas for Christmas that we've listed today are budget-friendly, unisex, and come with easy instructions.
Subcribe newsletter and get $100 OFF.
Receive product updates, special offers, ergo tips, and inspiration form our team.
WRITTEN BYAutonomous
We build office products to help you work smarter.