Latest Updates
Amazing Office Christmas Gifts for Coworkers & Staff

Laura Turner
|
Nov 19, 2023
3,327 Views
It's that time of year again when you curl up in your bed and prepare for the vacation season to begin. This joyful season of Christmas is approaching us, no matter how cold it is outdoors.
If you're the owner of a company or in charge of a talented crew, Christmas Eve is the ideal moment to express gratitude towards your coworkers and employees. 
Buying gifts, on the other hand, is a difficult task, especially when it comes to buying office Christmas gifts for employees. You must also make sure that you buy office Xmas gifts that don't burn a hole in your pocket (unless you can afford them). 
Therefore, to assist you in choosing the ideal holiday present for your colleagues, we've put up a list of amazing coworker Christmas gift ideas to brighten their spirits this holiday season.
Office Decoration Christmas Gifts for Coworkers & Staff
Amazing Office Christmas Gifts for Use
1. Comfy Cushions
It's not easy to work for hours when sitting up straight in a chair. Employees frequently suffer from backaches and other muscle-related difficulties because of this condition. If you want to assist your employees in resolving this issue, you can give them beautiful cushions to use for more comfort while working for long hours. 
2. Bonsai Tree
Here is another interesting idea of office Christmas gifts for you. Green is associated with peace, prosperity, and health. The hue green also has a calming impact on our brain, and it can be found in nature all around us. 
If you're looking for a gift for your employees that promotes both nature and color, a bonsai tree is an obvious choice. A bonsai tree is a little plant that can be kept on a person's desk. It can clean the surroundings and improve the appearance of the employees' desks, as well as their mood at work.
3. Fitness Equipment
You can gift personal fitness equipment to your staff if they are particularly health-conscious. This might include items like a power twister arm, resistance band, jump rope, yoga mats, treadmills, and other items that can help your workers to exercise at home.
4. Digital Photo Frame
A picture speaks a thousand words. They store the feelings of the person with whom they are attached for a lifetime. If you want to add to the delight, you might give your staff a digital photo frame; that could make a great Christmas present.
5. Desk Accessories
Everyone loves some desk accessories to upgrade their office desk into something that stands out, therefore, consider gifting your employees a cork desk pad, a magnetic office organizer, or a vegan leather desk mat. If you or an employee have ever had a leaky pen ruin a desk, coffee spills, or ugly scratches from a bracelet or cuff link, you understand the need for a desk pad.
Both of these office Christmas gifts options are great for organizing your desk and keeping it clean. Doing this can motivate your employees and create a sense of belonging in the office. A high-quality desk mat is needed to protect an expensive desk. 
6. Standing Desk Mats
Switching to a standing desk can help ease the soreness that comes with sitting for long periods of time, no matter where you work. While working at a standing desk relieves back strain, standing for lengthy periods can put a strain on your feet, knees, and legs. That's where a standing desk mat might help you stand more comfortably for long hours. Autonomous standing mats make unique office Christmas gift ideas.
7. Boards
This is a gift that is relatively new to the market. Using a balance board at your desk keeps your core, lower back, and leg muscles engaged throughout the day. It also works your tiny stabilizer muscles, which aid in the burning of up to 100 calories every hour. Therefore, this could be a great gift idea for anyone at the office as not many people have the time to go to the gym. They can simply stand on the flow board and get to work while burning calories simultaneously.
8. Wireless Charger
Wireless chargers are among the most popular cell phone accessories. If your coworker has a Qi-compatible (wireless-charging ready) phone, instead of the candy-scented candle, get them a wireless charging pad. The Lumicharge Magnetic Wireless Charger is an excellent choice. 
9. Pen Holders
Pen misplacement should be recognized as a natural human trait. How often do you misplace your pen and then have to buy a replacement or borrow one from a coworker? "Most of the time" is likely the answer for most people. If you want to help your staff prevent this situation, you can give them pen holders for Christmas.
10. Monitor Arm
In companies that are mainly computer-based, such as coding, IT, and marketing companies, a monitor arm may be a great Christmas gift for employees or coworkers. 
Strain, dryness, and even blurred vision can occur without proper care. Monitor arms alleviate these problems by allowing the worker to adjust the height, position, angle, and distance of their monitor screen to ensure that they aren't straining their eyes while working. 
11. Humidifier
This is possibly the most creative coworker office Xmas gifts we've ever seen. The USB-powered humidifier is a brilliant workplace addition that floats easily in a glass of water and emits moisture to counteract the dry winter air in their office.
12. Movie Tickets
This is another Christmas gift idea for office staff for your consideration. It's fun to spend time with your loved ones while watching a fantastic movie. Isn't there anything better than giving your staff this experience by funding their movie tickets? 
All you have to do now is make an announcement about this unique present and purchase tickets on behalf of your employees depending on their preferences.
13. EchoDot
These unique office Christmas gifts may surprise your teammate. Hire a personal assistant for them! Alternatively, at the very least, get them this voice-controlled smart device, which is the next best thing. It can send meeting alerts, read the news, check the weather, play music, and more. It comes in four colors. 
14. Infusion Water Bottle
This infusion water bottle can keep your favorite coworker hydrated. Simply combine frozen or fresh fruit with still or sparkling water to enjoy a fresh water break. This is such an office Christmas gift for you.
15. Inhalation Tabs
Help your employees relax after a long day (or re-energize for the next one) with these aromatherapy tabs, which can be stuck inside their mask, on their chest, or on their bed to allow them to breathe in the aroma. Choose scents that promise to relax you, help you sleep, energize you, or boost your overall health. 
16. Bottle of Wine
If you have a larger budget for Christmas gifts for your staff, a beautiful bottle of wine is an excellent choice. You may also include it as an optional item in your Christmas gift basket for your workers. However, before you give this to an employee, make sure they like wine and aren't a teetotaler.
17. Pop Fidget Toys
This holiday season, fidget toys are back, and they're more fun (and colorful) than ever. These office Christmas gifts are excellent for toying with during long Zoom sessions and imitate the addictive feeling of popping bubble wrap.
18. Extended Vacation
Who doesn't appreciate an extra one or two days off? 
Even you can't deny how pleased your employees can be if you add a few additional days to their vacation as a sign of appreciation. Giving them this extra time away should not only increase their holiday cheer, but it can also portray you as a responsible employer that cares about his or her workers. 
19. Food Coupons
Another great idea to let your staff celebrate Christmas despite the pandemic is to provide them with meal coupons that they can use at any restaurant. This kind of gift is incredibly cost-effective and gives your employee's gifting scheme more options. You can opt it for your coworker's Christmas gift ideas.
20. Pop up Note Camera Dispenser
A note dispenser for their desk might be a hit with your colleague. It spits sticky notes instead of Polaroids and livens up a monotonous desk full of office supplies with a faked shutter and flash. 45 sheets of Super Sticky Post-Its are included with the camera. It's also weighted, so it stays in place while employees grab sticky notes on their way to meetings. 
21. Neck Pillow
One of the primary priorities of companies is to ensure that their employees are comfortable while at work. Suppose that your workers must travel for work frequently. In that scenario, a neck cushion can be a fantastic Christmas present for them. 
22. Cold Coffee Crew Bottle
With this cold brew bottle, give the non-morning people at your office a portable way to get their caffeine dose. They can create a fresh cold brew the night before, then remove the filter the next day for a lovely and excellent cold brew coffee.
23. Gift Cards
Every business gift idea list has always included gift cards as a top pick. It is the most versatile present a company can provide to its employees. Furthermore, the nicest part about providing gift cards to your employees as a Christmas gift is that they can use them however they choose. All you have to do now is purchase some ideal gift cards and distribute them among your staff. 
24. Christmas Gift Hamper
If you want to make your staff happy this Christmas, consider sending them a gift basket stocked with a variety of festive items. The real advantage of offering such gift baskets is that you may select a variety of goods and then combine them into a single hamper. Chocolates, marshmallows, good-quality coffee, and other goodies can be included. 
Sum Up
We hope that we've given you some helpful office Xmas gifts for the office! The joy of Christmas isn't just restricted to our immediate families. However, we share our joy with everyone at our separate workplaces. Wrap some of the above ideas and make your Christmas more enjoyable!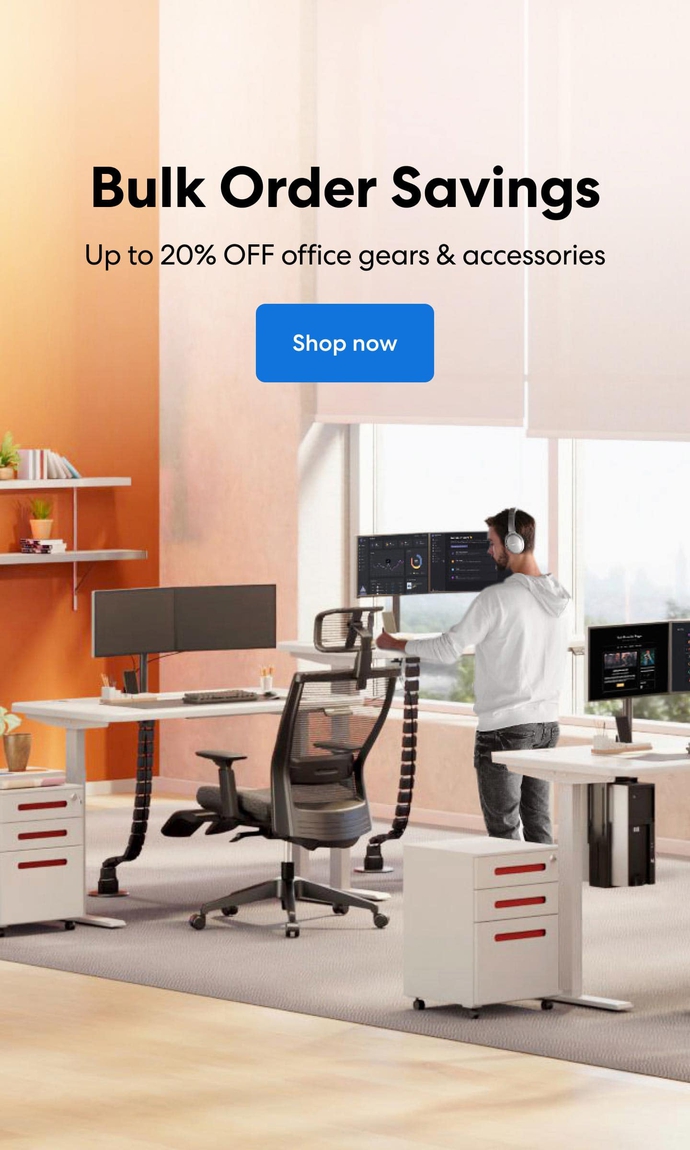 Subcribe newsletter and get $100 OFF.
Receive product updates, special offers, ergo tips, and inspiration form our team.