Smart Products
5 Best Resistance Band Bars for Home Workout Effectively
1,597 Views
Working out at home continues to get more popular than it ever has before, and people are always looking for the next implement that can help them work up a good sweat and reach their fitness goals. A resistance band bar often finds itself in this conversation for good reason.
They offer a tremendous number of benefits, and they are also diverse enough to be used in an outstanding number of ways. Additionally, they don't have a large footprint requirement and they are lightweight enough to be transported easily.
When you have something that gives you a full-body workout at home or on the go, you had best believe it's going to gain a lot of traction. Some people can afford to put a gym workout shed together and a resistance band bar can fit right in. However, others can't, and the bar can still fit right in.
After all, you can use it just about everywhere. So, what can you expect to see as you read here today? Well, you're going to be learning more about these implements and you should be able to pick out the best resistance band bar by the time you're done.
Who knows? You may be looking for solid workout equipment that can be purchased as gifts for gym lovers.
This is a great place to look. After you've been acquainted with what these bands are and how they're used, you are going to be provided with a list of some of the best ones on the market for you to choose from. At that point, it becomes effortless for you to weigh up the pros and cons.
What Is a Resistance Band Bar?
This is a fundamental, yet very important question to answer before going any further. You are likely familiar with the concept of resistance bands. If not, they are rubber-based bands that allow for a stretching capability when force is applied.
Each band requires a certain amount of force to move it, making for varying levels of workout intensity. For example, you may purchase a 50-pound resistance band. In this case, you would have to generate enough force to move 50 pounds to stretch the band.
You could achieve the stretching through overhead presses, curls, chest pulls, etc. You choose your resistance level based on the kind of workout you want and your strength level.
A resistance band bar is a bar that allows you to attach resistance bands to it, which makes positioning for exercises that much more convenient. Again, you can engage your muscles with what feels like weighted exercise bars with bands, without having to purchase actual weights or invest heavily in expensive exercise equipment.
Bars can differ in shape, being straight, bow-shaped, or even taking on the appearance of EZ-curl bars that you'd use in the gym.
What Can You Do with a Resistance Band Bar?
As indicated before, resistance bands happen to be incredibly versatile. One of their biggest strengths is being able to provide the same functionality cable pulling machines would. Once you have a suitable mounting point, the sky's the limit.
There are resistance band exercises for just about every area of the body. Here are some examples of movements you can consider if you're looking to bring a resistance band bar into your routine:
Chest flys

Tricep pushdowns

Squats

Lunges

Bicep curls

Pushups

Front shoulder raises

Side shoulder raises
Bear in mind that this is not an exhaustive list, and you're encouraged to do some research to find out just how much this implementation can do for you.
Resistance Bar Types
As you try to pin down the best resistance band bar, you're going to notice a few different types. Mainstream imagery would have acclimatized you to the straight bars. However, these are not the only ones out there.
Straight bars are indeed the most used ones, and you find that they are easy to acquire. Attachment areas are present on each end, though some have an additional notch in the center for different exercises. You can find these bars in long or short sizes, the latter of which typically only bear one attachment area which you find in the center.
Bow bars are next, and they get their name from the curved style on both sides, which gives them the appearance of a bow. The subset of workouts that you can do with these are not too far removed from their straight counterparts, but these have a smaller footprint.
Curl bars are a lot like the EZ curl bars you would use at the gym for your bicep curls and other exercises that you may not necessarily want an Olympic bar for. The advantage to using one is that you can take advantage of both dedicated wide and narrow grip areas, which means it's that much easier to target muscles from different angles.
Actions to Avoid
When people get their hands on resistance band bars, they often want to go wild with them. It's understandable, considering they're meant to serve so many different functions. You could even make office gym equipment out of these.
Nevertheless, you must remember that everything has its limits, meaning that you don't necessarily want to go crazy, since you may end up damaging the bar or even putting yourself in the hospital.
With that said, here are a few things that you want to avoid doing with your band bar:
Do not stray from using resistance bands with them. The attachment areas may look conducive to other pieces of equipment such as chains with weights attached to them. You are going to end up hurting yourself or destroying something since the structure of the bar is meant only for resistance bands.

Pay attention to the weight capacity and stick to it. If not, you risk causing serious accidents. It can be alluring to try using the bar for pull-ups, but you are putting yourself at severe risk by doing so.

Since there are so many similarities to cable machines, you may find yourself tempted to use the two together. This is not recommended. Do not attempt to use your resistance band set with your cable machine, no matter how well it may seem to go together.

Avoid taking any action that the package warns you against. Manufacturers know what they have built their products to withstand, so it's in your best interest to listen to any warnings that are put out there. Use the resistance band set as it is intended to be used.
Top Resistance Bars
1. BODYGYM 2.0 Bar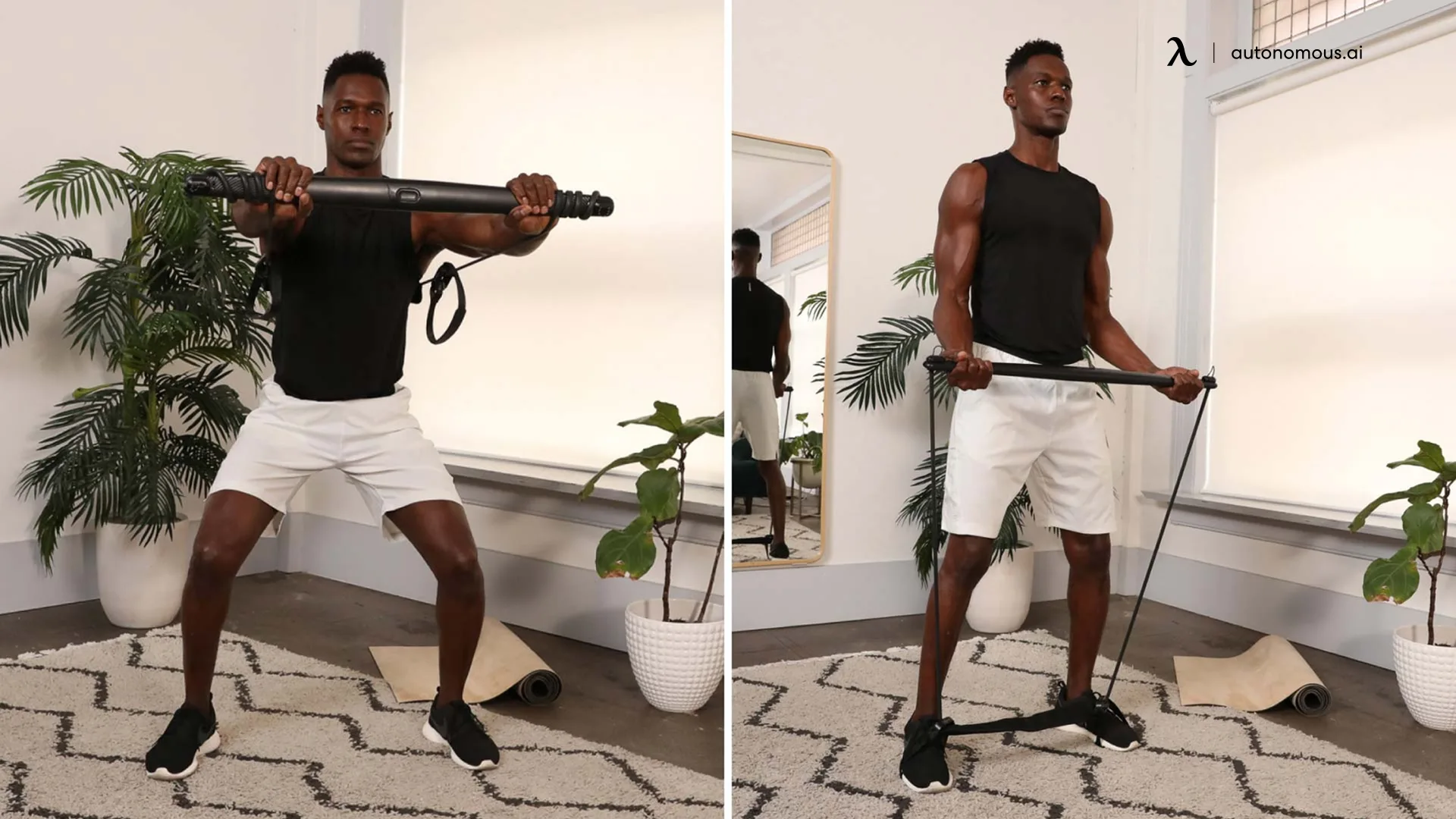 The first resistance band bar on the list is none other than the BODYGYM 2.0 Bar, which allows you to effortlessly replace thousands of dollars of gym equipment.
It's what is known as a level two resistance band sets, meaning you can get resistances of anywhere between 10 and 40 pounds. You need only turn the bar and have your resistance increased.
Portability is a big part of what makes this one so excellent as it weighs less than 2 pounds and it even snaps apart for you to store it conveniently. This is only reinforced by the inclusion of a convenient carry bag.
There is a comfortable ergonomic design here, which is desirable for anything you may be holding for a long time. Much of this comes from soft silicone and padded support, meaning that movements don't seem awkward, and the feel of the product is impressive.
After owning this product, you may seriously start wondering why you ever sought garden gym equipment or weights in the first place. You can even separately purchase different bands to increase your band level to three or four. At the final level, you can go all the way up to 80 pounds of resistance.
Note that if you're unsure what exercises to do or how to capitalize on your new band bar the most, there is that guidebook included to help you get started. There is even a convenient app for greater support. Over 150 exercises can be effortlessly performed with this one.
2. Bodylastics Collapsible Curl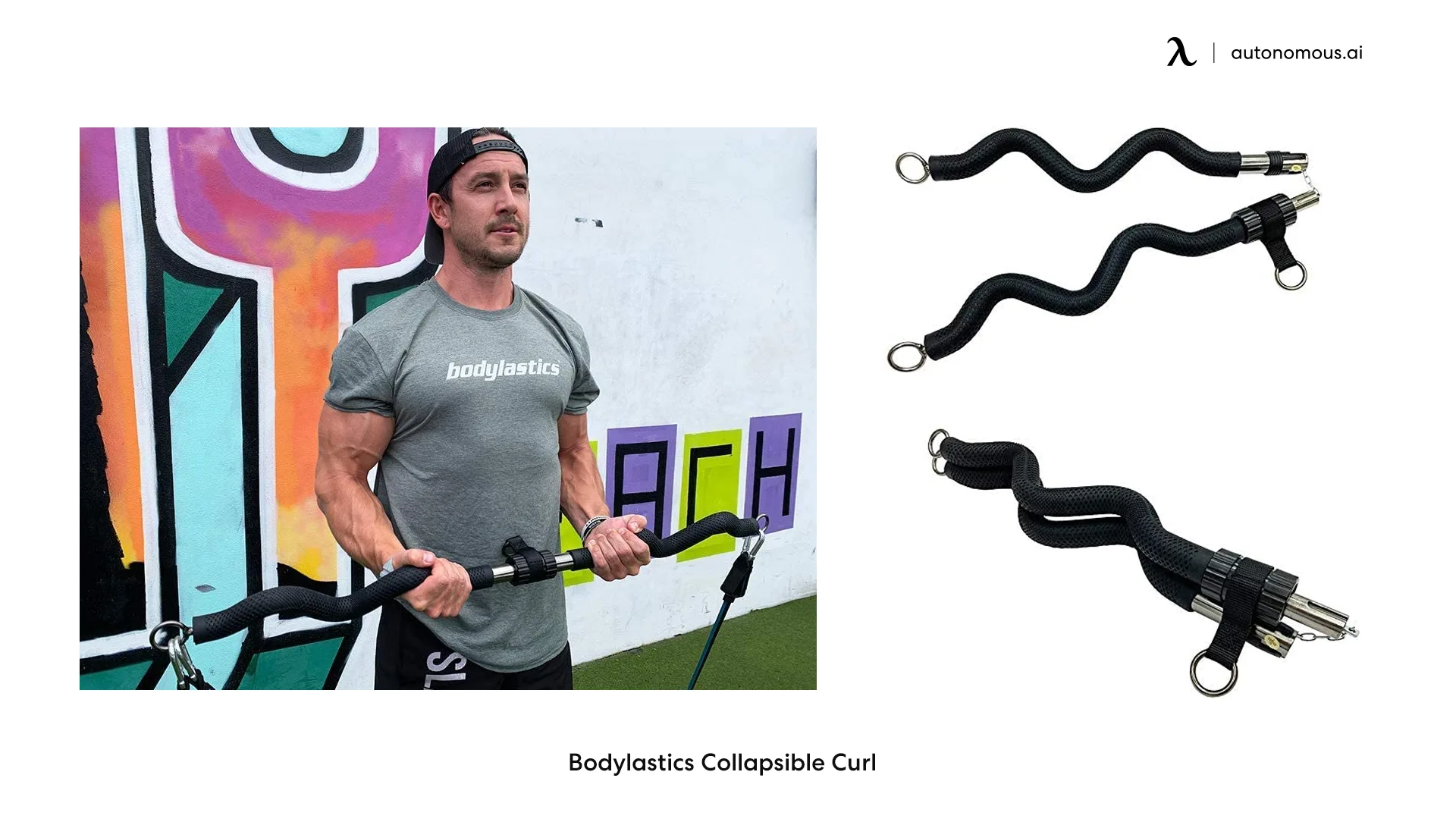 This bar is one of those that has the EZ curl composition, meaning you can take advantage of different grip angles for the most comprehensive workout possible. You can attach your bands on either side, or you can use the middle.
Though you are unlikely ever to use such a large number, testing concludes that the steel pipe at the center of this bar can handle up to 750 pounds of resistance.
Thankfully, you don't have to hold the steel directly, as the non-slip rubber grip makes for tremendous comfort. You may have noticed the use of the word "collapsible" in the name, and that's more than a throwaway word.
Though you can always keep both halves connected, you can collapse the bar, making for easy storage on travel, while preventing you from losing either half.
Note that you don't get resistance bands with this one, so you're going to need to purchase them separately.
3. Innstar Portable Gym 3.0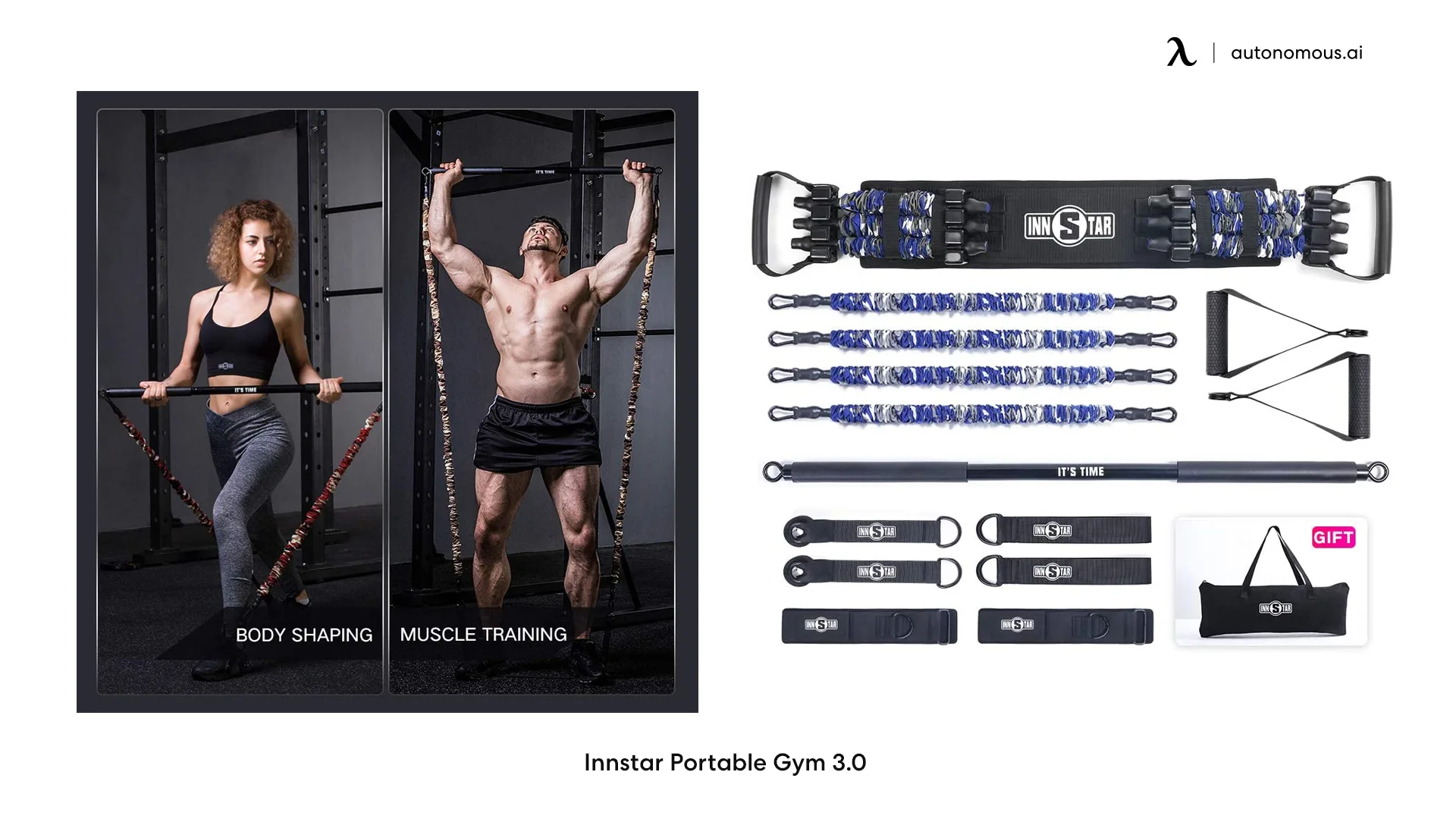 If you want to make a resistance band bar as close to professional workout equipment as possible, this is probably the one you would choose, based on all you get out of the box. A host of accessories are included, as well as resistance bands that range from those designed for female use to those designed for pro bodybuilder use.
At the highest level, there is a bench press band that offers a whole 200 pounds of resistance. Some of the other inclusions are a bench press device, ankle straps, feet bands, rubber handles, and standard resistance bands.
4. Anazao Fitness Gear Multi-Myo Strap Bar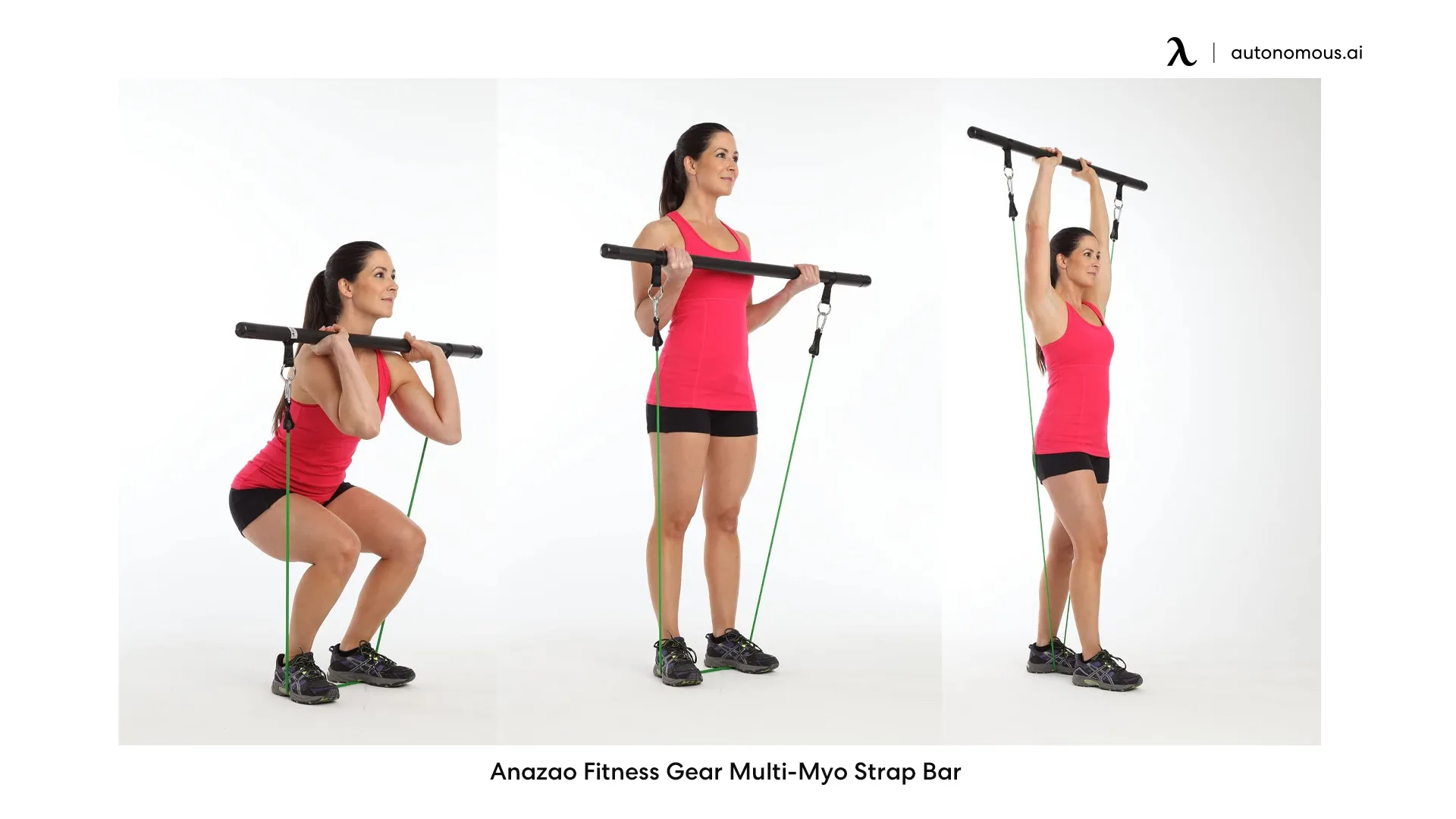 The greatest asset of the Multi-Myo strap bar is its simplicity. It's a straight bar design made of pure steel for high durability. However, it's fitted with rubber grips to make holding it that much more comfortable.
Note that the maximum resistance it can handle is 150 pounds, which should be more than enough for most standard users. However, the resistance bands here are not included, so be prepared to purchase them separately.
It only weighs 2.2 pounds, making it very convenient for storage and travel. This is probably also a good time to note that there's a 360-degree smooth rotating travel bushing on each nylon strap.
5. Gorilla Bow Portable Band Bar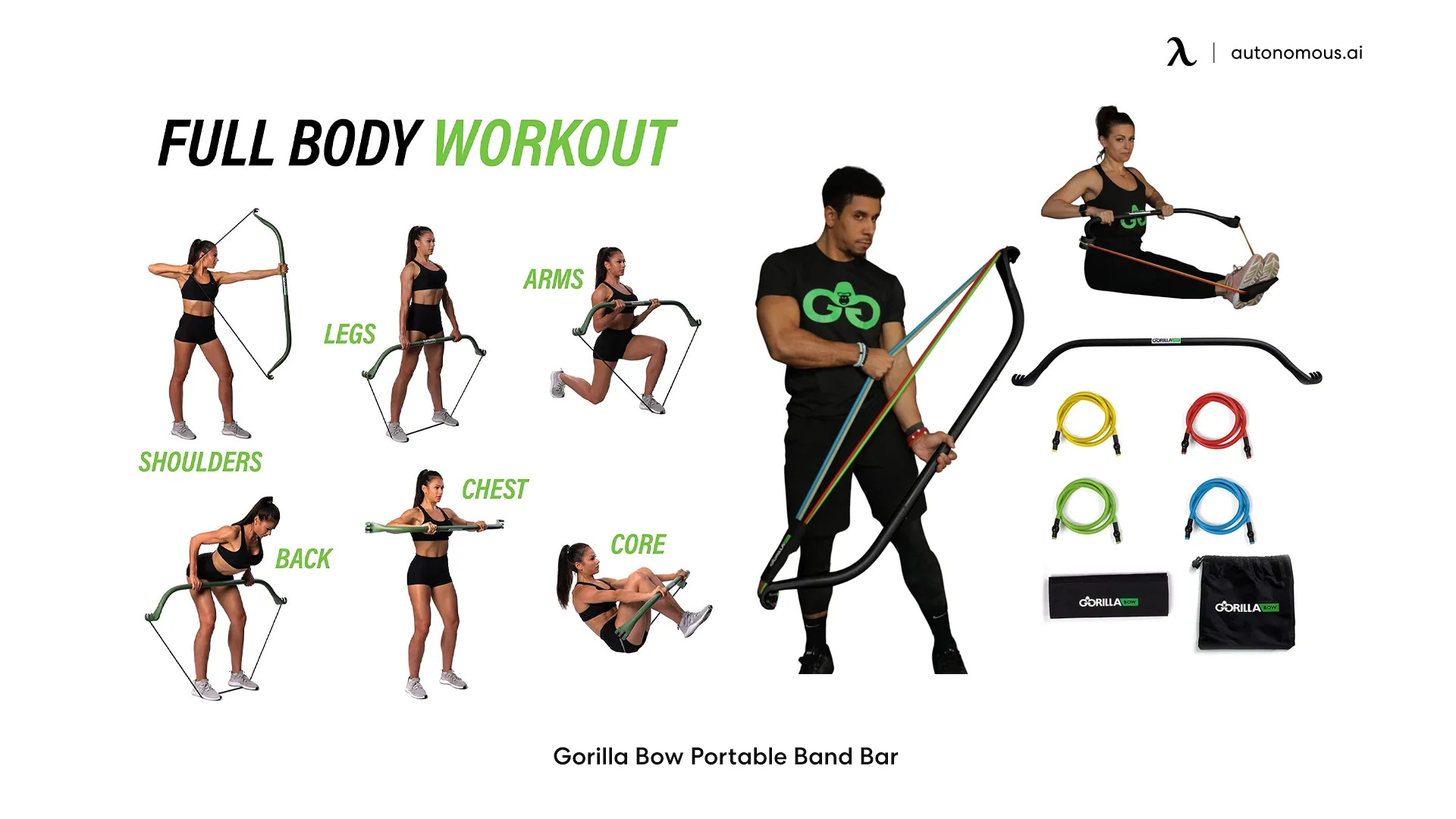 The final bar on the list happens to be the only one here that features the bow style. Nevertheless, it happens to be highly regarded in the world of exercise equipment for its quality design featuring very high durability.
Additionally, the fact that it can accommodate four resistance bands simultaneously is another huge plus. Sometimes, the bands you have are not enough to meet the resistance you would need to challenge you on their own.
Therefore, it helps to be able to combine resistances to meet the number that you want. Note that there are three separate models of the Gorilla Bow Bar, yielding differences in style, size, weight capacity, band colors, resistance levels, etc.
Here's a quick look at the different options:
The lite version is first and weighs only 3 pounds with a bar length of 48 inches. It handles a maximum of 120 pounds of resistance and includes three bands that total 60 pounds

The original variation is next and is the standard version. It weighs in at 6 pounds and measures 56 inches. The maximum resistance is 300 pounds, and it includes four bands that weigh a total of 110 pounds.

The travel style has all the same metrics of the original variation, but it's optimized for travel by modifying the bar, such that it can become a three-piece unit and better suited for packing.
Final Remarks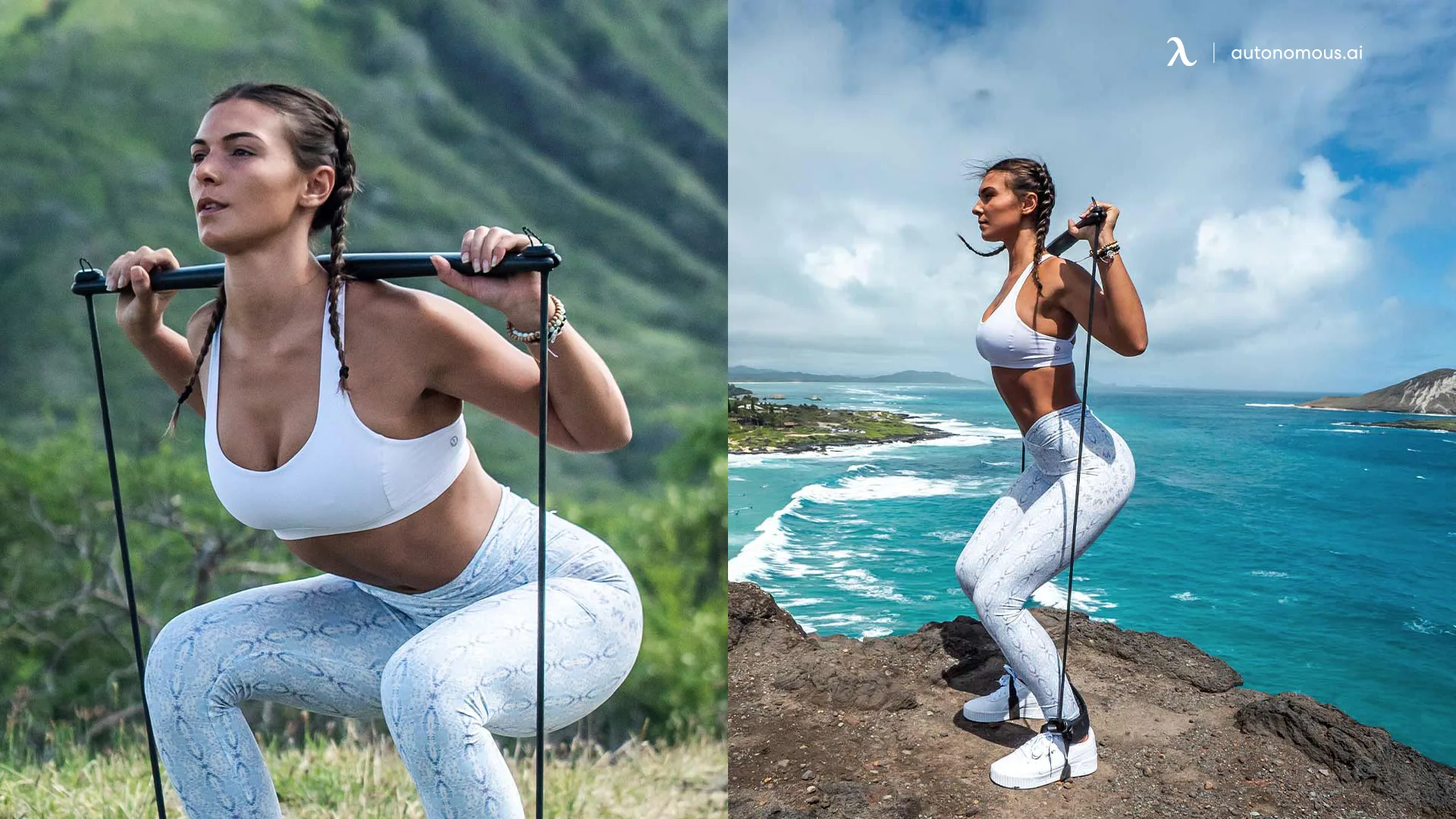 Clearly, it's more than just a random workout bar with bands. This is a solid piece of home workout equipment, and just about anyone can use one, regardless of their fitness level.
Having an inexpensive way to challenge your body and work on your cardiovascular state, as well as your fitness is a blessing. Any of the options presented above can make for an excellent addition to your current workout regimen.
If you don't already have a routine in place, then there is no time like the present to start, and you now have an incredibly valuable piece of information to push you forward in the right direction.
Hey, you have special pricing through your company.
Get exclusive rewards
for your first Autonomous blog subscription.
WRITTEN BYAutonomous
We build office products to help you work smarter.