Workplace Inspiration
5 Steps For A Bedroom Recording Studio Setup
311 Views
Before we get to the steps, let us clear something up. Is setting up a recording studio in your bedroom a good idea? A small bedroom home recording studio might be the best option if you are just starting recording. We will look at the benefits and steps to create a home recording studio and then at some bedroom recording studio ideas.
Benefits Of A Bedroom Recording Studio
Here are some benefits of a bedroom recording studio setup:
Unlimited Time
When recording at a professional studio, you must keep track of time. You have to ensure that you record within the time slot allotted. This can have a negative impact on the quality of your project, as you may feel rushed while recording. A home studio gives you unlimited time to record.
No Need to Travel
Another huge advantage of a bedroom recording studio is that your traveling time will be reduced. This will be beneficial in the long run as a lot of time can be saved while recording in a home studio. According to research, commuters waste countless hours stuck in traffic every year.
Furthermore, you can start recording whenever you feel like it.
Steps To Make Your Own Bedroom Recording Studio
Now that you have decided to build your recording studio, the next step is to figure out how to do that. Here are some steps you can follow to build the perfect small-bedroom home recording studio in no time!
Step 1: Pick A Room
If you are setting up a recording studio in one of the bedrooms in your house, chances are you don't have many options. However, you still have to consider some factors while deciding which room can be turned into a recording studio. Setting up the gear is a small part of the process; the important part is the planning. Choosing wisely can benefit you for the years to come.
The aim is to get yourself a place where you can record any time of the day without causing much disturbance to other people living in the house. Another thing to keep in mind is that you will need a place that doesn't get disturbed often. Choose the room furthest from noisy neighbors and family members. You can even get yourself a privacy pod to ensure that you remain undisturbed.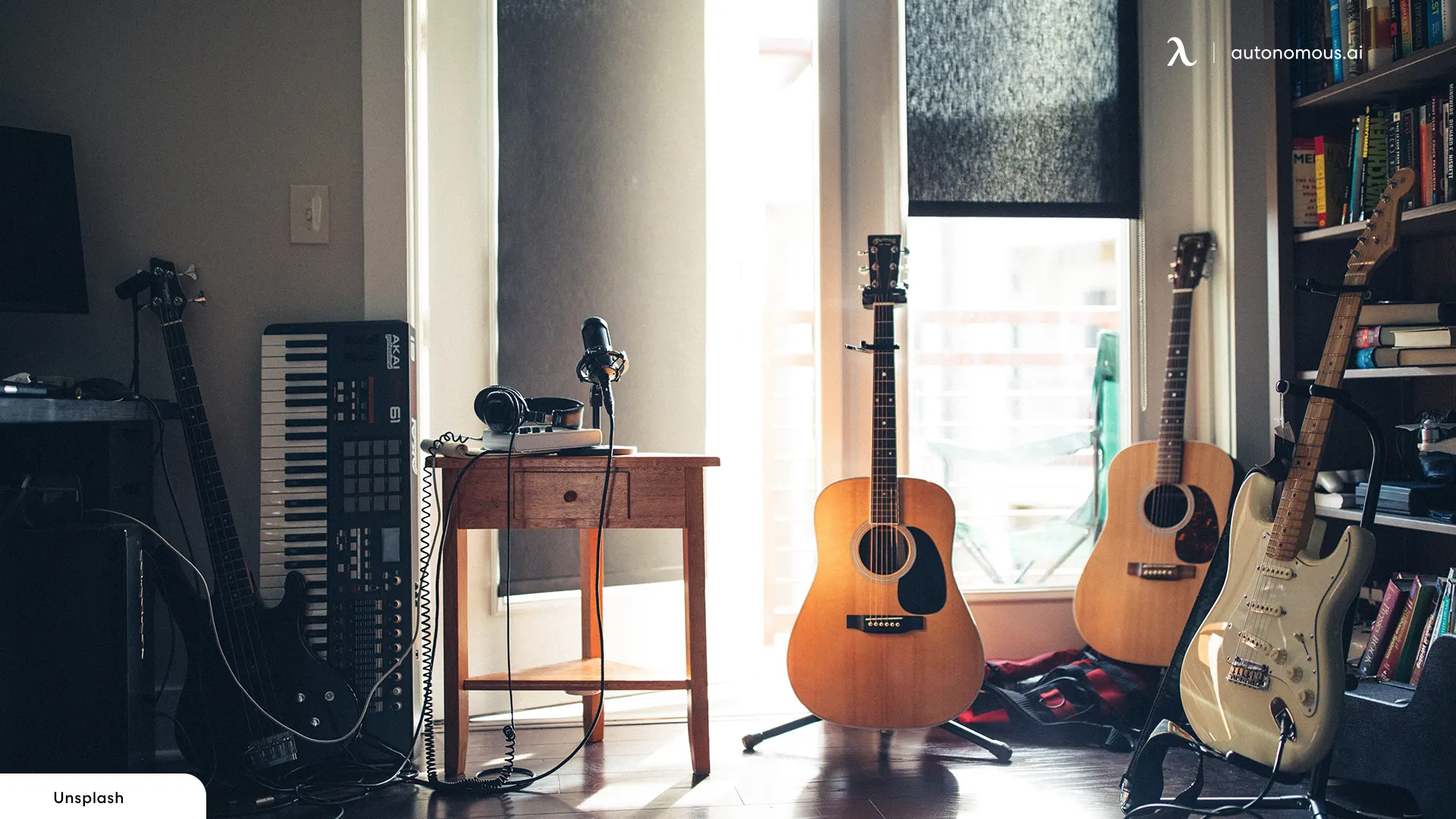 A few things you should try to avoid are low ceilings and square rooms. Choosing a room a bit far from the rest can also work wonders. If you don't have any room that you can use, you can look at prefab studio sheds and small prefab cabins. These won't take up much space in your house and will give you the perfect room for a home recording studio.
Step 2: Soundproofing
Even though you have tried your best to find a room with relatively fewer noise disturbances, you will still need to soundproof it to some extent. This is because even low sounds are amplified while recording and can interfere with the quality of your recording. A soundproof room will prevent outside sounds from messing up your work while also allowing you to work without disturbing others.
Step 3: Clear The Room
Now that you have selected a room, you need to get rid of any and every extra thing in that room. This might be a little difficult as you are using your bedroom as a recording studio, but you should keep only the necessary stuff in the room.
Step 4: Modify The Room
After selecting, clearing, and soundproofing your new small bedroom home recording studio, you will still have to make some modifications to the room. This is to make it suitable for professional recordings. You can start by getting some absorbers for the room. A combination of both resonant and porous absorbers is usually the most effective.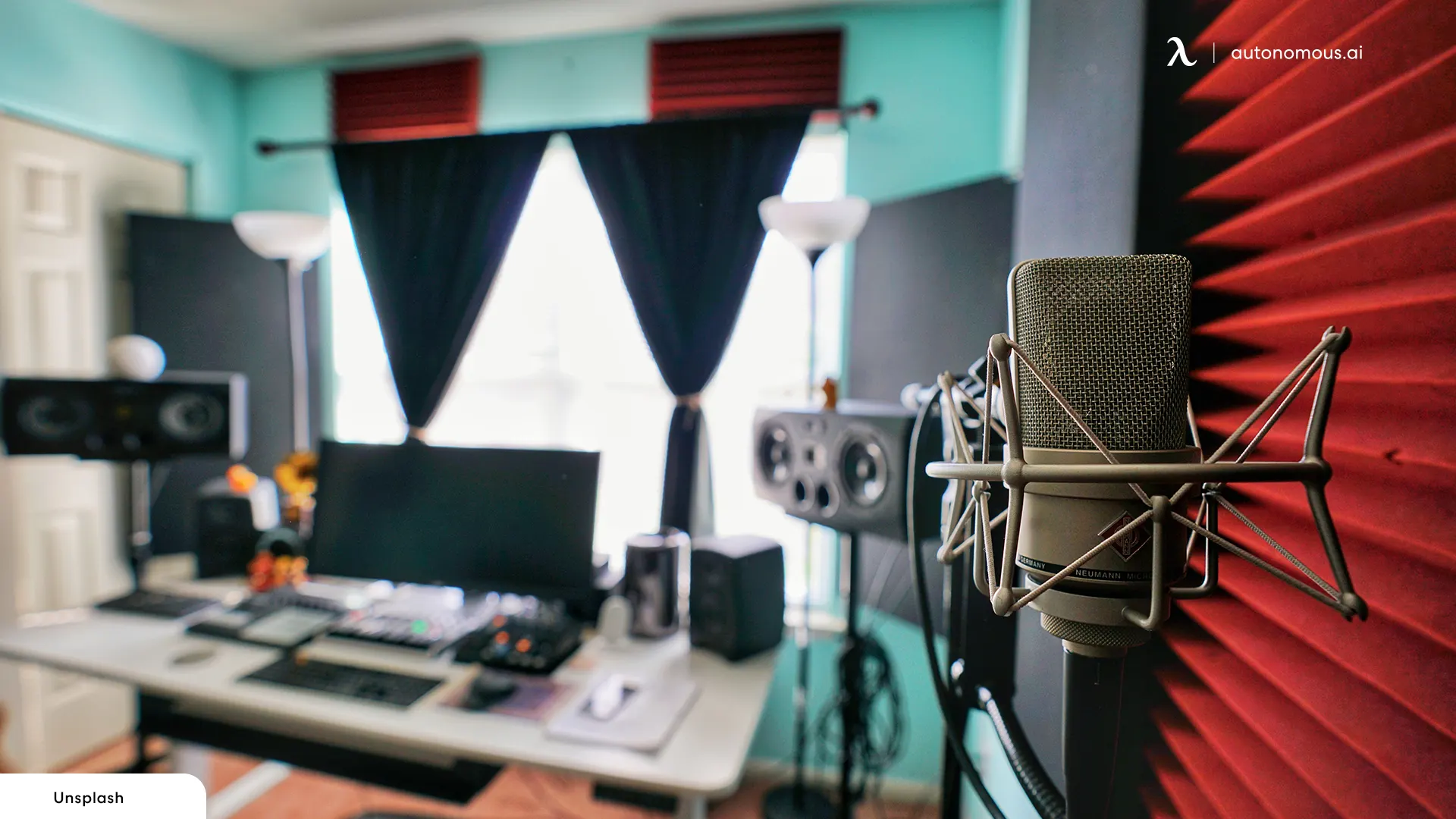 Furthermore, you should also add some acoustic panels and diffusers to your bedroom recording studio setup. This step might seem trivial to you initially, but it can prove to be very harmful in the long run.
Step 5: Set Up The Gear
The fifth and last step is to purchase and set up your recording gear. A few recording studio essentials are a mic stand, some headphones, a chair, a desk, a computer, and other gear you use.
How you arrange these items is completely up to you. You can experiment with different setup arrangements until you find the one that works the best for you.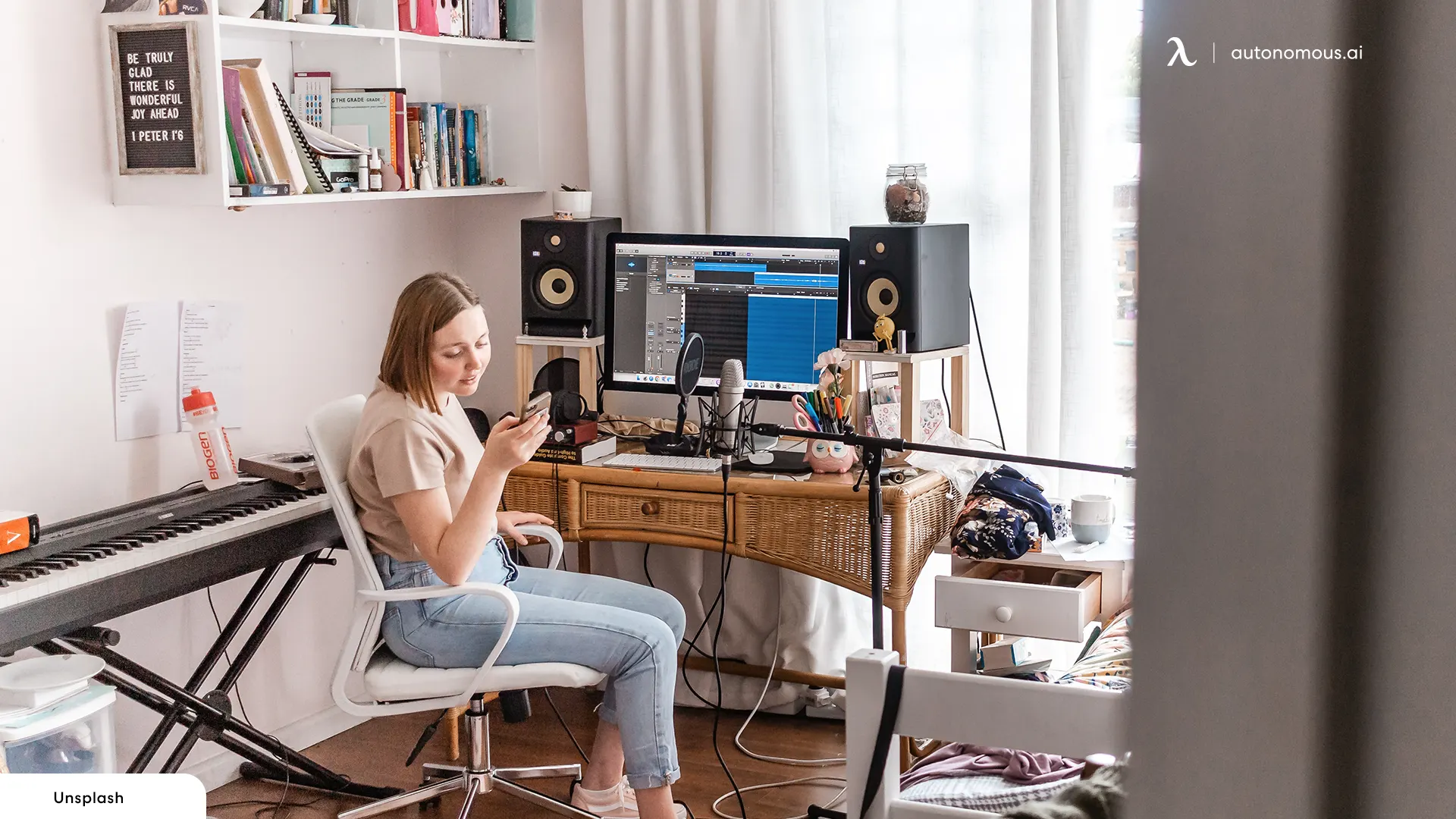 There is really no right setup. You just need to keep trying different arrangements until you come to one that works perfectly for you, and then stick to it.
Other Small Bedroom Recording Studio Ideas
While considering bedroom recording studio ideas, be sure to look at prefabricated ADU (or called prefab ADU) and home office sheds as well. These let you add extra space to your house that you can use to build your recording studio. The best part is that these are easy to install and allow you to design them however you prefer.
In conclusion, a bedroom recording studio helps you save time, improve quality and keep all your gear in the same place. These are usually not very difficult to set up as you just have to choose the right room, clear some space, and make some modifications. Then, all you need to do is to buy your equipment and set it up.
Remember that you can set up your studio however you want to. There are just a few necessary studio gear items that you must include. Other than these, you can select any arrangement you prefer. Even if you get it wrong, you can easily shift things to change them. Lastly, if you cannot find a suitable room to turn into a bedroom recording studio, consider StudioPod.
Hey, you have special pricing through your company.
Get exclusive rewards
for your first Autonomous blog subscription.
WRITTEN BYAutonomous
We build office products to help you work smarter.