Smart Products
8 Best Office Chairs for Graphic Designer Sitting All Day

Mark Hernandez
|
Aug 26, 2023
787 Views
Did you know an average person spends approximately 51 hours sitting a week? Most of these hours are spent sitting at work. Sitting for prolonged hours results in back problems and neck aches due to bad posture. To solve this issue, we have developed the best office chair for long hours, providing you with the ideal level of comfort while working.
This article offers an in-depth exploration tailored to the discerning audience of designers, delving into the realm of executive office chairs designed for extended periods of sitting. Here, you'll uncover the pivotal features and considerations crucial when selecting an office chair for graphic designer that not only prioritizes impeccable design but also fosters optimal posture, combats fatigue, and ultimately elevates the overall work experience.
Why sit in an uptight chair feeling cramped and torturous as you work long hours at the office or the home office? It feels just like sitting in an economy seat of a long-haul flight, cramped and tired! Some folks believe sitting cross legged on a chair is a good idea. But is it?
In today's context, where the pandemic has reshaped work environments, many of you have found yourselves confined to home offices or intermittently venturing to your design studios for essential tasks. The question that arises is, what sets apart the most comfortable executive office chairs, particularly for those lengthy creative sessions? Undoubtedly, convenience and ergonomics stand as the cornerstones of these coveted chairs. If your work involves hours of uninterrupted focus, it is imperative that your chair impeccably accommodates your body's unique needs.
Materials become a pivotal point of consideration in the realm of desk chairs, and for designers, this choice becomes even more critical. The endurance of your office chair directly impacts your creative flow. Thus, the choice of materials plays a vital role. Spending prolonged hours in your workspace should be a comfortable experience, and breathable materials like mesh fabric become indispensable. Moreover, robust, long-lasting materials are paramount to ensure your chair remains a reliable companion through countless creative projects.
As you embark on the quest to find the perfect chair for your extended design sessions, we invite you to peruse our insights on the top 8 comfortable office chairs crafted explicitly for those who immerse themselves in design. Each of these chairs offers a unique blend of features tailored to the individual, promising not just comfort but a seamless fusion of style and function to elevate your design endeavors.
1. Autonomous ErgoChair Plus
Our top pick for the best chair for sitting all day is Autonomous ErgoChair Plus. If you have to look for the most most comfortable executive office chair in its class, you cannot ignore the ErgoChair Plus. You will not feel how the day goes by as you sit for long hours, reclining at times to comfort your back or when you are deep in thought.
With an added layer of comfort and 25° recline functionality, this chair is the perfect companion for you to spend your entire day at work sitting without feeling a hint of back pain or stress. The futuristic chair can easily be locked into eleven positions to support your lower back in the most ideal position possible. With the fine mesh on the seat cover and backrest, the chair allows you to sit for long hours without sweating. Lastly, it is available in 6 colors that suit mostly any type of office décor.
You can easily lock it into any one of the eleven positions giving support to your lower back. The armrests, height, and seat tilt (forward/backward) are adjustable to your requirements as the day goes by. This chair has fine mesh for your skin to breathe as you work long hours. The six different subtle executive colors match most office decors.
2. Autonomous ErgoChair Pro
Your hunt to buy an ergonomic chair starts here. Supported with a fine mesh, the seatback can easily be reclined up to twenty-two degrees for your comfort. You can lock the seat recline to any one of the five positions you like and change it frequently at the flick of a lever. Your back has one of the best supports as you adjust the armrest, seat pan tilt, height, and backrest. Do take time to discover the most comfortable office chair for long hours and make it work for you by adjusting the features. Available readily in six different trendy colors, it can lift to three hundred pounds of weight.
Autonomous office chairs have a lot of amazing customer feedback and photographs on their website, which is fantastic. Similarly, the ErgoChair Pro is one of the best office chairs for buttock pain since it includes a backrest padding that you can adjust to make it comfortable for an individual's tailbones. While we sat on this armchair, we had no issue getting into the proper position.
Similar to the ErgoChair Plus, the Autonomous ErgoChair Pro is the ultimate comforting king. Sitting on it, we realized that its breathable cushion provides hours of comfortable sitting, especially for office goers. The best part about the chair is its ability to distribute the user's weight properly across the surface, resulting in minimal pressure. The chair is also great in style, available in 6 different colors.
3. Steelcase Gesture Chair
We reviewed the Steelcase Gesture chair and its comfort level for an added layer of style and look. We were quite surprised by the functionality of this chair. It offers adjustable arms that can move in various directions to ensure the user sits in the best position. Moreover, the height can be adjusted accordingly, and the chair has the perfect lumbar support for users with back issues. However, some users have reported that the chair is a bit wobbly.
The Steelcase Gesture Chair is a highly versatile and adaptable office chair designed to accommodate a wide range of body types and sitting styles. It features adjustable arms that can be moved in various directions, allowing users to find the most comfortable armrest position. The seat depth can also be adjusted to accommodate different leg lengths.
The best office chair for long hours offers good lumbar support, promoting proper spinal alignment during long hours of sitting. It is constructed with high-quality materials and has a sturdy build quality. However, some users have reported that the armrests may feel a bit wobbly compared to other chairs.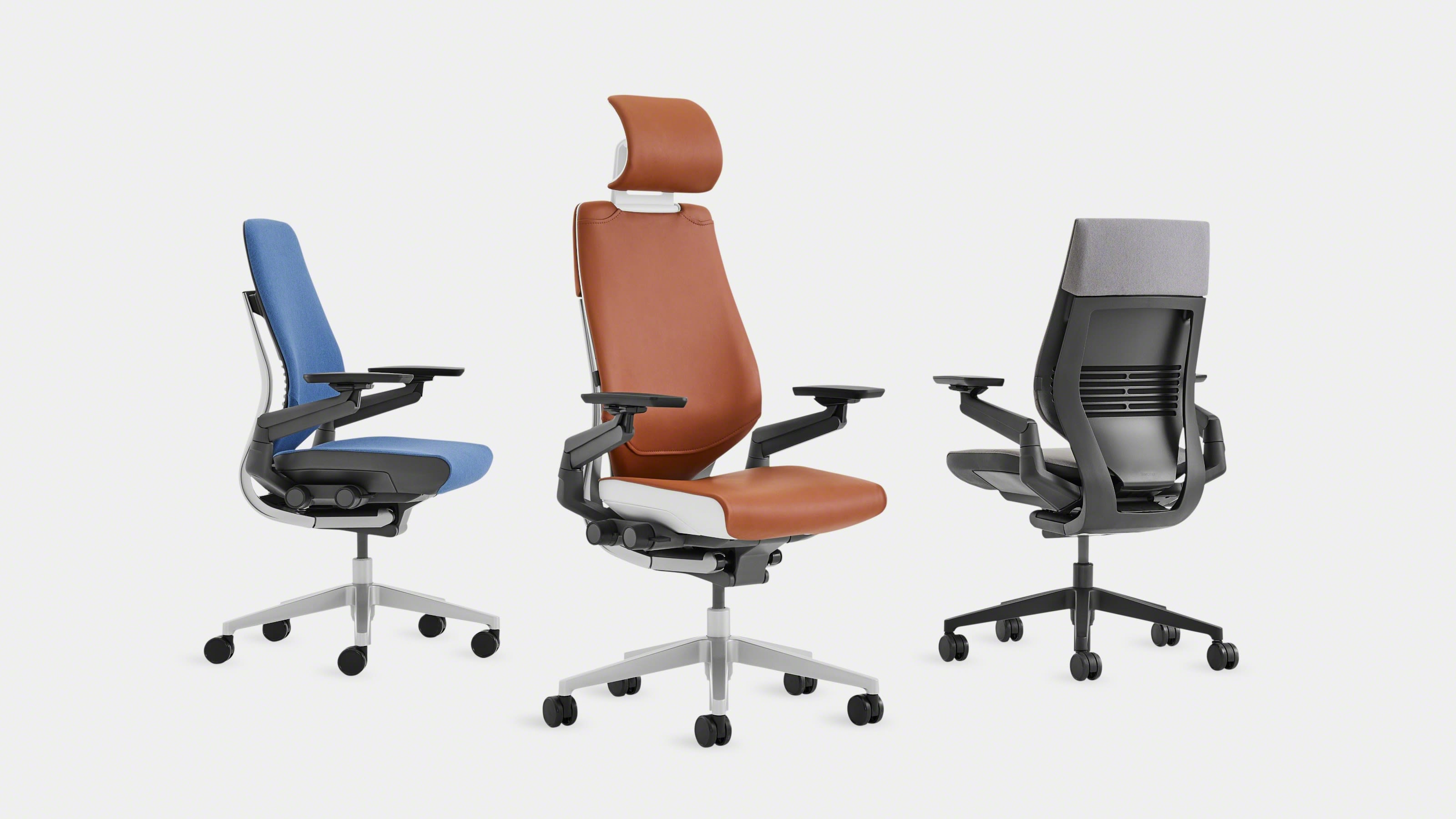 | Pros | Cons |
| --- | --- |
| Versatile and adaptable design | Pricey |
| Adjustable arms and seat depth | Armrests may feel a bit wobbly for some users |
| Good lumbar support |   |
| Excellent build quality |   |
| Comfortable for various body types |   |
4. Autonomous ErgoChair Core
The ultimate Autonomous chair is the ErgoChair Core, which gives you the comfort and feel of a real sofa. The padded cushion feels extremely comfortable since it is a memory foam that best accommodates your sitting position. The chair has an adjustable armrest and tilt that allows you to position the chair accordingly. What we found quite amazing about this chair is its complete mesh backrest that allows your back to relax without sweating. Our team spent hours sitting and testing this chair, which was a comfort haven.
The ErgoChair Core is the best chair for sitting all day. It seems much more sumptuous than a sofa and more comfortable than a desk chair. For starters, this ergonomically designed computer ergonomic chair is recognized for providing consumers with comfortable, customized back support.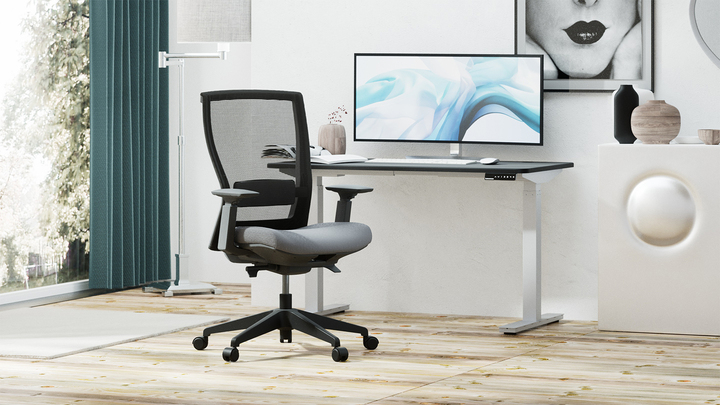 Dimensions
28" - 45"L x 28"W x 45" - 49"H
Seat height
18" - 21"
Materials
Polyester fabric with molded foam interior and durable nylon plastic frame
Colors
All Black without headrest and legrest
Cool Gray without headrest and legrest
Weight capacity
250 lbs
Warranty
1 year
Feature
Adjustable armrest, back tilt angle, seat height
| Pros | Cons |
| --- | --- |
| You can rest your head, arms, and legs with extendable parts | Tilt is not as low as other products |
| Provides back relief to reduce your lower body pain | Be careful not to lean too low |
| Lumbar back support corrects your posture | Lack of color options |
| Recline features go back almost instantly |   |
| High-quality materials ensure long-term service |   |
| Quick assembly time with clear instructions |   |
| Free shipping, 30-day trials, and multi-year warranties |   |
5. Humanscale Freedom Chair
Another higher-end option on our list is the Humanscale Freedom chair. What intrigued us was its self-adjusting recline system that adjusts according to your posture and offers comfortable movement throughout the day. Moreover, it is a stylish chair with stainless steel back frame and bottom frame with 5 nylon caster wheels for easy mobility.
The Humanscale Freedom Chair is known for its innovative self-adjusting recline mechanism, which provides optimal support and encourages movement throughout the day. This best office chair for long hours offers a comfortable seat and good lumbar support, promoting proper posture during long hours of sitting. However, it may come at a higher price point and lacks the extensive customization options found in some other high-end chairs.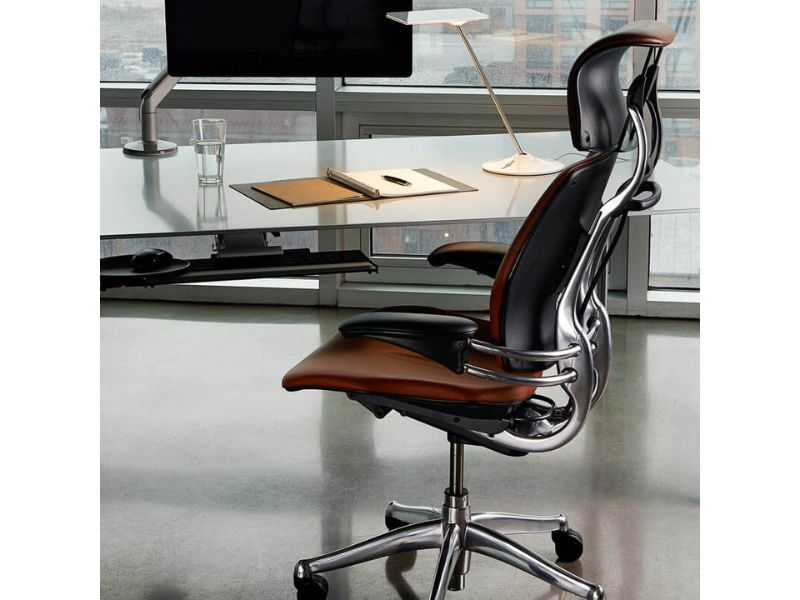 | Pros | Cons |
| --- | --- |
| Excellent ergonomic design | Pricey |
| Self-adjusting recline mechanism | Limited customization options compared to some competitors |
| Comfortable and supportive seat | Armrests could have more adjustability |
| High-quality build |   |
6. Autonomous ErgoChair Recline
The finest of the reclining computer chair, it has an adjustable height, armrest, headrest and leg rest, and seat tilt. The seat is made from high-quality foam that supports the body weight as it evenly distributes it. The reclining lumbar support is one of the finest as you can adjust it for your comfort to fit your lower back.  The fine black mesh material gives your skin ample air to breathe as you work long hours. It can take 250 lbs of weight.
Our team found the ErgoChair Recline by Autonomous perfect for people looking for added comfort in their workplace. The chair has an adjustable headrest, armrest, and seat tilt to give you the perfect position for sitting comfortably. The added feature that we found beneficial in this chair is the additional reclining lumbar support that keeps your lower back in the ideal position, eliminating the risk of back pain. It is a worthwhile option since it ticks all boxes of being the best desk chair for long hours.
This is a truly stunning office chair because you can recline, rest, and straighten up your legs by lifting in this lowering desk chair as often as you like. The armchair has many adjustment options to let you relax and work effectively. The chair's slim back keeps it from being overly heavy while still giving excellent support. The mesh material is breathable, and the raised padding in the pillion chair ensures a long-lasting, comfortable experience.
7. KERDOM Office Chair with Adjustable Armrests & Headrest
KERDOM office chair was manufactured after keeping customer satisfaction in mind. A chair is an ideal option for people who are searching for an adjustable option. The chair comes with a 360° swivel and tilt feature, further improving the user's comfort. Moreover, we found out that the chair's armrests are adjustable, doubling the comfort level they offer you.
This workplace chair's structure is ergonomically geared toward people. It has multiple functional modifications, including a 360º swivel, tilt clamp feature, and pneumatic chair height adjustment. The reinforced explosion-proof plate of this computer chair with adjustable arms provides you with double covering and increased comfort.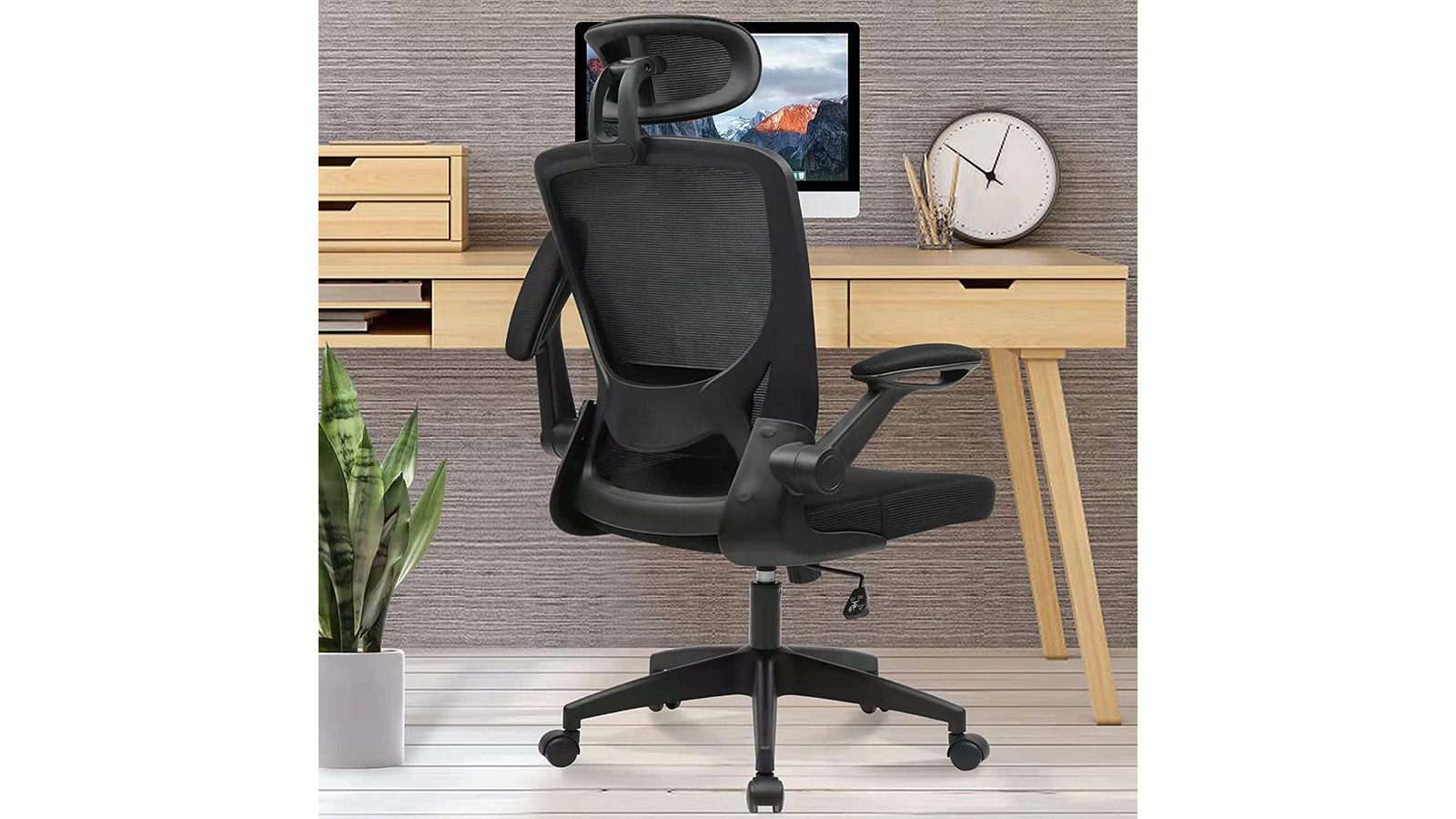 | | |
| --- | --- |
| Dimensions | 24.4"L x 11"W x 23.2"H x 30 lbs |
| Seat height | 16.1'' - 19.3'' |
| Colors | Black, White |
| Warranty | 1 year |
| Pros | Cons |
| --- | --- |
| Adjustable armrests and headrests | No lumbar support |
| Tilt lock function | Not suitable for tall people |
| Comfortable seat cushion |   |
8. KERDOM FelixKing Office Chair with Elastic Mesh & Adjustable Backrest
The KERDOM FelixKing office chair offers office people the comfort and satisfaction they have always dreamt of. After spending hours sitting on this chair, I barely realized any tiredness since the chair is designed to give you additional lumbar support and supportive mesh to sit for long hours. Talking about the style, the chair looks great because of its overall design and color. It is a great balance between style and comfort and a recommended option buy us. Overall, it is a great option if you have a problem with your back posture.
This chair has an incredibly flexible mesh back that flawlessly conforms to the curve of your back and waistline, reducing back strain. It functions admirably everywhere. With this comfortable, adaptable office chair lumbar support mesh, workers may keep their appropriate body posture while also being efficient.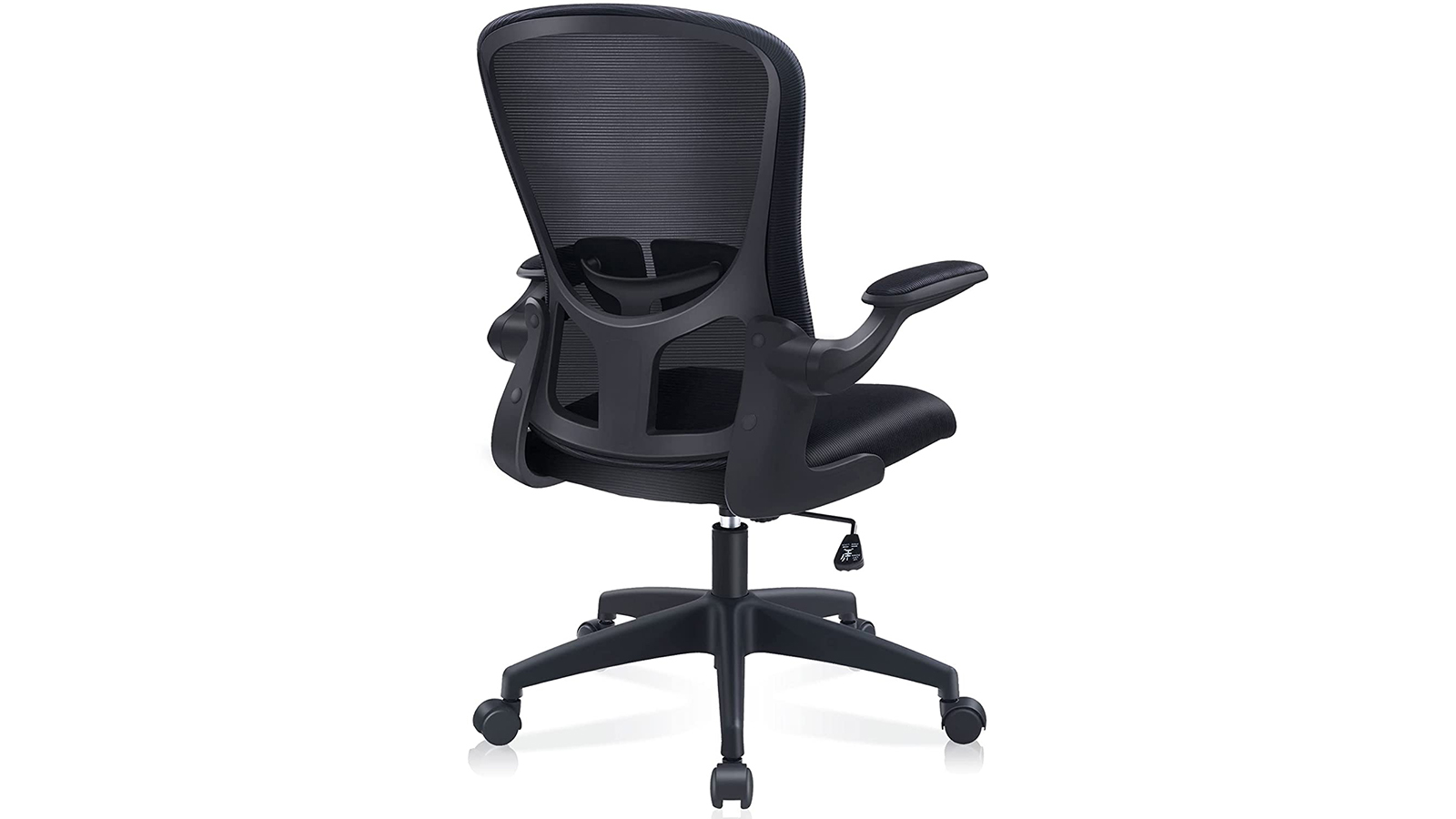 KERDOM Swivel Desk Mesh Chair
| | |
| --- | --- |
| Dimensions | 25.2"W x 25.2"L x 37.4" - 43"H |
| Seat height | 17.7" - 21.7" |
| Materials | Nylon, Cotton |
| Colors | Black, White, Pink, Gray, Blue, Light Blue |
| Warranty | 1 year |
| Pros | Cons |
| --- | --- |
| The elastic mesh backrest provides support | Heavy |
| Adjustable lumbar support | Not suitable for small spaces |
| Adjustable armrests |   |
In conclusion, the staggering statistic of an average person spending around 51 hours sitting each week underscores the critical importance of choosing the right office chair for long hours of work. Prolonged sitting, especially in poorly designed chairs, can lead to a host of physical discomforts, including back problems and neck aches. However, the solution is at hand with the development of the best posture chair for extended periods of sitting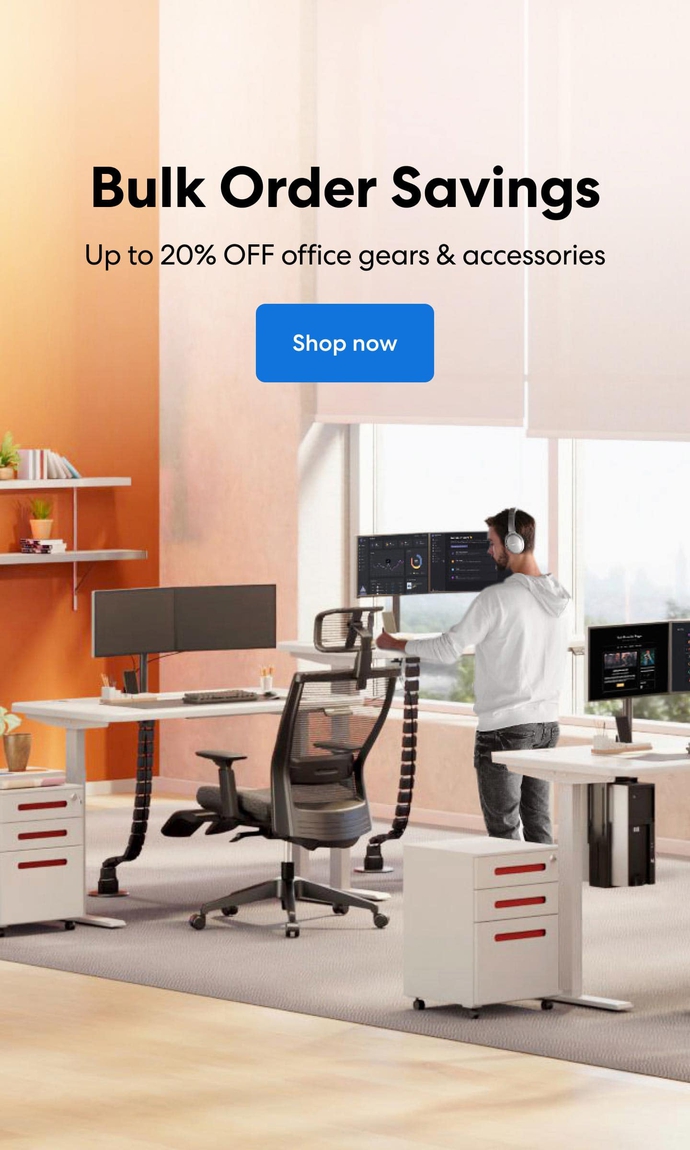 Subcribe newsletter and get $100 OFF.
Receive product updates, special offers, ergo tips, and inspiration form our team.