Smart Products
Adjustable Computer Desk Dilemma: Too Much Time on Your Feet?

Autonomous
|
May 30, 2023
367 Views
If you're ready to jump on the standing desk train and forget about your desk chair for a while, you've come to the perfect place to know whether it is a good option for you or not. Adjustable computer desks challenge everything we know about offices, but more and more people are starting to use them because several health experts claim that sitting for too long can be a long-term hazard to your health. 
Some of the most common consequences of spending too much time sitting are: 
Higher chances of getting a heart condition

Diabetes

Several types of cancer

Premature death
These consequences make it a bit scary for people not to take the needed precautions of staying active throughout the day. Many even call sitting the new smoking because all the negative effects you accumulate over the years cannot be reversed once they're there, no matter how much exercise you do. 
However, people shouldn't overuse adjustable computer desks, as recent research has proven that spending too much time on your feet isn't good for your health either, especially if you do it wrong and don't keep an ergonomic posture throughout the day. 
If you're new to the world of ergonomics, this information might surprise or confuse you, but don't worry; this article will explain everything you need to do to keep your body as healthy as possible. 
Benefits of Using an Adjustable Computer Desk
First, we'll discuss the standing desk benefits because we all know they're much better than regular sitting desks. A ton of research has been done, and experts agree that standing desks can prevent people from developing obesity, diabetes, cardiovascular diseases, and cancer.
Moreover, according to research from the American Cancer Society, you are much more likely to live a shorter life if you sit for too long. Now, if we compare it to studies done on workers who incorporated adjustable computer desks into their routines, we notice that by reducing your daily sitting time by only an hour, you can improve your mood and ease your upper back and neck pain by at least 54%. 
Additionally, if you're trying to lose some weight but can only exercise once you're off work, an adjustable computer desk can be the perfect choice for you, as it will help you burn much more calories than sitting all day. 
We checked Dr. Jason Freedman's research, as he is an expert in orthopedic surgery, arthroscopy, sports medicine, and many more fields. He explains how standing desks can highly benefit people's health by providing several advantages that will improve several spine and posture issues that many patients develop because of prolonged sitting. Nonetheless, you must also know that standing desks aren't a magic cure for all your problems. 
Is Standing Too Much Good for Your Body?
The truth is that most human bodies aren't designed to stand all day without some part of them hurting. Moreover, spines aren't meant to be 100% straight; even Freedman explains that spines aren't built to support that type of strain just yet and that they will adapt much more easily to being erect as humans evolve, but that can take millions of years.
Therefore, it is crucial to watch out for your posture when using adjustable computer desks, especially if we're waiting for office culture and evolution to allow us to create more comfortable working stations. 
Keep in mind owning a standing desk won't magically make your aches and pains disappear. In most cases, it will just change the muscles that will be hurting, especially if you stick to standing and don't go back to sitting every once in a while. 
It is common for office workers to suffer from sore shoulders, neck, and upper back pain, but once they start using adjustable computer desks, they will likely experience more pain in their legs, lower back, and feet. 
Therefore, switching from standing to sitting several times throughout the day is crucial for your well-being. 
Other studies we considered when writing this article were those of Dr. Rob DeStefano, who claims that switching back and forth is the best thing to do. You could do 30 minutes each, but if your endurance is a bit higher, you can do 45 minutes each as well. Moreover, he pointed out that those who already have any sort of injuries may have a tough time standing too much, as it can put too much unwanted pressure on their hips and back. 
Therefore, your best option is to get a stand-up computer desk that you can constantly adjust throughout the day, depending on what's more comfortable for you. This way, the extra strain on your feet will disappear, and you can live a much more active life. 
Other options are to get a DIY standing desk, which will be much cheaper than other options, or a standing desk with a treadmill to stay active throughout the day.
How to Stand in the Right Way - Ergonomics Guide
Think of standing the same way you would think of yoga or weightlifting. In these three cases, your form and posture are crucial, so you don't hurt yourself. You don't want your feet to feel like you've walked for miles after your regular workday, but this can happen if your desk is improperly placed. Moreover, it can also cause pain and numbness in your hands, arms, and entire body. 
Another common mistake people make when standing is knee locking, which is why many experts recommend slightly bending your knees to relieve some pressure and let the blood flow freely to your legs and back. 
Now, regarding the corner standing desk itself, you must properly place it at the correct height so that it doesn't cause any extra strain on your joints. Your monitor should be placed directly in front of you so you don't have to look up or down to do your job. Moreover, to prevent hurting your eyes, your monitor must be at least 20 inches away from your face and slightly tilted up. Also, don't forget to activate the blue light filter for extra protection! 
If you want your neck and shoulder to be stress and tension free, the best thing to do is to keep your arms at a 90-degree angle. This way, your wrists won't be curled up or down and can stay neutral and painless. Also, another great thing to do when using a standing computer desk is to regularly shift the weight of your body from one foot to the other, but this comes naturally for most people. 
Many people also opt to purchase a padded floor mat or pick special working shoes that are much more ergonomic than their regular shoes. We know that using comfy flat shoes at work isn't the best styling option ever, but it will greatly benefit your health!
Standing Desk Recommendations for Your Standing Workstation
Now that you know virtually everything you need to stay active and healthy at work, you must choose the perfect standing computer desk for you. Luckily, we have a wide selection of desks that meet all the ergonomic requirements you're looking for. 
1. Autonomous SmartDesk Core
The first standing computer desk on our recommendation list is the Autonomous SmartDesk Core, which is sure to promote a productive day at work every time you use it and significantly enhance your well-being. This fantastic desk's weight capacity is 270 pounds, so you can place anything you want on top of it without being afraid of it falling apart and damaging your precious equipment. 
You can also swiftly change from sitting to standing thanks to its four presets, which will allow you to change your position at all times by simply pressing a button. 
Moreover, another fantastic thing about this standing computer desk is its high-power dual motor design, which allows it to move up and down quickly and quietly, allowing you to use it even in crowded offices, as the noise won't disturb your coworkers.
You will also enjoy its five-year warranty, so you can rest easy knowing that we will take care of any potential manufacturing flaws over the course of those years.
2. Autonomous SmartDesk Pro
Another fantastic workstation from our collection is the Autonomous SmartDesk Pro, which is the perfect computer desk with adjustable height for those who haven't found a desk that's comfortable enough for their needs. This desk is specially designed to give the most comfort to those who use it, as it learns its user's behaviors to offer the perfect working setup. 
One of the best things about this electric height adjustable computer desk is that you can purchase it in several colors and designs to fit nearly any room and aesthetic you want. It features a solid steel frame that supports its adjustable height settings. Moreover, you can easily and quietly switch from sitting to standing thanks to its four programmable presets and dual motor feature.
3. Wistopht SmartDesk Advanced: Anti-collision & USB Ports
One of the main aspects that make the Wistopht SmartDesk Advanced such an excellent computer desk with adjustable height is its large warranty and wide selection of colors and designs. Moreover, it is a fantastic and sturdy electric height adjustable computer desk offering much more stability than previous versions. Additionally, although its adjustment range isn't the widest out there, it is wide enough for nearly anyone to comfortably sit or stand on it during their working hours. 
Another thing that stands out from this stand-up computer desk is that it features an anti-collision sensor that prevents you from hitting other objects that might be in the way of the desk when shifting its height. It also features handy USB ports for charging your devices.
4. EUREKA ERGONOMIC EUREKA IM63 Curved Desk: Additional Storage
If you're looking for a smart desk that offers enough space to store anything you want and work as comfortably as possible, this curved desk from EUREKA ERGONOMIC might be the perfect choice for you. It can easily fit in an open area and offers enough space for working, gaming, doing homework, or simply navigating the internet. 
Furthermore, its four programmable settings allow you to choose the perfect height for your desk and switch between them by just pressing a button, saving you a lot of time. This standing desk with drawers is also made of highly durable materials, such as a high-quality particle board that's ergonomic and safe enough to safeguard your health and well-being.
5. FENGE 2-tier Standing Desk: Tablet Stand & USB Ports
One of our most fabulous pieces is the FENGE 2 Tier Standing Desk, as it features a fantastic and cutting-edge style, especially because of its tray. This perfectly designed tray is fantastic for holding anything you can think of, such as your phone or tablet, as its angle is perfect for keeping an eye out for your phone's notifications. 
Moreover, this home standing desk features a USB port to charge all gadgets you need, such as your phone, keyboard, etc. Additionally, you can say goodbye to not knowing where to keep your laptop bag, as this stand-up computer desk features a hook that will keep your bag away from the floor but can also be used for your favorite pair of headphones. 
Bottom Line
After going through this comprehensive guide on ergonomics and the science behind stand-up desks, you are ready to improve your well-being and become much more active at work. However, we must tell you that we have a much wider collection of electric height adjustable computer desks on our website, so please don't hesitate to check it out.
Video ads for product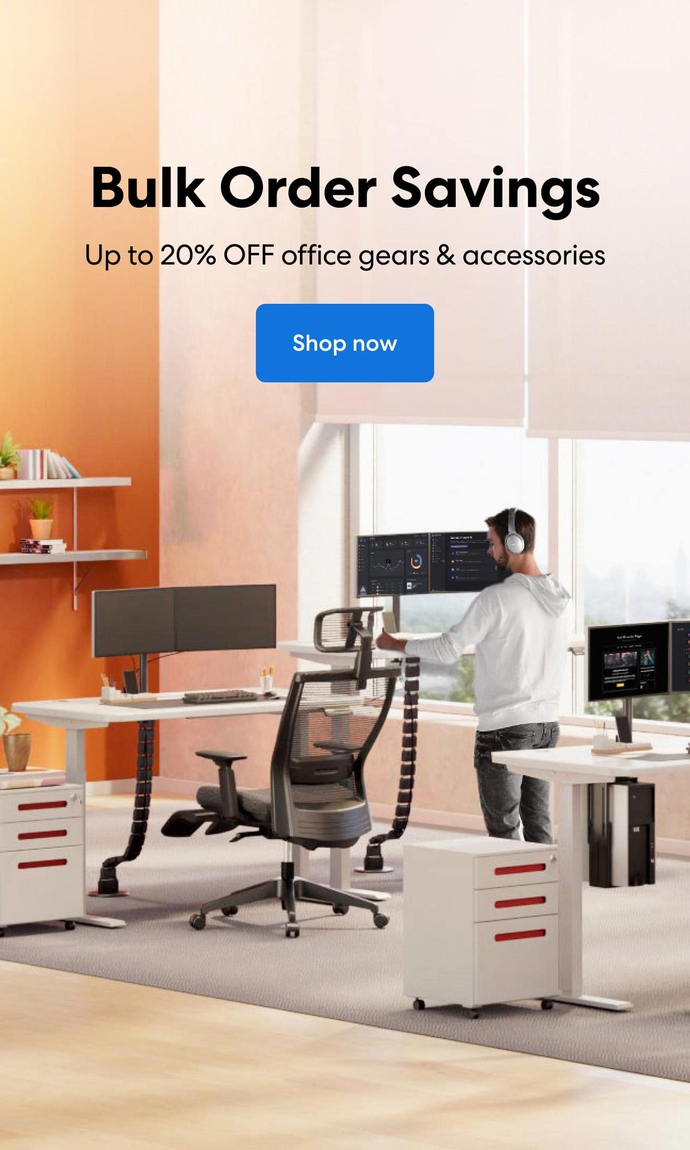 Subcribe newsletter and get $100 OFF.
Receive product updates, special offers, ergo tips, and inspiration form our team.