Smart Products
Is the Autonomous ErgoChair Series a Multifunctional Chair?

Autonomous
|
Jun 25, 2023
362 Views
The dynamics of the workplace have changed over the years. Standing meetings have replaced long, drawn-out ones, while managers are implementing measures that focus on improving productivity.
One such change in the office is the introduction of a multifunctional chair that replaces the redundant desk chair and offers a lot of versatility, benefiting both the employees and the office in many ways. 
In this article, we will explore what a multifunction chair is and its benefits. We will also go over the top six options from Autonomous you should consider if you're looking for a multi-purpose chair for your home or office. 
Let's get started! 
What Is a Multi-purpose Office Chair?
A multi-purpose office chair is one that serves various functions and adapts to different environments within an office setting. 
Unlike traditional office chairs that are limited in their functionality, a multi-purpose office chair offers enhanced flexibility and adaptability to cater to diverse needs and activities in the workplace. 
A multi-purpose office chair typically incorporates a range of adjustable features and ergonomic design elements to accommodate different tasks and body types. These chairs often have adjustable height, armrests, and lumbar support, allowing users to sit upright or recline for a power nap. 
Whether you prefer to have a team discussion over a standing table or huddle in a circle to brainstorm, the versatility of a multi-purpose office chair lies in its ability to support a wide range of activities. The chair's adjustable features and ergonomic design ensure that users can maintain proper posture and support their bodies during extended periods of sitting.
What Are the Advantages of Using a Multifunctional Chair in Your Office?
There are several benefits of using a multifunctional chair in your office, including the following: 
Enhanced Versatility and Adaptability
A multifunctional chair promotes a flexible and dynamic work environment. With adjustable features such as height, armrests, and a backrest, you can easily customize the chair to cater to your needs.
Improved Comfort and Ergonomics
Designed with ergonomics and user comfort in mind, a multifunctional chair provides optimal support to the spine, lumbar region, and other critical areas of the body. 
It conforms to the user's unique body shape and size, reducing the risk of discomfort, strain, and musculoskeletal issues. By promoting proper posture and reducing physical stress, a multifunction chair helps employees maintain focus, productivity, and overall well-being throughout the workday. 
Increased Productivity and Focus
Whether it's sitting upright, reclining, or even using the chair as a standing support, the versatility of a multifunctional chair promotes productivity and concentration. 
Employees can easily switch between different postures and positions, preventing monotony in the workplace. It also reduces discomfort or fatigue that could adversely affect their performance.
Space Optimization
In offices with limited space, a multifunctional chair can offer a lot of benefits. Designed to be versatile, these chairs can serve multiple purposes, eliminating the need for separate seating arrangements for different tasks. 
Whether you need a desk chair, meeting room chair, or collaborative workspace chair, a multifunctional chair can fulfill all these requirements without taking up excessive space.
Cost Efficiency and Longevity
Investing in multifunctional chairs can be cost-effective in the long run. Built with durable materials and designed to withstand frequent use, these chairs are long-lasting. 
Additionally, the ability of multifunctional chairs to serve multiple purposes eliminates the need to purchase separate chairs for different functions. This helps the office save money. 
Why Are Autonomous Chairs Called Multifunctional Chairs?
A traditional computer office chair lacks the functionality offered by Autonomous multifunctional chairs. You can use them as a studio chair or an ergonomic office chair. 
With a maximum weight capacity of up to 300 lbs., these heavy-duty office chairs cater to individuals of all weights and sizes. 
Autonomous chairs are multifunctional because they come with lumbar support that alleviates stress from the spine and other pressure points, allowing them to improve productivity and the user's health.
Top 6 Multi-purpose Chairs for Your Home or Office
Whether you're looking for an ergonomic chair for your office or need a desk chair with no wheels, our list of the top six multi-purpose chairs has got you covered. 
Autonomous ErgoChair Pro
If you're looking for a basic multifunctional chair, then look no further than the Autonomous ErgoChair Pro. 
With customizable height, headrest, and armrest, as well as an adjustable backrest and seat tilt options, the ErgoChair Pro caters to your every need. 
The smooth recline function, with five lockable positions, enables you to find the perfect angle for optimal comfort and posture. It has flexible lumbar support that seamlessly adapts to any seated position. 
Designed to uphold the natural curvature of your spine, sitting on this chair will alleviate discomfort and stiffness. The woven mesh back promotes optimum airflow, ensuring a cool and refreshing seating experience. 
Since the chair maintains a 2:1 ergonomic ratio, it allows for effortless reclining and stretching without exerting pressure on your body. This thoughtful design encourages improved circulation and helps you stay active throughout a long workday. 
With adjustable height and angle options, this multifunctional chair alleviates strain on your neck. It offers a versatile range of support, whether you're engaged in focused work, viewing a monitor, or seeking a relaxing posture. 
The chair's comfortably contoured shape, rounded edges, and robust construction make it suitable for individuals weighing up to 300 lbs. 
Equipped with a 10° adjustable tilt, the ErgoChair Pro ensures proper alignment of your sacrum, fostering a balanced muscle development in your back. By keeping your pelvis in a neutral position, the chair actively helps prevent potential postural issues, safeguarding your long-term well-being. 
Not only does it have a BIFMA certification, but it is also a sustainable desk chair made from eco-friendly materials, highlighting the brand's commitment to sustainability. 
Autonomous ErgoChair Plus
The Autonomous ErgoChair Plus is the best ergonomic chair if you're looking for more mobility. 
With a frameless design, this chair eliminates barriers to movement, allowing you to twist, turn, and stretch without limitations. It is made from eco-friendly thermoplastic elastomer (TPE), which not only makes it durable but also contributes to its sustainability as a desk chair. 
Central to the ErgoChair Plus is its ability to adapt to your body's movements. It offers adaptive spinal support, with the responsive webbing strategically denser in the lumbar region. This flexes to the shape of your spine, allowing for greater posture support. 
Users have the option to choose between the cooling naked TPE or the breathable mesh. Whichever you choose, both provide excellent airflow and prevent heat accumulation. 
The adjustable tilt feature stabilizes the lumbar area, ensuring optimal support and weight distribution. Its precise suspension system responds to your body's movements, allowing for unrestricted blood flow. The tilt helps eliminate pressure points, delivering an unparalleled level of comfort. 
Certified by the BIFMA, the ErgoChair Plus meets stringent industry standards and embraces the freedom of multi-purpose mobility. It offers a new level of comfort and versatility in your seating experience. 
Autonomous ErgoChair Core
If you're looking for a chair that combines unrivaled comfort with ergonomic excellence, the Autonomous ErgoChair Core is a great option to consider. 
With adjustable height, armrests, seat pan, and lumbar support, as well as a fantastic back recline, this chair offers unparalleled customization to suit your unique needs and preferences. 
It comes with a contoured foam seat that provides optimal comfort, while the breathable mesh back enhances airflow, keeping you cool and comfortable throughout the day. 
The lumbar support pad subtly arches to maintain the natural curvature of your spine, alleviating pain in the lower back region from long hours of work. It helps you achieve perfect posture effortlessly. 
What's great about the ErgoChair Core is its ability to respond to your body weight when reclining, keeping your spine stable and safe. You can freely move your shoulders, arms, or back without straining. 
The ErgoChair Core supports up to 250 lbs., making it suitable for many individuals. It provides a high level of functionality and comfort, making it ideal for various purposes and activities. 
Whether you require the best office chair for long hours of work, a comfortable seat for gaming sessions, or a versatile high chair for multi-purpose use, the ErgoChair Core is a fantastic investment! 
Autonomous ErgoChair Recline
Are you looking to improve your work performance or simply need a comfortable chair? The Autonomous ErgoChair Recline is an exceptional chair that is designed to elevate your work performance and provides the ultimate comfort. 
This multifunctional chair boasts a range of adjustable features (height, armrests, lumbar support, and recline) and offers unrivaled flexibility to accommodate your preferred sitting positions. 
With a dedicated headrest made of the same responsive mesh as the backrest, it promotes good spine health. Meanwhile, the soft vegan leather leg rest allows you to stretch out and find your ideal level of comfort. 
When it comes to reclining, not all chairs are the same. The ErgoChair Recline ensures that your body weight is well-supported, keeping your spine stable and minimizing strain. It delivers optimal comfort and posture support. 
In addition to its great functionality, this recliner desk chair has a woven mesh back that delivers a cooling experience and alleviates pressure points. 
Whether you seek enhanced productivity during work hours or a blissful moment of relaxation, the ErgoChair Recline is the perfect companion for the office. 
Autonomous AvoChair
The Autonomous AvoChair is a remarkable fusion of sleek design and ergonomic functionality. It is a stylish addition to your workspace that promotes healthy posture and ensures comfort. 
Designed to eliminate hard edges, this multifunctional chair features a gentle waterfall-style roll-off at the front and soft ellipsoid arm pads, ensuring a comfortable seating experience. This thoughtful design improves productivity and reduces fatigue. 
The die-cast aluminum alloy base houses an intuitive system that enables you to lock in the perfect reclining tension, adjust the arms position, and set the ideal seat height.
Not only does the AvoChair excel in functionality, but it also embodies sustainability. It is made from recycled materials and could be a perfect fit for your office's corporate social responsibility. 
Elevate your workspace with the AvoChair and experience the perfect blend of form, function, and sustainability. 
Autonomous ErgoStool
If you're looking for a stool instead of a chair for your standing desk setup, you can't go wrong with the Autonomous ErgoStool. It is a versatile seating option that offers low-impact breaks from standing and adds a touch of fun to your sitting experience. 
Designed to strengthen your back and core while promoting dynamic sitting, this innovative stool emulates the natural posture changes we make while standing. 
With its weighted dynamic base and ergonomic sloped seat, the ErgoStool offers a range of benefits for both your physical health and overall well-being. 
Whether you're shifting, leaning, or gently rocking, the ErgoStool's weighted base encourages active sitting, increasing your movement and energy levels throughout the day. 
With a height-adjustable range of 10 inches, you can also use the ErgoStool at a regular desk. Its ergonomic design and sloped seat provide optimal comfort and support while maintaining healthy circulation in your lower body. 
Since it is a backless chair, it'll actively engage your core and back muscles, building strength and improving your posture over time. These benefits extend beyond using the ErgoStool, positively impacting your sitting experience in a regular office chair or even while standing. 
It is a multifunctional and an ergonomic sitting solution that perfectly complements any standing desk setup. The unique design and dynamic features make it a versatile addition to any workspace.
Summary
Whether you're looking for the best ergonomic office chair or one that comes with many adjustable features, the Autonomous ErgoChair series has multifunctional chairs, making it the perfect investment for your home or office.
Video ads for product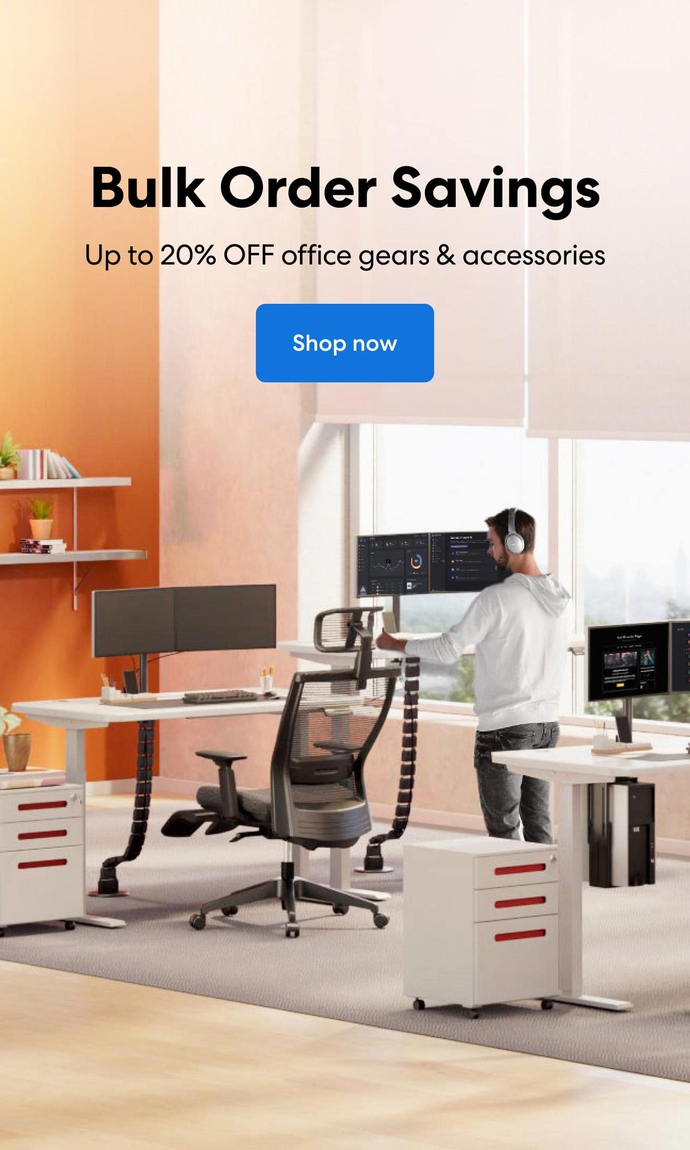 Subcribe newsletter and get $100 OFF.
Receive product updates, special offers, ergo tips, and inspiration form our team.