High-quality chairs aren't just for office workers and work-from-home nomads. A high-quality studio chair is a perfect addition to the recording studio for any producer or musician.
If you're using a studio desk chair that hurts after a long recording session, then it might be time to upgrade to the right recording studio chair for you.
Having the right chair isn't just about comfort; it's also about the right look. Top off your perfect studio with a high-end chair that will only support you but make your studio the best place to record, work, and hang out.
Top 6 Pro Studio Chairs For Musicians and Producers
Producing and working on music is itself very stressful, so who would wish to add up the extra stress of physical fatigue on the body? Whether it's your routine work, you are making beats, writing lyrics, or finding the perfect combination of sounds that go together; prolonged sitting becomes inevitable for musicians. Hence, the studio chair which you sit on must be highly comfortable and not compromise health in any way.
Don't worry; while you are paying attention to assembling the best studio gear, we have gathered the best music studio chairs for you with all the ergonomic benefits you will need.
1. Tama 1st Chair Ergo-Rider
If you want a stylish and fit-for-job recording studio chair, then the Tama 1st Chair Ergo-Rider remains to be the top choice for many reasons. There are many backing facts as to why you should opt for this supportive stool/chair for any kind of work setting, let alone just a music studio. Though the design of this producer chair is very different from what you see and prefer on regular days, it doesn't mean that it is old-fashioned or doesn't do the job as well as you would like.
Firstly, the hybrid Ergo-Rider style adds double padded support, and the round seat provides 360-degree movements while working on music. The 2 long piece hinge prevents any wobble despite the chair having a tiny, compact figure. The rubber feet not only provide amazing stability but also keep your floor protected from scuff marks. The piston-controlled seat height system is easy to use and doesn't lose its efficiency over time. The studio chair is a full package for anyone who needs an affordable solution for their music setup.
Reasons to Buy
Comfortable and stylish
Ideal for small spaces
Easily adjustable
Reasons to Avoid
Not good for long hours
It does not have a backrest
2. Deluxe Guitar Seat - Studio Chair
Don't confuse yourself with the gym equipment design this producer chair boasts, but rather be impressed by the high level of comfort it brings when you sit on it. The Deluxe Guitar Seat is definitely a one-of-a-kind music studio chair with a pretty unmatched look. Imagine a unique seat that allows you to sit comfortably for hours on end while creating or performing music. All the greatest features of previous Gator seat models are combined into one fantastic seat. With the Deluxe Guitar Seat's 3-point height adjustment mechanism for the footrest, seat, and backrest, you can position yourself for maximum comfort while playing.
Additionally, the metal frame features a very handy neck yoke that allows you to suspend your guitar while not in use. Superb comfort is offered by an ergonomically designed seat cushion with thick foam cushioning, and your feet stay in position while you jam, thanks to the non-slip grip tape on the footrest. And the best part? This is one of the few chairs that keeps the travel and portability of guitarists and musicians in mind.
Reasons to Buy
Portable and compact
Ergonomic design
Comfortable sloped seat
Reasons to Avoid
3. Ergolab Stealth Studio Chair
The Stealth Pro comes in a single, sizable package and is easy to assemble on your own without the need for any equipment. Two wheelsets are included with the music studio chair: five large rubber flight case-style wheels and one hard plastic office-style wheel, with the latter being more appropriate for industrial use.
The seat base itself is the biggest component of the studio chair; it is made of a sturdy steel frame with a flexible plastic mesh for the backrest and seat that allows for good breathability and naturally contoured support. There are two backrest designs available for the seat base: a short Standard version and a high-backed Executive version. The seat base comes in two sizes as well for petite to bulky users.
The ergonomic points of this music producer chair include the full and well adjustability it offers around the seat and the backrest. Both of these parts of the chair move to minimize pressure points and provide the most natural sitting form to the body. The forward-tilted design is known to reduce the pressure building up on the lumbar region of the spine, hence making this chair the best for prolonged work sessions, whether in front of the screen or the studio.
Reasons to Buy
Provides effortless sitting experience
Comfortable for long hours of work
Improves blood flow to the lower body
Reasons to Avoid
It does not come in many design/color options
Not very aesthetic
4. Crown Seating Performer Series Studio Stool
If you like the Crown Stealth but want something a little more advanced, you will want to look no further than the Crown Seating Performer Series; this is an ideal music studio chair. In addition, if you're a musician, you will want to take a closer look at what this chair has to offer. 
With the Crown Performer Series, you will be treated to the Serene gel foam seat and moisture-wicking fabric. The seat also has a groove, helping reduce strain on your tailbone and can help correct posture when performing. 
This studio chair also offers a free-float backrest so the chair can move with you. In addition, this chair also offers a multi-angel pelvic positioning to allow for even more movement. You will also find that the foot ring is also adjustable. 
Reasons to Buy
This chair has gel foam seating.
You can adjust the foot ring for proper leg positioning.
The groove seat improves postures and reduces tailbone stress. 
Reasons to Avoid
This studio chair does not have an apparent weight limit.
It is expensive. 
5. Fender 351 Studio Seat/ Stand Combo
If you're looking for a music production chair that can be on the go or put away until you need it, then the Fender 351 Studio Seat/ Stand Combo is perfect for you. 
This studio chair features a guitar stand that flips up or down so you can place your guitar in a safe spot until you're ready to play. It also has a footrest adjusted for the right leg position while you're playing. This chair also folds for easy storage and on-the-go capabilities. 
Finally, if you're looking for style, the red embroidered F on the guitar pick-shaped backrest screams style. It is a statement look that can set your studio apart from the rest. 
Reasons to Buy
This studio chair is great for performing.
You can take it anywhere you go.
It is stylish and unique.
This chair is affordable. 
Reasons to Avoid
This chair isn't meant for long-term use.
You will not have a lot of back support with this chair. 
6. Autonomous ErgoStool
This line of perfection embodied in compact office stools confuses many people. Because of the tiny design and small footprint, not many people are up for buying the Autonomous ErgoStool as their sitting buddy for long hours. But only those who have tried it will let you know how this producer chair can be the best addition to your ergonomic music studio. Plus, hey, it lives up to the funky theme as well, which you might be trying to portray in your music setup. Now, coming to the features, the ErgoStool has a weighted dynamic base, so if you are worried about falling off the stool even during the slightest of movements, then you are wrong.
The ErgoStool is height adjustable up to 10 inches, and the ergonomic sloped seat is perfect to give your back the natural curvature it needs. The stool works stable and great on a variety of surfaces, and if you have new hardwood floors, it doesn't pose a threat to wheel movement either. The weight capacity of the ErgoStool is 270 pounds, equal to many full-sized office chairs, and it also comes with a 2-year warranty. Its weighted base allows for a wide range of motion when seated and offers excellent grip on a variety of surfaces.
Reasons to Buy
Weighted dynamic base for ergonomic posture
Fully supportive design
Perfect for active sitting
Reasons to Avoid
Not suitable for people with neck and back pain
Might tire you out during long working hours
6 Best Ergonomic Studio Chairs For Musicians and Producers
Whether you're a musician, artist, or content creator, having a comfortable and supportive chair is vital for your studio sessions. This article explores a handpicked selection of studio chairs that excel in ergonomic design, durability, and style.
Each chair will be thoroughly reviewed, providing valuable insights and ratings to assist you in making an informed choice. So read on to find out more!
1. ErgoChair Pro
If you're looking for a high-end office chair with different design options, then the ErgoChair Pro is a great option.
This chair is fully adjustable. Every component from tilt tension, height, and armrests are adjustable. It even comes with a great headrest and lumbar support for your needs. If you have problems with your back, this ergonomic office chair is the perfect chair for a music producer.
This chair also comes in six stylish color options to help fit the aesthetic of your studio. You can make sure it makes your personality perfect.
Finally, the desk chair for long hours is made of breathable, 100% eco-friendly material. If you're a friend of the environment, this chair is right for you.
Dimensions
29"L x 29"W x 46" - 50"H
Seat height
18" - 20"
Materials
Polyester fabric with molded foam interior and durable nylon plastic frame; PU handrest pads
Colors
Cool Gray, Evergreen, All Black
Red Apple, Black & White, Baby Blue
Weight capacity
300 lbs
Warranty
2 years
| Pros | Cons |
| --- | --- |
| Fully adjustable for your specific needs | Requires individual assembly |
| Lumbar back support reduces lower body pain |   |
| High-quality materials with expert craftsmanship |   |
| Improves your productivity with energy boosts |   |
| Excellent variety of color schemes to choose |   |
| Quick assembly time with clear instructions |   |
| Free shipping, 30-day trials, and multi-year warranties |   |
2. ErgoChair Plus
Let's start with our favorite recording studio chair for any and every task you have in mind. Whether it is office, gaming, producing music, or just reading for hours at a time, the Autonomous ErgoChair Plus is equipped with very wise features. Its ingenious ergonomics, combined with a natural conforming design and high-class aesthetics, make the ergo chair perfect for hours of use at a time. The frameless construction allows you quick and smooth movements, and the moving or rolling action is further enjoyed thanks to the five-wheel base casters.
The office chair for back pain is also made up of sustainable and earth-friendly material. Its durability is unmatched as compared to other materials as it does not compose any poor quality plastic but rather a TPE mesh design coupled with a powerful cushioned seat. The seat cover is abrasion-resistant, and the chair offers a weight capacity of 300 pounds.
Moreover, it comes in 6 mixes and matches frames and mesh options, all of them offering that sophisticated look that is desired in a music producer chair. Though it doesn't have a headrest, the tall and wide backrest allows you to rest your entire body as well as the head after a fruitful music recording session.
Reasons to Buy
Fully adjustable
Made up of natural materials
Perfect for active, prolonged sitting
Reasons to Avoid
It does not have a separate headrest
Mesh back might be uncomfortable for some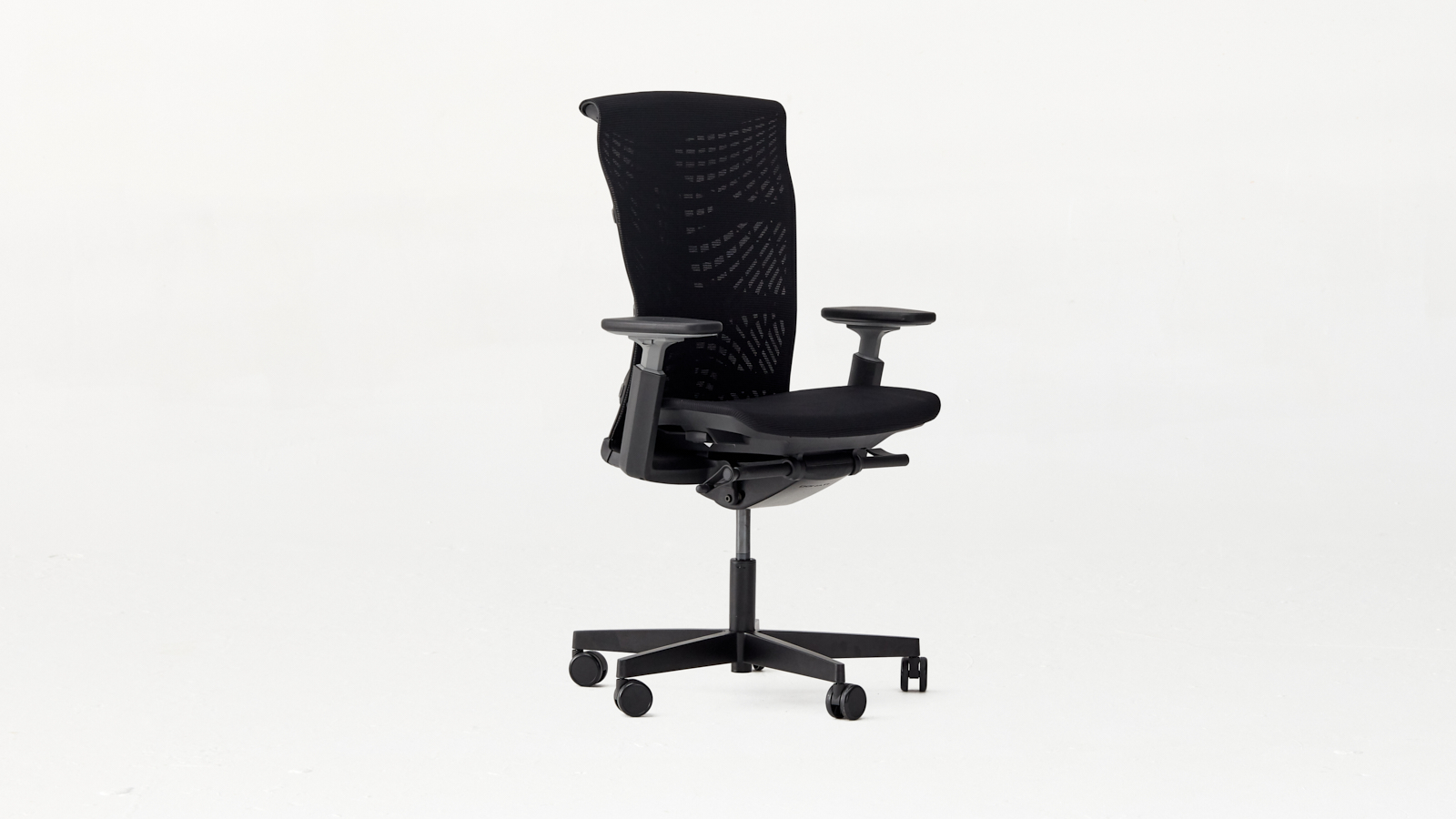 Dimensions
28"L x 28"W x 40" - 44"H
Seat height
17" - 21"
Materials
Naked TPE version: 100% TPE upholstery with ABS plastic frame.
Mesh version: 100% TPE and polyester fabric upholstery with ABS plastic frame.
Colors
Black Frame, Naked Black TPE
Black Frame, Naked Grey TPE
White Frame, Naked Grey TPE
Grey TPE with Blue Mesh
Grey TPE with Grey Mesh
Black TPE with Black Mesh
Weight capacity
300 lbs
Warranty
5 years
| Pros | Cons |
| --- | --- |
| Eco-friendly materials allow a greener lifestyle | Fairly expensive |
| Promotes your health through back support | Requires an individual to do the assembly themselves |
| TPE allows extra resilience and durability | Lack of color options |
| Recline features go back almost instantly |   |
| Excellent craftsmanship ensures maximum comfort |   |
| Quick assembly time with clear instructions |   |
| Free shipping, 30-day trials, and multi-year warranties |   |
3. Herman Miller Aeron
Weight Capacity: 300 lbs. 
If you're looking for an industry icon, then you'll find it with the Herman Miller Aeron. This music production chair has it all. 
The Herman Miller Aeron comes in three sleek, clean, and modern colors. It has everything from tension control to a tilt limiter that will allow you to stretch and move freely. 
You will also get full back support with this ergonomic studio chair, along with two lumbar support pads that flex independently, giving you the ultimate lower back support. In addition, your armrests are also completely adjustable. 
Finally, the Herman Miller Aeron has three different sizes so that you can find the perfect fit. 
Pros
This chair is stylish and modern.
You will get a big-name brand in this chair.
It is made from recycled materials. 
Cons
4. Dumont Ergonomic Office Chair
Weight Capacity: 350 lbs. 
If you're a larger musician or music producer, then the Duramont Ergonomic Office Chair is the perfect chair for you. 
This posture chair is designed with fully adjustable back support, height, and lumbar support. It also features breathable mesh to keep you cool during long sessions. In addition, you will have a full removable headrest and a thick seat cushion for maximum comfort. 
Pros
If you're a tall or heavy person, this chair is great for you.
You get fully adjustable back support.
This chair has a five-year warranty. 
Cons
It is geared towards taller and heavier people, so if you're smaller, this chair may be too big. 
5. Hbada Ergonomic Office Recliner Chair
Weight Capacity: 250 lbs.
This desk chair with headrest is perfect for those who don't want to just work in the studio; they also want to relax in the studio. It is a studio chair that offers both maximum support and ultimate comfort. 
You will find this high back ergonomic chair reclines completely and comes with a foam cushion seat and headrest. In addition, you have the option of buying this chair with a footrest if it meets your needs. 
This can be bought in two different colors, either black or white, to help fit your studio's vibe. 
You will also have a breathable mesh backrest to keep you cool during long recording sessions and an ergonomic design for full back support. 
Pros
You can recline and relax in this chair.
This chair has back support.
It comes in two stylish colors. 
Cons
This chair does not support larger people.
The ability to fully recline may become distracting. 
6. Hbada Office Task Desk Chair
b>Weight Capacity: 250 lbs. 
If you are on a tight budget or need something that won't take up too much space, the Hbada Office Task Desk Chair is an excellent option. This sleek black chair is a stylish but affordable design. 
The Hbada Office Task Desk Chair is a swivel base chair meaning it can bend a tilt with your movement freely. It also features an adjustable height and flip-up armrests. The flip-up armrests can help save space when tucking your studio chair in after a long recording session. Finally, this chair has a breathable mesh back to keep the air flowing during long producing sessions. 
Pros
This chair is affordable.
You can save space with this smaller chair.
The breathable mesh helps you stay cool. 
Cons
There are no extra bells or whistles on this studio chair.
It isn't designed for a larger person to use. 
What Do Musicians and Producers Need in a Studio Chair?
A good chair isn't necessarily enough for a producer or musician. You need more than just an office chair with some support. You're different; you're artistic. Therefore, you need a chair for artists. 
How do you figure out what you need in your studio chair? 
Will a music production chair give support? Yes. It gives more than just support, though. 
A great music studio chair is going to give more than just support. It will have to be breathable, flexible, stylish, and in some cases, it will need to be right for playing an instrument. 
Key Features of Studio Chairs 
Flexibility
Comfort
Breathability
Design 
How To Choose the Right Studio Chair
Choosing the right chair is not a one size fits all situation. Everyone has different needs, and you should make a list of what you need when looking for a chair. 
When thinking about your chair, you should ask yourself these questions. 
Do I need back, head, arm support?
How big am I? Do I need something for a taller person, a shorter person, or a heavier person?
What style am I looking for?
Will I be using it for a long time?
What can I afford? 
Asking yourself these important questions will be vital to making sure you pick the right recording studio chair for you and your recording and producing needs. 
Conclusion
Finding the right music production chair doesn't have to be hard if you're a musician or producer. With a little bit of knowledge, you can find the right chair that fits your physical needs and your aesthetic needs. When it is about achieving the highest productivity levels while working, one should never compromise on a chair's comfort. All of our top picks offer a supreme level of comfort to users at an affordable price. Thanks for reading!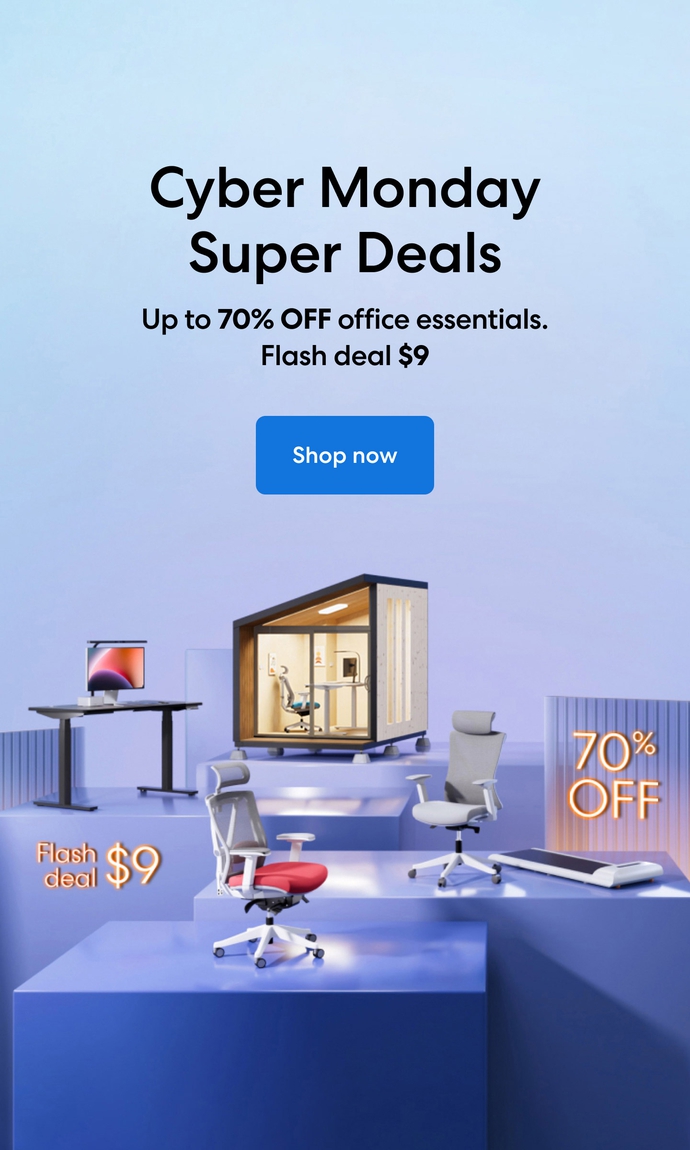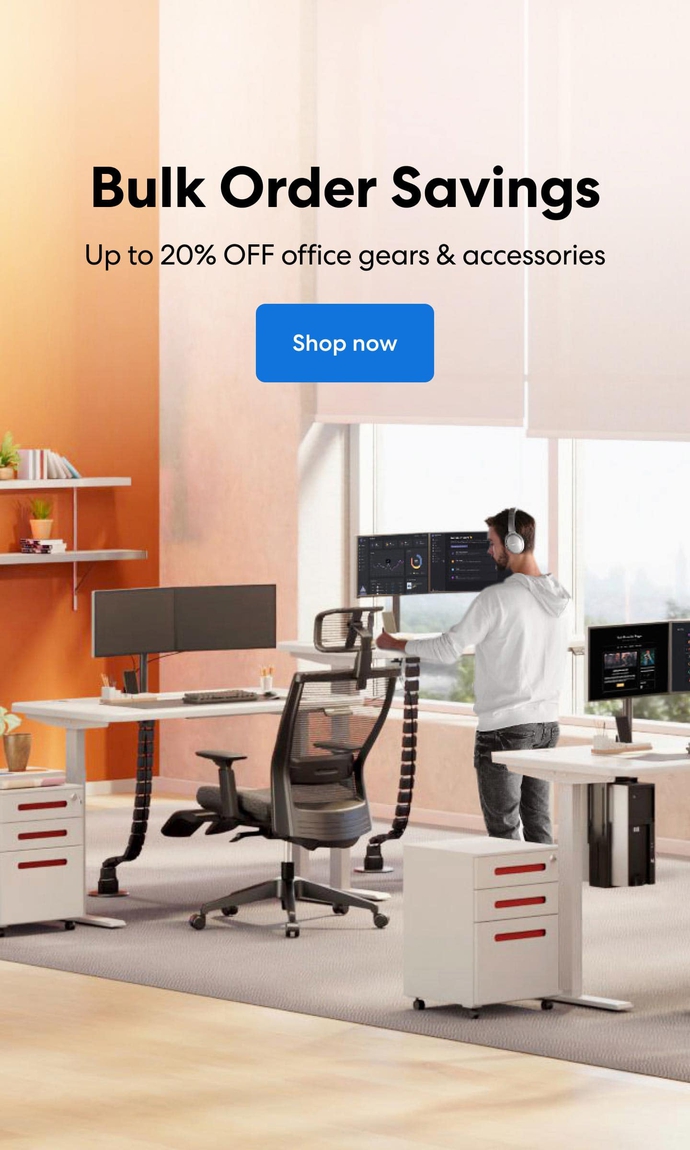 Subcribe newsletter and get $100 OFF.
Receive product updates, special offers, ergo tips, and inspiration form our team.