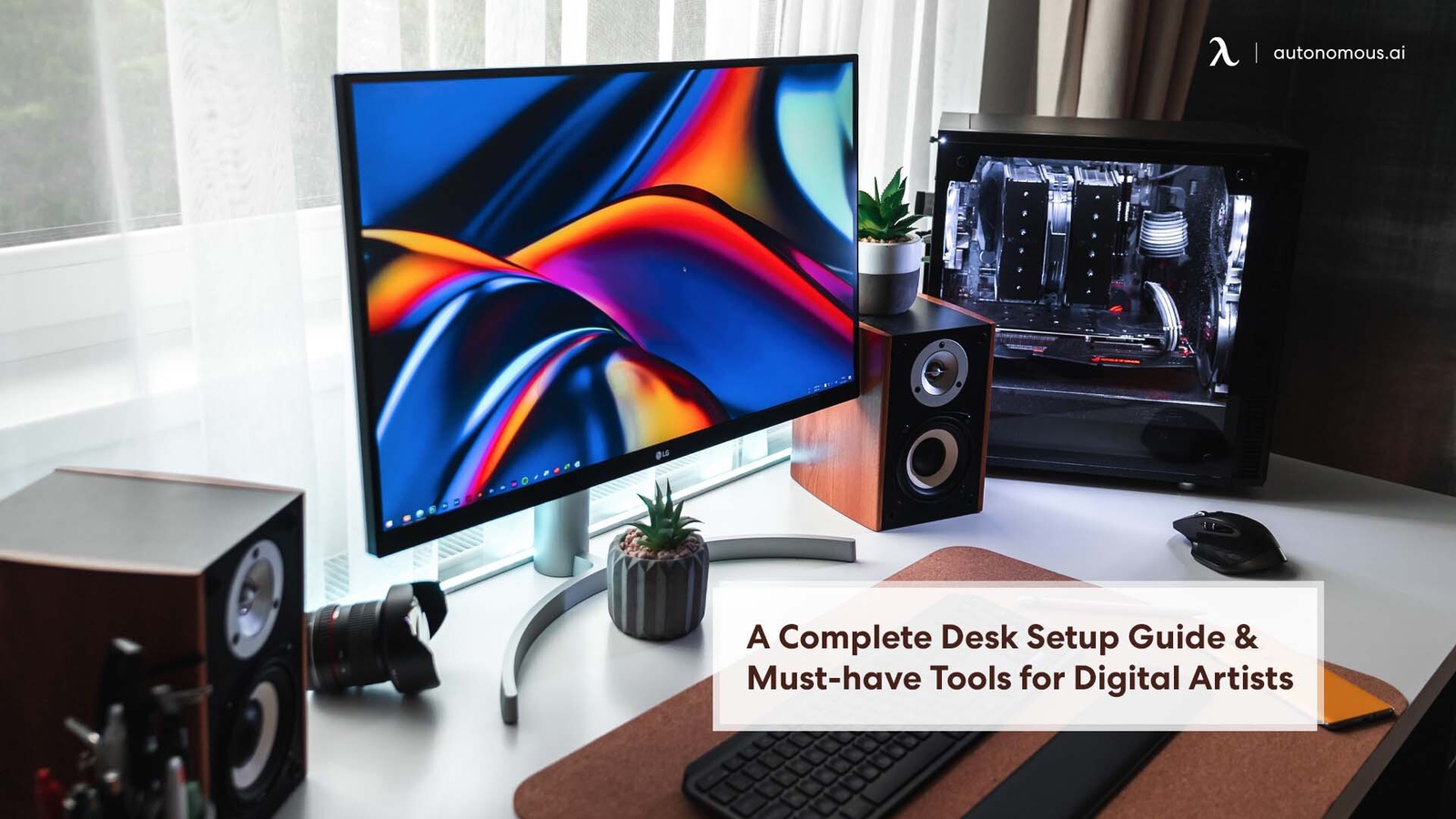 Workplace Inspiration
A Complete Desk Setup Guide And Must-have Tools for Digital Artists

Autonomous
|
Aug 21, 2022
14,592 Views
Whether you're an eager beginner who sketches and paints in your spare time to relax. Or the Leonardo da Vinci of the 21st Century who works on million-dollar campaigns. The only way to go is digital. Digital art is less wasteful, so much more cost-effective, easily shareable, and may be preserved for eternity. An artist is only as good as his tools and his canvas, but creating the perfect artist desk setup can be an overwhelming task even for the most knowledgeable creative. Where do you start in a market that is saturated with desk, chair, tablet, stylus, and stand options? Here are a few pointers on how to put together the best desk set up for artists.
Set your table
Before we start diving into the latest digital art tools, tech, and accessories. It's important to make sure that you have the best work desk and chair to create from. Just in the same way a painter sets his canvas upon a sturdy and adjustable easel, a flexible standing desk and ergonomic chair can fit perfectly with your individual needs. Make creating your next masterpiece all the more comfortable and enjoyable.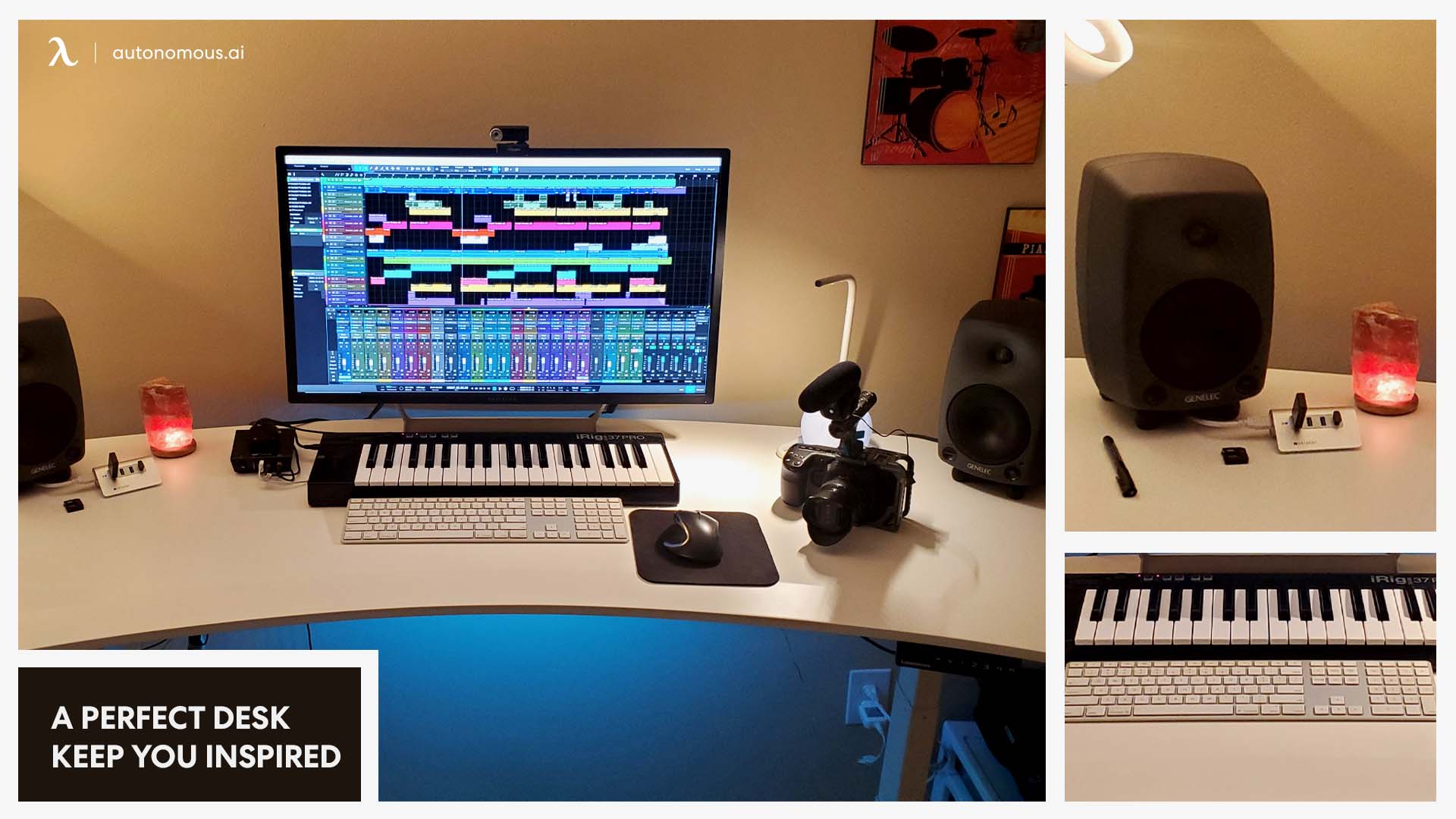 The standing desk from Autonomous is a surprisingly affordable art desk option, considering its quality build, power, and range of adjustability. Available in two spacious sizes (Classic: 53" x 29" and XL: 70.5" x 30") and in a variety of color and finish options, there's a perfect desk to keep you inspired. Of course, for the ultimate bespoke art desk that suits your personal taste to a T and fits perfectly within your existing space, opt for the SmartDesk Frame. With the DIY Kit, you have the option of supplying your very own tabletop. The possibilities are endless! Whether it's beautiful thick restored pine wood, cut, sanded, planed, and stained to perfection. Or a repurposed classic 1963 Chevy Stepside pickup. Whatever working surface your creative flair desires, the dual motor, anti-rust, metal leg frame has the capacity to support and lift up to 300lbs.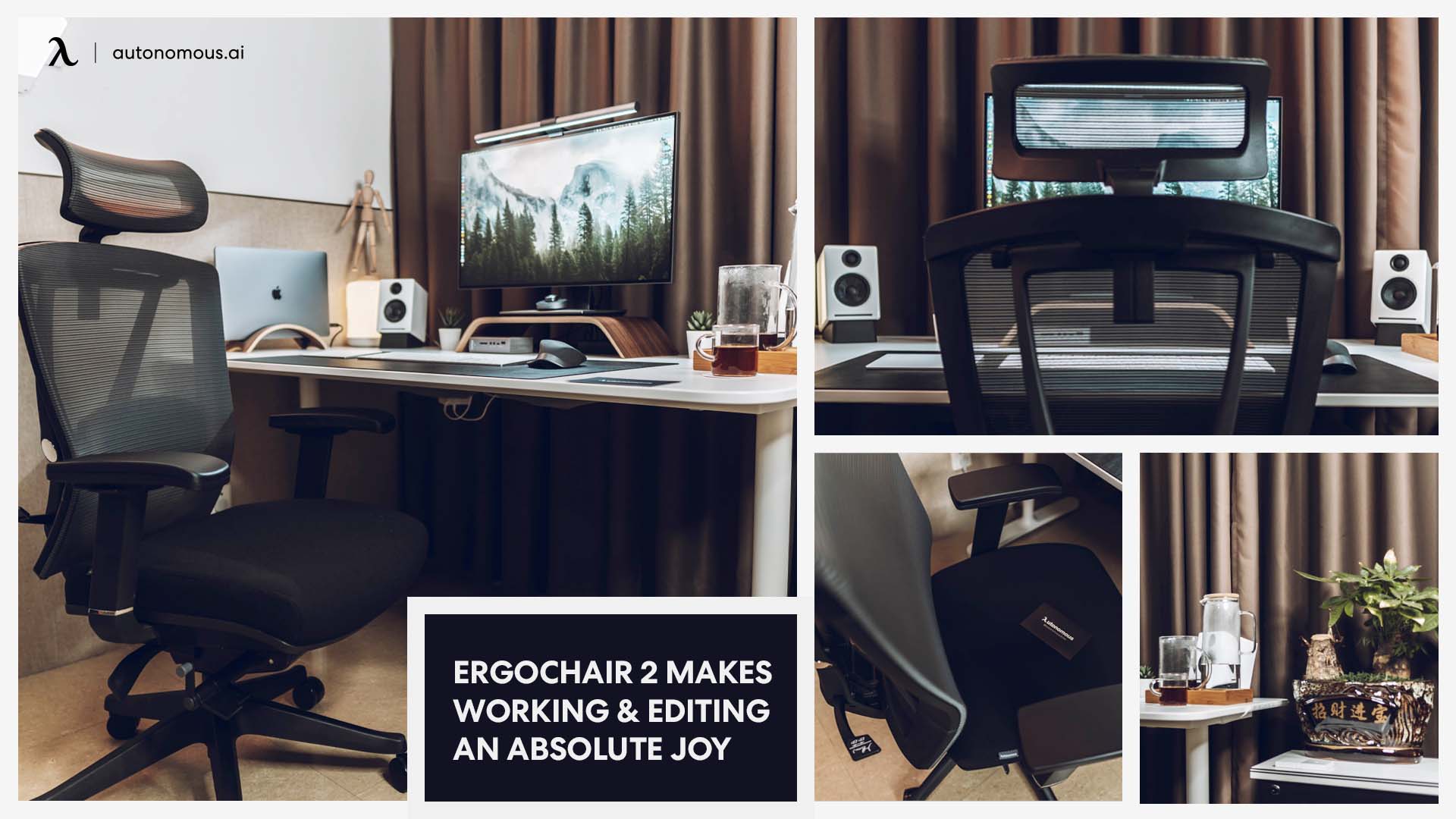 The greatest feature of the adjustable standing desk is the fact that it's a standing desk! Sometimes you just need to get up and move to get those creative juices flowing. With four adjustable preset heights, the SmartDesk gives you the freedom and flexibility to move your entire art setup to whichever seated or standing position you desire. All with just a push of a button. 
When it comes to choosing the right chair for your artist desk setup remember that no one sits in exactly the same position for hours on end. It's important to invest in a chair that allows you to adjust to various seating positions that are healthy, great for maintaining correct posture and promotes your artistic flow. The ErgoChair 2 from Autonomous provides a fully adjustable seat tilt, seat height, and complete lumbar support that not only provides comfort but also aids greatly to prevent any aches or pains. We've all been there. When you've been sketching, airbrushing, and editing for hours, that nagging pain in your neck and back rears its ugly head and suddenly your creative high comes crashing down to an all-time low. Autonomous has a number of fantastic ergonomic chair options to suit any preference, but we think the ErgoChair 2 is best suited for digital artists thanks to its super satisfying headrest that makes working on screen and editing graphics an absolute joy.
Check out the video below to see how an ergonomic desk setup for artists can help keep your digital life and physical wellbeing in check.

Pen to paper … so to speak
Sure. Sometimes nothing beats the feeling of friction between pencil and paper as you sketch. Or the physical experience of mixing paints and stroking your brush head upon the stretched canvas. But in this digital age, touch screens and styluses are increasingly becoming the norm when it comes to artmaking. And the possibilities are endless to what you can create and achieve. Shopping for a touch screen to create your art can be a real headache. Tech companies the world over have realized the growing demand and the number of products out there right now can be a pain to navigate. Whether you like to draw for fun and want to learn more about whether the digital route is right for you. Or if you are a seriously pro artist that wants to drop some serious coin on some amazing tech. Here are a couple of options to cater for every level. 
An apple a day
For beginners and those that create art as a hobby, the iPad Pro is super popular for a reason. The world's most advanced Liquid Retina display comes in an 11" or 12.9" size, is super thin (only 5.9mm), and weighs between 471 grams to 643 grams. The iPad Pro is a winner when it comes to handheld mobile transportability, allowing you to create and edit on the go. With the A12Z Bionic chip and 8-core graphics processor, the tablet is so fast it outpaces most PC laptops available today. From performing everyday tasks to graphic-heavy sessions, using the iPad Pro is a truly fluid experience. 
Unfortunately not included with every iPad Pro purchase, it really would be silly not to invest in an additional Apple Pencil (2nd generation). The stylus is a terrific drawing tool, especially when coupled with Pro apps like Procreate or Sketchbook. With the Apple Pencil, the iPad Pro becomes a powerful platform for illustration, design, and painting. For those of you who relish in the feeling of pen to paper, we highly recommend a matte screen protector. The iPad Screen Protector from Paperlike is optimized to create the ideal amount of friction for extended drawing sessions and the right stroke resistance for optimal accuracy. With almost no parallax (the distance between the pencil tip and the mark on screen), the feel of the Apple Pen on a matte screen protector is very close to the resistance you feel when drawing with a graphite pencil on paper. A matte screen protector not only takes sketching your big ideas to the next level, but it also aids greatly to reduce muscle fatigue caused by writing on a slippery glass tablet.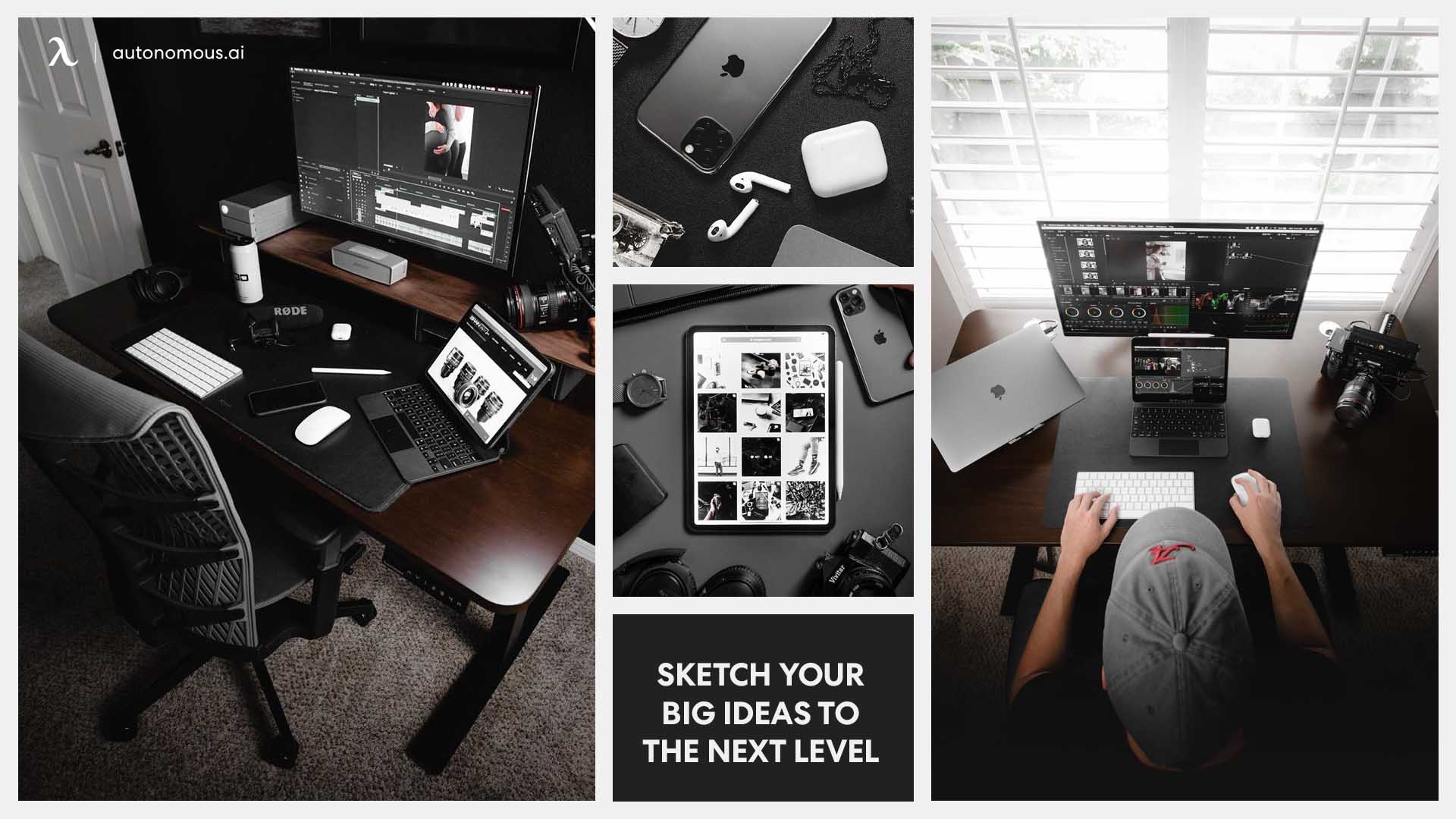 How does it work? Paperlike's screen protector surface is engineered with Nanodots technology. The microbeads are distributed across the screen protector and make your Apple Pencil vibrate ever so slightly so it feels like you're writing on paper. The microbeads are specifically designed so that the display light shines around and through them to minimize refractions, so as never to spoil your view. Minimizing any distracting glare and keeping your brilliant display quality.   
The elite artist
If you illustrate and animate for a living, you probably have a firsthand understanding of the power of screen space. The Cintiq Pro from Wacom packs a giant punch. Available in a whopping 24" or 32" canvas size, the mammoth tablet features a 4k screen with world-class color performance and virtually no parallax. The super large screens give you more space, more efficiency, and more time. With so much working screen space, you won't waste time searching for that reference image or opening and closing different programs on a secondary screen. And with less need to constantly zoom and scroll in, out of, and around your work, you'll always see the whole picture. The Cintiq Pro is by no means a mobile device, at all, but if digital art is a serious game for you it will save you valuable time and help you take control of your creativity for a more efficient controlled workspace. 
When paired with the Wacom Pro Pen 2 (which comes included with every Cintiq Pro. Yay!), the etched glass screen provides a distinct, tactile experience as you draw. Mimicking the feel of pen on paper. The screen is strong enough to resist 'pooling' and rippling, with each mark appearing precisely where you expect it, every time. Perfect for 3D modeling, illustration, or game development.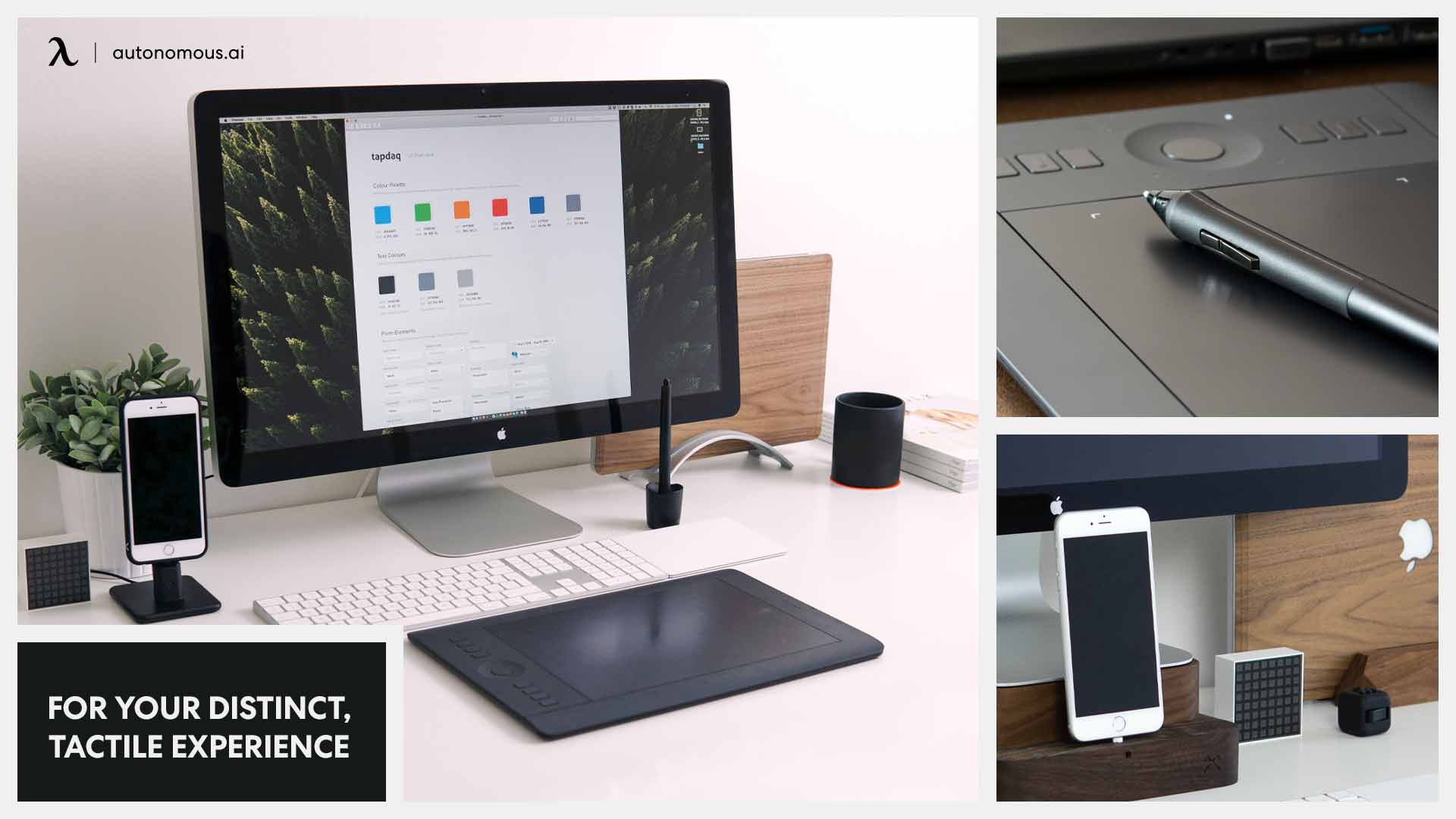 Just as Autonomous addresses the importance of ergonomic office solutions with adjustable standing desks and office chairs, Wacom also answers the call for physical wellbeing and healthy posture with the Cintiq Pro Ergo Stand. The stand allows you to raise, tilt, and rotate your Cintiq Pro display to easily adjust the viewing angle and find the most natural position for you. Once attached to the Ergo Stand, the Cintiq Pro display becomes a stable surface on which to create and feels just like drawing at a drafting table. The easily adjustable stand allows you to configure your display to suit the space and lighting wherever you happen to be working.
Adobe Suite fanatics
If you already have a laptop or desktop computer, then an additional tablet display isn't really all that necessary. A graphics drawing tablet is an inexpensive way to try out digital illustration through a stylus and tablet format. And is a very popular method for professionals who work a lot with Adobe Suite programs such as Illustrator, Photoshop, and Lightroom. Quite a different experience from drawing directly onto the screen, using a graphics tablet does take some getting used to at first, but once mastered is a huge time saver and is a great tool for graphic artists and digital illustrators.
The Inspiroy H640P from HUION is a 6.3" x 3.9" touchpad with 6 shortcut press keys to aid with smooth workflow. Its battery-free pen with 8,192 levels of pressure sensitivity and 233PPS report rate provides smooth strokes for a totally natural and lifelike drawing experience. Adaptable to both left and right-handed users, the pad is only 8mm thick and weighs a featherlight 277 grams. And at a super affordable price point of under $40, this is a great entry-level graphic pen tablet. 
All the bells and whistles
Awesome! Now you've got yourself a BOSS standing desk and ergonomic office chair to keep you physically sound during every creative hour, and the perfect stylus and tablet option to suit your illustrative needs. Here are a few more accessories and fixtures to really give you that artistic edge. 
A different kind of activewear
The one unavoidable thing about touch screen displays that annoys so many tech lovers the world over. Is fingerprints. And think about it, for the most natural drawing experience, you need to comfortably rest your entire hand onto the page as you draw. The Artist Drawing Two Finger Glove by Parblo is a genius solution that prevents your precious screen from the natural oils of your skin, and also reduces the friction between your hand and the tablet's drawing surface. Made of high elastic lycra fiber, the glove features fantastic air permeability, strong tensile resistance, and can be used on both the left or right hand.
How Stella got her groove back
Just as writers get writer's block, at times it's normal for artists to also feel a little uninspired and experience a creative slump. What's a great way to wake yourself up and get back into the groove? Get up and dance! High-end luxury Danish consumer electronics company, Bang & Olufsen, are globally renowned for their impeccable balance of expert craftsmanship and premium sound. The Beoplay P6 portable Bluetooth speaker was designed by award-winning Danish designer, Cecilie Manz. Shaped to give even sound distribution to fill a room with powerful sound, its aluminum body is beautifully curved to give an elegant feel. With true 360 sound and impressive deep bass performance, this little guy packs an attractive sensory punch. Showcasing both great power and great portability, you can enjoy up to 16 hours of perfect performance from one full charge, with a battery that fast charges from empty to full capacity in just three hours. Available in limited edition Chestnut brown, Natural silver, and all Black, the sleek finish of the Bluetooth speaker will turn heads as part of any desk set up for artists.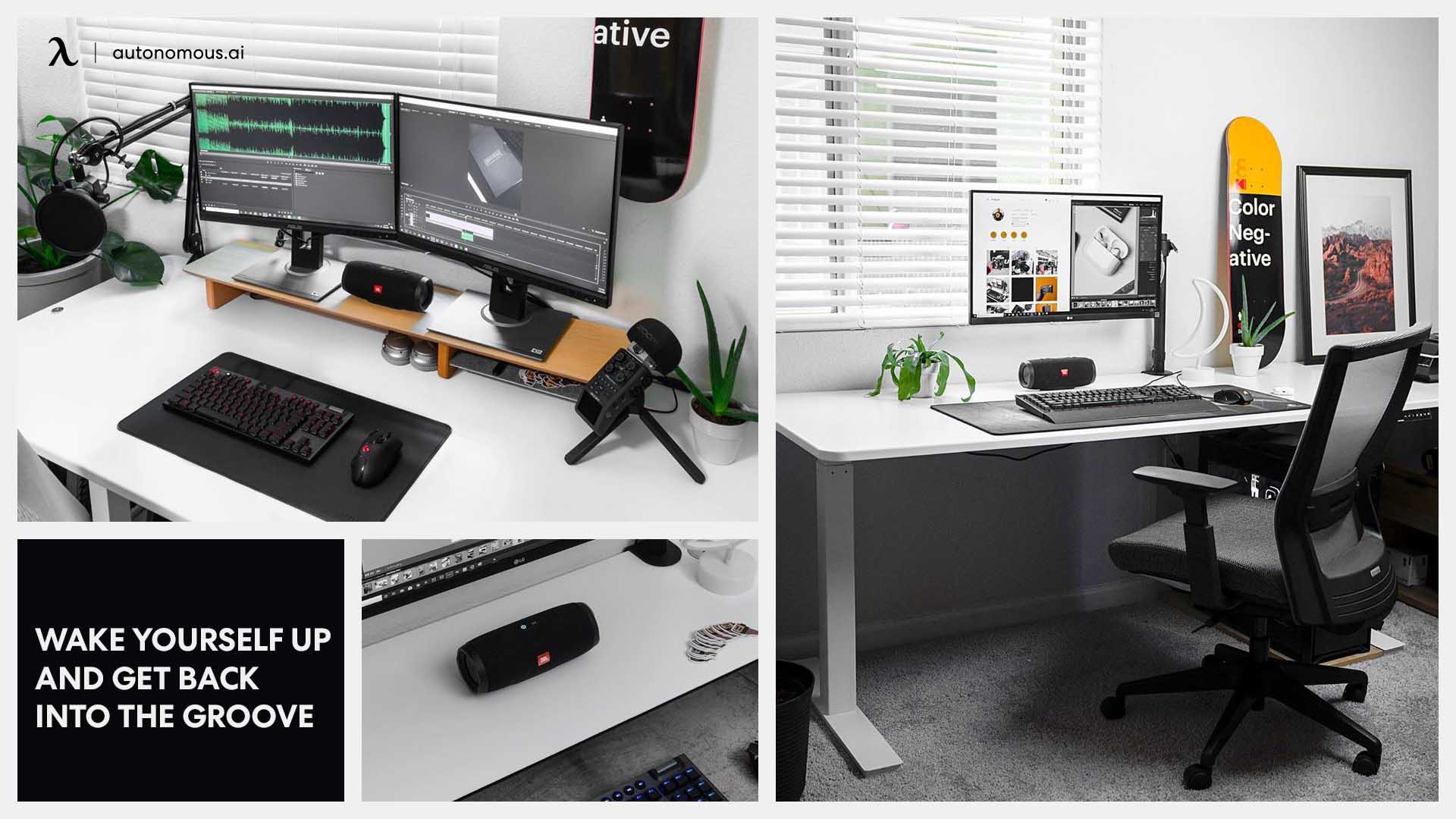 Keep things lit
Finally, in order to create digital art just as you envisage it, you need to see the truest of colors from your displays. Lighting is one of the most important factors to consider when creating the best desk set up for artists. For true color accuracy, a darker working environment is beneficial. If your art studio has windows, install some simple shutter blinds or hang some thick blackout curtains to create the perfect den, and view the truest colors on screen. Make sure to equip the workspace with artificial light that gives you options. LED desk lamps that offer brightness levels, as well as tonal transitions between warm and neutral are really useful in setting up the perfect lighting conditions for when you want to switch on your screens and create your best work.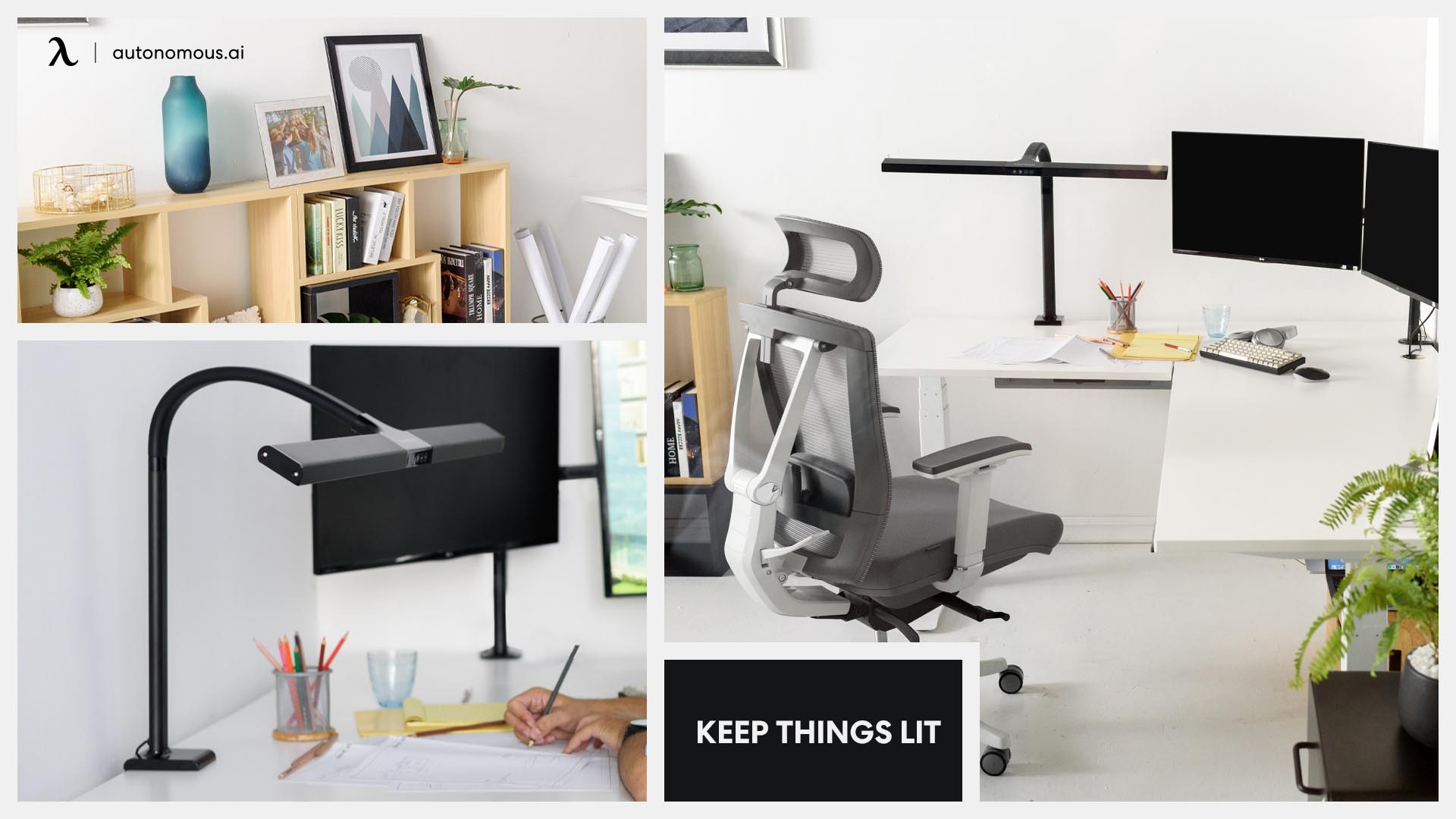 FAQs
How do I set up a digital art desk?
Actually, setting up a digital art desk is really easy. It only includes a desk and chair like other normal office workers. However, it is better if you invest in a standing desk and ergonomic chair to prevent back pain and make your workspace more creative. 
How do I build a small digital art studio at home?
In fact, you don't need much to set up an in-home art studio. Basically, it includes only two core components: a space and organization for your materials. So, you need only set up a desk and invest in some necessary tools for digital artists. Moreover, you'll also need to consider your budget for this space to make it reasonable.
---
Read more...
Desk Setup Ideas for Designers and Producers Working from Home
How Remote Workers can Achieve Work-Life Balance
10 Valuable Tips for Parents Balancing Parenting and Working from Home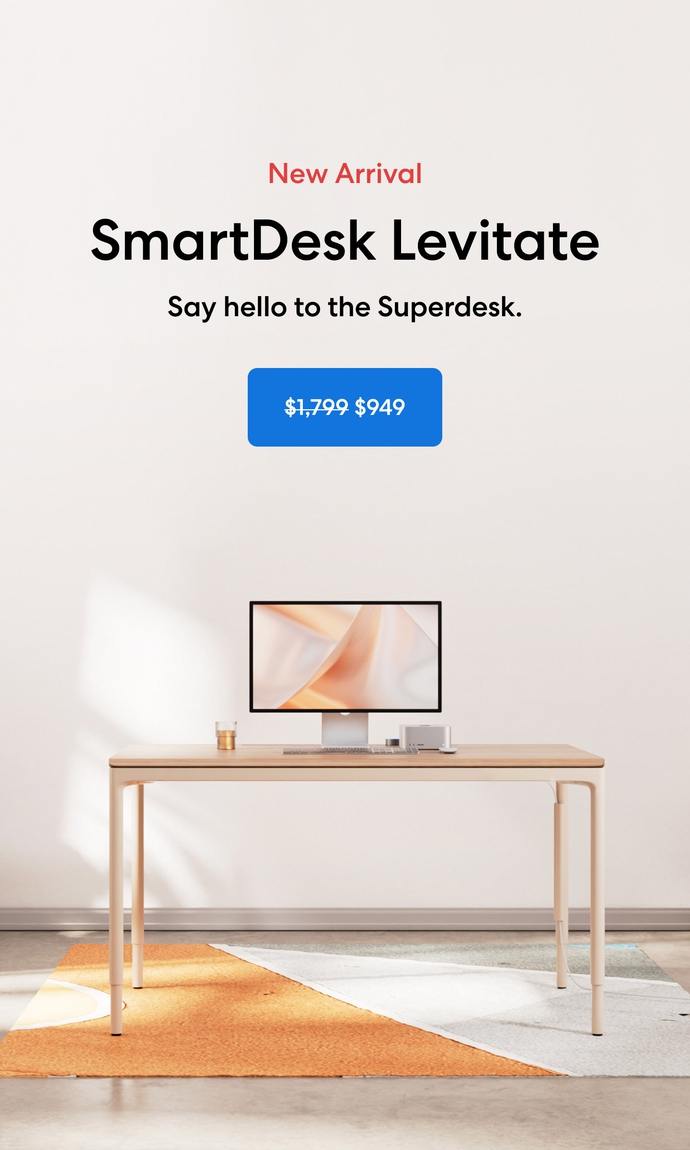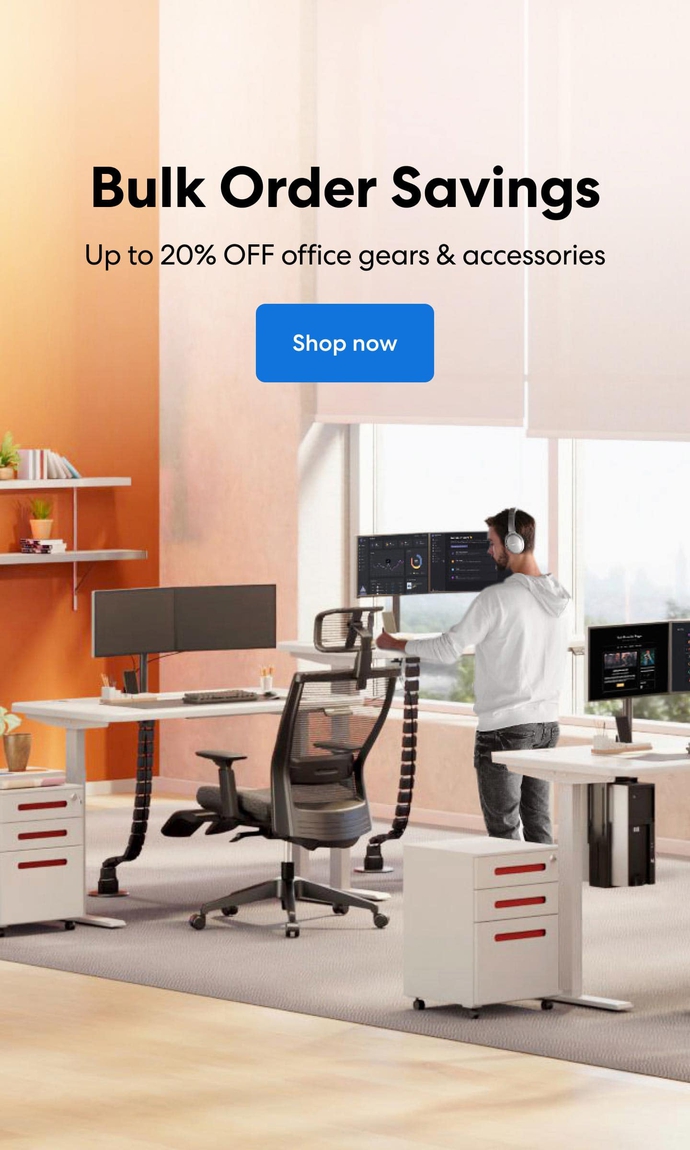 Subcribe newsletter and get $100 OFF.
Receive product updates, special offers, ergo tips, and inspiration form our team.