Smart Products
Be Careful When Looking for a Cheap Office Chair Under $200

Autonomous
|
Jun 1, 2023
346 Views
If you're looking for a new office chair but trying to stick to a budget of $200 or less, you might want to reconsider it. While a cheap office chair can be tempting, buying it can cost you more in the long run. In this article, we'll explain why. 
5 Common Problems with Cheap Office Chairs
These are the reasons why you should rethink buying a cheap office chair:
1. They're Made from Materials with Poor Quality
One of the most obvious reasons why some office chairs can be so cheap is the use of cheaper materials. However, while these materials can lower the cost of production and make the chairs more affordable, they often lack quality. 
Low-grade foam, for example, can quickly lose its shape and support, leading it to flatten easily over time. Higher-density foam, on the other hand, is usually more durable and breathable, even though it's more costly. This results in a more comfortable and long-lasting use of the best budget office chair. 
Let's make another comparison. Genuine leather and faux leather are both often used in the upholstery of office chairs. Still, the former is usually more expensive than the latter. However, its quality makes it worth its price. With faux leather, the upholstery can be prone to wear and tear, discoloration, or peeling. 
2. They Lack Ergonomic Features
Ergonomic features are so important, especially for people who sit for extended periods. However, many cheap office chairs can't provide them due to low production costs.
Some ergonomic features include lumbar and neck support, proper armrest and headrest, swivel, as well as enough space for the user to move around comfortably. They are engineered to reduce the risk of strain and injury to the body. Without these features, users might experience health problems related to improper posture.
3. They Have Limited Adjustability
Adjustability is another critical aspect of an ergonomic office chair that allows users to customize their seating position to their needs. One of the most important adjustability features of a computer office chair is seat height. 
A cheap desk chair with adjustable seat height allows users to position the seat at the optimal height for their body. Chairs with proper height will enable their users' feet to be flat on the ground and their thighs parallel to the floor. This improves circulation, avoids leg and foot discomfort, and lowers the chance of developing back pain.
In addition, it's also essential for a chair to have an adjustable backrest and armrest. However, cheap office chairs frequently lack these features. Instead, they have fixed seat height, backrests, and armrests that can cause discomfort and decrease your productivity.
4. They Have Short or No Warranties
Due to the lack of quality of their products, manufacturers of cheap office chairs are often not confident about their products' durability and performance. As a result, they offer limited or no warranties at all. 
When you don't have a warranty, if any part of the chair stops working or breaks, you will have to fix it at your own expense. Sometimes, these parts are hard to find or fix. In that case, you will have no choice but to buy a new chair. 
This can be expensive. Instead of saving money by purchasing a cheap desk chair, you will just spend more money on fixing it. 
5. They Have a Short Lifespan
The short lifespan of cheap office chairs is a key drawback that can have a variety of consequences. Due to the low-quality materials, these chairs may not be able to withstand frequent usage. This makes them prone to malfunctions and breakdowns. An office chair that won't stand up is an example of this. 
Plastic wheels, for instance, are often used in cheap computer chairs. These wheels can quickly wear out or lose their grip on the floor, making the chair unstable and difficult to move around. If this keeps happening, you will need to replace them frequently, leading to additional costs.
Why Do Good Office Chairs Cost So Much?
These are the reasons why the best ergonomic chair is so expensive: 
Extensive Research and Development
Manufacturers of high-quality office chairs may invest in extensive research and development (R&D) to build and test new features that improve the chair's performance and comfort. The cheap desk chair seems not to do this carefully.
They make sure that each part of the chairs, including cushioning, lumbar support system, or armrests, allows users to have maximum comfort. These R&D projects can be costly. They require a significant investment in time, resources, and expertise, which adds to the production costs. 
Labor-Intensive Manufacturing Process
High-quality office chairs are often more complex to produce than cheaper office chairs. Often, their manufacturers utilize innovative technology and procedures to create their products. They may also use special machinery and tools to build the chair's components precisely. 
In addition, the assembly of high-end office chairs often requires highly skilled labor compared to cheap computer chairs. The manufacturers might only employ workers with specific training or qualifications to guarantee they can satisfy the expected high standards of quality of these products. Skilled employees may demand greater salaries, raising the chair's production costs.
Extended Warranties
The length of the warranty can indicate the amount of support that the manufacturer is willing to provide. Companies that provide warranties for their office chairs are more likely to have invested in the quality and lifespan of their products. 
They're ready to help consumers if something goes wrong. This might be an important factor to consider while picking between different office chair selections. 
Premium Materials
Premium materials have the strength and resilience to wear and tear that cheap materials don't. Aside from that, the quality of materials used in expensive office chairs can influence the level of comfort they provide. The materials of cheap computer chairs seem not to be much durable for long use.
10 Ergonomic Office Chairs You'll Never Regret Spending Extra Money for
1. Autonomous ErgoChair Core
The Autonomous ErgoChair Core has everything you need from an office chair. It's comfortable, adjustable, and durable due to the high-quality materials used. Furthermore, it has a BIFMA certification for meeting the industry's strict standards, so you can trust how durable and safe it is. 
This chair has some key features, such as a contoured foam seat, breathable mesh, and a lumbar support pad. It can support up to 250 pounds of weight, making it suitable for many people. In addition, it also comes with a one-year warranty, giving you peace of mind that you are investing in a high-quality product.
2. Autonomous ErgoChair Pro
Sitting for extended periods of time may be exhausting and uncomfortable, especially if you don't have the proper chair that supports your posture. Fortunately, this office chair can help you with that. 
The Autonomous ErgoChair Pro is designed to offer you the comfort and support you need. One of its key features is its adaptability. You can modify its height, armrest, headrest, backrest, and seat tilt. This means that you can personalize the chair to properly fit your body. 
Not only are its materials premium, but they're also eco-friendly. With its durability, the chair can support up to 300 pounds of weight, even more than the previous one.
3. Autonomous ErgoChair Plus
Having a chair that fits your body shape is crucial for a comfortable and healthy sitting experience. People's body shapes and sizes vary, so it can be difficult to find a chair that suits them exactly. Most cheap chairs are designed to be one-size-fits-all. 
However, thanks to this chair's adaptive backrest feature, you can adjust the backrest to fit your back shape, making it suitable for everyone. This feature is especially useful for people who suffer from lower back pain or other back-related issues. 
In addition, this chair has a five-year warranty. It also has met the BIFMA's strict standards and received certification for it. We think that this chair can be considered the best office chair for long hours.
4. Autonomous ErgoChair Recline
The adjustable headrest is a fantastic feature that gives extra support to your head and neck. It also has adjustable leg rest, which gives you a comfortable spot to rest your legs.
If you have circulatory problems or leg discomfort, this feature would be particularly great for you. It can help lower pressure in the leg and increase blood flow. 
This recliner desk chair is meant to support your spine while you use it and promote mobility and flexibility. It's important for reducing back pain and discomfort, particularly for people who spend extended time sitting at a computer.
5. Autonomous AvoChair
The AvoChair is a modern and functional ergonomic office chair that offers optimum comfort and support. Its nature-inspired, clean lines are meticulously created with health in mind, making it a great choice for anybody who wishes to have proper posture and decrease the risk of back pain and discomfort. 
This sustainable desk chair's design combines artificial and organic elements seamlessly with a modern and minimalist style that fits well with any office style. It has a curved backrest that fits your spine and provides good support while relieving pressure on your lower back.
6. EUREKA ERGONOMIC Executive Leather Sofa Chair
This white leather office chair is not only attractive but also easy to clean and maintain. Its ergonomic design includes a curved backrest, cushioned armrests, and a well-padded seat, making it suitable for anyone who wants to work or simply relax. 
The chair features a headrest that can be adjusted to provide additional neck and shoulder support. It has zero-pressure technology, which makes it seem like you're sitting on clouds and reduces tension. This chair is made to last with heavy-duty elements, including a gas lift stand and a hot-bending wood headrest.
7. Skyline Decor Drafting Chair: Foot Ring and Flip-Up Arms
This office chair has some key features, such as a tilt lock mechanism, tilt tension adjustment knob, and flip-up arms. It also has a classy, modern design that will make your office look stylish. 
With its adjustable height, you can easily customize this chair to fit your desired seating height. The flip-up arms also provide added support and comfort, making it easier to focus on tasks. 
Unfortunately, although this chair has amazing features, it only comes with a one-month warranty. It has high-quality materials to make up for that, though. The base, for instance, is made from heavy-duty nylon, so you don't have to doubt its strength and durability.
8. Logicfox Ergonomic Office Chair: Saddle-shaped Mesh Seat
What's unique about this chair is its backrest mesh. It doesn't look like any other mesh that's used for office chairs because it's made with grid-weaving technology. This results in a backrest that's highly breathable. Furthermore, it's very elastic. No matter how much you use the chair, the mesh won't deform easily. 
This ergonomic chair has up to eight points of adjustment, including adjustable lumbar support, seat height, headrest, seat tilt, tilt tension, and 3D armrests for height, rotation, and depth. These qualities make this chair suitable for anyone.
9. Duramont Ergonomic Office Chair: Adjustable Desk Chair
This chair promises to have a high level of adjustability, more than any chair on the market. It's proven by its ability to completely recline and fully sit upright. Therefore, you can choose any tilt angle that's comfortable for you. 
In comparison to other chairs, its breathable mesh back keeps you cool and comfy for longer lengths of time. The chair also has an adjustable lumbar support that moves in and out and up and down. 
What's interesting about this chair is its five-year warranty, which is quite long for an office chair. It can also support more than 330 pounds, so its claim about being better than other chairs might be true.
10. Techni Mobili Executive Mesh Office Chair: Steel Chrome Base
Finally, we have this office chair. Feature-wise, it's similar to any other product on this list. However, it boasts its extremely durable frame as its key feature.
The five-star base is made from steel and chrome finish, giving it a beautiful and professional appearance as well as creating a strong foundation for the chair.
Final Verdict
Finding the best affordable office chair that still has good quality might be difficult, but by doing some research and comparison, you can weigh your options before making a purchase. Remember that your office chair is a long-term investment in your comfort and well-being, so pick wisely and put your health and comfort first.
Video ads for product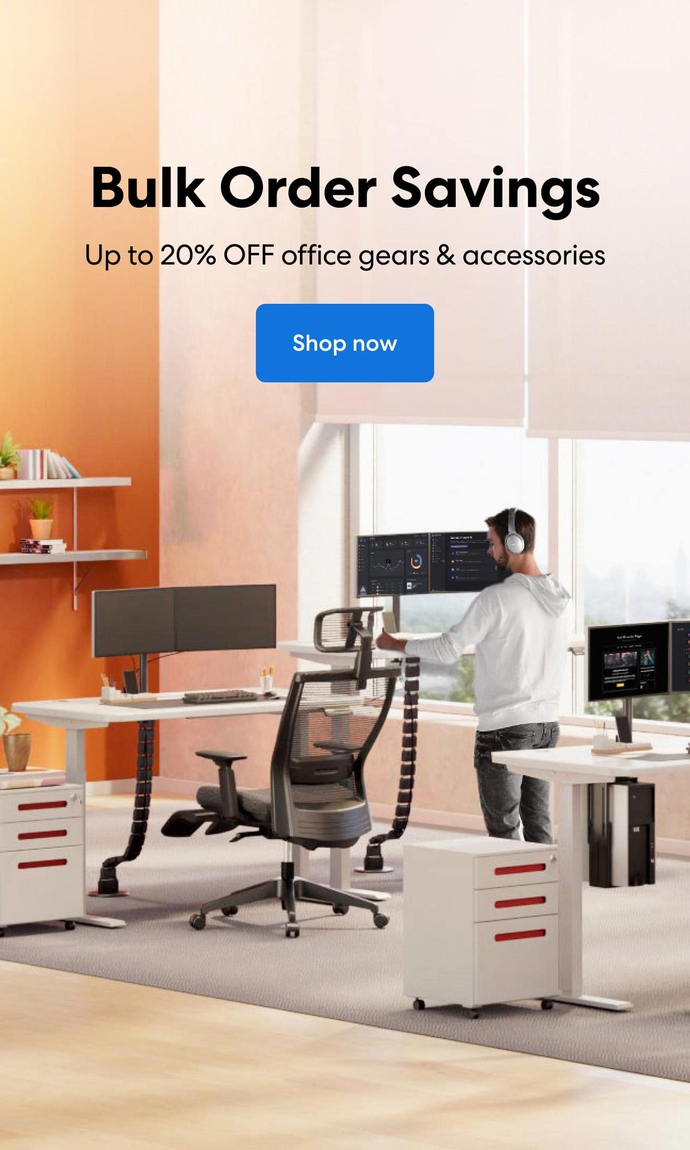 Subcribe newsletter and get $100 OFF.
Receive product updates, special offers, ergo tips, and inspiration form our team.