Workplace Inspiration
Best Backyard ADUs: Why You Should Have One in 2023?

Autonomous
|
Feb 2, 2023
660 Views
Wondering whether a backyard ADU is the right choice for your home?
In this article, we'll explore the best backyard ADUs and why you should consider building one in 2023. We will take a look at the different types of pods available, the benefits of building a backyard ADU, the cost and financing options, and some backyard ADU ideas to inspire you. 
Building an ADU in your backyard is a great way to increase living space and property value and is a trend that is becoming more popular by the year. 
Top 15 Best Backyard ADUs for Your Backyard
Are you looking to add extra living space to your backyard? Check out our list of the top 15 best backyard ADUs that will add functionality and beauty to your outdoor space.
From sleek and modern designs to charming and traditional cottages, these backyard ADUs offer a wide range of options to fit any taste and lifestyle. 
1. Autonomous Pod
The Autonomous pod is a ground-breaking solution to create more living space in your backyard without the trouble and cost of house improvements. It's simple, adaptable, and economical design allows it to be put up and used daily, changing your backyard into a multi-functional business or recreational place. 
This pod is great if you want more room for work, leisure, or entertainment. Moreover, it's an excellent method to establish a dedicated place for whatever you need most in your life, particularly for people who work from home and find it challenging to maintain a separation between personal and professional life. 
Dimension
103"W x 142.5"L x 92" - 125.5"H
Material
Exterior: Composite wood
Interior: Plywood wooden frame
Frame: Steel, M300 cement
Weight capacity
2.9 tons
Minimum wattage
100W
Color
Black, White
Warranty
1 year
2. Autonomous WorkPod
An Autonomous home office pod is the ideal answer for people needing a dedicated and soundproof workstation. With floor-to-ceiling glass doors, this home office pod provides a light and open area that never seems to confine. It includes everything you need to start your next project or be creative and have fun. 
Furthermore, it comes with the SmartDesk Connect and ErgoChair Plus, which provides an ergonomic workstation layout, and the anti-fatigue mat keeps your feet from feeling constricted when standing. 
Dimension
103"W x 142.5"L x 92" - 125.5"H
Material
Exterior: Composite wood
Interior: Plywood wooden frame
Frame: Steel, M300 cement
Include
SmartDesk Pro, ErgoChair Plus, Cable tray, Filing Cabinet, Dual Monitor Arm, Anti-fatigue Mat
Minimum wattage
100W
Weight capacity
2.9 tons
Color
Black, White
Warranty
1 year
3. Autonomous StudioPod
This pod is a flexible, handy, prefab backyard studio that blends in with any outside setting. It's fantastic for living, working, and playing, with a wardrobe, workstation, bookcase, TV stand, folding coffee table, and convertible couch bed. Unlike house renovations, installing a StudioPod is simple and painless. 
StudioPod is a substantial and long-lasting backyard addition thanks to its sturdy steel structure, which is more durable than a standard wood frame. An aluminum coating covers the outside, providing waterproofing, weather protection, and a lovely look. The inside is insulated with environmentally friendly honeycomb material, which also serves as soundproofing.
Dimension
106" W - 155"L x 106.3"H
Material
Exterior: Vinyl layer
Interior: Eco-friendly honeycomb paper
Frame: Steel
Include
A closet, desk, bookshelf, TV stand, a foldable coffee table and convertible sofa bed
Minimum wattage
150W
Lighting
3 color modes
Warranty
1 year
4. Thinktanks Compact Office Pod
The Thinktanks Compact pod is a stylish and practical option for remote experts who want a secluded and professional working space. This studio shed can be quickly and simply built and conforms with most audiovisual rules, making it an excellent choice for individuals searching for a separate workstation. 
It has a 1600 Lux illumination system that delivers the ideal degree of light for everyday usage and a 4000K natural light-color temperature LED central lighting system. 
| | |
| --- | --- |
| Dimension | 7 x 7 x 7.5 ft |
| Material | Double laminated tempered glass, R200 aluminum |
| Color | Black, Green |
| Interior | Washable PET Felt |
| Standard outlet | 110-220V |
| Lighting | LED 140W |
| Warranty | 3 years |
5. Groove Garden & Barn Tongue Shed
This unit is a small backyard shed for those with limited outdoor space. With its unique apex roof featuring a slight slope on one side, this shed can be conveniently placed in your garden or backyard to suit your needs. 
It's spacious enough to store all your gardening supplies and tools yet compact enough to fit in any small backyard. The Tongue and Groove construction makes the shed sturdy and durable, ensuring that your stored items will be protected from the weather. Furthermore, this shed is a perfect blend of style and functionality. 
6. Archipod
The Archipod is a one-of-a-kind office in the garden that reinvents the classic concept of outside working. This pod may seem like something out of a cartoon with its distinctive spherical form, but walk inside, and you'll be surprised by the amount of detail and expertise. 
Its upward-opening door adds a distinctive touch, and the built-in workstation, set against one side of the prefab ADU in a full semicircle, provides adequate room for all your equipment while saving you money on extra office furniture.
7. LivSimply Pod
The LivPod prefab office backyard ADU has a simple design, practicality, and customization options. This 164-foot prefab office is flawless for people looking for a clean and contemporary workstation, with its smooth white surfaces, cupboards for additional storage, and massive glass slider door that opens onto a small wooden platform. 
One of the primary benefits of selecting a LivPod prefab workplace is its modification flexibility, which allows you to personalize it to your specific needs. Furthermore, LivPod models are packed and moved as a complete unit by a giant crane, removing the requirement for on-site assembly and lowering the need for contractors.
8. Ten-seater Glass Sphere Pod
As the name implies, the Spherical Garden pod is a prefab accessory dwelling unit with plenty of room and a distinctive design. The spherical form is unusual, but it is undoubtedly eye-catching. Some people are cautious of glass-based outdoor designs, but this sturdy device is made to resist the weather. 
Additionally, the additional features, including a dining table and coffee, LED desk lighting, and a Bluetooth radio system, make this backyard prefab unit even more appealing. Since they're all included, you won't have to worry about extra fixtures, which is a huge benefit. 
9. Cedar Summit Lookout ADU
The Cedar Summit Lookout is an excellent and stylish solution for individuals seeking a minimalist lifestyle. This tiny house on wheels has a lovely appearance and a snug interior, making it superb for downsizing or living a nomadic lifestyle.
10. Prefab Backyard Office Shed from StudioShed
This StudioShed backyard office pod provides a customized and sustainable alternative for individuals looking to make an outside workstation. You can create an office that meets your interests, requirements, and budget by selecting from a selection of designs.
11. Quality Shed Studio
Were you planning on building an ADU in your backyard? Studio Shed's backyard office pod models are an affordable and functional solution for those looking to add a practical and stylish workspace to their backyard. 
These models from Quality Shed offer modern designs at a fair price. With a range of sizes from 8 x 10 to 12 x 24 inches, they are excellent for various backyard sizes and office environments. 
12. GIGAPOD Luxury Prefab ADU
The GIGAPOD contemporary backyard studio raises the bar for elegance and utility in the small house movement. This creative backyard studio is a roomy and elegant pod with a clean and contemporary design that is good for individuals looking to downsize without losing elegance and comfort. 
Built with high-quality materials, the GIGAPOD can resist weather and last for years. Its amazing design mixes elegance and utility, making it a great addition to any garden. Whether you need a backyard office, a guest home, or a quiet hideaway, this pod is ideal.
13. Igloo Pod
The Igloo Pod is a novel and excellent lodging alternative that mixes contemporary design with a touch of history. Its curving dome design is reminiscent of a classic igloo with a modern twist. This pod's spacious interior includes a lounge area, kitchen, double bed, and toilet, making it perfect for a romantic retreat or a fun solo excursion.
14. Suncast Resin Tremont Backyard Shed
The Suncast Tremont shed is the ideal storage option for all your needs. Whether you need a place to keep your gardening equipment or other outdoor accessories, this pre-built backyard shed has you covered. Its two doors and 60-inch-wide entry make it simple to access even huge equipment. 
15. ADUs from Blue Homes
Blue Homes has been changing the modular home business in California, emphasizing providing distinctive and valuable living spaces. Its designs include open floor layouts with enough natural light and windows to enjoy the glorious sunlight. 
One of the most significant advantages of dealing with Blue Homes is its speedy and streamlined construction process and different backyard ADU ideas. Each prefab house is built at a factory and may be finished on-site in as little as three months.
What Are Accessory Dwelling Units?
An accessory dwelling unit (ADU) is a small, self-contained living space built on the same property as an existing single-family home. ADUs can provide additional living space for family members, guests, or renters.
They come in various forms, such as detached units, attached units, or converted spaces. An outdoor ADU, also known as a backyard accessory dwelling unit, is a prefab building built in an existing home's parcel. 
A detached ADU is a separate structure built on the same property as the main house. An attached ADU, on the other hand, is built as an addition to the main house. 
Why Build a Backyard Tiny House ADU?
Building a backyard ADU offers many benefits. The first and most obvious benefit is the added living space. A dwelling unit can provide extra space for family members, guests, or friends. 
This can be especially useful for families with aging parents or adult children who need their own space. Additionally, renting out the ADU can generate additional income, making it a wise financial decision.
Another benefit of building a prefab home is that it can increase the value of your property. A prefabricated ADU can be desirable for potential buyers, making your home more attractive in the real estate market. It can also be a good investment for the long term, as the value of the ADU may appreciate over time.
Dwelling units can also be a sustainable and eco-friendly option. They often use less energy and resources than traditional homes, and they can be highly energy-efficient in many cases. This can save you money on utility bills and reduce your carbon footprint. 
Lastly, building an ADU in your backyard allows you to customize the space to your specific needs and preferences. You can choose the size, design, and features that best suit your lifestyle, which can be an excellent opportunity to create a unique and functional living space tailored to your needs. 
How Much Does a Backyard ADU Cost?
The cost of building a backyard ADU can vary depending on several factors, such as the size, materials used, and location. On average, backyard ADUs can cost anywhere from $10,000 to $150,000. 
An ADU's cost may vary depending on the type of unit you choose to build; for example, a detached unit may be more expensive than an attached model or a converted space. 
When budgeting for a backyard ADU, it's essential to consider the cost of materials, labor, and permits. First, the cost of materials will depend on the type of materials you choose, such as wood, brick, or stone. 
Second, the labor price will depend on the project's complexity and whether you hire a contractor or build it yourself. Third, the expense of permits will depend on your local zoning and building regulations. 
Financing options such as loans and grants may be available to help cover the costs of building a dwelling unit. Some states and municipalities offer financial incentives, such as tax breaks or waived fees, for creating ADUs. It's essential to research the available options in your area and to speak with a lender or financial advisor to determine the best financing option for you. 
Additionally, you can cut costs by using recycled materials, opting for smaller and simple designs, and doing some of the work yourself. 
Final Thoughts
Building an ADU in your backyard is a wise decision that can bring many benefits in terms of living space, property value, and rental income. 
Hopefully, this article has provided valuable information and inspiration for backyard ADU ideas. Remember to research the specific regulations in your area and speak with a lender or financial advisor to determine the best financing option for you.
Video ads for product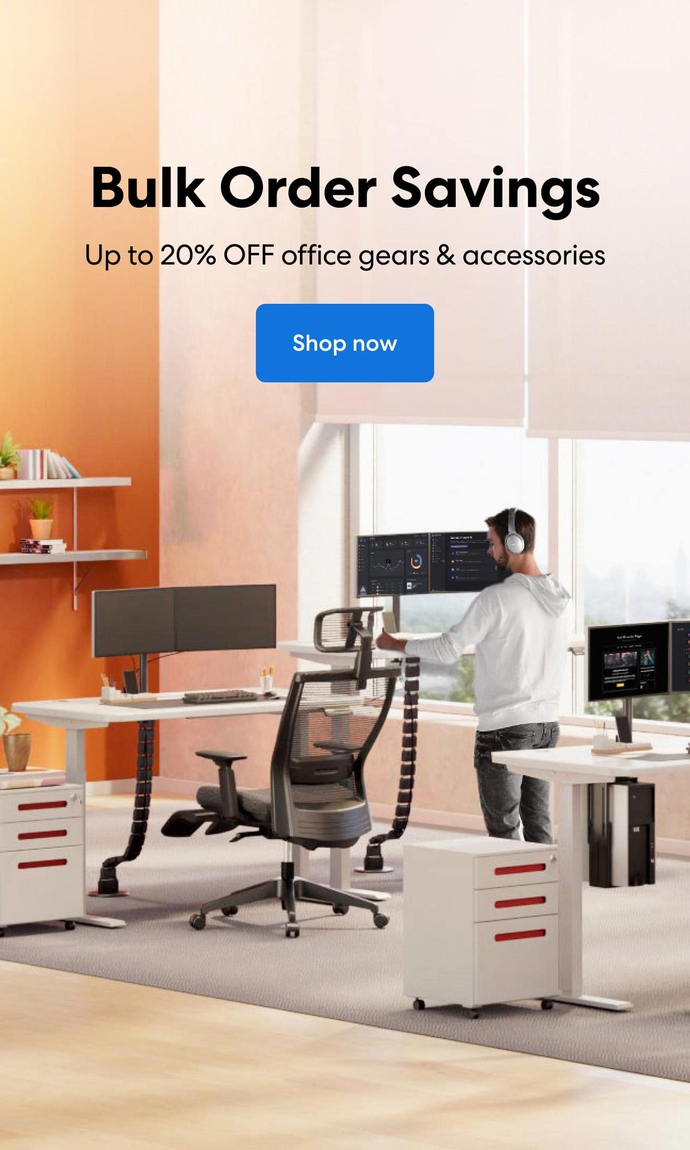 Subcribe newsletter and get $100 OFF.
Receive product updates, special offers, ergo tips, and inspiration form our team.