Smart Products
What Is the Best-Selling Webcam for PC Available Online?

Autonomous
|
Oct 1, 2022
972 Views
The days of putting up with blurry 480p and 720p videos have long since passed for webcams. 
Finding a cheap 1080p webcam for PC has become simple, while 4K devices are rapidly becoming more affordable.  
Webcams have better features than they did some time back. These include built-in ring lights, video filters, shot-tracking, and many others. People looking to buy webcams today have more alternatives than ever before.  
Whether you want to host excellent conference calls, live stream an event, or casually chat with a friend, a specific device exists for your needs. 
This article reviews some of the best webcams on the market, exploring the features that make them perfect additions to your streaming setup. 
List of 15 Best Webcams for PC Ever
1. MEE Audio C11Z Webcam with Microphone
The MEE audio C11Z 4K USB webcam for PC has a 90-degree wide-angle lens, 4x digital zoom, and 4K Ultra HD quality. These help it capture ideal images and videos. 
The ANC microphones deliver clear audio free of echoes and unwelcome background noise.
This MEE Audio C11Z Webcam with Microphone is plug-and-play, meaning you can use it like other computer accessories without any software. 
2. MEE Audio CL8A Webcam
The CL8A has an integrated LED ring light that offers a steady, direct light source to lessen shadows and conceal imperfections. This helps you appear more professional during chats, when live-streaming, or when you take part in video conferences.  
MEE Audio CL8A Webcam  can record high-definition 1080p resolution videos at 30 frames per second (fps) and has a ring light with three brightness settings.  
The device comes with a built-in microphone and a privacy indicator light. 
3. MEE Audio 201W Webcam with Tripod
MEE Audio 201W Webcam with Tripod has a detachable tripod and built-in mic to help you work from home more effectively and participate in video conferences like a pro.  
Upgrade from the built-in webcam on your laptop and take advantage of better audio, 1080p HD footage, and wide viewing angles ideal for conference calls, live streaming, and vlogging. 
4. Movo WebMic HD
You may stream or use this webcam and condenser microphone together to get clear video and audio of broadcast quality. 
Movo WebMic HD is a complete webcam with a USB condenser microphone, camera, and white LED ring light. The light surrounds the condenser microphone and occupies most of the front view.  
This device has an excellent design and is considered by some people the best webcam for pc. 
5. Insta360 Camera
Use the Insta360 camera to record video with a 360-degree view. It achieves this using 180-degree front and back cameras.  
With this webcam for PC, you can capture anything that can be seen from a particular angle.  
You can then modify the image to select only the parts you want the audience to see. 
6. Razer Kiyo Pro
Although this device is expensive, it offers performance that makes the investment worthwhile.  
The adaptable features make it suitable for every requirement: from personal video calls to conference meetings and live broadcasts. 
You can pick between three FOVs depending on the scenario for use.  
Choose between a smooth 1080p 60FPS mode for gameplay or a high-resolution "HDR" for improved video quality during online calls. 
7. Elgato Facecam
The absence of a mic and autofocus makes this webcam for pc appear like an incomplete device. Such issues are critical to people who stream content on sites like YouTube, etc. 
Aside from the downside, the Elgato Facecam has an excellent Sony sensor that records at 60fps 1080p. It uses software that optimizes videos and helps connect to different operating systems.  
8. Logitech C920
Since 2012, the Logitech C920 has routinely outperformed competitors' offerings. The device is a perfect example of the claim that higher cost is directly proportional to better performance. 
This fan-favorite camera is one of the highest-performing webcams available today. It targets a market niche that fails to see any significant competition with its sharp 1080p HD video quality, superb lighting, and color detection at a reasonable price. 
9. Dell UltraSharp Webcam
The Dell UltraSharp Webcam can record amazing 4K footage that is great for streaming and recording videos.  
However, you'll need to add a microphone to get the most out of it. It has a sleek metallic design that blends well with your office aesthetics. 
10. Logitech Mevo Start
When looking for a wireless webcam for PC, consider the Logitech Mevo Start. This device offers more flexibility during setup than other similar devices.  
You can install several of these cameras and then switch between streams to capture different camera angles for an event. It comes with an app that enables the switching of modes. 
Many of these features are not essential for casual use. 
11. Razer Kiyo
If you are looking for an excellent webcam for pc, look no further than the Razer Kiyo. Despite its weird design, the camera is quite popular due to its streaming capabilities. This is a vital part of today's market. 
With this version, Razer removed several other features to focus on image quality and lighting. Vloggers and gamers consider this the topmost priority when choosing a camera. 
The device eliminates webcam flickering, allows timed settings, and offers many other niche-focused features for streamers. 
12. Microsoft LifeCam Studio
Microsoft's LifeCam Studio is famous for its powerful features and less pleasant design. With a 1080p video recording, 720p conference calling, and a wideband mic, the sound from this device is clean. 
The 360-degree rotating ability makes it perfect for online meetings and virtual presentations.  
It comes with software that can dynamically change exposure to maintain video brightness. 
13. Anker PowerConf C200
The Anker Powerconf C200 is the finest webcam under $100. Even though it is affordable, this doesn't mean it excludes any essential webcam features.   
This is a 2K webcam for desktop computers, with an adjustable field of view. It records high-quality video in all lighting situations with an optional privacy shutter for when you don't want to be seen. 
Even though the overall image is a little grainy, the 5MP camera sensor is excellent at correctly displaying colors.  
Its two microphones are quite sensitive; the speaker can be heard about 30 feet away.  
However, its AI noise cancellation did an excellent job of blocking background noise.  
In addition, Anker's software makes it very simple to adjust the image and audio settings. This is a fantastic deal for a top-notch webcam that should be included in a equipment list for YouTuber rooms. 
14. NexiGo N930AF
The NexiGo initially appears to be a copy of a Logitech, even though it is not a Bluetooth webcam for PC.
It has only one microphone, which makes speech isolation less effective during calls. 
Users rate this device because of its low price. 
15. Poly Studio P5
The P5 just has one microphone, so it can't isolate your voice as well from background noises as webcams with multiple mics do.  
People who consider audio a priority should invest in a quality mic instead.  
The device has software that allows you to play with several graphic options. It has a sleek and portable design. 
How Do We Test Webcams for PC?
Camera quality is relative to the user, so this feature is not emphasized in most webcam tests. 
Instead, devices are compared using quantitative features that can be accurately measured. 
Webcam sensors are some of the first features tested. This evaluation is done in well-lit and low-light situations while maintaining constant ambient lighting.  
Devices with subpar sensors suffer when recording in poorly lit environments. Images and videos captured under such conditions contain a lot of background noise. This is a fuzzy inference that looks static. 
Testing a webcam also includes evaluating the color accuracy of any captured video and the general sharpness of images. 
Along with the product software, field-of-view (commonly referred to as FOV), frame rate, and resolution of webcams are assessed too.  
Hardware is examined to see whether there are any peripherals for mounting cameras and possible movements. Webcams may use swivel ball joints to allow twists or be fixed in one position.  
Last but not least, any inbuilt microphone will be tested for clarity and background noise cancellation. It's important to note that many webcams have subpar microphones compared to specialized headsets or USB mics. 
What Should You Look for When Buying a Webcam?
The resolution, framerate, and price are three vital features to consider when choosing the best camera for your computer. 
Video Resolution
Resolution and frame rates are the most essential factors for most people to consider when purchasing a product. Webcams are often marketed with these features.  
However, several other factors determine whether a webcam is excellent or poor. 
You should first consider what you intend to use the device for. Conference call applications, such as Zoom or Microsoft Teams, limit broadcast quality to 1080p resolution and 30 frames per second (fps) to conserve bandwidth.  
Since 720p is the typical resolution for built-in laptop cameras, Google Meet takes a step further and limits your quality to this level. 
It makes no sense to purchase a powerful 4k webcam if you only want to use it for these business conversations because you won't actually profit from it. Recording quality will only differ based on light and color detection in the chosen device. 
Several webcams are available for content producers such as YouTubers and streamers, with some capable of 4K resolution and 60 frames per second. They capture smooth and sharp videos, making them too powerful for casual use. 
The adjustable zoom and flexible FOV make the additional cost a worthwhile investment for your passion. 
Field of View
You can manage a camera that has a relatively small FOV.  
If you want to stream videos of yourself, using an 80-degree FOV device is enough.  
A webcam with a broader FOV is what you want if you need one for a group call. An example is the 115-degree FOV Anker Power Conf. 
The FOV can be altered on some more advanced cameras. 
Microphones
Cheaper webcams often only have one microphone, which works great in many circumstances.  
However, you'll need a camera with multiple microphones if you work in a noisy environment. It should also have software that helps separate your speech from background noise.  
Another option is to spend money on microphones to provide even better audio than multiple-mic cameras. 
Extra Features
It's necessary to consider any other unique qualities a webcam may have.  
The Razer Kiyo, for example, is the best option for people recording videos in dimly lit spaces without access to ring lights. 
Use the StreamCam if you want to capture videos for mobile devices. It records in landscape and portrait modes.  
Logitech cameras often include software choices for editing and personalizing your photos. 
How to Make Your Webcam Look Better & Cooler?
The best webcams can have the worst forms of design. This is no issue if you don't mind aesthetics. Regardless of your taste, these cameras can help improve your desk design. 
An inexpensive 720p camera may appear virtually HD with the correct lighting, and doing so won't break the bank.  
Recording a video in front of a window is preferable whenever possible. This is because video makers and photographers consider natural light superior to most pricey studio lights.  
Lighting doesn't just brighten your features but helps you stand out against the background. Studio lights are preferable only when your desk is in a dimly lit area, far away from a window. 
You may also use inexpensive desk lamps by aiming them at a wall to diffuse the light and lessen its harshness.  
This doesn't imply that you should go all out (unless you're a streamer and have the money for some glitzy LED lights and gamer gear), but you should make sure that you're the main subject of the video.  
Ensure your background is always appealing, avoid sitting behind an open door, and watch out for additional light sources.  
Excessive brightness may throw off your webcam's light sensors and lower the video quality. 
Conclusion
Webcams continue to be in demand, and most of the better models have been quickly going out of stock. 
The ones discussed in this article give you a good idea of which ones to consider when getting one for yourself.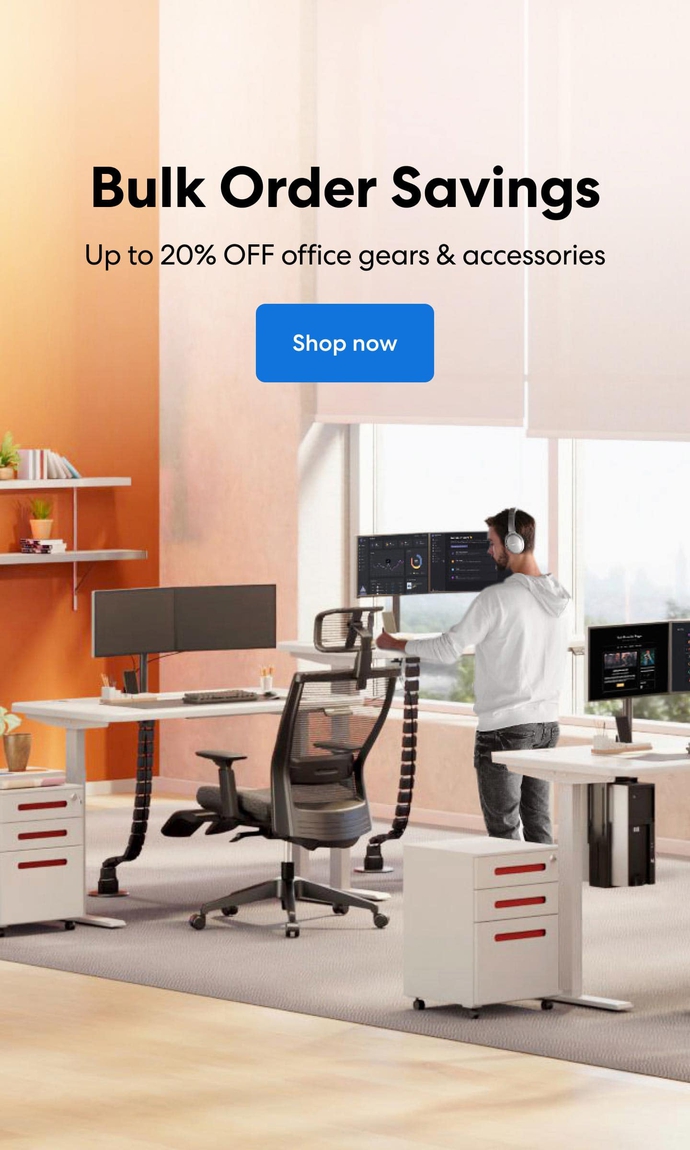 Subcribe newsletter and get $100 OFF.
Receive product updates, special offers, ergo tips, and inspiration form our team.